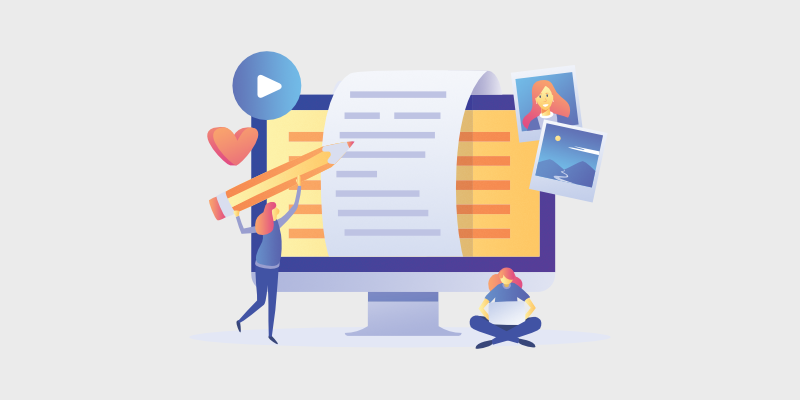 A re you new to blogging? In this article, we'll share 101 blogging tips that will help you easily create a successful blog.
There's a lot of steps to starting a blog. So many steps, that it might be overwhelming for beginners. And if you miss an important step, it could affect the success your blog has in the future.
But, don't worry!
We've got you covered with 101 blogging tips for beginners. In this post, we'll share blogging tips on everything from building a website to writing blog posts to email marketing.
Since this is a lengthy post, here's a table of contents to guide you through the different types of blogging tips and tricks:
Ready? Let's go!
Getting Started
Before you start building a website right away, check out these tips for the planning of your blog.
1. Do Some Research
Like with many other new tasks you take on in your life, before you begin blogging, you're going to want to do some research to learn a little more about it.
You can read a ton of different posts about blogging online. But, we think that after reading this post and our post on how to start a blog, you'll have all the information you need to start your own blog.
2. Figure Out Why You Want to Start a Blog
Before you start blogging, figure out why you want to start a blog in the first place.
Do you want to start a blog:
Just for fun?
For sharing your knowledge on a particular topic?
To promote an existing business and add content to your website?
To make extra money online?
For helping other people?
To start a work from home business?
Write a short "why" statement for your blog. Writing a "why" statement will help you determine the main goal and it will help you make better decisions for your blog in the future.
3. Decide on a Blog Niche
Next, you have to decide what you're going to blog about. The topic you write about on your blog is also known as a blog niche.
Choosing a blog niche will help you keep your content focused on 1 main subject. This will also help you attract a loyal audience of readers.
For example, The Cup of Life blog is all about tea.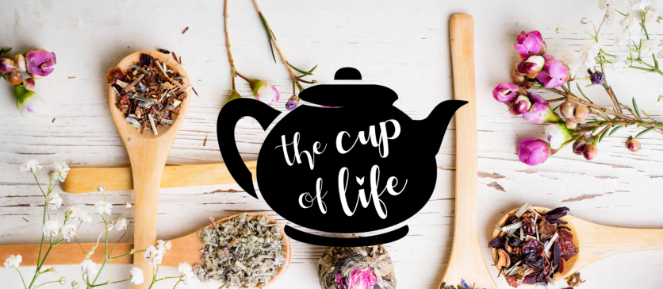 Sticking to a blog niche makes it easy for them to attract loyal readers that are interested in all things tea. Tea lovers will be more attracted to a blog that's all about tea and read all of their posts, rather than a blog that's about a number of different topics.
For more tips on choosing a blog niche, check out our post on blog niche ideas and how to choose the right one.
4. Have a Passion For Your Niche
Remember, when deciding on your niche, choose something you're passionate about, rather than picking a niche just because you think it will be profitable.
When you have a passion for what you're writing about, writing blog posts will be more enjoyable. Plus, your readers will be able to see your passion in your writing, making them more likely to enjoy your blog and trust your opinions and advice.
5. Set Goals
A lot of people start blogging for fun, so they don't need to set goals. But, if you want to make money from your blog or turn it into a full-time business, you should set goals.
Setting goals will help keep you on track and make it easier for you to monitor your progress. Start off small with your goals and as you meet them, you can set bigger goals.
You can set goals for how many pageviews you want to get, how many subscribers you want, or how much money you want to earn.
6. Pick the Perfect Blog Name
Take time to choose the perfect name for your blog. Your blog name is often the first thing people will see, so it has to grab people's attention if you want them to check out your blog.
Check out these tips for choosing the perfect blog name.
You can also use Blog Tyrant's Free Domain Generator to help you come up with a good blog name.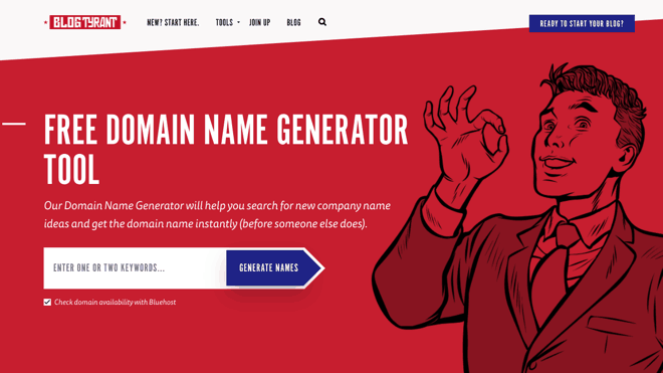 Enter 1 or 2 keywords and the tool will list a ton of blog name ideas. You can also use the tool to get your desired domain name for free with Bluehost.
7. Choose the Right Blogging Platform
To set yourself up for success from the start, you need to choose the right blogging platform. Many blogging beginners are tempted to use free blogging platforms like WordPress.com or Blogger.com to save money.
But, we don't recommend using free blogging platforms. When you use a free blogging platform, you don't have full control over your blog, your customization abilities are limited, and you can't make money from your blog.
That's why we recommend using WordPress.org to start a blog.

WordPress.org is the most popular blogging platform in the world, it's easy-to-use, you have endless customization options, and you're able to make money from your blog.
With WordPress.org, you can easily create any type of blog you want. Plus, it's free to use, you only need to pay for blog hosting.
8. Learn the Difference Between WordPress.org vs. WordPress.com
In the previous section, you might have noticed that we mentioned WordPress.org and WordPress.com.
A lot of new bloggers confuse the 2 different platforms, so make sure you know the difference.
Check out our post on WordPress.com vs. WordPress.org to learn more about each platform and why WordPress.org is the better choice.
9. Pick the Best Blog Hosting Service
WordPress.org is free to use to build your blog. But, to make your blog live on the internet, you need a blog hosting service.
We recommend using Bluehost. It's the most user-friendly and reliable web hosting service on the market. It's also officially recommended by WordPress and comes with 1-click WordPress installation, so you can set up your WordPress blog super quickly.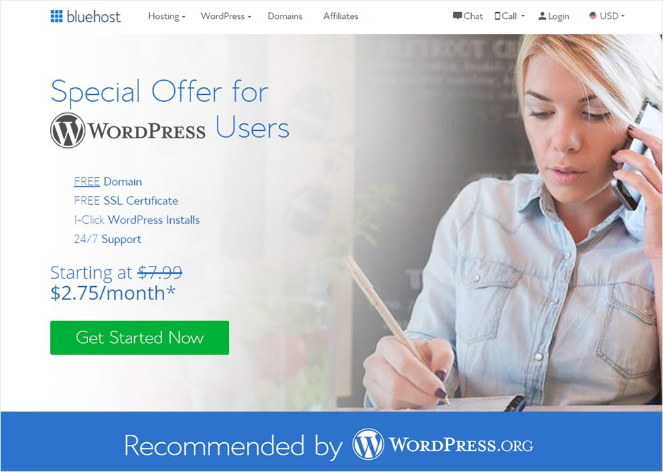 Plus, Blog Tyrant readers get a special Bluehost deal of 60% off of web hosting. This deal also comes with a free domain name. That means you can start your blog for only $2.75 per month!
10. Use a Complex Username and Password
When setting up your website with WordPress.org and Bluehost, remember to choose a complex username and password to protect your blog.
Instead of using "12345" for your password, use a password generator to come up with something more secure.
11. Add an SSL Certificate
As we mentioned earlier, with Bluehost you get a free SSL certificate for your blog. An SSL certificate will secure your website, without one, your website will show up as "not secure."
In Bluehost, go to My Sites » Manage Site and then click on the Security tab and enable the Free SSL Certificate. For more information on SSL, check out this article on how to get SSL for your blog.
Back to the top
Creating and Designing Your Blog
Once you have a WordPress website, it's time to start creating and designing your blog. How your blog looks is important to readers and your website needs to have certain pages and features to capture the attention of visitors.
Check out these tips for creating a great-looking blog.
12. Decide on Your Brand
Before you start designing your blog, decide what you want your brand to be.
To decide on your brand, think about what impression you want to give readers and what you want them to feel when they see your blog. For example, do you want your blog to give off a playful and creative vibe? Or do you want it to be more serious?
Deciding on your brand will help you choose the right blog design, colors, font, images, and more.  
13. Check Out Other Blogs For Design Inspiration
If you're not sure what you want your brand to be or what your blog should look like, check out other blogs for inspiration.
Looking at other successful blogs will show you which designs look best and it will give you lots of ideas of what you can include on your blog.
Write down what colors you like, which layouts look best, what pages you need, and what features you want. This will make deciding on a theme for your WordPress blog much easier. 
Check out our list of the best blog design examples to inspire you.
14. Create a Coming Soon Page
Before your blog goes live, you can create a "Coming Soon" page to build excitement and collect emails from people that are interested in checking out your content. This helps make sure you have an excited audience for your blog launch day.
You can easily create a stunning coming soon page, like the one below, with SeedProd.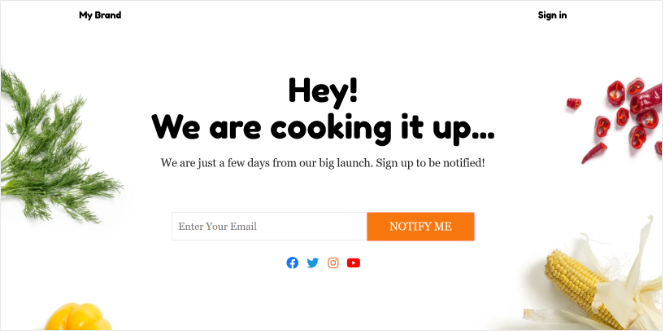 With SeedProd's drag and drop page builder, you can create a coming soon page for your blog in minutes.
15. Use the Right WordPress Theme
WordPress themes make it easy to give your blog a professional look in an instant. But, since there are so many WordPress themes on the market, it can be difficult to decide which one to use.
We recommend using a WordPress theme that's eye-catching yet simple at the same time. Simple and clean WordPress themes feature easy-to-read layouts that put all of the focus on your content.
Here's an example of one, Revolution Pro, by Studiopress: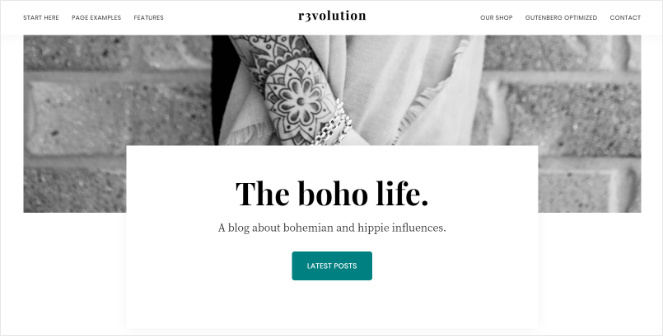 A WordPress theme like this makes your blog look great and also gives your readers a better experience while reading your posts.
Check out our list of the best WordPress themes for blogs to find the right theme for you.
16. Make Sure Your WordPress Theme is Mobile-Friendly
A ton of people browse the web from their smartphones these days. So, many of your readers will view your blog from their smartphones as well.
When choosing a theme, make sure it's mobile-friendly so that your blog will look great on all devices.
17. Choose Good Typography
Choosing the right font for your blog is another important step in creating your website.
You'll want to choose a font that not only looks good, but is easy for users to read. If you choose typography that is difficult to read, visitors to your blog will have a bad experience and likely not return.
18. Customize Your Homepage
WordPress themes look great right out of the box. But, you should customize them to make them unique to you.
For example, you can create a custom blog logo and image for your homepage to match your brand.
Here's how the blog Side Hustle Nation does it: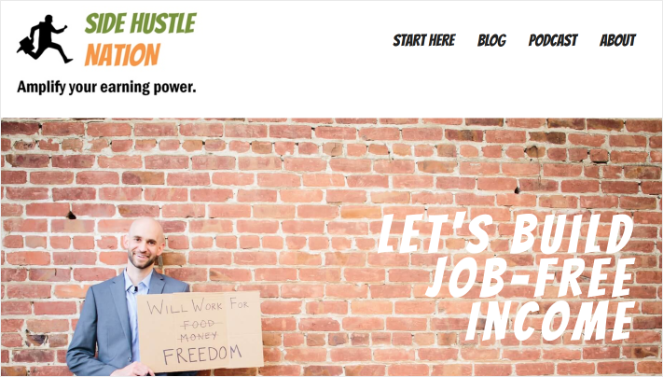 Notice the eye-catching logo in the top left corner. And instead of using a stock image, the main image on the homepage is one of the blog owner.
Most WordPress themes let you easily upload your own photos and logo so that your theme matches your brand.
19. Use a Drag and Drop Page Builder Plugin
For WordPress beginners, it can sometimes be difficult to create custom pages for your blog. Luckily, you can use a drag and drop page builder plugin like SeedProd to make it easier.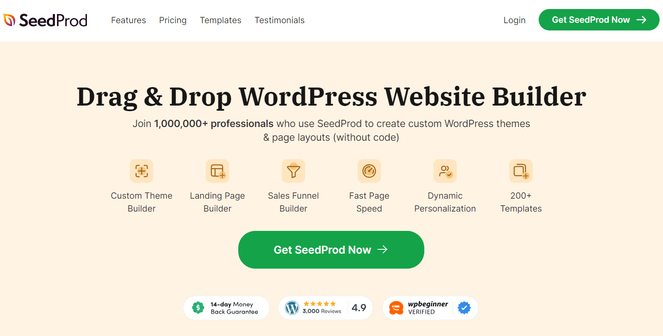 With SeedProd, you can create sales pages, email optin pages, webinar pages, coming soon pages, thank you pages, and much more.
The drag and drop builder is super easy to use and you can see the changes you make to your page in real-time. Plus, they have 300+ templates and pre-made landing page specific blocks like contact forms, social profiles, countdown timers, and more, so you can get started quickly.
With SeedProd, you can even create a custom WordPress theme, no coding required.
20. Create an About Me Page
Your readers want to get to know you, so don't forget to add an About Me page to your blog.
Check out this awesome About Me page from the blog Tech Savvy Mama: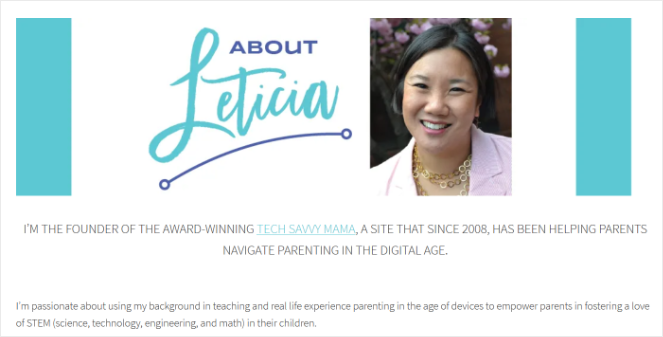 An About Me page that has a photo of you and information about who you are will make your readers feel more connected to you and your blog. When they feel a connection with you, they're more likely to become your biggest fans.
21. Add Content in the Sidebar
After creating all of the pages you need on your website, don't forget to add content in the sidebar.
With WordPress, you can add sidebar widgets to display things like your most recent posts, most popular posts, blog comments, an email signup box, and more.
22. Write a Tagline for Your Blog
A tagline will help users understand what your blog is about and it's good for search engine optimization (SEO) as well.
Here's what Blog Tyrant's tagline looks like: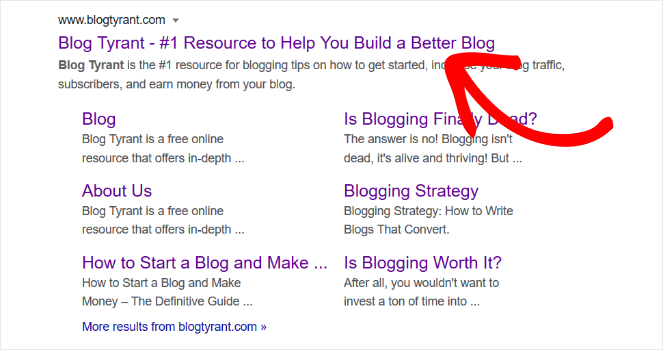 Go to Appearance » Customize and then click on Site Identity to change the tagline.
23. Add Links to Your Social Media Profiles
Don't forget to add links to your social media profiles on your website. This will help you grow your social media following, connect with your readers on different platforms, and keep them updated on your blog at all times.
Here's a great tutorial on how to add social media icons to WordPress menus. And also check out guide on the best Facebook plugin for WordPress.
Back to the top
Installing Essential Plugins
WordPress plugins let you customize your blog even further and make it more powerful.
Take a look at our recommendations of the essential WordPress plugins you need for your blog.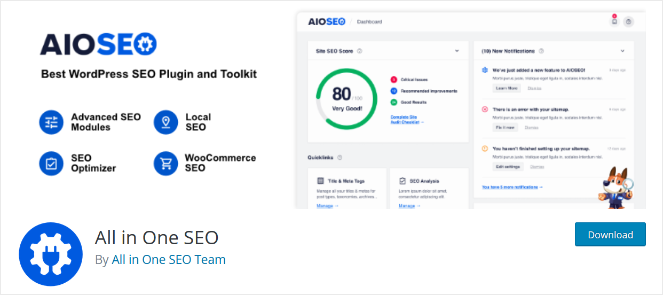 All in One SEO is one of the most popular WordPress plugins ever created. This plugin will help you optimize your entire website so that you can appear higher in search engine results.
With All in One SEO, even beginners can easily set up meta titles and descriptions, XML sitemaps, image SEO, and more.
The premium version comes with even more powerful features.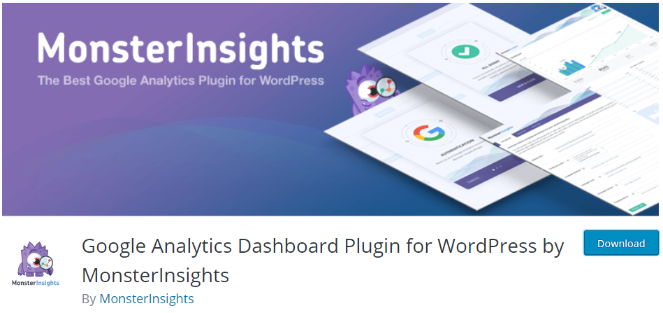 MonsterInsights is the best Google Analytics plugin for WordPress blogs. With MonsterInsights you can easily integrate your Google Analytics account with your blog.
This will let you track your blog traffic and other important analytics from right inside your WordPress dashboard. Use the free version or check out the premium version for more features.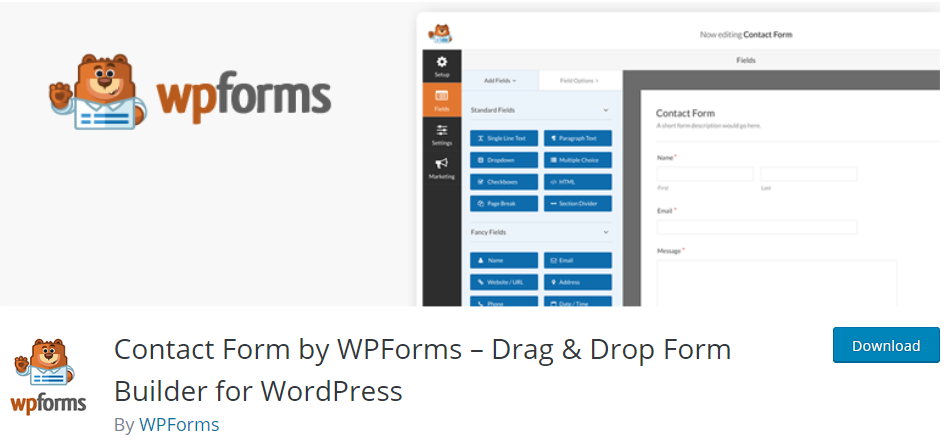 To build stronger connections with your readers, they should also be able to easily get in touch with you. Add a contact form to your blog to let them do so.
You can easily add a simple contact form to your blog using the free version of WPForms.
Contact forms can also help you get more opportunities since businesses will be able to contact you directly from your site. If you want more advanced features for your forms like advanced fields, unlimited forms, and unlimited entries, you can upgrade to the pro version of WPForms.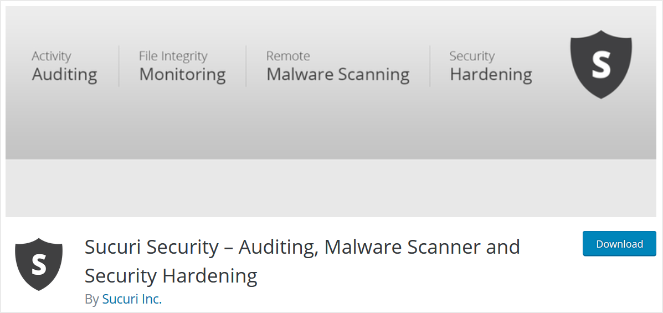 Protect your blog from threats with a security plugin like Sucuri. The free plugin offers features like:
Security activity auditing
File integrity monitoring
Remote malware scanning
And more
You can also upgrade to the pro version of Sucuri for more advanced features.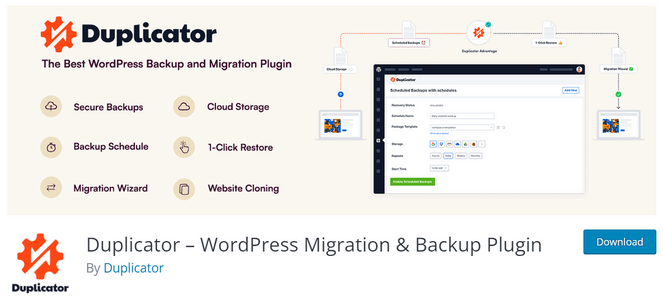 Duplicator is a popular WordPress backup plugin. If you get hacked or your website goes down, Duplicator can instantly restore your site.
A backup plugin will make sure you don't lose all of the hard work you put into your site, in case something bad happens.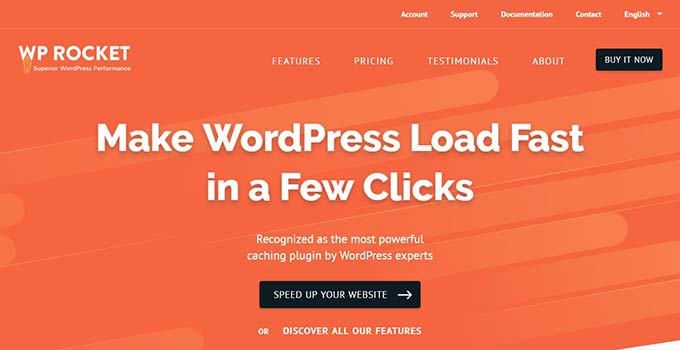 A fast website is important; if your blog is slow to load, people aren't going to stick around. A slow blog will cause you to lose readers, subscribers, and it can even affect your SEO results.
WP Rocket is a caching plugin that will boost the page load speed of your blog and improve the performance of your site.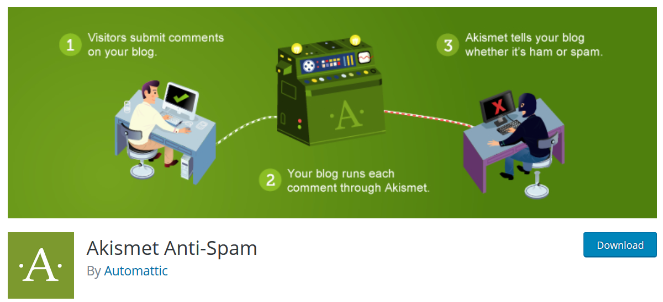 Akismet will check each comment on your blog and filter out the ones that look like spam. This plugin will help keep your blog free of spam, which can be annoying for you and your readers.
Back to the top
Planning Your Content
Now that you've built your blog and you've got it looking great, it's time to start planning content for your blog.
Before you start writing, check out these tips.
31. Learn About Your Target Audience
To create content that people are going to like, you need to learn about what interests them. So, think about who your target audience is and where they hang out on the internet.
For example, if your blog is about horseback riding, your target audience is horseback riders. So, check out online groups and forums where horseback riders chat. By joining these online groups, you can see what your target audience is talking about, what topics are interesting to them, and what they're interested in learning.
32. Brainstorm Blog Post Ideas
From the information you gathered about your target audience, start brainstorming blog post ideas. Make note of any blog topics you can write about. Start with general keywords and then break them down into smaller sections.
For example, a general keyword could be "barbecue recipes". When you break it down into smaller sections, you get a list of blog post ideas like barbeque chicken, barbecue sauce, grilled veggies, and so on.
Another good way to brainstorm topic ideas is by checking out your competitors.
33. Research Your Competitors
Looking at what your competitors are writing about is a great way to come up with topic ideas for your own blog. So, check out some popular blogs that are in the same niche as yours.
Pay attention to your competitors' most popular posts that have a lot of shares and comments. This will tell you what topics their audience is most interested in. And since you have a similar audience, these topics will interest your readers too.
34. Use Google's Suggestions to Find Topics
You can also use Google's suggestions to find topic ideas to write about. This is a great tactic because Google will show you topics that people are already searching for online.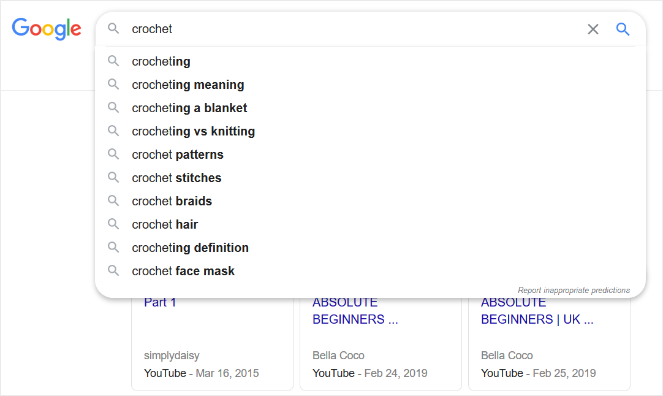 Type in a phrase or keyword and use the suggestions to come up with blog post ideas.
35. Keep a Running List of Blog Post Ideas
It's a good idea to keep a running list of blog post ideas that you can refer to anytime you don't know what to write about.
Keep a notebook nearby, or use a notes app on your phone, so you can write down any idea that comes to mind.
36. Set up a Schedule
Set up a schedule to help you stay on track of writing your blog posts. For example, if you're planning on publishing a new blog post every Friday, organize your tasks on a calendar to make sure you meet your deadline.
Carve out time on your schedule for researching, writing, editing, and publishing your blog posts. You can use a calendar app on your phone or a physical calendar if you prefer.
37. Be Consistent
If you publish 1 article per week for a while and then stop, your readers are going to be disappointed.
It's important to be consistent with blogging. So, decide when you're going to post and stick to it. When your readers know when you're going to post, they'll visit your site on those days, excited to read your latest article.
38. Don't Try to Blog Everyday
Some new bloggers are tempted to blog every single day because they think it will help them grow faster. But, we recommend not blogging daily, unless you really have a lot of time for blogging.
It's much better to publish a single great post each week than 5 rushed posts. Plus, readers will often struggle to keep up with a new post every day.
39. Plan Content for the Upcoming Month
Instead of planning what you're going to write each week, plan your content for the entire month.
This will help improve your blogging strategy because you'll be able to see what you're writing about for the month and you can balance your content. For example, if you're a food blogger, you can make sure you're offering a balance of breakfast, lunch, dinner, and dessert recipes each month.
40. Create a Content Calendar
Once you've decided on your blogging schedule and planned your content for the month, create a content calendar to organize it all.
A content calendar includes details like blog post title, category, keywords, publication date, and other notes.
There are many free content calendar templates online, like the one below from HubSpot, but you can also make your own using Google Sheets.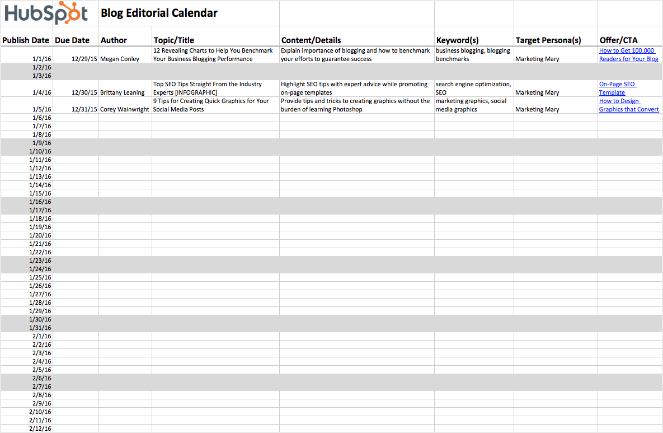 Back to the top
Writing Blog Posts
Now it's time for the fun part—writing blog posts!
Here are some blogging tips and tricks that will help you write awesome blog posts.
41. Do Research for Your Post
Before you start writing, make sure to do research for your post. This is especially important if you're not super familiar with the topic you're writing about.
To do research, you can search Google and read other articles on the subject you're writing about. Be on the lookout for statistics you can add to your blog post to back up your opinions as well, just make sure they're from a trusted site.
42. Create an Outline
You should also create an outline before you start writing.
A basic outline can look like this:
Introduction
Tip #1
Tip #2
Tip #3
Conclusion
Make notes on what you want to write about in each section too. This will help you keep your blog posts organized.
43. Don't Plagiarize
When doing research and looking at other blog posts on the same subject, make sure your post is unique and different.
You don't want to plagiarize other people's work. Plus, when your post offers something different than the others, you can stand out from the crowd.
44. Let Your Personality Shine Through
Remember to let your personality shine through your writing as well. Stiff writing without any personality is boring to read.
Sprinkling a bit of personality throughout your blog posts will make them more enjoyable to read and your readers will feel more connected to you as a person too.
Don't be afraid to show your readers who you are!
45. Write in a Conversational Tone
The tone of your writing is important too. You should write your blog posts like you're having a 1-on-1 conversation with a friend.
Writing in a conversational tone like this will make your posts feel more personal to readers and it can increase loyalty as well.
46. Make Your Blog Posts Scannable
According to statistics, 73% of visitors skim rather than read the blog post thoroughly. So, it's important that you make your blog posts scannable.
This means using bold headings and subheadings, numbered lists, and bullet lists. You should also keep your sentences and paragraphs short so that it's easy to read. You can even use 1-sentence paragraphs to grab readers' attention.
47. Craft Killer Headlines
Your headline or title of your blog post is often the first thing readers notice. So, it has to be good enough to grab their attention and make them want to read the article.
Check out our step-by-step guide on how to write effective blog post titles.
You can also use a free tool like IsItWP's Headline Analyzer Tool to help you create clickable blog post titles.

This tool will score your title and give you tips on how to improve it.
48. Work on Your Opening
The introductions of your blog posts are important; they've got to be engaging enough to make people want to continue reading the full post.
We recommended addressing the main goal of the reader and how your post will help them achieve that goal. Or, you can address their biggest problem and how your post will help them solve it.
49. Conclude Your Post
Don't forget about writing a conclusion to your post too! Instead of ending your post abruptly, add a paragraph at the end that sums up the topic.
You can even thank people for reading the post and add a call-to-action. Learn more about adding a call-to-action in the next section.
50. Add a Call-to-Action
A call-to-action (CTA) tells the reader what they should do next after reading your post.
Here are some of the most common CTAs:
Read a related blog post
Leave a comment with their thoughts
Sign up for your email newsletter
…or any other action you want them to take!
Choose 1 or 2 CTAs to add to the end of your post. If you add too many, it can be confusing and overwhelming for readers.
See this guide on how to create the perfect call to action for some tips and best practices.
51. Add Images to Your Blog Posts
Adding images will make your blog posts more engaging to readers. In fact, content with images get more views and shares, and can even increase your conversions over 300%.
Adding images to your posts is easy too. Here's how to find free images for your blog.
52. Create a Branded Featured Image
Aside from adding images and screenshots within your post, you can also create a branded featured image for your blog posts as well. This makes your posts instantly recognizable.
Here's an example of a great featured image from The Mindful Choice: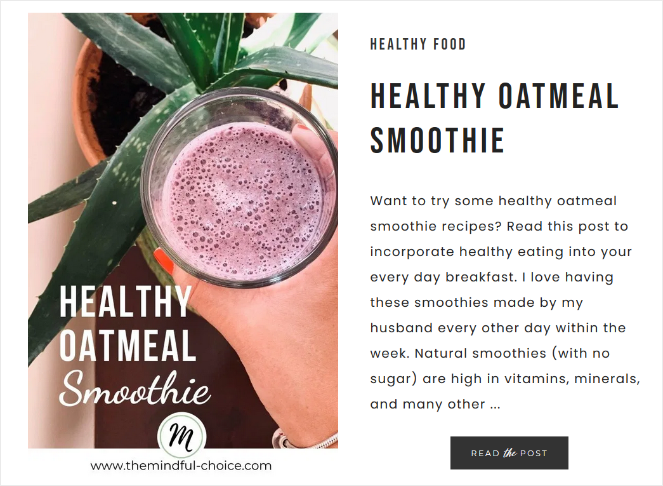 You can easily create a featured image that has your blog title and logo on it like this, using a free tool like Canva.
53. Optimize Your Images
When adding images to your blog, don't forget to optimize them.
Resize large image files so they won't slow down your site. And make sure the images you use are all the same size so that your blog looks consistent.
Check out these tools to optimize your images even more.
54. Learn How to Write Faster
Successful bloggers write a lot and many of them can write pretty quickly too. So, if you're new to blogging, you might want some tips that will help you write faster.
Here are are few:
Know your most productive time of the day
Separate and batch each step of the writing process
Make writing a habit and stick to it
But, don't worry about speed too much. With time and practice, you'll naturally become a faster writer.
55. Take Advantage of Blogging Tools
There are a number of blogging tools that you can use to make the process of writing easier too. And many of them are free!
Check out these blogging tools we recommend:
Google Docs – Automatically saves your posts for you so you won't lose it.
Grammarly – Checks your writing for errors, clarity, and more.
Pocket – Save research and inspiration you find on the web in one place.
Back to the top
Improving SEO
Search engine optimization (SEO) is important if you want people to find your blog online.
Check out these tips that will help you improve your ranking in search engine results.
56. Do Keyword Research
If you want your blog posts to show up on the first page of Google results, you need to do keyword research. When your content ranks high in search engine results, it will get more views and it will drive more traffic to your website.
Keyword research might seem complicated, but it's not. You're basically just finding out what keywords and phrases that people are using to search for your topic online.
Check out this guide on how to do keyword research for step-by-step instructions.
57. Sprinkle Keywords Into Your Content Naturally
Once you find relevant keywords to use by doing keyword research, sprinkle them throughout your content. But, don't stuff them in everywhere you can.
Your content should be written for people first, and SEO second. If you stuff too many keywords in your content, it will become unreadable for your audience. Add your keywords in your content, titles, and descriptions, in a natural way.
58. Use User-Friendly URLs
Having user-friendly URLs for your blog posts and pages will also help you improve SEO. So, make sure your URLs are short and descriptive.
If you're starting out, make sure to change the default permalink structure. Go to Settings » Permalinks in your WordPress dashboard and change your permalink structure to Post name.
59. Add Alt Text to Your Images
To improve image SEO, when you upload an image to your blog, add alt text to it so that Google knows what the image is about.
WordPress makes this easy to do. Simply type in a description of the image on the right side of the screen when uploading:
For more SEO tips, take a look at our SEO guide for bloggers.
Back to the top
Publishing Blog Posts
After you're done writing your blog posts, don't click Publish right away.
Use these tips to make sure your posts are perfect before they're live on your blog.
60. Review and Edit Your Post
After your blog post is written, take the time to review and edit your post.
Even experienced bloggers make mistakes sometimes, so reviewing and editing your post before publishing is an important step.
Look for spelling and grammar mistakes that you need to correct so that your post looks great when it goes live.
But, don't review and editing your post right after writing it…
61. Take a Break Before Editing
We highly recommend that you don't look at your draft for at least 6 hours after writing it.
For example, you can draft your post before bedtime. Then you can sleep on it before you edit. When you wake up, you can look at your post again with fresh eyes.
62. Read Your Blog Post Out Loud
You should also read your blog post out loud before publishing it.
This will help you make sure that your post sounds natural and that it makes sense to readers.
63. Have a Family Member or Friend Read Your Post
Another way to make sure that your article makes sense is by having a family member or friend read your post before you publish it.
It's hard to spot improvements you could make in your own work sometimes, but having someone else read it over will give you a new perspective.
64. Create a Pre-Publishing Checklist
You can also create a pre-publishing checklist to make sure you've done everything you need to do before publishing a new article.
Write down all of the things you need to do before publishing and check them off as you do them. 
To make it easier, we created a blog post checklist that you can use.
65. Post at the Right Time
Make sure to publish your blog posts at the right time. If you publish your posts in the middle of the night, no one will be up to read them.
But, if you publish posts at peak hours when most people are online, it will help you draw some quick traffic.
Some studies, like the one below from Kissmetrics, say that Monday morning around 11 am EST is the best time to post for maximum traffic.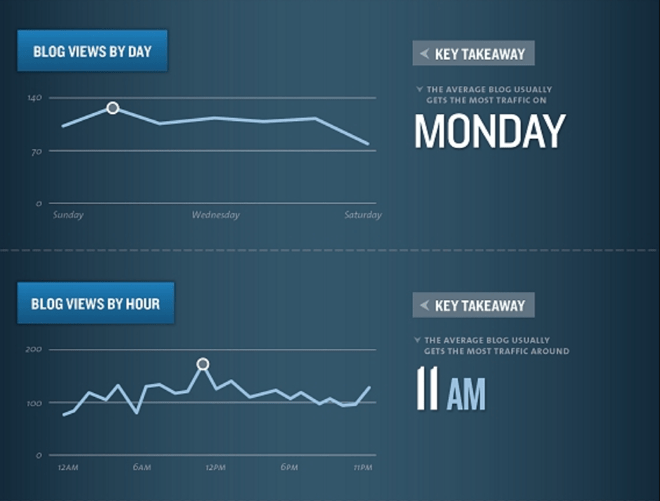 Of course, every audience is different. If you're not sure what will work best with you, check out our post on the best time to publish blog posts and start experimenting!
66. Publish Multiple Blog Posts to Start
We recommend you publish multiple blog posts when your blog first goes live. For example, instead of just posting 1 article, post 5 at once.
That way, when people arrive at your new blog, they have more than 1 post to read. They can get to know you and your content through multiple posts, making them more likely to be invested in future posts.
Then, continue with your regular blogging schedule.
Back to the top
Promoting Your Blog
Next, you've got to let people know your blog exists by promoting it.
Here are a few ways you can promote your blog and increase traffic to your site.
67. Post About Your Blog on Social Media
An easy and free way to promote your blog is by posting about it on social media. Almost everyone is on social media, so you can introduce your blog to a lot of new readers there.
Create social media accounts for your blog, instead of using your personal account and share your latest blog posts on it.
Here's how the blog The Conscious Cat does it:
Simply share a link to your latest blog post on social media and ask your followers to check it out.
68. Share on Multiple Platforms
Don't stick to only 1 social media platform—be active on multiple platforms.
There's many to choose from: Facebook, Twitter, Pinterest, Instagram, and more.
Being active on multiple different platforms will help you reach a wider audience.
69. Share Your Lastest Posts Multiple Times
Don't forget to share your latest blog posts multiple times on social media.
Your posts might get lost in social media feeds, but if you post multiple times, your followers are more likely to see it.
70. Add Social Share Buttons
You can also get your readers to share your blog posts for you by adding social sharing buttons to your website.
Using a plugin like Shared Counts to easily add social share buttons to your site.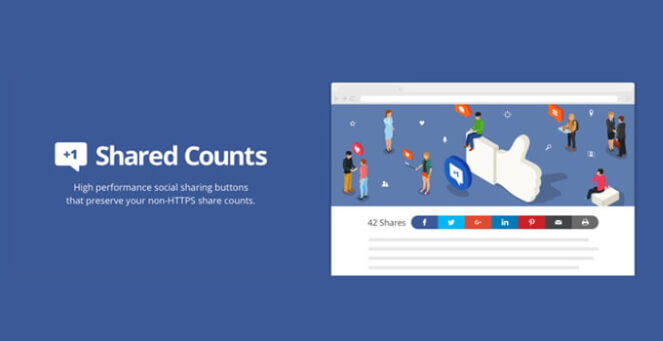 71. Guest Blog on Other Sites
Guest blogging on other sites is another great way to promote your blog. You get to introduce yourself to another blog's audience and if they like your guest post, they can check out your blog too!
Take a look at our guide on guest posting for more information.
72. Run a Giveaway
Everyone loves getting the chance to win a cool prize so running a giveaway is an awesome way to promote your blog.
Use a plugin like RafflePress to easily create a giveaway.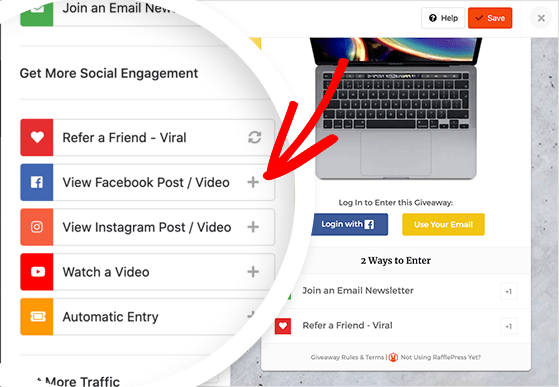 RafflePress comes with verified bonus actions that people can take to get extra contest entries like visiting a page on your website, subscribing to your newsletter, following you on Twitter, and more. It's a proven way to drive traffic and boost engagement.
73. Set up Push Notifications
To get more returning visitors to your blog, you can set up push notifications. This will let you notify people whenever you post a new article, which is a quick way to drive traffic to your site.
You can use PushEngage to do this. Visitors to your site can opt-in to receive notifications right in their web browsers.
74. Experiment with Different Promotion Strategies
Try out a few different blog promotion strategies to see which ones work best for you.
And for more ideas, read our post on how to promote your blog.
75. Give it Some Time to Grow
Don't forget to relax and give your blog some time to grow.
You probably won't see a ton of traffic right away but if you keep promoting your blog it will gain more traffic over time.
Back to the top
Participating in the Blogging Community
If you want your blog to grow, you also need to be an active member of the blogging community.
Here are some ways to participate with your community, which will help you promote yourself and boost engagement on your own blog at the same time.
76. Make Friends with Other Bloggers
By becoming friends with other bloggers, you can learn from them and improve your own blog.
Plus, most bloggers love helping other bloggers out, so they might share your latest post with their followers or become loyal readers themselves.
Reach out to other bloggers on social media and start up a conversation!
77. Join Social Media Groups
To find new blogger friends, you can also try joining social media groups for bloggers.
In these groups, members can share tips with each other, chat about blogging topics, and sometimes they even let you promote your blog.
You can also join social media groups that are focused on your blog niche. For example, if you write about WordPress, join WPBeginner's Facebook group: WPBeginner Engage.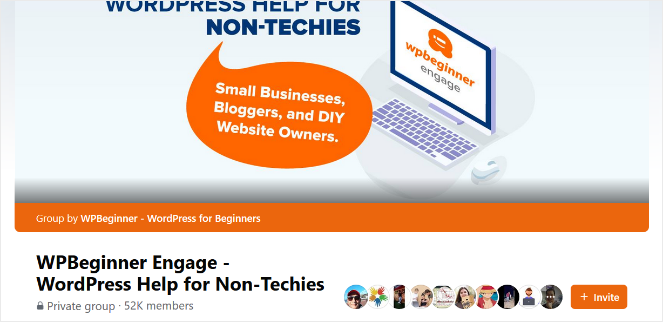 78. Respond to Readers in Your Comment Section
You should also form relationships with your readers to increase loyalty. Do that by responding to them in the comment section of your blog and in the comments of social media posts too.
This not only improves loyalty, but it boosts engagement. When people see that you've responded to other comments, they'll be more likely to comment too.
79. Comment on Other Blogs
Comment on other blogs as well. This will help you support and build friendships with other bloggers.
Plus, it can help you drive traffic and build links back to your site.
Back to the top
Building an Email List
Every successful blogger has an email list. With email marketing, you can send your latest posts straight to your readers' inboxes, build trust through regular communication, and more.
Check out these email marketing tips for bloggers.
80. Choose an Email Marketing Service
The first step to building an email list is to choose an email marketing service.
To start for free, we recommend using Brevo (formerly Sendinblue), which lets you send 300 emails per day.
We also recommend Constant Contact. Constant Contact is one of the best email marketing services on the market.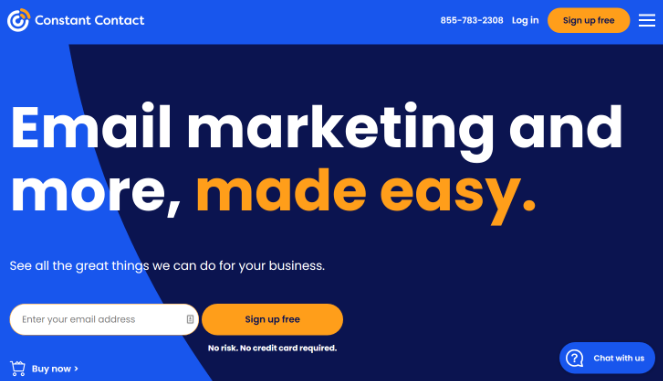 Constant Contact is easy to use for beginners, offers a drag and drop builder to design email templates, and they have amazing customer support.
81. Use an Optin Form to Get Subscribers
So, how do you get people to sign up for your email list?
Use OptinMonster to create an optin form on your site. You can easily create a popup email optin form like the one below using OptinMonster's drag and drop builder and pre-built templates.
This is an exit-intent popup that appears when people are about to leave your site and encourages them to sign up for your email list before they go.
82. Add More Newsletter Signups
Want to grow your email list even faster? Add more newsletter signups to your website.
With OptinMonster you can add optin forms to your sidebar, display them within blog posts, in floating bars at the top of the page, and more.
That way, anywhere your visitors are on your blog, they will be able to see a form where they can become a subscriber.
83. Create a Signup Page
To get more email subscribers, you can also create a signup page on your website and add a link to it from your main menu.
We have a signup page on Blog Tyrant. On it, we offer visitors the chance to sign up for our email list in exchange for a free ebook.
Take a look at this post for more tips on creating a signup page.
And speaking of ebooks…
84. Create a Lead Magnet
Ebooks are a type of lead magnet that you can offer to subscribers in exchange for their email address—it's basically a free gift to encourage more signups.
Create a lead magnet of your own to increase your email subscribers. It doesn't have to be an ebook, it can be a checklist, a case study, templates, or a resource list, just to name a few.
In this example, The Saddle Geek offers a list of 165+ saddle brands to new email subscribers.
85. Start with a Welcome Email
Now it's time to start creating your email newsletters. Start off by creating a "Welcome" email that you send to new subscribers.
Your welcome email can thank people for subscribing, introduce yourself, and tell them what they can expect to get in your newsletter.
86. Plan Other Newsletter Content
After creating your welcome email, plan what other types of content you're going to send your email subscribers.
Most bloggers use their newsletter to let their subscribers know about new posts on the blog. But you can also send them exclusive content that's not on your blog like interviews, quizzes, giveaways, coupons and promotions, and more.
87. Personalize Your Emails
Don't forget to personalize your emails. Emails are more effective when they appear to be written personally to each individual subscriber.
Of course, you can't write out emails one-by-one. Luckily, most email marketing services like Contact Contact offer features to help personalize emails like adding the subscriber's name into the greeting. They also offer email segmenting features so you can send different emails to different types of subscribers.
Back to the top
Monetizing Your Blog
Most people dream about making money from their blog but they're not sure how to make it happen.
Check out these blogging tips that will help you make money online.
88. Google Adsense
An easy way to make money from your blog is by advertising with Google Adsense. With Google Adsense, you can automatically display ads on your blog that are relevant to your readers.
Here's an example of a Google Adsense ad: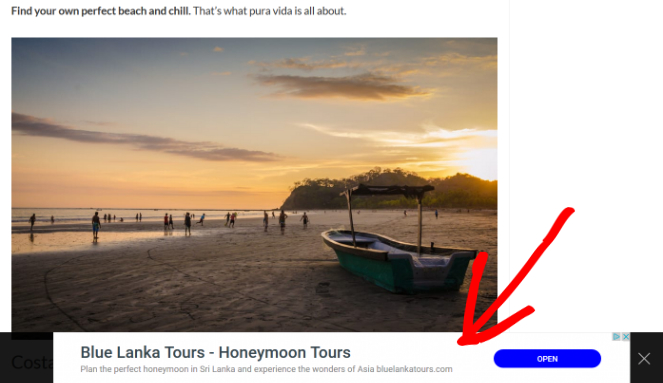 Every time a visitor to your blog clicks on one of these ads, you make money.
Here's how to properly add Google Adsense to your WordPress blog.
89. Affiliate Marketing
Affiliate marketing is how many successful bloggers make money online.
You can join an affiliate marketing program like ShareASale, browse through the affiliate products on the site, and promote those products on your blog.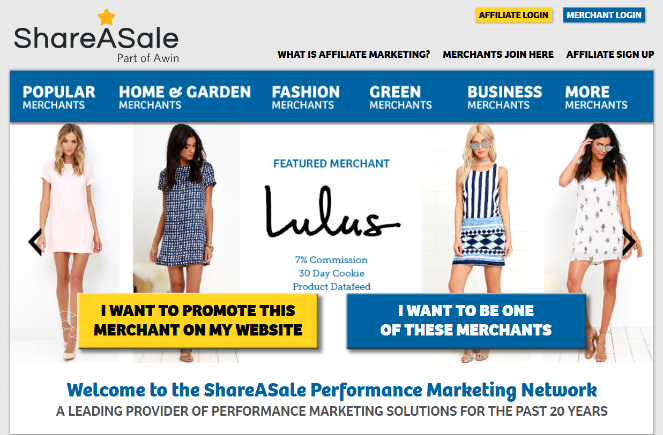 Then, whenever someone buys that product through your affiliate link, you make a commission.
90. Write Sponsored Posts
You can also get paid to write sponsored posts on your blog. This is where companies pay you to promote their products.
If you have a large audience of engaged readers, companies will rush to be featured on your blog.
Check out our guide on how to get sponsored posts for more info.
91. Create Digital Products to Sell
Another way to make money from your blog is to create your own products to sell. You can create digital products, like ebooks or video tutorials, which are easier to make than a physical product.
Plus, you can create an ebook once, and sell the same copy over and over again.
These are just a few suggestions for making money online. Check out our post on how to monetize your blog for more ideas.
Back to the top
Tracking the Success of Your Blog
Don't just put up a blog and hope for the best. Be sure to track the results of your efforts so you can make improvements as you go.
Here's how to do that:
92. Monitor New vs. Returning Visitors
Using MonsterInsights, you can see the number of new visitors to your blog vs. the amount of returning visitors.
If you have a lot of new visitors, that means your blog promotion tactics are working. If your traffic is mostly returning visitors, you need to promote your blog more or in different ways to get new visitors.
93. Track Referral Traffic
MonsterInsights will also show you the top 10 websites that are sending you referral traffic.
You can use this report to see where most of your traffic is coming from. If most of your traffic is coming from a guest post you wrote for a popular website, you can see that your guest posting strategy is working.
94. Discover Your Most Popular Posts
You can also use MonsterInsights to find out what your most popular blog posts are.
This will help you figure out what your audience likes the most, so you can give them more of what they're looking for.

95. See Top Affiliate Links
If you're doing affiliate marketing to make money, you can also see what your top affiliate links are using MonsterInsights and Google Analytics.
By looking at which affiliate links are making the most money, you can tweak your other affiliate links so they get the same results.
Back to the top
Updating and Improving Your Blog
You should use the insights you gather from your blog, like the ones we mentioned above, to continue to update and improve your blog over time.
Here are some other ways you can update and improve your blog.
96. Keep Your Plugins Up-to-Date
First, you should always keep your WordPress plugins updated. This is important for your site's security and functionality.
If you're not sure how to update your plugins, give this post a read.
97. Update Older Posts
Update your older posts with new statistics, fresh images, add promotions for your newest products, interlink to newer posts, and so on.
Sometimes your oldest posts bring in the most traffic, so they should always be up-to-date.
98. Repurpose Content
You can also repurpose older content as a time-saving way to get new visitors to your blog. For example, you can create an infographic based on one of your most popular posts. Share the new infographic online and you can bring in new traffic.
Repurposing content is a great way to stretch your existing content further.
99. Collect Guest Posts for Your Blog
Get more content for your blog without having to do all of the work by accepting guest posts on your blog.
You can use WPForms to create a guest post submission form on your site to automatically handle guest posts for you.
With a frontend post submissions form, users can submit their guest posts to you without logging into your WordPress admin area.
100. Survey Your Readers
You can also use WPForms to survey your blog readers. Asking your readers what they think about your blog is a great way to give them more of what they want.
WPForms offers a drag and drop form builder so you can easily create the exact type of survey you need. It's also super easy to add your survey right on your blog.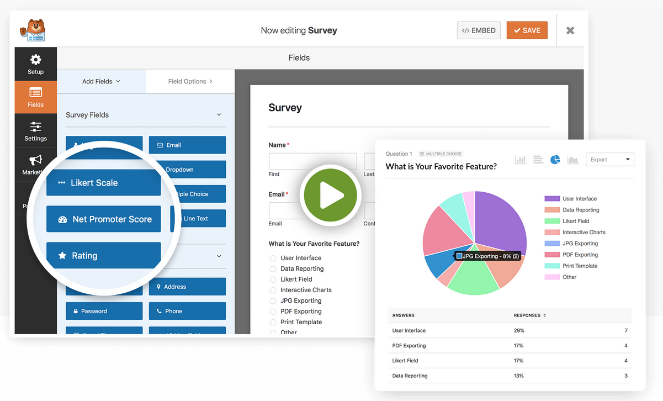 With the feedback they give you, you can make improvements to your blog so that they'll love it even more.
And last but not least…
101. Don't Forget About Having Fun
Blogging can be a lot of work, but it's also a lot of fun!
Don't get too caught up in comparing yourself to others and don't get frustrated if your blog isn't as growing as fast as you wanted.
Give it some time and enjoy the process of blogging. With time and work, you'll soon be able to celebrate having a successful blog.
That's a wrap!
We hope you enjoyed these blogging tips for beginners. These blogging tips and tricks should be enough to get you started on creating your blog.
Feel free to share any blogging tips we missed in the comment section below!
If you enjoyed this post, check out our launching a blog checklist. And don't forget to sign up for our email newsletter for more helpful blogging tips!