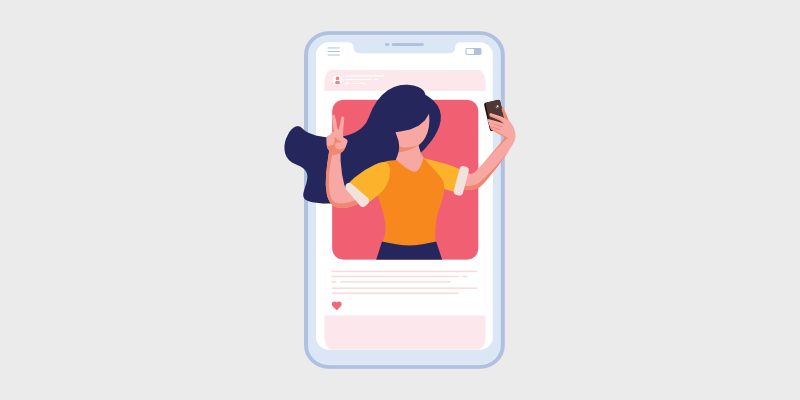 D o you want to learn how to use Instagram to grow your blog? In this Instagram for bloggers guide, we'll show you how to boost your blog readership and build a strong social media presence.
For someone that's just started a blog, finding the perfect method to grow your blog's traffic can be tricky.
But, don't worry, that's where social media comes in. Social media platforms like Instagram are a great way to promote your blog. To get the results you're looking for though, you need to do it right.
That's why we've put together this guide to help you promote your blog on Instagram. We'll show you how to use Instagram as a blogging platform, how to attract and find readers, how to embed your Instagram feed on your WordPress blog for maximum engagement, and much more.
So without further ado, let's begin.
Benefits of Instagram for Bloggers
There are a lot of benefits to promoting a blog on Instagram. If used the right way, Instagram can be the best place to grow your followers and readers all in one place.
It has over 1 billion daily active users, which means that you have a lot of opportunities to get your brand out there.
Instagram is a platform where people crave engaging visual content. And sharing engaging content on Instagram can do wonders for your brand.
It can help you:
Grow a community around your blog
Boost your blog's engagement
Promote your latest blog posts
Drive more traffic to your blog
And more
Now that you know the benefits of using Instagram, let's take a look at some tips to help you find success on the platform.
Pick a Good Username
Picking a good username for your Instagram account is very important. It grabs users' attention and helps them remember your brand.
If you already have a blog name, you should stick to that to be consistent across all platforms. Choosing the same Instagram username as your blog name will also help your current readers find you on the platform easily.
Here's an example of the blog Christie At Home, using the same name for their Instagram username.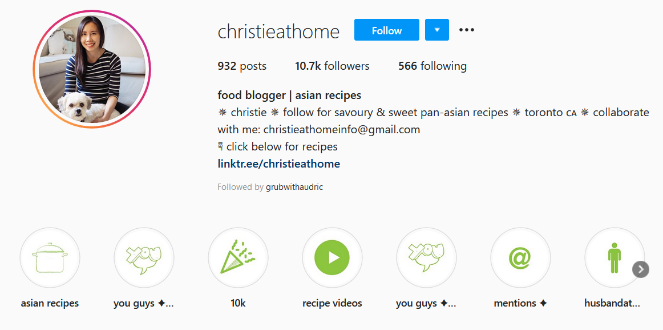 If you don't have a blog name yet and need help picking out the right one, then check out our free Domain Name Generator tool. It will generate thousands of blog name ideas for you, and all you have to do is enter your desired keyword.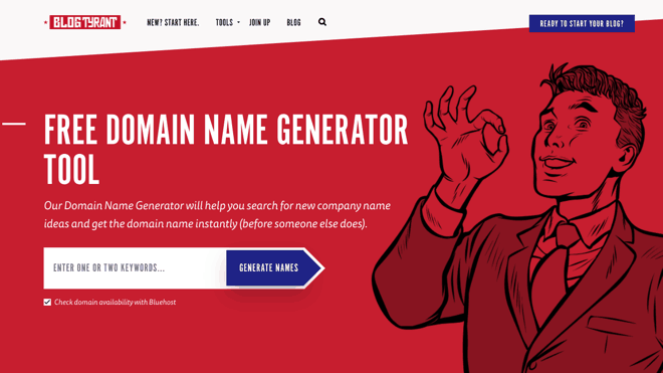 This tool will also help you get your desired domain name for free with Bluehost.
Now that you have picked a professional and catchy username for your Instagram account, let's move on to the next tip.
Stick to Your Niche
Before you start your Instagram journey, you need to pick a niche. A niche will help you decide what type of content to post on Instagram.
The niche of your Instagram blog should be the same as the blog you want to promote.
If you're a fashion blogger, then you shouldn't be posting or writing about finance. You'll just end up confusing your readers and that will make it harder for you to gain Instagram followers.
If you haven't decided on the niche yet, then you should spend your time wisely deciding on the niche you're going to pick. Because once you've chosen your niche, you'll have to stick to it in the long run.
Check out our guide on finding a profitable niche for more tips.
Make Use of Your Instagram Bio
You'd be surprised how effective that tiny bio space on your Instagram account can be. It can help you increase your blog's traffic and readers if you use it effectively.
Your Instagram bio acts like an elevator pitch; you have a 150 character limit to convince your audience to stay and follow your page.
You can fill your Instagram bio with text, emojis, hashtags, and mentions. You should also place a link to your blog in your bio, this will help your audience quickly navigate to your blog. Keep in mind that you cannot post the link anywhere else, not even in your posts.
If you need inspiration, you can also check out other bloggers in your niche and see how they have structured their bio. This will give you a good idea of what works and what doesn't.
For example, here's a great Instagram bio from the blog Take Me Fishing: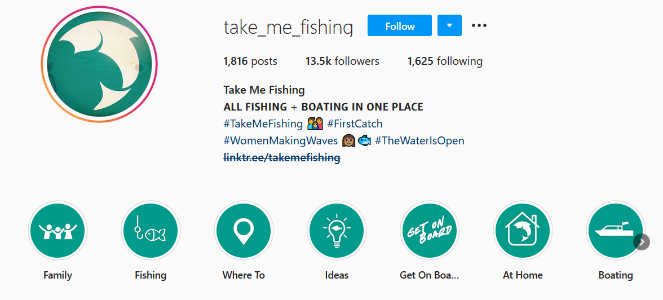 It describes what the blog is about and it also has relevant hashtags, emojis to grab attention, and it uses a Linktree link.
Linktree is a tool that lets you link to multiple places on the web, like your website, your latest blog post, your newsletter signup form, and more, all from just 1 link.
Share Your Blog Posts on Instagram
Sharing your blog posts on Instagram is the best way to get more traffic to your blog. You can leverage Instagram's massive user base and influence them to click through to your blog by posting engaging visual content.
However, sharing your blog posts on Instagram may sound like a simple task, but it's a bit more complicated than that. If you want to grab your audience's attention then you need to use:
Take a look at post from WPBeginner's Instagram as an example: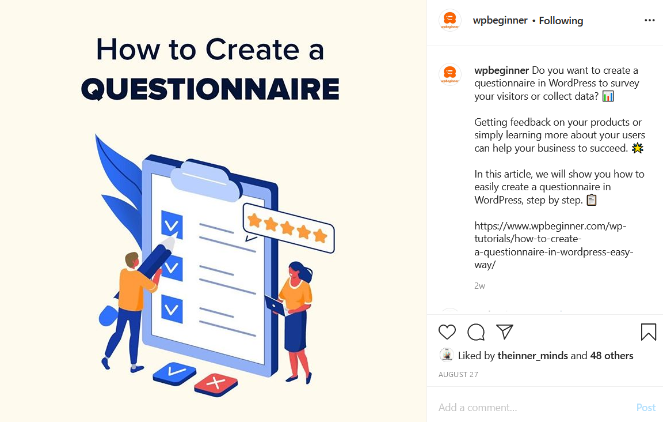 They use high-quality images to promote their latest blog posts.
Don't worry, you don't need to be an expert graphic designer to make visually appealing images like WPBeginner or any other big brand.
You can use a free tool like Canva to make high-quality images for your Instagram blog. You can also use their pre-made templates to make images like the one below in a matter of minutes.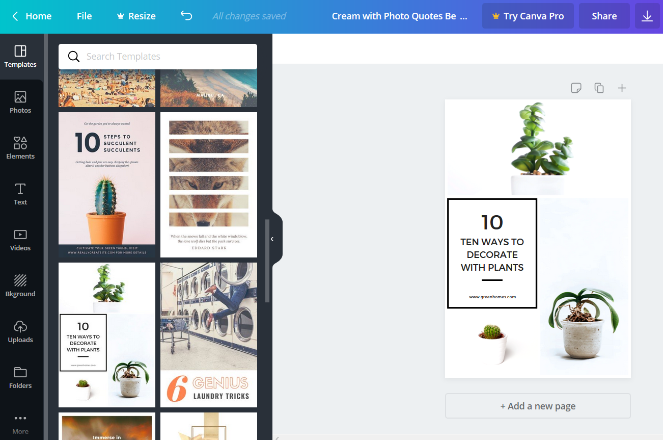 As for how to write captivating captions, here are some things to keep in mind:
Start with a hook by telling a funny story, or asking a question.
Share relatable thoughts or experiences. The more your audience can relate to you, the better.
End on a positive note, like sharing a solution to their problem.
Tell them where to go next by using an enticing call-to-action (more on that later).
Now let's talk about using hashtags.
Use Relevant Hashtags
Using the right hashtags can have a great impact on your Instagram posts' reach.
Hashtags are a great discovery tool for Instagram users; they allow people to easily find content relevant to their interests. If you use hashtags that are popular in your niche, you can attract more followers and readers to your blog.
A great way to find hashtags is to follow bloggers in your niche to see what hashtags they are using.
For example, if you have a food blog, you can see that fellow food bloggers on Instagram use hashtags like #EasyRecipe, #FamilyDinners, #InstagramFood, #RecipeIdeas, and more.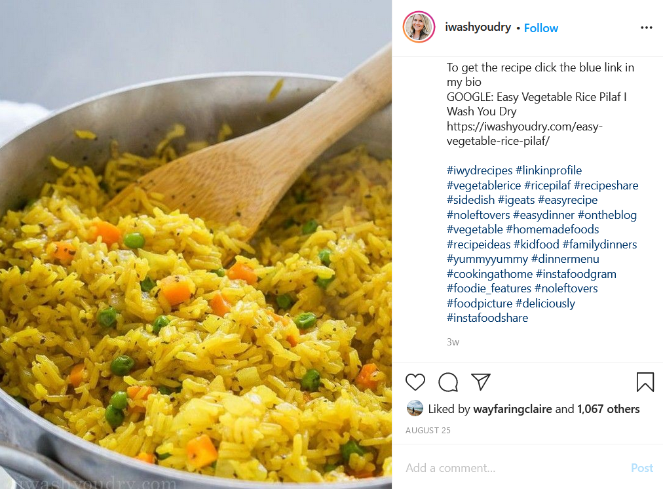 Before adding hashtags to your posts, you should check the usage of those hashtags. If the hashtag has under 1000 posts, it's unlikely that people are searching for those hashtags. You're better off using popular but relevant hashtags since they attract a big crowd.
Simply search for hashtags on Instagram to find out how popular they are: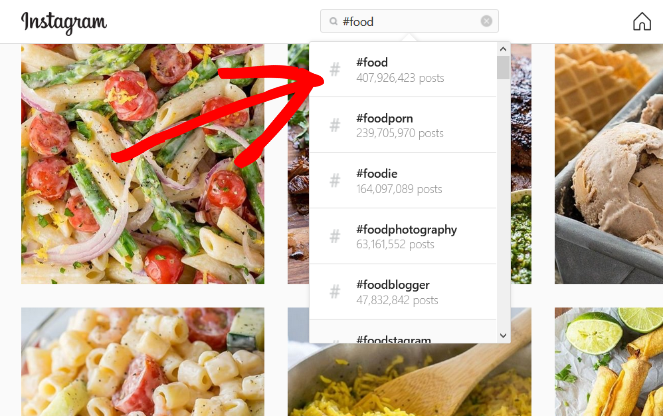 You could also do a little bit of research and see what keywords your potential followers are using to find content. To make things easy for yourself, you can use Tailwind. Tailwind has an Instagram Hashtag Finder tool to help you find relevant hashtags in your niche.
The great thing about Instagram is that it allows users to follow hashtags of their choice. This means that if you are using relevant hashtags, your posts will show up in your target audience's feed even if they aren't following you.
Instagram only allows you to use 30 hashtags in a single post. This means that you need to make sure that you're using the right hashtags to attract the right audience, or you will be losing valuable space in your post's description.
Use CTAs in Your Posts
Have you ever noticed text online saying "click here" or "download this exclusive content now," words that ask you to take an action? These are called calls-to-action or CTAs for short.
You need to add CTAs to your Instagram posts if you want users to take an action like visiting your site or reading your latest blog post.
We've already discussed that Instagram doesn't allow users to place clickable links in their Instagram posts. But you can still add the URL to help your audience navigate through to your blog. It may not be clickable, but it will work just as good if your captions are captivating.
Take a look below at how WPBeginner uses CTAs and URL texts in their Instagram posts: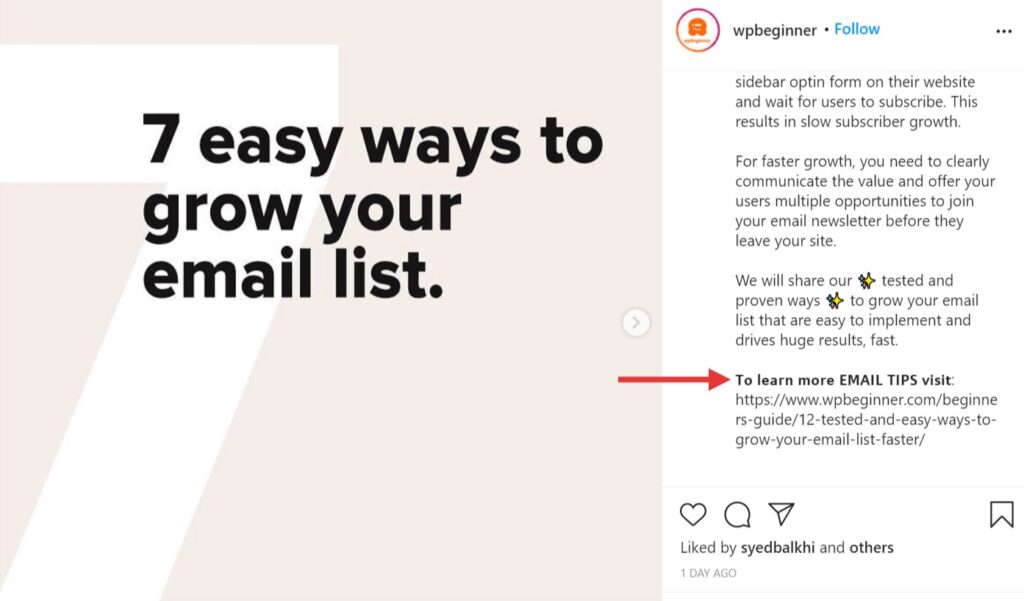 Alternatively, you can add a CTA in your caption that asks users to click on the link in your bio.
You can also include CTAs to increase engagement on your Instagram posts.
It's a known fact that all social media platforms reward posts that get high engagement like comments, likes, and shares.
So, CTAs can encourage your audience to engage with your Instagram posts too. You can ask your followers to interact with your post by asking a question, by asking them to share an experience, or by simply asking them to like or share the post.
Embed Your Instagram Feed On Your Blog
You might be wondering, what's the point of having an Instagram feed on your WordPress blog?
Embedding an Instagram feed on your site can help you generate more engagement on your blog and on your Instagram posts.
As we have discussed above, having a high engagement rate makes your Instagram posts more visible. And having more visibility means that there are chances of getting more followers.
Plus, you can introduce your Instagram account to your blog readers, who might not have been aware of it before.
Having an Instagram feed on your blog is the best way to accelerate your Instagram growth.
We recommend using Instagram Feed Pro by Smash Balloon to display customizable Instagram feeds on your WordPress blog.
Here's what an Instagram feed could look like on your blog: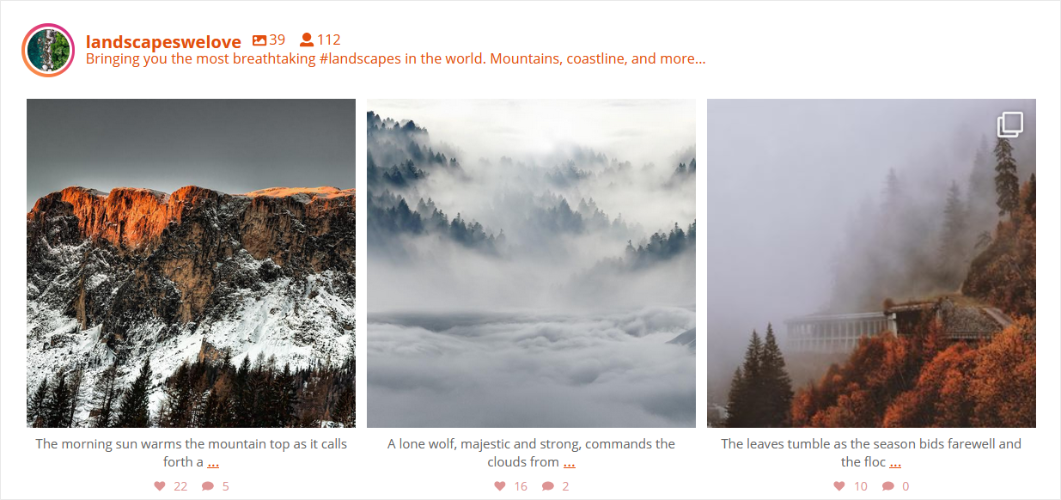 You can read our step by step guide on how to add an Instagram widget to your blog for more details.
Be Consistent With Your Posting Schedule
To make social media work for your blog or your online business, you need to make a serious effort to be consistent.
There's no point in feeling all inspired and motivated now and posting content every day, to only drop out of using Instagram a few weeks later.
Instagram users thrive on consistency; if you post once a day, your followers will expect you to post content every day. But as soon as you break that consistency, you will start losing followers.
By having a consistent posting schedule, you can get more views, engagement, and followers on your Instagram.
A great way to keep a consistent posting schedule is to create a social media calendar on Excel, Google Docs, or Google Calendar. Take a look at the example below: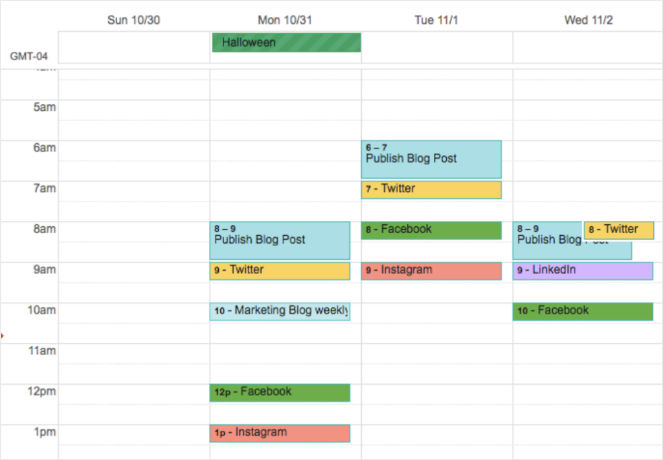 You can also use a scheduling tool like Buffer to automate your posting schedule. This helps you schedule your post in advance and saves valuable time.
Connect With Your Audience
You need to build a strong connection with your followers if you want them to stay around for the long run.
The best way to connect to your audience is to be yourself. You've probably heard this phrase get thrown around a lot, but truth be told, this is what helps people easily connect with you and your brand.
People love bloggers that share their stories and tips from a personal space.
Remember, everything that you post is for your readers. Write your posts as though you are talking to one of your friends, and this will resonate with your audience, especially if you're solving their problems.
Don't forget to talk to your followers in the comment section to further build your relationship with them.
Make Use of Instagram Stories
One of the best ways to promote your blog and gain followers is through Instagram Stories. Instagram Stories' popularity isn't going down anytime soon, as 70% of Instagram users watch Instagram Stories every day.
The biggest benefit of using Instagram Stories to promote your blog is that you can post a direct link to your blog, this is something you can't do on your regular Instagram posts. Unfortunately, you need at least 10,000 followers to unlock this feature.
Until you reach that milestone, using Instagram Stories are also a great way to keep your followers hooked because it's engaging and visually appealing. Plus, you can also reach an all-new fan base that will help your blog grow!
Pro Tip: Spread out the information in more than one story frame. If you put all of the information in one slide, chances are that your viewers will only see it for a second or two and then tap to the next story.
If you spread out the information to 3 or 4 slides using engaging visuals, you will have an opportunity to capture their attention as they tap along with your Story.
Here is an example: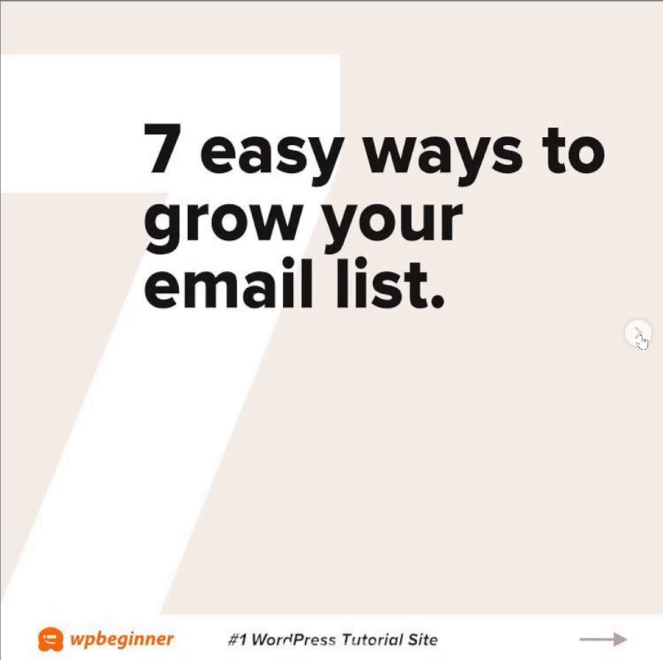 You can easily create engaging Instagram Stories using Instagram Story templates from Canva.
Follow Other Bloggers and Engage With Their Content
Posting engaging and likable content is one great way to get noticed and to grow your Instagram followers.
Another effective way is to actively follow, like, and comment on content shared by other influential bloggers in your niche.
This is a great way to become more visible in the blogging community.
Once you get enough attention, your peers might decide to feature you in their post or reach out to you for a collaboration. You can significantly increase your blog's visibility by collaborating with other bloggers and businesses.
If you want to collaborate with your fellow bloggers but don't know where to start, follow the tips below:
Use popular hashtags in your niche to find bloggers that you want to work with. Once you start following them, start interacting with their post by liking and leaving comments.
Check popular brands in your niche and see if they are active on Instagram. Once you find them, you can reach out to them and ask for a collaboration.
Networking on Instagram is a great way to reach new audiences.
Run Instagram Giveaways
Running Instagram giveaways is another great way to grow your Instagram followers and promote your blog. Everyone loves getting the chance to win an awesome prize, so giveaways will attract a ton of attention on Instagram.
Running a giveaway might seem like a lot of work, but it's actually pretty easy when you use RafflePress.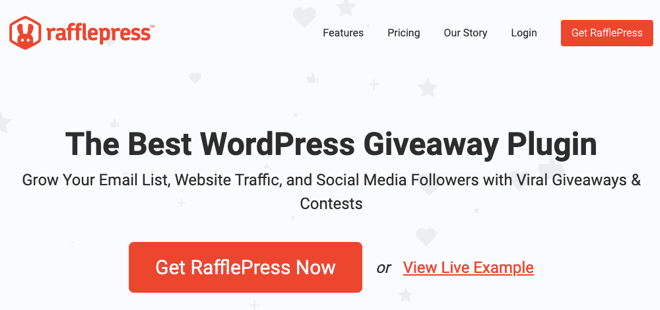 RafflePress has giveaway templates that you can customize with the drag-and-drop builder, built-in social media integrations, and more.
Plus, RafflePress comes with actions that users can take in order to get extra giveaway entries like:
Visit your Instagram profile
View a specific Instagram post/video
Sign up for your email newsletter
Visit a page on your website
Refer-a-friend
Check out our post on how to run a giveaway for more tips.
Use Instagram Ads to Drive Traffic to Your Blog
If you want to drive traffic to your blog through Instagram without spending too much time building an audience, the best way to do it is by running ads.
Contrary to popular belief, Instagram ads are not that expensive, and they are easy to manage. It gives you the freedom to send people wherever you want. It could be your blog, your latest blog post, or a conversion page on your website.
You can customize your target audience yourself, or you can let Instagram target people for you.
In order to get started with Instagram ads, you need to have a Facebook Page to create a free Instagram business account. Once you have set that up, you can create your ads from here.
You can then choose the goal of the ad that you want to run as shown in the example below: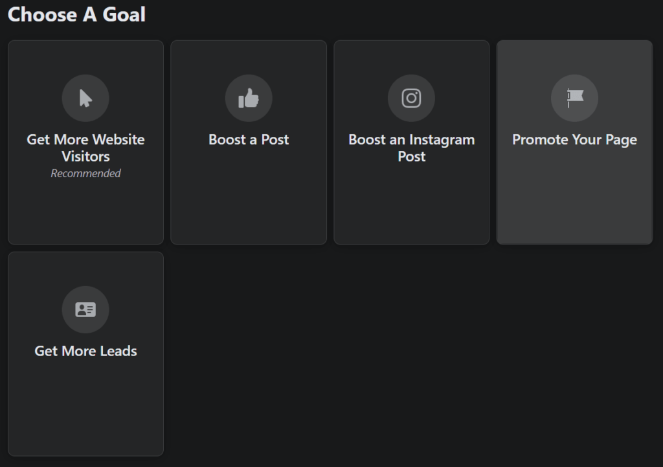 If you have money to spend and are serious about getting traffic to your blog, you should consider running ads on Instagram. It's worth every dollar spent.
That's a wrap!
We hope you found our tips on how to promote your blog on Instagram useful, and more importantly, we hope you will take action and implement them to grow your blog.
Once you start implementing these tips over time, you'll see significant growth in your blog's traffic through Instagram. It takes a bit of effort, but once you get the ball rolling, you will see how beneficial Instagram is for bloggers.
If you like this article, you may also want to check out our guide on getting traffic to your blog.
And don't forget to sign up for our email newsletter for more helpful blogging tips!