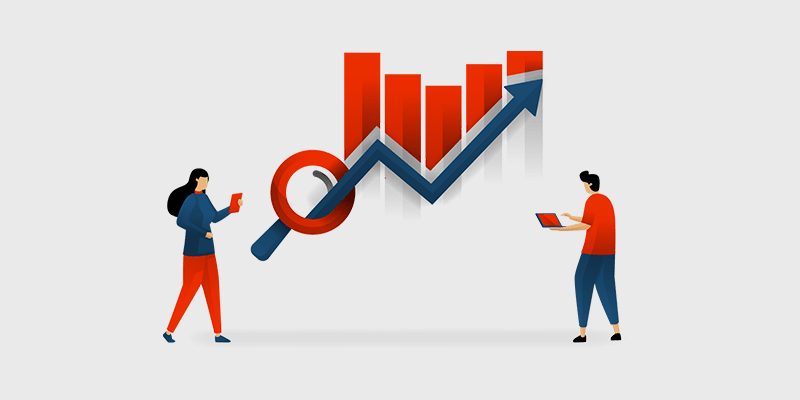 D o you want to get more traffic to your blog? Traffic is a hot topic in the blogosphere because it's the lifeblood of every blog.
Gone are the days when you could attract a huge amount of organic traffic by simply updating your site.
Those basic tactics won't work now, but with the right strategies, you can still grow your traffic rapidly.
In this article, I'll show you some of those cool strategies that still work to drive more traffic to your blog along with some actionable steps. Implement one of these tactics every week and you'll be on your way to increase your blog traffic exponentially.
Let's get started!
1. Identify the Right Blog Topics
If you're blogging just for fun, it's fine to write about whatever you want.
But if you're serious about getting traffic to your blog, the first and foremost thing you need to focus on is keyword research.
What is keyword research? Simply put, it means finding the words that people are using to search Google and other search engines. If you identify those search terms, also called keywords, then you'll know exactly the topics that you should be writing about on your blog. Then when you use those keywords in your content, your blog posts will be more likely to show up in the search results.
Keyword research lays the foundation for your blog, so you can attract the right audience who are interested in what you're offering on your blog.
Without keyword research, you'll fail to convert your traffic into email subscribers and customers. That's because you won't be writing about the topics your target audience is searching for, and even if you do, they won't be able to find it in Google.
With keyword research, you can target the right keywords for your content, which helps the Google algorithms to understand what it's all about. This will boost your chances of your articles popping up in response to a search.
How do you do keyword research? One way is to start with a blog post idea and then brainstorm different ways people might search for that topic in Google.
Then, start searching for that topic yourself. Make a note of the titles that appear in search results, and the suggested searches at the bottom of the page.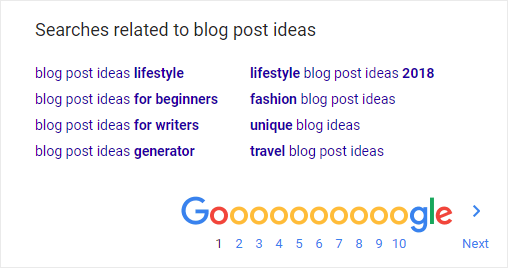 This will give you a good idea of what other people are searching for, and how they're phrasing it.
For detailed step-by-step instructions, check out this guide on how to do keyword research for beginners.
2. Create Pillar Articles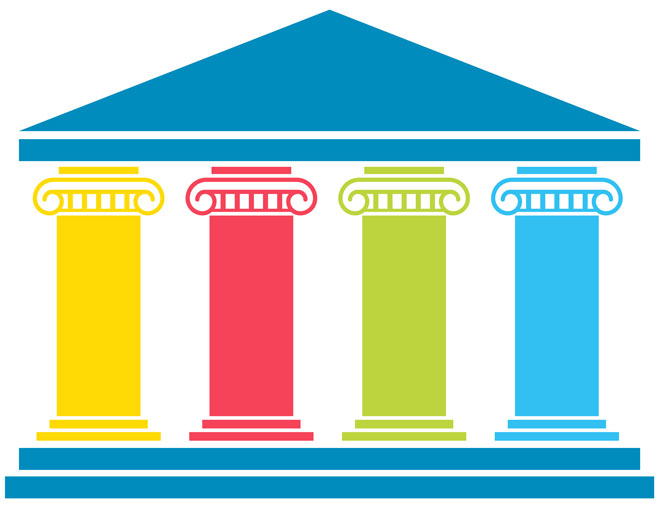 Once you have a good idea of the topics people are searching for, the next thing you need to do is to create a series of pillar articles.
Pillar articles are longer blog posts on more general topics related to your blog niche. Pillar articles can be thousands of words long. They tend to be "evergreen", meaning they're not quickly outdated, and they bring in a lot of traffic even after months – if not years – of creating them.
Pillar articles help you…
Bring in a rush of new readers, social shares, and links back to your blog.
Bring in more readers over time even if your content is buried in your archives.
Bring in search traffic because so many other sites eventually link to them.
So how do you create pillar articles the right way, so they continue to drive traffic even after years?
Here are a few steps to get you started:
Content ideas: Come up with a list of pillar article ideas that you want to publish on your blog. These should be more high-level topics that you can write an in-depth post about.
Research: See what other people are writing on the topic, and think about how you can create high-quality content that's even better.
Editorial calendar: Build an editorial calendar and add these ideas to the calendar. Make sure to give yourself enough time to write longer articles.
Stick to the plan: Choose a publishing schedule and stick to it, no matter what. Check out our tips to write faster to help you stay on track!
This strategy can take time to work, but it's a great way to build your audience and your reputation. Plus, you'll see your traffic continue to grow over time.
3. Apply Basic SEO
Search engine optimization (SEO) is a set of best practices that help make your site more search engine friendly. The better your site is optimized for SEO, the more traffic you can get.
And while SEO can seem complicated, it doesn't have to be.
You can easily apply SEO to your web pages and blog posts using a plugin like All in One SEO.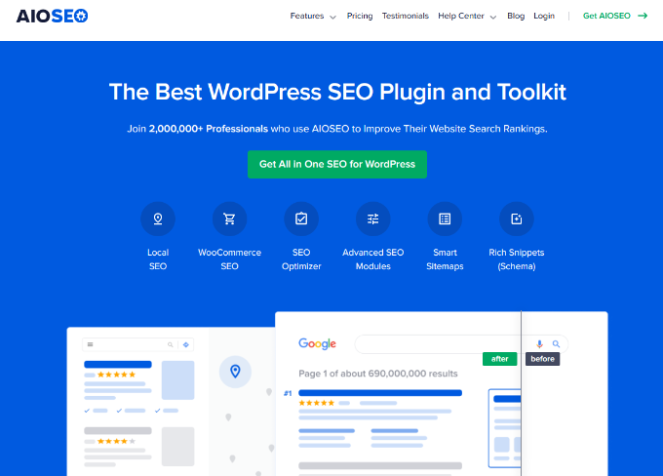 When you create a new page or post in WordPress, All in One SEO will give you a TruSEO score that tells you how well your content is optimized. It also gives you an actionable checklist you can use to improve and unlock maximum traffic.
Plus, there are other powerful features like automatic meta tags, smart XML sitemaps, WooCommerce SEO, and much more.
There's also a free version that includes all of the basic SEO features you need for your website.
To learn more, check out our detailed review of All in One SEO.
4. Create a Viral Giveaway
Want a tip that will work to get massive traffic NOW?
Running a giveaway is a great strategy to skyrocket your traffic and email list. A viral giveaway works like wildfire because it piggybacks on word-of-mouth advertising to help you get more traffic and signups.
Joshua Earl, a freelance writer, has managed to grow his email list by 3,418% in just 11 days by running a viral giveaway.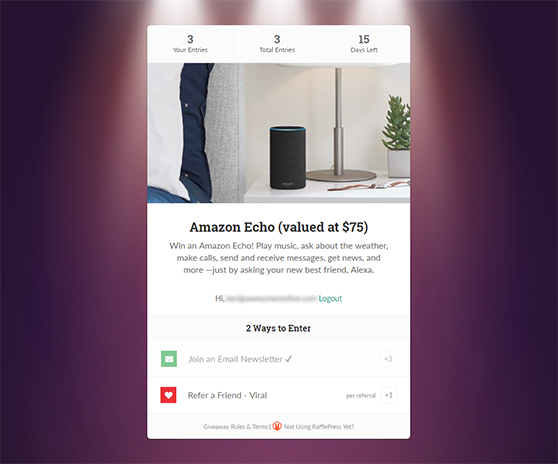 So, how does a viral giveaway work?
Set up a contest/giveaway on your blog with a plugin such as RafflePress, which is the best giveaway plugin available.
Announce a price for your audience to encourage participation.
Encourage the participants to share the giveaway to earn entries.
Promote your giveaway everywhere on the web.
For more details, see this step-by-step guide on how to run a viral giveaway.
5. Build an Email List
Did you know that on average, 70% of your website visitors will only stop by your blog once and never return?
That's why building an email list is so important. An engaged email list can help you drive repeat visits to your site.
When you build an email list, you can build a connection with your visitors by sending them valuable content over time.
Repeat visitors are more likely to convert into customers, compared to first-time visitors. In fact, studies show that it takes 3-4 visits to your website for your potential customers to actually think of doing business with you.
That means as you drive repeat visits, you're also gaining your subscribers' loyalty, in turn turning those subscribers into customers.
Using optin forms from OptinMonster, like this lightbox popup, is the best way to get blog visitors onto your email list: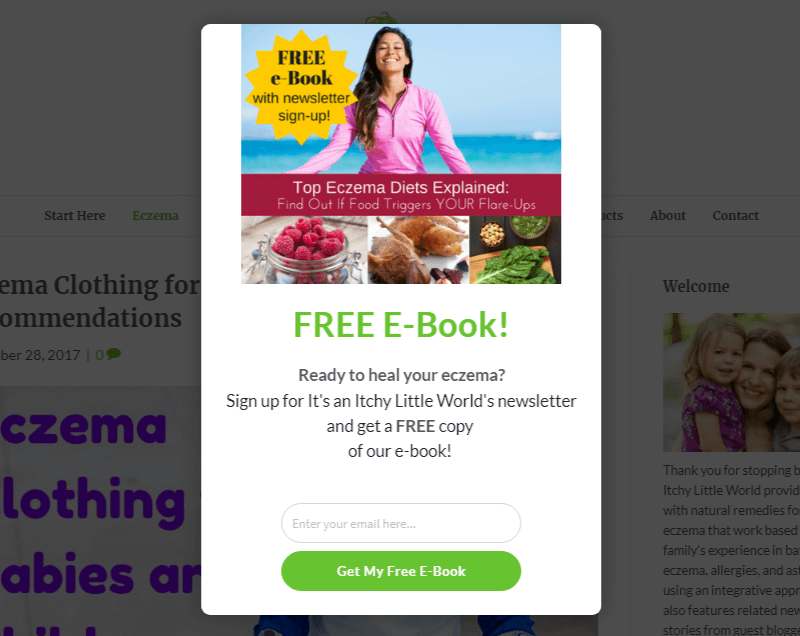 Blogger Jennifer Roberge used this to increase her email signups by 159%!
See our guide on how to get more email subscribers for more tips and tricks.
6. Start Guest Blogging
Guest blogging is when you write an article to publish on someone else's blog. It's long been a popular way to build brand exposure, expand your reach, build authority in your niche, and of course, drive traffic to your blog.
Though it's been around for a while, guest blogging isn't dead!
If done right, it's still a great strategy to demonstrate your expertise and drive massive traffic to your blog.
If you've been blogging for a while, probably you'll know some of the top blogs in your niche that accept guest posts. But don't limit yourself by only writing guest articles for a few blogs that you already know.
Instead, use Google effectively to find potential blogs that accept guest articles.
Below are a few sure-fire methods I follow to find them:
Search your topic + "write for us", "contribute", or "submit a guest post" to find on-topic blogs that accept guest posts.
Install Mozbar on your browser. It's a free tool to weed out irrelevant blogs from the results.
Visit each blog that you think is worth posting an article for and then send them a guest posting proposal.
For example, here's how I'd use Google to find the potential blogs to guest post for.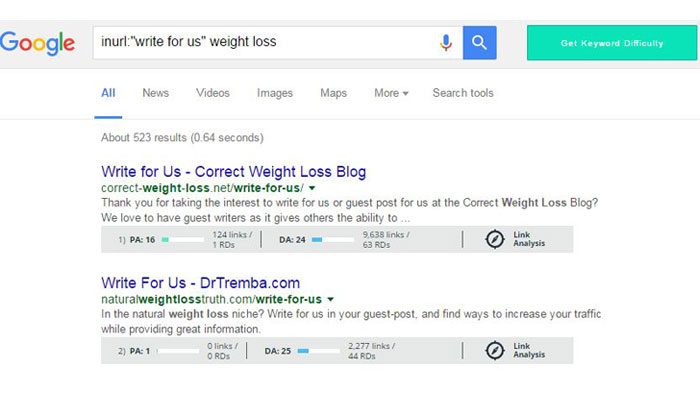 I'm using the inurl search operator to narrow down my results. (Check out this Google search operator guide for more advanced searching tips.)
Using the Mozbar extension, I avoid any blog that has a Moz DA (Domain Authority) of less than 40. This way I can ignore less authoritative blogs and save my time writing for more influential blogs with more traffic.
7. Use Email Outreach to Ask for Links
Email outreach is another great strategy to drive an insane amount of traffic to blogs and websites.
Basically, you write great link-worthy content, make it even better, and reach out to the right people for backlinks.
Brian Dean calls this strategy the skyscraper technique.
This strategy of getting backlinks from all around the web has helped him double his organic traffic in just 14 days.
Since we've already covered how to write pillar articles in this post, let's take a deeper look at reaching out to the right people.
This outreach strategy is helpful for any other purposes including guest blogging where you're supposed to send emails to different editors. The better your outreach process is, the more time you can save, and of course, the better your results.
How to Use an Email Productivity Tool for Outreach
An email productivity tool like Streak, which I use and recommend, will let you track how often emails are opened and what links recipients click on your emails.
Streak is a free Gmail and Chrome add-on to track your email activities and improve your productivity.
With its Snippets, you can use a library of frequently written emails, so you don't have to write it from scratch.
The most important feature that l like about this app is its CRM. It lets you integrate a CRM into your Gmail inbox, so you get a bird's eye view of what happens to each email that you sent.
With Streak, you don't need to create a separate spreadsheet or a pipeline for tracking the progress of all your emails, since it's integrated into your inbox.
For example, take a look at the email pipeline I created for my guest blogging campaigns.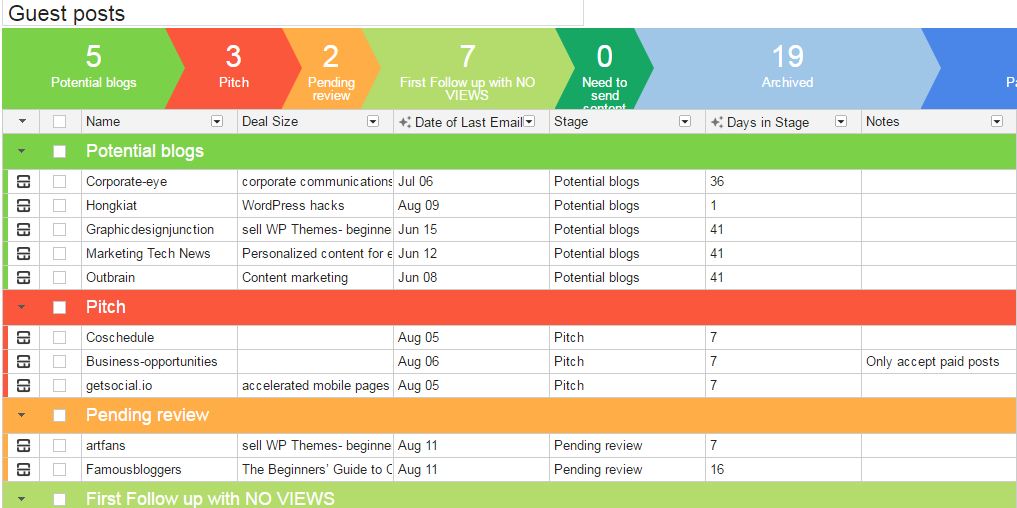 By simply looking at the CRM, you can instantly figure out to whom you need to send a follow-up to get a response.
8. Add Browser Push Notifications
Since its inception, mobile apps have been using push notifications to increase user engagement. Now the same technology is available in browsers as well for publications.
With push notifications, you send an alert to your regular reader about a recent blog post or any updates that you want them to know. The key point is that you'll be able to send a notification to your users' browser even if they're not present on your website.
PushEngage is a great app that lets you send push notifications to your subscribers.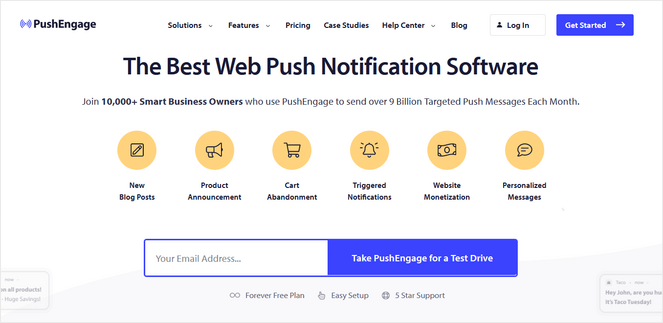 The best part is that PushEngage has a free plan that lets you send 120 notifications/month to up to 2500 subscribers.
To find out more about PushEngage, check out our list of the best push notification software.
9. Regularly Update Your Articles
It's true that pillar articles are evergreen content, but if you want to keep your articles fresh, you'll need to constantly update them.
The freshness of the content is also a ranking factor in Google, so you need to keep it updated. Otherwise, your competitor's article would rank higher on Google, dropping your position on the search results and organic traffic.
I use and recommend SEMrush for keeping an eye on the position for my preferred keywords on Google.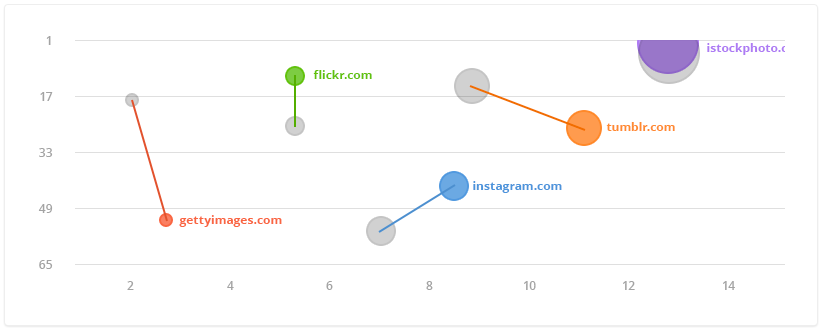 Using their Position Tracking report, you can upload all the keywords that you want to rank for. This helps you figure out which article needs an update.
You can also tag the keywords based on priority, so you can see the position of your keywords in the search results page. If you see a significant drop in certain keywords, then you can go ahead and improve your article.
After a few days of updating your article, you can view the stats and see if the recent update has made an impact on your ranking.
10. Run a Facebook Ad Campaign
If you're willing to spend a bit of money to grow your blog traffic, Facebook ads are a great way to do it.
Just linking to your posts from Facebook won't do much. If you've been promoting your blog posts on your Facebook page for a while, you might have noticed that the number of Page followers doesn't always equate to the reach of your posts.
According to Syed Balkhi, the Facebook organic reach problem has a Domino effect.
If you have one bad post, then it will impact the reach of your next post.

Now since fewer people see your next post, there will be an even lower number of interactions which creates a negative chain reaction. Before you know it, your page's organic reach vanishes.
Similarly, if one of your posts does really well, then your next post will have a better chance of succeeding due to the increase in visibility.
How would you tackle the Domino effect and continue driving huge traffic to your blog from Facebook? Advertising.
By advertising on Facebook, Syed Balkhi, has found an improvement in the organic reach of WPBeginner Page and an increase in traffic by 332%.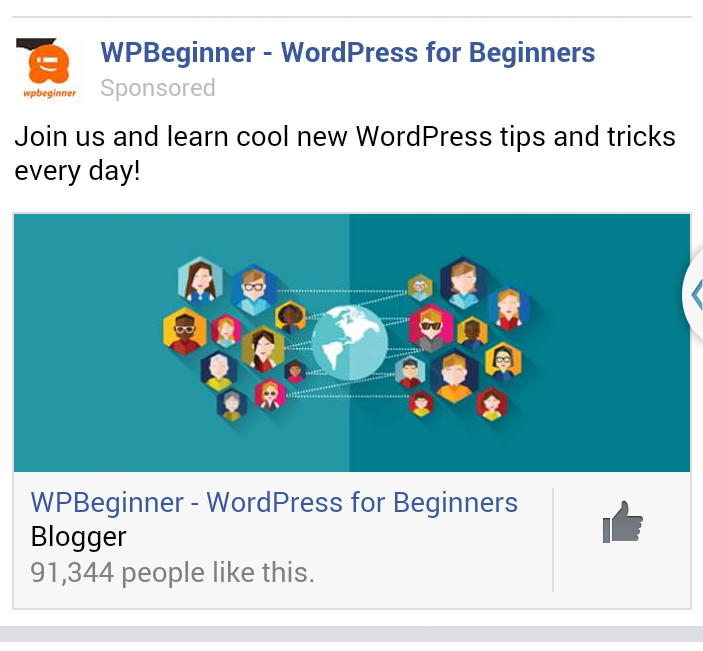 If you want to boost your own traffic with Facebook ads, follow these tips:
Only share posts that you believe would interest your followers.
Like any other social network, rich media like photos and videos get more attention on Facebook than any other types of content.
Constantly review the engagement using Page Insights, so you know what works best with your audience.
For more details, check out OptinMonster's guide to Facebook ads.
I hope these tactics will help you boost your blog traffic.
Do you have any traffic tips that you've applied to your blog and seen a big difference? Leave a comment and let me know. I'd be interested to chat about this one.
If you enjoyed this article, you might also want to check out our guide on blogging SEO to get even more traffic to your blog.