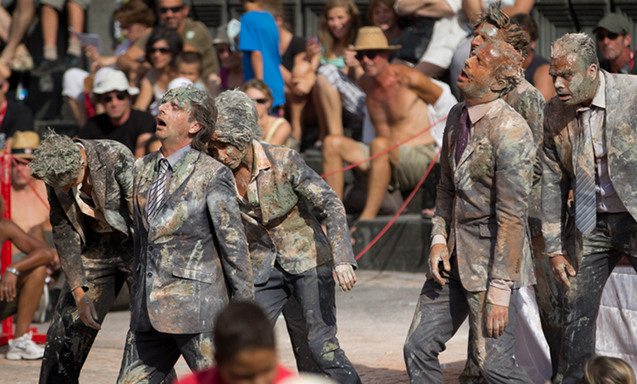 © Alain Lauga | Dreamstime.com.
Sometime last year I wrote a post that got over 450 Tweets, 100 comments and ranks at the top of Google for the keywords "best about us pages" and all things similar. It brings in around about 8,000 to 9,000 visitors from search per month.
Seems pretty good right?
Well, sort of.
The problem is that the traffic has a really high bounce rate compared to other articles and other sources of traffic like referrals and social media. So, in effect, I've written a "viral" post that gets me more traffic and not much else.
Uuuugggghhhhh (zombie groan).
In this post I'm going to talk a little bit about traffic targeting. It's a term I came up with after realizing that this seemingly successful post was, in fact, kind of pointless.
What is traffic targeting?
Traffic targeting was something I started to think more about when I realized that a portion of my daily search traffic was, in fact, bouncing from the site really quickly and bringing me very little benefit.


Screen grabs of the post for May with 1.18 pages per visit – it also has around an 80% bounce rate. Yuk!
These posts that I'm talking about are well written and full of value – they should be leading to more sign ups and, in the end, more customers to my future products or affiliates.
But they don't.
Why does this happen?
What is the cause?
Well, it all happens when you post an article for the sake of the posting. It happens when you forget that the purpose of your blog is not to get Tweets, traffic or even email subscribers.
It's to get an outcome.
How do I know if I'm getting bad traffic?
So you're probably wondering how you can tell whether or not you have bad traffic coming to your site. Well, there are a few signs that you can look for to give you some hints.
Traffic but no sign ups
The first thing that often gives it away is that you get some traffic to your site but not really any sign ups to your mailing list. It could be a sign that your offer or opt-in form is not quite right, but it often means your traffic doesn't match.
Sign ups but no further engagement
The next possibility is that you do get some sign ups to your mailing list but those people don't really engage with your brand in any meaningful way. They might even unsubscribe because they can't remember why they gave you their email address in the first place. Could it be your bad follow up email?
You have a high bounce rate
I'm a little bit wary of the old bounce rate measurement (it's not really as telling as people would have you believe) but if you have a high bounce rate to a particular post it could mean that your post isn't framed well in the context of your entire site and hence people leave early.
Low page views
Page views are the amount of pages each visitor checks out while they are on your site. If they are low, it can be a sign that your traffic isn't suited to your other content. Be careful, though, as it can also have a lot to do with your blog design and content flow.
Your referral traffic doesn't convert
Referral traffic (guest posts, mentions on other sites, etc.) is, for me, the best source of traffic. It is usually a lot more targeted than search traffic because it is so easy to make it part of an overarching content strategy that leads to signs ups and sales. So, if you find that this source of traffic isn't doing much for your blog you might want to re-asses your traffic targeting.
Have a little dig around and see whether any of these things are happening on your blog. If so, read on to the next section.
What do I do about all this bad traffic?
Let me just say at this point that not all of those visitors are useless. And useless is actually a really harsh word now that I think about it.
So perhaps there's a little bit of hype in my title.
But, what I'm really trying to get across with that title is the fact that unless you have a solid plan for your blog and its content, advertising, marketing, social media, etc. you can wind up with traffic that doesn't get you anywhere.
Focus on your funnel
Make sure you focus what you want readers to do at the end of reading a new article. The goal is to funnel them somewhere, not just get more traffic.
Set specific goals
Goal setting means you will be more likely to keep your content focused. Set goals for the long term as well as each individual post.
Know your blog's purpose (like, really)
The main thing I've noticed is that most bloggers don't really know what their blog is trying to do. They know they want it to get subscribers or more traffic but aren't really sure why. This is a big problem.
Start at the end
Don't start with a post, start with what you want your readers to do once they've written your post and then work backwards. Too many bloggers focus on getting more traffic but not why.
Subscribe to my mailing list
I don't do this very often but in the next two weeks something very special is being released to the Tyrant Troops (my mailing list) only. I'm not even going to publish it on the blog. I don't want to give too much away now but it will really help you put all of this stuff together in a strategic way that leads to outcomes.
As with most things blogging, you'll need to do a lot of tweaking, tracking and testing to see meaningful changes in these areas.
Do you have bad traffic?
How much of your traffic is "bad traffic"? Do you have any solutions that you've applied to your blog and seen a big difference? Leave a comment and let me know. I'd be interested to chat about this one.
Top photo: © Alain Lauga