Need to scan your website for malware, viruses, or other errors? Then you're in the right place.
Our powerful security scanner is powered by Sucuri, the best security firewall for WordPress. We use Sucuri on our own sites to ensure website security and protect from hackers.
We highly recommend that you use Sucuri too, if you're serious about your website security.
Why is website security so important?
Let's take a look at some of the risks that bloggers and website owners face…
Why Do You Need a Security Scan?
You may already know that WordPress is the most popular blogging platform there is, and for good reason. It's free, easy to use, and incredibly powerful.
But there's a downside – because it's so popular, it's a common target for hackers and spammers. Even small or new blogs are targets.
That means that if you're not securing your site, it could be vulnerable.
If hackers get access to your site, they could use it to spread malware and viruses to your visitors. It's also a common scam to take a website hostage and demand payment for its return.
That's why malware scans and security checks are so important.
You worked hard on your blog – so don't risk losing it!
How Does the WordPress Security Scanner Work?
It's super easy to use. Let's take a look…
Enter your blog address in the website scanner above.
Click the Scan Website button.
Wait for results…
View your detailed report on any errors, malware, and more.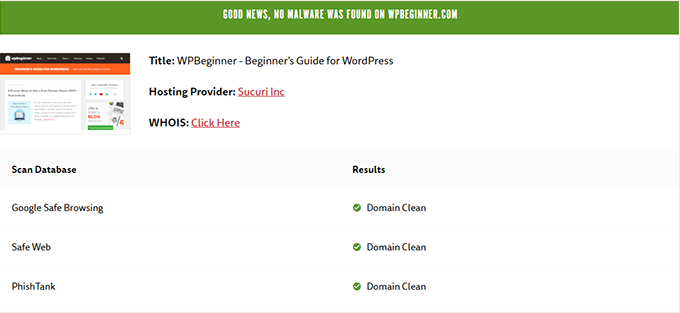 How Can You Protect Your Site From Hackers?
The first step is to use a reliable firewall. A firewall will protect your site from any malicious traffic, because it detects suspicious visitors and blocks them before they can take any action.
We recommend using Sucuri. They actually offer a free WordPress scanner plugin that you can install on your blog to keep it safe.
Sucuri will protect against:
hacking attempts
brute force logins
distributed denial of service (DDoS) attacks
zero block exploits
Plus, Sucuri can also help to speed up your website.
Sucuri is the best security software to keep your WordPress website safe from hackers and speed up your site.
Get Sucuri Today
Here are a few more basic tips everyone should follow to keep a WordPress site secure:
Ready to check up on your site? Just enter your blog address at the top of the page to start your scan.
Back to the top