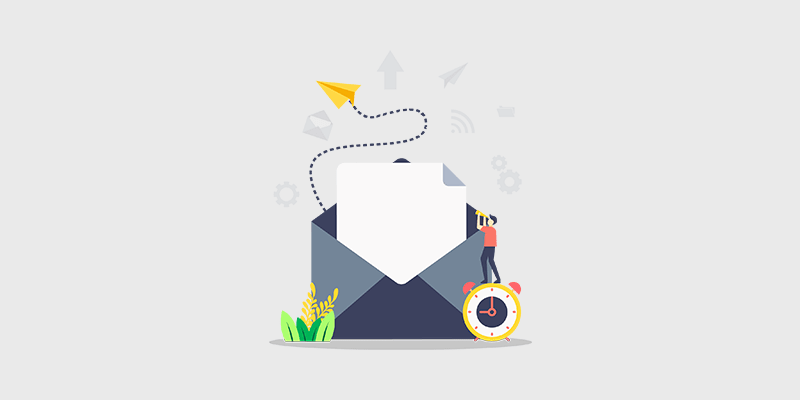 A re you ready to get started with email marketing? Email is the best way to stay in touch with your website visitors so they become loyal fans.
But to use email marketing the right way, you need to use the best email marketing service that's right for your blog or business.
In this article, we'll compare the best email marketing services and help you decide the right one for your needs.
First, though, let's take a look at why email marketing and choosing the right service is so important.
If you want to skip ahead to our reviews, just click the service you're interested in here:
What Is Email Marketing?
Email marketing is a cost-effective way of sharing the word about your product or service. It helps you to build a solid relationship with your audience and allows you to increase your sales.
According to the Direct Marketing Association report, you can expect a return of $32 for every $1 you spend on email marketing. Isn't that great?
Email marketing can help you:
Develop a strong relationship with your website visitors
Save money on your marketing budget
Build your brand and credibility
Boost engagement with your content
Turn casual visitors into loyal readers and customers
Bottom line, email marketing is the best way to make more money online.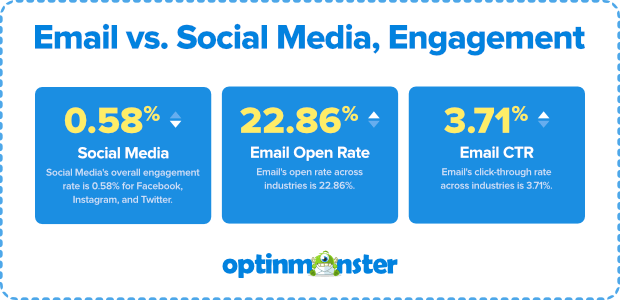 If you're just getting started, you'll want to read our complete guide to email marketing for step-by-step instructions.
How to Choose the Best Email Marketing Service
Choosing the right email marketing service is the most important step when you're getting started with email marketing. It can be really tough to switch later on.
So, how do you make sure you're making the right choice?
First off, you should never choose a service based on how popular it is. Just because a service is popular, doesn't mean it's the right choice for you.
And just because a company offers a lot of features doesn't mean that you should select it. You may not need all those features when you're just getting started – or ever!
Whatever your needs may be, here are some of the most important things to look for in your email marketing service:
Ease of use: Is the user interface designed with beginners in mind?
Email deliverability: Will your emails reach the inbox, or be sent to spam?
Marketing automation features: Can you set up automated emails to earn a passive income?
Price: Do they have a free plan to get started? Are there paid plans reasonable as you grow?
Support: Do they offer quality support to help you get started and troubleshoot any issues?
With that in mind, let's take a look at the best email marketing services for you!
Best Email Marketing Services
In this list, you'll find a good variety of email marketing services to choose from, with different features suitable for all different kinds of blogs and businesses. No matter what your needs or budget, you'll find the right service in this list.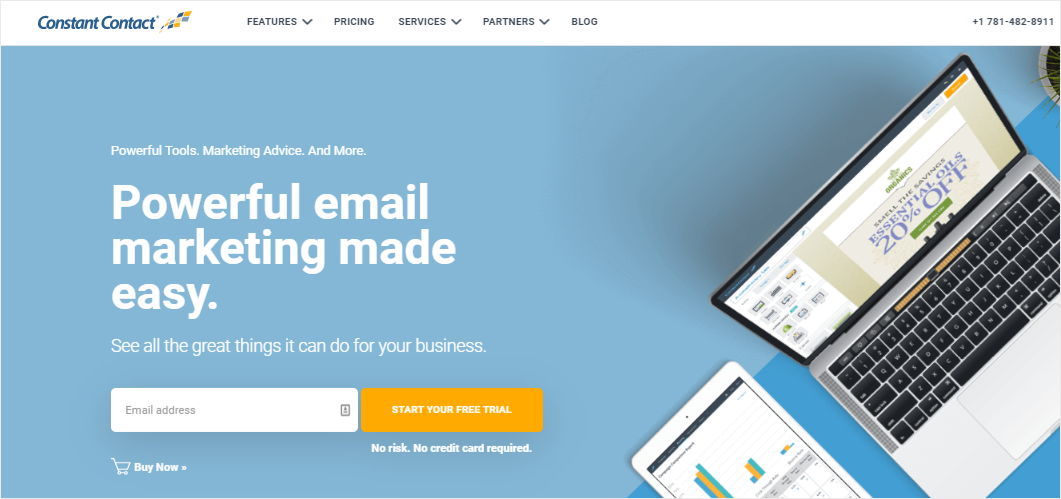 Constant Contact is one of the most popular and reliable email marketing services in the market. They are suitable for bloggers, small businesses, startups, and even mid-level businesses.
It comes with a drag and drop builder that helps you design professional email templates easily. The user interface is very easy to use. Not only that but the templates are also mobile-friendly, so it will load perfectly on every device.
Constant Contact helps you automate your marketing campaigns to increase engagement. You can send personalized welcome emails, schedule an email series, send different emails based on clicks, resend emails to non-openers, add social media sharing buttons, and more.
You can also track your campaigns in your admin area and see the results in real time. This will help you to understand what you're doing correctly and what is not working for you.
Best of all, Constant Contact offers awesome support to its customers. Unlike most other providers, they even offer 24/7 phone support! You also can contact them via email, forum, or live chat if you face any problem.
Pros
Easy to use for beginners
Offers a drag and drop builder to design email templates
Helps you track your marketing campaigns
Offers a vast library of helpful resources
24/7 support via phone, email, or live chat
Cons
Doesn't offer a free plan
Comes with limited automation features compared to Drip
How Much Does Constant Contact Cost?
Although Constant Contact doesn't have a free plan, it allows you to test their service for the first 60 days for free. And you'll get access to all their email marketing tools during that period.
The best part is you don't even need to provide your credit card details to start the trial. Isn't that great?
After the trial period ends, you'll have to purchase one of their plans starting at $12 per month. You can also buy an annual plan and get a 15% discount.
In my opinion, Constant Contact is the absolute best choice for beginners if you have the budget for it. Plus you can try it our for 60 days at no risk.
Back to the top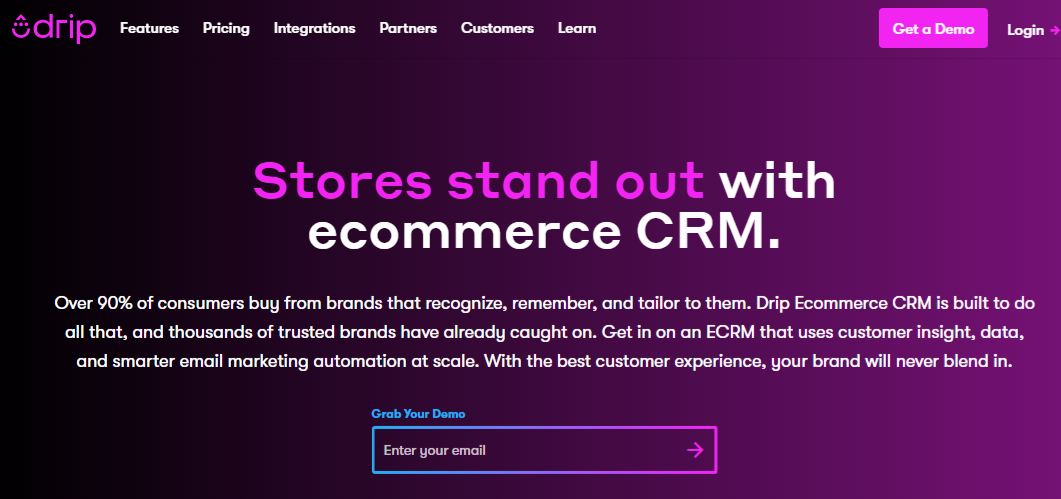 Drip is the most advanced email automation tool for eCommerce businesses and digital marketers.
It can be easily integrated with popular tools and services like WooCommerce, Shopify, MemberPress, Zapier, and more. This will allow you to increase your conversions, boost marketing automation, and grow your email list.
Drip helps you understand the behavior of your customers using tags and custom fields. And you can utilize it to segment your list, set up behavior-based automation, and send personalized content to get more sales.
Apart from the above, Drip offers features like workflow and subject line split testing, user-friendly visual builder, RSS to email, and custom conversion reports. You can also send text messages and display Facebook ads to your customers. All of these features make Drip one of the best marketing automation tools.
Pros
User-friendly interface
Offers advanced automation features
Can be integrated with popular tools
Provides excellent support and detailed documentation
Cons
Expensive
Most of its advanced features are not useful for beginners
How Much Does Drip Cost?
The basic plan of Drip will cost you $39 per month for up to 2,500 contacts. And you'll be able to send unlimited emails to your subscribers using that plan.
I'd recommend using Drip if you're already experienced with email marketing and have your automations planned out. If you're already making money online and planning to run high-converting email automations such as cart abandonment campaigns, welcome email series, and more, then Drip is a smart investment in your business.
To test it out, you can opt for their free 14-day trial and decide whether you like their service or not.
Back to the top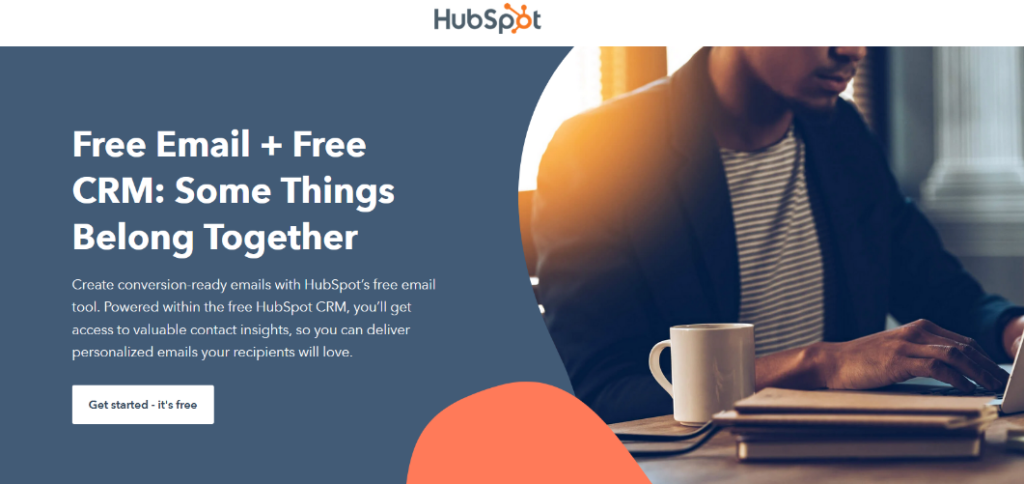 HubSpot lets you combine email marketing with the power of CRM software (customer relationship management).
That means that when people join your email list, HubSpot will automatically save their contact details into the integrated CRM. Then, you can easily segment them into lists and send personalized emails based on the information stored in their contact records.
Designing beautiful emails is also easy with HubSpot. It comes with a library of pre-built email templates and you can use the drag and drop editor to customize the layouts to match your branding.
Aside from email marketing and CRM software, HubSpot offers other powerful marketing tools including a form builder, live chat, landing pages, and more.
Pros
The free plan lets you have unlimited contacts
Drag and drop editor to easily create emails
Built-in analytics, A/B testing, and send-time optimization
Extra marketing tools like landing pages, form builder, and live chat
Available as a WordPress plugin to send emails right from your WordPress dashboard
Cons
The additional marketing tools may be overwhelming for beginners
Paid plans are expensive
How Much Does HubSpot Cost?
HubSpot offers a free plan that lets you send 2,000 emails per month to unlimited contacts, with no credit card required. The free plan also includes the free CRM, form builder, landing pages, and live chat. 
This makes HubSpot a great option if you want to build an entire lead generation funnel, without spending money.
For more advanced features and higher send limits, paid plans start at $45 per month.
Back to the top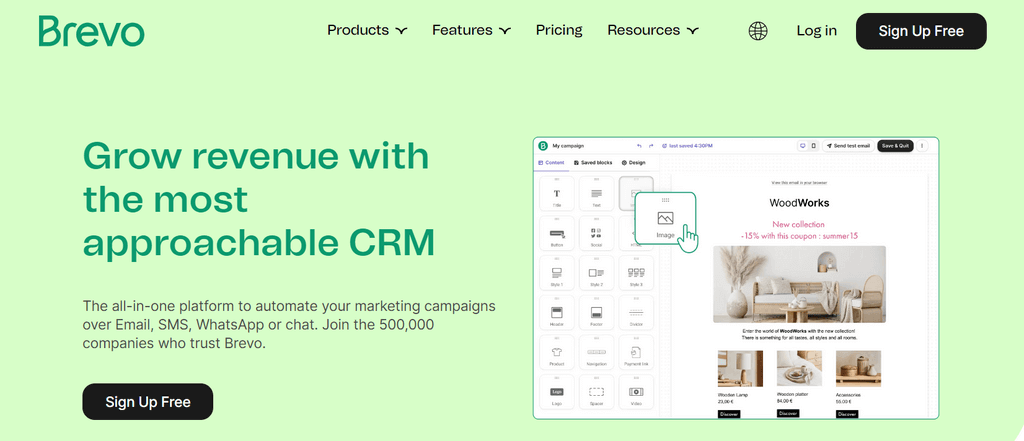 Brevo, formerly known as Sendinblue, is a popular email marketing and SMS service provider known for their excellent deliverability rates, which means your emails will be sure to reach the inbox and not the spam folder. It provides a drag and drop editor to design professional-looking emails in a few minutes.
It comes with marketing automation features and allows you to send transactional emails, too, like order confirmations and more. You can also segment your email list based on demographic and behavioral criteria to increase open and click rates.
You can easily personalize the emails and use their advanced email options to take your marketing efforts to the next level. And you can also use A/B testing to determine which one is performing well.
Brevo can even help you to identify the best time to send emails to your subscribers. This will allow you to increase engagement and increase your conversions.
Beyond their email marketing tools, Brevo also includes a live chat tool, landing page builder, CRM, and integration with Facebook ads.
Pros
Comes with a free plan
Allows unlimited contacts with every plan
Provides email template library to help you get started quickly
Offers marketing automation features
Cons
Email sending limitation
You can remove the Brevo logo from your emails only if you purchase their $25 per month plan or higher
How Much Does Brevo Cost?
Brevo offers a free plan and allows you to add unlimited contacts. However, you'll be allowed to send 300 emails per day using that plan.
You can use their paid plans to increase the limit and it'll cost you $25 per month.
I'd recommend Brevo if you have an ecommerce store and want to get started with email marketing on a budget.
Back to the top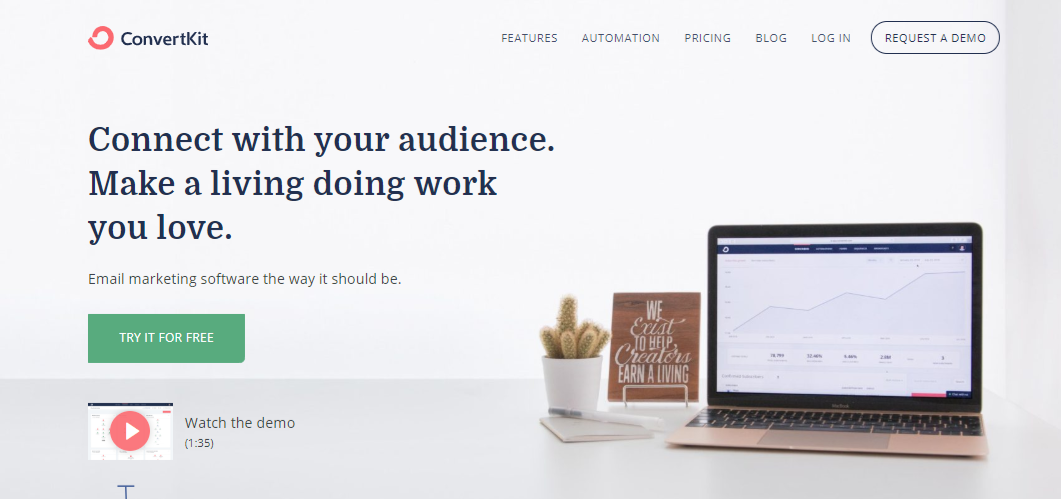 ConvertKit is an email marketing service for bloggers, marketers, and content creators.
You can easily automate your marketing campaign using their drag and drop interface. For example, you can automatically add a new subscriber to a particular list and send targeted content to them.
ConvertKit allows you to easily integrate with more than 70 popular services including Zapier, Stripe, MemberPress, and OptinMonster. You can also use their sign up forms and landing pages to grow your email list.
One of the best features of ConvertKit is you can use tags to organize your subscribers. You can group them based on their interest, activity, and much more.
Pros
Easy to understand interface
Comes with a landing page builder
Awesome support team
Offers a free plan
Cons
Expensive compared to other services
A/B testing limitations
Limited reporting data
How Much Does ConvertKit Cost?
ConvertKit offers a limited free plan for up to 1,000 subscribers. After that, ConvertKit plans start at $15 per month for up to 300 subscribers. The paid plans come with extra features like automated email sequences, visual automation builders, and more.
You can also signup for their 14-day free trial to explore the different features that they offer.
Since ConvertKit is specifically created for bloggers and other online creators, I'd recommend trying it out if you're looking to monetize your blog and need a service with advanced automations.
Back to the top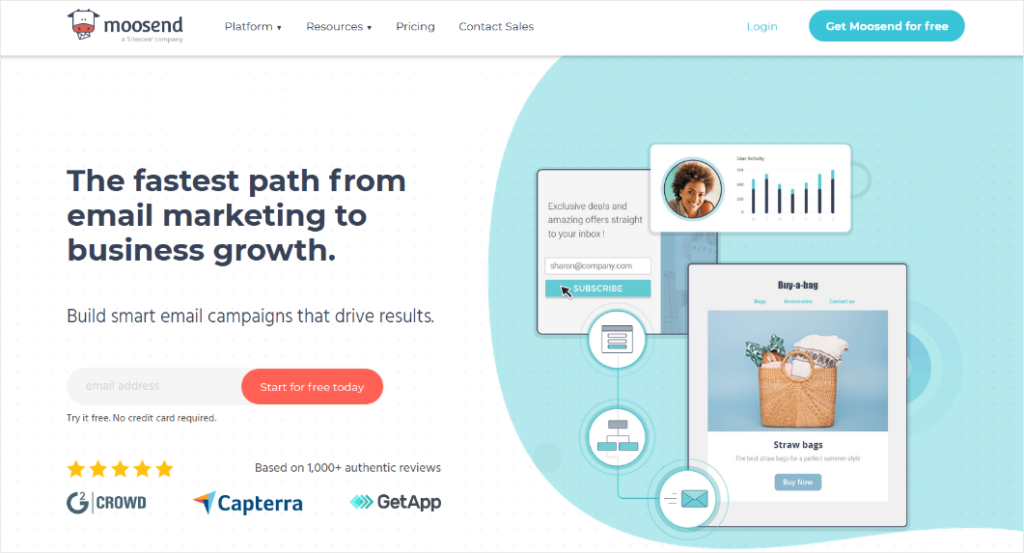 Moosend is another affordable and easy-to-use email marketing service. Beginners can easily create beautiful email newsletters with the drag and drop newsletter editor and over 40 ready-made email templates.
One of its standout features is the AI-powered product recommendations, which is perfect for eCommerce businesses that want to send highly-personalized campaigns to boost sales.
You can send smart product recommendations to subscribers based on their previously viewed products and purchases. Plus, you can send weather-based product recommendations. So, you can promote snowsuits or swimsuits depending on the location of subscribers, for example.
Moosend also comes with other powerful features like email marketing automation, email subscription forms, landing pages, and more.
Pros
Easy drag and drop newsletter editor
Separate mobile editor
Powerful product recommendation features
Detailed email analytics and heatmaps
Workflow templates to automate cart abandonment, user onboarding, and more
Cons
No free plan
Cheapest plan only allows up to 500 subscribers
How Much Does Moosend Cost?
Moosend offers a 30-day free trial that allows you to send unlimited emails. No credit card is required to sign up and it comes with one automation workflow and one landing page or form.
After that, Moosend pricing starts at $9 per month for the Pro plan. The Pro plan allows you to send unlimited emails to up to 500 subscribers and comes with additional features such as automation workflows, SMTP server, and more.
Back to the top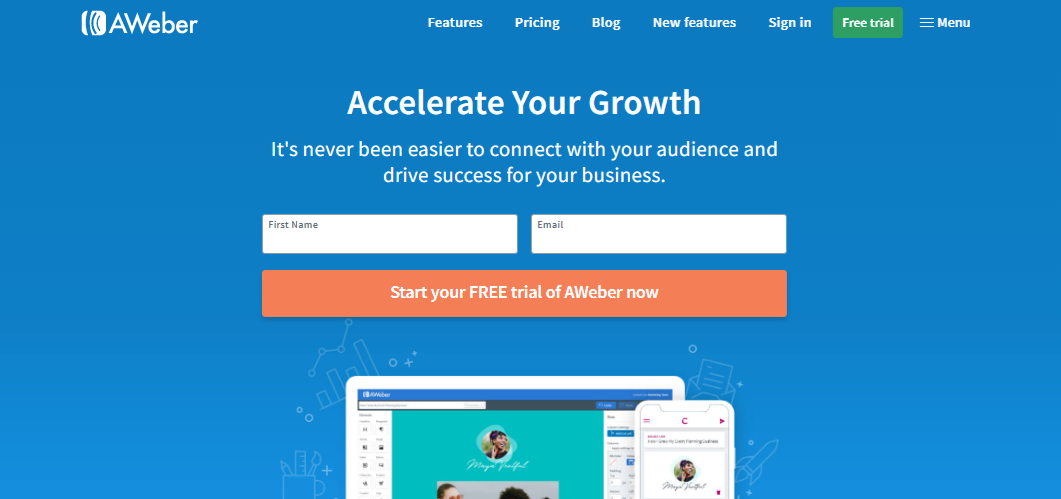 AWeber is one of the oldest email marketing companies out there.
It comes with a drag and drop builder that allows you to create professional-looking emails quickly. And you can also choose any one of the 700+ responsive email templates if you don't want to design them from scratch.
AWeber allows you to create email newsletters from your latest blog posts, thanks to the RSS to Email feature. It also comes with features like email split testing, subscriber management, responsive signup forms, email tracking, and more.
One cool thing about AWeber is that you'll get access to all their features no matter what plan you're using. The only limitation is the number of subscribers that you can add to your account.
Pros
Offers a drag and drop builder to build email templates
Easily integrate with popular tools and services
Access to royalty-free images
Offers a free plan
Cons
Offers basic automation features
The design of some of the templates look outdated
Unsubscribed contacts will be added to your monthly price
How Much Does AWeber Cost?
There's a free plan for up to 500 subscribers and 3,000 emails per month, but it offers limited features.
The basic plan will cost you $12.50 per month for unlimited subscribers and emails. However, additional subscriber fees apply.
Before purchasing the account, you can always use their 30-day free trial option to test their tools and get a feel of their service.
Back to the top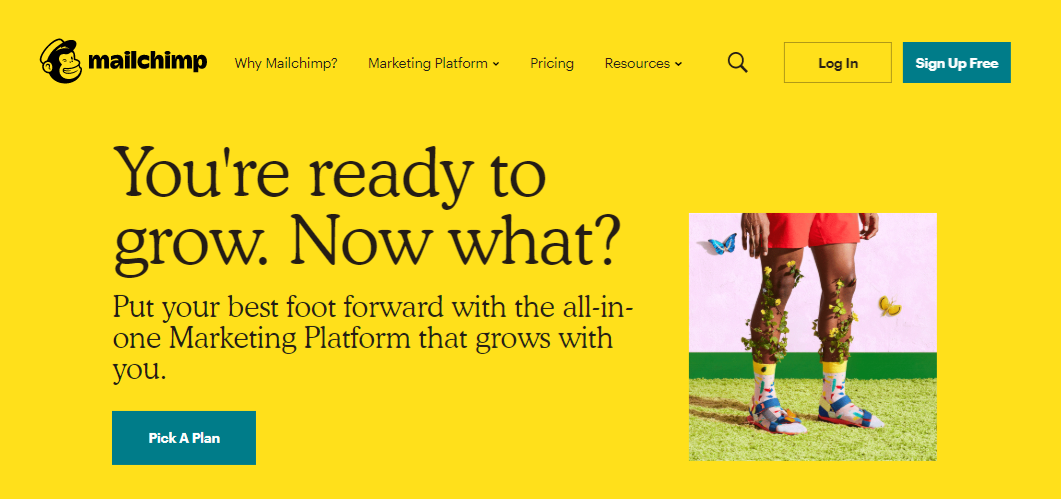 Mailchimp is a popular email solution on our list, thanks to its free email marketing plan.
You'll get basic templates and automation features if you use their free plan. Also, there is a limitation of up to 500 contacts. After that, you'll have to switch to their paid plans starting at $13 per month.
Mailchimp offers built-in analytics so you can see what's working for you. You can also integrate it to over 300 apps and tools to utilize extra marketing features.
However, you should note that Mailchimp will charge you for the unsubscribed users, unlike most email marketing services.
Pros
Comes with a free plan up to 500 subscribers
Easy for beginners to use
Can be integrated with 300+ apps
Cons
No support available for free plans
Very basic automation features compared to others
Phone support is only available if you're paying $350 per month
They'll charge for unsubscribed users
How Much Does Mailchimp Cost?
Mailchimp offers a free plan with limited features and allows you to add up to 500 contacts. Their premium plan with features including A/B testing and custom branding starts at $13 per month.
Honestly, I think Brevo (Sendinblue) has a better free plan, and Drip has better automations if you have the budget for it.
Back to the top
Which is the Best Email Marketing Service?
After comparing the above services, we can conclude that Constant Contact is the best email marketing provider for most everyone. It is easy-to-use and comes with awesome customer support.
It helps you create mobile-friendly email templates with the help of its drag and drop builder. You can also send automated email and track them in real-time.
On the other hand, if you want advanced features for your eCommerce store or online business, then you should start using Drip. Drip's automations are incredibly powerful and easy to use, making their service a smart investment for any online business.
If you're looking for the best free email marketing service, then I recommend HubSpot for your needs. It allows you to add unlimited contacts to your list. HubSpot is great especially for eCommerce sites because of their CRM, live chat, and other tools.
Bonus Tip: Grow Your Email List Faster!
After selecting the best email marketing service for your business, you'll need to start building your email list with the help of a lead generation software.
I highly recommend you use OptinMonster for this purpose. It's the best lead generation and conversion optimization tool that allows you to boost your email list and sales.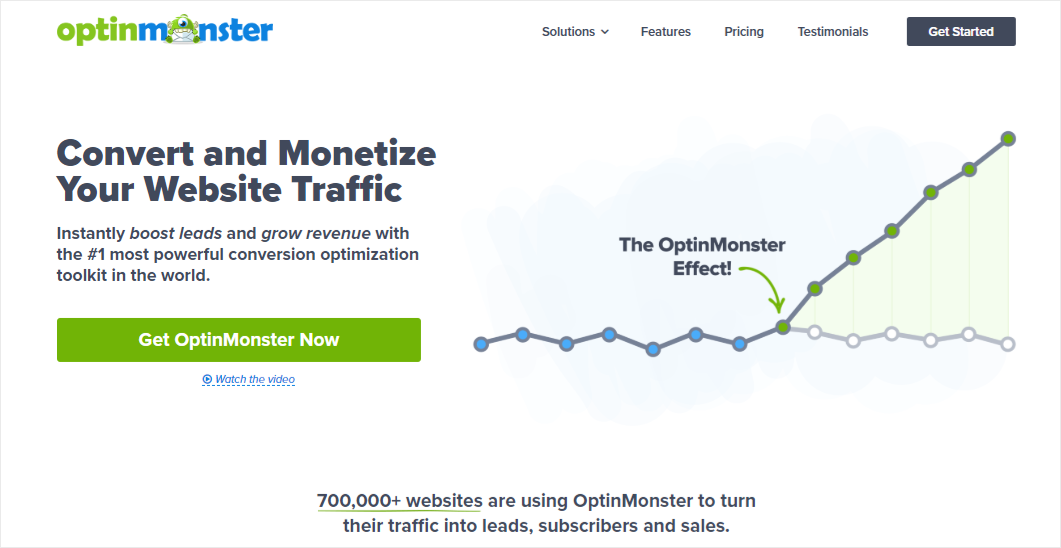 Just check out some of these case studies:
People are getting amazing results with this tool.
You can easily integrate OptinMonster with any of the email marketing services listed above, or any other service that you're currently using.
It offers a drag and drop builder that helps you build optin forms for your website. It also comes with some amazing features like multiple form templates, exit intent, page-level targeting, advanced traffic redirection, A/B testing, and much more.
And they have an awesome, friendly, and helpful support team, so you can easily reach out to them in case you face any problem.
That's all! I hope this article helped you to decide on the best email marketing service for your needs.
If you liked this article, then you may also want to check out our comparison of the best web hosting services.
Also, please feel free to comment below if you've any questions!