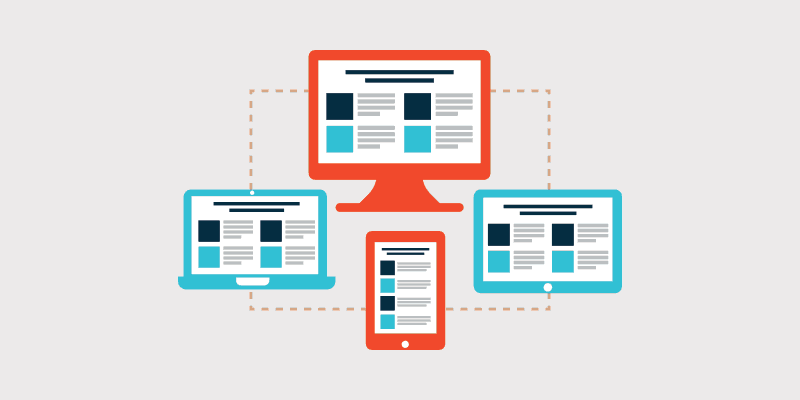 A re you using guest posting as part of your blogging strategy?
Despite the bad press a few years ago, guest posting is still one of the best ways to promote your blog and should form part of your overall blogging strategy.
In this guide, you'll discover the benefits of guest posting and learn how to execute a successful guest posting strategy. We'll show you how to find suitable sites, research topics, pitch your ideas, and make the most of your guest posts.
Let's get started!
What Is Guest Posting?
Guest posting, also called guest blogging, means writing and publishing an article on someone else's blog.
Is Guest Posting Safe in SEO?
A few years ago, you'd have seen a thriving guest posting industry in almost every blogging niche.
People were swapping articles on each other's blogs, and it was helping them get traffic and boosting their Google rankings.
Some bloggers were even making money by charging guests an advertising fee to include links in their guest posts because they knew how valuable that backlink was for the guest.
But any attempt to boost search engine ranking artificially is classed as black hat SEO. And one type of black hat SEO Google really hates is link schemes, which includes buying and selling links, and excessive cross-linking with other sites: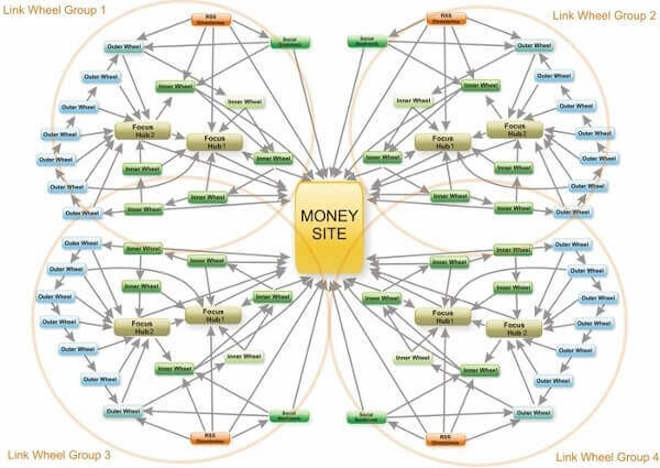 This all changed when Google changed their search algorithms with the Penguin update back in 2012, and then even further in 2014 when Google's Matt Cutts basically told people to stop guest posting for SEO purposes.
"So stick a fork in it: guest blogging is done; it's just gotten too spammy."
But then, after some to and fro, it became clear what he meant.
"I just want to highlight that a bunch of low-quality or spam sites have latched on to "guest blogging" as their link-building strategy…"
Bottom line: Guest blogging isn't dead, as long as it's done correctly. Make sure you write authentic, high-quality content on trustworthy guest sites.
Back to the top
The Top 10 Benefits of Guest Posting
You might be wondering why you should bother with guest posting after what's happened. But it's still an important strategy for growing your blog, so here are the Top 10 benefits of guest posting (when done correctly).
You can:
Reach a wider audience – Posting on other sites means more people will see your content.
Generate quality referral traffic – Those new readers may visit your site to check out your other content and offers.
Build your email list – Guest blogging helps you attract new subscribers and improve lead generation.
Make more money – More visits to your website can help you make more money through your products and services.
Build trust – When trusted, high-authority sites publish your content, some of that trust rubs off on you.
Position yourself as an authority or expert – Posting high-quality content on external sites helps people take notice of you and recognize you as an expert.
Increase inbound links (backlinks) – Guest posts let you add backlinks to your site in the author bio and the content.
Increase the authority of your website – Building links from high-quality sites is a significant SEO ranking factor that helps to improve your site's position on search results pages.
Build up your social media presence – When people share your guest post, you'll get tagged and mentioned.
Build relationships – Working with other blog owners and editors can spur long-lasting relationships and future partnerships.
Bonus Tip: Become more confident – The more you get published on top sites, the more confident you feel about your writing skills and subject knowledge!
Back to the top
Guest Posting Guide for Bloggers (Step-by-Step)
OK. You know guest posting is safe and comes with some awesome benefits. Now it's time to get your guest posting strategy sorted.
Follow the step-by-step guide below to get your guest posting started:
Step #1: Find Guest Posting Opportunities
The first step is to find sites that are looking for guest bloggers.
Here are 7 ways to find guest posting opportunities:
1. Use Google Search Strings
You can search Google using queries like:
[topic keyword phrase] + "write for us"
[topic keyword phrase] + "guest article"
[topic keyword phrase] + "become a contributor"
For example, if you wanted to write a guest post on puppy training, you'd enter: puppy training + "write for us" and see results like these: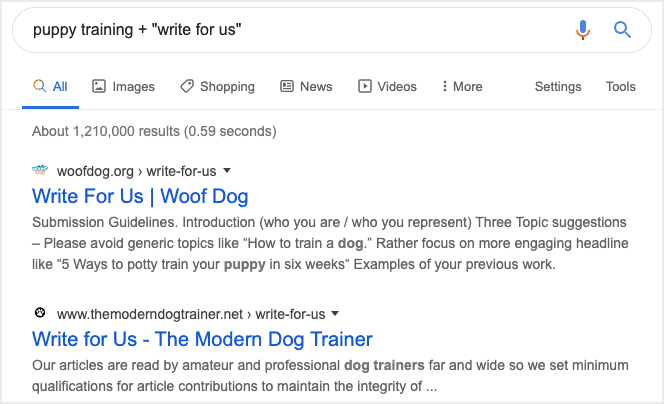 Look through the results and make a note of the sites that publish guest posts and looking for guest writers.
For more search strings, check out this guide on 20 ways to search for websites that provide guest post opportunities.
2. Search Twitter
You can also use similar search queries on Twitter.
Go to Twitter search and enter a guest post search string like: [keyword] guest post. For example, puppy training guest post: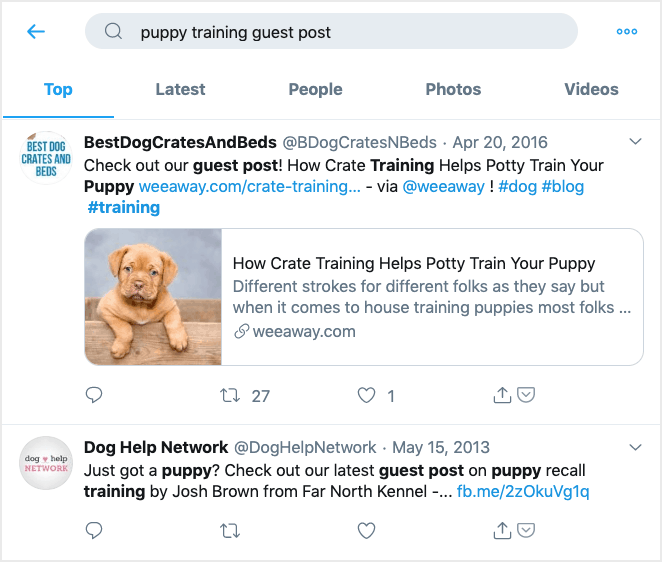 Look through the results and make a note of the sites that are publishing guest posts.
3. Check Where the Most Prolific Bloggers in Your Niche Are Guest Posting
When you read blogs in your niche, you're bound to see familiar names cropping up. You can search Google to see where else they've been blogging as a guest with the search string: "guest post by [name]".
For example, guest post by Colin Newcomer returns these results: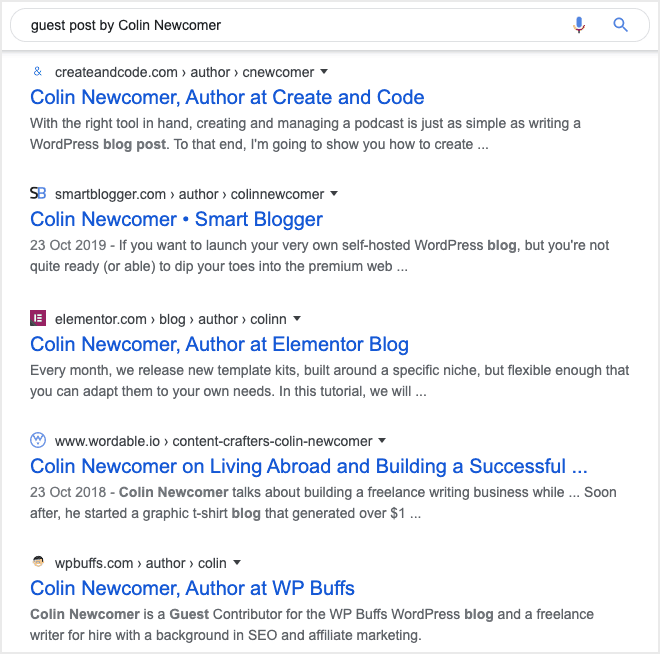 4. Check AllTop
AllTop lists all the top blogs in various categories. Head over there, find what's available in your niche, and make a note of those you could contact.
For example, here are the blogs listed in the food niche: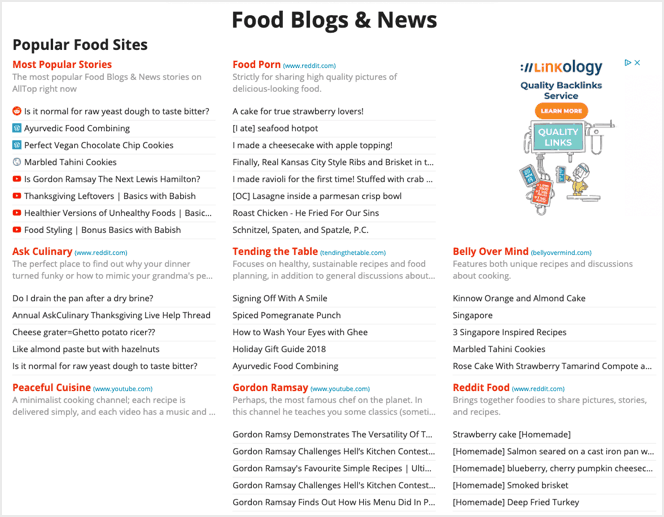 Not all sites will accept guest posts, but you'll be able to find some that do.
5. Check Lists of Sites That Accept Guest Posts
Instead of starting from scratch, check out these lists of sites that accept guest posts:
There's plenty there to keep you busy!
6. Check Where Your Competitors Are Guest Posting
You can use a tool like Ahrefs to find where your competitor's inbound links are coming from. Not all of these will be guest posts, but some will be. For instance, other sites may have linked to them as a reference.
For example, if you were in the dog niche, you might want to check the backlinks of Here Pup.
In Ahrefs, go to Site Explorer and enter your competitor's domain, e.g. herepup.com. Then select Backlinks from the left-hand menu to get a list of backlinks: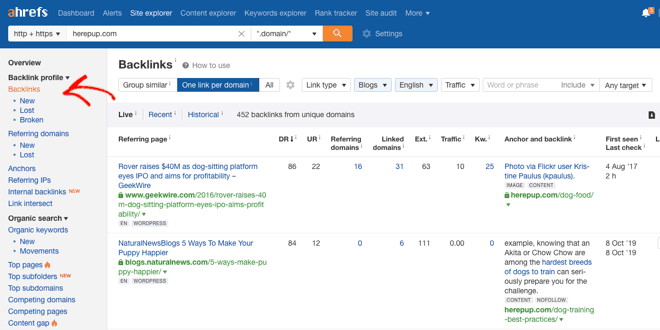 Next, using the filters, you can narrow the selection so it includes the word guest or the phrase guest post:

Now the results are more relevant, and show backlinks that are guest posts: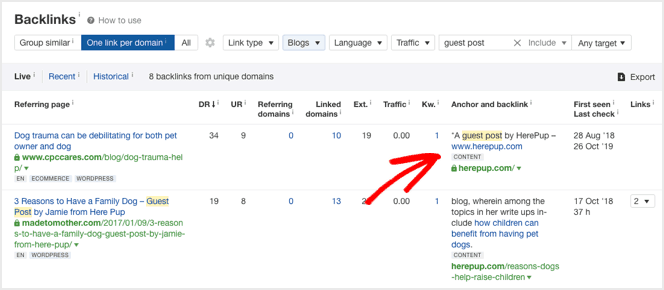 7. Try an Advanced Search String
If you know a frequent guest blogger in your niche, you can use a Google advanced search to find the sites where they have written a guest post.
For example, staying in the dog niche, Perrin from Here Pup writes guest posts, so we could use this query:
intext:"perrin carrell" inurl:author -site:herepup.com
This finds every site that Perrin Carrell has written for excluding his own site at Here Pup: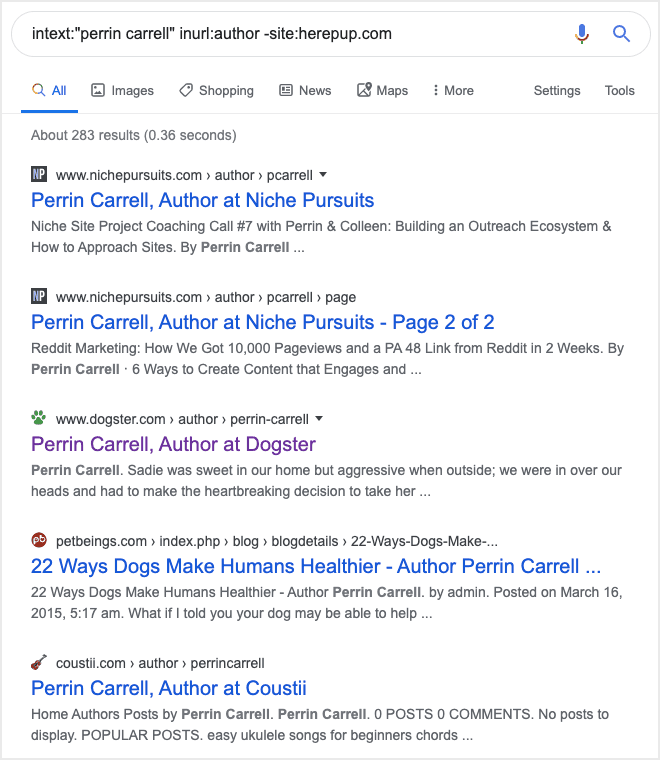 From the results, you can find some sites that accept guest posts in the dog niche.
Back to the top
Step #2: Research and Prepare Your Guest Post
Now you've found some potential guest posting sites, it's time to do your homework.
In this step, you'll learn how to:
Assess your guest sites
Get to know the site owner
Choose a winning topic
1. Assess Your Guest Sites
Not all the sites you found in Step #1 will be suitable, depending on where you are in your blogging journey. For example, if you're a new blogger, then smaller blogs will be fine for you. But if you're more established, then you'll want to target larger sites.
Look for guest post sites that:
Are in your niche (or a related niche) – There's no point wasting your time on unrelated niches as you'll attract the wrong type of visitors.
Publish high-quality content – You don't want to be associated with a site that publishes poor content.
Can bring you targeted traffic – Check there's a synergy between the potential guest site and yours.
Let you link in an author bio box and (preferably) in context – You need a link back to your site to get visitors.
Have email subscribers and social media followers – Check their social media profiles for current numbers.
Have a good domain authority – If you're a beginner, look for sites in the range 30-40. If you're more established, aim for over 40. You can check the domain authority in several SEO tools.
For example, in Ahrefs, enter the potential guest site URL in Site Explorer, e.g. baldingbeards.com, and check the DR score:

Note: The domain authority tells you if the site is well-regarded online, and whether it will provide good value in terms of links, and possibly traffic if you guest post there. The higher the number (on a scale of 0 to 100), the better.
2. Get to Know the Blog Owner
Before you start pitching your guest post ideas, you need to build a relationship with the site owner.
Blog owners receive loads of cold pitches that have been generated from well-worn and misused templates. Don't fall into the same trap.
Invest time in getting to know all you can about the site:
Follow them on social media.
Share their content on social media.
Subscribe to their newsletter and respond to their emails.
Read their content and leave meaningful comments.
Don't skip over this step. It's important to build a genuine relationship at this stage, or the next steps will fail.
Editor's Note: I can personally vouch for the above. Building relationships with blog owners helped me get established with guest blogging and freelance writing.
3. Choose a Winning Topic
Once you have a good understanding of the target site and developed a relationship with the blog owner, you can start planning some topics.
a) Check out the Guest Site's Most Popular Posts
Most sites list their most popular posts on the front page or in the sidebar: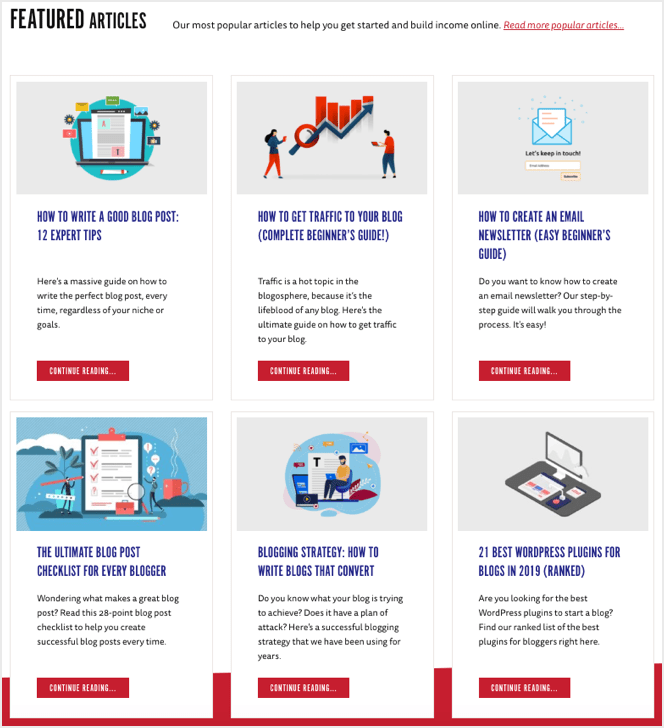 Or you could use the Ahrefs Top Pages report.
In Ahrefs, enter the guest site URL, e.g. baldingbeards.com, in Site Explorer. And then select the Top Pages report from the left-hand menu: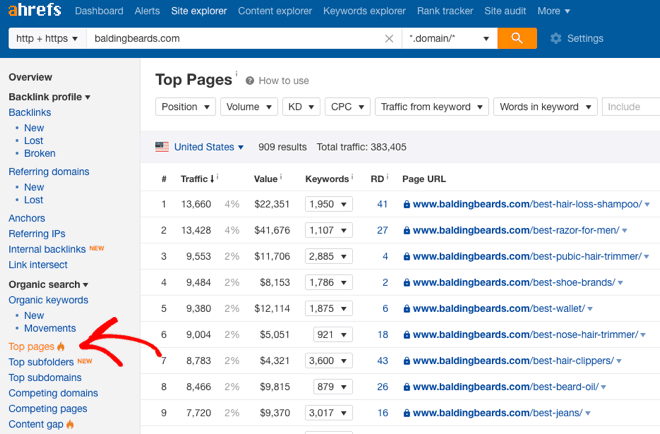 Now you have a list of the best-performing pages on the guest site.
b) Check Trending Topics
You can use BuzzSumo to find what topic is popular in your niche at the moment. For example, you could enter the topic, beard care tips: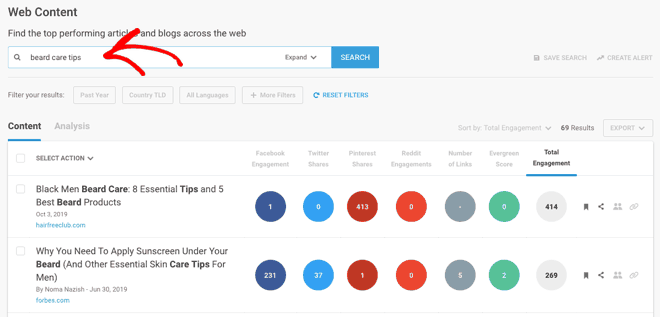 If you find a relevant topic that's widely shared, but hasn't been published on your target site, that's a good topic to pitch.
Note: You can also use BuzzSumo to find the most popular content on the site by entering the URL, e.g. baldingbeards.com: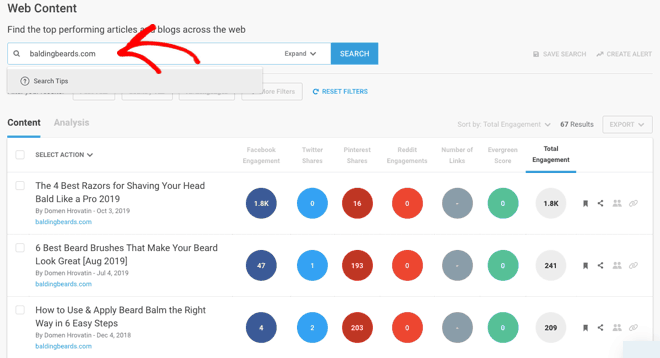 Here's what Laura from our PR Team recommends before brainstorming ideas:
Look at the individual publications' articles to find what topics would work best for them.
Look at their competitors to find topic ideas as it can uncover some keywords that their competition is ranking for that they are not.
c) Check the Site Guidelines
Some sites suggest what topics they're interested in. For example, Woofdog lists some topic ideas:

Back to the top
Step #3: Pitch Your Guest Post
In this step, you can put all your homework into play by avoiding generic templates and sending a highly-relevant, personalized pitch.
Here's what Laura from our PR Team recommends when reaching out to the publication for potential guest posts:
Pitch them 3-5 topic ideas so they can choose one.
Keep the emails short when pitching. No one has time to read an entire page of text. I typically keep the emails around 3 sentences + the topic ideas.
Personalize the email by using the blog owner's name. You took the time to find it, so use it now.
If the site has guidelines for pitching and writing guest posts, make sure you read them first. If you don't, your pitch might get rejected straightaway.
For example, on Woofdog, you can find all their submission guidelines: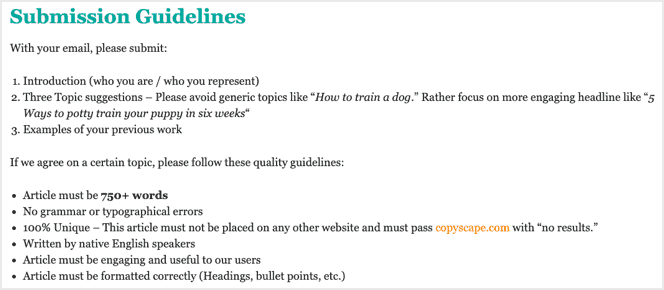 Back to the top
Step #4: Write Your Guest Post
OK, so you got the green light from the blog owner!
Now it's time to write your guest post.
Remember, first impressions count, so you need to make sure your guest post is your best content. Don't flunk it at this stage by submitting a half-hearted post that reflects badly on you and your blog.
Approach the guest post exactly like you would write on your blog. Follow all the tips so you write the perfect blog post.
Here's a quick reminder:
Craft an eye-catching blog post title.
Hook your readers with a great opening.
Make it scannable with subheadings, short sentences, and bullet points.
Use images for visual engagement.
Add internal and source links.
Include a compelling call to action.
Perfect Your Author Bio
One extra item to include alongside your guest post is your author bio. This is what you've been working towards – a link back to your site.
Depending on your guest post site, you should get either a link to your site, e.g. the homepage, or a link to your free resource, e.g. a landing page on your site.
In some cases, you might also be able to include links to your social media profiles.
Here's an example of an excellent author bio on Copyblogger:

The author bio works for several reasons:
It explains who Henneke is: "an irreverent copywriter and business writing coach."
And what she does: "she's on a mission…"
It includes a link to her free resource: "a snackable writing course for busy people."
And states the benefits: "learn how to enchant your readers and win more business."
Overall, the author bio is slightly amusing and intriguing. And because it's different, readers want to visit Henneke's site to find out more and check out the free course.
If you can offer a free resource, like an ebook, checklist or course, then take that option as you can offer something extra valuable and get more email subscribers.
Back to the top
Step #5: Follow Up
Once your guest post is published, you need to maximize its potential. Remember, you're a guest. And it's polite to stay around, not rush out the door. So here's what to do:
1. Respond to Comments
Take an active approach to check for new comments on the post for a couple of weeks. Answer all the comments, as you would on your blog. It's an opportunity to build more relationships with bloggers in your niche. And perhaps even find more guest post sites.
Note: You could start the ball rolling with a comment thanking your host for the opportunity to write on their blog.
2. Promote Your Guest Post
You'll also want to promote your guest post on social media and any other channels, just like you would promote your blog. For example, you could tell your subscribers about the guest post and ask them to check it out.
3. Send a Thank You Note
Don't forget to send the blog owner a thank you note. You've built a relationship, so keep it alive. You never know, there may be more opportunities to guest post again. Plus, you can ask the blog owner if they can recommend you to any other potential guest sites.
Back to the top
Next Steps
Now you've kicked off your guest posting, don't stop. Follow the strategy to write more guest posts on different sites so you can continue to benefit.
Let us know in the comments how you get on, and don't hesitate to share your guest posting tips, too.