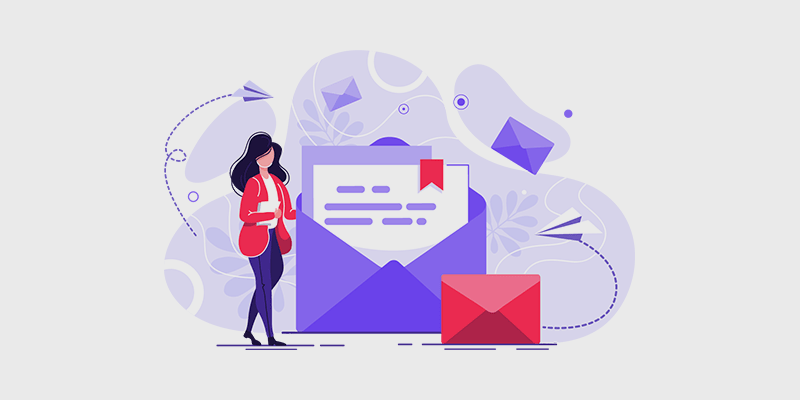 Do you want to know the best way to stay in touch with your readers and customers and keep them returning to your website? Then you need to start an email list and learn how to do email marketing.
Email marketing is the best way to develop a relationship with your audience, turning your blog visitors into loyal readers and even paying customers.
In this guide, we'll show you exactly how to do email marketing yourself, step by step.
Let's get started!
What Is Email Marketing? A Simple Definition
Email marketing is a method of continuous marketing via email. You gather a list of email addresses of people who are interested in your content (an email list), and then keep in contact with them regularly by sending email newsletters (email marketing).
Over time, email marketing will help to develop those relationships so that your subscribers trust you and know enough about your business that they're willing to buy.
Any type of website or business can use email marketing, including:
Blogs
Online Stores
Small Businesses
And More
Email Marketing Statistics
Email marketing is a powerful tool that's here to stay.
Unlike social media platforms, you can reach all ages and all kinds of audiences with email, because pretty much everyone uses it. In the U.S. alone, more than 90% of people over the age of 15 use email: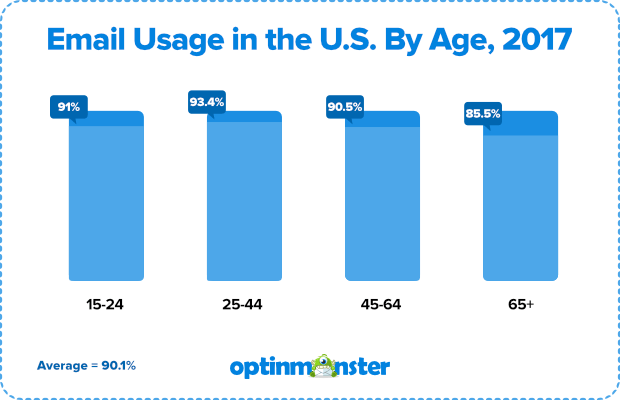 And unlike social media, email reaches about 85% of the people you send it to (this is called the "inbox placement rate"). Email gets much better engagement than social media: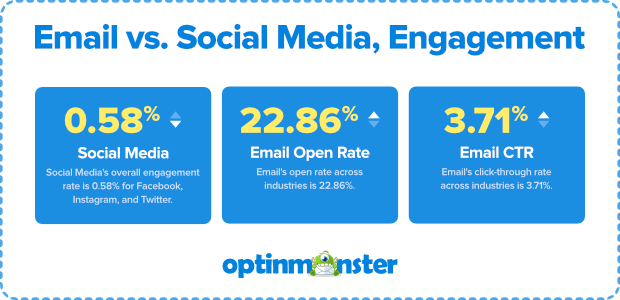 Email marketing is also cost-effective and offers a potential return on investment of up to 4400%; it's the most effective way to attract and retain customers.
What Makes Email Marketing So Effective?
You might look at the numbers above and wonder how it's possible that email marketing is so effective.
There are a few reasons why:
Regular communication: A website visitor is likely to only visit once and never return. Email marketing allows you to stay in touch and convince them to keep coming back.
Opportunity to build trust: On their first visit, a person might not trust you enough or understand your business enough to make a purchase. Email marketing lets them get to know you better and builds trust.
Everyone uses email: Email is everywhere. Pretty much everyone has an email address, and they're usually willing to give it out in exchange for great content.
More personal than social media: Emails are personal. Unlike a social media update that gets broadcast publicly to all your followers, an email in a private inbox can still feel like a personal letter addressed to an individual.
Now that you know how email marketing works and why it's so powerful, let's jump right in and learn how to do email marketing.
How to Do Email Marketing Step by Step
In this section, I'll walk you through each step of the process of effective email marketing. Before you know it, you'll be a master.
Ready? Let's begin.
Step 1: Choose Your Email Marketing Service
Before you get started sending any emails, you'll need some email marketing software to send it with!
You might think that you can just send emails with Gmail and your own personal email address to get started with email marketing free. But, that's a bad idea for several reasons.
It's very important that you don't send marketing emails with your own personal email address. Here's why:
Lack of Privacy: If you're emailing multiple people, they'll all be able to see each other's email addresses, which is a violation of their privacy. You might think that using BCC would be a good way around this, but it's not, because…
Violates the CAN-SPAM Act: If you're sending emails to anyone in the United States, you'll need to follow CAN-SPAM act requirements, including making it easy for people to unsubscribe from all future emails. Email marketing services will take care of many of these requirements for you.
Deliverability: Sending emails from your personal email address is risky. You can easily get flagged as spam, and your emails will be blocked by the recipients. Email marketing service providers always optimize for deliverability.
Scalability: Want to grow your list quickly? It's tough to keep track of all those email addresses, names, and other details on your own. Using good email marketing software will make it easy to grow your list to thousands of subscribers.
Design: If you want to send emails that look professional and include images, fancy layouts, and other details, you'll want to use an email marketing service that offers pre-designed templates and other features. Otherwise, you'll have to do all the coding on your own.
Automation: Once your list is more established, you can boost your email marketing ROI even more with email marketing automation.
Convinced you need a good email marketing service? Great!
There are so many options out there that it can be difficult for beginners to tell which is the best email marketing service to get started with.
So, we've done the research for you and picked out the best email service providers below.
2 Best Email Marketing Services for Beginners
To do email marketing the right way, you need to use the best email marketing service that's right for your blog or business.
You can see our complete list of the best email marketing services here, but here are our top 2 picks:
We love Constant Contact because of their world-class support, and because it's easy for beginners to use while offering all the email marketing tools you need to succeed.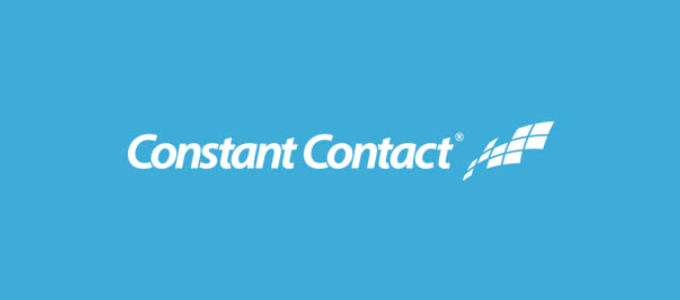 Constant Contact
Easy to use for beginners
Offers a drag and drop builder to design email templates
Helps you track your marketing campaigns
Offers a vast library of helpful resources
24/7 support via phone, email, or live chat
Get Started With Constant Contact
Sendinblue is an all-in-one toolkit for your marketing automation needs. Plus, it's free to get started.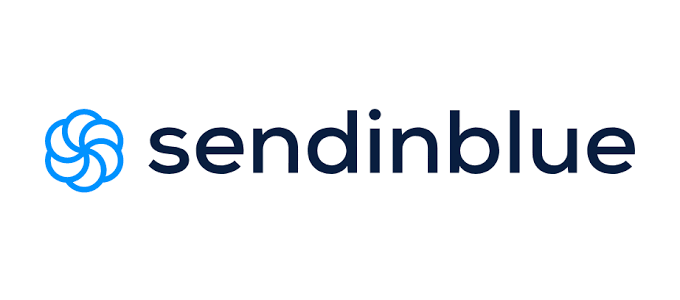 Sendinblue
Comes with a free plan
Allows unlimited contacts with every plan
Beautiful email template library
Offers marketing automation features
Get Started With Sendinblue Today
Once you've got your account set up, we're ready to move on to the next step, creating a welcome email.
Step 2: Customize Your Welcome Email
When a person first subscribes to your email list, it's important to send them a welcome email.
Successful email marketers know that a welcome email is the first step to developing a relationship with your new subscriber. If it's a good email, they'll be more likely to open future emails from you.
A welcome email can also help your email deliverability. "Deliverability" refers to the ability of your emails to reach the person's inbox, instead of going into the spam folder or being blocked altogether.
A good welcome email will include:
Introduction – introduce yourself just like if you were meeting them in person
Expectation setting – tell them what kind of emails they'll get from you going forward
Whitelist instructions – give them tips to make sure your emails reach the inbox
Not sure what to write? Here are a few welcome email examples for your inspiration.
Step 3: Start an Email List
Lead generation is a big challenge for any blogger or business. It's important to start and grow your list the right way, without taking shortcuts that can hurt you in the long run.
Before we look at how to start an email list, let's talk about a couple of things NOT to do when starting your list:
DON'T Buy an Email List
It might be tempting to spend some money to get a head start on growing your list, but buying an email list is actually a very bad idea.
You're not likely to get very good results when you email people out of the blue and they have no idea who you are. They're more likely to report your email as spam, than to click on your links and buy your products.
And if enough of those people report your emails as spam, that could ruin your reputation and deliverability, making it even harder to grow your email list the right way.
DON'T Add Subscribers Without Permission
In general, you want to make sure you're asking people to subscribe to your newsletter before adding them to your list.
If you have a list of emails from other sources (like your personal contacts, in-person events, etc.), it's not a good idea to just add them to your email list without asking, for the same reasons you shouldn't buy a list.
Growing your email list the right way may be slower in the beginning, but it will set you up for success in the long run.
Ready? Here are the best ways to grow your email list the right way.
Top 6 Ways to Grow Your Email List
Adding a simple signup form to your sidebar is smart, but it won't grow your list very fast.
If you're serious about growing your email list as quickly as possible, try these tips:
Create an exit intent popup optin form using a tool like OptinMonster.
Add a link to your social media bios.
Host a viral giveaway using a free contest plugin like RafflePress.
Create a simple PDF ebook or other freebie in exchange for signups.
Use social proof with a popup that shows signups in real time.
Explain the benefits of subscribing and optimize your CTA (call-to-action).
See our guide on how to get more email subscribers for more tips and details.
Step 4: Send Email Newsletters
Now that you have people signing up to your list, it's time to start sending them email newsletters.
What to Include in Your Email Newsletter
Wondering what you should send your subscribers?
If you're a blogger, it's a great idea to send a regular email newsletter to tell subscribers about new posts on your blog.
Besides new blog posts, you could also include exclusive content that they won't find on your blog, such as interviews, coupons or sales, giveaways, and more.
You can choose to make your email just plain text, or add images for interest.
Each email should have a single goal. This will keep your readers focused and engaged. If your email has too many links or asks your subscribers to do too many things, none of them will get the attention they deserve.
Check out this list for more email newsletter ideas.
How to Send an Email Newsletter
We'll show you how to do this using Constant Contact, since it's our favorite email marketing service.
First, log in to your account and go to Campaigns » Create. Then select a campaign to get started. You'll want to click Email at the top to send a basic newsletter to your list.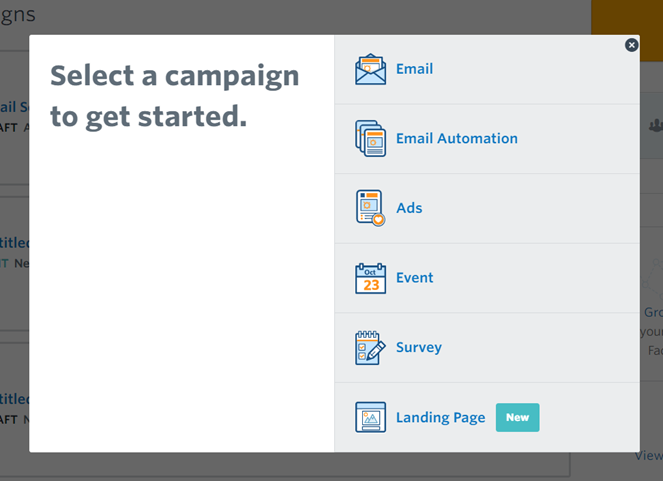 Next, you'll be asked to select an email template for your newsletter campaign. Choose a template that looks good to you. You can customize it to match your branding.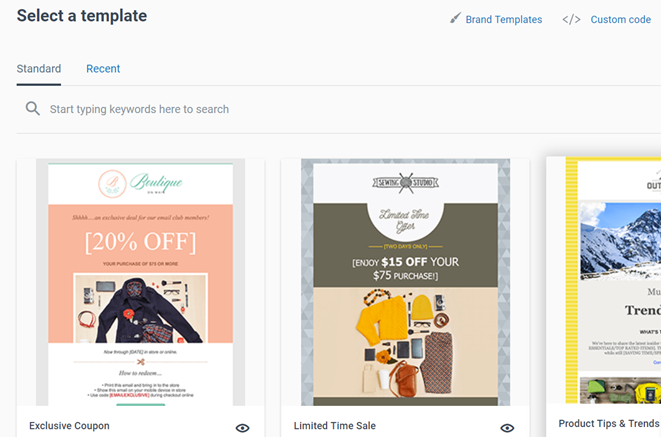 Next, type in your email content. You can add different types of content from the left task panel to your builder.
Preview your changes, and when you're ready you can save the email and click Continue.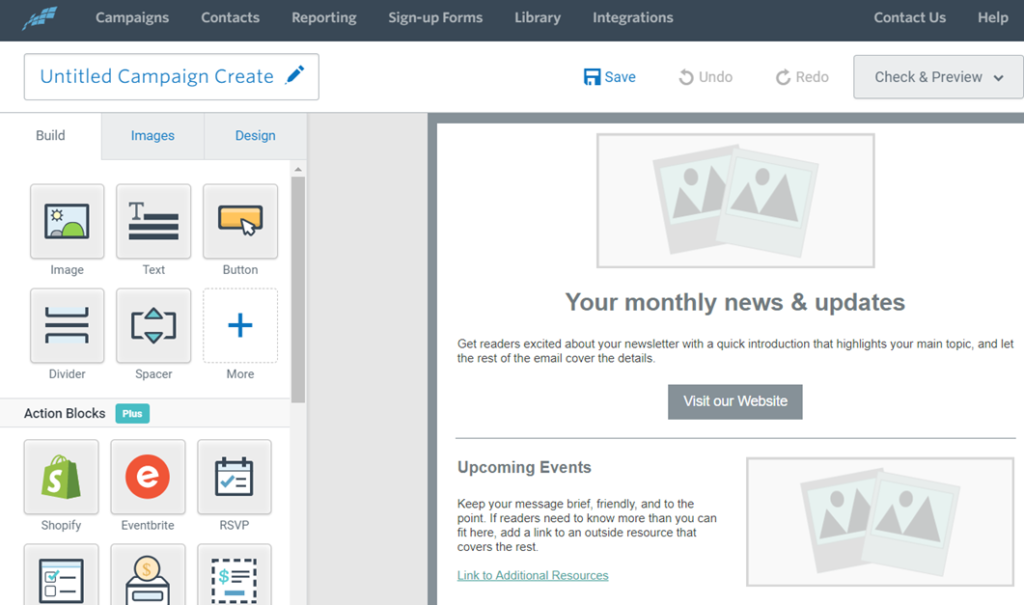 Then you can schedule your newsletter.
Before you start sending your newsletters, you might want to use this email newsletter checklist to make sure they're ready.
Once you're done choosing the recipients and time to send, click Schedule.

That's it! You've scheduled your first email newsletter.
Step 5: Analyze the Results
Email marketing doesn't end when you hit "send"!
You'll need to make sure that your newsletter is working.
Luckily, Constant Contact gives you actionable analytics in your account. Whenever you send an email newsletter, they track how many people open it (your open rate) and how many people click the links inside (your click through rate, or CTR).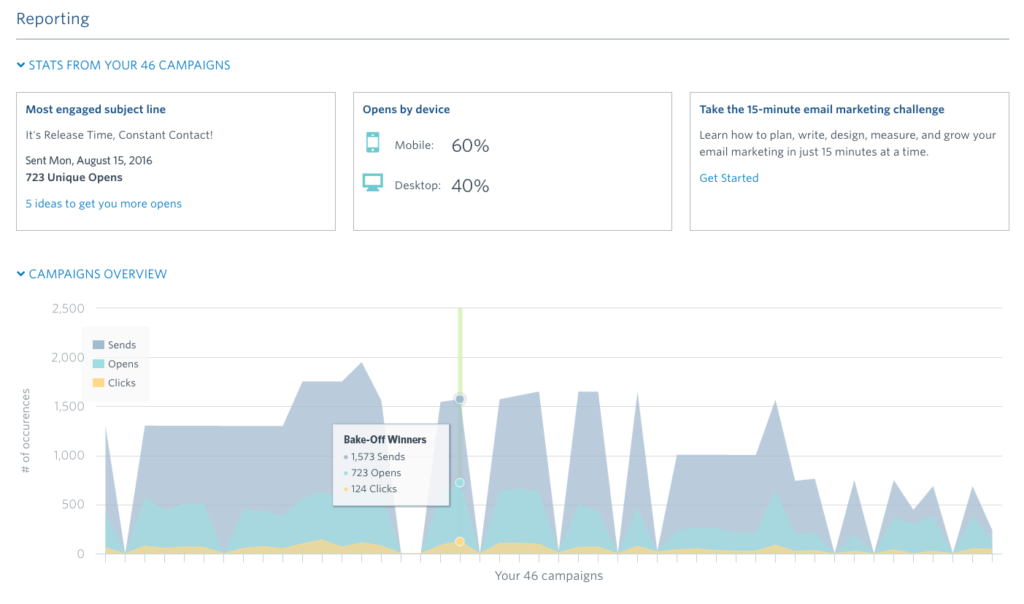 Using these metrics, you can see what needs to be improved.
How to Improve Your Email Open Rates
If not many people are opening your emails, here are a few things to try to boost your open rates:
Experiment with sending your emails on different days and at different times.
Write a great email subject line that compels people to open it.
Make sure to avoid spam filters by using a reliable email service and avoiding spammy words in your emails.
Remove inactive subscribers who haven't opened emails in a long time.
See our guide to boosting open rates for more tips.
How to Increase Your Click Through Rate
Maybe people are opening your emails, but not clicking your links. Try these tips:
Write in a friendly, conversational tone to keep people reading.
Keep it short! No one wants to read long emails.
Stay focused on just one call to action. Don't ask people to do multiple things at once.
Don't give everything away in your email. Pique their curiosity so they have to click.
Get Started with Email Marketing Today!
That's it!
Email marketing is something you can continue to learn and get better at, so don't be afraid to try new things and experiment to keep getting better results.
Use these tips as a starting point and you'll be well on your way to creating amazing email marketing campaigns!
You've probably heard the saying "the money's in the list". How does that work, exactly? Check out our guide on how to make money with email marketing to find out.