Last Updated January 24th, 2018 — Would you like to learn how to start a mailing list and add some opt-in forms to your blog? It's not as hard as you might think so let's take a quick look at the steps.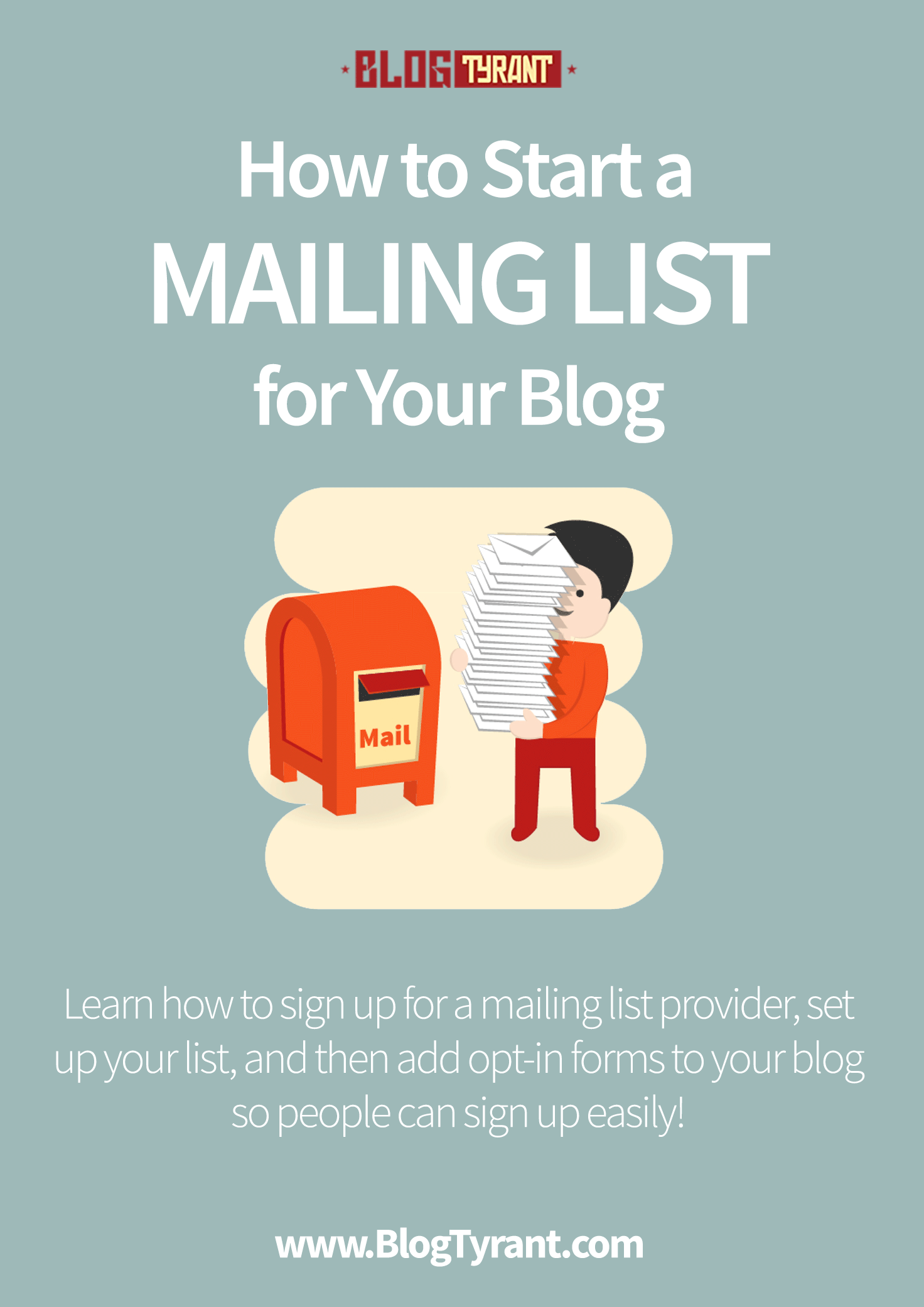 Disclosure and quick interruption – I started my first mailing list with AWeber and have now partnered with them to help you start a mailing list. If you sign up through one of the links on this post I'll earn a small commission at no extra cost to you. They are a great place to start and I'm happy to promote them!
Introduction
Starting a mailing list and collecting email subscribers is one of the most important things you can do if you want to be successful online but many bloggers put off the task for ages.
Each week I get a bunch of emails from new bloggers asking how to start a mailing list, where to host the emails, how to add opt-in forms to their blogs, etc. and so I thought I'd do a quick tutorial on how I'm set up.
This is such a worthwhile part of running a blog so make sure you don't delay in starting a mailing list on your blog!
What you'll learn in this tutorial
Okay so this is a pretty basic level tutorial. Many of you will already have email lists set up and running. Today we're covering:
Where to host your email subscribers
Emails subscribers need to be stored somewhere. I'll go over some options.
How to set up a mailing list
Once you've chosen your mailing list provider you'll need to set up different lists for different things.
How to add an opt-in form to your blog
There are many different ways to design and add your opt-in forms to your blog so people can subscribe with ease. I'll show you my best ones.
Some tips and tricks for success
I'll finish off the post with some tips that you can use to get the most out of your new mailing list and ensure it performs well.
As always, if any Tyrant Troops have stories, resources or anything else that might help out a newcomer, please leave a comment at the end of the post.
How to start a mailing list and add an opt-in form
There are many different platforms and methods for doing this. I'm going to focus on the way I have mine set up and then mention a few alternatives as we go along.
1. Sign up to a mailing list/email marketing provider
These are websites that do various functions like storing your email subscribers, letting you send out emails or automatic follow ups, tracking stats on open rates and sign ups, and building opt-in forms.
I use AWeber for my own email marketing but it's best to have a look around at all of them and see which one suits your needs. AWeber has a free trial for 30 days which is a good way to get a feel for all of their features and whether or not you like the system.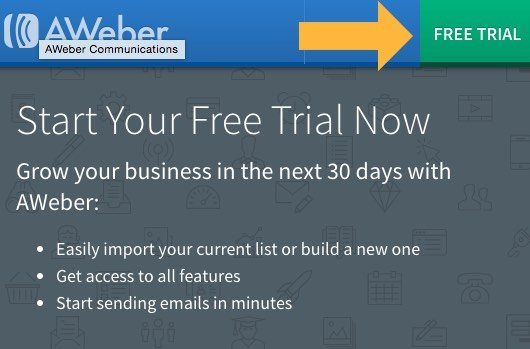 Just head on over, click the free trial button and then follow through the prompts. You'll need to fill out all your details. Please note that you have to use your real name and have a proper address in order to comply with anti-spam laws.
TIP: Here's a post on why I switched to AWeber. It's a good idea to play around with a few of the providers to see which one meets your needs best in the short and long term.
2. Create a mailing list with AWeber for your first newsletter/list
Once you've signed up for your account, you'll then need to create a new mailing list.
Remember, you can have different lists for different things. For example, you might have one called My Blog Updates which sends all your posts to your subscribers, and then another called Christmas Special which only gets used for people who sign up to a Christmas time offer. This second one might only appear on an individual landing page for a few weeks.
Click Manage Lists > Create a New List and then follow the prompts.
This stage is pretty straight forward and AWeber has default settings for you to select as you follow along filling out the fields like list name, etc.
TIP: Before you complete this stage think about exactly what you'll be sending this particular mailing list and where the opt-in forms will appear. I suggest starting with a general Blog Updates mailing list where people can just subscribe to your posts and an occasional mail out.
3. Design your first opt-in form
Now we need to add the forms to your blog where people can enter their email address and subscribe for your updates.
There are many different kinds of opt-in forms and they go in various places. For the purposes of this post we are going to add a simple pop up form that appears on your blog after a reader has been visiting for around 10 seconds.
Pop up forms work exceptionally well and if you make one in a nice, unobtrusive way you'll find you get a lot more email subscribers than with your sidebar form, for example.
AWeber makes this part extremely easy because they have an inbuilt drag and drop designer that lets you build and edit forms without needing to do any coding.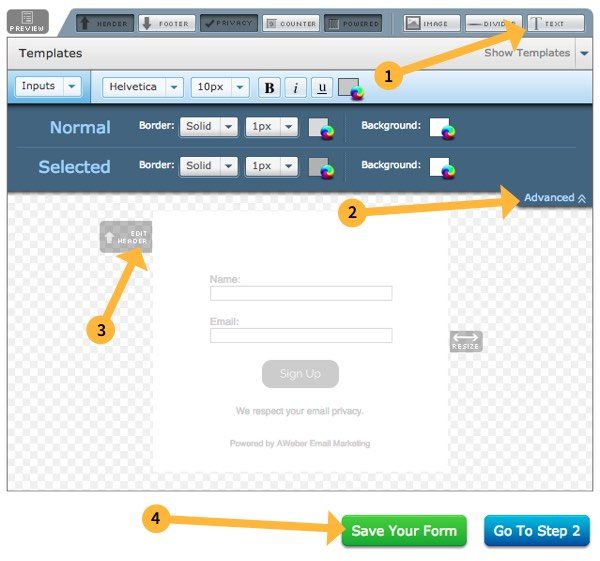 Click Sign Up Forms > Create New Sign Up Form and you'll be taken to the builder that you see above.
Arrow 1: In this area you click to add text, photos, divider lines, etc.
Arrow 2: Click the advanced tab to see more options like setting the width, border color, etc.
Arrow 3: Click inside the preview to edit the text or make it bigger.
Arrow 4: Make sure you save any changes that you make.
Now, to make this form appear as a popup/lightbox you need to click Form Type and then select lighbox as you can see below.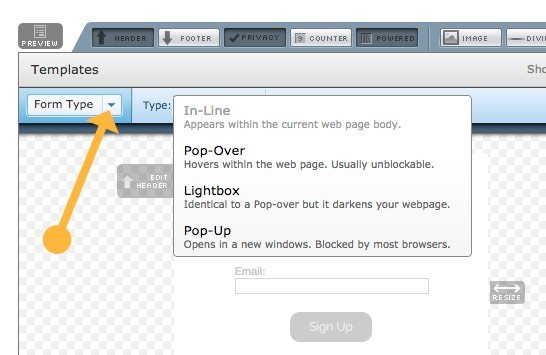 As you can see, this means that you can make any of these designs a pop up, sidebar or whatever based on the settings that you give it.
TIP: You want to make sure this pop up looks like it is part of your brand. Use the same fonts, colors and images. Make sure it is the right sizing for mobile devices as sometimes they can appear a little bit cramped.
4. Add the newly design form to your blog or website
Once you hit save you get taken to this screen: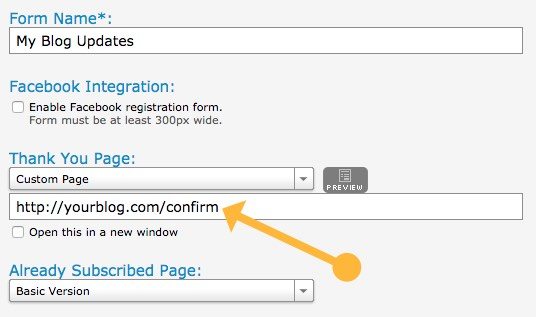 Here you have to save your form by giving it a name (perhaps add "pop up" so you know which one it is in your stats) and entering a confirmation page.
The confirmation page is what people see after they've entered their email address but still need to click the confirmation link that AWeber automatically emails them to join your list. This step is done to help prevent spam.
You might like to customize what page people see at this stage. You can just create a page in your blog and then give the link to AWeber when it asks for your custom confirmation page URL.
Here's a story about how I edited mine to include some cat pictures to try and getter a better confirmation rate.
The next page show you some code:

We're going to copy this and then head on over to WordPress (assuming you're on a WordPress blog) where we click Appearance > Editor and find the Sidebar.php file. Simple paste that code underneath the first line of opening code. If you're doing a form that appears somewhere on the blog (like a sidebar or post) you just paste the code where you want it to appear.
TIP: Always make sure you copy any WordPress files into a separate doc in case something goes wrong. That way you can just paste the original back in.
Extra tips for starting a mailing list
I'd like to end this quick tutorial by giving you a few simple tips and tricks that will help you start your mailing list or newsletter and get the most out of it. Don't feel like you have to do it all at once, just scan and select.
Have different lists for different things
Don't assume that everyone who wants your blog updates will also want your latest 15-part email course. Create different lists for different purposes.
Think about who is subscribing
Make sure you have a vague idea about who is going to be subscribing and what they are expecting.
Reduce friction and add social proof
It can be a good idea to tell people that their email address will remain private and that X other people have already subscribed. Don't do this if you have less than 500 subscribers.
Consider offering a free giveaway
Free giveaways (or lead magnets) are still a popular way to get people to sign up to your list. You can automate the whole process.
Have an opt-in design custom made
People often ask me about my homepage opt-in form and how to get one. I custom designed it myself in Photoshop and then had CrazyXHTML code it for me. Some more complicated ones need a designer.
Use a plugin like OptinSkin for better designs
OptinSkin is a really cool plugin that allows you to add your email forms to your blog straight from your WordPress dashboard. Lots of cool design options and features.
Subscribe to your own list
Make sure you subscribe to your own mailing list to see if everything works well and emails are going out correctly.
Learn how to split test
Split testing can give you good insights into what is working. You can, for example, use AWeber to test two different forms with different colors to see which converts better.
Pass some instant value
Pat Flynn recommends that you give one quick tip that subscribers can implement right away. This is a great idea and you can keep giving this kind of value as subscribers go on.
Subscribe to big sites temporarily
It's a good idea to subscribe to a few big blogs, even for a week, to see how they do it and the way it flows. It's a good way to get ideas.
Do you have tips for starting a mailing list?
Please leave a comment below if you have any tips or resources that you think might help someone who is just starting out with their mailing list or newsletter. I know everyone does them differently and am always very curious to learn from your guys about things I might be able to improve as well.