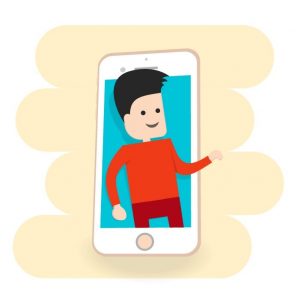 Last Updated December 11th, 2017.
Are you looking to build the best Contact Us page possible? Hopefully we can help.
The contact page is the place where you have a last ditch attempt at getting potential clients, customers and fans to get in touch or, in my case, convince them otherwise (I get a lot of emails).
So we've had a look at the best About Us pages and now I want to do the same for the Contact Us page. What are the best practices? What works and what doesn't? Is there anything you can do to increase your chances of success?
Let's take a look at what I think are 10 of the best Contact Us pages on the Internet.
What makes a good Contact Us page?
As you guys probably know by now, I have a few other online companies that keep me busy during the day. One of the things that I have found with this non-blog based sites is that the contact page can be quite important and can even help to set the tone of future relations with your clients. It is an important step in the relationship.
So what makes a good Contact Us page? Here are some thoughts:
It needs to work
At a very basic level, the darn thing needs to work. I have been to so many webpages where the contact form is broken or doesn't send properly. Bad look and lost business. Especially make sure it is mobile responsive as a lot of contact happens on smartphones.
It needs to grab attention
Of course, this is the last point whereby a potential client can change their mind. If they get sent to a horrible looking contact page you are in trouble. It needs to be visually perfect.
The copy needs to be extremely seductive
Seductive copy. I do mean that literally. You need to seduce the person reading the page like you would a man/woman that you really want to take on a date. Hopefully most of the selling would already have been done if they are on the Contact Us page, so this is the tiny little flirt where you get their phone number.
It needs to set the client up for future relations
This is really important. You need to establish some ground rules. You need to set the client up for the way your relationship is going to work in the future. Statements like, "We check our emails every day and reply even if we're at dinner," can send very powerful messages.
Sometimes, just by looking at a good Contact Us page, you can tweak your own so as to increase conversions and save a potential lost client. That is the point of this post.
The best Contact Us pages we could find
So here are some of the best Contact Us pages that I have noticed over the years.
As always, if you know of any really cool ones please do drop a comment and let me know. I like to make my posts big resources of information for visitors and have found that often it is you guys, the ones who leave comments, that make it that way.
1. SpaceX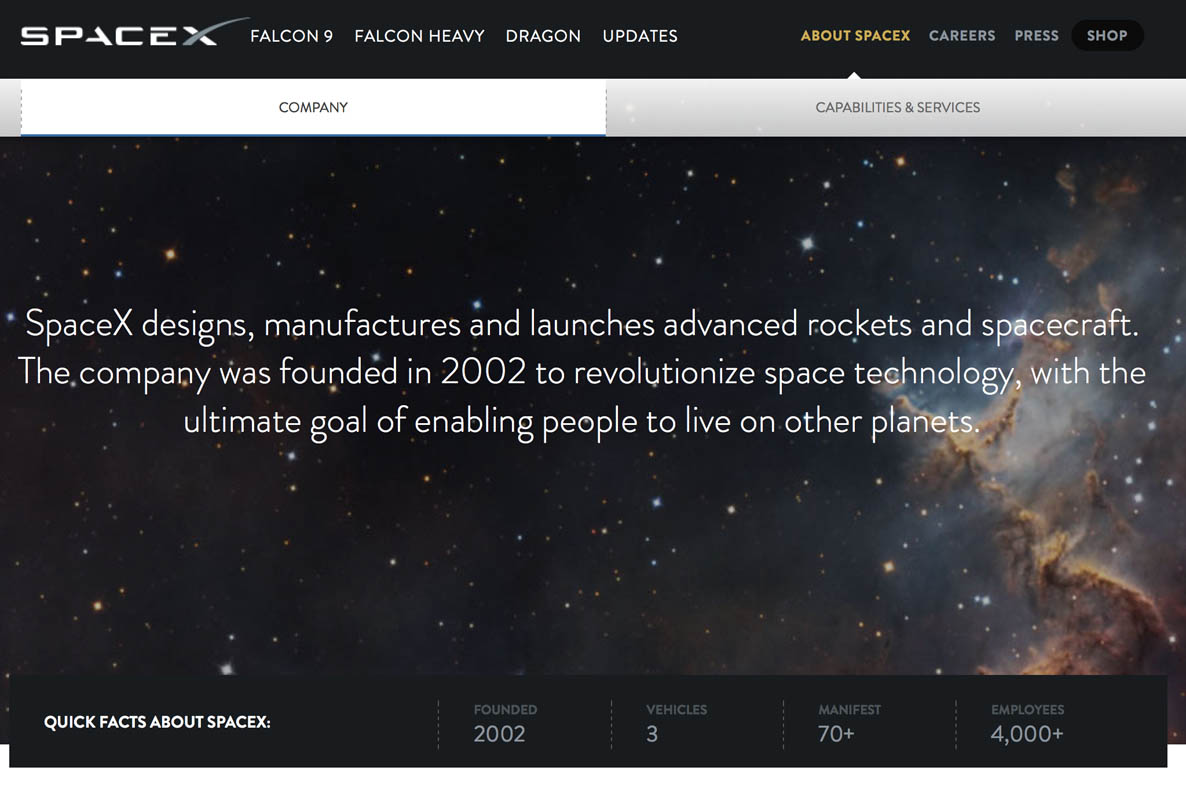 SpaceX has a combined About and Contact page that instantly communicates their message as well as showing you locations on a map and all their department contacts. It's a very cool way to display some very dry information.
2. Telstra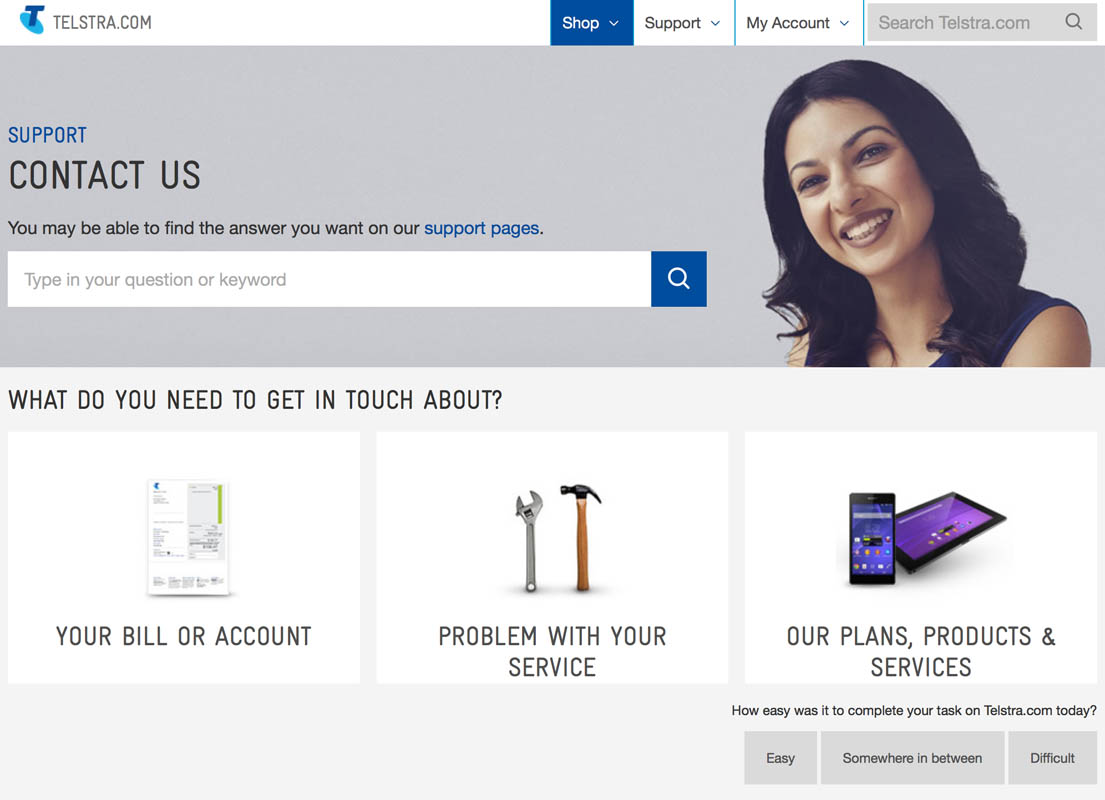 Telstra used to have a really bad reputation for their support but have made some massive improvements in recent years. This contact page gives you clear options for finding the right department and even has options for different languages.
3. Adam Bandt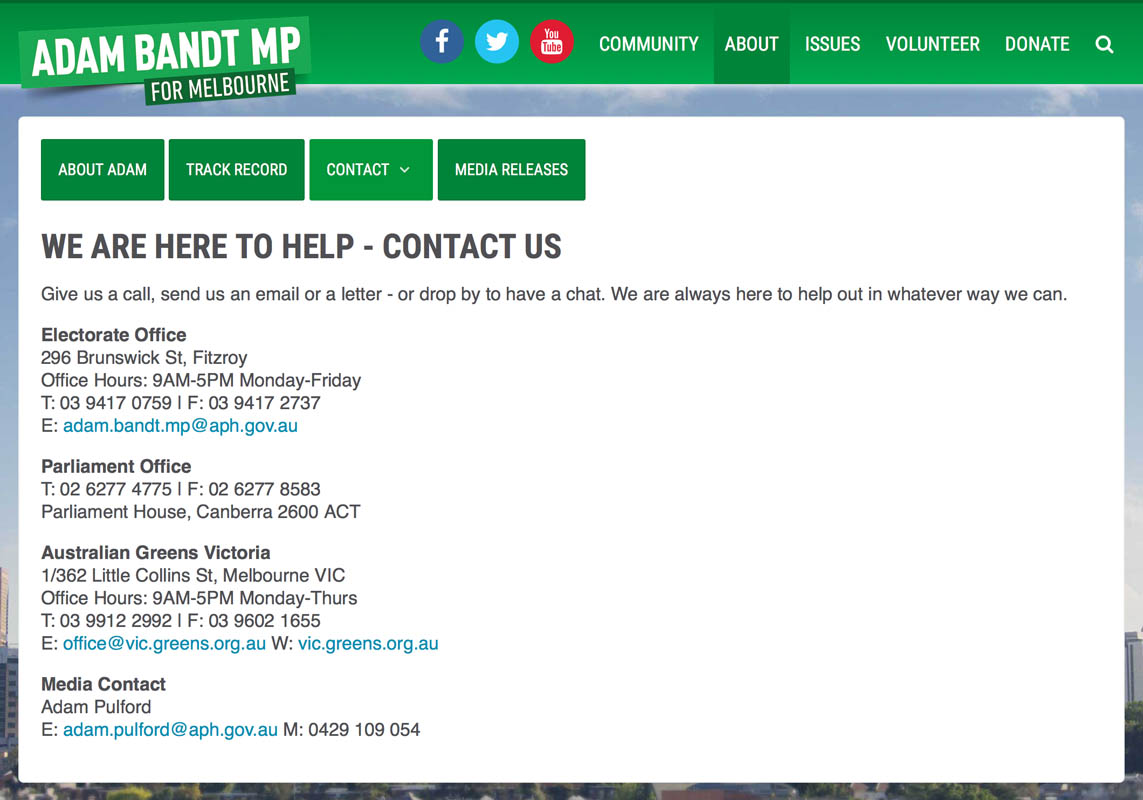 Adam is an Australian politician who is well known for community engagement. His contact page reflects that and is a great mix of message, design and functionality. There's the initial list of email addresses and then some other more immediate focuses like Twitter and some campaigns that he's running.
4. Paypal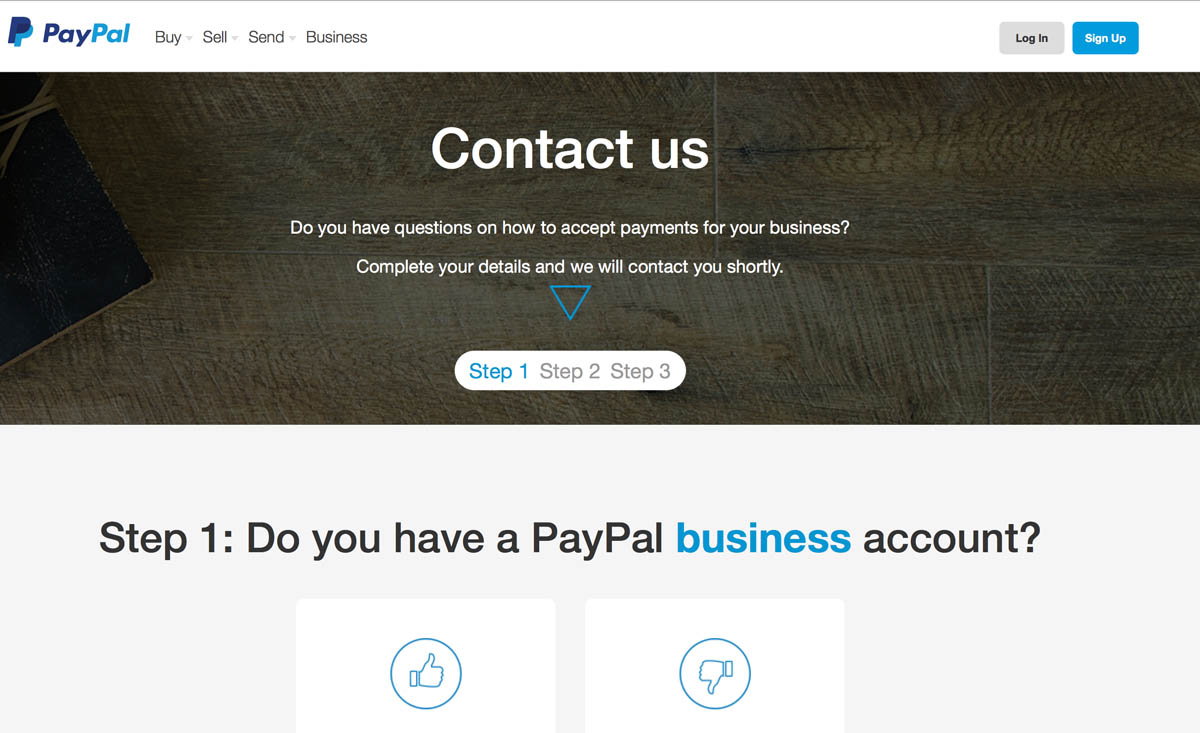 PayPal uses a step-by-step graphic to set expectations for their contact process. This is really important to prevent people from getting frustrated and making a complaint about the service. Breaking it down into small steps can make the process seem less daunting.
5. BlueHost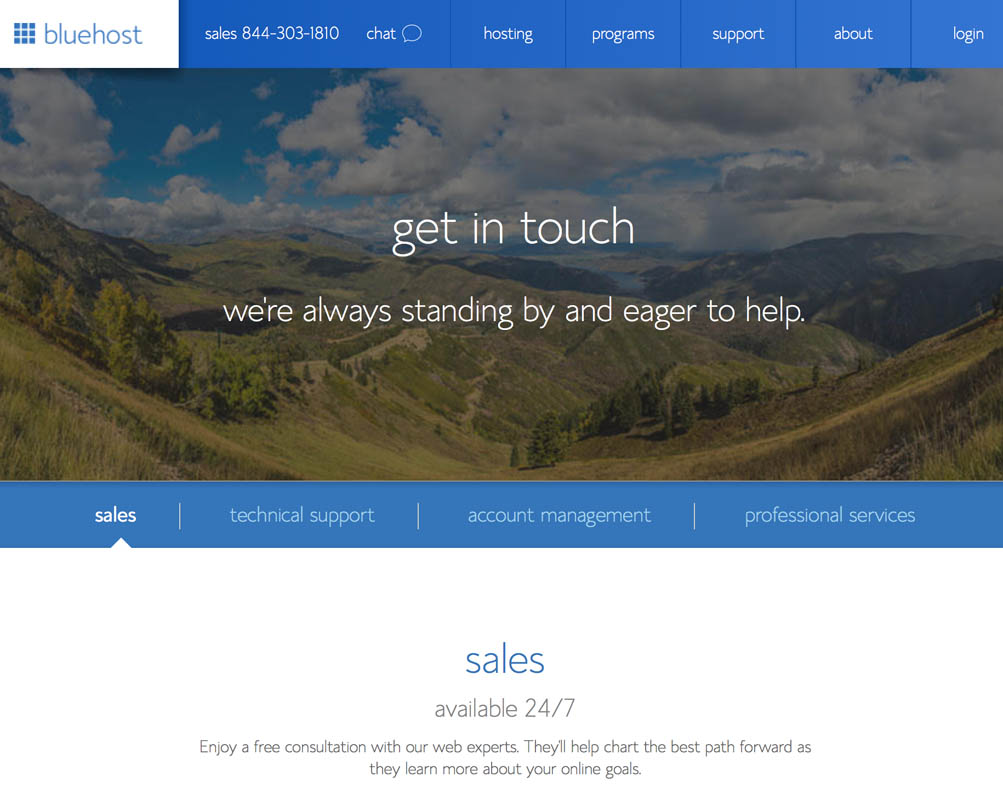 BlueHost starts with a calming graphic and then a commitment to provide decent support. This is a really re-assuring statement to see when you might be contacting about something negative like a server status issue. Use assuring language and stand by the promises that you make.
6. Seth Godin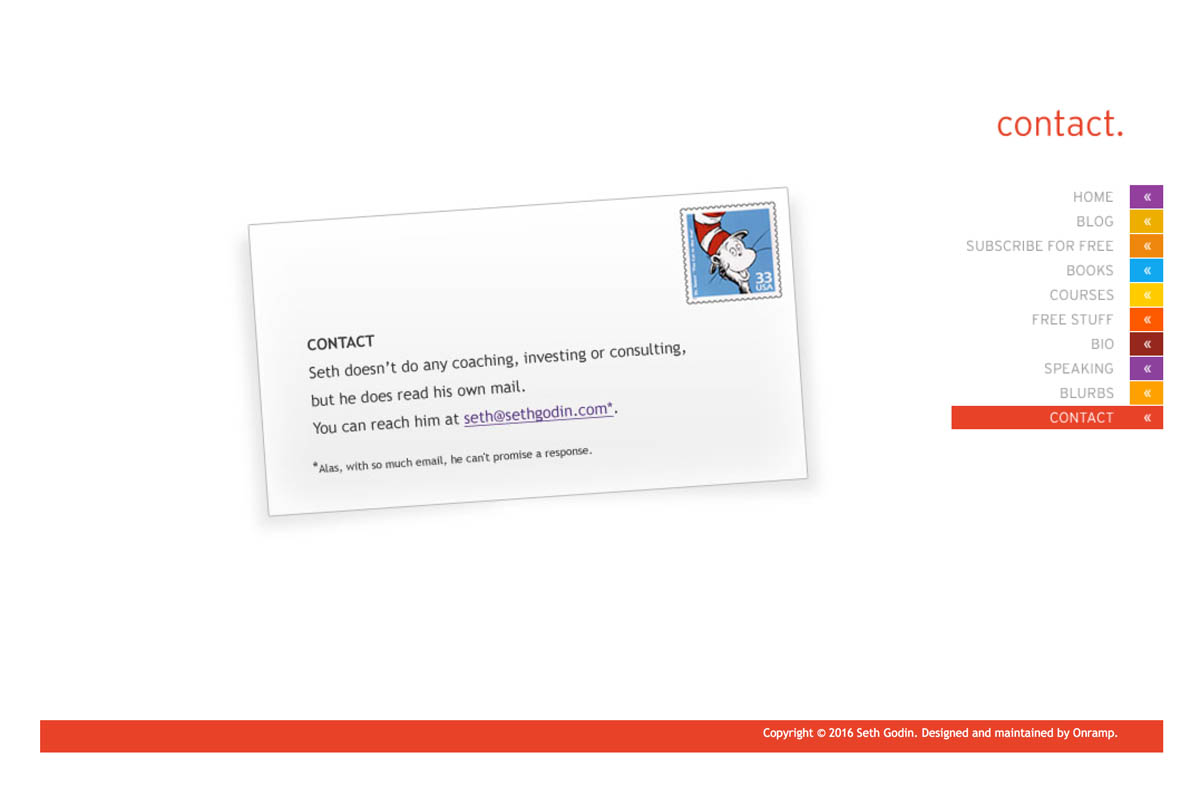 This is a great contact page for setting expectations about what you will or won't receive from the process. It's simple and straight to the point. It's good to remember that sometimes you don't want people to email you for support as they can get it elsewhere. Being direct and too the point about that thinking is important.
7. TED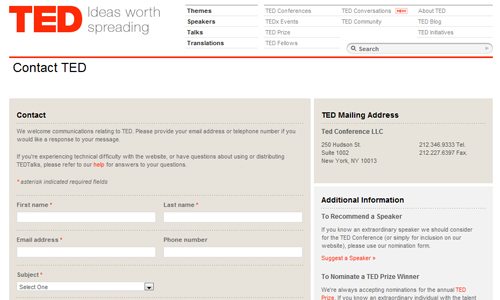 This is a really good one for showing you that your Contact Page isn't necessarily just about helping people get in touch with you. It can also help you with your cause. TED, for example, asks if you know any good speakers that could work well at their conferences. You can do the same on your blogs or websites; ask for help.
8. Moz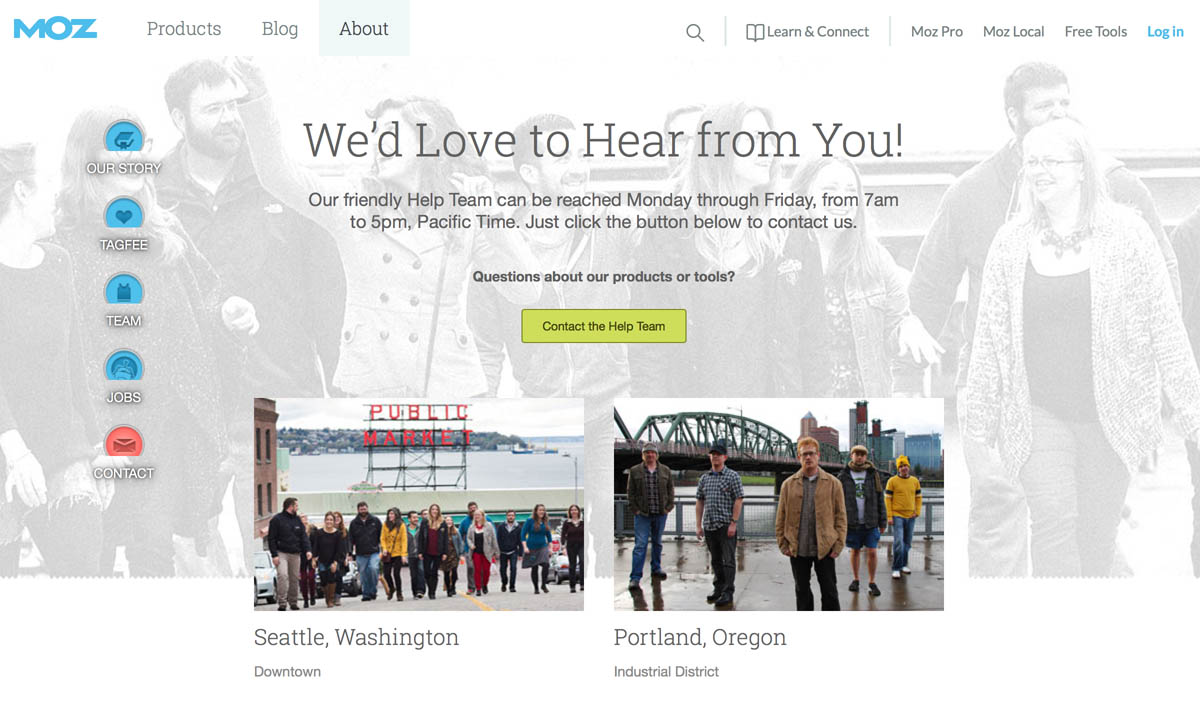 Rand Fishkin from MOZ is one of the coolest guys around. He always wears yellow sneakers. I like that. And their Contact Us page is really what's its all about. Well linked, easy to navigate and has all the information you want from emails to physical locations. They also do a very good job of personalizing the experience with quirky copy and well placed text.
9. Zen Habits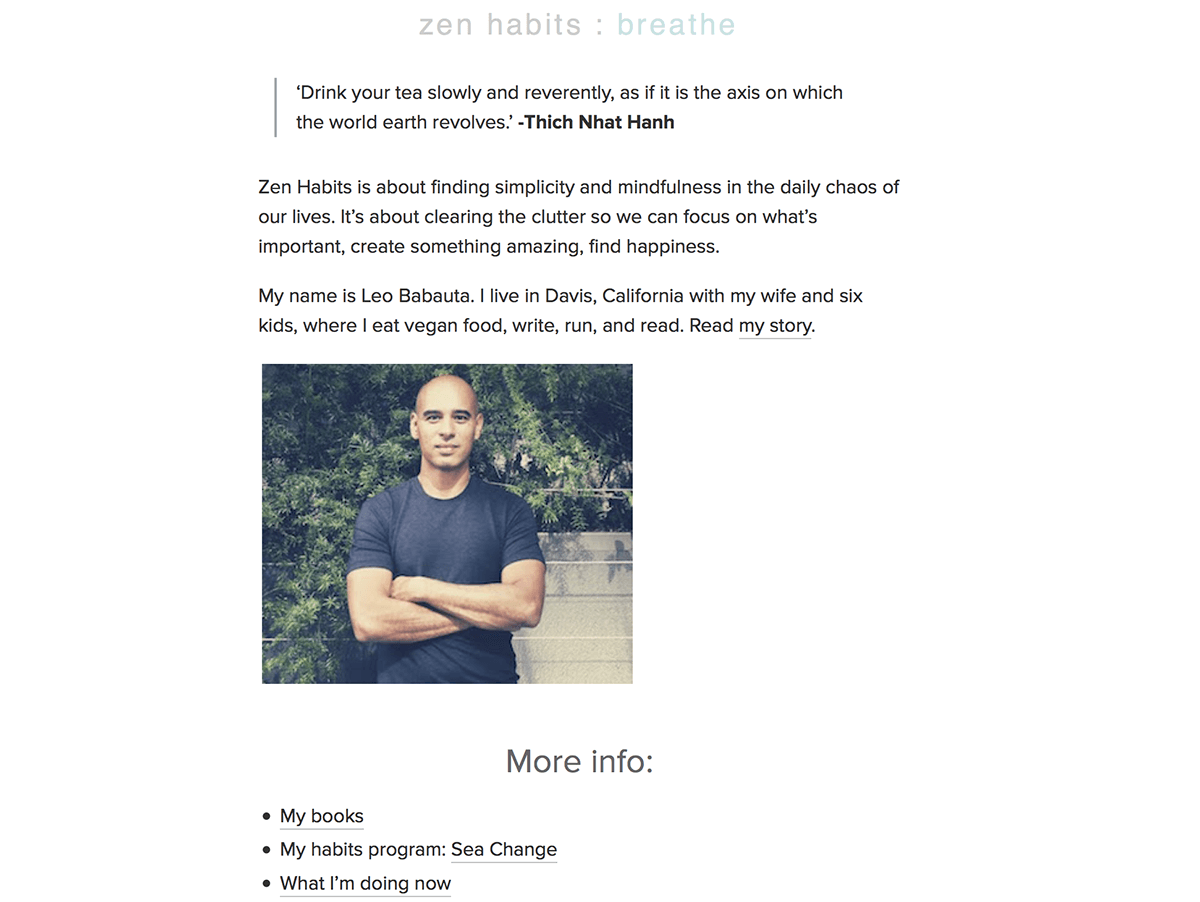 A few years ago Leo from Zen Habits gave up emails. I remember it being quite a cool moment because I realized that I could do that as well. So what about his Contact Us page? Well, he doesn't really have one. Its a small section on his About Us page that basically tells people not to email him. Minimalist. I guess you have to be when you have 200,000 subscribers.
10. Yours…
This is a little bit corny but I'd really love to see what kind of contact pages you can come up with based on these inspirations, or anything else that you can find around the web. Please get in touch with me on Twitter if you come up with something awesome and maybe we can start adding them to this post!