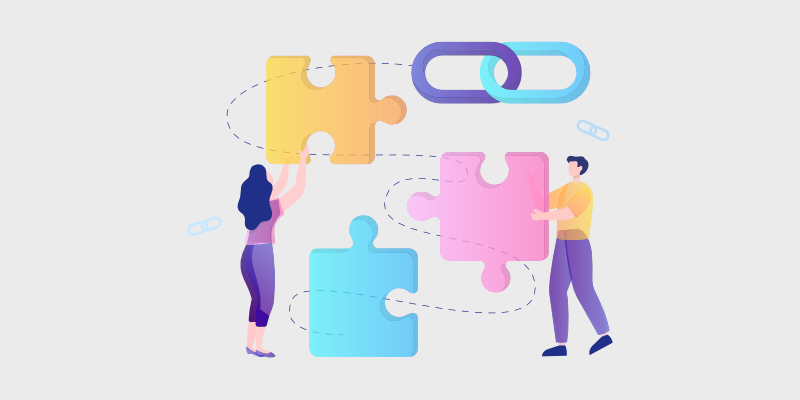 A re you wondering what the best internal linking strategies are? In this article, we'll share internal linking best practices so that you can improve your blog's SEO.
When you create a blog, getting it to rank in search engines like Google is one of the best ways to grow your traffic.
But, in order to get your blog to rank, you need to follow certain SEO practices, one of which is internal linking.
Internal linking is pretty simple but you do need to be strategic about it.
In this guide, we'll go over the internal linking best practices that you need to know in order to be successful.
Let's begin.
But first, if you're not familiar with internal linking, let's go over what it is and why it's important…
What is Internal Linking?
Internal links are hyperlinks from one page to another page on the same site. Here's an example:
The clickable link above leads from this blog post that you're currently reading to another relevant blog post on our site.
These are different from external links, which link out to pages on other websites.
Check out this tutorial if you need help adding links in WordPress.
Benefits of Internal Linking
The point of adding internal links is to help both search engines and readers find content on your website.
So, let's take a look at what benefits you'll get from a good internal linking strategy:
Increase Site Ranking ⭐
Google has to constantly search for new pages and add them to its list of known pages in order for them to show up in search results. Some site pages are known because Google has previously visited them and others are discovered because Google follows a link from a known page to a new page.
So, internal linking will help Google discover your content easier so it has a better chance to rank in search results.
With internal linking, you can also tell Google which of your content is most important. For example, let's say you have a photography blog, and each of your blog posts link to a valuable guide on how to become a photographer. With so many internal links pointing to that guide, it lets Google know that it's a high-value article, which improves its chances of ranking higher.
Improve Blog Navigation ⭐
Users can find their way around your site using navigational links like the header menu, which could have links to your about page, different blog categories, or a landing page with a call-to-action.
But, it's also important to add contextual links to help readers navigate your blog.
Contextual links are links within the body of a post or page that lead to related articles and content. These links will help you get all of your posts and pages linked internally. As a result, readers will be able to easily discover more of your content.
Boost Engagement ⭐
With improved blog navigation, you can also boost your blog's engagement. Like we mentioned above, internal linking will help readers find your content easier. So, that means there's a better chance of them reading more of your blog posts and staying on your site longer.
This not only improves your bounce rate, but because users are spending more time on your site, you have a better chance of getting more comments, email subscribers, and even customers.
Alright, now that you know the benefits, let's dive into some strategies that will help you with your blog's internal linking structure…
Internal Linking Best Practices: 5 Tips
1. Link to Relevant Content
The first step to creating an effective internal linking strategy is to figure out:
What content you want to link to
Which pages or posts you want to link that content from
Some experts recommend having a complex structure of pages set up or making content "silos" to link to, but in our opinion, it doesn't have to be that complicated.
The most important thing is relevance. If you have an article about traveling to Europe and add an internal link to an article about video games in it, that's not helpful or relevant to readers.
Instead, your internal links should provide value to readers. In an article about traveling to Europe, you can add internal links to relevant blog topics you've written about such as:
Budget airlines in Europe
Purchasing travel insurance
Best restaurants in Europe
And so on
Linking to relevant content is also easier when you create groups of content. For example, a travel blog can write a guide about traveling in Canada and create additional specific articles on Newfoundland, British Columbia, Quebec, etc. Then, interlink all of these relevant posts together.
This will help readers navigate your site easier and they'll be more likely to click on the links. Plus, it will help search engines better understand what your site is about.
2. Use Keywords in the Anchor Text
Next, it's important to use anchor text wisely.
Anchor text is the visible, clickable words of a hyperlink.
In the example below from OptinMonster, the anchor text reads "user-generated content."

When users click on the link, it will take them to an article about the topic of user-generated content. "User-generated content" is also the primary keyword of the article that's linked.
So, instead of linking that article to random text in the post like "customers," OptinMonster uses keywords in the anchor text.
By using keywords in your anchor text, you can help Google understand that your links are useful and relevant, which can improve keyword rankings.
This also makes it easy for readers to understand what you're linking to and encourages them to click.
Remember: Be sure that you're using anchor text naturally and don't use the same keywords to every link's anchor text, otherwise, Google might think that something spammy is going on.
3. Open Internal Links in the Same Tab
A lot of people wonder if an internal link should open in a new tab or in the same tab.
At Blog Tyrant, our opinion is that as long as you're linking to another page or post on your site, your links should open up in the same tab.
This is pretty standard practice and makes the most sense for the user experience.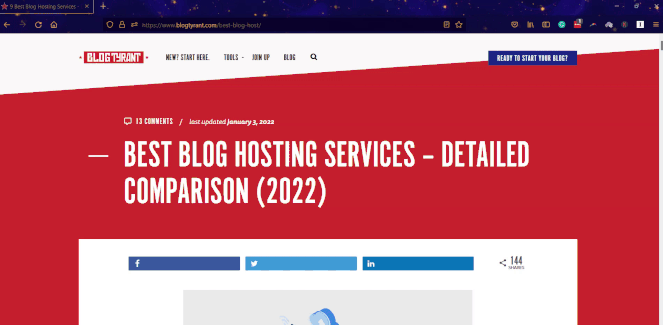 Visitors can easily use your navigation menu or the back button in their browser if they need to return to where they started.
But, for external links, which would lead users to a different site other than your own, those should open in a new tab. That way, it's easier for users to return to what they were originally reading on your blog and you can keep them on your site for longer.
Read this tutorial to learn how to open external links in a new window or tab with WordPress.
4. Use DoFollow Links
Now let's go over whether your internal links should be "dofollow" or "nofollow."
With dofollow links, search engines can follow every link on your site.
On the other hand, a nofollow link is a link from your site to another site that you don't want to pass link juice to. It tells Google not to follow that link or give any value to it.
So, internal links should always be dofollow so that Google and other search engines can go freely from one page of your site to the next.
Luckily, all links are dofollow by default, unless you change them to nofollow links.
Next, let's answer a common question, how many internal links is good for SEO?
5. Don't Go Overboard
There's no right or wrong number of internal links that you should add to a page or post. Google itself says to use "a reasonable amount."
But, it's important not to overwhelm your readers with too many links on a page.
Take a look at this example below:

This one, short paragraph has 6 links in it. It makes the text harder to read and users are probably not going to click on any of those links—there are just too many.
Instead, spread those links throughout your article, adding them to sections where they are most useful to readers.
Also, consider the length of your blog posts. Add fewer internal links to short posts and add a little more to longer posts.
That's it for this list of internal linking best practices.
Before you go, we want to share the best internal linking software on the market…
Internal Linking Made Easy with AIOSEO
Manually searching through your site and figuring out what to link to and where can be really time-consuming.
Luckily, you can use a plugin like All in One SEO to make internal linking super easy.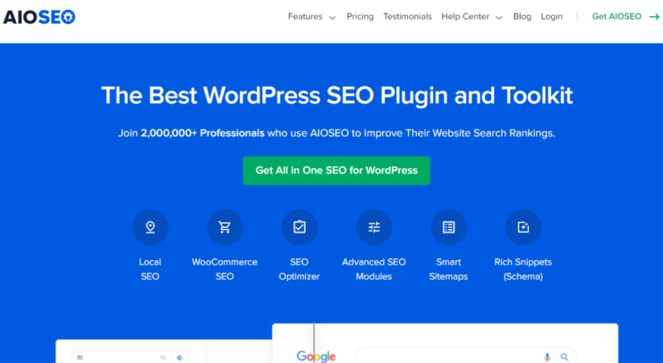 All in One SEO (AIOSEO) is the best SEO plugin for WordPress. It can help you optimize your site for SEO in under 10 minutes. Plus, it has features like smart XML sitemaps, TruSEO on-page analysis, rich snippets schema, and much more.
But, what really sets AIOSEO apart from other SEO plugins is its powerful Link Assistant feature.
AIOSEO's Link Assistant will automatically crawl all of your pages and generate an internal Links Report for your website.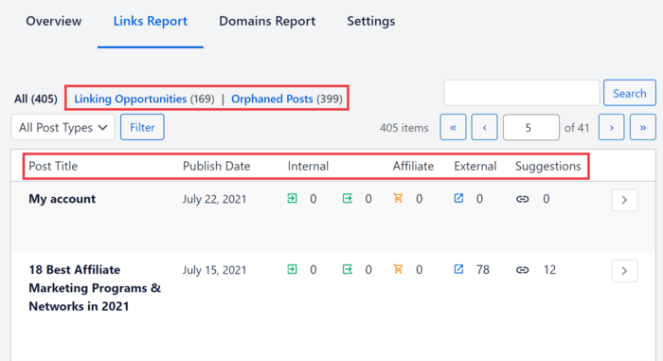 This makes it easy to do an internal linking audit because it will give you insight into:
Linking Opportunities – AIOSEO recommends relevant pages you can link to and anchor text you can use.
Orphaned Posts – AIOSEO finds all of the orphan pages on your site (pages with no internal links) and offers linking suggestions.
You don't even have to manually add the links yourself with AIOSEO. When the Link Assistant gives you a suggestion, simply click the Add Link button to automatically add the internal link to your post.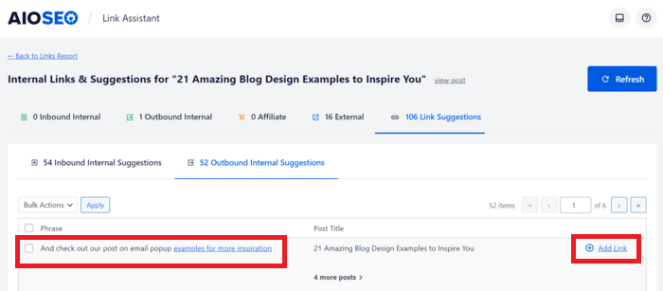 If you want to change the anchor text or placement of an internal link, you don't have to open your blog post and manually edit it anymore either.
With AIOSEO's Link Assitant, you make those changes in 1-click. Just hover over the link suggestion and click on the Edit icon to make your changes.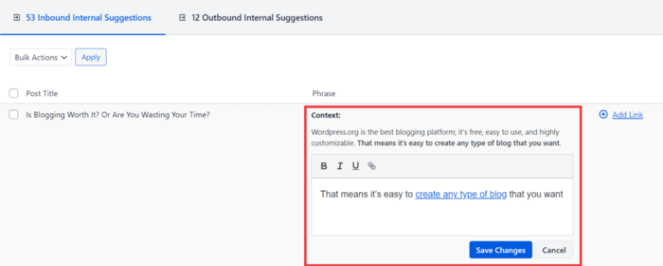 With AIOSEO, internal linking has never been easier!
The Link Assistant addon can also help you organize your site's external links. Using the Domain Report, you can see which external links aren't adding value to your content and you can delete them in 1-click. You can also edit or update any external links right from the Link Assistant.
You can learn more about this powerful plugin in our detailed AIOSEO review.
---
That's a wrap! We hope this guide will help you get started on internal linking for SEO. Now, you can improve your linking strategy so that you can rank higher in search engines and drive more traffic to your site.
If you liked this post, then check out our guide on how to get backlinks for your blog, which is another important SEO ranking factor.
And don't forget to sign up for our email newsletter for more helpful blogging tips!