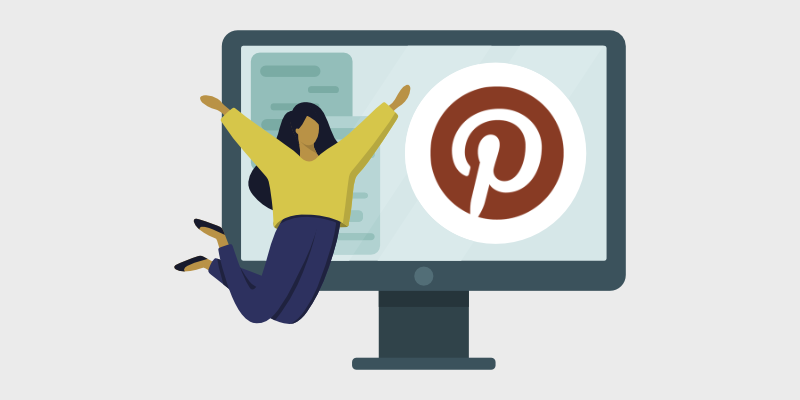 A re you wondering how to get traffic from Pinterest? In this guide, we'll show you how to use one of the most popular social media platforms to drive more traffic and engagement to your blog.
If you've launched a blog and are trying to grow your traffic, you might be curious about Pinterest. After all, a lot of successful bloggers talk about how Pinterest is their #1 source of traffic.
But how can you get some of that Pinterest traffic for yourself?
Don't worry, in this guide, we'll show you exactly how to use Pinterest to boost your blog traffic. We'll go over how to create a Pinterest account, how to get rich pins, how to get Pinterest followers, and more.
So, let's get started!
But first, let's go into more detail about how beneficial Pinterest can be for your blog…
Benefits of Using Pinterest to Drive Traffic
Pinterest isn't just a social media network, it's actually a search engine where people look for information, find new websites, and save images that they love. That makes it the perfect platform for users to discover your blog and its content.
According to Pinterest, 85% of pinners say that Pinterest is where they go to start a new project. So, if you write helpful tutorials on your blog, you'll be able to attract tons of new users to your website.
And because Pinterest is like a search engine, that means that people can discover your content for years after you publish it. It's not like other social media sites where your post gets lost in the feed and forgotten about.
Just how much can you grow your traffic from Pinterest?
Here's an example to inspire you.
Mom blogger Elna Cain of TwinsMommy grew her traffic from 4,000 pageviews per month to over 60,000 pageviews per month when she started using Pinterest.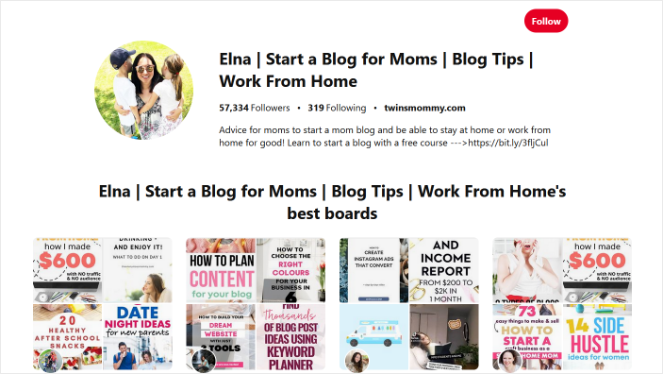 Now she gets over 100,000 pageviews per month and she has over 57,000 Pinterest followers!
Pretty amazing right?
Here are some other advantages of using Pinterest:
Rank for Popular Keywords – It can be difficult to improve your Google rankings. But, Pinterest's algorithm isn't as advanced as Google's. That means it will be easier for you to rank for popular keywords on Pinterest.
Get More Email Subscribers – If you create pins for your lead magnets on Pinterest that link directly to your email optin landing page, you can build an email list quickly.
Increase Affiliate Income – If you're using affiliate marketing to make money blogging, then you can pin your product reviews on Pinterest and earn more commissions.
Boost Sales – 45% of people in the US with a household income of over $100,000 are on the platform and 80% of users are ready to buy. So, if you're selling products or services, you can easily find new customers on Pinterest.
If you're ready to start using Pinterest to grow your blog, let's go. Simply follow this tutorial…
1. Sign Up for a Business Account on Pinterest
Of course, the first thing you need to do is sign up for Pinterest. Instead of signing up for a regular account though, sign up for a Business account.
A Pinterest Business account will give you access to the more powerful features you'll need for your blog such as rich pins, promoted pins, Pinterest analytics, and more.
To create your new account, head to the Pinterest website and click Sign up in the top right corner. Then, click on Create a free business account at the bottom of the window that pops up.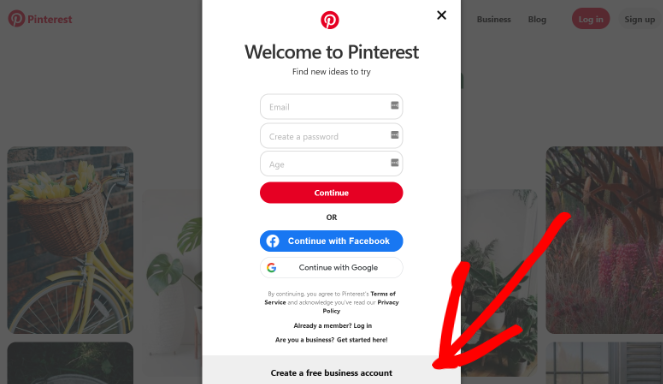 If you already have a personal Pinterest account, you can easily convert it to a Business account through your Account Settings.
Then, simply follow the prompts to complete the signup process. Pinterest will require you to provide information like your email address, age, country/region, website URL, and more.
On the following pages, Pinterest will ask you a few more questions about your business. You can choose the focus of your brand from categories like fashion, food, education, and more. Pick the one that best fits your blog niche. You can also choose Other and type in your focus if it isn't listed.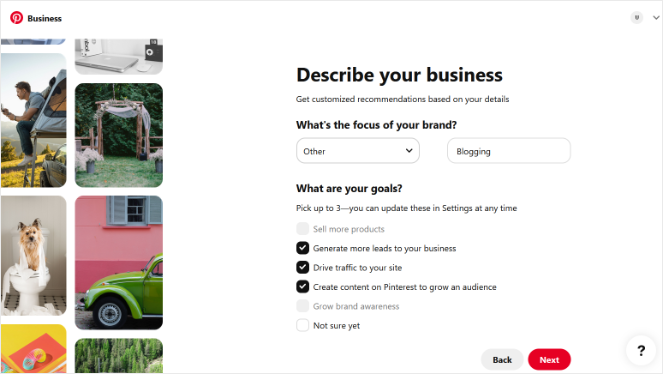 You can also choose what 3 goals you want to achieve with Pinterest from options like drive more traffic to your site, sell more products, create brand awareness, and others.
Lastly, choose a title that best represents you or your business in order to get custom recommendations from Pinterest. For this tutorial, we'll choose Blogger.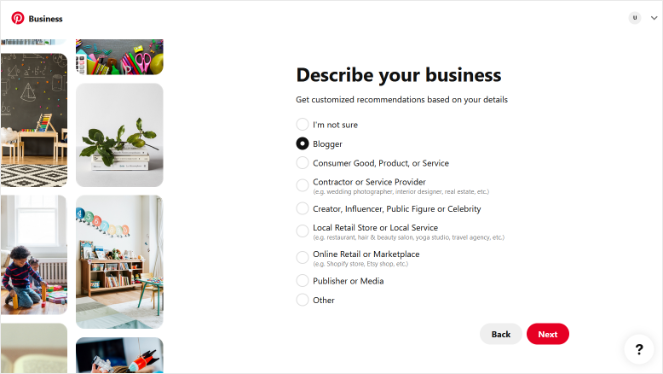 Now you'll be taken to the Pinterest dashboard where you can start working on your Pinterest profile.
When you have a Business profile, it's important that you verify your website on Pinterest as well. You can easily do it with a plugin like AIOSEO. Simply follow this tutorial to learn how.
2. Set Up Your Pinterest Profile
Your Pinterest profile should get people interested in you and the content you share enough for them to want to follow you or check out your pins.
Let's start off with 3 basic elements that you need:
Profile Picture
Cover Photo
Description
Here's an example of those elements in action from the travel, food, and lifestyle blog Chasing Foxes: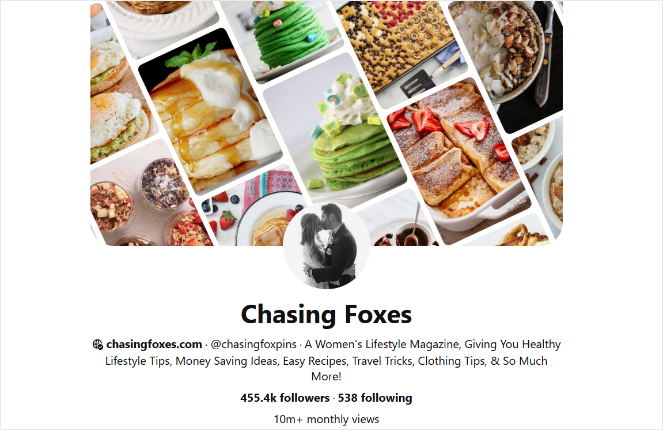 The blog owners, Silas and Grace, use a photo of themselves for their profile picture. This helps users connect with them on a personal level.
The cover photo draws users into the page and gives them a preview of the type of content they share. Pinterest lets you create a collage of your latest pins to use as your cover photo, which is what Chasing Foxes uses. If you don't have any pins yet, you can upload your own cover photo for now.
Their profile also includes a description to tell users what their Pinterest page is all about.
In the description, it's important that you use keywords that will help users discover your profile easier.
Take a look at Chasing Foxes description again: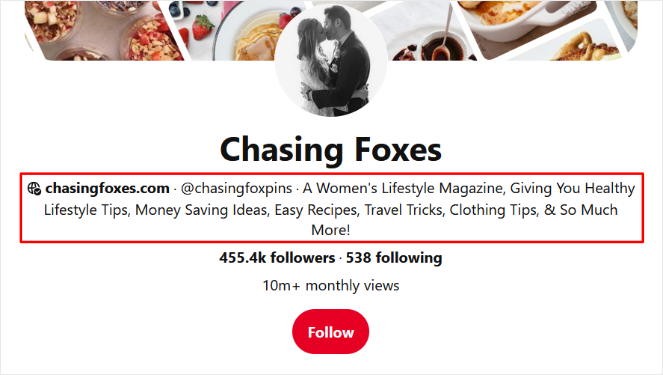 They fit a lot of keywords into their description such as healthy lifestyle tips, money-saving ideas, easy recipes, travel tricks, and clothing tips.
Based on your blog niche, think about what type of keywords you can use in your Pinterest description. For example, if you have a food blog, you could use keywords like:
Easy recipes for kids
Healthy recipes
Dessert recipes
After you've got the basics of your profile set up, it's time to create some Pinterest pins.
3. Create Optimized Pins
Now you need to create pins for your best blog posts.
To be successful with your Pinterest traffic strategy, your pins need to follow Pinterest best practices.
The 3 pin elements you need to focus on are:
Let's go over each of them…
Pin Title
The title of your pin is often one of the first things that users see, aside from the image. So, your pin title should encourage users to click and learn more.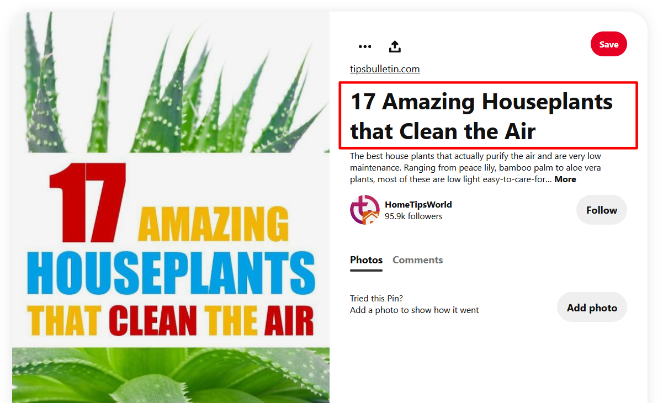 You can use the title of your blog post as a starting point, then get a little more creative with it to attract users on Pinterest.
For example, let's say you wrote a blog post titled: 9 Plants You Need for Your Dorm Room.
You can use power words and emotion to make that title more interesting to Pinterest users. Here are some examples:
9 Amazing Air Purifying Dorm Plants
Bring Your Dorm Room to Life With These Plants
9 Plants to Bring Happiness and Oxygen to Your Dorm Room
Make sure that your main keyword is in the title too.
And with Pinterest, you can actually create multiple pins for the same blog post. This is a good way to test out different titles and see which works best.
Pin Description
The description of your pin should tell users a little more about what your post is about and encourage them to click. It's also a great place to add some more relevant keywords.
Here's a great example of a pin description from This Mama Blogs: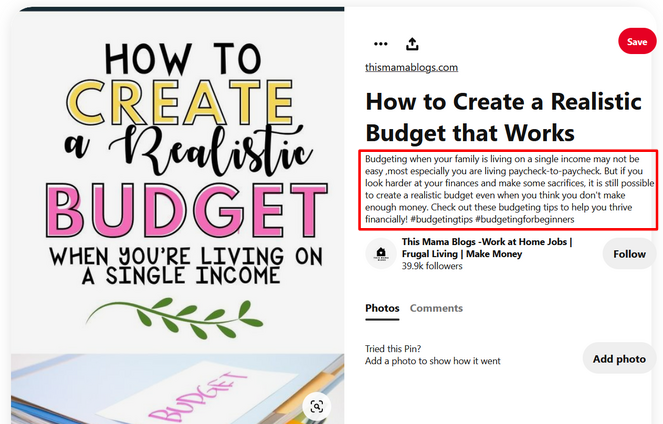 It includes keywords like budgeting, create a realistic budget, budgeting tips, living on a single income, and more. It also includes relevant hashtags.
To find more keyword ideas and boost your Pinterest SEO, do some keyword research on Pinterest by using the search bar.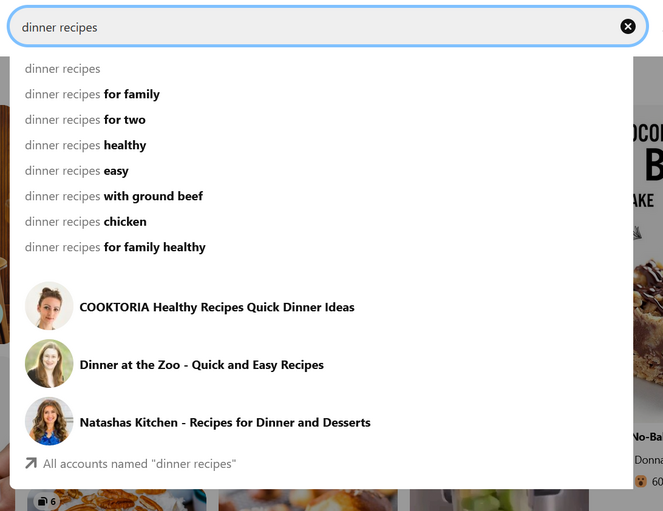 Simply type in your main keyword and a list of keyword suggestions will come up.
These keywords are already being searched by users on Pinterest. So, if you include them in your pin description, it will help you show up in search results.
And don't forget to include a call-to-action in your description to tell users what to do next. You can write something simple like "click here to learn how to make money from home."
Pin Images
Images are a very important part of your Pinterest traffic strategy and they need to be optimized if you want them to stand out and grab the attention of users.
First, let's get the size right. Pinterest says 1000 x 1500 is the optimal image size with an aspect ratio of 2:3.
But, generally, you want your images to be taller than they are wide.
Pinterest favors vertical images because most users view pins on their mobile devices. Plus, vertical images take up more space in Pinterest feeds, which will make your image stand out more.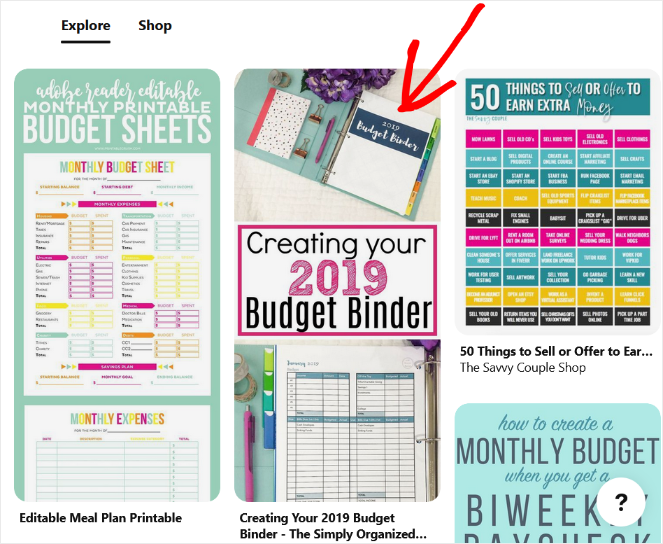 Be sure to use high-quality stock photos as well. You can check out this post on where to find free images for more tips.
Your image should also display the name of your post in a nice font and you can include the name of your blog or your logo to make your pins recognizable to users.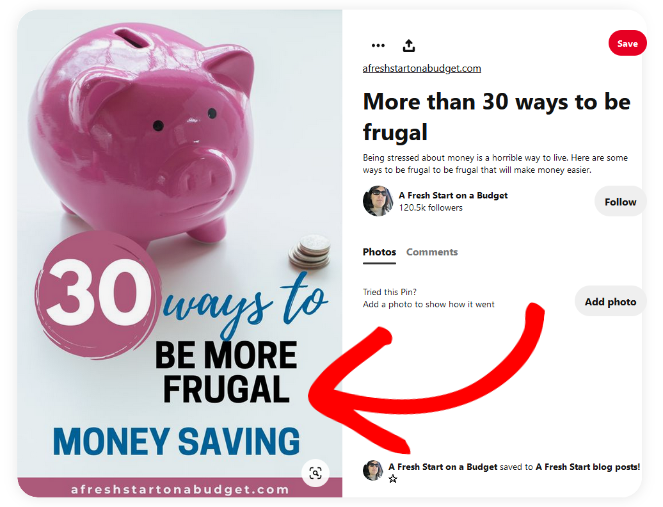 To pull this all together and easily create Pinterest images, we recommend using a free tool like Canva. Canva has a 1000 x 1500 Pinterest template that you can customize with your own images, text, and more.
4. Make Pinterest Boards
Now that you've created some pins, let's make some Pinterest boards too.
With Pinterest boards, you can organize your pins into different categories to help users find the content they're looking for easier. Users can also follow specific boards to keep up-to-date with the new content that's pinned to them.
For example, Ahrefs has Pinterest boards for categories like link building, blog post ideas, blogging tips, email marketing tips, and more: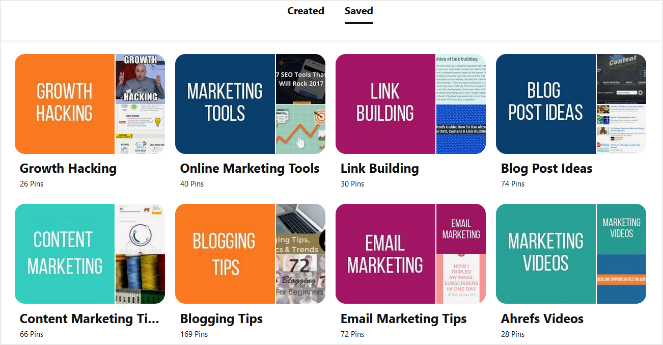 So, if you have a food blog, you could create boards like:
Healthy Dinner Recipes
Easy Breakfast Ideas
Cheap School Lunch Ideas
Make sure each board has a title with a relevant keyword, an eye-catching cover photo, and a board description with other relevant keywords.
And be sure to pin relevant posts to your boards daily in order to attract new followers.
5. Apply for Rich Pins
After verifying your website, which we mentioned in step 1, you can also apply for rich pins.
Rich pins automatically pull information from your website into your pins. The extra information that's displayed can help boost click-through rates.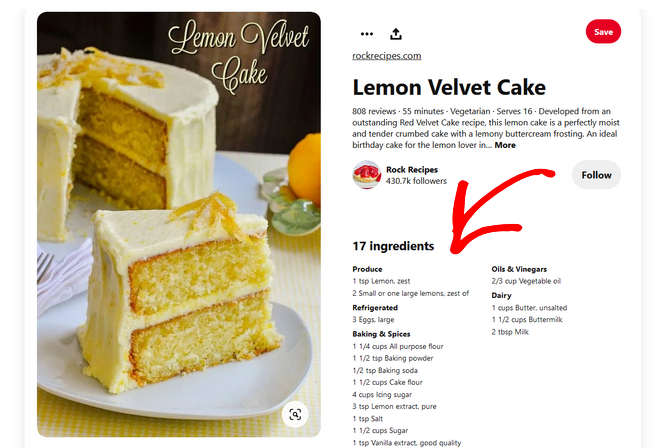 Plus, rich pins are synced with your blog. So, when you update a post, the pin will be automatically updated as well.
There are 4 different types of rich pins:
Article Rich Pins – Shows the title, meta description, and blog post author.
Recipe Rich Pins – Shows the title, cooking time, list of ingredients, ratings, and more.
Product Rich Pins – Shows up-to-date information on product pages like pricing and availability.
App Rich Pins – Displays an install button so users can download your app right from Pinterest.
To apply for rich pins, you first need to add meta tags to your website. You can easily do this with All in One SEO (AIOSEO). Just follow the steps in their social meta documentation.
Then, enter the URL of one of the correctly marked-up pins into the Pinterest Rich Pin Validator. If all goes well and Pinterest is able to find your metadata, you'll see a success message that your rich pins have been approved.
6. Join Group Boards
A Pinterest group board is exactly what it sounds like. It allows a bunch of other pinners to pin posts to the same board.
If the group is popular, it will have a ton of followers so it's a great way to generate more traffic to your blog and get more Pinterest followers.
Here's an example of a popular Pinterest group board. It's a group for Etsy sellers and it has almost 5,000 followers.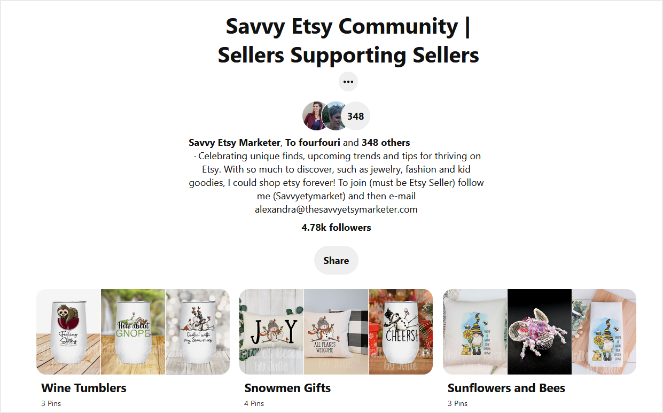 If you're new to Pinterest, joining a group like this will help you get your pins seen by a lot of people quickly.
To find group boards you can join on Pinterest, you can use a website like PinGroupie. Just search for a keyword related to your blog niche and search through the results to find groups you can join.
Each group will usually have instructions for joining and group rules listed in the description.
7. Grow Your Pinterest Following
Now that we've got the basics covered, let's dive into some other strategies that can help you skyrocket your Pinterest following.
Add a Pinterest Share Button to Your Site
First, you should add a Pinterest share button to your blog. That way, your readers can share your content directly to Pinterest without leaving your site. This will help you get more eyes on your pins.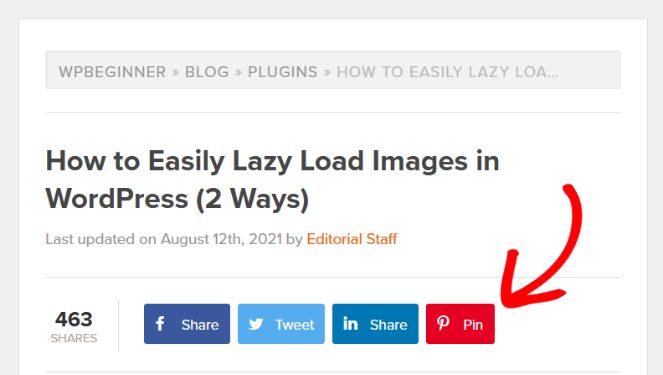 You can easily add a Pinterest share button to your site with a free plugin like Shared Counts.
It lets you add share buttons for Pinterest, Facebook, Twitter, and more, and you can display the total share count for your articles to build social proof.
Run a Pinterest Contest
A super fun and effective way to get more Pinterest followers is by running a giveaway.
Everyone loves getting the chance to win an awesome prize so your contest could go viral. And if you use the right tool, you can grow your Pinterest following at the same time.
RafflePress is the best giveaway plugin for WordPress. It's easy to use and offers everything you need to run a viral giveaway right from your WordPress blog.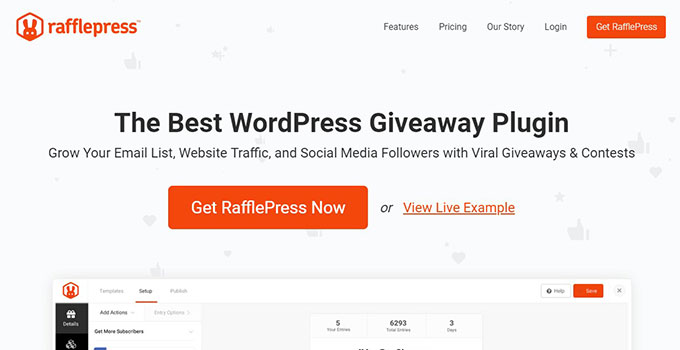 Plus, RafflePress has bonus actions that people can use to earn extra entries in your giveaway. These actions can help you reach your Pinterest goals too.
For example, check out this Pinterest giveaway created with RafflePress: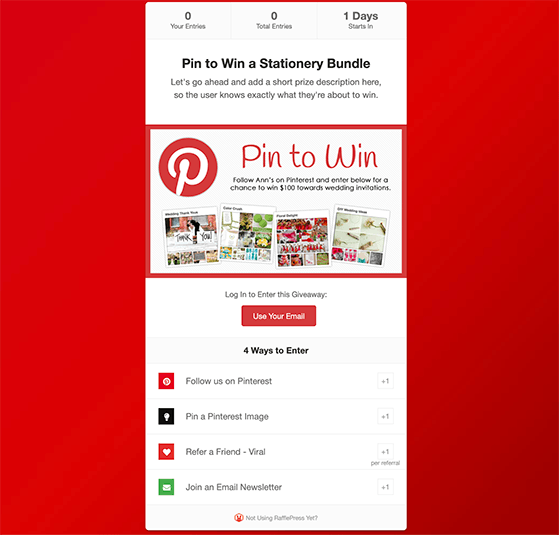 It has actions for:
Follow us on Pinterest – This is the perfect action to boost your Pinterest following.
Pin a Pinterest Image – Using the Invent Your Own action, you can ask users to pin an image from one of your Pinterest boards.
Refer a Friend – Get users to share your contest on Pinterest, Facebook, Twitter, and more to attract lots of entries.
Aside from actions that will help you boost your Pinterest followers, RafflePress offers a ton of other actions to grow your blog. You can add actions like join an email newsletter, visit a page, watch a video, and much more.
Use Pinterest Ads
Another way to get more Pinterest followers is by promoting your pins with Pinterest Ads. This tactic is best suited for businesses that have a social media marketing budget.
Pinterest Ads can help you reach a broader audience quickly. With ads, you can automatically display your pins to people that would be the most interested in them. You can target users based on their interests or demographics, or by specific keywords.
Pinterest Ads show up in the feed just like regular pins, but they'll be shown to many more users than your non-promoted content is.
8. Keep Pinning
If you want to find success on Pinterest, it's important that you're consistent. That means that you've got to pin on a regular basis, and you've got to pin a lot!
Pinterest favors fresh and new content and the more you pin, the more traffic you can drive to your blog. So, you should be creating new pins daily.
Many bloggers say you should pin five times per day on Pinterest at a minimum. And some bloggers pin as many as 15 to 20 times per day.
This can be difficult to manage, especially as a busy blogger that has a lot of other tasks they need to handle.
To make it easier, you can automate your pinning with a tool like Tailwind.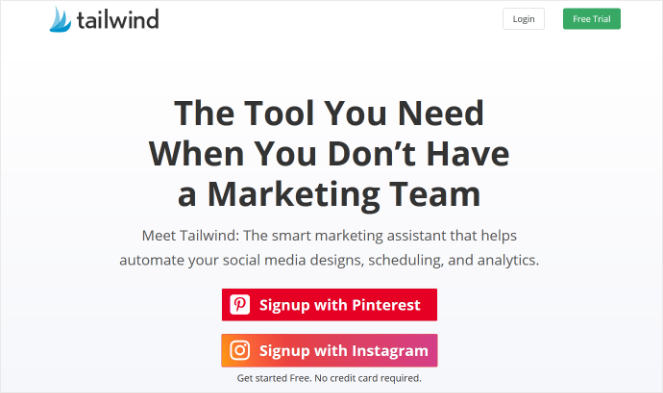 Using Tailwind, you can create and schedule an entire week's worth of pins in 30 minutes or less.
Tailwind also offers other cool features like Tailwind communities that let you connect and grow with other Pinterest creators.
9. Track Your Results
Lastly, be sure to track your results with Pinterest analytics. This will help you see what's working and what's not. Then, you can tweak your Pinterest strategy accordingly to improve your results.
With Pinterest analytics, you can find out:
Which pins are performing the best
Which boards are performing the best
How many impressions you're getting
How much engagement you're getting
And more
And of course, you'll want to see how much traffic you're getting from Pinterest. To see this information right from your WordPress dashboard, you can use a plugin like MonsterInsights.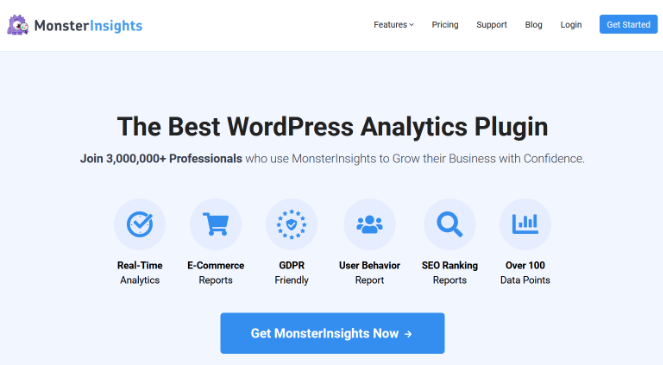 MonsterInsights is the best analytics plugin for WordPress. It's easy to use and you can quickly set up social media tracking in just a few clicks.
You can discover valuable information like which social media platforms are sending the most traffic, how much time social media users spend on your site, the ratio of new visitors vs. returning visitors, and much more.
---
That's it!
Now you know how to use Pinterest to skyrocket your blog traffic! If you've got any other Pinterest tips you want to share, then sound off in the comments below.
If you liked this post, then you might also want to check out our guide to Instagram.
And don't forget to sign up for our email newsletter for more helpful blogging tips!