Last Update January 1st, 2019 — So, you want to start a blog on the best blog hosting? Watch this little video first and then move on to the full blog hosting review below. I got you covered!
Some quick blog hosting facts
Here's some facts about blog hosting and this review's contents:
Over 2,000,000 people use Bluehost to host their blogs.
Avoid free hosts and blogging platforms if you want to succeed with your new blog or make money.
Installing WordPress on Bluehost only takes a few clicks. (Here is a step by step guide on how to start a WordPress blog with Bluehost)
Bluehost is the recommended host by WordPress itself.
Bluehost is where I started my professional blogging career.
The rest of this review is going to go into detail as to why I still recommend them for new bloggers who want to get set up the right way. It'll give you everything you need to make a confident choice about where to host your blog.
Disclosure and quick interruption – I started my first blog on Bluehost and have now partnered with them to get you a big discount rate. If you purchase hosting through one of the links on this post I'll earn a small commission at no extra cost to you. They are a great place to start and I'm happy to promote them!
About this blog hosting review
Now I'm sure there are going to be readers who disagree with my praise of Bluehost in favor of their own host, and I am more than happy for them to do that. The reason I am calling Bluehost the "best blog host" in this hosting review is because they have been the best for me.
My goal with this post was not to do a review of all the options out there. My goal was to give new bloggers confidence that they are making a good decision. I hope that after reading this post people might stop the search for a host, sign up with Bluehost and get on with the real important tasks like blogging, social media marketing and building an email list.
Remember, Bluehost is used by over 2,000,000 bloggers and is even recommended by WordPress themselves. Sometimes you just need to know that someone else has already done what you are attempting to do. A little confidence boost can really help people along.
Should you use a free or paid blog hosting setup?
Let's look at the difference between a free and paid blog hosting setup. Here's a quick graphic example we made that shows you the basic difference between WordPress.com (the free one) and WordPress.org (the one we're going to install on Bluehost).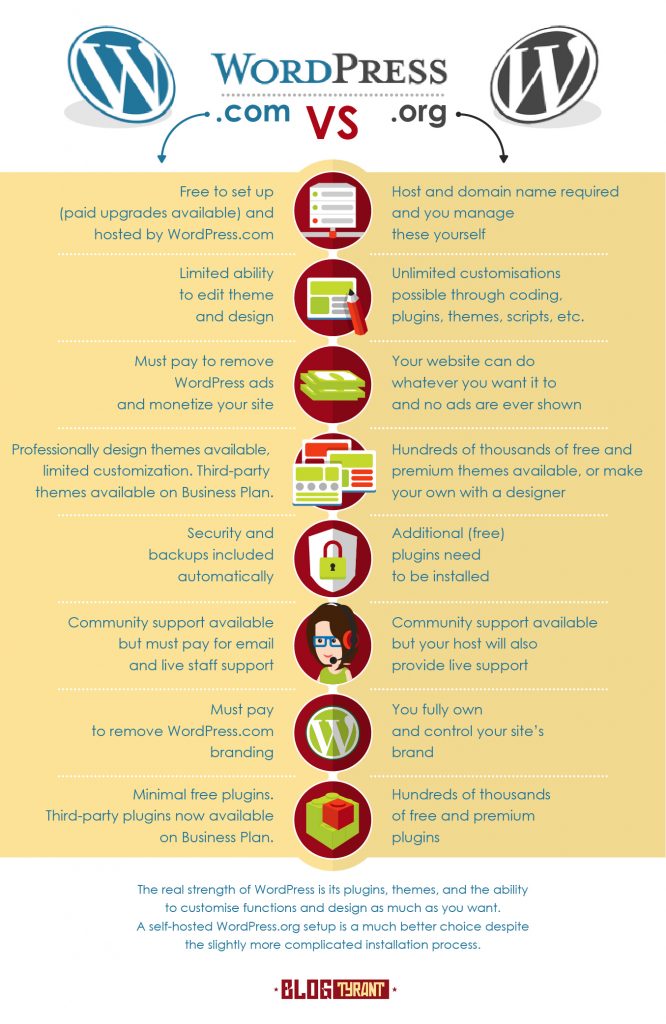 Now let's dive deeper in to some background information about the debate between a free blog and one that you host yourself.
What is a free hosted blog?
The free hosted blogs are the ones that most people turn to when they want to give blogging a try. The common ones include Blogger, WordPress.com (very different from self-hosted WordPress), Tumblr, Live Journal, etc. You sign up for an account and they give you a blog.
What are the advantages of a free blog host?
These blogs are nice if you are really really early on in your career and you want something that is free and easy to use with minimal chance of mucking it up. Tumblr especially has other advantages like being able to re-blog other people's posts. Each of these sites does have its own advantages and will work well for some people. However, I have always believed that their limitations far outweigh their benefits.
Why do free blogs fall short?
If you want to grow a blog or a website to make money or grow a business then I believe you need your own domain name and self-hosted blog. The main reasons for this include:
Very limited control
Most free blogs don't allow you to tweak the coding which makes up the framework of the site. This might sound a bit daunting for a beginner but one day you will need to get in there and change the code (or pay someone to) in order to add new features and updates.
You often don't own it
The biggest drawback for me is that you don't really own your blog – the provider does. Why would you want to spend years building up an asset that you don't fully own or control? That is a deal breaker for me, especially if you can't migrate your content to move it elsewhere.
Not as good for Google rankings
It is well known that Google doesn't give as much weight to free blogs on their search results. Why? Because they don't rate them as being as authoritative. By hosting your own blog with your own domain name you are signalling to Google that you mean business.
Limited design options
On a self-hosted blog you can upload your own themes, hire designers, etc. You can tweak the layout and change the total look and feel. With a free blog you often can't. You are normally stuck with whatever the free blog host offers which means that your blog will look like a lot of others.
Bad for branding
Something a lot of people don't realize is how important it is to have your own domain name. Now, you can do this on some of the free hosts now but it is mostly the area of self-hosted blogs. This is very important for building up your brand over the years.
That being said, there are a lot of bloggers out there who love their free host. And while I don't think they are the optimal solution, I do admit that they're fine for some uses.
Are there any disadvantages to a self-hosting?
The main disadvantage is that you have a little bit of a steeper learning curve because you have to install the blog yourself. This only take a few clicks nowadays, but managing your own self-hosted blog is a little bit more robust that opting for a free option. Here are some common FAQs about self-hosting a blog that might help you out.
What are the costs of a self-hosted blog?
The beauty of this is that it is really, really cheap to host your own blog. All you need is a domain name and a hosting package from Bluehost for $2.75 a month. This is a special discounted rate Bluehost has given Blog Tyrant readers. There are some added extras that you can include if you like, but the basic annual cost is very affordable.
My blog hosting recommendation for all new bloggers
A lot of new bloggers ask me about the best place to host a blog. The video up the top is an overview of the three elements you need to start a blog properly but it essentially it works like this:
Sign up at Bluehost > Get a domain name > Install WordPress > Start blogging
So why choose WordPress as our blogging software?
It's the most popular
WordPress is used by more bloggers that any other platform – millions of them. You know that it is good.
It's open source
This means that thousands of coders around the world are constantly improving WordPress for free. You get new features and security upgrades several times a year.
It's damn easy
I set people up on Bluehost all the time and they pick it up right away. It's no more difficult than sending an email.
Beautiful templates and thousands of free plugins
The main advantage of WordPress is the tens of thousands of beautiful templates and free plugins available. If you want your blog to do something new just find the right plugin and away you go.
Remember, we are talking about WordPress.org here. Not WordPress.com. The latter is a free blog that you don't own while the former is free software that you install on your own host like Bluehost. That's what you want.
Why Bluehost is the best host for your WordPress blog
I have personally used Bluehost for close to a decade to host dozens of blogs and websites and online projects.
My experience with them over the years has been such that I feel very comfortable openly promoting them on Blog Tyrant which is something that I very rarely do. I am not afraid to disclose my partnership with them – I earn a commission whenever someone signs up through my link but I also get you a large discounted rate.
Note: Blog Tyrant is now hosted on a more advanced server set up and is thus no longer with Bluehost. This doesn't at all take away from my recommendation of them as a great host for new/intermediate bloggers as the set up I'm currently on is far too complicated and unnecessary for new sites.
Here are some of the main advantages and benefits of hosting your blog (or blogs) with Bluehost:
24-hour live chat support from amazing people
The absolute best thing about Bluehost is that you have access to amazing tech support 24 hours a day, seven days a week. You just go to their website, click Live Chat and you are instantly put on a chat screen with a technician who will help you with your problems. If you are new to blogging but want to do all the right things first then it is nice to know you have the support team ready to help. It made a huge difference to me. More advanced support can then always be sought in WordPress forums, etc.
One-click WordPress installation
Bluehost allows you to install WordPress with one click. This is so convenient. Many hosts require you to install WordPress manually which can be a bit of a nightmare for new bloggers. Or, they might give you a program like Fantastico which, in my experience, often has an outdated version of WordPress available for installation. This is a security risk.
Unlimited blogs, domains and email addresses
One of the cool things about Bluehost is that they let you host unlimited blogs and websites. Now, unlimited doesn't really mean unlimited I should point out. It is a theoretical offering. If your blogs get big and take up lots of files they will eventually give you problems as they can't host unlimited files. The point is that it is a great place to start your new blogs. Eventually you might need to move to a $50 a month server but if that happens you will be doing very well.
Security help
When you start your own blog you don't realize how much knowledge you are going to need to accumulate. You need to know about social media, WordPress, plugins, copy writing… the list is endless. And one of the things you forget about is that security is really important. Well, Bluehost can help with that. One of the amazing things about this host is that if you have any glaring security threats on your blog they will often auto-correct it for you and notify you of the changes. Failing that, you can always jump on support and get some coaching on how to fix the problems.
Personalized emails
Now, you can do this on all hosts so its not unique to Bluehost but they do offer a lot of support if you run in to troubles. The idea here is that instead of having an email address like mysite@gmail.com you can have something like yourname@mysite.com which is personal, professional and looks very good to potential clients or readers. Setting up these emails can be tricky and over the years I have had amazing live support from Bluehost in this area. I know a lot of other hosts palm you off saying that it isn't really their problem.
Excellent up-time
Lately I know a few people have been complaining about Bluehost's up-time saying that it is getting worse. While I respect these opinions I have to disagree. In the years I used Bluehost I only had a few occasions where my sites went down and it was only for a very small amount of time, and the company is actively improving servers to deal with their large client base.
Choice of various blogging platforms
I only recommend that you use WordPress to power your blogs but Bluehost gives you a choice. For example, you might want to try Drupal or Joomla or something like that. Bluehost has a lot of different blogging platforms to choose from. It is often a good idea to become familiar with these platforms in case a project you are working on requires something a little different. My experience, however, is that WordPress works for every blogging need.
A bunch of free programs and software
Bluehost gives its customers access to a lot of really cool extra features that you just might want access to someday. Some of the coolest ones include Site Lock, a bunch of free SEO tools, Spam filtering and Spam Assassin for your emails, free WordPress themes, site builders and much more. They also give you a free $75 Google Adwords credit when you first sign up to help you advertise your new blog and get it off the ground.
Ready to get started with your own blog hosting?
If you just want to jump right in and get started I've done a step by step guide on how to start a WordPress blog on your own Bluehost account. This has screenshots, videos and a total walkthrough of everything that you'll need to get the whole process done in under 10 minutes.