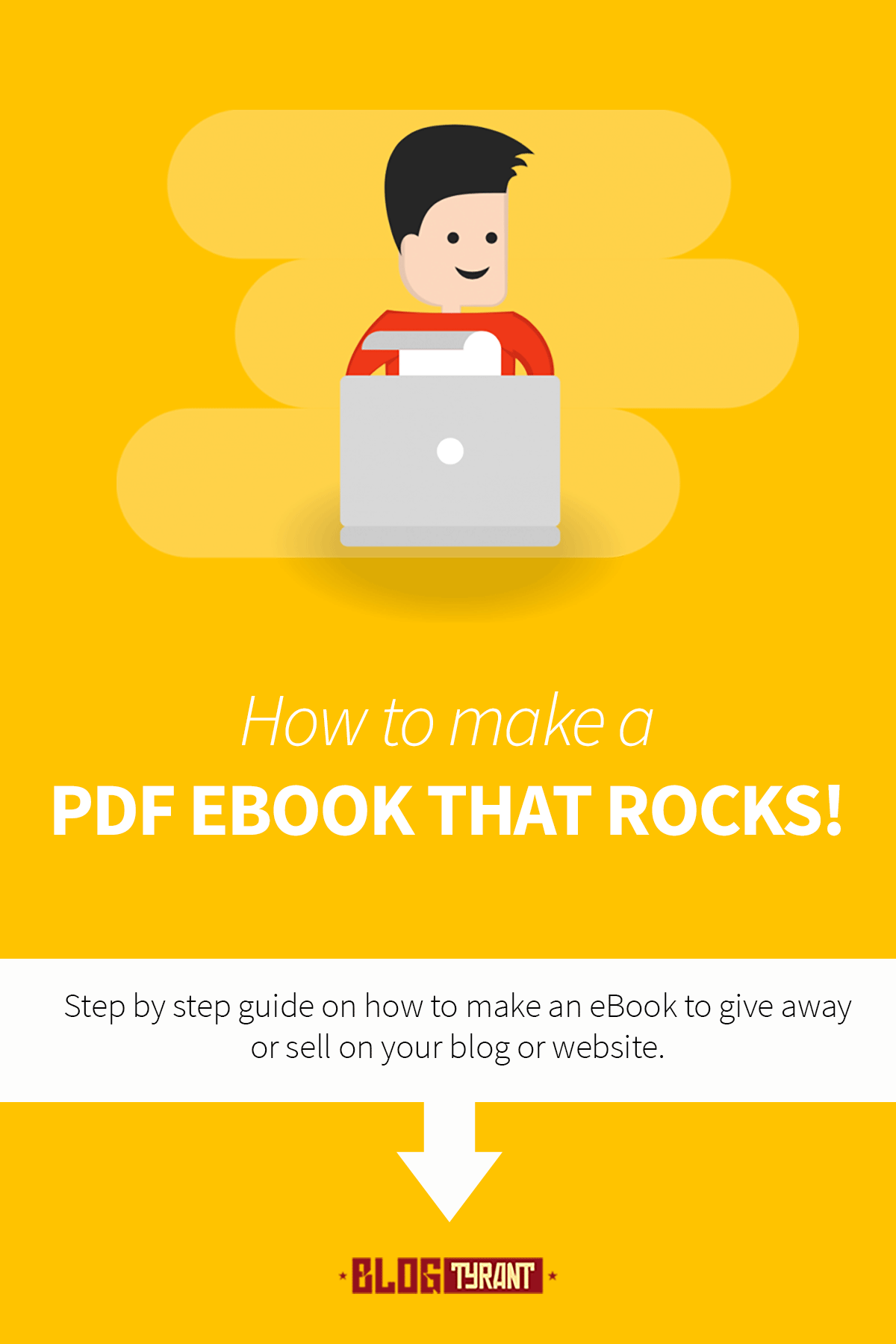 So you want to learn how to make an eBook? I can help you with that.
The trusty eBook is still an extremely powerful online format that is only going to get stronger as more people switch to smartphones and reading devices like Kindles.
Today I'm going to show you how I do everything when I make an eBook – from brainstorming ideas to defining concepts, designing the layout and cover to finally uploading it to your blog or website.
This article will focus on how to create an eBook to give away on a blog, but it will also have most of the information that you'll need if you want to create one to sell on online marketplaces.
Let's do this!
Quick steps for creating an eBook
Let's start by taking a look at the quick steps that are involved in creating an eBook and then we'll go into some huge details below: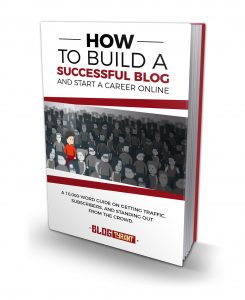 Research your target audience and topic
Ensure you have the right editing program
Write, edit and proofread your eBook
Add images, graphics and create cover art
Upload it to your blog or hosting platform for automatic delivery
Promote it everywhere
Of course I am going to miss out on something so if you get stuck please hit me up on Twitter and let me know what I've forgotten and I'll do my best to help you out. For some (but not all!) of these tips it helps to have your own blog host in order to get the best results and take advantage of certain programs and software.
Disclosure –This post contains some affiliate links. I'll let you know which ones they are below. If you purchase a product through one of those links I will earn a commission at no extra cost to you. I only recommend services I've used and love. Thank you for the support!
Why make an eBook?
If you are reading this post it is likely that you already know the benefits of making an eBook so I won't go in to too much detail. Some of the reasons all internet marketers and bloggers should make an eBook are:
Get pre-loyal subscribers
If you want to make money you need loyal subscribers. And one of the best ways to get email subscribers in order to introduce them to your material is to give them a free eBook as a "bribe".
Increase your exposure
Those little PDF files are super easy to share and you will often find that people send them on to their friends who then get introduced to your stuff. Also, they tend to sit on people's desktop for longer than a post or a web article and as such you have multiple chances to get them to read it.
Add a new revenue stream
Many people think that the big bloggers just make money on their blogs. They don't. A lot of their income often comes from a combination of having a successful mailing list strategy tied to a successful eBook. Oh, did I mention you can sell the darn things?
All these things are possible if you know what you are doing. Remember, the eBook market is extremely saturated so you need to do something extremely good. The good news is that as the tablet and smart phone market grows, so does the demand for PDF file eBooks.
Step 1: Research your target market
The first step on the how to make an eBook journey is to take a careful look at who you are pitching it to.
Knowing this information is like knowing which person in a crowd is Waldo. You have to know what he looks like, what he's wearing and why he might be looking for you. Unless you know your target market well you are essentially shooting blind.
NOTE: This is the first step if you have an existing blog. If you want to make an eBook first and then build up promotional material around it you would do step two first.
a) Get SEMrush
One of the best things you will ever buy as an internet marketer or blogger is SEMrush. It will cost you some money but it will make you thousands and save you just as much in wasted time. However, if you don't want to make a purchase some of the following research can be done with Google Keyword Planner or another SEO tool.
b) Look for popular keywords in Google/Clicky Analytics, and competitors
The next thing you want to do is log in to your Analytics account and look at the popular keywords and search phrases that people are using to find your blog. Which posts are most popular? You can then take some time to look at your competitors on Google and see what posts are most popular for them. This gives us a good idea about useful keywords.
c) Use SEMrush to analyze traffic levels
The next thing you want to do is input those keywords in to SEMrush and find out if any other related keywords could perform better. For example, when I was researching the title of this article I found out that "make an eBook" gets slightly more searches than "create an eBook" and so I decided to target that instead. Over time these little bits of information can make or cost you a lot of money.
d) Find out who they are
Now you want to take that information and think about who these people are. Research this information wherever you can. Think about their age, sex and location. Think about their income levels and career paths. Most importantly, think about how you can write an eBook that will help them.
Step 2: Come up with a killer topic and title
Once you have narrowed down your target market you want to come up with a topic and a title that will absolutely blow people away and solve their problems. To do this it needs to have an original edge on a very relevant topic.
e) It's about you as much as them
One important thing to realize is that making a good eBook is as much about you as it is your target audience. Why? Because you are the one that is writing it, promoting it, selling it and believing in it. Unless you have a passionate and knowledgeable interest in the thing you are going to fail before you start. Don't make an eBook about puppy training unless you know enough to help people and then love it enough to push it for the next five years.
f) Personalize it
The best eBooks are the ones that share a personal experience about a very common topic. Why? Because it adds authority. Authority is very important when it comes to books and articles because you need to show potential readers and customers that you are experienced enough to know what you are talking about.
Let's take the example of making money online. Let's say you write an eBook called How to Make a Million Dollars Per Year. Now, if you make a million dollars per year and think you can teach others how to do the same then that is a very good book to write. If, however, you have never made that money yourself then you really have no authority on the topic. And people will smell it a mile off.
So, whatever topic you choose to write on, make sure you have a personalized angle attached to it. This is very important.
g) Make the title specific
Specific titles work best. It doesn't matter whether it is a book or a blog post. For example, I wrote a post called How I Sold a Blog for $20,000 in 8 Months that hit the front of Delicious and went on to even get picked up by some newspapers. If I had called it How to Sell a Blog I don't think it would have done nearly as well. Make your title specific.
Step 3: Write the eBook and make it pretty
So now you have to write your eBook and format it so that it is all pretty. This is where the magic happens and, unless you know what you are doing, the obstacles.
h) Use Open Office to write it
Now, this will probably be contested by a lot of you but I have found Open Office to be the best program to write eBooks. Why? Because it is totally free and has an excellent selection of features. For example, it allows you to instantly convert your regular .doc file to a .pdf and it also has a massive range of really nice fonts to choose from. If you have a new version of Microsoft you can probably do all of this stuff but please do not go out and buy anything for the purpose of eBook writing.
i) Start with an end result and work backwards
People are downloading your eBook because they want to figure out how to do something. For this reason you should start with the end result that they are looking for and work your way backwards. Sometimes I will write the contents page first because it gives me a good plan. Other times I will just write like crazy and worry about the format later. It doesn't matter as long as you are systematically getting people closer to achieving their goals.
j) Use two types of headers and lots of paragraphs, lists and breaks
Have a look at all of my posts here on Blog Tyrant. They have two types of headers (main and sub) and they have lots of lists and paragraphs. The reason for this is because people hate digesting large lumps of content. While long form content is getting more popular, it needs to be formatted in a scan-able way.
k) Get some really good images
Over the years I have tried so many different places to get my photos and the two best solutions I have found are Shutterstock and taking/making my own. Remember, when using photos you need to make sure you purchase the correct license and get permission. You also want to avoid stock photography that has been used thousands of times before.
If you are really specific about what you want photos of or if you need your own product in there somewhere then you are going to have to hire your own photographer. And this is expensive. You're usually looking at between $500 and $3000 for a full day's shoot. Taking the photos yourself on the family camera is never a good idea because they generally look really amateurish.
l) Use a safe, well-proven font and simple colors
Sometimes I download eBooks and wonder whether the author/designer was blind. You really only need to use a simple font like Arial, Verdana or Georgia at size 14 or 16 and then a simple color scheme like black with one other. Don't go overboard when it comes to this stuff! Less is always more in the design field. You should also avoid bright reds for text as it looks spammy.
m) Get it proofread, and not by your mom
The next step is to get your eBook proofread by someone who is not afraid to give you harsh feedback. Think professional writers or other people in your industry. The point is not so much to find spelling mistakes (although that is important) but to figure out whether it is solving problems, coherent, etc.. You really need someone to be able to give you the hard truths about your writing style and execution of ideas.
n) Make an eBook cover to use on your site
A really important part of the process here is to have a nice eBook cover to promote your PDF file. Here's my latest updated one: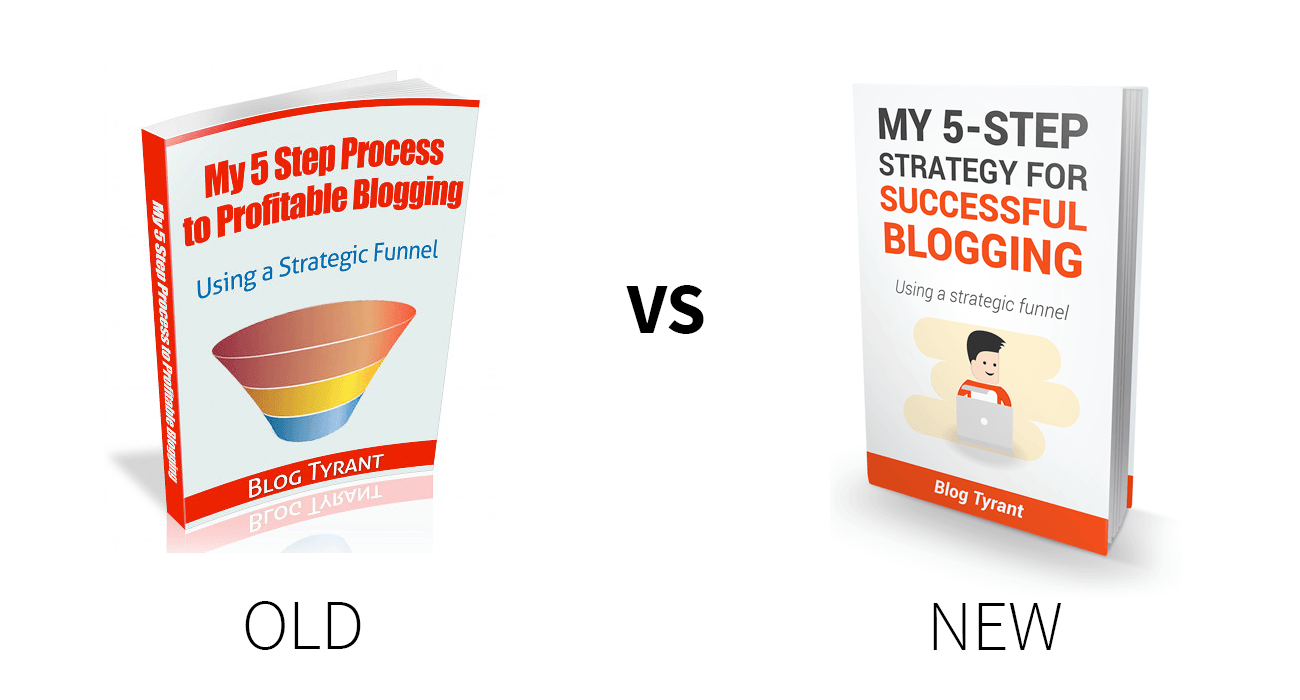 These things are great because they increase the perceived value of the product by making it seem like something solid. Of course, its just a PDF file and not a real book, but by giving it a graphical representation people will feel like it is worth more. I highly recommend getting a designer on 99Designs to make you something professional. Remember, this is going to represent your whole brand.
Step 4: Convert to a PDF file and give it away
This final step is the part where the eBook baby is born. Now, I am not going to talk about how to sell an eBook because I really believe it giving them away for free. But if you want to learn about landing pages and sales have a look at this post.
o) Convert to a PDF file
All eBooks are in PDF format. Why? Because they are universally recognized by Macs and PCs alike and work on all eBook readers. They also provide a consistent output. This is important. When you save a DOC file and send it to your friends chances are everyone will see something different. Not with a PDF. They all look the same. This means your design and formatting work won't go to waste.
If you are using Open Office you just need to go FILE > EXPORT AS PDF and then select your settings.
p) Choosing the right settings
Now, you want to make sure you select the right zoom levels because sometimes it will save blurry. I saved my Blog Tyrant eBook at 120% because this was smoothest. It will all depend on your graphics and logos and how well you have created and saved them in Illustrator or Photoshop. Sometimes it is a good idea to get advice on this issue. You also want to save it at a high quality level as long as this doesn't mean the file size gets too big. Try to keep it below 1MB if you can.
q) Give it away in exchange for email subscriptions
The next step is to set up a system where people get delivered the eBook for free when they enter their email address in to your subscription form. I have done an instruction video on how to automatically send an eBook to your subscribers so I won't go through all the steps again other than to say that it's easy to do with AWeber.
r) Promote your eBook
Promoting your eBook is actually the bulk of the work. I highly recommend you follow this blogging strategy to help you understand the relationship between your website, mailing list and a successful eBook. Simply put, the idea is to create quality content on your site and other sites that drives relevant traffic back to your eBook's landing page. It's called a sales funnel and works extremely well.
What have I missed?
If you have made an eBook before and have some tips to share please leave a comment below and let me know. I would really like to make this post a nice little resource for people starting out on the eBook creation road. Similarly, if you have any questions for me drop a comment and I will do my best to answer them.