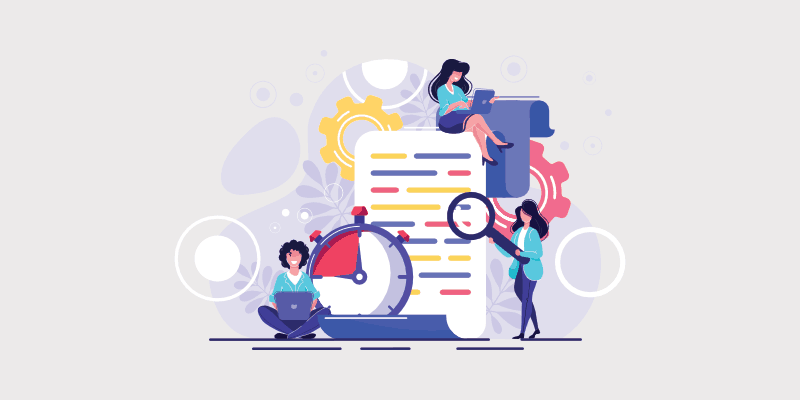 D o you want to know the best time to publish a blog post for maximum traffic, comments, and social shares? You're in the right place.
While publishing at the right time isn't a substitute for a complete blog traffic strategy, it can certainly give you a boost.
In this post, we'll examine the data to discover the best time to post a blog so that you can generate more traffic, comments, and shares.
The Best Time to Publish Blog Posts
When you first get started blogging, it's common to wonder about the best frequency and timing for publishing your blog posts.
Over the years, various studies have analyzed data to find out the best time to publish your blog post. Each study had a different slant. For example, some wanted to know when to get most social shares, while others wanted to know when to get most comments.
Let's take a look at what the different studies show us.
The Best Time of the Week to Publish a Blog Post for Traffic
According to a study by Kissmetrics, the best time to publish a blog post for maximum traffic is on Monday morning around 11 am EST: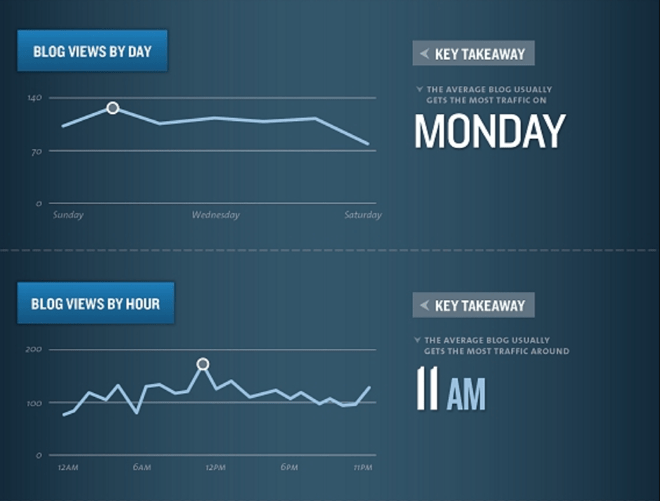 You can see the logic here. People have spent the morning checking work emails and planning their week. They're ready for a coffee break and quick peep to see what's new on their favorite blogs.
A 2011 study by Shareaholic also found Monday to be the best day of the week to publish a blog post for maximum traffic (pageviews):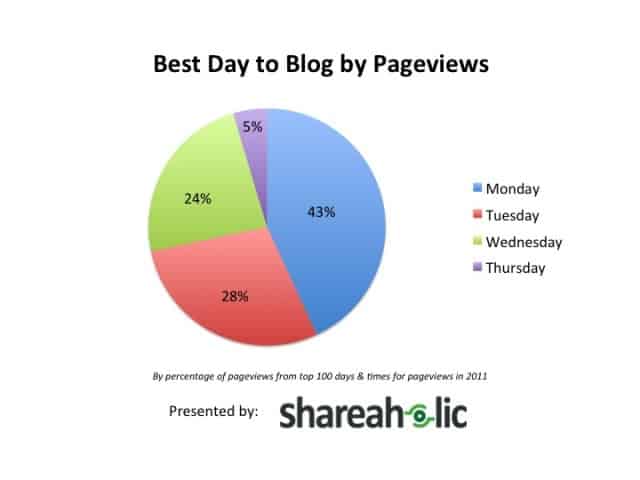 The study also revealed that blog posts get the most views between 7 am and 1 pm EST on weekdays with peak time between 9 am and 10 am EST: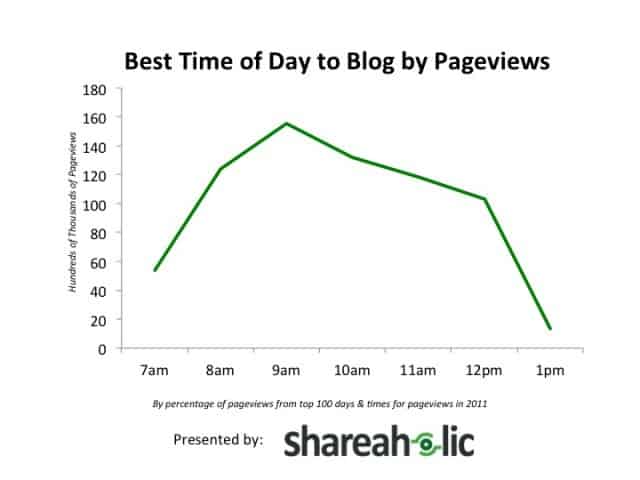 The Best Time of the Week to Publish a Blog Post for Comments
The Kissmetrics research suggests that if you want more comments, the best time to publish your blog post is on Saturday morning from 9 am EST: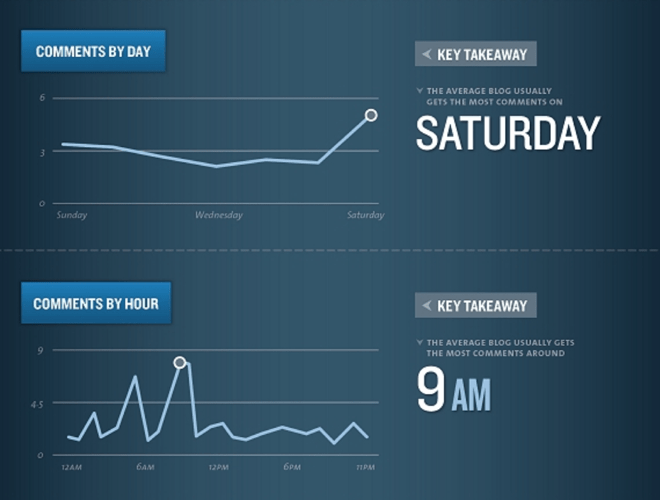 It makes sense that blog readers have more time on their hands at the weekend to read your article and leave a meaningful comment. During the week, they won't have as much time to leave a comment because of work commitments.
The Best Time of the Week to Publish a Blog Post for Links
If you want to get more links to your blog post, the Kissmetrics study recommends you should publish on Monday and Thursday early morning from 7 am EST: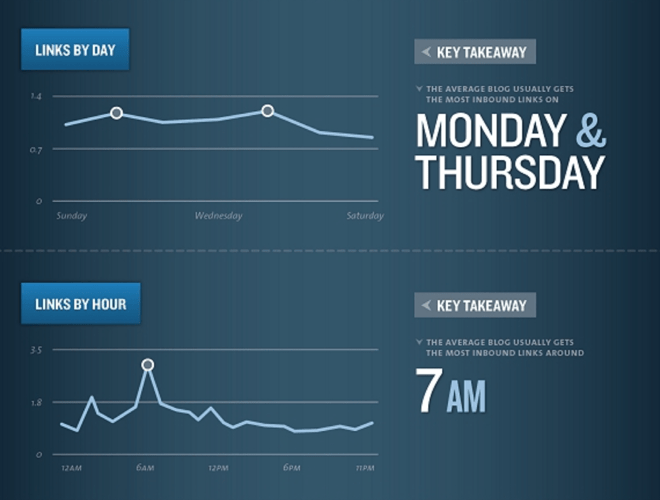 The Best Time of the Week to Publish a Blog Post for Social Shares
According to Brian Dean, there's no best day to publish a blog post in terms of social shares. The content study by Backlinko and BuzzSumo analyzed 912 million blog posts and found there was little difference between each day: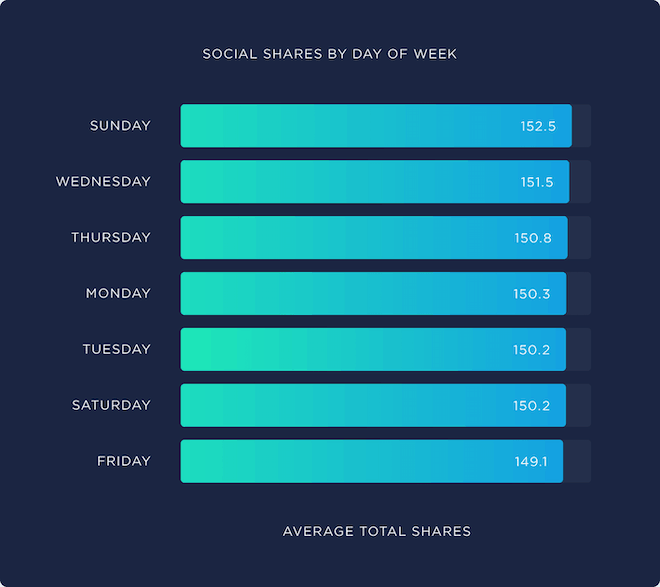 But another study by Noah Kagan and Buzzsumo found that the best day to publish content for social shares is Tuesday: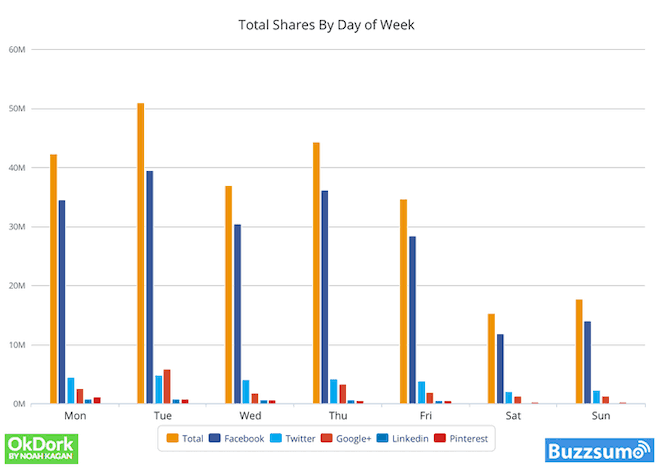 They analyzed the social share counts of over 100 million articles to find how blog posts performed on each social network.
Further research by TrackMaven in 2017 returned different results. They found blog posts published on Sundays received the highest average number of shares per post: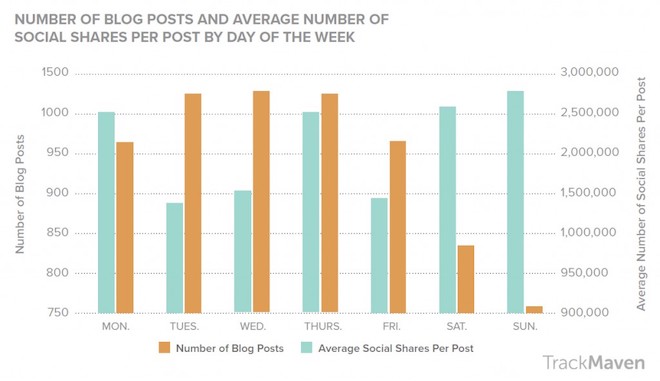 So, although fewer posts were published on a Sunday, they got more shares. Whereas posts published on busy days like Wednesday and Friday received fewer social shares. Which suggests that it's better to publish on quiet days of the week.
But is there a good time of day to publish?
The TrackMaven research, which analyzed over 65,000 blog posts, also found that blog posts published at 3 pm EST receive the highest number of social shares on average: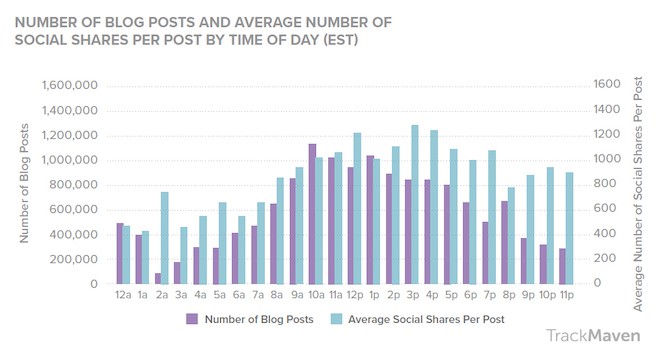 When is the Best Time to Publish a Blog Post?
There's no single best time to publish a blog post. Each study reveals different days and times of the week work best for their data sample.
Some of these studies are a little outdated, going back as far as 2011. And many focus on the correlation between publishing blog posts and generating social shares.
So, where does that leave you?
Bottom line: You should do your own testing.
Because what works for one blog, won't work for another. For example, Backlinko found that publishing on Tuesday morning EST works best.
But Ramsay Taplin found the best days of the week to publish his blog posts are Tuesday and Wednesday between 9:30 am and 11 am EST.
"I have had dozens of websites and blogs across all niches, and it seems that the most traffic is around on a Wednesday followed closely by a Tuesday. I think this has a lot to do with people being at work and bored and looking for something else to do midweek."
So the best time to post a blog comes down to when your audience is most likely to read and share your content. And the only way to find that is by testing.
And that's what we'll look at next …
Back to the top
How to Test the Best Time to Post a Blog
The best way to find the optimal publishing time for your blog posts is to track your data in Google Analytics. But if that sounds daunting, an easier way to track the data is with MonsterInsights, the best WordPress analytics plugin.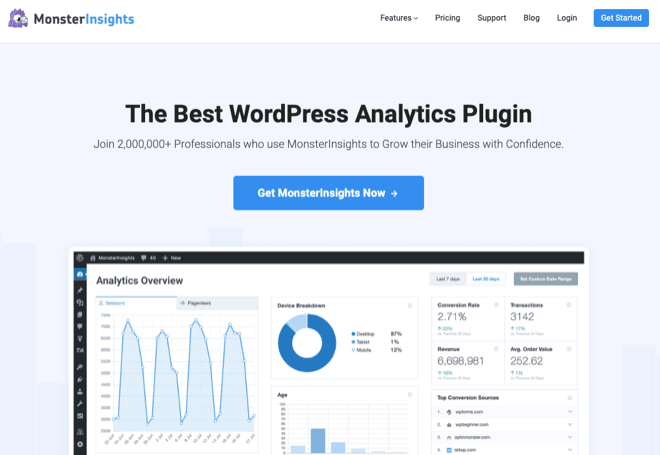 If you haven't installed Google Analytics and MonsterInsights on your blog yet, then follow our step-by-step tutorial to get started.
Once you've set them up, you need to install the Custom Dimensions addon.
The Custom Dimensions addon lets you track your own custom data and display it in your MonsterInsights dashboard and reports. You can track the performance of categories, tags, authors, users, and more.
But, for our test, you'll need to use the Published At dimension, which lets you track the performance of your blog posts based on their published date and time.
Follow the steps in this tutorial to add Custom Dimensions in MonsterInsights and Google Analytics.
When you've set up the Custom Dimensions, you'll be able to start building a picture of your best publishing times that looks something like this: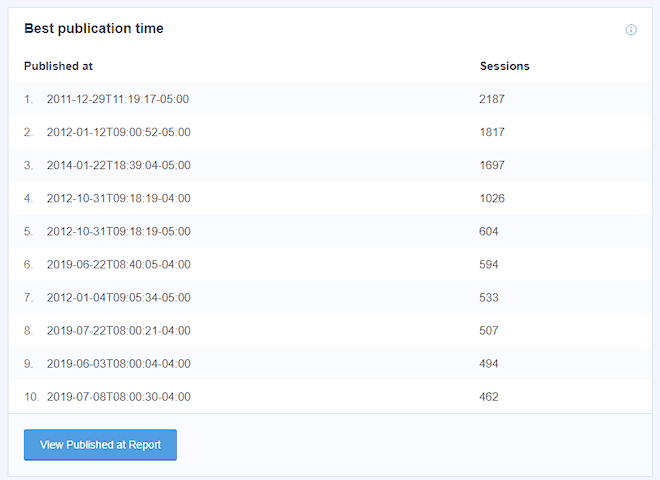 For each blog post, you can see its publication date and time, plus the number of visits (sessions).
---
Did You Know?
Nearly half of the US population is in the Eastern Time Zone (EST):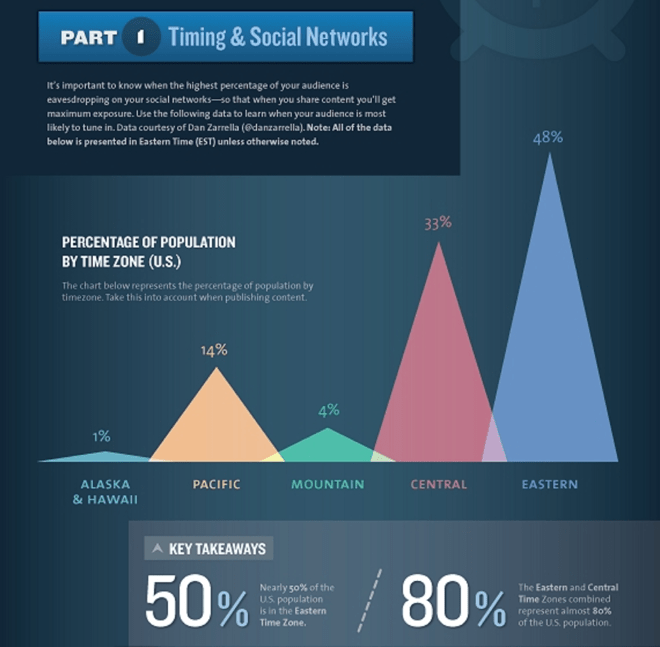 Time zone is an important metric to build into your testing. Check MonsterInsights and Google Analytics to see where the majority of your audience is based. For example, if most are based on the East Coast and use EST and you make your calculations with PST, you could be missing a large chunk of the population.
---
Caution: The Best Time Doesn't Always Work
What you have to realize is that even with testing, the best time doesn't always work.
Sometimes you'll write a fantastic post, publish it at your optimal time, and nothing happens straight away.
And sometimes, when you publish at the least suitable time, a blog post can go viral.
Publishing your blog post at the best time is only giving it a helping hand; it's not an actual traffic strategy.
Back to the top
3 Ways to Maximize Your Blog Posts
Now we've dispelled the myth about the best publishing time, let's focus on how you can get the most out of your blog posts by focusing on these 3 things:
Create consistently
Publish frequently
Promote systematically
1. Create Consistently
Creating consistently high-quality content is more important than the time you publish your blog post.
Why? Because blog posts stick around.
Once a blog post is published and indexed by the search engines, it can be found at any time. Just because you happen to publish it on Monday morning doesn't mean you only have a few hours to make an impact.
Unlike Tweets and Facebook posts that disappear from newsfeeds, blog posts stay around for longer. You can always get traffic, backlinks, shares, and comments.
Caveat: Trending Topics
There are cases when you have to publish at the right time. For example, if you were writing about the latest iPhone release, you'd want to publish your article as soon as the details were available.
Remember, you can always go back and improve your original post as more details emerge, but make sure you publish it on time.
Takeaway: Consistently create comprehensive, in-depth, and helpful content for your audience.
2. Publish Frequently
As well as consistently creating high-quality content, it's important to publish blog posts frequently. When your audience knows that you're producing quality content on a regular basis, they're more likely to come and find your latest post.
Here's a couple of blogging statistics to prove that.
The annual Orbit Media survey revealed that bloggers who publish daily are more likely to report stronger results than bloggers who publish several times per month: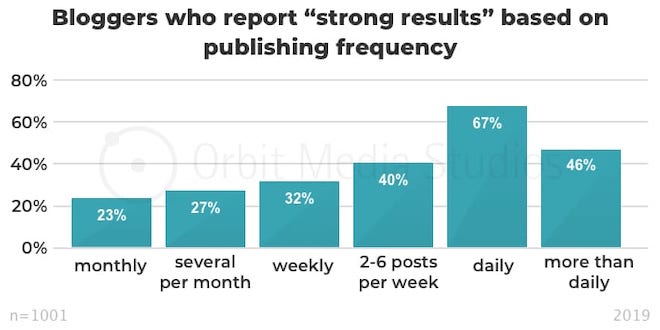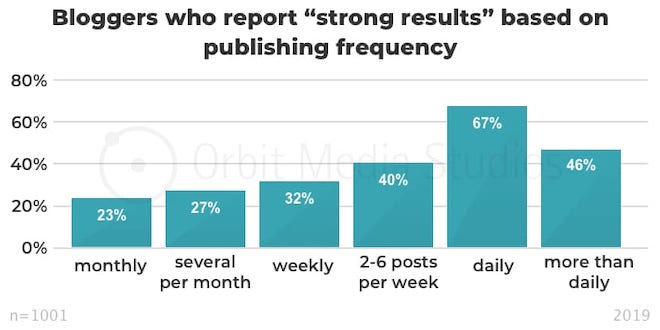 Further stats from HubSpot show companies who publish 16+ blog posts per month get nearly 3.5X more traffic than those that publish 0-4 monthly: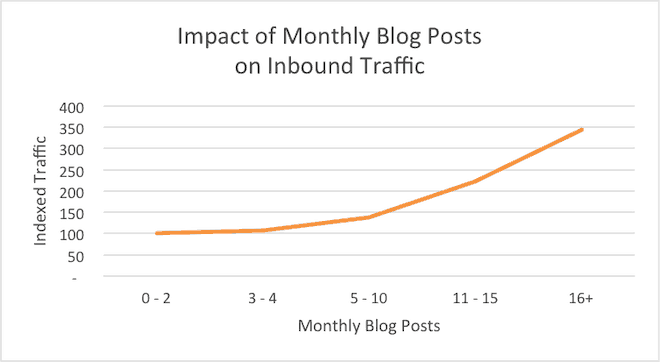 Takeaway: If you can create high-quality posts consistently and publish them frequently, then you're likely to have more success with your blog.
3. Promote Systematically
Once you're publishing content frequently, you need to start promoting your blog posts. Publishing high-quality content is only one part of blogging. If you want to experience real growth, you'll need to spend as much time promoting your blog.
The great thing about blog promotion is that you can do it at any time. So, for example, you can promote a blog post a few months after it was published if you need to get some traction.
Plus, there are so many ways to promote your blog posts, you'll never run out of places and ideas to try.
But what you will find, is that some promotion tactics work better than others in your niche. So you'll need to experiment and see which works best.
Takeaway: Invest time promoting your blog posts rather than fretting over when to publish them.
Back to the top
Final Thoughts
Sorry, but there's no magic best time to publish a blog post. If there was, you can bet your bottom dollar everyone would be posting at that time.
So you need to test your own blog publishing schedule, as every niche and blog topic varies slightly, to see what works best for you.
But remember, publishing time is only one factor in growing your blog.
Since blog posts don't disappear as quickly as social media posts, focus on consistently publishing high-quality content on a regular basis, and then promoting it through other channels to maximize its potential.
Interested to hear your thoughts, so let us know in the comments if you've found the best time to publish your blog posts.