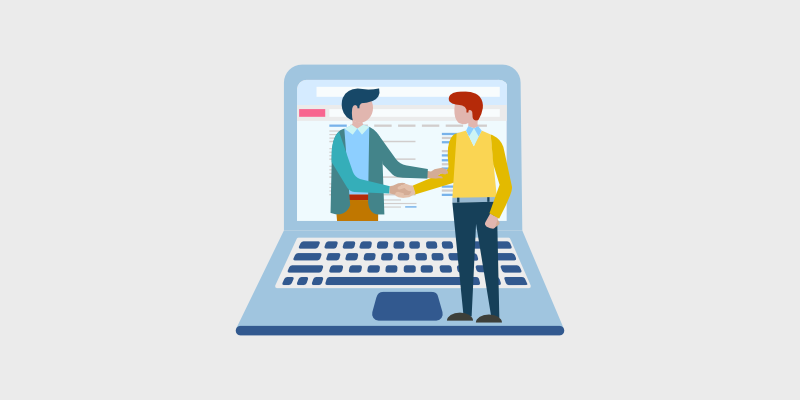 D o you want to learn how to get sponsored posts? If you're looking for a way to monetize your blog, why not have companies pay you to create content? Keep reading to find out how you can make money with sponsored blog posts.
Generally speaking, a sponsored post is when a brand or company pays a blogger to publish content that features a product or service. Sponsored content is a win-win for both you and the company that pays for the sponsorship. You make money and the company gets its product or service in front of a new audience—your blog readers.
In this post, we'll explain in detail what sponsored posts are, how to get sponsored posts for your blog, how much to charge for them, and more.
Let's get cracking!
What Is a Sponsored Blog Post?
A sponsored post is content blog owners publish on behalf of a business seeking to get their content, product, or services in front of a group of targeted readers. It's actually been around for over 100 years, starting with radio soap operas.
Radio stations created serial programs that told stories like today's crime podcasts. Producing that content was expensive, so radio stations approached household goods companies for sponsorships. Procter & Gamble was the first to do it, and because they marketed their laundry detergent during these radio shows, they became known as "soap operas."
In today's version, the sponsored blog post can take many forms, including:
Posts written by the sponsor and published on your blog.
Posts written by the blog owner following guidelines provided by the sponsor.
Backlinks to a sponsor's website or content that's added to your blog.
Product reviews or giveaways published on your blog.
Summaries of a brand's offer.
A roundup or list post that includes the sponsor's products.
A product announcement that includes a discount for blog readers.
Here are a couple of examples of sponsored blog posts:


Sponsored content may also refer to social media messages, images, infographics, videos, and more. But for this article, we're going to focus on sponsored blog posts.
If you're still on the fence, here are some pros and cons of sponsored blog posts.
Pros and Cons of Sponsored Blog Posts
Pro: You'll earn more money
Typically, when you start a blog, one of your main goals is to make money. Even if it's not the main reason you started it, the fact that you're making money from your blog is a plus. Sponsored posts are an easy way to monetize your blog.
Con: It's a lot to manage
If you're the lone writer and owner of your blog, adding sponsored posts probably won't add much administrative work to your plate. If you've already got a few people who write for you, adding sponsored posts might create more work for you. There's the editing, style guide, and backlinking you've got to check. You've got to check for duplicate content, plagiarized content, and more. It can seem overwhelming if you're not used to it, even if they are paying you for it.
Pro: It's a sign your blog is growing
Being approached by a brand or company to advertise to your readers means you've done something right with your blog. You've become the trusted voice and expert leader in the market or niche, and the brand wants to partner with you! That can be a great feeling.
Con: You've already got a lot of other advertising on your blog
If sponsored posts become your seventh or eighth way of monetizing your blog, you might want to hold off on accepting them. Each one of these monetization channels can bring you a good income. However, if your site is filled with them, your readers will be turned off.
Here's an example from Effortless Gent that is on the border of being too much advertising, especially on a small laptop screen: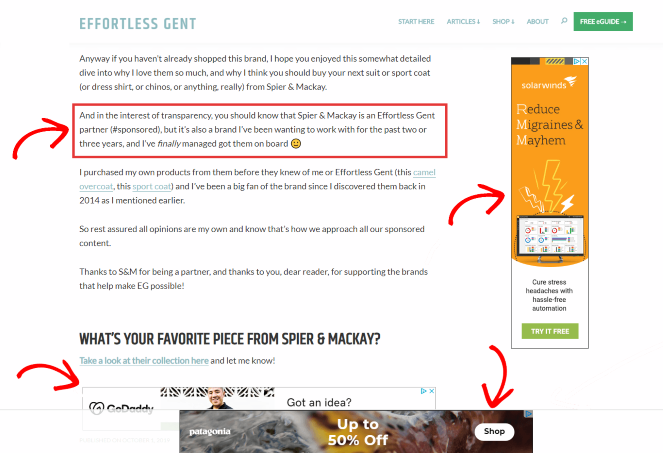 If you're counting, that's four separate ads on a single blog post.
There's nothing worse than navigating to a site with affiliate links, ads in the sidebar, inline ads throughout each post, and in the footers. It distracts from your message and reduces the trust your readers have in you.
Now that you know what a sponsored post is and why you should consider them for your blog, let's discover what you need to do to prepare for sponsored posts. You'll have a little bit of homework to do before you can open your blog to sponsored posts.
Back to the top
What You Need Before You Get Started (Checklist)
Sponsors want to work with a blog that has a long history of posting, a healthy and engaged audience, and is relevant to their products or services. While it would be nice to start getting sponsors with a new blog, chances are, you won't.
So, if you'd like to attract sponsors to your blog, here are a few things they look for:
Healthy Traffic Rates: You should have a steady stream of traffic to your blog that trends upward every month. You can explain the online marketing strategies you use to achieve this and what your marketing goals are for the year. If your traffic is low, check out our guide on how to get more traffic to your blog.
Social Media Following: Likewise, your blog's social media accounts should have a healthy following of engaged people. As the blog owner, you should be participating in the conversations people have with your blog and brand, encouraging people to continue talking.
High Domain Authority (DA): While DA is not the be-all metric for sponsors, it does show how well respected your blog is, indicates you've got a lot of high-quality backlinks, and predicts that their sponsored posts have a good shot at appearing high up on the search engine results page. Blogs with DA scores of 30+ will have a better chance of securing sponsored posts.
Clean and Simple Site Structure: An easy-to-use site structure is a sign of a well-organized blog that's managed well. It also makes it easier for search engines to index, meaning it has a better opportunity to rank high with them. For more SEO tips, check out our SEO guide for bloggers.
Which brings us to the point most blog owners want to know: how much do blog sponsors pay?
Back to the top
How Much Should You Charge For Sponsored Posts?
In short, it depends. The going rates for sponsored blog posts vary wildly, depending on the market or niche you're in, competition, current market conditions, brand marketing budgets, your blog site stats, and more.
So, how can you determine what you should charge for sponsored blog posts?
You could start by looking at your competition to see if they're accepting sponsored posts. What do they charge for them? Do they publish their fees online? Looking at what other bloggers charge for sponsored posts can help you determine your price.
You could also ask your network to see if anyone's willing to share their rates. You may know other bloggers who accept sponsored posts, but you've never stopped to ask them about it. Look at advertising agency websites to see if they offer sponsored posts as part of their services. If so, consider emailing them to see if they'd chat with you about blogging, and you can ask them for a price range for the service.
As we mentioned, your sponsored post rates will depend on a number of factors surrounding your website, but also the post itself. Once you've figured out a general rate, you may want to consider having 2 rates:
One for posts you write based on a sponsor's resources.
One for posts the sponsor writes based on your guidelines.
If you're writing and researching the post, the fee should be a little more than if your sponsor is writing it. You'll want to be compensated for both your time and audience.
Setting your sponsored post rates is a bit of an art form, so, you'll just have to dive in and pick a number at a certain point. Make sure it's a number you're comfortable with, then, adjust it based on the response from sponsors and discussions you may have with them.
Back to the top
Factors to Consider Before Accepting Sponsored Posts
When a sponsor applies to write for your blog, you should consider a few factors as part of your process. These factors may negatively impact your blog if you're not careful, which then could lead to fewer sponsors in the future and lower fees they're willing to pay.
Plus, you'll damage your reputation with your readers since they'll not be interested in the content. They'll think you're just publishing it for the money, not because you thought it was valuable information. Remember, all the content you publish on your blog should add value to your readers' lives.
So, what do you need to look for in a sponsor?
A Sponsor's Fit for Your Blog and Audience
Sponsors are a good fit for your blog if they're from a company, business, or brand that's related to your blog's niche, topic, or market. For example, if you owned a pet blog, you're not going to publish a sponsored post from a printer company. Choose a pet company instead!
If you're thinking of publishing sponsored content that doesn't fit your site for any reason, don't.
The main thing to remember about sponsored posts is that they're most engaging when the sponsor already targets your blog's core audience with their products, and the post discusses topics that align with your brand. When done well, any mention of the sponsor's brand feels like a natural fit rather than a blatant ad.
Nick Usborne at Coffee Detective does this very well with his product reviews, like this one for a new coffee blend: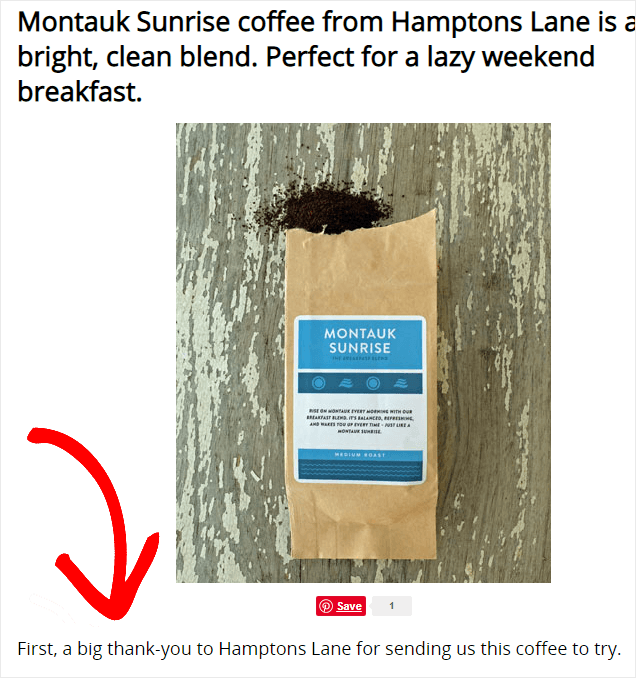 Readers should come away from the sponsored post feeling like they've learned something new. This makes your blog more credible, memorable, and trustworthy.
Some blogging experts will tell you to "never" accept sponsored posts since it'll "ruin" your blog. But that's not true. As long as you include the sponsored content truthfully and ensure it delivers value to your readers, it shouldn't matter.
A Sponsor's Google Ranking
All links on your blog are subject to indexing by Google and affect how it ranks your pages and domain. Google penalizes paid links, so to avoid this, add the "no follow" attribute to all links in your sponsored posts. This tells Google to ignore these links in rankings and spare your domain and pages any penalties.
There are two ways to do this on a WordPress blog: either manually by adding the HTML code to each link or with a WordPress plugin that does it for you if you're still using the Classic editor.
To add the no follow HTML code manually:
Edit the sponsored post in your WordPress dashboard.
Open the Code Editor if using Gutenberg or click Text Editor if using the old editor.
Inside the HTML code for each hyperlink (<a>) add rel="nofollow" after the URL. For example, change <a href="http://blogtyrant.com">Blog Tyrant</a> to <a href="http://blogtyrant.com" rel="nofollow">Blog Tyrant</a>.
You can also use a WordPress plugin to make these changes, like All in One SEO. All in One SEO makes it super easy to control internal and external links in your content.
The only problem with adding the nofollow attribute to these links is that your sponsors are partly paying for this extra SEO exposure and won't want it to be added to their links. You'll need to be up-front with this to your sponsors so they can decide whether that's okay.
Most sponsored post companies understand because their main reason for sponsoring content is for brand recognition in a broader audience. They'll take any extra SEO love they get from it, but it's not their primary focus. Be wary of the ones who are adamant about not adding the nofollow attribute to their sponsored posts.
The Amount of Sponsored Posts You Publish
When you publish sponsored posts, you're letting your readers know you believe in the product or service so much, and you wanted to let them know about it. They like your blog for you, not the sponsors, but they understand you've got to make a little money with your blog.
What's a good schedule for publishing sponsored posts? Well, it's up to you and your readers' habits, but you could:
Publish them once a month.
Publish one after every 5 of your own posts.
Spread the sponsored posts in each of your blog's categories. For example, if you run a food blog, you could publish one under "recipes", one under "reviews", and another under "shopping."
Only accept sponsored posts that fit a single category, like "reviews."
It'll be easier to publish the sponsored posts on your blog once you've been around for a while. You may need to test what works best for your blog, but don't be shy about changing the way you publish them if you find it's not working for your blog or audience.
Whatever your schedule, make sure you don't annoy your readers. You don't want to break that bond of trust you've built up with them. But don't worry, they'll let you know if you publish too many. You'll see your site stats drop and they'll stop engaging with you. Stick to publishing quality, authentic content and your readers will keep coming back to your blog.
Okay, we've covered all the considerations and things to watch out for with sponsored posts. Here's how you can get started with sponsored posts for your blog.
Back to the top
How to Get Started With Sponsored Posts (Step-by-Step)
Here are 6 easy steps you can use to get started with sponsored posts on your blog.
Step 1: Gather Your Site Information
You'll need all the details about your blog that a sponsor might ask about, including:
Site stats: Visitor numbers, bounce rate, CTR (click through rate), domain authority, and search engine traffic stats for high-performing pages.
Social media stats: Number of followers on your chosen channels, number of comments on blog posts, etc.
Email list: Number of people on your list, how many you add per week/month, the growth of your email list, and engagement rates (open and click rates).
Don't forget to have a couple of lines explaining your blog's aim or goal, who your audience is, and how you hope to help them.
Step 2: Decide on Your Sponsored Post Fees
Create a list of the type of sponsored posts you'll accept and what you charge for them. Be sure to include information like length, the number of backlinks, topics to write about, and avoid. You can list this information on a page on your blog, or as a downloadable PDF.
Also, make sure to set your payment method and payment policy so that companies know how and when to pay you. Many sponsors won't want to pay until the post is published, so you could ask for payment within 10-15 business days after posting. Be sure to also include a policy about what happens if you are not paid on time and if you'll remove the post if that happens.
Step 3: Create a Sponsored Posts Page
A sponsored posts page is where brands will apply to your sponsored post program.
Create a landing page that outlines the information you gathered in step 1, such as target audience numbers, stats on page views, search engine traffic numbers, social media followers, media appearances, and speaking engagements.
You can easily create a landing page with SeedProd. SeedProd offers a drag and drop builder and over 100 landing page templates so you can get started quickly.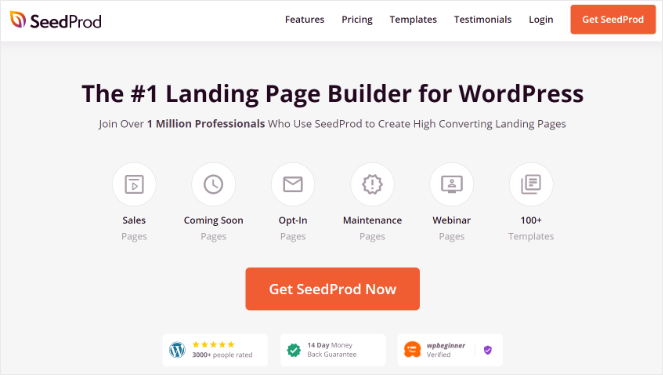 Some blogs accept sponsored post requests through email, but you can also add a form that'll handle the requests for you. Luckily, SeedProd integrates with WPForms, so you can create a blog post submission form that'll send them automatically to you.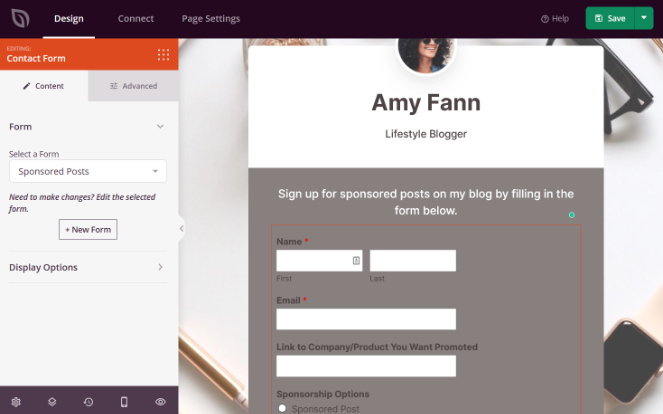 WPForms also has payment add-ons that'll integrate PayPal, Stripe, or another payment processor. This lets you collect the sponsored post fees right away from the form. Use these instructions to set up a paid blog post submission form with WPForms.
On your landing page, be sure to outline the sponsorship levels so companies know how much it'll cost them, what they get in return, and any policies you might have for the content.
Additionally, be sure to add all the information a sponsor should know about what it takes to write for your blog, such as style guidelines, spelling rules, brand mentions, and how they should submit a request.
This would be the place to publish your sponsorship fees as well, if you want to publicize them. You can always link them through a downloadable PDF file if you don't want them to appear directly on the page.
But what should I call this page? "Sponsored Posts"? "Advertise"? "Contribute"?
Excellent question. A quick tour of a few sites shows all of those and probably a few more we haven't noticed.
The My So-Called Chaos blog labeled it "Sponsored Posts".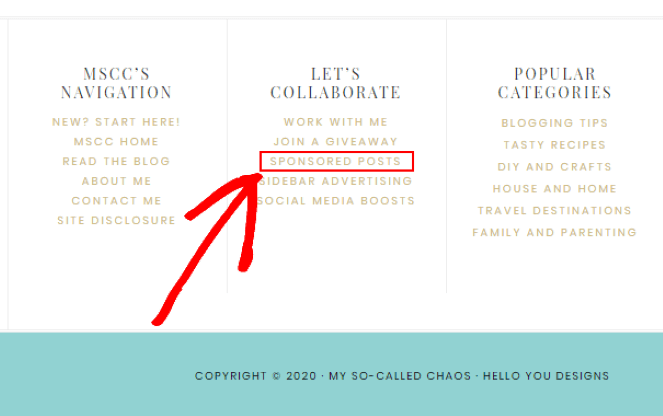 Side Hustle Nation labeled it "Sponsor" and then has the heading "Advertise to Side Hustle Nation" on the page itself.


Once you've created the landing page, add it to your navigation menu somewhere, like in a sub-menu of your menu, like Earth People Media does.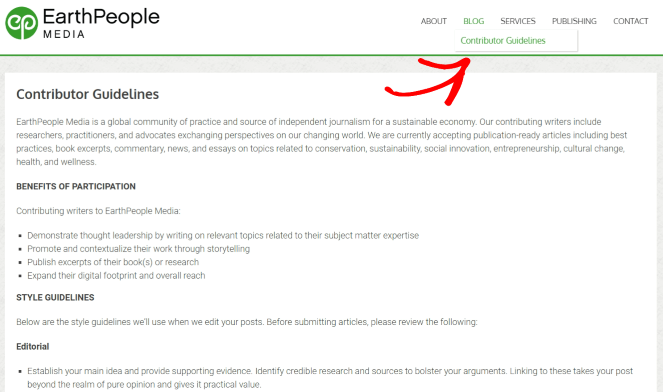 Creating a landing page like this will make it easier for brands to contact you about sponsored posts.
Step 4: Document Your Process & Publish Your Disclosure Policy
Create a document with your sponsored post program information, including your fees, payments, whether you'll use the nofollow attribute, how long you'll keep the post on your site (most are kept live for one year), etc. Store this information in a safe place so you can refer to it as needed.
You'll also need to create and publish a disclosure policy for your site. The American Federal Trade Commission (FTC) has stringent guidelines surrounding compensation for online posts and advertising, and pretty stiff fines for brands and online properties (like your blog) that violate them.
Other global laws may apply to your blog, too, so be sure you're familiar with them and what you need to do to comply. They're usually applicable based on where you live and where your site is based, so consult the information for your location as applicable.
We are not lawyers, and the above should not be taken or construed as legal advice. Consult a local legal professional for more details.
Generally speaking, your blog or site must:
Make sure all content is free of misleading claims or outright lies. For example, saying a product can cure an illness when the brand has not proven it can do so.
Clearly disclose that a post is sponsored in each post, even on social media. This lets audiences know some or all of the content was paid for.
Include a disclosure statement on your website that you accept paid posts. This is in addition to the individual disclosures you make on each sponsored post.
Make the disclosure legible on all devices, including mobile devices.
Here's the disclosure we use on Blog Tyrant: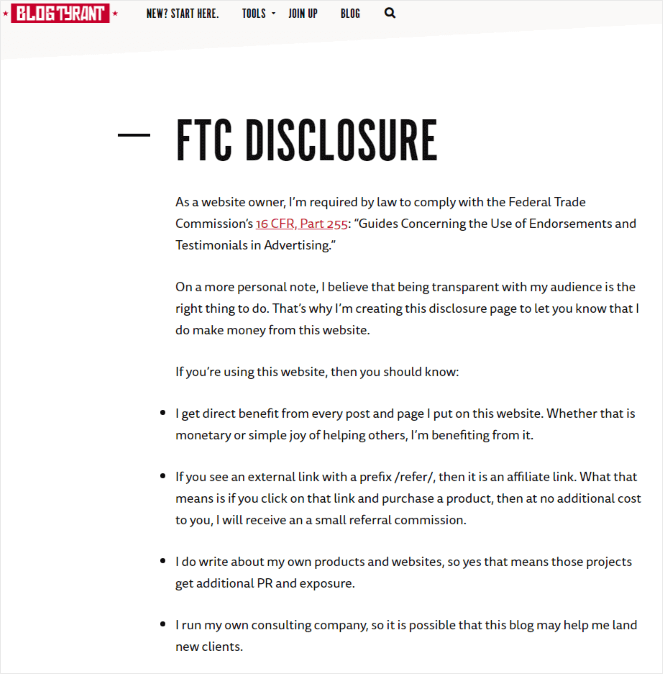 You can add this disclosure to your privacy policy page, ensuring you've indicated that it's for your sponsorship disclosure.
Step 6: Attract Sponsors
You're nearly ready to start publishing sponsored posts on your blog, right? But what if, after a while, you're not being approached by anyone to sponsor content on your blog?
It's time to start advertising your availability to sponsors. Just like you marketed your blog to the world to find readers, you may need to be proactive in finding companies to sponsor content on your blog. There are several ways you can do that.
You can seek out brands you like and pitch them. Remember to focus on how you can help the brand and not how they'll help you.
Search for local businesses that may fit your blog's audience. These businesses may struggle to advertise outside of their area, so your blog could help them increase brand recognition to a broader audience.
Develop relationships with marketing and PR agencies. They often look for places to place content for their clients and usually need a wide range of bloggers to meet their clients' needs.
Take a look at sponsored post websites or influencer marketplaces such as Cooperatize, Izea, PayPerPost, Markerly, TapInfluence, SeedingUp, and GetReviewed. These services match brands with bloggers looking to monetize their sites and can be a good option for you because they do the work of finding the sponsors. You can concentrate on writing good content and less on marketing.
And don't forget to write the occasional post explaining that you accept sponsors too. You may have potential sponsors in your readership who don't know they could sponsor content on the blog. So, let them know every once in a while.
There's just one final thing to cover in this guide to sponsored content: how to write sponsored content. Some sponsors will provide the content to publish on your blog, while others will want you to write it for them. If that's the case, we've got you covered with some tips on how to do that.
Back to the top
Three Tips for Writing Sponsored Posts
Remember that the sponsored content must meet your blog's standards. It should be enjoyable to read and contain plenty of valuable information for readers. Sponsored content should still attract and delight your readers, so they keep coming back.
Maintain your voice and brand in the sponsored content. The sponsor's product, service, or brand should be secondary to the content's main focus, unless it's a product review or something like that. Your readers will tune out if the post feels like it's just an advertisement for the sponsor.
Publish a variety of blog post types for sponsors. Make one a listicle, one a case study, one a plain post, one with lots of images, one that's just a video post, etc. Keep it in line with the rest of your blog post types, but make it interesting to readers.
Grow Your Blog with Sponsored Posts
We hope this post helped explain what sponsored posts are and how you can use them to grow your blog and earn a little money.
Once you've started accepting sponsored posts, perhaps you'd like to learn the best way to add affiliate links to your blog? Check out our ultimate guide on how to start affiliate marketing.
And don't forget to sign up for our email newsletter for more helpful blogging tips!