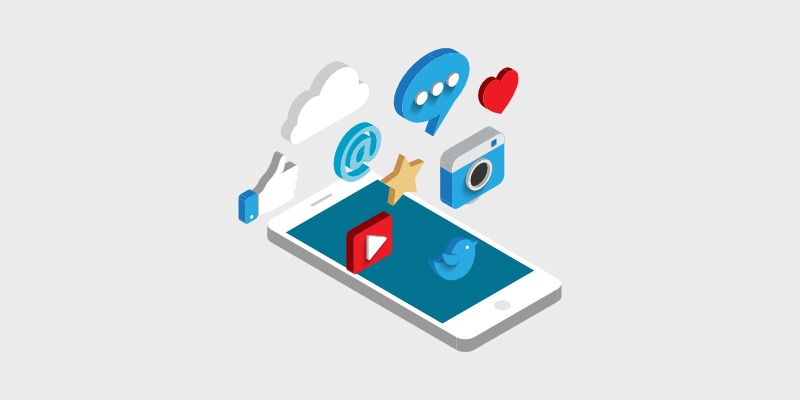 W ant to learn all about social media marketing for small businesses? In this ultimate guide, we'll show you how to promote and grow your business on social media.
Instagram, Facebook, Twitter, YouTube… the list is huge (and possibly overwhelming) but the potential for growing your business, expanding your customer base, and making more money is just as vast.
Most small businesses are now using social media to grow profits. But, others are struggling to navigate the jungle and are making mistakes along the way.
In this post, we'll guide you through the ins and outs of social media marketing for small businesses. Whether you're starting a blog to sell online courses and ebooks or you're the owner of a small retail business, this guide will help you.
Let's go!
Why Small Businesses Need Social Media
Before we get into how to market your small business on social media, let's talk more about why you should.
Social media is not going away. And if you are a small business owner, you wouldn't want it to.
Your potential customers are using social media apps every day. They're not just chatting with their friends either; people often use social media to interact with companies they're interested in or already do business with.
So, if your potential customers are on social media interacting with other companies, you need to be there so they can interact with you too.
With social media marketing, you can communicate with thousands of people that you never could before. This will help you increase brand awareness, build brand loyalty, and boost sales.
Check out these social media marketing stats that prove it:
90% of all marketers say social media marketing has increased their business' exposure.
Customers report spending 20%–40% more money on brands that have interacted with them on social media.
77% of Millennials report making a purchase either online or in-store after seeing a product on Facebook.
71% of consumers who have had a positive experience with a brand on social media are likely to recommend the brand to their friends and family.
Pretty powerful right? Especially since creating social media accounts for your business is free.
Best Social Media for Small Business
Now that you know why you need to market your business on social media, let's take a look at which platforms you can use.
Facebook
Facebook is still one of the most popular social media platforms today with about 2.8 billion monthly active users!
To promote your small business, you can create a Facebook Page. Your Facebook Page can include information about your company, your address and business phone number, reviews, and more.
Users can "like" your page to follow you and get updates on new products, promotions, upcoming events, and so on.
Here's an example of a Facebook post from a restaurant called Kitchen On Sixth: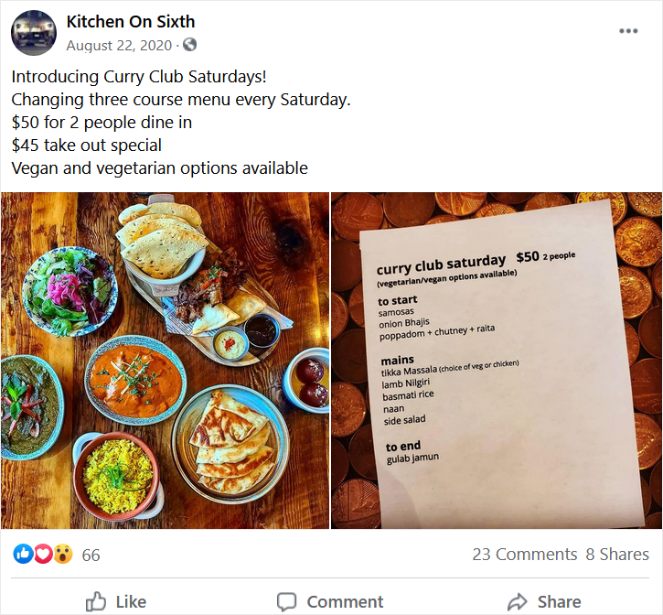 They use eye-catching images to grab the attention of their followers and add a caption to let people know about their latest offer.
Facebook is a casual social media platform that's suited for all kinds of businesses including retailers, online stores, service-based businesses, freelancers, bloggers, and much more.
Instagram
Instagram is the most visual social media platform and over 1 billion people use it every month.
On Instagram, you can create regular posts or you can post Instagram Stories, which are photos and videos that disappear after 24 hours.
In order to stand out on Instagram, sharing high-quality, eye-catching images is a must. You can post stylish photos of your products, share behind-the-scenes moments, or simply post photos that align with your brand's values.
Here's how the clothing company Teddy Fresh does it: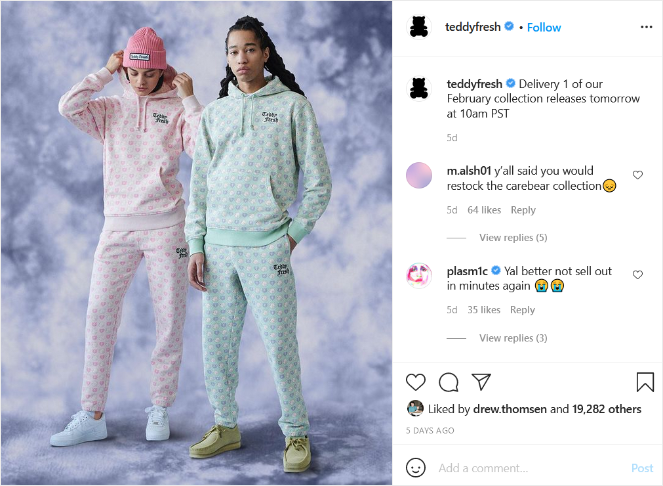 Because this platform is all about appealing images, it's best for industries that have visual content to share like fashion, beauty, food, travel, etc.
Check out our Instagram guide for bloggers for more information.
Twitter
Twitter is a microblogging and social networking platform where users can post messages called "tweets." Other users can "like" your tweets, reply to them, or "retweet" them, which shares your tweet with their followers.
Twitter is best known for having a character limit of 280 per tweet, so your messages have to be short and to-the-point.
Aside from text, in a tweet you can add images, videos, links, etc.
Here's an example of a tweet from MemberPress: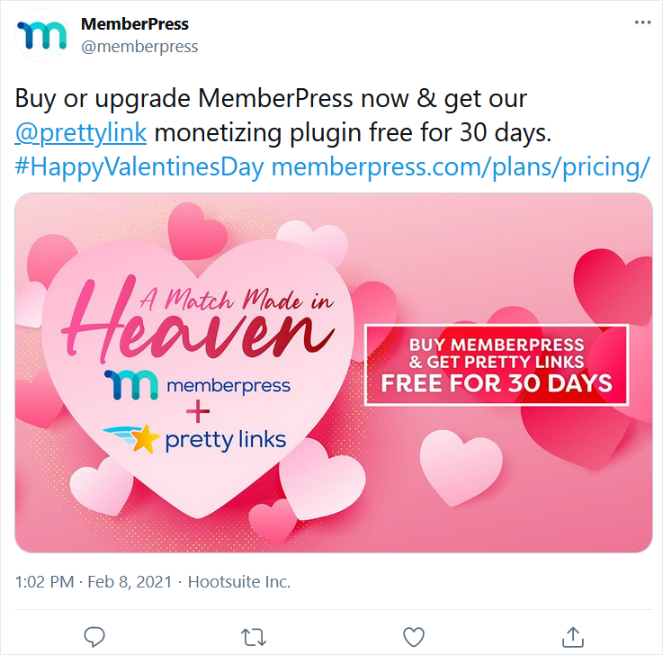 This tweet is announcing a special promotion and includes a link to the website. This makes it easy for users to visit the website and take advantage of the deal.
Most small businesses use Twitter to share news about the company, announce sales and promotions, share industry-related opinions, and more. Many businesses even use Twitter for customer service and support.
LinkedIn
LinkedIn is a bit different from the other social media platforms here because it's specifically for business-to-business (B2B) networking.
It's mainly used for keeping up with industry news and trends, connecting with other professionals, and discovering new job opportunities. So, keep it strictly business on this platform.
If you have a B2B business, you can use LinkedIn to educate your existing customers or potential customers.
In the example below, the company Pocket created a LinkedIn post to let its audience know about updates they made to the product: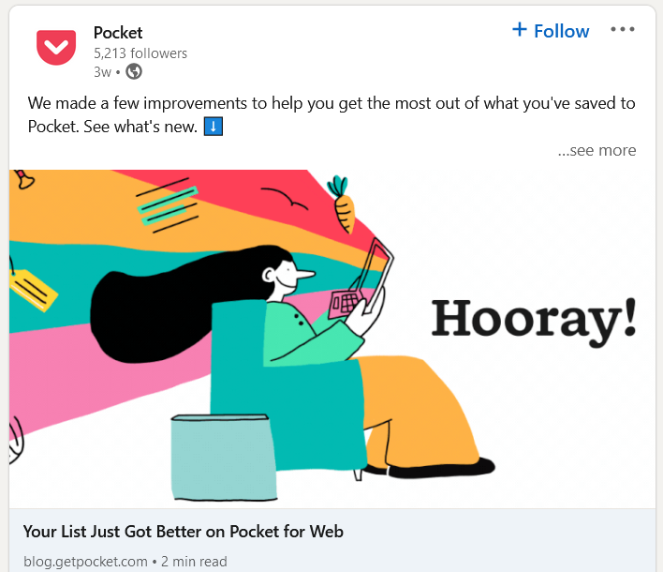 On LinkedIn, you can create regular posts, write articles, share images and videos, and post LinkedIn Stories from the mobile app.
YouTube
So, we've talked about image-based platforms and text-based platforms, now let's look at the most popular video-based platform—YouTube. YouTube has over 2 billion monthly active users and 1 billion hours of YouTube videos are watched daily!
YouTube is also the second-largest search engine behind Google and "how to" videos are super popular.
So, if your business needs to show customers how to use your product, then YouTube might be the perfect platform for you.
Here is the Ahrefs YouTube channel where they educate people how to use their SEO tools: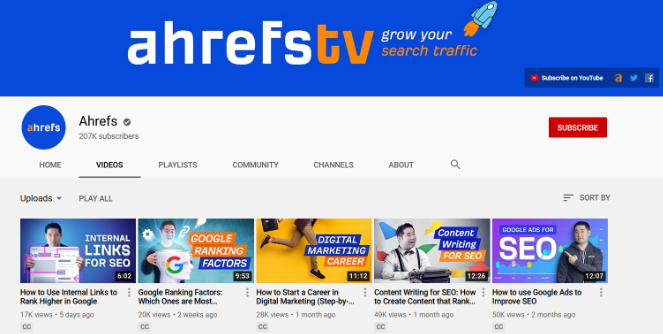 People are more likely to watch a video than read instructions, so you can skyrocket engagement and improve customer education with this platform.
These are the main 5 social media platforms for business, but there are a few other popular channels you can consider as well, including:
Pinterest
Reddit
Quora
TikTok
So which platforms should you use?
This is a tricky question and totally depends on your business. Let's start by saying that everyone should have a Facebook Page and a website with a blog regardless of what you do. That is the basis for all social media activity.
Once you become somewhat experienced at blogging and using Facebook, you can decide what other social media platforms you want to use.
To decide, you'll want to consider 2 things:
What channels is your audience already using?
What type of content do you want to create?
If most of your current customers are using Instagram over other platforms, then of course, you'll want to create an Instagram account for your business.
So, be sure to do some research into what platform your audience prefers. An easy way to do this is by creating a simple survey. That way, you can directly ask your customers what social media platforms they use most often.
And the type of content you want to create will help you decide as well. If you want to create long-form educational videos for your audience, you should probably choose YouTube over Twitter.
Remember, you don't have to be on all social media platforms, but it's wise to be on more than 1. In fact, 91% of retail brands are using at least 2 social media platforms.
Social Media Marketing Tips for Small Businesses
Now let's dive into some tips that will help your business find success on social media.
Before you get started on social media, make sure you have a website with a blog. That way, you have somewhere to send social media users. Plus, it's important to have content to share on social media and a blog will help you with that.
If you don't have one yet, you can read our post on how to start a blog.
Okay, ready?
1. Define Your Marketing Goals
The first step to successful social media marketing is to define your primary goals.
If you start posting on social media randomly, without any rhyme or reason, your marketing strategy will have no direction and it will be difficult to track your success.
So, sit down and decide what you want to accomplish with your social media strategy. Here are some common goals you can consider:
Increase Brand Awareness
Generate Leads
Engage Customers
Make More Sales
Provide Better Customer Service
Once you decide on your primary goals, keep this in mind when creating social media campaigns. With clear goals in mind, you'll be able to easily create content that gets you the results you want.
2. Complete Your Profiles
A half-finished social media profile won't look professional to users. So, when setting up your social media profiles, make sure that they are completely filled out.
Depending on the social media platform and the type of business you have, the information you add will be a bit different. But typically, you'll want to add the following:
Profile Image: Most businesses use their company logo as a profile image.
Cover Photo: Also known as a header photo, this is the large image across the top of the page. Use a relevant image like a photo of your product or your team members.
Link to Your Website: Drive social media users to your website by adding the website URL to your profile. You can also create a link in bio page so that you can link to multiple places on the web.
Business Category: Select a business category so that new visitors immediately understand what your business does.
Business Description: Sell your business to new users in this section. Let them know about your product or service and why they should check you out.
Contact Information: Include details like your address, phone number, email, etc. so that people can get in touch with you or visit your business.
Here's an example of a fully completed Facebook profile from SeedProd: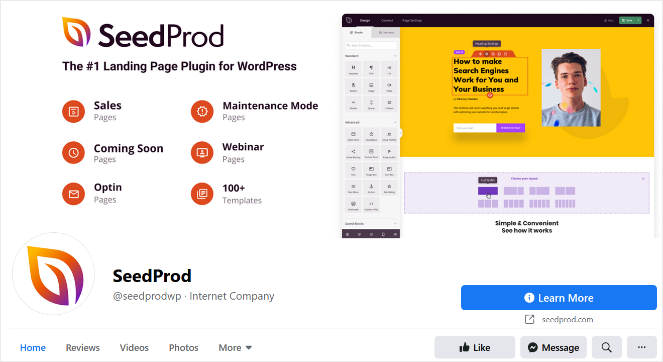 As you can see, its Facebook profile has the company's logo, a relevant cover photo, and a link to the website at the top.
It also has company details and other contact information listed: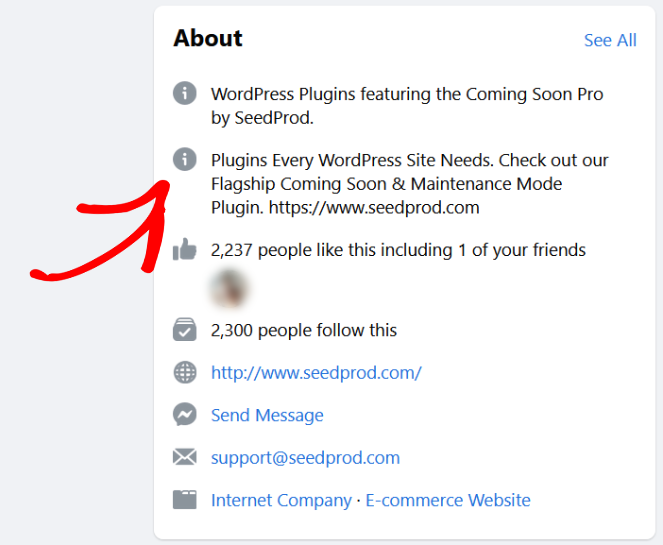 Remember to be consistent across all of your social media profiles as well. For example, use the same logo on Facebook as you do on Instagram. This will make it easier for your audience to recognize your business, no matter what platform they're on.
Speaking of being consistent…
3. Decide on Your Brand Voice
Next, you need to create your brand voice.
A brand voice is the distinct personality your business takes on in online communications.
Developing a brand voice will help keep your messaging consistent and it will help you stand out from other companies on social media.
Here are a couple different examples of brand voice:
Dove's social media presence is all about self-love and confidence; its brand voice is empowering, uplifting, and inspiring.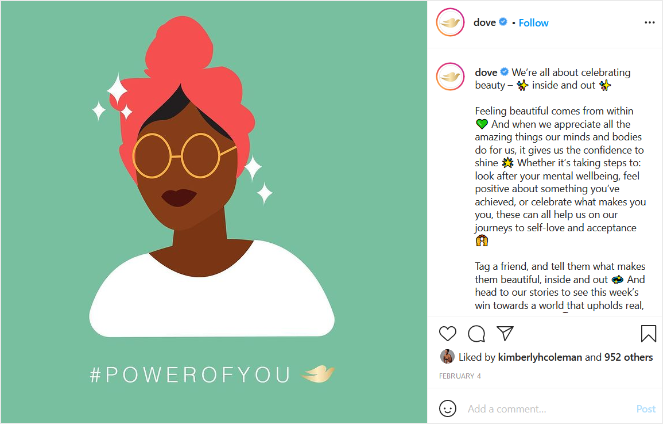 On the other hand, Semrush wants to establish their brand as a leader in digital marketing and SEO; its brand voice is educational, professional, and ambitious.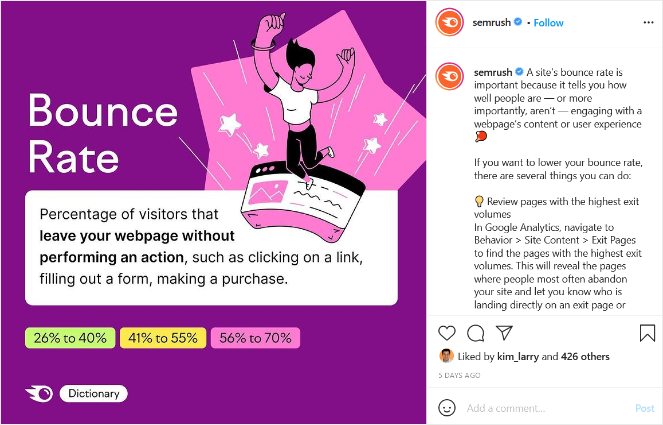 To decide on your business' brand voice, answer the following questions:
What adjectives describe your brand (playful, calm, active, secure, etc.)?
What are your company values?
What's important to your target audience?
Once you've decided on your brand voice, document it and refer to it whenever you're creating content for social media or communicating with your audience online.
4. Share Content on Social Media
Now it's time for the fun part—creating content and sharing it on social media!
But what type of content should you create?
Of course, you can create posts about new products or services, sales and promotions, and so on.
But, we also recommend creating content that is helpful to your audience. If you create helpful content, users will come to trust your business and they'll return to your page again and again for advice. And trust is important in turning social media users into customers.
The easiest way to do this is to share your company's blog posts on social media. This is why we mentioned earlier that having a blog is important.
If you're already writing blog posts that convert on your website, sharing them on social media is a quick and easy way to promote your product and help your target audience at the same time.
In this example from Twitter, WPForms shares a blog post on how to stop contact form spam on WordPress. This is a common problem their target audience would have and the post shows how to solve it with WPForms.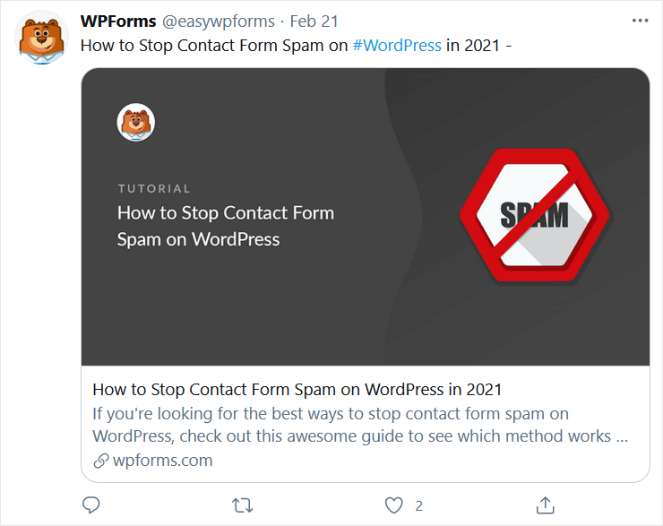 Aside from sharing blog posts, here are some more social media post ideas for your business:
Question Posts or Polls
Product/Company Videos
Quick Tips and Tricks
Customer Reviews/Testimonials
Infographics
Interesting Quotes
Memes or GIFs
You can also research the profiles of your competitors to find out what they post and get more ideas.
And here are some tips to make sure each of your social media posts is successful:
Keep It Short and Simple – You have a limited amount of time to capture attention on social media. So, keep your captions short and to the point.
Add Images – Use eye-catching images or videos to make your posts stand out from the feed. You can use a free tool like Canva to easily design images.
Use Relevant Hashtags – Hashtags help you widen your reach and make your content more discoverable online. You can search hashtags on platforms like Instagram to find ones that are popular and relevant to your business.
Add a Call to Action – Tell users what to do next. For example, you can tell users to like and share your post, direct them to your website, ask them to subscribe to your newsletter, etc.
Next, let's go over some tools that will help you keep up with a consistent posting schedule on social media.
5. Use Social Media Scheduling Tools
Not only is posting helpful, interesting content on social media important, but it's also important to post it regularly.
If you publish daily posts one week and then don't post again for weeks after, that inconsistency isn't a good look. Your followers will want to see content from you on a regular basis.
But, logging into social media every day, sometimes multiple times a day, can be too time consuming for business owners.
That's why we recommend using social media scheduling tools. With these tools, you can schedule social media posts weeks in advance and they'll be automatically posted for you.
Here are a few of our favorites: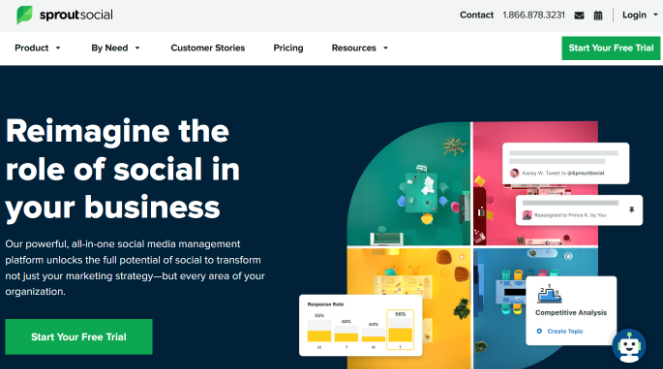 Sprout Social is a powerful, all-in-one social media management platform. With Sprout Social, you can easily create a social media marketing calendar and schedule multiple social posts across different platforms.
One of it's most useful features is optimal send times. This feature allows you to automatically schedule posts at the exact times proven to generate the most engagement from your audience.
Other features include:
Centralized asset library
Content suggestions
Message tagging
URL tracking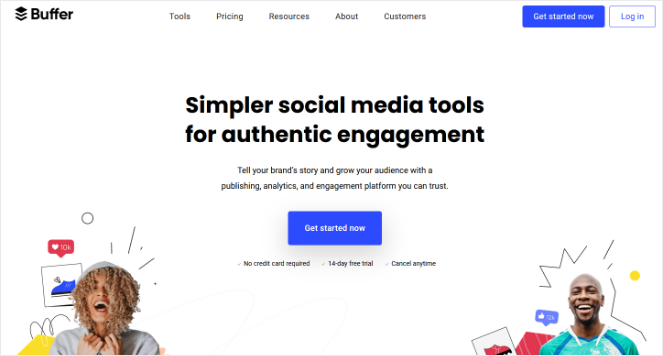 Buffer lets you plan and publish content for multiple social media platforms, all from one simple dashboard. You can easily schedule posts, set reminders, and even include a first comment when you schedule Instagram posts.
Buffer also offers analytics so you can track the performance of all of your social media accounts in one place.
Other features include:
Stories planner
Hashtag planner
Instagram tagging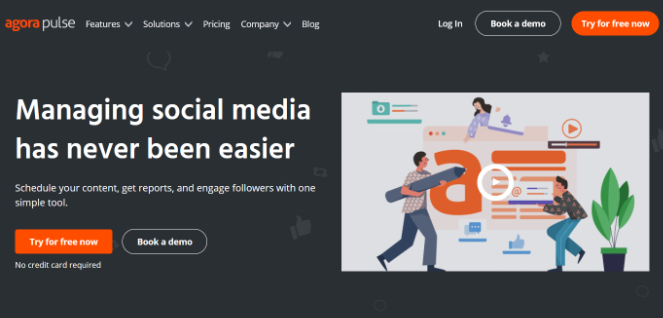 Agorapulse offers a ton of flexible scheduling options for your social media marketing calendar. You can schedule, reschedule, queue, or bulk upload your posts. You can also organize your queued content by time slot and topic so that you can easily see what's getting published and when.
It also has a social inbox so you can easily find and manage your comments, mentions, and other messages.
Other features include:
One-click reports
Built-in CRM
Automated inbox assistant
6. Add Social Feeds to Your Website
Once you start putting out content on social media, you'll want to combine your social media marketing with your website.
Adding your social media feed to your website will help you get more followers, increase brand awareness, and boost your sales. Plus, it's a great way to share your social media marketing campaigns with more people.
And don't worry, embedding a social feed on your website doesn't have to be difficult.
We recommend using Smash Balloon, it's the best social media feeds plugin for WordPress.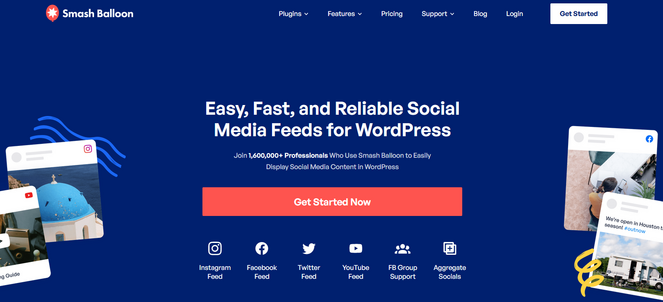 Smash Balloon offers a plugin for all of the popular social media platforms:
There's also Social Wall Pro, which lets you combine feeds from Instagram, Facebook, YouTube, and Twitter into 1 giant wall of content.
You can also check out the lite versions, if you want to try them out for free.
SeedProd is super simple to set up, no technical knowledge required. Plus, you can easily customize the social feeds to match your brand, choose from multiple layouts, select which content you want to display, and much more.
For example, here's what a YouTube feed can look like on your site with Smash Balloon: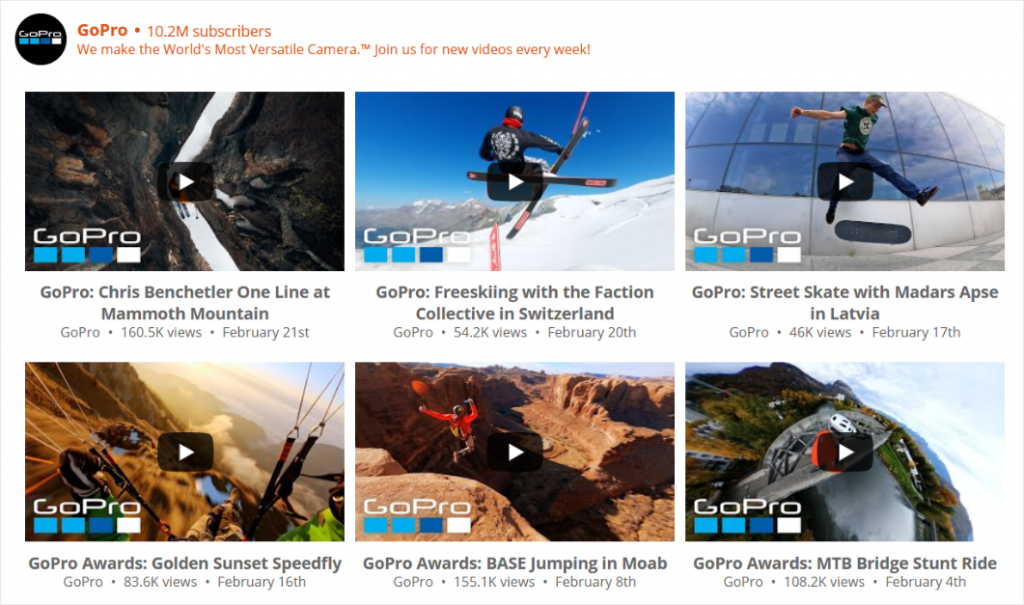 Smash Balloon is also SEO friendly, instead of using iFrames, they embed the content directly onto your web page so that you can improve your SEO rankings.
Now you can get more results from your social media campaigns by sharing them with your website visitors.
7. Encourage Engagement
What if you post awesome content on social media but it seems like no one is paying attention? No comments, no likes, no shares…what gives?
Don't be discouraged. If you want social media users to interact with you, you simply have to encourage them to engage.
How?
Here are a few tactics to boost engagement on social media:
Reply to Comments
If you want more engagement on social media, it's important to reply to the comments you're already receiving.
Your followers will be more likely to comment again if you reply to them in a timely manner.
Plus, when other users see that you respond to comments, it will encourage them to leave a comment too.
Run a Social Media Giveaway
Running a giveaway or contest on social media is a very effective way to boost engagement. It can also help you get more followers, grow your email list, drive traffic to your website, and more.
You can use a tool like RafflePress to easily run a viral giveaway campaign.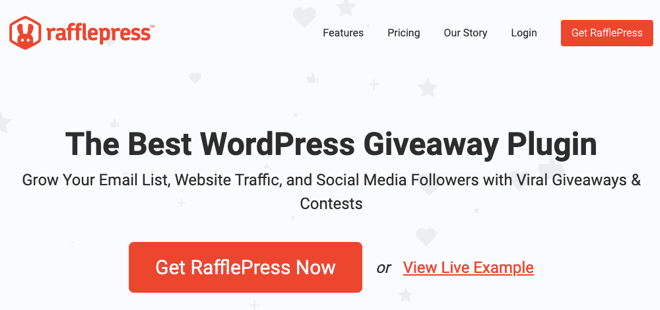 RafflePress has a drag and drop giveaway builder that lets you create amazing giveaways in no time. It also has bonus giveaway actions to reward users with extra entries.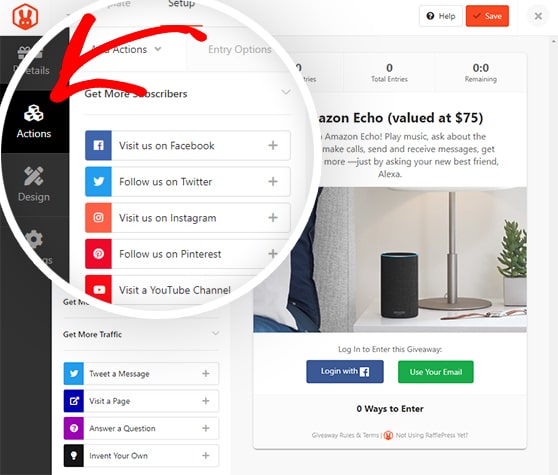 For example, you can give extra giveaway entries to users that visit your Instagram profile, follow you on Twitter, share your giveaway on social media, and more.
Ask for User-Generated Content
You can also get your audience to engage with your brand by encouraging them to create user-generated content.
User-generated content is any form of content, like images, videos, or text, that has been posted by users on online platforms like social media.
Here's an example from Starbucks: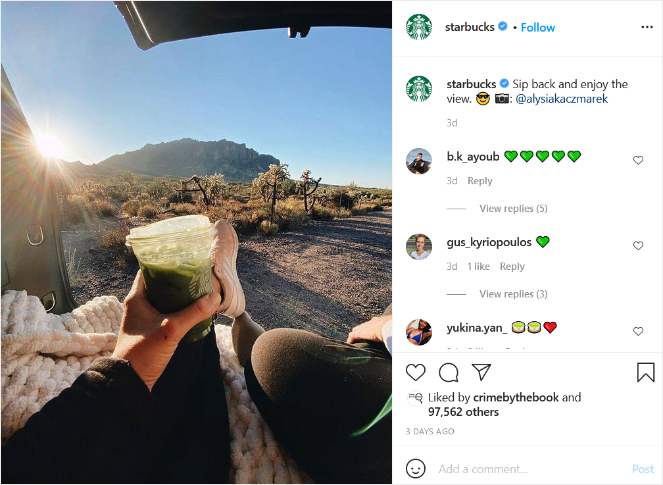 Simply sharing the photo and tagging the user in the caption is often enough to encourage others to share their content too.
And this is not only good for engagement, but it helps you build social proof as well.
Ask for Feedback
Asking questions of your followers is another easy way to boost engagement and start conversations.
Just ask them something fun and relevant to your business. For instance, if you own a restaurant, you could ask them what their favorite pizza toppings are. If you're an ebook author, you can ask them what they're currently reading.
You can even ask them for direct feedback about your business.
With this tactic you can encourage engagement and have your customers do your marketing for you as Facebook fans and Twitter followers share their experiences with you and your business. This is also how you can get customer testimonials for your blog.
8. Monitor Your Analytics
Like with any type of marketing campaign, you'll want to track your results to see what's working and what's not.
The social media tools we suggested earlier, like Sprout Social, Buffer, and Agorapulse can help you do this.
These tools all offer analytics and reporting that can give you in-depth insights on your audience, tell you which days of the week and time are best to post, show which hashtags drive the most engagement, and much more.
You can also use MonsterInsights to track the traffic social media sends to your site. With the referrals report, you can see which social media platforms bring you the most traffic.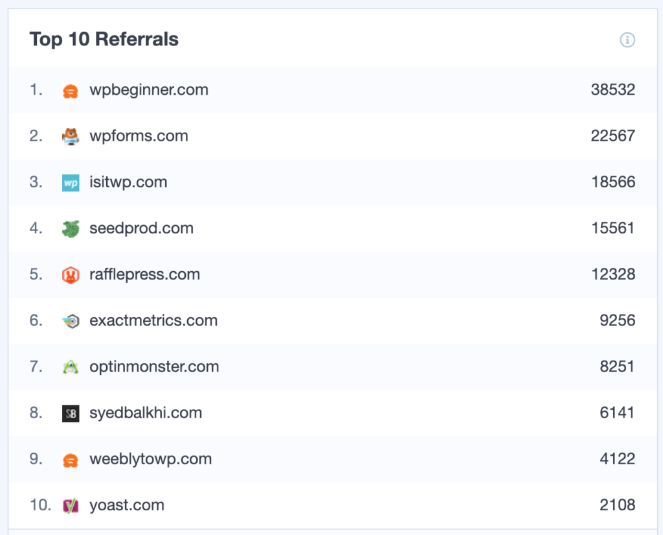 MonsterInsights also lets you track traffic from Facebook Instant Articles with the click of a button.
A key part of your social media marketing strategy is to monitor your analytics so that you can then tweak your strategy for maximum results.
That's a wrap on this guide to social media marketing for small businesses!
We hope you can use these tips to market your business online and attract more customers from Instagram, Facebook, Twitter, or whatever social platform you use.
If you liked this article, you might want to check out our other post on easy ways to increase conversions.
Also, don't forget to subscribe to our newsletter for more blogging tips.