Social media is not going away. And if you are a small business you wouldn't want it to.
Blogs, Facebook, Twitter, Youtube… the list is huge (and possibly overwhelming) but the potential for growing your business, expanding your customer base and making more money is just as vast.
Some small businesses are now using social media to grow profits. Others are struggling to navigate the jungle and are making mistakes along the way.
In this post I'm going to talk a little bit about what you need to be doing if you want to get in on the action.
I'll answer all the questions you'll need to know including:
What is social media?
What social media sites should your small business be using?
How do you get started on the most important sites?
How do you use social media to grow profits?
What strategies and tools will help you grow faster?
What have the best social media users been doing? (Case studies)
What are the dangers of social media?
Let's jump right in! You've got over 3,500 words to get through.
The basics of social media for small businesses
Let's start with a real basic tour of the wonderful and complicated world of social media.
What is social media?
Social media is any website or mobile phone function that allows you to share content and ideas with other people. Just think of it as a variety of methods for getting in touch with like minded people from all over the world.
What are the main social media sites?
The main (this is by no means a complete list) social media sites that you want to know about and possibly be active on include:
Your blog
Let me be really frank about this. Your blog is still your most important social media site. Some "experts" might disagree with this but it is your blog that forms the basis of all your other social media activities. More about this later.
Facebook – 845 million users
Facebook is not just personal profiles for sharing photos of your dinner with your uninterested friends. It is actually a hugely important way to get thousands of people interacting with your business online and offline. People can use GPS to "check in" at your business, share your Page with their friends and much more.
Twitter – 300 million users
If Facebook is for contacting friends, Twitter is for following people you wish you knew. It is a wonderful way to stay up to date with real-time news straight from the fingers of news reporters, celebrities, corporations and regular people. It is also extremely good for contacting other people in your industry.
Linkedin – 135 million users
This one is pretty much like an online resume. Not so important for small businesses unless you are scouting for some other work. It is, however, a huge force for people looking to network with others in a professional sense. Lawyers meeting lawyers, for example.
Youtube – 3 billion views per day
Yep, Youtube is social media. Its all about videos and providing quality content to people who are trying to learn more about what you do.

A great way to create viral buzz or increase customer loyalty.

Google+ – 62 million users
This is Google's reply to fears that Facebook is taking over. Its all about integrating your online social media life with your search engine. You can add people to your circle of friends and then your search results change based on what those people recommend. You can now also have a business page.
All the rest
And then there are all the hundreds of others like Foursquare (location based check ins), Pinterest (collages and images), Flickr (photos), etc.
Now the good news is that you do not need to be active on all of these. In fact, some social media platforms work really poorly for certain industries.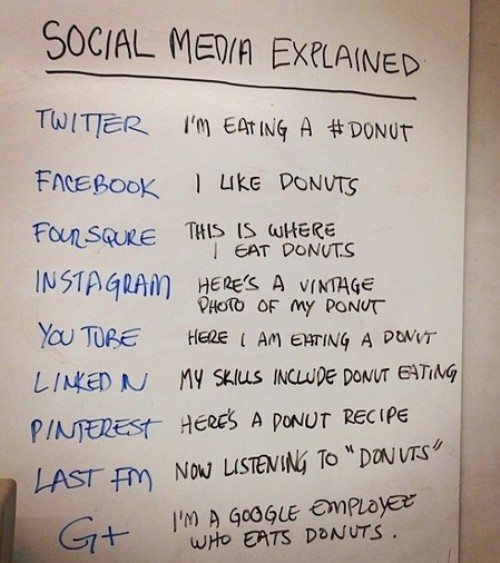 A recent photo that has been circulating on, ironically, the social media sites explaining how they all work. Bit of a laugh but also pretty helpful. If anyone knows the original source please let me know.

Update: Thanks to Jennifer for finding the original source at Three Ships Media.
So which ones should I use?
This is a tricky question and totally depends on your business. Let's start by saying that everyone should have a Facebook Page and a website with a blog regardless of what you do. That is the basis for all social media activity. Once you become somewhat experienced at blogging and using Facebook you can decide what other social media platforms you want to use.
What are the main benefits of social media?
The main benefit is that you can now contact thousands of people that you never could before. You can also have your customers do your marketing for you as Facebook fans and Twitter followers share their experiences with you and your business. Social media lets you reveal more of your business and what you can offer the people who are listening. This is also how you can get customer testimonials for your blog.
Where do I start for my business' social media activities?
As I said before, you don't have to be on all of these platforms. Thank heavens. Social media is my job and I still don't use everything that is out there.
Here are a few steps you can follow if you want to get started in a simple and affordable way.
1. Make sure you have website and a blog
Your website and blog is your most important online asset. Period.
All your social media activities should in some way be about growing your blog and website and email database and you can only do that with amazing content.
If you don't have a blog I have written a pretty comprehensive guide to setting one up. Just follow the steps and see how you go.
As with most things online, if you find it too hard you can just hire someone to do it for you. I'm more than happy to get you on the right track in that respect.
2. Set up a Facebook Page
Every business should have a Facebook Page as far as I am concerned. And as they are quite simple to set up and run you can practice on Facebook before expanding out to other social media sites.
Here are the steps you can follow:
Research the best Facebook Pages
I think the best thing you can do in the beginning is research some of the best Facebook Pages out there. These are individuals and companies who are getting it right. Some of them include Pat Flynn, Problogger, Neil Patel, Porsche, Battlefield, etc.

Have a look at those guys and take note of not just how they look, but how they interact with their customers.

Set up a Page
You need to get a Facebook Page, not a profile. If you have a profile you need to change as Facebook regularly takes these down.
Add your information
Make sure you add a really detailed set of information like your business address, services, opening hours and what it is that you do. Make it as comprehensive as possible.
Add some photos
Click the "Photo" link up the top and then "Create an album" and go ahead and add some photos of your shopfront. Then create another album for your various product lines. People can now share these with their friends. Make sure you give them all meaningful captions.
Add a profile photo
You'll need a profile photo. This is the little photo on the left hand side. It needs to include your logo as well as a high definition image that really conveys what it is that you do. It should be at least 180 pixels wide.
Invite your friends
If you are already active on Facebook as a personal user it is a good idea to invite all your friends and get them to spread the word. This can give you a really important initial boost.
Start interacting
Now you can begin interacting with current and potential customers. You can share photos, ideas, tips – anything that will compliment your brand and make people loyal to yourself. Not sure what to do? Check out down below.
Once you have mucked around with Facebook for a while you will start to develop enough confidence to move in to other areas.
3. Decide where else you need to be
The next step is to decide after a couple of months what other social media sites work for a small business like yours. Sign up for a few test accounts on Twitter, Google+ and Youtube and see what the "vibe" is like for your niche. If something looks promising then give it a go.
So, what do I do on social media? What's the point?

Photo credit: _bianconero
One of the biggest questions my clients ask me is simply what the heck do I do on these social media sites?
Let's take a look.
1. Increase loyalty by showing the real you
People become loyal to other people, not brands. If you run a pizza shop you can spend time on Twitter talking about your passion for pizzas and your history with the pizza making art. You can talk about your quest for finding the right ingredients and interact with other people who have similar passions.
Social media is a fantastic way to break down the barriers of facelessness. By showing your potential customers the people behind the business you are giving yourself a chance to be different from all the other competition. They will become loyal to you.
Showing people the real you means:
Using your own voice
Don't try and come up with some corporate character. Just talk as if you were talking to your mates at lunch or a long term client in your store.
Being honest
Honesty is really important as people can sense whether you are stretching things. Remember, it is about connections.
The more chances you give people to see the real you the more loyal they will become.
2. Get badly needed feedback
Social media sites like Twitter and Facebook provide you with a really good way of getting feedback. Its almost like its an online survey. Want to know how people felt about their dining experience in your cafe? Go on Facebook and ask them.
This takes some bravery because you have to be prepared for negative feedback. But negative feedback is so important because it helps you improve your services. And that leads me to the next one.
Case Study:
I once sent a Tweet out complaining about my mobile phone service. Within an hour they had rung me up and given me a new phone for free to apologize as well as switching me to a better reception provider. This would never happen before social media because companies weren't afraid of our networking influence. Now they are.
3. Answer and address complaints quickly
Big companies like QANTAS, Vodafone, Australia Post, etc. are now all using Twitter to handle complaints. Part of this is damage control, part of it is an improvement on customer relations. What do I mean by this?
Well, the thing you have to realize is that social media is here to stay. If you do something bad to a client they are going to talk about it on Twitter. So you can either ignore it and let the reputation grow or you can jump on and help people move on. Give them freebies, apologize sincerely and invite them back.
It is very important to be seen to be addressing complaints on social media sites.
4. Create amazing incentives
One of the best ways small businesses can use social media is by offering incentives to get people in the door.
Let me tell you an example of how it works. Let's say you are a pizza joint and you want to get more people in the door. What you can do is put up a sign in your shop telling people that if they check in on Facebook they will get 5% off their bill.
The result?
For a few dollars you have just got a review to several hundred people. All of that customer's friends will see that they are at your pizza joint and the chances are they will add a comment like "great pizza". The next time those friends are thinking about pizza they might just remember that little reference.
Incentives can be really simple or they can be complex and more rewarding. But don't be afraid of giving away free stuff to people because it will come back to you in droves.
I'm going to be doing a whole post on incentives for social media marketing so make sure you are subscribed to the blog so you don't miss it.
5. Capitalize on and boost your word of mouth marketing
The previous point ties in very closely with this one – social media can help you massively grow your word of mouth marketing.
In its most basic form, if you don't have a website or Facebook page or Twitter account then how are the millions of people on those platforms going to make reference to you? They can't.
If you do nothing else at all, at least have a website and a Facebook page set up so people can point to something when they are talking about you to their friends.
6. Share photos to increase location and product awareness
If you have a business with a physical location then uploading a gallery of photos on Facebook can be an excellent way to introduce people to your location.
If you have a physical product you can do the same – upload photos and show people what they are getting or how it is made.
As you are probably realizing, social media for small business is all about making meaningful connections with people. By sharing photos you are breaking down "web barriers" and reminding people that you are around and your product is really really good.
7. Grow your mailing list
Internet marketers say that a mailing list of 10,000 subscribers is worth at least $100,000 a year to your business. With that in mind, you need to use social media to start capturing as many loyal and engaged email subscribers as possible. Here are some reasons why:
You can promote new products
Imagine selling a widget to a young lady for $50. You get her email address and then the next time you have a widget sale you email her and all the other widget lovers. You instantly boosted your sales for free.
You can promote events
Got an event or a lunch coming up? Email your list.
You can get help
Need help from your loyal customers promoting a new product or perhaps a new store location? Just ask.
If you can direct your social media activities so that you capture email subscribers you will be setting your business up for a lot of success in the future.
8. Hold contests to increase your following
Facebook contests are really big nowadays. It basically consists of giving away some really cool prize in order to attract more Facebook followers and get the word out about your business.
You have to be careful though as some contests are against the terms of service and can get your page banned. Research is important.
When holding a contest you should make sure that you have a really nice prize (worth at least hundreds of dollars) and an entry method that is exciting and simple.
Case Study:
Here is an example of a Facebook location-based contest run by Coca Cola in Israel. As the video shows, the outcome was pretty amazing.

Of course, your campaigns don't have to be this epic. But it does give you some ideas. For example, you might want to give anyone who checks in to your cafe a free coffee. That word will start to spread.
9. Study, study, study
There are so many clever people out there doing incredible things with social media. It is important to study them.
If you are a small business is can be tempting to think that you are all alone trying to learn yet another skill. So make it easy on yourself. Don't try to reinvent the wheel. Go out and study some of the businesses that are getting things really right.
I've included some resources here in this post but one of the simplest things you can do is go to Google.com and type in "social media campaign [your niche]". For example, a hotel might write "social media campaign hotel" and research the different results that come up.
Some of my favorite social media for small business posts from around the web are:
It is important to study this stuff but it is also important not to get distracted. You are trying to grow your business remember, not your social media accounts.
The dangers of social media for small businesses
I don't want to scare you but there are a few dangers that small businesses need to be aware of when getting involved in the social media labyrinth.
1. People are critical of bad products
Well, lets be honest. People are always critical of bad products its just that now they can talk about them on Twitter.
If you provide a bad service or product you can be you will be flamed (chastised) on Twitter. Be ready for it.
The thing to realize here is that those people are already talking about you. It is therefore extremely important to get on and start talking to them, helping them and addressing their concerns.
2. Bad timing and poor planing can be deadly
A few months ago QANTAS, Australia's national airline, grounded all its flights around the world due to ongoing industrial action. It left thousands of people stranded across the globe and a media storm unlike I have ever seen in Australia lasted for weeks.
Many people were angry at the CEO's decision to ground the fleet, while others thought he had no other option and did the right thing.
Shortly after this massive event (and a lot of negative PR) QANTAS launched a Twitter campaign with the hashtag #QantasLuxury saying:
"To enter tell us 'What is your dream luxury inflight experience? (Be creative!) Answer must include #QantasLuxury."
Bad idea.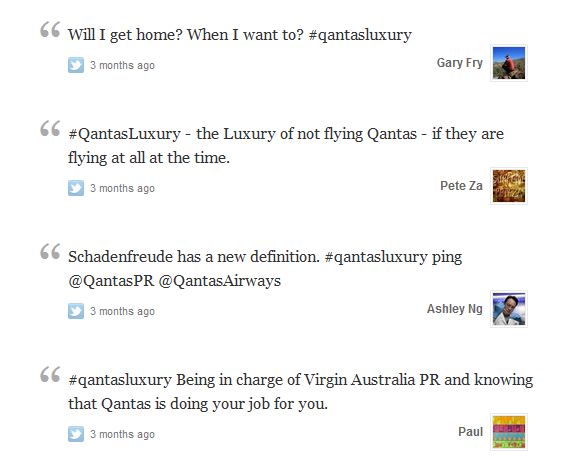 A few of the resulting Tweets from QANTAS' Twitter competition.
Now, in case you don't know, a Twitter hashtag is something you use when you want everyone involved to be reading the same thing. For example, you'll often see hashtags about sporting events like the Super Bowl because the promoters want to get people talking in the same place.
And thanks to a website called Storify we can see a record of all thee nasty, mean and hilarious replies that QANTAS got as entries into this competition.
This is an extreme example of what can happen with bad timing and a poorly thought out campaign. This Twitter competition might have worked wonders if goodwill towards the company was not at such a temporary low (QANTAS is normally a much-loved Australian brand).
3. You can break the law
A lot of people forget that you can still break the law on the internet. And this can lead to you and your staff ending up in serious hot water.
Let's take defamation as an example. If you go on Twitter and say something untrue about someone which results in their reputation being damaged you can be sued in court under libel laws.
Similarly, if you make untrue claims about your product you can come under fire for false advertising. This can lead to crippling fines.
Its important that you keep everything truthful and clean when on social media sites just like you would on a print or TV advert.
Social Media Tip:
You can avoid a lot of these problems by coming up with a social media policy for your business. Outline what can be talked about, which of your staff can talk on behalf of the business, whether personal social media accounts are allowed, who has access to passwords, etc. It might seem strict but it can save a lot of future dramas.
4. Privacy is an issue
Privacy concerns really need to be thought about before signing up to all of these sites and putting your name, age, location, etc. on the public record. Some people are paranoid about this stuff, others don't seem to care. Have a think about how much you want people to know and set the boundaries early.
Conclusion
This is just the tip of the social media iceberg. But don't fret, you don't need to know everything at once. Start with a website, blog and Facebook Page and go from there.
To all my regular readers: What other tips would you give to a small business looking to get involved with social media? Have you learned any lessons doing social media for your own business? Please leave one of your usual amazing comments.
Photo credit: CarbonNYC