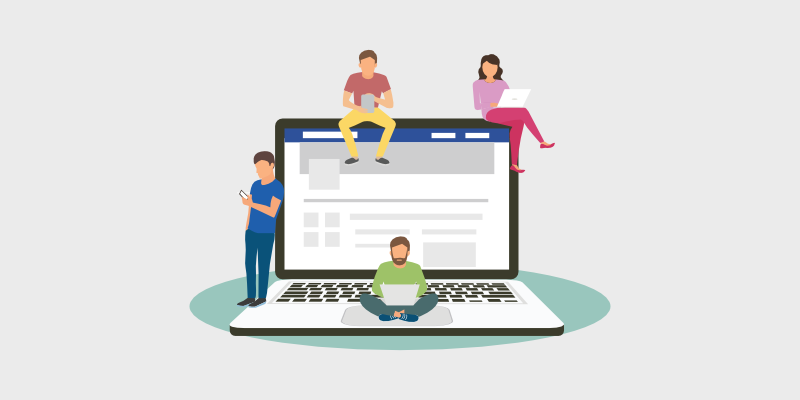 L et's face it: Facebook has a massive audience. If you want to increase your blog's readership, you're going to have to start using it.
How big is Facebook? Nearly 2.5 billion people are on it, including nearly two-thirds of all U.S. adults. That makes Facebook a great place to grow your blog audience.
Many people use Facebook to grow their readership since it's easy for people to share your posts with their friends and family. Chances are, they're interested in the same topics as your readers, so you'll gain new readers without doing any work yourself!
To encourage your readers to share your WordPress blog content on Facebook, you'll need to install a Facebook plugin.
We've gathered a list of the top Facebook plugins that'll help your readers share your posts with a single click, make it easy for you to publish your posts on Facebook, and more.
Before we dive in, let's find out more about Facebook plugins and how they can be helpful for your blog.
How Does a Facebook Plugin Work?
Facebook plugins are WordPress tools that help integrate your blog with your Facebook account. There are a few different ways they can do that.
Facebook Share Buttons: You can use them to display a Facebook share button on a post or page without writing any code. When a reader clicks the share button, your post is automatically shared on their Facebook timeline, making it visible to their network.
Publish Your Blog Posts Automatically to Facebook: Once your post is live on your site, these plugins will automatically publish it on your Facebook page, making it easier to spread your content out to your readers.
Embed Your Facebook Feed on Your Blog: These plugins will embed a Facebook feed on your blogging platform, usually on a page or in a widget in the sidebar. This is a useful option if you're also running a Facebook group or company page, so you can ensure that your readers see all of your posts and comments.
We've included all 3 types of plugins in this round-up, so you'll be able to pick the one that suits your needs best.
But do you really need to use a Facebook plugin on your WordPress blog?
We're a little biased about plugins in general, but we think they're a good idea when it comes to promoting and getting your content seen by as many people as possible. A Facebook plugin can really help your content take off with your desired audience.
Why You Should Use a Facebook Plugin on Your WordPress Blog?
Like it or not, Facebook is hugely popular. It's an easy and straightforward way to get your blog seen by more people.
Here are a few more benefits to using a Facebook plugin on your WordPress blog.:
Free Marketing: When your readers share your content with their friends, they're promoting your blog for you.
Boost Engagement: By connecting your blog with your Facebook page or group, you'll encourage people to visit both places (your blog and Facebook). You're encouraging discussion and engagement in both places through likes, views, and comments.
Save Time: Create new blog posts by dynamically generating content for your blog from your Facebook feed. You post an update on Facebook, and it's automatically posted on your blog too. And vice versa, depending on the plugin you use.
Boost Your SEO: Your blog will enjoy a boost from all the keywords in Facebook posts and comments when you embed your feed on your blog. It's an instant SEO boost without a lot of work or coding.
Now that you know why you should install one, here's our list of the 11 best Facebook plugins to install on your WordPress blog.
Back to the top
11 Best Facebook Plugins For WordPress
Many of these plugins are free or have a free version. We've included paid ones as well since they may offer additional features for the fee. Some are just for sharing content or getting likes, while others let you embed Facebook content on your WordPress blog.
Smash Balloon is the best Facebook feed plugin for WordPress. It has 2 plugin options to connect your Facebook account: Smash Balloon Social Post Feed and Custom Facebook Feed Pro. Both let you display your Facebook feeds on your WordPress blog without writing a single line of code. The free one, however, only displays text and links from Facebook posts. If you want to display photos, comments, videos, and more, you'll need the pro version.
With Custom Facebook Feed Pro, you can customize the feeds display on your blog, depending on your blog's layout. Show them in columns, timeline, with photos or videos, or even in a carousel that'll scroll through posts from your feed, like you see below: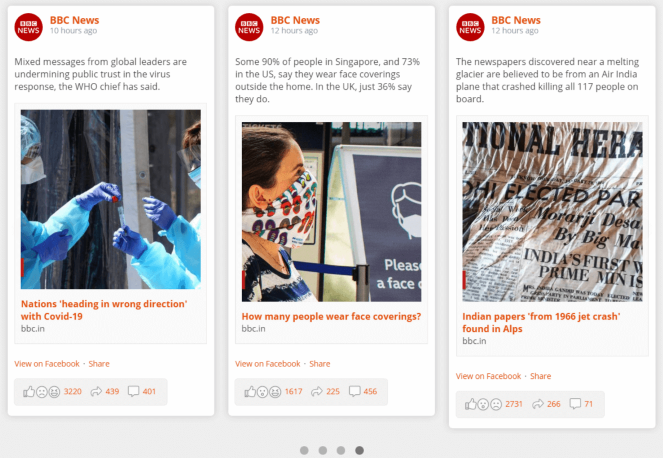 Custom Facebook Feed Pro is optimized for mobile devices, so it looks good on all devices. It also uses an intelligent feed caching system to always deliver your feed, no matter what's happening with Facebook's servers.
Pricing for the Pro version starts at $98 per year for one site.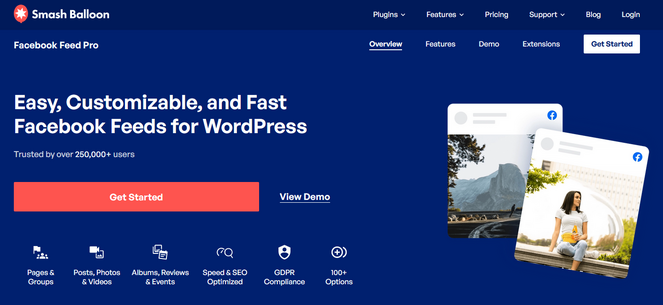 Check out these awesome features of the Smash Balloon Custom Facebook Feed Pro plugin.
No technical knowledge required
Responsive and mobile optimized
Multiple Facebook feeds
Control what parts of posts are displayed
Share blog posts directly to Facebook
Get Smash Balloon Custom Facebook Feed »
Add Shared Counts to your blog to let readers easily share your blog posts on social media, including Facebook. When you use this plugin, you'll be able to place Facebook share buttons on your posts automatically, so people can use them when they read your posts. You can also include it in a sidebar widget so they can share any page on your blog too.
Plugins like this make it easy for readers to share your content because it's done in a couple of clicks, right from your site. Anything you can do to reduce the number of steps it takes them to share your content is a win for you.
Plus, Shared Counts also lets you display the total share count for your post on Facebook. This is called social proof and helps demonstrate that your content is well-received by the community, which makes your blog a trusted resource.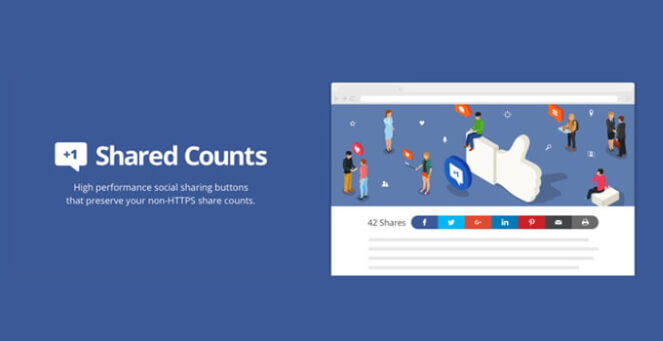 Here are a few of the relevant features of the Shared Counts plugin.
Share posts directly to Facebook
Display your share totals
Customize the look of share buttons
Fast plugin that won't slow down your blog
Doesn't store any user data
Get Shared Counts »
Facebook Widget is a popular social media plugin that allows you to display your Facebook page likes on your WordPress blog. When you install it, you'll be able to add your likes to any widget-enabled area on your WordPress blog, like the sidebar or footer.
You can customize the widget to match your blog's branding and change its size to fit your blog. This helps it blend into your blog design, while still retaining its unique content. Use this plugin if you want to increase your page likes on Facebook and encourage people to follow you on Facebook too.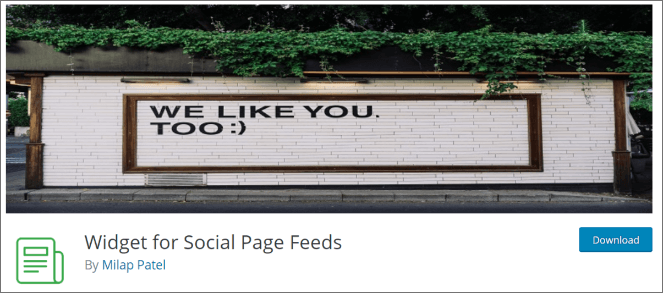 Here are a few of the relevant features of the Facebook Widget plugin.
Lightweight plugin that's fast
Customize look & feel
Shortcode support for easy adding to sidebars
Get Facebook Widget »
Writing posts already takes time, so why not save some with WP2Social Auto Publish? This plugin connects your blog to your Facebook account and publishes posts automatically once they're live. Skip logging into Facebook to create a new update for it.
Once you install this plugin, you can choose the options for your Facebook posts, like deciding what title is pulled from your blog, how it displays the description of your post, and even what featured image is used. All that's left is to publish your new blog posts and WP2Social Auto Publish handles the rest. Save time and marketing effort with this plugin.

Take a look at some of WP2Social Auto Publish's features.
Publish posts automatically to Facebook without coding
Customize the updates (text, text + image, etc.)
Control which post categories are published
Get WP2Social Auto Publish »
Social Snap is a powerful WordPress Facebook plugin for your blog that you can use multiple ways, including:
Add share buttons to your blog posts.
Display follower counts for your social media accounts.
Automatically publish your new blog posts to your Facebook account.
Social Snap has a variety of button styles you can use and is highly customizable. You can match your social sharing buttons and more to your blog's colors and design, making it a seamless experience for readers.
The free version of the plugin lets you do everything you'd want except the automatic publishing of your posts. For that, you'll need the pro version which costs $39 for a single site and no add-ons. For most bloggers, the free version is powerful enough to get you started with Facebook.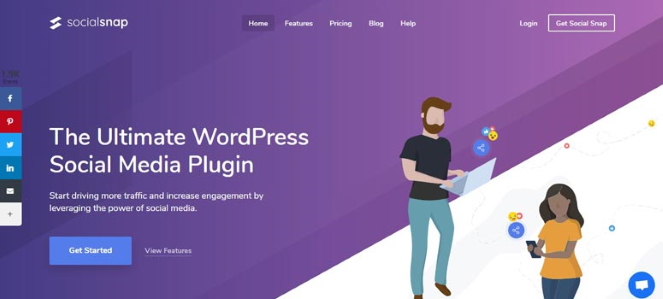 Let's take a look at some Social Snap features.
Add to your site with no coding required
Lightweight and fast loading
Display share buttons & share counts
Highly customizable buttons & layout options
Get Social Snap »
Back to the top
Social Warfare is a great Facebook sharing plugin with plenty of options for sharing your blog content. The free version is high-powered and gives you various customization options that other plugins keep for their pro version.
Choose where to place the share bar, such as above or below posts, or add a floating bar. You can even add a widget to display your most popular posts shared to your Facebook account. All of these options make it super-easy for readers to share your blog posts to Facebook and let you demonstrate your social proof in ways that blend in with your blog's design and branding.
The pro version is priced at $29 for single sites and adds more customization features, such as how your posts display on your Facebook newsfeed. But the free version has more than enough features for most bloggers, so we recommend starting with it before deciding if you need to upgrade.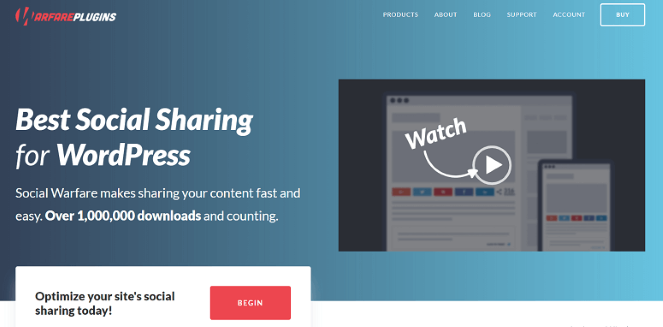 Here are a few of the relevant features of the Social Warfare plugin.
Easy setup & customization
Fast-loading & lightweight
Add custom messages to blog posts
Amazing support options
Get Social Warfare »
Nextend Social Login offers a different feature than the other plugins we've talked about. It lets your blog readers register and log in to your blog using their social profiles, such as their Facebook account. This is a handy feature to have if you want to capture your readers' information and build a robust customer list. It's especially useful if you have a membership site or an online store. People will appreciate not having to create a new login to access your site, so they'll have one fewer passwords to remember.
This plugin requires a bit more technical knowledge as you have to create a Facebook developer account to get it to work. However, Nextend offers excellent support and documentation for it, should you have any questions. Start with the free version and then upgrade to the pro version starting at $50 for a single site if you want access to advanced features.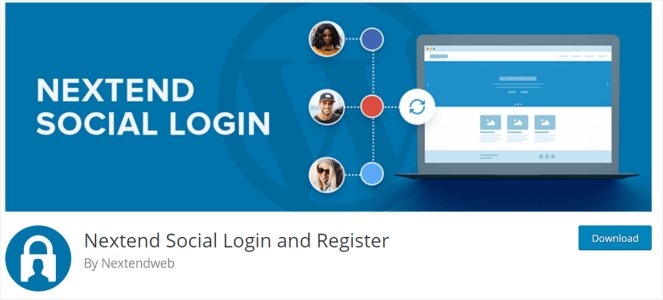 Here are some of Nextend Social Login's important features.
Save readers time & effort
Customizable to match your blog design
Add to any page or widget
Get Nextend Social Login »
Formerly known as WP Embed Facebook, Magic Embeds makes it easy to embed Facebook posts, events, albums, pages, profiles, and more to your WordPress blog. You can even use it for blog comments instead of the default WordPress system.
It's easy to embed your Facebook content with this plugin since it takes advantage of WordPress' embedding features. You can embed a public photo album from Facebook, a public post or video, or even a full Facebook page by copying and pasting a shortcode into WordPress.
While you don't have to know how to code to use this plugin, you should be comfortable looking at shortcodes and HTML attributes like width and height. Magic Embeds includes all the information you need to add your Facebook content to your blog on their website, as well as a robust support page if you have any questions or need help.
Use the free version to start and upgrade to the pro version for $29 if you want access to more advanced Facebook sharing options.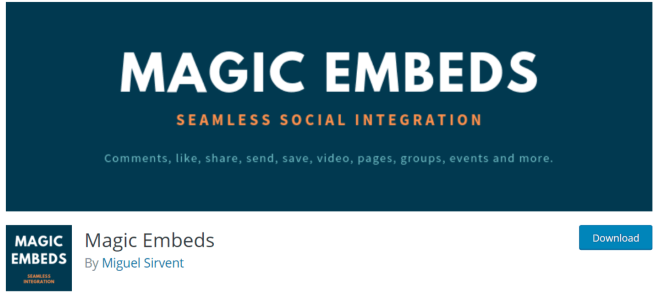 Here are a few of the relevant features of the Magic Embeds plugin.
Embed content quickly through copy + paste
Use shortcodes to place share buttons anywhere
Replace the WordPress comments with Facebook comments
Get Magic Embeds »
Sassy Social Share is a free Facebook plugin that makes sharing your content easy. It lets you add sharing buttons to your blog so readers can easily share your content to Facebook. It'll also display your share counts so people can see how many times it's been shared to Facebook, increasing your social proof with readers.
This plugin is impressive because it offers a lot of advanced features for free. No need to pay yearly to get access to them. Use as many features as you want to increase your blog's visibility through Facebook.

Check out these features of the Sassy Social Share plugin.
Compatible with Gutenberg block editor
Optional display of share counts
Customizable button options
Enabling sharing by post type if desired
Get Sassy Social Share »
Revive Old Posts lets you share previously published posts on Facebook. It's an excellent way to keep your Facebook feed active when you're not publishing and get new readers for previously published posts. Not everyone is active on Facebook all the time, so they may have missed your earlier posts.
The free version connects to personal Facebook accounts. You can schedule when your posts appear on Facebook, choose the number of posts to share, set the minimum or maximum age of posts that the plugin will share, and is even compatible with link shorteners like Bitly.
The pro version does all of that, plus connects to Facebook Pages and Groups, as well as supports custom post types from WordPress. Pricing starts at $75 for a single site.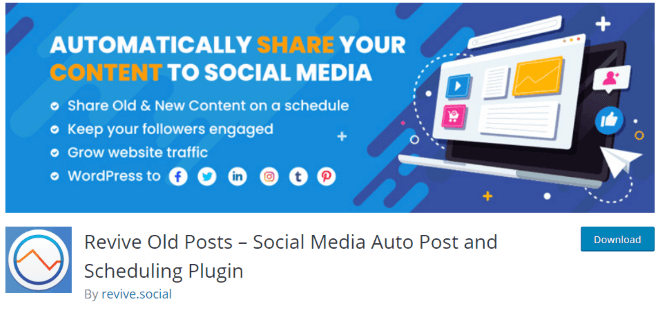 Here are a few of the relevant features of the Revive Old Posts plugin.
Surface evergreen posts easily
Choose which post categories are chosen
Automatically generate hashtags for posts
Get Revive Old Posts »
Simple Social Icons is a no-frills social media sharing plugin. Use it to display Facebook follow icons in any widget-enabled area of your WordPress blog, like your sidebar or footer.
This plugin only handles social media follows, which is why it's so lightweight and easy to use. It's a good starter Facebook plugin as it'll help you grow your Facebook followers.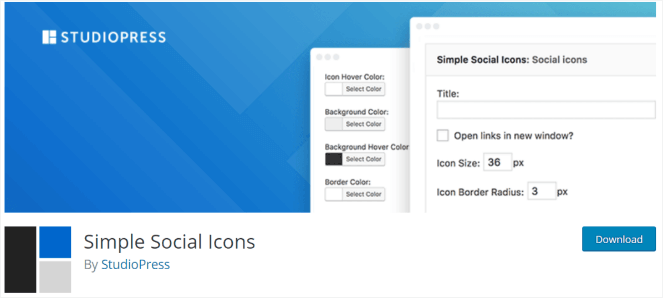 Here are a few of the relevant features of the Simple Social Shares plugin.
Easy to install & use
Customize button look & design
Display share buttons in any widget space
Get Simple Social Shares »
Back to the top
Which WordPress Facebook Plugin Is Best for Your Blog?
When it comes to plugins, you'll often have to install and test out a few of them before committing to one exclusively. The features of Facebook plugins can vary, so it depends on what you're looking to do with Facebook on your blog.
Here's the short version of which Facebook plugin you should use based on your needs:
Display your feed directly on your blog: Smash Balloon
Share your content on Facebook easily: Shared Counts
Publish your posts on Facebook automatically: WP2Social Auto Publish
Fully customize your sharing buttons: Social Snap
Share previously-published posts on Facebook: Revive Old Posts
We hope this article helped explain what Facebook plugins are and how they can help your WordPress blog. We hope you find the right option for you and get more shares and likes for your blog!
Since you're interested in Facebook plugins, you might also want to read this post on how to use Facebook ads to get more email subscribers and readers.
And don't forget to sign up for our email newsletter for more helpful blogging tips!