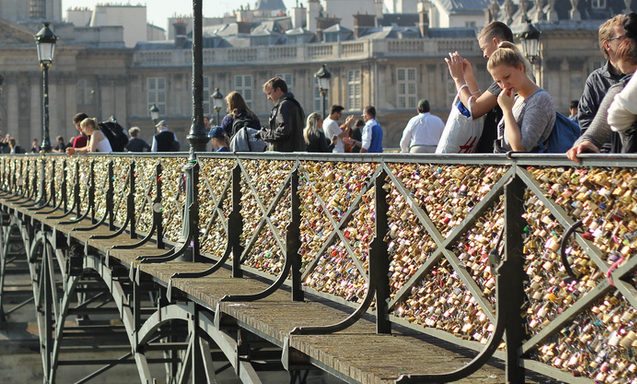 As you know, I really don't like the approach to blogging where you just write a random article and see whether it sticks.
I prefer a semi-strategic approach.
An approach that combines research with targeted traffic and an end-goal for every blog post.
And that means knowing what keywords to put in your title, text and promotion attempts.
In this article I'm going to show you one of the easiest ways to research the best keywords for your posts. You want to make sure you are writing about topics that you can compete and convert for. This means dominating Google as well as referrals.
Ready?
Disclosure and quick interruption – Some of the links in this post are affiliate links. If you sign up through one of the links on this post I'll earn a small commission at no extra cost to you. Thanks for your support!
What the hell? Things you want to know about keywords
Okay, so many of you are new to blogging and have probably heard a little bit about keywords but aren't sure how they fit into the whole blogging scene. Let me explain it for you as best I can.
What is a keyword?
Keywords are words or short phrases that you target in order to get web traffic from Google or other online sources.
How do we use them?
Once you have decided on a keyword(s) you then write titles and blogs posts and engage in SEO or advertising to rank for those keywords so that more people searching for those words can find you. You can then promote products, affiliates, etc. to them.
What are short and long tail keywords?
Marketers break keywords down into two broad types: short tail and long tail. For example, a short tail key phrase is "dog collars" while a long tail version might be "dog collars for German Shepards". It is harder to rank for short tail keywords due to increased competition.
Before you start: choose your keyword outcome
Before you start researching keywords you want to know the outcome readers will need to take.
There is absolutely no point in ranking for a keyword unless you know what it is going to do for your blog. Getting lots of traffic is pointless if you don't get any results from it.
Some of the outcomes you might want to think about include:
Selling a product
If you have a product to sell then that can be an end-result for your keyword research.
Getting sign ups
Getting relevant sign ups on a mailing list is a good (short term) outcome. As long as you also have a goal in mind for those subscribers too.
Creating authority
Ranking some extremely good content on Google can go a long way to boosting your personal authority as well as the authority of your blog by encouraging more backlinks and social shares.
So before you start with all this make sure you have a clear idea of what you want these keywords to do for you.
Finding the best keywords for Google
Now, the first part of keyword research revolves around figuring out whether or not you have a chance to rank on Google and, if you do, figuring out which formation of your key phrase is the best suited for success.
So with that in mind let's have a look at one way that I do it.
1. Use Market Samurai to get a feel for your target keywords
Market Samurai is a great tool that you can use in order to get an inside look at what your competition is doing, or how competitive certain keywords are. It's a really good place to start because you can just punch in a bunch of different keyword or key phrase ideas and get a feel for the climate.
One of the things I've done in the past is use Market Samurai to decide whether my blog post title is the best optimised and has any chance of success.
For example, you might type in "paleo diet" and then see who is ranking up the top and how many back links they have for that particular post. This is useful because sometimes you find that they don't have that many links or that, with a bit of work, you might be able to replicate the ones that they do have.
2. Investigate further using more tools
The next step you can take is to use some other online tools like SEMRush and Majestic SEO to dig a little deeper and get an overall picture of how your competition is getting their rankings. You also want to spend some time to see whether the keywords you are looking at actually get any traffic…
For example, you might find that a blog is ranking for your chosen keywords because they are an authority website and have lots of back links and age as opposed to just one single blog post that has garnered a lot of attention and grown its links. These are more difficult to compete with.
Don't be disheartened if you find that there is a really authoritative site ranking there because there are a lot of other things that come into play. I'll get more into that in a minute.
3. Personally investigate those sites
The next step I take is to visit each of those sites that are ranking for my keywords. This will help you give you an idea as to whether there is something you can do to compete.
Look for things like:
Interaction on post
How many comments and social shares are they getting?
Top posts linking
Do they have any other posts on similar topics that have done really well that are linking to the post keywords that you are researching?
Tools
Are there any original tools or plugins that they have developed that are making that post particularly valuable in the eyes of Google?
Improvements
Can you make any improvements to their article? Can you write about it in a different way?
One you have done all of that stuff you should start to get a pretty good idea of what you're dealing with and whether or not your post is something that will work.
Some other things to remember
When you are looking at keywords to see how they will perform on Google you have to remember a few little things:
Differentiation matters
Just because the first result is an article about "How to set up X" doesn't mean that the second one will be. Google likes to show a variety of types of information so that people get their questions answered. Consider competing with a different take on things.
Plurals and stuff matter
One of the main reasons we check out traffic levels is to see if small things like plurals make a difference to traffic numbers. For example, the phrase "dog collar" might get 1,000 visitors a day while "dog collars" gets 40,000. Some people don't think it matters but I still do. I also think you should look at word variations and spellings like is it a "movie ticket" or a "cinema ticket"?
Asking questions
The latest update to Google wasn't about changing how sites are indexed as much as it was about changing the way Google itself tries to answer questions. This means you need to spend more time thinking about how a person might ask a question in Google in a natural way in order to find an answer for the keywords that you're looking for. For example, do they type in "keyword research" or "where do I research blog keywords"?
Freshness
As Glen from ViperChill has been saying for a long time, the Google results are now heavily dominated by newer articles vs older (better quality) ones. Make sure you check whether your target keyword is showing fresh results or not.
Now that we've looked at the SERPs (search engine ranking position) side of things we need to move on to the next important area of researching keywords for blog posts.
Remember, that stuff ain't everything…
What I really want to point out now is that researching keywords is not just about what will work well on Google. It is a much more multi-layered topic than that.
And in any event, if you want to rank on Google nowadays you need to think about more than just the amount and types of back links that you're going to need.
Yes, that is important.
No, it's not the whole story.
So while the first section above dealt with keyword research based on an SEO approach, you then want to move on and look at your target keywords in a more holistic manner.
So what's next?
1. Consider your blog's funnel
I've talked about a funnel quite a few times on this site so I won't go into too much detail again other than to say it's really important to consider this when thinking about your keywords.
Basically what we're trying to consider here is how the traffic will behave when they arrive on your site. How does your content and site layout "direct" them and where do you want them to go?
If you do all this keyword research for a phrase that brings lots of traffic but doesn't fit well with that funnel you're wasting time. For more on this read my article about getting useless traffic.
2. Consider your promotion methods
Ranking on Google is one promotion method. There are many, many more.
For example, the particular keyword that you are going after might lend itself really well to some StumleUpon advertising. Or perhaps it might be a really solid, long term Google Adwords campaign. Or Facebook might respond well to it if it is something that is likely to get shared.
When you're thinking about your keyword, think about the landing page and then the promotion method. It's important to think about how you will popularize it aside from just Google rankings.
3. Think about the people searching and "activate" the keyword
Okay so now we are really getting into the more fun and sophisticated part of keyword research for bloggers. It's very important to think about the type of keyword and whether people searching for are it are in an active or "buy ready" mode.
Here's an example. Let's say you write an amazing post and rank number one for the term "healthiest food" and let's say it brings you 1,000 unique visitors per day. Well, are those people then likely to buy something from you once they've found out about the food?
Maybe. Maybe not.
This comes back a lot to the end outcome we talked about at the start but is slightly different because you can tweak the phrase to maybe make it more likely to earn. You can activate it. For example, you might switch it around so that (assuming the food is a chia seed) you target "buy chia seeds online".
4. Think about the demographic
Okay so one thing I also think about is the demographic of the person searching. This can help you determine what product or style of sales page will work best.
For example, if you are promoting a game for kids then you need to be aware of things like the fact that an adult will need to have a credit card to purchase, and the fact that Facebook isn't allowed for people under a certain age thus rendering the Ads pointless.
You also need to think about how tech-savvy those people might be and change your landing page depending on how they might react. An old grandma, for example, won't want to see pictures of girls in bikinis.
5. Think about potential alliances
As I wrote in my previous post on blogging success, your online friends and contacts are a huge part of what you need in order to do well online.
After having chatted with Chris Ducker, for example, I feel like I could comfortably ask him to Tweet out an article on outsourcing if I had written about it.
This is extremely important for rankings as well. A good +1 from an authoritative Google+ account can boost your success in the SERPs really significantly. Think about that when you're choosing your target keywords.
You don't have to over do this
At the start of the post and in the title I said this was the "easy" way. Well, after 2,000 words you're probably thinking that it doesn't seem so easy.
If you're planning to start a new blog then you'll want to spend a lot of time planning all this out. That is important.
If, however, you are just planning on writing a blog post then you'll only want to spend 10 – 20 minutes going through all this. Sometimes I spend a bit long if I have a plan for a series of articles around one keyword.
Time pays off when it's thousands of visitors
Just think about it for a second. A 30 minute keyword research session before you start writing might bring you an extra 1,000 visitors per day. That's over 300,000 per year. If you're converting 2% of your traffic to your email list then, well, that 30 minutes was well spent.
Furthermore, I often spend eight or nine hours writing just one blog post. Why then wouldn't I want to make sure it had the best chance of success based on the above criteria?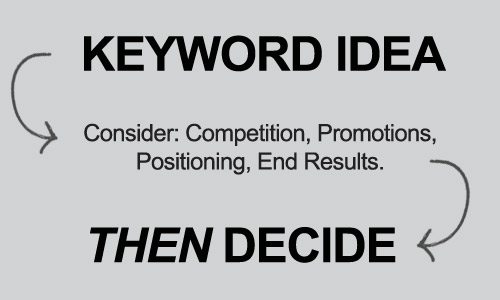 The above graphic is just a quick little way to visualise how I think about post titles before I go and write the post. You don't have to take too long and after a while you'll start to get pretty quick at it.
Your post title and text should then be based on keywords that have a balance of the above four things.
Does this help you?
Please let me know if this kind of thing is helpful for you. I'd love to know what problems you have with your own keyword research before writing a blog post or whether or not you even do keyword research! Please leave a comment and let me know.