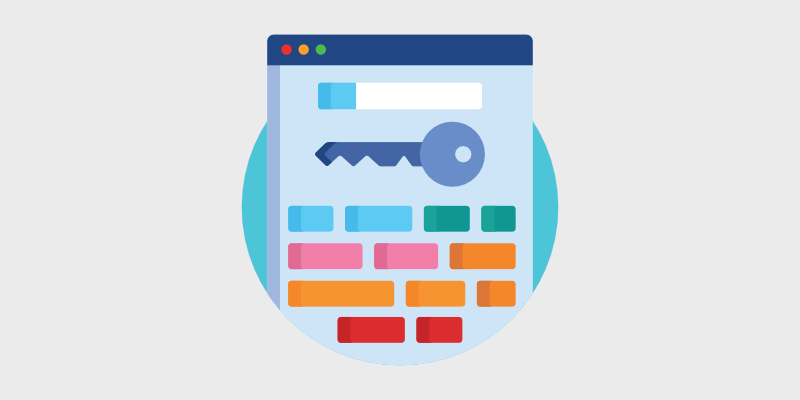 A re you looking to do keyword research for your new blog? If so, you've landed on the right place. In this guide, we'll show you how to do keyword research—the right way.
Imagine you've just started a blog but you don't get any traffic from search engines because nobody is searching for what you're writing about.
Don't worry, we won't let this happen to you. In this guide we'll cover how to find keywords, how to use keyword tools to your advantage, how to choose the right keywords, and everything else you need to know about how to do keyword research.
So, if you want more traffic and higher rankings, then you'll love this guide. We have kept this guide as jargon-free as possible without holding back on any detail.
Let's get started!
Before we show you how to do keyword research, let's start with the basics.
What Are Keywords?
Keywords are words or short phrases that you add to your blog posts and website to get traffic from Google or other online sources.
For example, a food blogger writing about easy lunch ideas for kids might use keywords in their content like:
"Lunch ideas for kids"
"School lunch ideas"
"Cheap lunch ideas for kids"
By targeting those keywords, when someone searches those terms on Google, the food blogger's content is more likely to come up near the top of search results.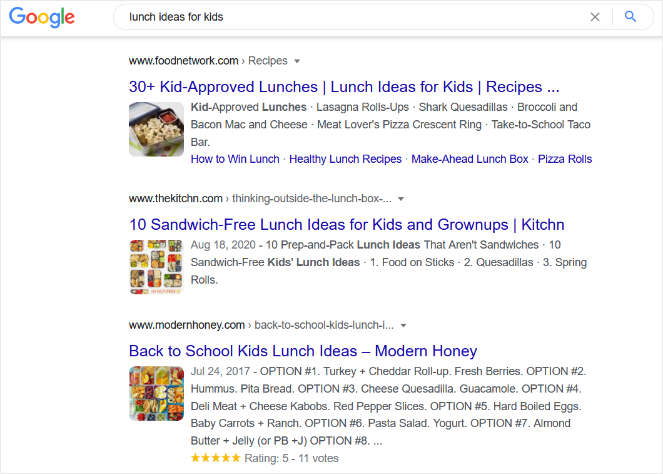 Back in the day content creators use to stuff keywords in their content so that they could easily rank on Google. Even though stuffing keywords makes for a terrible copy, it still worked. But Google evolved and started penalizing content that stuffed keywords.
There are few rules of thumb when it comes to optimizing your content with keywords:
Your copy should be easy to read. Write for readers first and SEO second.
Don't stuff keywords in your content, they should only be 2% of all your copy.
Make sure your keywords are used naturally and distributed throughout your copy.
Use your keyword(s) within the body of your blog posts, page title, headings, and the meta description.
Using keywords is one of the most effective ways to get more traffic to your blog.
But, you have to figure out which keywords are the best to use if you want them to work. That's where keyword research comes in.
What Is Keyword Research?
Keyword research is the process of finding the exact words and phrases (keywords) that people use in search engines and other platforms like YouTube.
Once you have a list of keywords, you further analyze and compare them to find the best ones. Then, you use those keywords in your content so that you may appear higher on search results.
From an SEO standpoint, keyword research is one of the most important tasks that helps your site rank.
Why Is Keyword Research Important?
The most important goal for any blogger is to get their blog ranked on Google and drive traffic to their blog. Keyword research helps by giving you valuable insights into what your potential customers are looking for and the exact words and phrases they use to search for them.
Once you know which keywords to target, you can optimize your blog with those keywords and start driving traffic to your blog.
Keyword research is the first step to any SEO campaign because it directly impacts every other task you perform for your blog or website. Tasks like finding topics for your content, email outreach, and content promotion, rely on proper keyword research to be executed flawlessly.
Keyword research gives you direction, it tells you where to go, and it also helps you understand your target audience better.
How To Do Keyword Research
Now that you know what keyword research is and why it's important, we'll now talk about how to do proper keyword research.
The first step is generating keyword ideas.
Step 1: Brainstorm Keyword Ideas
Start your keyword research by making a list ot possible keywords you can use on your blog.
Let's assume that you run an online marketing blog, you'd want to think about what topics your target audience would search for to find your content.
Some of the topics, also known as seed keywords, that would come to mind would be:
Search engine optimization (SEO)
Social media marketing
Blogging
PPC (pay-per-click)
Website traffic
These are your seed keywords, topics that are too broad to be targeted on their own. You will have to drill these down to more specific keywords so that they're easier to target.
And that's precisely what we are going to do using some different websites and resources.
Wikipedia Contents
Wikipedia is overlooked when it comes to keyword research. You can find thousands of keyword ideas through their neatly organized categories.
Here is how to get keyword ideas from Wikipedia.
First, type in the broad keyword: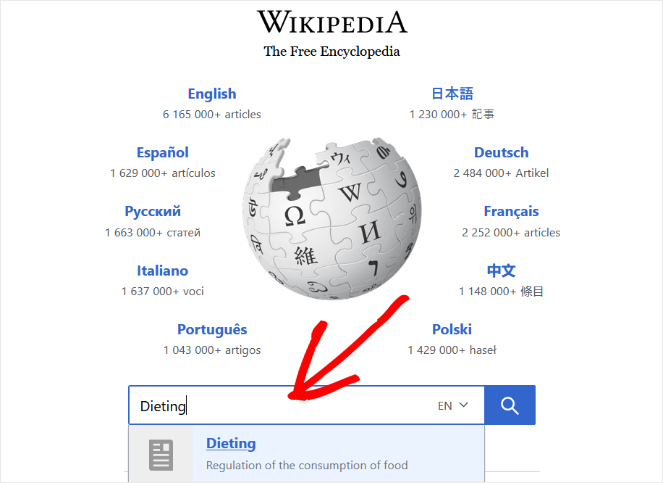 Doing so will take you to the keyword's Wikipedia page on that topic.
Once you're there, look for the Contents section. It will help you discover sub-topics that would be hard to find anywhere else.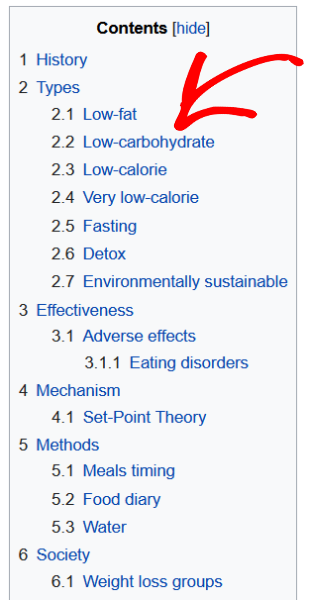 Also, try clicking on the internal links on the page. You can then check out the Contents section of those pages to find more keyword ideas.
For example, when we clicked on "intermittent fasting" on the Dieting page.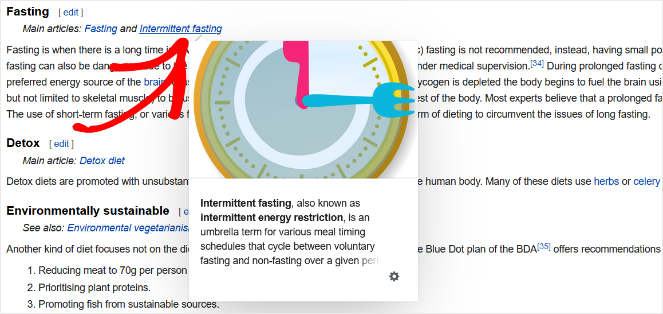 Look for the Contents section on that new page, you'll find that there are even more keyword ideas that you can add to your list.
Pretty cool, huh? But that's not all.
You can find more keywords if you scroll down to the bottom of the page and look at the section showing related topics.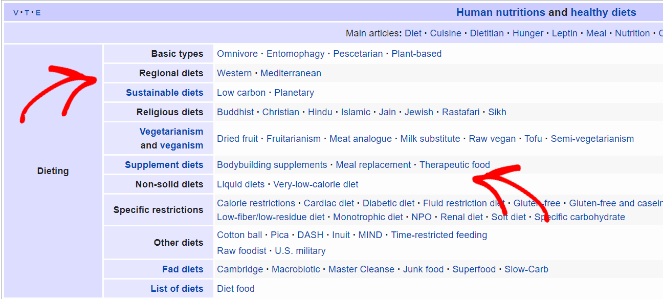 You can add these sub-topics as keywords in your list.
Searches Related To
Wouldn't it be neat if you could get keyword suggestions from Google?
You can and you don't have to look very far!
For example, search for any keyword related to your niche in Google, as shown in the example below.

Scroll down to the bottom of the search results page to the Searches Related To section and you'll find 8 closely related keywords to your search term.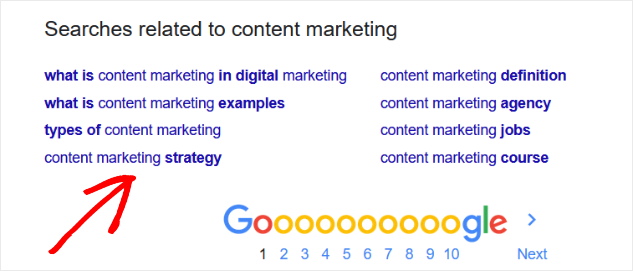 These suggestions are coming directly from Google, which means that they are popular searches, and a lot of people are searching for these keywords. You don't have to think twice about adding these to your list.
If you click on one of the related keywords, you will be taken to a separate page. Scroll down to the bottom of the page, and you will get a list of new keywords. Rinse and repeat until you've had your fill of keyword ideas.
Google and YouTube AutoSuggest
Enter a keyword on Google, and you will notice that it will start making some keyword suggestions via the autosuggest feature.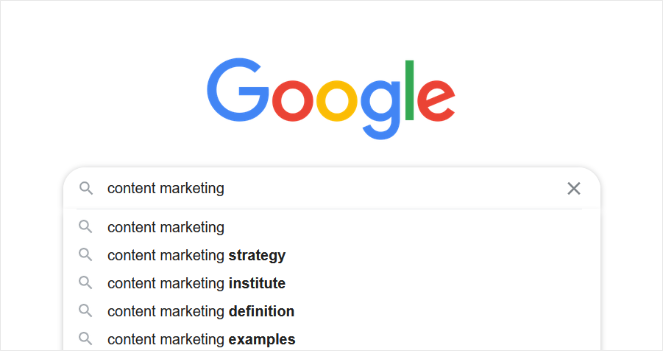 These are valuable keywords as Google is suggesting keywords that are being searched by tons of users worldwide.
You can try the same method with YouTube: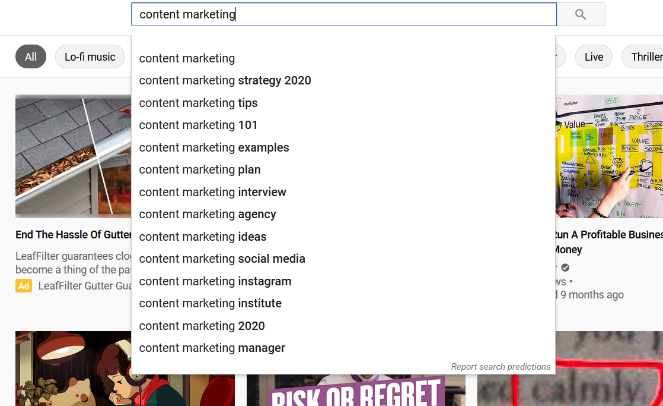 And Bing: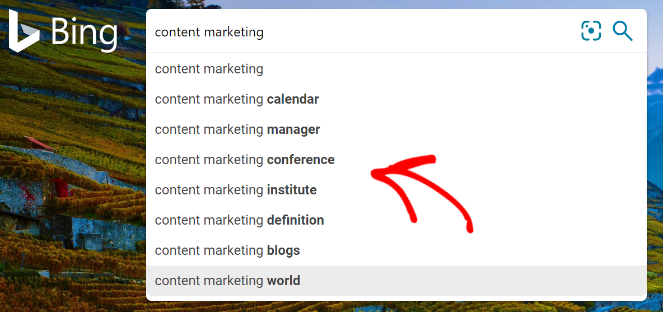 This is one of these easiest ways to find keywords to add to your list.
People Also Ask
The best thing about Google is that they don't hold back when it comes to suggesting keywords.
On almost every search page of Google, you will find a section called People also ask. This section lists down questions that are related to the search query you just searched for.
So, if you search for the term "Content Marketing," you will find questions related to content marketing.

You can take advantage of these questions by answering them in your blog. This will help you rank easier on Google because Google loves articles that fully satisfy the searcher's intent.
Reddit
Reddit is a top-rated social media platform, and there's a high chance that your audience hangs out on Reddit.
You can find many keyword ideas on Reddit if you know how to look.
We recommend that you use a tool called Keyworddit, it will let you find keywords with just a click of a button.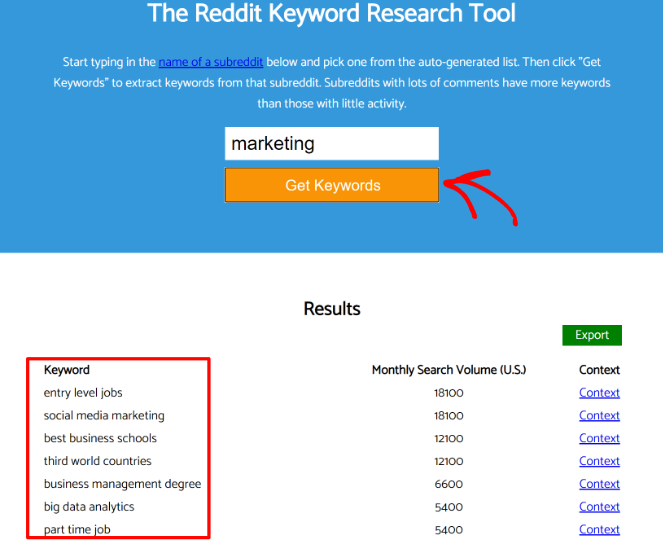 Enter the broad topic of your niche; for example, we searched for marketing. Click on Get Keywords and it will list down all the related keywords it can find on Reddit!
Analyze Your Competition
Analyzing your competition is another effective keyword research strategy. It can give you a lot of keyword ideas for your blog and it can help you pass your biggest competitors in the search results.
For this method, you need to use a keyword research tool like SEMRush or Ahrefs.
We'll be using Ahrefs as an example to show you how it's done.
First, you need to identify your competition, search for a keyword on Google from the list of your keyword ideas and see who ranks on the first page of your search query.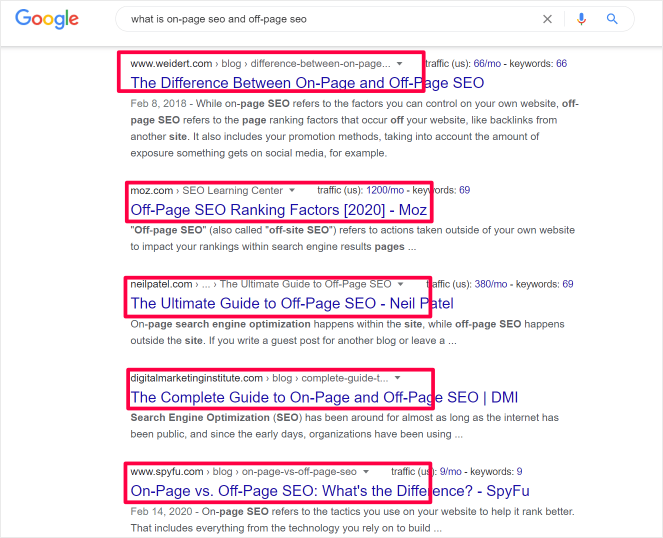 Then, you need to plug in one of these websites into Ahrefs' Site Explorer tool and check their Top Pages report.

On the right, you will notice a column labeled Top Keyword, this is the list of keywords that send the most traffic to your competitor.

You can also click on one of the keywords to be taken to the Keywords Explorer page. Over there you can click on the Having same terms located on the left side of the page.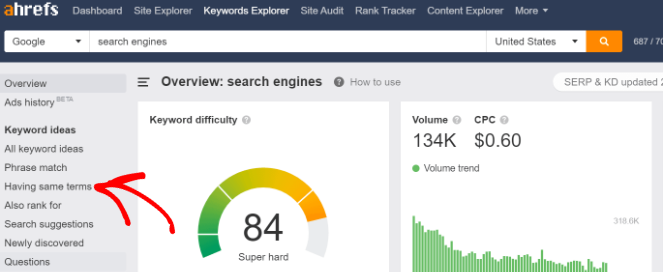 This will take you to a page where you can find more related keywords that you can use to plan out your content calendar for the rest of the year.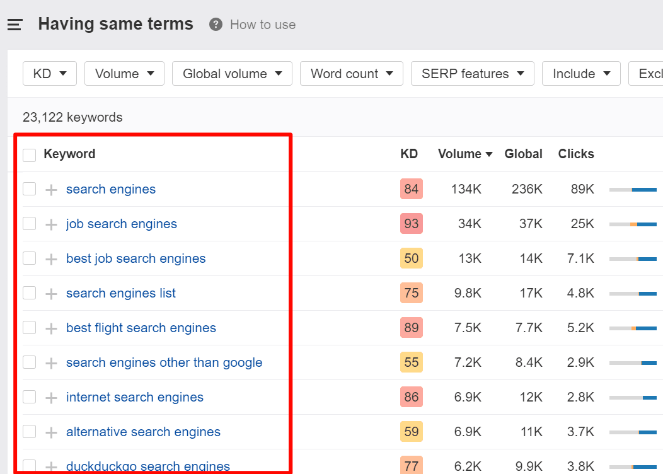 Step 2: Use Keyword Research Tools
We have talked about some practical ways you can do your keyword research manually.
This section will talk about how you can save your time by using various keyword research tools.
We'll discuss each of them one-by-one.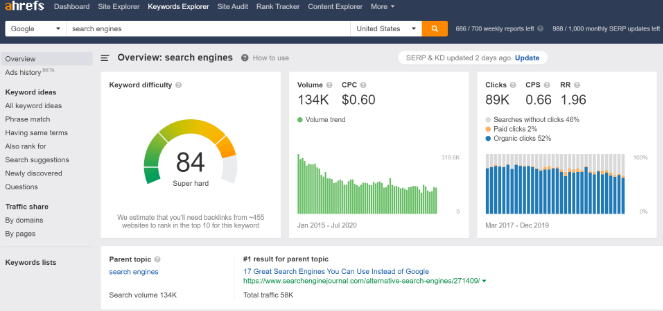 Ahrefs is a very popular SEO tool that is used primarily for link building and keyword research.
Their keyword research tool is one of the best in the market that gives you a lot of useful data. This data can help you decide whether or not you should go after a keyword.
The amount of data it has on offer can be overwhelming for newbies. This is why we recommend that you only concern yourself with the Keyword Ideas section to avoid any confusion.
Each item on the menu will give you keyword ideas that are closely related to the keyword you wanted to explore. Below is a brief explanation of the Keywords Ideas section:
Having same terms: This page lists keyword ideas that are related to your primary keyword.
Search suggestions: This page lists down Google's autocomplete suggestions, which we discussed in the Google auto-suggestions section above.
Newly discovered: This page has keywords that are untapped and are very easy to rank for. They might not have a lot of search volume, but they have the potential to increase if more people search for it down the road.
Questions: This page has all the queries your users may have related to your primary keyword.
SEMRush is another fantastic blog SEO tool that helps you save a lot of time. SEMRush has many features similar to Ahrefs.
One of its features is that it can help you steal your competitor's keyword just by adding the URL in the main search bar.

Once you hit Start Now, click on the Organic Search link on the left.
It will then show you all the exact keywords your competitor ranks for. You can go through them and shortlist the keywords you think have the most potential.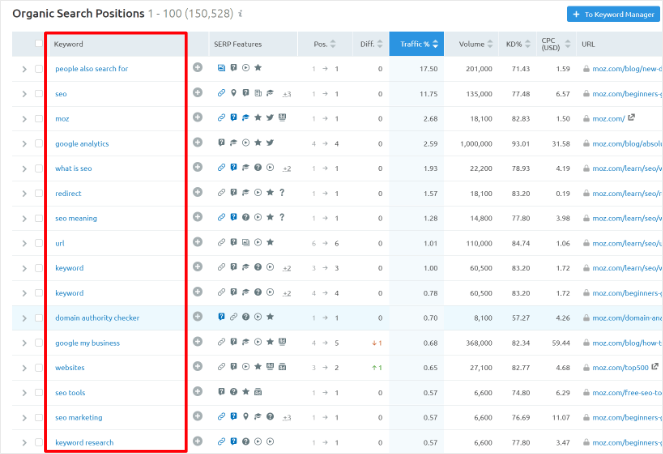 Scraping Google autocomplete suggestions manually can take a lot of time. Luckily there's a free tool called UberSuggest that is dedicated to scraping Google autocomplete suggestions for you.
Not only that, but UberSuggest also gives you valuable data like keyword search volume, keyword difficulty, cost-per-click, and more. We'll explain these metrics in more detail below.
For now, let's see how it works.
Enter your keyword in the search bar and hit search.

Then, click on Keyword Ideas and it will show you a list of keywords that you can use.

AnswerThePublic and AlsoAsked are two free tools that are dedicated to scraping the search results for questions. Both these tools have similar functions but slightly different features, which we'll discuss below.
Here is how AnswerThePublic works, enter a keyword or a phrase and then click on Search.

It will take you to a page where you can find questions related to your search query. You can save the snapshot of the results generated, or you can click on Export Data and download the Excel file. We prefer downloading the Excel file as it makes it very easy to sort the keywords.

AlsoAsked works similarly as AnswerThePublic, but it has limited data. To make it work, just enter your keywords in the search bar and hit search.

On the next page, you will find that your keyword has been drilled down into different questions.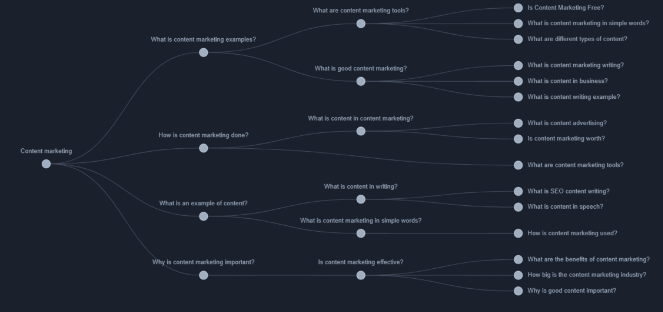 You can click on any question and drill it down further to find more related search queries.
Google Keyword Planner is another reliable tool to find keyword ideas, but its only flaw is that it doesn't show the exact search volumes. To get exact search volumes, you will have to spend money on Google Ad campaigns.
To find keywords, go to Google Keyword Planner and click on Discover new keywords.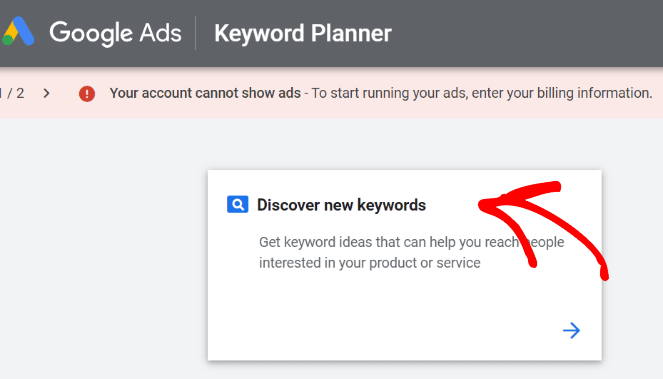 Then, enter the topic you want to generate keywords for and click on Get Results.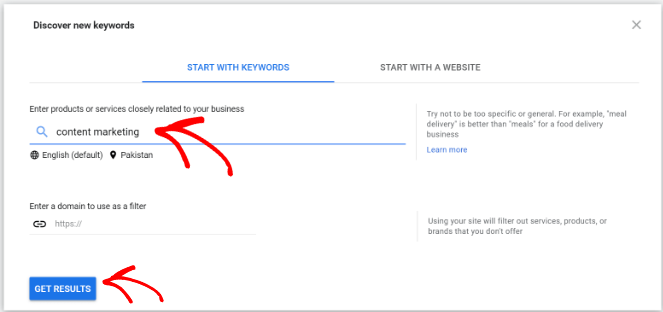 You will now find a lot of keywords related to your main topic.
You can also broaden your search by clicking the Plus (+) symbol located beside the Broaden you search text. This will give you more filtered keywords.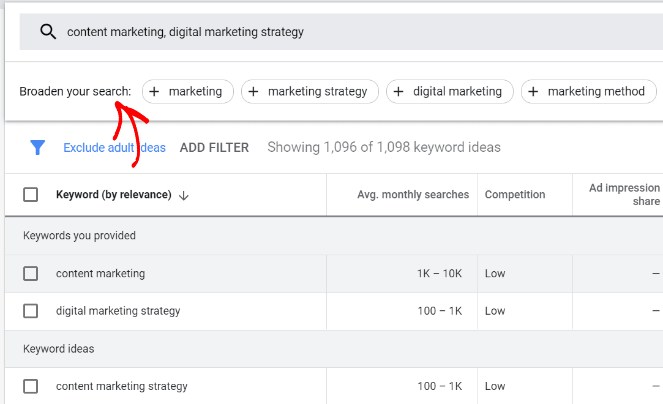 When it comes to accessibility, Keywords Everywhere might be the best keyword research tool out there in the market.
Why?
Because it shows you the search volume and keyword ideas from anywhere on the web through its Chrome extension.
All you need to do is install its Chrome extension, and the next time you visit a site like Google, YouTube, Bing, or even Amazon, you'll see a list of keyword ideas every time you do a search.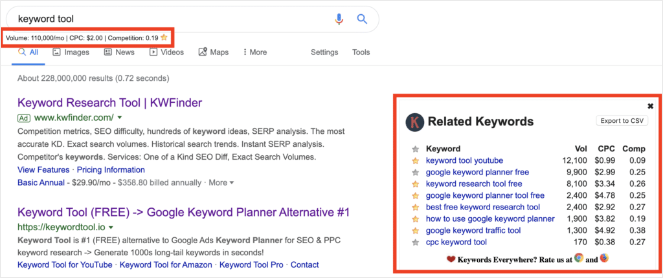 To install this extension, all you need to do is go to the Keywords Everywhere on the Chrome Web Store and click on Add to Chrome.

A dialog box will pop up where you'll have to click on the Add extension button. Once you do that, it will take a few seconds to install the plugin. After it's done installing, you can see it in action by going to Google and doing a quick search.
Step 3: How to Find the Best Keywords
Now that you know how to generate tons of keyword ideas, it's time to analyze those keywords and see if they are worth investing your time on. Because if a keyword is too competitive to rank for, you won't be able to get past the third page of Google and as a blogger, you don't want that.
And you can't focus on all of the keywords on your list at once. You need to prioritize and choose the best keywords that will bring in the best results.
You will have to size up each keyword based on different factors. Then, pick the best keywords for your blog, and in this section, that's exactly what we're going to show you how to do.
Analyze The Search Intent Of The Keyword
Analyzing the search intent of the keyword helps in understanding exactly what the searchers are looking for. Once you know the intent you can easily answer the searcher's query and satisfy their search intent.
There are 4 types of search intent queries:
Informational queries: The searcher needs information, such as the height of Mount Everest.
Navigational queries: The searcher is looking to find a place on the internet, such as Twitter or the homepage of NHL.
Transactional queries: The searcher wants to do something like buy a plane ticket or download a song.
Commercial investigation: The searcher is in the market for a specific product or service but hasn't decide which solution is the best for them yet.
Understanding the search intent of the user will help you target the right keywords and provide relevant content to readers.
For example, think about the keyword "best WordPress plugins for a blog." You can tell the searcher wants to research good WordPress plugins and potentially buy them.
So, this would be a good opportunity to write a blog post listing your favorite WordPress plugins and add affiliate links for them. Since the search intent is commercial investigation, readers searching for that term will find your blog post helpful.
On the other hand, if you used the keyword "best WordPress plugins for a blog" in a post that shows beginners how to start a blog, it wouldn't match their search intent—they don't even have a blog yet so they're not ready to buy any plugins.
Google wants to rank pages that not only fit the search term, but also the search intent, so keep this in mind when doing keyword research and creating content.
Keyword Search Volume
Keyword search volume is the number of times a keyword gets searched over the year. Almost every SEO tool that we have discussed in this guide shows the keyword search volume.
Why is it an important factor? It's pretty straightforward, the more people search for a keyword, the more traffic you can get from it.
You can find keyword search volume using Ahrefs' keyword explorer tool. Go to Ahrefs, and then click on the Keyword Explorer tab. Then, enter the keyword you want to analyze, it will show you its search volume along with other data.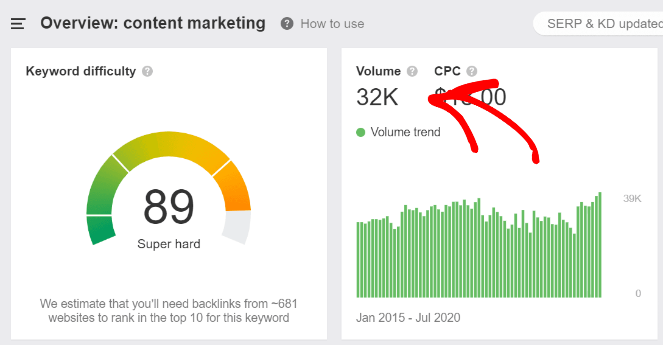 If you prefer SEMRush, click on Keyword Overview and then enter your keyword. It will then show you the search volume of the keyword.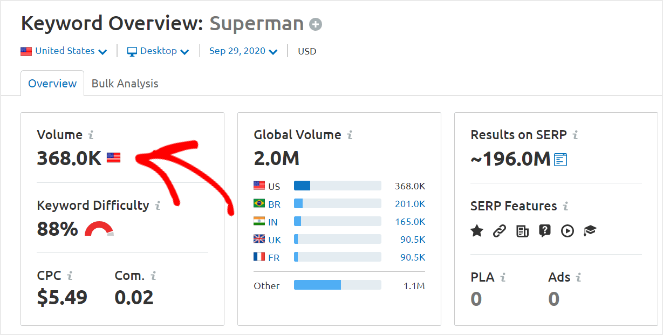 Note that the keyword search volume may differ from tool to tool. That's because each tool calculates these metrics differently.
Keyword Trends
Before you finalize your keywords, you need to see if those keywords are trending or not.
The best way to analyze keyword trends is through Google Trends.
Why is analyzing keyword trends important? Because some keywords are seasonal.
For example, any keyword related to Black Friday discounts would have a high trend once a year in November but on other days it would have 0 search volume.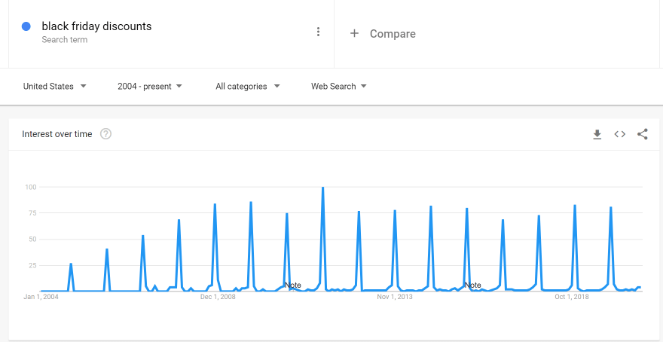 Targeting such keywords can have a considerable impact, but only when those keywords are trending. If you are just starting out, then it's best to focus on keywords that would bring traffic all year round.
Traffic Potential
Keyword search volumes and keyword trends only give you a part of the story. To get the full estimates of how much traffic you will get from the first page of Google ranking, you need to analyze the keyword's traffic potential.
The best way to analyze the traffic potential is by looking at the organic CTR (click-through rate). The organic CTR is a metric that tells us how many times a searcher clicks on the search results after searching for the target keyword.
For example, the keyword "time in Berlin" has a search volume of 32,000 per month. Here is what you get when you search the keyword on Google: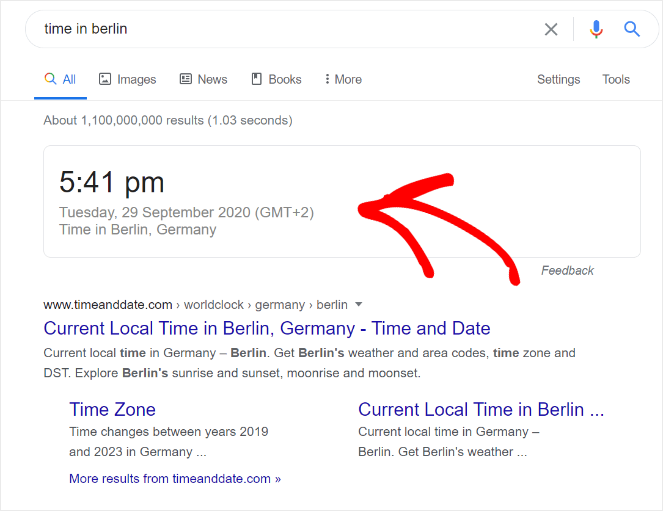 As you can see, Google answers the query right up at the top. As someone who just wanted to know the time in Berlin, I wouldn't click on any search result and close the window. Even if you were ranking on this query's first page, you would get little to no traffic. Needless to say, investing in such keywords would be a colossal waste of time.
So, how do you analyze the traffic potential of a keyword?
Go to Ahrefs' Keyword Explorer and search for your keyword. It will show the traffic potential by estimating the organic CTR, as shown below:

If the CTR is higher than 50%, it's worth working ranking for.
Keyword Difficulty
For someone who just started a blog, ranking for high difficulty keywords would be next to impossible. You need to get a lot of backlinks and build site authority to rank for those keywords.
We recommend that you target keywords with low keyword difficulty at first, then as your authority grows, you can target more competitive keywords. Focus working on long-tail keywords that are relatively much easier to rank.
Long-tail keywords consist of 4 or more words and are very specific. Terms like "WordPress themes for fashion designers" is an excellent example of a long-tail keyword.
To analyze the difficulty of keywords you can use any keyword research tool you want.
Ahrefs and SEMRush both calculate keyword difficulty based on their own metrics so the score might differ. But it will still give you an idea if the keyword is difficult to rank for or not.

You can also check a keyword's difficulty by checking the authority of the sites ranking on the first page for your keyword. Search for a keyword on Google and then go through the search results on the first page.
If you find sites with high authority like Content Marketing Institute or OptinMonster, it might be best to cross that keyword off your list. It might not be impossible to rank for that keyword, but it will take a lot of time and effort. And for someone who is just starting off, you should focus your efforts on keywords that are easy to rank for.
Cost-Per-Click (CPC)
CPC is something that a lot of people ignore because it is directly related to PPC (pay per click) ad campaigns. But what a lot of people don't know is that it helps answer one essential question. Do people spend money on such keywords?
A high CPC means that the keyword has a commercial intent. If a keyword doesn't have a lot of search volume but has a high CPC, it's still worth targeting as it can bring in sales. This metric can be very beneficial if you are running an online store.
To check the CPC of a keyword, go to Ahref's Keyword Explorer and search for your keyword. You will find the CPC right beside the keyword difficulty box.

For SEMRush, search for your keyword in the Keyword Overview section, and you will find the CPC under the keyword volume.

Bonus Strategies for Keyword Research
Until now we've discussed how to do keyword research using different methods and you should have a lot of keywords to work on.
But, we're not done yet!
This section will discuss some bonus tips and strategies to help you one-up your keyword research game.
Find New Keyword Opportunities with Google Search Console
For a blog or a website that has been running for a while, Google Search Console (GSC) can be a goldmine for keyword ideas.
If you need help setting GSC up, you can read WPBeginner's guide on how to add Google Search Console to your website.
To find keywords from your GSC account, you need to first log in and head over to the Performance Report. Then, click on Search Results. This will show the keywords that bring the most traffic to your website.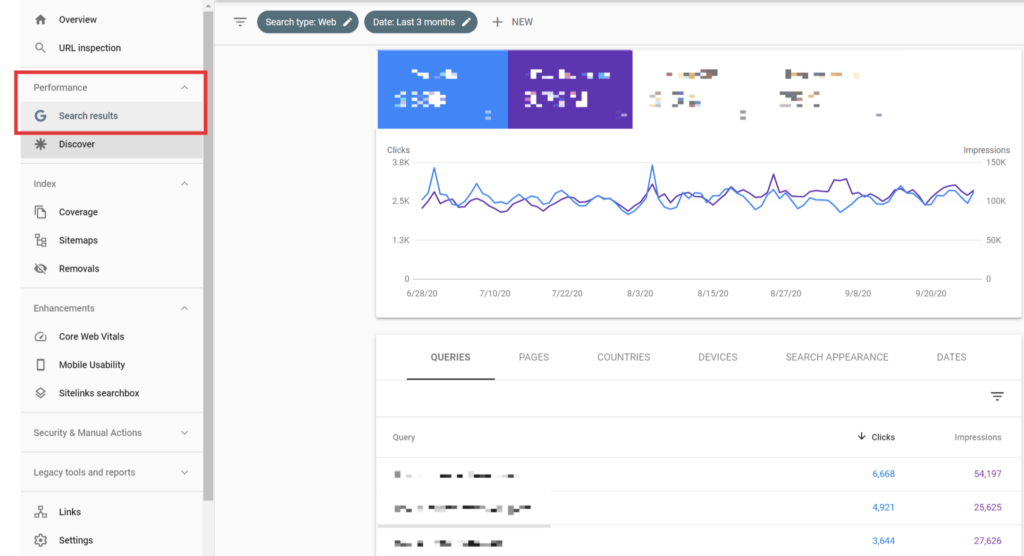 Sort these keywords by Impressions, this will show you the list of keywords that get a lot of impressions but aren't getting a lot of clicks.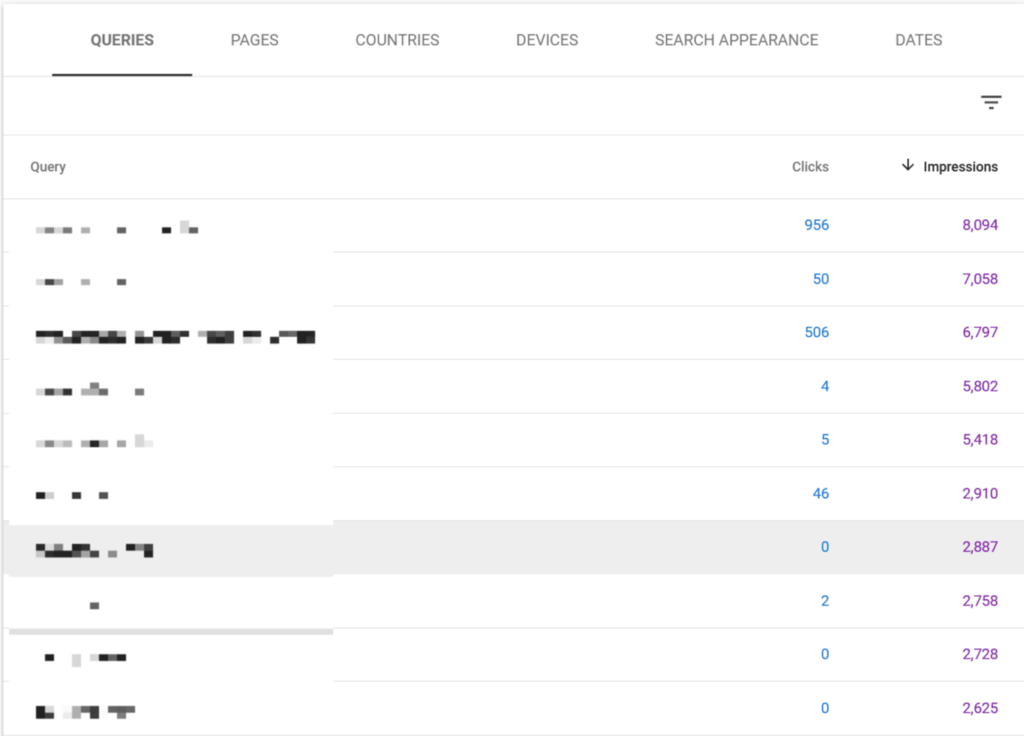 Optimize your content or create a new article that includes these keywords. This will help improve your positions in the Google rankings and bring in more traffic. Google already sees your website as a good fit for these keywords, you can rank for these terms with minimum effort.
Rank Quickly with the Keyword Golden Ratio (KGR)
This lesser-known method is ideal for new bloggers that need to get traffic early to stay motivated. This method helps you find keywords that haven't been covered on the internet. You can get ranked on the first page within a few days using this method.
For this to work, you need to first know how to calculate the KGR, keyword golden ratio.
The number of Google results with the exact phrase in the title is divided by the number of monthly search volumes, where the search volume is less than 250.
If the ratio is less than 0.25, you will have a good chance of ranking on Google's first page.
First, you need to find a relevant keyword, you probably already have a list of keywords so that shouldn't be a problem.
All you need to do now is filter keywords that have a search volume of less than 250. Once you have that, do a search on Google using the search operator "allintitle". For example, "Allintitle:best camcorder for vlogging"
Allintitle is a search operator that shows the exact phrase in the title of the post. Note that there should be no space between allintitle and the search phrase.

As you can see that there are only 27 results on Google. We can now plug this into the formula.
KGR = 27/190 = 0.142
The ratio is less than 0.25, which means we have a KGR compliant term.
Now all you need to do is use this exact phrase in the title and this will help you get ranked on Google in no time. Try it and let us know the results in the comments section.
Use MonsterInsights to Track Your Keywords
You've put a lot of effort into putting together a list of keywords for your blog. Wouldn't it be great if you could tell which keyword brings in the most traffic? It definitely would, and it's possible with MonsterInsights.
With the help of MonsterInsights, you'll be able to gain insight into your site's performance on search engines. You can also check if your SEO efforts are on track by comparing the actual keywords you're ranking for with your targeted keywords.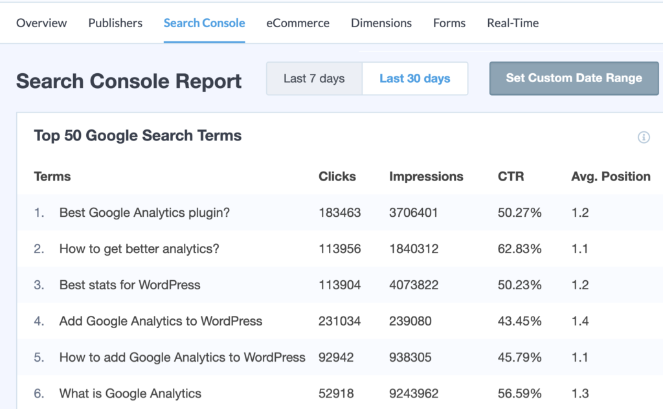 If your top keywords are the same as your targeted keywords, then that's a good indication that your SEO efforts are going in the right direction. If they don't match, then you can learn what went wrong though MonsterInsights. You can make the adjustments needed to make sure that your blog is fully SEO optimized.
For more information, you can check out their guide on how to track keywords through MonsterInsights.
We really hope that you found our guide on how to do keyword research useful. We covered everything you needed to know to create a winning keyword strategy for your blog.
Keyword research can be a very time-consuming task, but it can pay off handsomely in the long run if done right.
We would love to hear from you in the comments below. Let us know what worked for you and will you be trying the Keyword Golden Ratio technique?
If you enjoyed this post, check out our list of the best SEO tools.
And don't forget to sign up for our email newsletter for more helpful blogging tips!