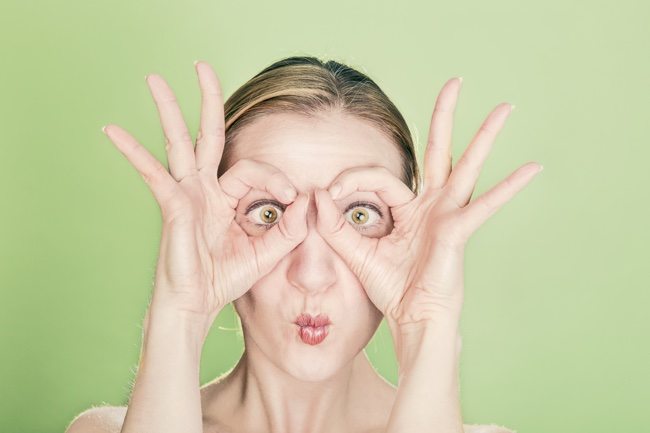 Last Updated June 8th, 2017
Promoting affiliate products is still one of the most effective ways to make money from your blog.
If you choose a trusted affiliate program that you know and love, and then promote it properly, you'll find that you can create a long-term (pretty) stable source of income.
But a lot of bloggers are still too afraid to give them a go.
I don't really like talking about money on Blog Tyrant (there's enough blogs doing that and talking about money always makes me feel uncomfortable), but today I want to show you a few solid ways to make a bit more using affiliates.
Hope it helps!
What is an affiliate program and how does it work?
Companies who create online software or paid services often have an affiliate program where people like you and me sign up to earn a commission every time we help them make a sale.
It's pretty simple.
For example, every time someone signs up for a BlueHost hosting package through my unique Blog Tyrant link I earn a commission.
It's a great system because it's essentially free marketing for the company, and we affiliates don't have to create products to sell from scratch – we just promote existing ones.
Cool?
How to do you find affiliate products to promote?
There are two ways to find affiliate products to promote on your blog: through the company itself and through affiliate websites.
I prefer to go through the company website itself because you often get a higher rate and have fewer in-between steps. All you need to do is visit the website and look for the "Affiliates" or "Partners" link and see what the program is about.
Here's an example from AWeber.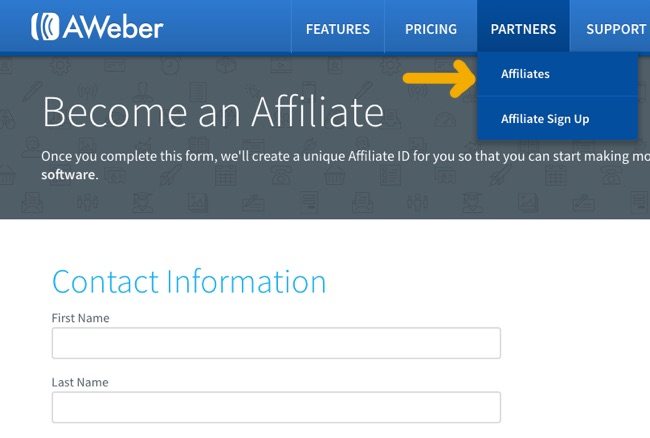 Affiliate websites are essentially places where you can go and browse through hundreds of different affiliate programs. They are legitimate websites – some of them (like CJ.com) have paid out billions of dollars in affiliate commissions.
I personally don't like using them as much but it can be a good place to browse through in order to get some ideas about what's out there.
How do you choose the right affiliate product?
Everyone has different rules and ideals when it comes to promoting affiliate products.
For example, I remember hearing Shoemoney once say that he doesn't promote private affiliate products unless he has met the owner in person to judge whether they are a trustworthy character.
For me I always make sure:
I've used and loved the service/product
I'm never going to promote something unless I've used and loved it. To me it is totally unethical to promote a garbage product to people who read and trust your blog.
The service has quality (preferably 24-hour support)
Support staff is so important to me. I remember being a new-comer to the blogosphere and feeling so isolated without support help. I always make sure the affiliate programs I have respond to emails or have live chat.
They have a money-back guarantee
Every good company should offer a money-back guarantee on their product or service. A free trial period is good, an any-time money back deal is better. BlueHost is one such company who will give a refund at any time. This gives me a lot of confidence that if a reader makes a mistake or their financial situation changes they will be okay.
Remember, if you are a blogger you will be promoting these companies to readers who might be regulars around your blog, or who might be subscribed to your mailing list.
It's simply bad business to sell them something crap for a short term win – let alone being a bit of a dick move.
How to make more affiliate income from your blog
Okay, now that we've gone over some definitions and details I'd like to share with you a few ways to make more affiliate income from your blog.
NOTE: I really don't agree with people who use dodgy tactics to make more money. All of the strategies I use are ethical and sustainable and I encourage you to keep your marketing as clean as possible. It's just better for everyone.
1. Promote your affiliate product as an integral part of a detailed tutorial
One of the best ways to make long term affiliate income is to write a detailed piece of long form content (like a tutorial) and make your affiliate an integral part of that tutorial.
I really like this strategy because you benefit from the initial promotion, and then all the long term traffic that comes from your blog's Google rankings.
It's also a nice one because you don't have to shove the product down people's throats. You just gently recommend this or that product as being a good choice for that particular part of the process.
2. Drive traffic to your tutorial with Facebook Ads
If you have a really high quality tutorial or piece of content you can then drive a little bit of traffic to that article with Facebook Ads.
The good thing about this is that if your affiliate product has a pretty high payout price (like above $50) you can make quite a lot of money even if you're spending a bit on the ads. As long as your page is converting and there is enough traffic in the niche you can do quite well.
If you decide to go this route make sure you do a lot of tracking and testing so you know exactly what is converting and why. Try not to guess too much as you often can't be sure what's bringing the sales.
3. Incorporate the affiliate product into your related mailing list
One of the most powerful ways to add extra affiliate income to your blog is by promoting an affiliate product to your mailing list once people sign up.
The reason this is so powerful is because:
It's automatic and ongoing
Services like AWeber allow you to create Follow Up emails which go out to every subscriber once they sign up to your list. You can create one or 100 email all at once and then never need to touch them again.
It's perfectly branded
If your blog and mailing list are tight and on-brand you'll find that an affiliate promotion in the course of some valuable mailing list content is a perfect fit. It goes in there very naturally as you go about helping your subscribers.
It's really important to not just say things like "Go out and buy X product now" because it is way too pushy. Rather, you want to still be providing huge value and mention affiliate products only if and when it could help a subscriber.
4. Highlight your in-post messages with graphics
Something that I do on this blog and others is use a little bit of code to highlight an important message. And sometimes you want to highlight your affiliate mentions just to make sure that people see the message.
This can be done in so many different ways and you'll need to measure the effectiveness for your own particular blog and individual blog post.
One way is to use a plugin like Shortcodes Ultimate which allows you to add buttons, quotes, highlighted text, etc. with just a few clicks.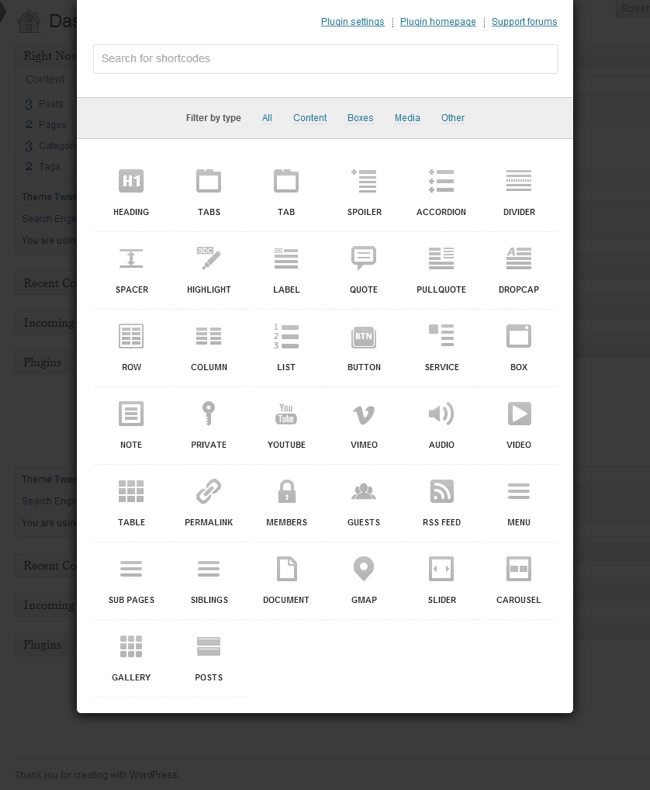 Here's a screenshot showing you all the different things you can add with this plugin.
Or, if you're a bit of a geek like me, and you want to keep your plugin-use to a bare minimum, you can accomplish this sort of thing using CSS and good old HTML. It's a bit more work but helps you keep your site from getting bulky.
One important aspect of any marketing is the way that you interrupt the target audience.
The interesting thing about the web is that you have a lot of tools to do this, but you still need to hit a balance between getting attention and ruining an experience.
For example, there are many different types of pop up ads. Some of them appear when you first visit a website and allow you to close them easily. That's fine.
Others only appear when you try to leave a website and make you click various things to "escape". That's bad.
Internet users have very specific ideas about how a blog or website should appear, operate and flow and unless your interruption fits into this framework you'll find yourself getting a big increase in bounce rate and pretty small sales numbers.
5. Link back to your tutorial in places of high sustainability
In the first point we mentioned writing a long and helpful tutorial or piece of content that is full of useful information and mentions your affiliate product in a gentle and non-intrusive way.
Well, one of the best things you can do is link back to that tutorial or article in places around the web that are going to be there for a long, long time.
For example, if you land a guest post on a high authority blog you'll want to write an article that naturally allows you to mention your original post. Blog owners will allow this if it isn't a direct "buy this product" type of article – especially if it's a high value piece.
One of the reasons I wrote my 9,000-word guide on how to start a blog is because it's a valuable tutorial that I'm not ashamed to link to when I do blogging guest spots.
Remember, the more work and value you provide in your guest posts the more shares and links they get and the longer they will be around in the SERPs pointing to your article.
This also applies to forum posts, comments and other places where you think you might get a lasting (but useful) slice of traffic.
6. Become an expert at using the product you want to promote
Some of the most successful affiliates become so successful because they get really, really good at using the product or service either directly, or as an incidental part of their business.
For example, Darren Rowse on DPS has a lot of photographers taking excellent photos with Canon and Nikon SLR cameras and then mentioning those cameras in their posts and/or tutorials. Although he might not directly sell or pitch those cameras, he would be making an absolute fortune from people who get inspired to purchase after seeing what gets produced.
The same is true for people who get inspired to start a podcast because they have seen Pat's and want to use the same set up that he does.
If you want to ramp up your affiliate product sales consider producing more content that displays your skills using the actual product or service. Give people an idea of how powerful it is, and how good you specifically are at using it to get results.
7. Work hard to get endorsements and promotions from high value websites
Nothing helps you sell affiliate products like a good endorsement or, better yet, a mention on a website with high authority.
When you get a mention on a popular site you are being aligned with that website which means you end up tapping into their brand.
I really think getting endorsed by ViperChill was a big event for my "career" as a blogger and I use Glen's very kind words regularly on sales pages: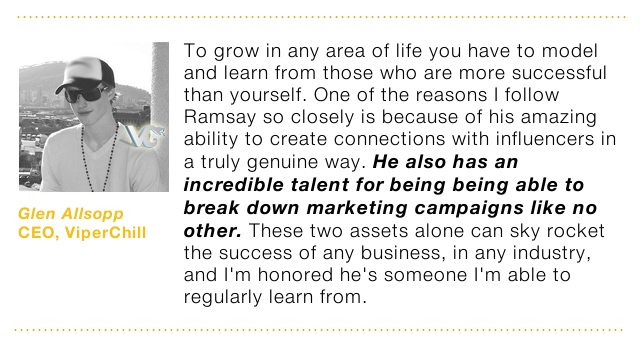 The thing about this is that you can really only get this type of thing buy paying for it or developing a lasting relationship with some good sites. The latter can only really be done by providing something of massive value to the blogger – usually in a currency they understand – links or traffic.
One of the best moves I ever made was to start mentioning my favorite bloggers and influencers when I was doing guest posts on other people's blogs. This goes a huge distance to getting on the right radars.
A final tip regarding affiliate program rules and laws
Every affiliate program has it's own set of terms. For example, some companies won't let you use paid advertising to promote their products. And you are generally not allowed to bid on the brand name of the product.
Similarly, each country has it's own set of laws about what you can and can't do when you promote an affiliate product.
Most of them are common sense but you do need to be aware of things like disclosing that you are an affiliate for that product, and that it needs to be clear and early on in the post. You have to be very transparent about it. I mention it in a big clear "NOTE" at the top of any post that contains affiliate links, as well as again down the bottom in a disclaimer.
If you want to get into affiliate marketing I would spend a bit of time brushing up on the rules and laws in your own country and with your own programs. If in doubt, ask an expert.
Do you promote affiliate products on your blog?
If you have any success (or failure!) stories about making money with affiliate products I'd be really interested to hear them. This is one area of online marketing and blogging that I'm always trying to learn more about.
Please leave a comment and let me know if you have any stories or questions.
Top photo: Ryan McGuire.