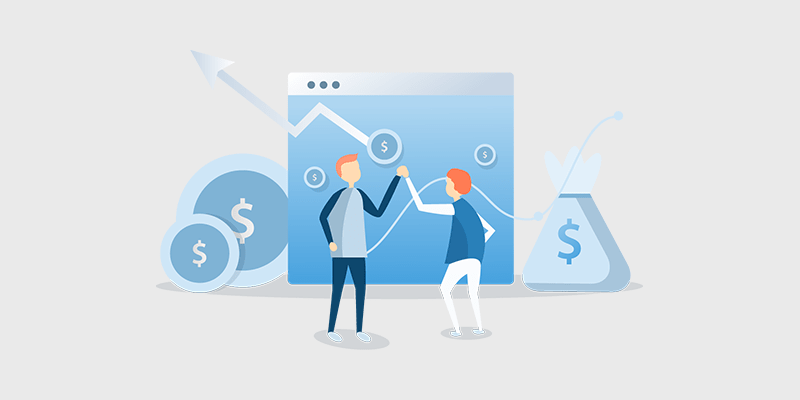 Do you want to make money from affiliate marketing?
Promoting affiliate products is one of the most effective ways to make money from your blog. But a lot of bloggers are still too afraid to give it a go.
If you choose a trusted affiliate program that you know and love and then promote it properly, you'll find that you can create a long-term (pretty) stable source of income.
Today, I want to show you a few solid ways to make a bit more using affiliates.
Hope it helps!
What Is Affiliate Marketing?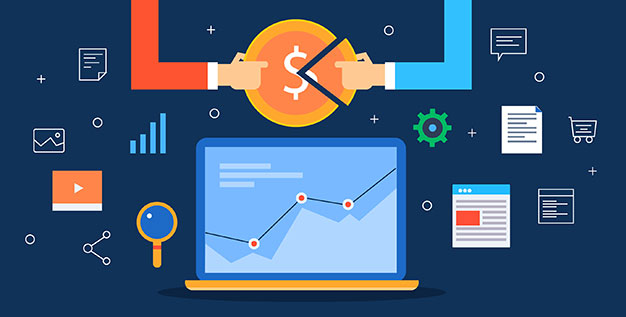 Affiliate marketing is a blog monetization method where product companies incentivize bloggers and publishers to refer their product by offering them a commission for every sale they refer. With affiliate marketing, you choose a product you like, promote it online with a referral link, and earn commissions when someone purchases it through your referrals.
The easiest way to find a product you want to promote is by joining an affiliate program like ShareASale, Amazon Associates or Commission Junction and browsing through their site.
After selecting a product, you can get an affiliate / referral link and promote the product through that link on your blog.
Is Affiliate Marketing Worth It?
Why get started with affiliate marketing? Here are a few advantages over other ways of making money with your blog.
Advantage #1: Monetize Your Blog From Day 1
To start monetizing your new blog, you don't have to wait for a few months until you grow a massive following. Even if you monetize your blog from day 1, it doesn't look amateurish because affiliate links are seamlessly and naturally integrated with your content.
Advantage #2: Earn Money Even Without a Massive Following
Unlike other modes of monetization like advertising, you don't have to grow a massive traffic base in order to start making a solid income. All you have to do is to ensure your website is attracting the RIGHT traffic that actually wants to read your product recommendations.
For tips about driving the right traffic to your blog, check out our guide on blog SEO.
Advantage #3: Generate Passive Income
With affiliate marketing, you can write a single blog post recommending an affiliate product and have that post generate money for you again and again.
That's called passive income. Passive income is any income that requires no effort to earn and maintain. You already write blog posts anyway, and likely recommend products that you like, so why not make passive income from doing so?
Advantage #4: Make MORE Money
With affiliate marketing, you earn money based on the number of successful referrals you generated. For example, if you could successfully refer a premium product, like WPForms, you can earn up to $59.90 per referral.
Let's say your affiliate conversion rate is 2%. That means for every 100 referrals you sent to the affiliate website, 2 people are actually purchasing the product. That also means regardless of the size and reputation of your website, you can make $100 from those 2 referrals provided that the affiliate commission is $50 per sale.
Now let's take a look at how much you can earn with advertising.
The average CPC (cost per click) of AdSense, the largest advertising network in the world, ranges from $0.15. The average CPC that you can earn from AdSense depends on a lot of different factors, including the size and reputation of your website.
For example, if your average CPC is $0.25, then you can earn $25 for 100 ad clicks; whereas, with affiliate marketing from our above example, you can potentially earn $100. Without a doubt, affiliate marketing is a better way to make MORE money.
How to Start Affiliate Marketing (Step by Step)
There's a huge potential for you to make a big income with affiliate marketing if and only if you follow the right strategy. Here are the exact steps that experts follow when they do affiliate marketing.
Step 1: Start a Blog for Affiliate Marketing
Of course, to start affiliate marketing, you'll need to have a blog or a website. Majority of the companies that run an affiliate program only approve you as an affiliate if you have a blog or a website. That's because having a blog establishes authority on your niche and it gives some assurance that you're not a spammer.
While there are a lot of blogging platforms out there, we always recommend WordPress for starting a blog because not only is it free, but it also gives you full control over your content.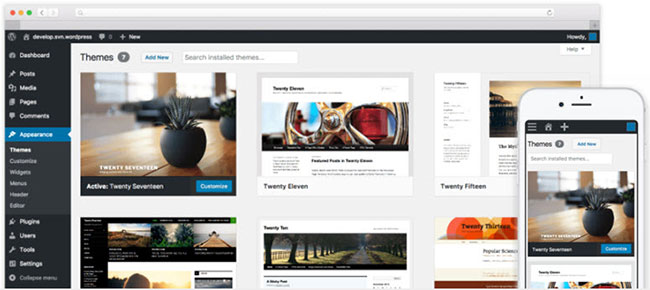 To start a blog, aside from choosing a platform like WordPress, you'll need to own a domain name and web hosting.
A domain name is your blog's address (URL) on the internet, like BlogTyrant.com or Google.com, and web hosting is where your blog's content and files are stored online.
When a visitor tries to access your blog by typing in your web address (domain name), they'll be directed to the blog you've set up in your web hosting server.
To start a blog, we always recommend using Bluehost for web hosting.
Bluehost is one of the largest web hosting companies and an officially recommended hosting provider by WordPress.org.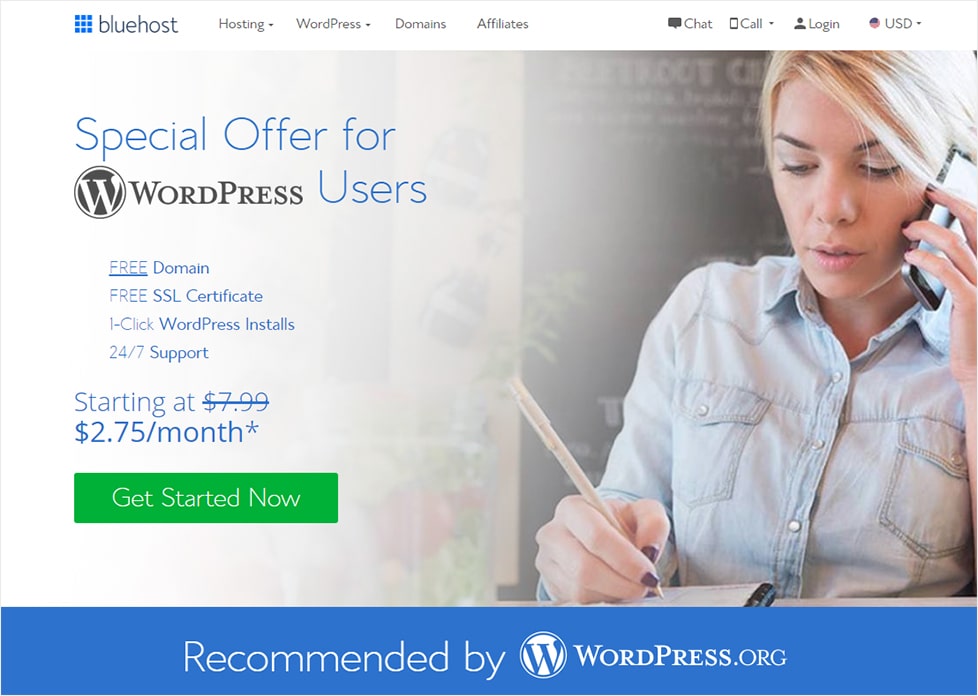 The combined cost of a domain name and hosting can be quite expensive, especially if you're just starting out.
That's why we've worked out a deal with Bluehost to offer our users a FREE domain name and over 60% off on web hosting.
For a complete step-by-step guide, check out this guide on starting a blog.
Step 2: Choose the Right Affiliate Products
Everyone has different rules and ideals when it comes to promoting affiliate products.
For example, successful entrepreneur and affiliate marketer ShoeMoney once said that he doesn't promote private affiliate products unless he has met the owner in person to judge whether they are a trustworthy character.
Here're a few ways to choose the right products for promoting on your blog:
Promote the products and services that you use and love
Join an affiliate network such as ShareASale and find some reputed products that fall under your niche
Refer the products that offer a money-back guarantee, so even if your reader makes a mistake of buying the wrong product they don't want, they can get their money back.
Now that you have a better understanding of the kind of products that you want to promote, the next thing you need to do is to sign up as an affiliate for those products and grab the affiliate link.
Check out our list of the best affiliate marketing programs and networks that you can join today.
Step 3: Attract the Right Audience With the Right Keywords
To generate affiliate sales, you need to ensure you're attracting the right audience who actually wants to try out the service you recommend.
Now the question is, how can you determine if your blog is driving the right traffic and understand their intention?
If you're like most bloggers, Google is the #1 traffic source that brings traffic to your blog.
You're more likely to make affiliate sales from your blog if the search engine traffic you drive has an investigational intent.
Generally speaking, there are 4 types of user intents:
Navigational intent: Users search for a particular website. They just want to navigate to the website that they're looking for.
Informational intent: Users want to find answers to their pertinent questions.
Investigational intent: Users search for information that may eventually lead to a transaction.
Transactional intent: Users are ready to buy or download a free product.
As an affiliate marketer, you'll want to rank your blog for investigational keywords. Your potential audience uses investigational keywords when they're not yet ready to purchase a product. They want to compare products and search for reviews and recommendations before making a final purchasing decision.
Some of the phrases you'll often see in investigational keywords are:
Best
Review
Compare
Alternative
If your site is ranking for keywords with these phrases, you're likely driving the right audience to your site.
To see the actual searches your users used on search engines to find your site, you can go to the queries report in Google Analytics by navigating to Acquisition » Search Console » Queries.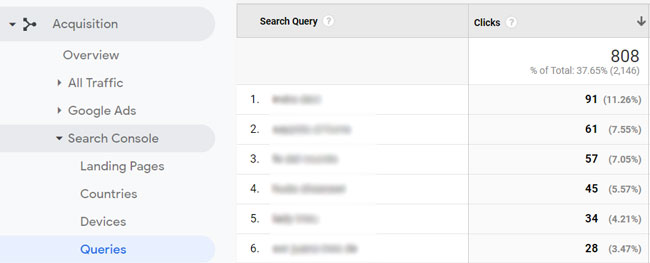 To know more about keyword research and ranking for the right keywords, refer to OptinMonster's keyword research guide.
Step 4: Promote Your Affiliate Products Within the Content
One of the best ways to make a long term affiliate income is to write a detailed piece of long-form content (like a tutorial) and make your affiliate an integral part of that content.
I really like this strategy because you benefit from the initial promotion, and then all the long-term traffic that comes from your blog's Google rankings.
It's also a nice one because you don't have to shove the product down people's throats. You just gently recommend this or that product as being a good choice for that particular part of the process.
Before you add any affiliate links to your WordPress site, I strongly suggest you install Pretty Links, one of the best affiliate marketing plugin.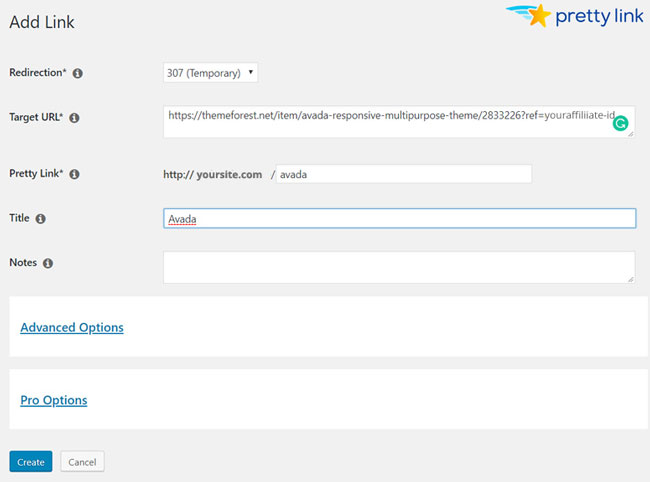 Pretty Links helps you cloak the affiliate links that you promote on your website.
Affiliate links are typically long, ugly-looking URLs like this:
http://example.com/products/?product_id=123&affiliate_id
Pretty Links helps you cloak such affiliate links and make them shorter and neater:
http://www.yoursite.com/refer/productname
In addition, this plugin lets you manage your affiliate links from a single location on your WordPress dashboard. The benefit is that even if the companies change the affiliate URL in the future, you don't have to dig deeper into your blog archives to change the affiliate link. You can easily change it by replacing your affiliate URL right from the Pretty Links dashboard.
How to Make Even More Affiliate Income
Now that you know how to get a head start with affiliate marketing, let's take a look at how to make even more money by recommending products on your blog.
1. Track the Clicks on Your Affiliate Links
While almost every affiliate program out there allows you to track the clicks on your affiliate links, it's in your best interest to use Google Analytics as well for affiliate tracking. That way you can compare the performance of each affiliate link on your blog even if those products use different affiliate program.
The easiest way to track affiliate link clicks on your blog is by installing the MonsterInsights plugin. MonsterInsights is the most popular Google Analytics plugin for WordPress that comes with a lot of built-in features for publishers, such as download tracking, affiliate link tracking, outbound link tracking, and more.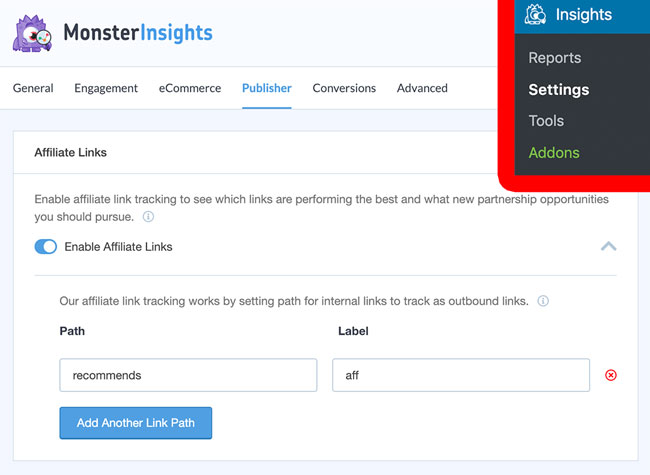 When you track affiliate link clicks on your blog, you can…
Understand what affiliate products your audience are interested in.
Determine the top performing affiliate products.
Figure out the page from where you receive the most clicks.
Get to know the number of traffic you send to each affiliate product from your Analytics account. This helps you better negotiate with the companies for higher payouts.
Find out if there are any missed affiliate link opportunities.
And more…
2. Boost Your Affiliate Revenue With Exit-Intent Popups
Did you know that 70% of your abandoning visitors would never return after leaving your site? With an exit-intent popup, you can show an affiliate offer to your visitors at the last moment when they're about to leave.
An exit-intent popup detects the mouse movement and prompts the users with a targeted campaign such as an affiliate promotion when they're about to leave. You can use OptinMonster, the best popup solution ever built, to create an exit-intent popup.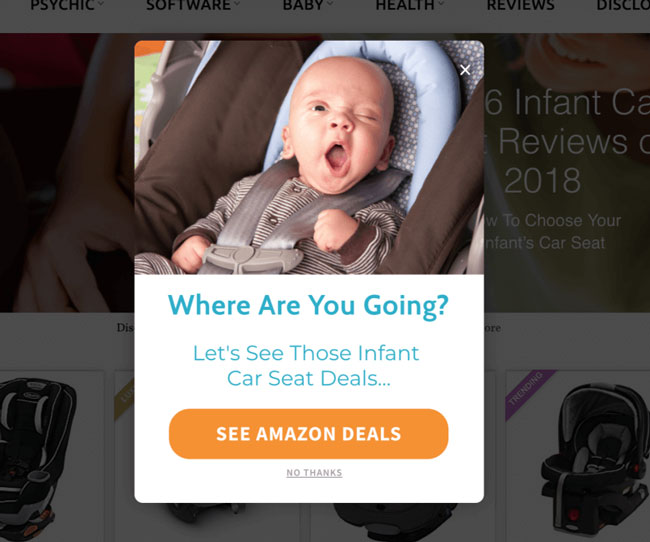 Top 6 Digital used this strategy and increased their revenue by 30%.
Check out our round up of more email popup examples to inspire you.
3. Drive Traffic to Your Article With Facebook Ads
If you have a really high-quality tutorial or piece of content, you can then drive a little bit of traffic to that article with Facebook Ads.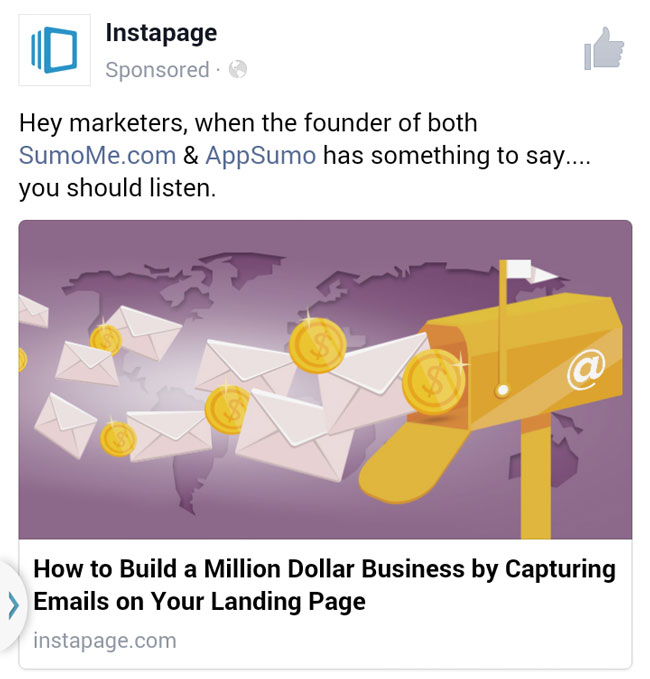 The good thing about this is that if your affiliate product has a pretty high payout price (like above $50) you can make quite a lot of money even if you're spending a bit on the ads. As long as your page is converting and there is enough traffic in the niche you can do quite well.
If you decide to go this route make sure you do a lot of tracking and testing so you know exactly what is converting and why. Try not to guess too much as you often can't be sure what's bringing the sales.
4. Incorporate the Affiliate Product Into Your Email List
One of the most powerful ways to add extra affiliate income to your blog is by promoting an affiliate product to your mailing list once people sign up.
The reason this is so powerful is that…
It's automatic and ongoing: Services like Constant Contact allow you to create follow-up emails which go out to every subscriber once they sign up to your list. You can create one or 100 emails all at once and then never need to touch them again.
It's perfectly branded: If your blog and mailing list are tight and on-brand you'll find that an affiliate promotion in the course of some valuable mailing list content is a perfect fit. It goes in there very naturally as you go about helping your subscribers.
It's really important to not just say things like "Go out and buy X product now" because it is way too pushy. Rather, you want to still be providing huge value and mention affiliate products only if and when it could help a subscriber.
5. Highlight Your In-post Messages With Graphics
Highlighting your affiliate mentions in your article is a good strategy to make sure that people see the message.
This can be done in so many different ways and you'll need to measure the effectiveness for your own particular blog and individual blog post.
One way is to use a plugin like Shortcodes Ultimate which allows you to add buttons, quotes, highlighted text, etc. with just a few clicks.
Here's a screenshot showing you all the different things you can add with this plugin.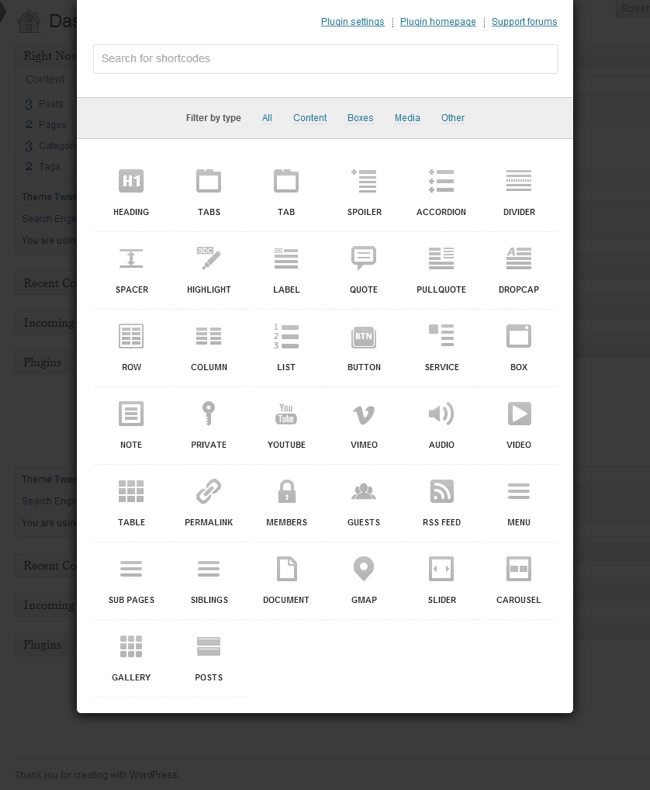 6. Build Backlinks to Your Articles
Building backlinks to your affiliate article is a great way to drive more traffic to your site.
For example, if you land a guest post on a high authority blog you'll want to write an article that naturally allows you to mention your original post. Blog owners will allow this if it isn't a direct "buy this product" type of article – especially if it's a high-value piece.
We have one of the largest how to start a blog guide on the web that I'm not ashamed to link to when I do blogging guest spots.
Remember, the more work and value you provide in your guest posts the more shares and links they'll get.
This also applies to forum posts, comments and other places where you think you might get a lasting (but useful) slice of traffic.
7. Become an Expert at Using the Product You Want to Promote
Some of the most successful affiliates become so successful because they get really, really good at using the product or service either directly, or as an incidental part of their business.
For example, Darren Rowse on DPS has a lot of photographers taking excellent photos with Canon and Nikon SLR cameras and then mentioning those cameras in their posts and/or tutorials. Although he might not directly sell or pitch those cameras, he would be making an absolute fortune from people who get inspired to purchase after seeing what gets produced.
The same is true for people who get inspired to start a podcast because they have seen Pat's and want to use the same set up that he does.
If you want to ramp up your affiliate product sales, consider producing more content that displays your skills using the actual product or service. Give people an idea of how powerful it is, and how good you specifically are at using it to get results.
That's it!
I hope this guide helps you get a head start on affiliate marketing. If you liked this article, you might also want to check out some of the best plugins for affiliate marketers.