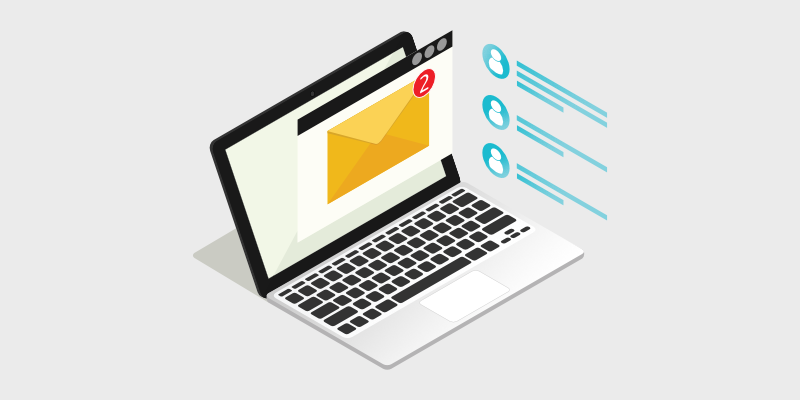 T here seem to be three really big milestones in your quest to build a popular blog – earning your first dollar, finding 1,000 visitors a day, and then reaching the 10,000 email subscriber mark.
Today we're going to talk about that last one—how to grow newsletter subscribers.
Of course, not everyone struggles to reach these different stages. Some people skyrocket to success in a few weeks, other people do well with traffic levels but not with the email list.
In this post, I'm going to show you a few really cool lessons I've learned that will show you how to get more email subscribers. These lessons will help you grow an email list with 10,000 subscribers—a level that I think is genuinely attainable by any blog.
Let's do it!
25 Ways to Get More Subscribers
1. Attract the Right Traffic to Your Blog
No matter what your email marketing goal is, whether it is to sell your own products, promote affiliate products or just drive repeat traffic, it's hard to accomplish that goal if you're not driving the right traffic.
What do I mean by the "right traffic"?
You might have a popular blog post that gets lots of traffic, but if those site visitors don't sign up for your email list then they may not be interested in everything you have to offer.
Make sure that when you're brainstorming blog post ideas, your topics are focused on what your specific target audience wants to read. Be sure to focus on the right keywords when you're starting out to attract the right traffic and get readers to subscribe to your list.
For more information, check out our guide on blog SEO.

2. Run a Viral Giveaway
Once you've attracted the right traffic to your blog, you might still be wondering: "How do I get people to subscribe to my blog?"
A viral giveaway or contest works amazingly well for list building, and it can even drive more traffic. Here's how to do it.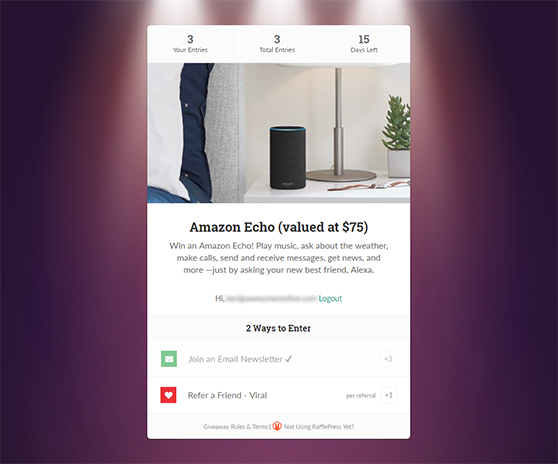 Install the RafflePress plugin (there's a free version, too)
Announce an attractive price for the giveaway.
Incentive the participants to share the giveaway to earn entries.
This word of mouth advertising helps you get more traffic, FASTER which basically leads to more signups.
For more detailed instructions, see this guide to running a successful giveaway on your blog.
3. Offer a Lead Magnet
People are more likely to give you their email addresses if they'll get something in return.
That's why offering a lead magnet is so effective. A lead magnet, also called an "opt in bribe", is a free gift you offer your website visitors in exchange for signing up for your email list.
An ebook is a quick and easy lead magnet to create, because you can easily create one by repurposing your existing blog content using a tool like Print Friendly. Then you can easily send your new subscribers the PDF in your welcome email.
Other types of lead magnets you can offer include:
Checklists
Videos
Webinars
Product Discounts for eCommerce
White Papers
Free Trial/Consultation
And Much More
For more details, see our guide on how to create a lead magnet and boost email subscribers.
4. Use a Well-Timed Popup
Like it or hate it… you can't deny the fact that popups work for driving more email signups.
Popups have been used to increase conversion rates by 2100% when used the right way.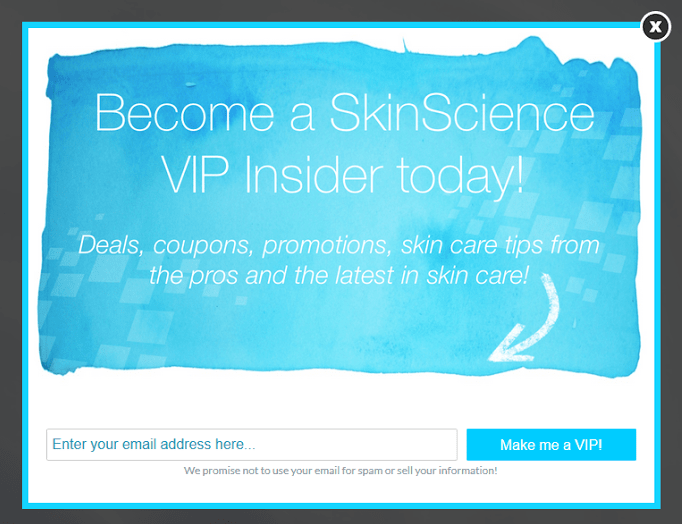 Popups work because they capture the attention of your visitors. With the right targeting options, you can only display your popups when your users are likely to subscribe to your list, instead of annoying them.
OptinMonster is the best popup solution that comes with a lot of targeting options, such as referrer detection, page-level targeting, and more. When you target your popups based on what your visitors are interested in, you'll see your email list growth explode.
You can use OptinMonster with the most popular email marketing services including Constant Contact, Mailchimp, AWeber, Sendinblue, and more.
Check out our roundup of inspiring email popup examples for inspiration!
5. Use Exit-Intent to Convert Abandoning Visitors
If you don't like typical popups because of its intrusive nature, you can give exit-intent popups a try. The best thing is that users only receive a pop up as they are about to leave your site.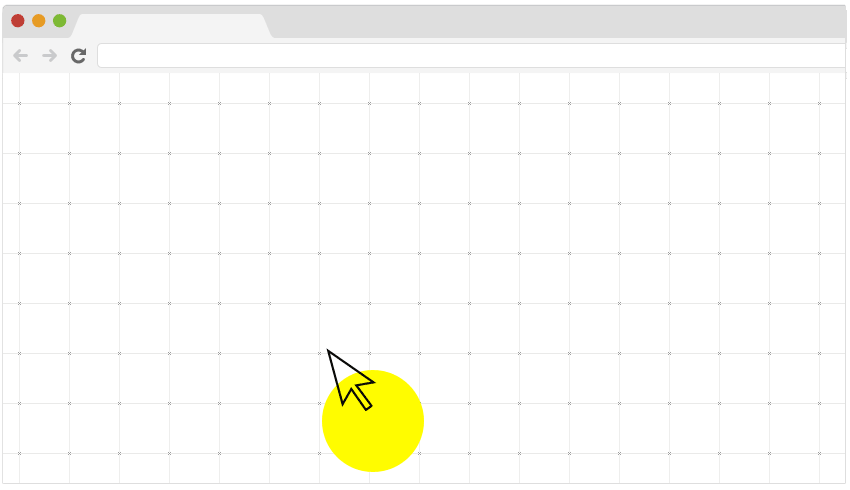 Exit-intent popups are a great way to turn abandoning visitors into newsletter subscribers. In fact, this SMART behavioral technology can convert an additional 2 – 4% of your users into email subscribers.
6. Explain the Benefits of Subscribing
Most people who visit your blog will have absolutely no idea what your mailing list is about. They don't know why they might want to give you, a total stranger, their personal email address.
Spell it out for them very clearly, whenever you can.
Mention how often you'll be emailing them and what kind of content you'll send in your email campaigns.
Here's a great example. It's clear that subscribers will get freebies like printable downloads, recipes, and more.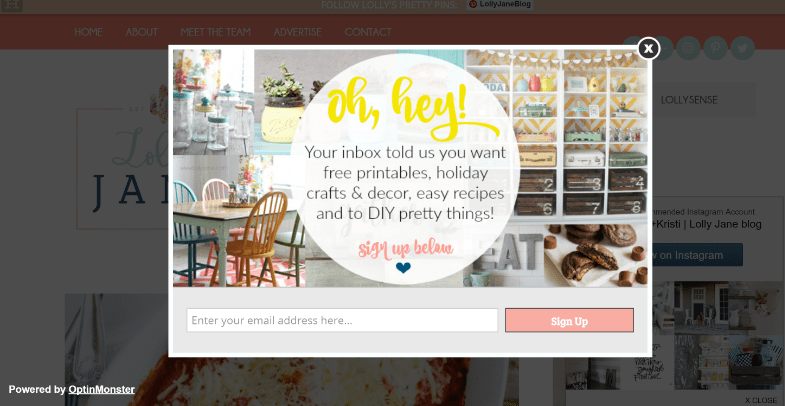 This is much more enticing than just saying "sign up for my newsletter"!
And this is not only a great way to get more email signups…It can also help you prevent people from hitting the unsubscribe button. When you've told subscribers exactly what to expect, they won't be confused or disappointed when they receive your emails.
7. Create a Landing Page
Just because you have an opt-in form for your mailing list doesn't mean that people will automatically subscribe to it. Don't just stick a form in your sidebar and hope that people will give you their details – sell it!
The best way to do this is to create a landing page to talk about the benefits of joining your email list.
A landing page is different from the other pages on your site because it's focused on 1 specific goal. Because there's nothing else on a landing page to distract visitors, they're more likely to sign up for your email list.
You can easily create landing pages with SeedProd. It's the best drag and drop landing page builder for WordPress.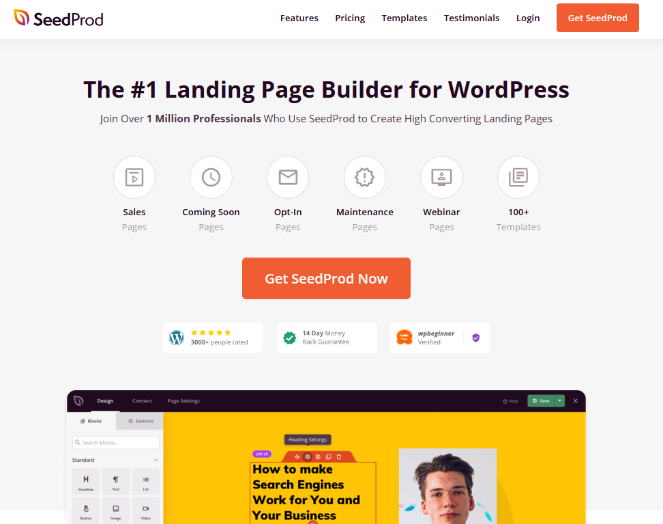 SeedProd offers over 300+ stunning landing page templates so you can get started quickly.
Plus, it also has pre-made landing page blocks you can use to customize your page and boost conversions, like:
Optin Forms
Contact Forms
Giveaways
Countdown Timers
Headlines/Headers
Buttons
And Much More…
Check out some landing page best practices here and then create your own!
8. Add a Link to Your Main Menu
Once you've created a landing page talking about the benefits of joining your email list, you've got to drive traffic to it so people can sign up.
One of the best ways to do this is by adding a link to your blog's main menu.
For a great example, just look at the top of this page 😉.
See this tutorial on how to add a button in your WordPress header menu for step-by-step instructions.
9. Link From Your Social Media Bios
If you're on social media platforms like Facebook, Instagram, Twitter, and LinkedIn, you're likely already linking back to your blog in your bio.
This is a great opportunity to link to your newsletter landing page instead of just your homepage. If they're following you on social media, there's a good chance they'll be interested in becoming a newsletter subscriber as well.
You can also create a custom 'Link in Bio' landing page and add a link to it in your social media bios. A link in bio page includes all of your most important links. You can link to your blog, newsletter landing page, YouTube channel, and anything else you want to promote.
10. Lock Away Your Best Content
Do you know what the most popular post on your blog is?
If you have a popular post on your blog that's long, detailed, ultra-useful, and getting lots of traffic, then you've got a great opportunity to get more email subscribers.
In fact, TradingStrategyGuides.com used this strategy to get almost 7,500 readers to join his list!
Here's how content locking works:
11. Increase the Perceived Value
One quick trick to get more email subscribers is to increase the perceived value of your offer.
You worked hard to put together your content, so make sure that your visitors understand its value.
Here's a great example: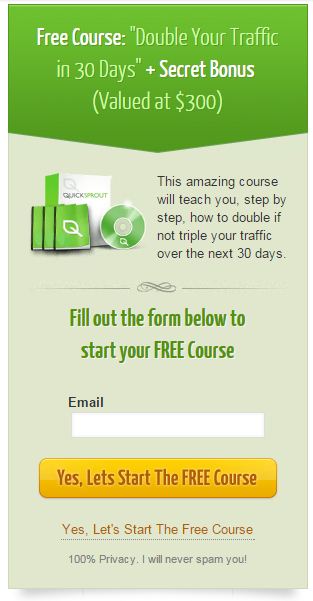 Take a look at QuickSprout's optin form as an example where it says "Free Course: Double Your Traffic in 30 days + Secret Bonus (Valued at $300)".
Specifying the dollar value of your optin bribe is a great way to increase the perceived value of your offer.
12. Use Social Proof
Social proof is an important factor that influences your users' actions. When people see that others have taken an action, they're more likely to follow along, too. Social proof is often used in marketing strategies and campaigns to drive conversions.
One really cool way to get more email subscribers with social proof is to use a social proof notification app like TrustPulse.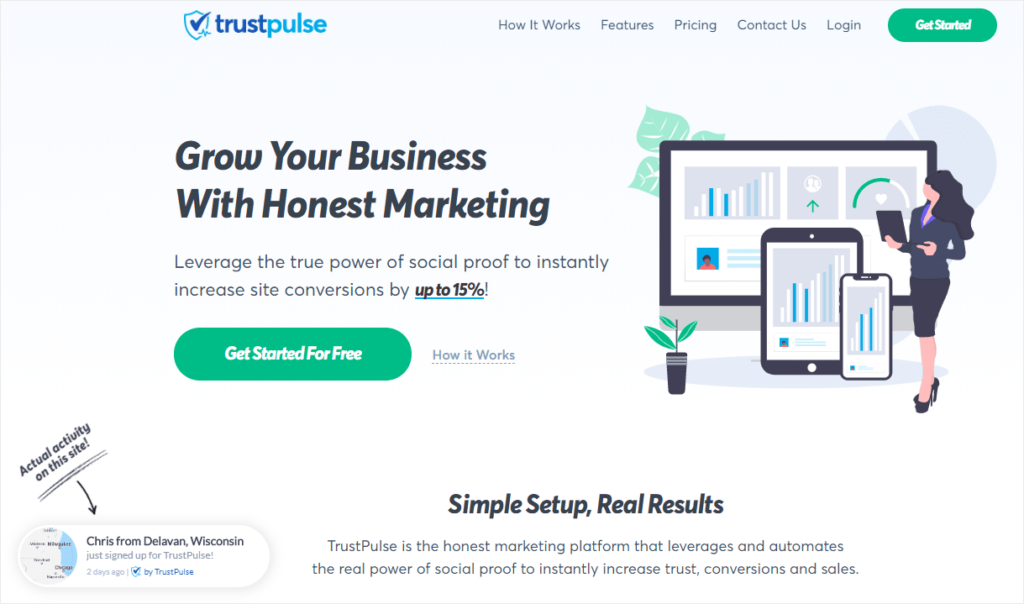 You can display a little popup notification any time someone signs up for your list, convincing your other visitors to do the same!
You can also show social proof by showcasing testimonials on your site or displaying the number of people that have already subscribed to your email list.
13. Reduce the Number of Form Fields
It's been proven time and time again: the more form fields you ask people to fill out, the less likely they are to submit your form.
Removing unnecessary fields has proven to drive in 11% more signups!
At the most, you can ask for an email address and name. But I wouldn't ask for anything else, or your conversion rate could take a big hit.
14. Try a Fullscreen Welcome Mat
You know those blogs that have the fullscreen optin takeovers that appear right when you land on the page?
Those fullscreen takeovers, also known as welcome mat optins, let you capture your visitors' attention with a targeted message which appears the minute they land on your site.
Those things work. I've heard of people who have them converting at 10% of all homepage traffic. You can get one of these added to your blog and test yourself if it converts better for you.
Here's an example from Sportique – this one converted 4.92% of all visitors to the page.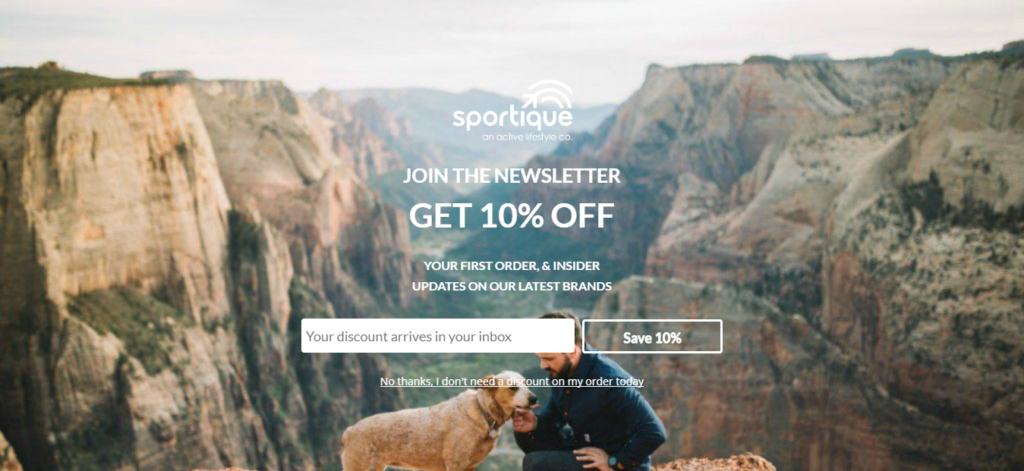 15. Offer Options for Different Segments
One thing you can do in my favorite email newsletter provider Constant Contact is to create different segments.
This is a perfect idea if you're targeting multiple audiences. This way, you can tailor your messaging just for one part of your audience, making them more likely to want an email subscription.
16. Add YouTube CTAs to Your Videos
Do you want to know how to get more email subscribers from YouTube? If you're already creating videos on YouTube, then it's pretty easy to add a call to action (CTA) to the end of your videos to sign up to your email list.
Here's how to add end cards to your YouTube videos.
17. Create a Fun Quiz
Everyone loves a good quiz! That's what makes them perfect to get more email subscribers.
Just add a relevant quiz to your site, and only send the results if they sign up via email.
Here's an example from a popular food blog called Foodie Crush: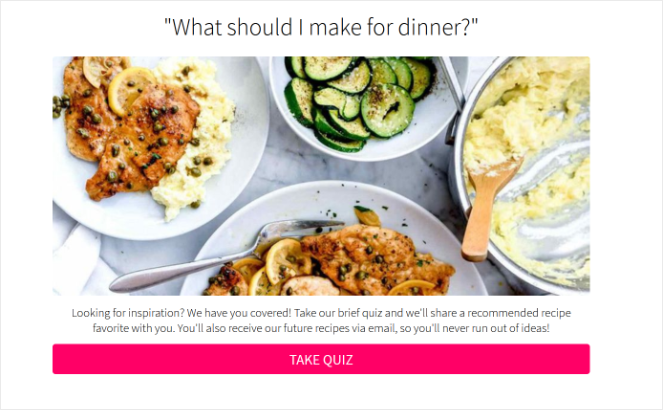 Users can get recipe recommendations based on the quiz answers they select. To see their quiz results, they have to provide their email address and sign up for the newsletter.
Here's a roundup of quiz plugins for WordPress to get you started.
18. Create Content Upgrades for Popular Posts
Want an even more powerful tactic to get more email subscribers than a lead magnet?
Content upgrades are the next level of lead generation and they work amazingly well.
A content upgrade is a lead magnet that's specific to one blog post. For example, if you have a tutorial blog post that's very popular, you could offer a step-by-step checklist as a content upgrade.
The content upgrade offer is often highlighted text inside the content area of your blog. The link opens up a signup form.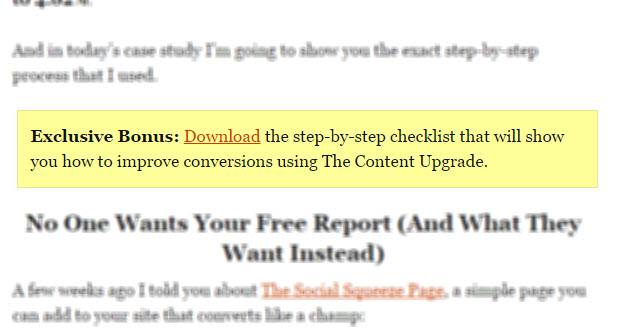 Because content upgrades are such specific offers, users are more likely to subscribe to the list for them than for a generic lead magnet that you place in the sidebar.
19. Don't Forget Mobile Users
Did you know that more than half of all internet traffic is from mobile devices?
That's why it's so important to make sure your optin forms and popups work for mobile users. Otherwise, you're missing out on traffic and email subscribers.
20. Redirect WordPress Commenters
One of the coolest things you can do on your blog to get more email subscribers is to redirect comments to a thank you page using a simple plugin. As soon as someone leaves a comment for the first time, they'll get redirected to a special page that thanks them for their interaction and invites them to join your newsletter list.
21. Add a Signup Button to Your Facebook Page
If you have a Facebook page for your blog or business, this is a really quick and easy trick to get more email signups from Facebook.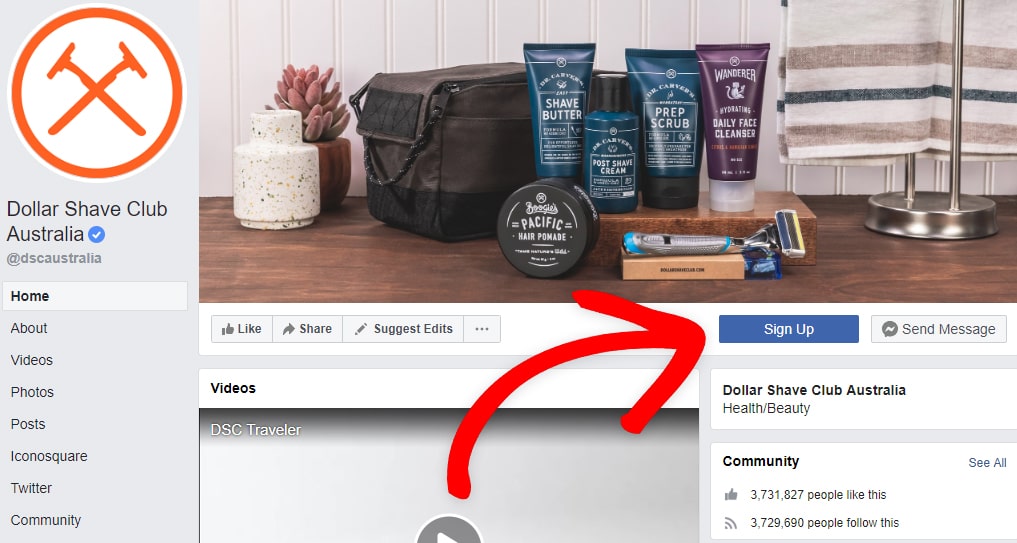 Check out these instructions to find out how to do it.
22. Use Facebook Ads to Promote Your List
Dabbling in advertising can produce some really cool results. You don't have to spend much.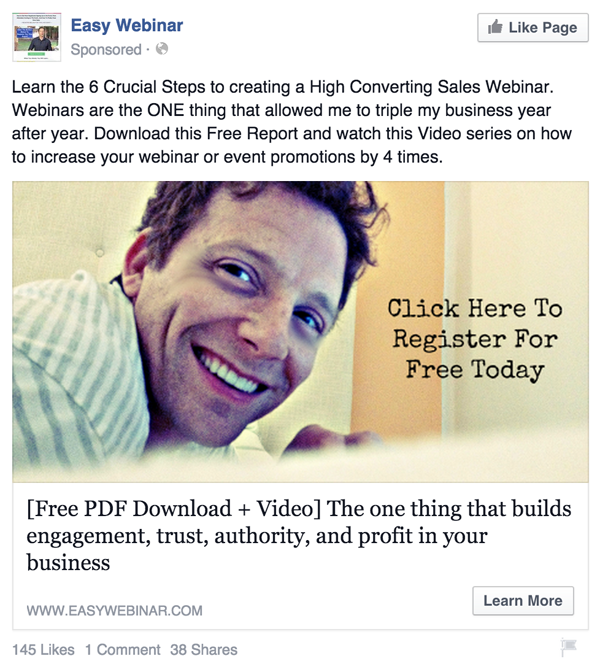 Try out Facebook ads to give your landing pages a bit of a boost. There is nothing wrong with promoting your email list in this way.
23. Personalize Your Message by Referral Source
Personalization has a huge impact on how your audience perceives your message.
For example, if someone came from a recent guest article of yours, say on ProBlogger, they could get a message like "Hey ProBlogger reader! Get a huge discount on the XYZ plugin by subscribing to the list".
A personalized message is an amazing and easy way to attract more email subscribers by grabbing your visitors' attention.
24. Split Test to See What Works
A split test or A/B test is a method of testing multiple versions of your blog (or individual elements of a blog) against each other to see which works best.
You can split test your landing pages, optin forms, and more to see which version works best. I'd use and recommend Google Optimize to run a split test. Not only is it a free Google product, but you can also easily integrate it with your website with a plugin such as MonsterInsights and get Google Analytics as well.
Just make sure you're giving them enough time to show meaningful results.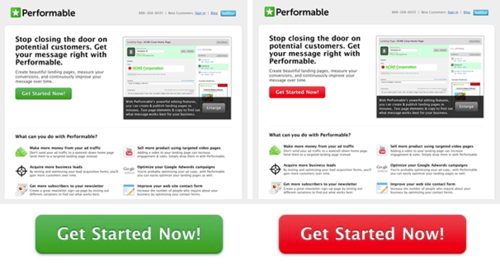 Things as simple as colors can have a huge impact on how well your optin form converts. I've noticed big changes in signups when switching my sidebar button from green to red, for example.
25. Only Use What Works for You
Sometimes I have "borrowed" ideas from other marketers and bloggers after hearing how well it works for them, only to find that it completely tanks for me.
It's a good lesson! What works for one email list doesn't always work for another. And, yet again, this is why you need to split test different ideas and make sure what you THINK is the source of your success is actually the true source.
Get More Email Subscribers Today!
Growing an email list is one of the most important aspects of a successful blog. It's your mailing list that allows you to promote your content, sell products, and launch new projects.
Now that you know how to get more email subscribers, soon, you'll be on your way to growing your subscriber list to 10,000!
So, what strategies have worked for you? Leave a comment and let me know if I've missed anything.
If you enjoyed this article, check out these guides on getting more backlinks and ranking higher on search engines, how to start a blog, and how to install WordPress.