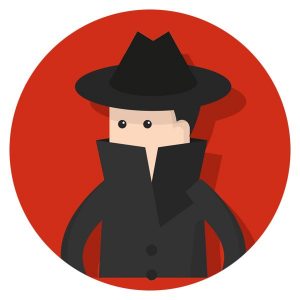 So how often should you post new articles to your blog?
Some people say you should do it everyday. After all, Google's Panda loves fresh content.
Other people say you should post multiple times each day. That gives people lots of material to share and talk about.
What about once a week? Is it perhaps best to keep it nice and regular and post on the same day each week?
Well, I disagree with all of those things.
And so do some of the guys making the biggest noise in the industry like Glen Allsopp and Derek Halpbern. I've even got quotes from them later in this post.
This post actually has two angles to it.
Read on.
Why I don't post regularly on my blog
When I started my first blog all those years ago I bought in to the idea that you needed to post every day. That's what the big guys were telling us to do.
To be fair, that was true back then. Blogging was [sort of] new and everyone was hashing out Google and how their rankings system worked and there was hardly any social media action beyond Digg and Delicious.
Things are different now.
People are flooded with information.
There is noise everywhere.
Long gone are the days where you need to be in front of people every single day. Posting regularly might get you high up on Google's rankings for a few days but the positions will be short lived.
But who really posts blog articles to rank on Google anymore anyway? It's so unreliable.
It's a lot better to focus on writing epic and useful posts that solve problems and help people.
And that takes time.
Make 'em long and make 'em strong
Think about the last blog article that really touched you. Think about the last post that was so good you just had to send it to someone just to let them know you found it.
I bet it was detailed, useful and personal.
I bet it took time to be produced and I bet it was longer and more comprehensive than other articles similar to it.
That's where Glen comes in to the picture.
ViperChill's 'Future of Blogging' post
When Glen was writing his epic Future of Blogging post he delayed its release at least twice saying he needed to write more.
The result was a 12,000 word post that got 350 comments and created a lot of sore scrolling fingers!
But everyone who read that post noticed that it "felt" like something special. It wasn't just the length or the fact that the server crashed because so many people read it. It was the care, expertise and attention poured into its creation.
Everyone who read it became a bigger fan than ever before. And if it was your first time reading ViperChill you would potentially have fallen off your seat.
Oh, and funnily enough it ranks number one on Google for "future of blogging" even though there are fresher articles.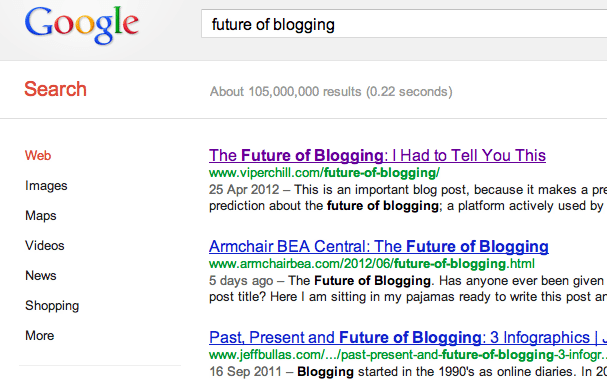 A Google search screenshot. How innovative!
Glen doesn't post to his blog very often but when he does it makes noise. This is a much better situation than posting once a day or once a week and barely getting noticed.
So what did Glen say to me on the topic of regular posting?
To be totally honest, I don't think that there is a set rule on posting frequency. A lot of people watched my quick rise to "success" in the marketing world and assumed that because I was successful with this strategy in probably the most saturated industry, it's the best strategy to use in theirs. That isn't the case at all. I could do the total opposite and have success in this niche…if that is how I provide my value ala Seth Godin.

My main reason for not posting regularly is because I don't have enough powerful things to say on a daily basis. My aim is to be the place where people can go to get solutions for real problems that a post will solve. Going back to the SG example, his ideas are nice, but they're rarely practical to implement. My aim is to give people things they can actually do to make more money, rather than just the theory and the ideas behind generating revenue.

I think this comes from really valuing everything you hit publish on. For example, the health blogger I admire the most is Steve Kamb, who I've linked to numerous times. We both have the same philosophy in that our articles have to be good enough to go live. We both know when they're good, but not good enough to hit publish. That takes time, and it leads to infrequency.

You can succeed posting 100 times per day – imagine 9GAG was a "blog" – and you can succeed posting 100 times over the space of two years (me). What matters is the aim of the value you're wishing to share, and then how your frequency affects that aim. Aim first; amount of content that aim requires, second.
The anxiety that builds up when you are about to hit "publish" is something Glen and I have talked about together a few times now. I wonder whether that is a sign of how much you value your readers and your content?
Glen's point about strategies not being universal to all niches is something so vital but we often miss it. You really need to experiment and see what works for you.
The regular posting exception… sort of
When I sent Derek an email asking for a quote on why he doesn't post regularly I didn't think he'd come back to me with one of the most important points about the whole thing.
Here is what he said:
I cringe when I see "experts" telling people to update their blogs two or three times each week.

The sad truth about building a blog is this: What you do on your site is not nearly as important as what you do off your site.

Do you need to update your site with good content? Absolutely. But throwing a million articles at a site with no readers won't help you build your readership.

So, instead of updating YOUR site regularly, you should work on getting your name on OTHER sites regularly. That's how you bring readers to your brand-new blog.

For some proof, that's the exact strategy I used on Social Triggers. I jumped in, head first, and began focusing on Social Triggers in March of 2011, and within 12 months I had tens of thousands of subscribers.

How often did I update my blog? I averaged about 2.66 blog posts per month.

Now there is one caveat… When you have a huge readership, updating your site more often does lead to more traffic because huge blogs get more search engine rankings with more content. Additionally, a blog with huge readership can leverage that readership to get more readers.

But until you have that huge readership, your time is best spent focusing on getting your name on other sites as opposed to updating your own site.

– Derek Halpbern
The lesson here? You grow your blog by working on other blogs.
It is fabulous advice.
But, when you mix Glen's advice with Derek's advice you get an even more interesting outcome. Leave a comment if you know what I'm talking about.
How can we compete with the big blogs?
Derek also touched on the fact that big blogs rank well on the search engines because they tend to post more often with fresh content.
My first thought, when I think about it, is that this seems really depressing because it is impossible to compete with them.
The good news is that it doesn't matter. As those big sites grow and post more and dominate Google they do two things:
Create a platform for you to guest post
Think of them as springboards for you to guest post on in order to grow your own blog. It's not a true competitor in that sense.
Lose brand quality
The second thing, and the sad part, is that by flooding the niche with so many updates they can dominate Google but lose standing with readers. The updates are just too frequent and hardly ever from the owner of the blog.
While a daily post works for some niches (news, technology, etc.) I honestly believe that it does more harm than good for most of us.
Follow Derek's advice and send those posts out to other sites instead of your own.
But make sure Glen's words are in the back of your head as you do so.