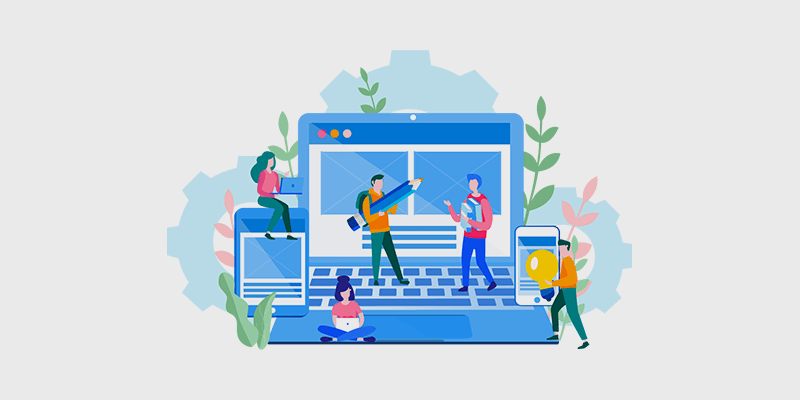 A re you having trouble finding the best blogging platform? It can be confusing and overwhelming to choose from all the different options. It's important to do the research to make sure you're not choosing the wrong blog site, but who has the time?
So, how do you know which blog site to choose?
Don't worry – you're in the right place! Our team has done hours of research to help you figure out which is the best blogging platform for you.
Before we begin, here's what we're going to be covering in our guide. Feel free to skip ahead to the section you're interested in!
Which Blog Site Should You Use? How to Decide
There are a lot of factors that you need to take into consideration before making your decision. It's important to choose the right platform that's right for you and your needs, not just the one everyone says is the best.
So, what do you look for? How do you pick the best places to blog?
Here are a few factors to look for:
Ease of use – If you're a newbie, you'll want to look for a platform that is easy to set up, has a low learning curve and doesn't require any coding skills.
Monetization options – Wondering which blogging platform is best for making money? If you want to monetize your blog, you would want to choose the one that offers customization, supports third-party plugins, and allows you to create your own ads to generate income.
Scalability – Another important factor you need to consider is to see whether the platform you have chosen is flexible enough to help you scale your blog and add more features as you grow.
Price – When you're just getting started creating a blog, the cost is an important factor to consider. There are free platforms to consider, but you often get what you pay for.
Switching to a new blogging site can be a very daunting task. This makes its important that you choose the right one from the get go.
Now that you know how to choose a blogging platform, we will now list down and analyze the best blogging sites for you to choose from.
Back to Top
Best Blogging Platforms Compared
Here are the best blogging platforms:
Let's take a look at each of these in detail, including the pros and cons of each blogging site.
Back to Top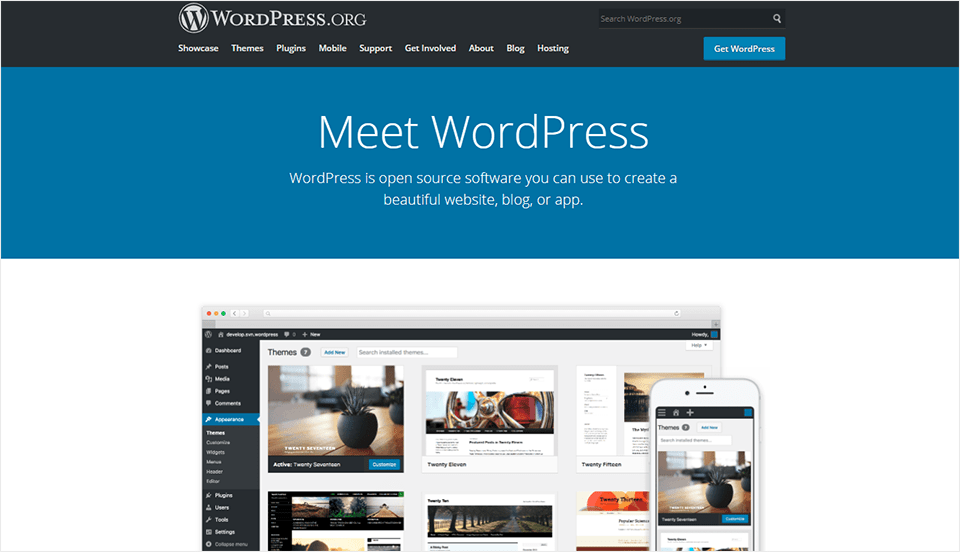 WordPress.org is a self hosted blogging platform and content management system (CMS), and it's number 1 on our list of blog sites for a number of reasons. Ever since it was created in 2003, WordPress has gone on to power 43% of the internet! WordPress is used by big brands like BBC, Wired, Time Magazine, Beyonce, Jay-Z, Rolling Stones, Harvard University and New York Post.
WordPress is so popular because it's 100% free and open source, and easy to use. It's also highly customizable, and fast and good for SEO (search engine optimization).
Not sure if WordPress is the best blog platform for you? Let's talk a little more about the pros and cons of using WordPress for your blogging platform.
Pros
It's easy to install.
You have complete control over customizing your website's features with their various design options.
You can grow your blog by adding features like paid membership, forums, or even an online store. This makes WordPress.org the best blogging platform to make money.
There are thousands of premium and free themes available which can help you create a professional blog without the need of a designer.
There are over 59,000 plugins available which can help you customize your blog. You can use plugins to add tons of features including galleries, contact forms, Google Analytics, or make your blog available in different languages.
WordPress.org is 100% search engine friendly. This makes it easy to rank your blog posts in Google with search engine optimization (SEO), especially if you use some of the best SEO plugins for WordPress.
Cons
Basic customization is easy, but if you want to add more complicated customizations, there can be a bit of a learning curve.
Since it is self-hosted you will need to take responsibility for hosting and any technical issues that may arise, unless you get managed WordPress hosting.
Who Should Use WordPress.org?
WordPress is a great choice for anyone and everyone who wants to start a blog. As for the people who ask "is WordPress relevant?". Yes, it's more relevant now than ever.
It doesn't matter if you're just starting out as a blogger or if you're an experienced blogger. You can create, design and customize blogs on any topic you want. Whether you are food blogger, tech blogger, sports blogger, or are just looking to make money online, WordPress is the best choice for you.
WordPress.org Price
The WordPress software is free, but you will still need a web hosting plan and domain. These can start at about $7.99 per month for hosting, and $14.99 per year for a domain.
That can be a lot of money for beginners who are just starting out. Which is why we have partnered up with Bluehost to get our readers an awesome deal. With Bluehost, you can get started with WordPress.org in a matter of minutes.
You can follow along with our guide on how to start a blog.
Back to Top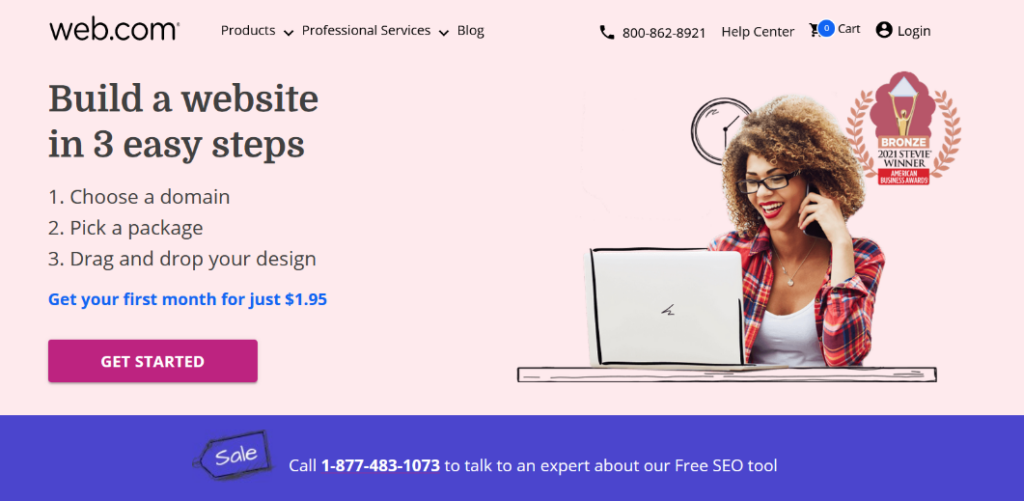 Web.com is one of the original and most popular website builders on the market. Since 1999, 3 million happy customers have used Web.com to build a website.
The drag and drop builder is super easy to use so you don't need any technical knowledge to build a great blog. Plus, Web.com offers very affordable plans that work with every budget.
Pros
User-friendly drag and drop website builder to create layouts
Ability to add features like photo galleries, videos, contact forms, social sharing buttons, and much more
Professionally designed website templates you can customize by pointing and clicking
eCommerce tools to add an online store to your blog
Access to unlimited chat and phone support
Comes with a free domain name, business email address, website analytics, and other powerful tools
Cons
Blogging functionality is not as robust as other platforms like WordPress.org
The eCommerce plan limits you to 50 products
Switching to another platform is difficult since Web.com is a proprietary site builder
Who Should Use Web.com?
Web.com is best for beginners that want to start a simple blog for an affordable price. You don't need to be tech-savvy to use this website builder; simply choose a domain name and drag and drop your blog design.
Web.com comes with all of the basic features you need. But, as we mentioned earlier, the blogging functionality is limited compared to some other platforms. So, if you want to create a more robust blog, you might want to go with WordPress.org.
How Much Does Web.com Cost?
The starter website plan starts at only $1.95 per month!
You can also upgrade to the marketing plan to get more powerful SEO features starting at $2.95 per month. And if you want to add an online store to your blog, the eCommerce plan starts at $3.95 per month.
Get Started with Web.com
Back to the top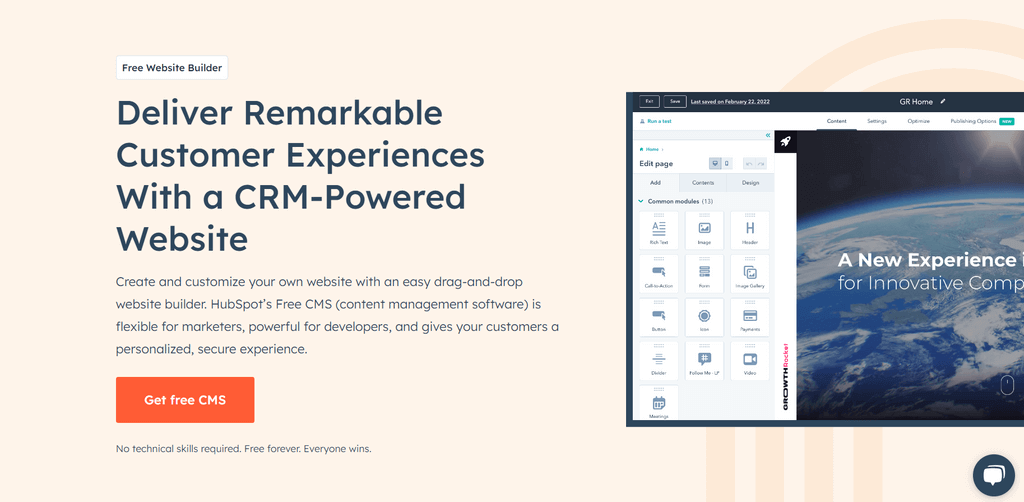 HubSpot, known for it's popular CRM software, also offers an all-in-one blogging platform. The drag and drop builder makes it quick and easy to create a professional website, even without any coding or design experience.
You can get started with the HubSpot website builder for free. The website builder is backed by the HubSpot CRM, so you can create a personalized experience for your visitors based on their previous behavior.
Pros
Unlike other website builders, you can get started with HubSpot for free!
Set up is quick and easy since HubSpot will host your blog for you
Easy, no- code drag and drop website builder
Hundreds of website themes to choose from
SEO recommendations and optimizations
Comes with free marketing tools like email marketing and live chat
Cons
Website pages include the HubSpot branding
If you need to upgrade, premium plans are expensive
Who Should Use HubSpot Website Builder?
The HubSpot Website Builder is best for small business owners who want to quickly create a beautiful blog with no hassle.
Plus, you can grow your business using free HubSpot tools like email marketing, CRM, live chat, chatbots, and more, from one platform.
But powerful as it may be, HubSpot limits the number of website pages you can create with the free plan, and the premium plans are pricey.
How Much Does HubSpot Website Builder Cost?
HubSpot Website Builder is free to get started!
The free plan allows you to connect a custom domain name and create up to 25 website pages with the HubSpot branding. To remove the HubSpot branding, you can upgrade to a premium plan starting at $25 per month.
When compared with other website builders, HubSpot Website Builder is by far the cheapest in our list!
Get Started with HubSpot Website Builder
Back to Top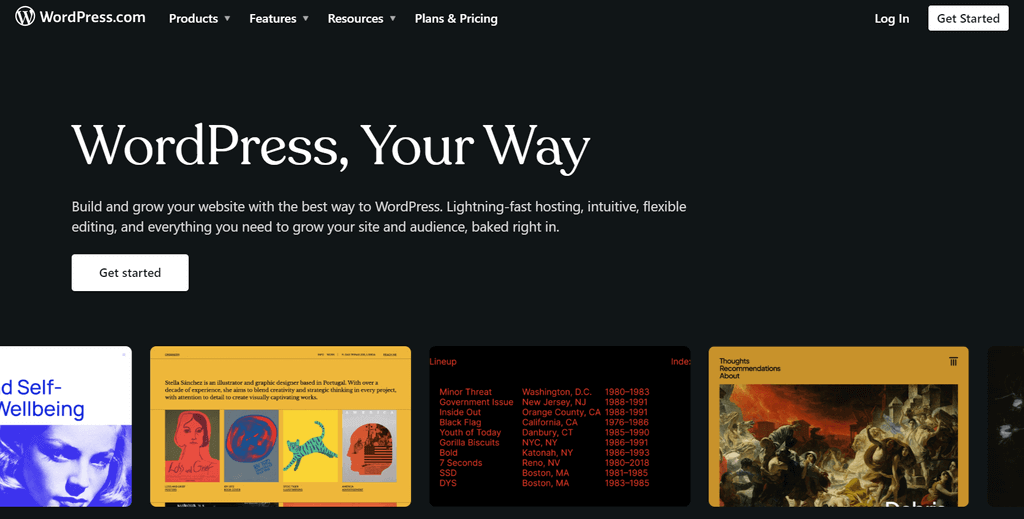 Just to be clear, WordPress.com and WordPress.org are two different blogging platforms. We have already talked about WordPress.org which is a blogging software that you need your own domain and hosting for. WordPress.com, on the other hand, is a blog hosting service. You can read more about their differences in this WordPress.com vs WordPress.org comparison.
WordPress.com was founded in 2004 and is owned by Automattic, which is the same company behind WordPress.org.
You can create a basic WordPress blog on for free with WordPress.com. It is fully hosted, which means that you don't have to worry about the technical side of hosting your blog.
If you want to unlock more features, you'll have to go with the premium plan. With their paid plans, you can remove WordPress ads, get your own domain, and get access to some of their premium themes and plugins.
Pros
Easy to use
Doesn't require any installations
Free to start
Tech issues are handled by their support team
Cons
Their free plan has ads, so you will have to subscribe to their premium plans if you want your website to look professional.
You won't get access to the premium plugins and themes if you use the free version.
Who Should Use WordPress.com?
WordPress.com can be a good choice for new bloggers who want to try out some of the features of WordPress, without having to spend any money on domain names and hosting yet.
Once your blog starts to grow you can then move on to WordPress.org and enjoy complete freedom. The process is fairly simple. You can read this guide to find out how to migrate from WordPress.com to WordPress.org.
How Much Does WordPress.com Cost?
WordPress.com is free as long as you are okay with the ads and the lack of options available for themes and plugins.
If you want to make the switch to the premium version you will have to pay $4 for the Personal Plan, $8 per month for the Premium Plan and $25 per month for the Business Plan.
Get Started with WordPress.com
Back to Top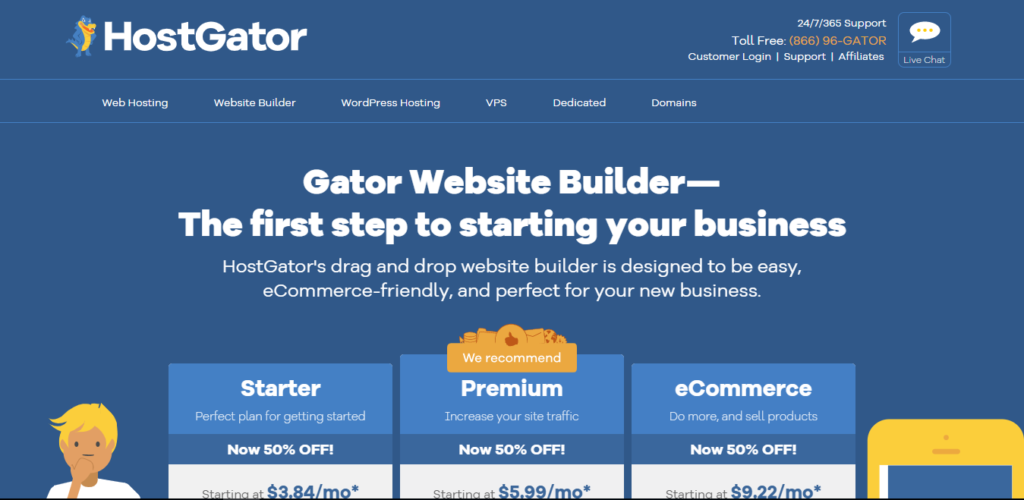 Gator Website Builder is a blogging platform that was created by HostGator, which is one of the biggest hosting provider in the world. Their website builder is easy to use, which makes it great for first time bloggers. Gator Website Builder has an amazing drag and drop builder you can use to create any kind of blog or website you like.
Gator may not have a free plan, but they make up for it by offering free hosting, free SSL certificate and a domain name for just $3.46 per month.
Pros
Easy to set up with their drag and drop builder
All the server side management and troubleshooting are handled by HostGator
Free hosting, domain name and SSL Certificate
Cons
Limited number of apps
No free account
Who Should Use Gator Website Builder?
Gator Website Builder is great for first time bloggers who don't want to deal with hosting issues or website management. They have an awesome user interface which makes life easier for bloggers who just want to write without worrying about anything else.
HostGator has an excellent support team that's available 24/7, and they'll help you with any technical issues that may come up.
Apart from having an awesome user interface and support team, Gator website builder is powered by HostGator, which has a 99.9% uptime. Simply put, this basically means that you won't have to worry about your blog going down.
The only downside is that Gator Website Builder doesn't have a lot of plugins and themes, so if you are looking for customizations you might want to switch to WordPress.org.
How much does Gator Website Builder cost?
The Starter plan costs $3.46 per month which includes free hosting, domain name and free SSL certificate. The Premium plan costs $5.39 per month and the ecommerce plan costs $8.30 per month.
Back to Top
6. Medium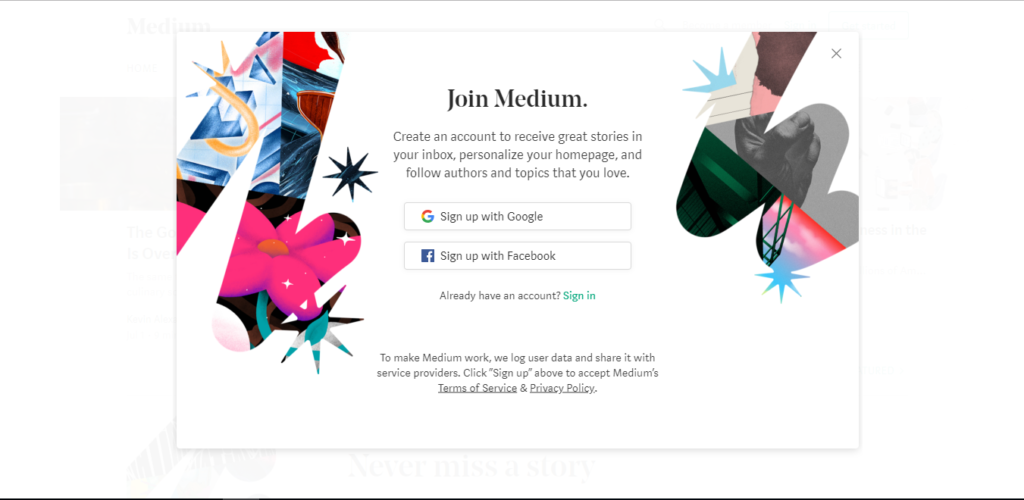 Medium is a free publishing platform which was founded in 2012 and quickly became popular for its minimalist style. It's completely free, easy to use and has a community that you can promote your articles to.
Medium is not a platform for running full websites or a store. They host all of your articles on their servers so that you don't have to worry about hosting costs or running into any technical issues. It's been designed as social media platform for blogging and has an ever-growing audience you can connect with on their social network.
They also have a partner program that pays you for writing, based on how much engagement your articles get from paying members.
The biggest downside is that if you lose your Medium account, you will lose all of your audience. It's best to follow their terms and conditions if you want to keep your account, or you could always move to a platform over which you have complete control.
Pros
100% free to use
Has its own audience to which you can promote your work
You can monetize your blog
Cons
Zero customization options
Only one way to earn money
If you lose your account, you will also lose all of your audience
Not suitable for professional websites
Who Should Use Medium?
Medium is best for casual bloggers that want to get their voice heard without spending any money on hosting and domain names.
If you want to become a professional blogger then Medium isn't for you. It looks very unprofessional for a blogger to not own a website. Your readers just won't take you seriously.
If Medium's simple user interface attracts you, then the best alternative option would be the HubSpot Website Builder.
How Much Does Medium Cost?
Blogging on Medium is 100% free, and you won't even have to worry about the hosting costs. But because you don't own the content you wrote, it can be taken down without any notice. It's best to stick with a platform you have control over so that you don't lose your content or your audience.
Back to Top
7. Blogger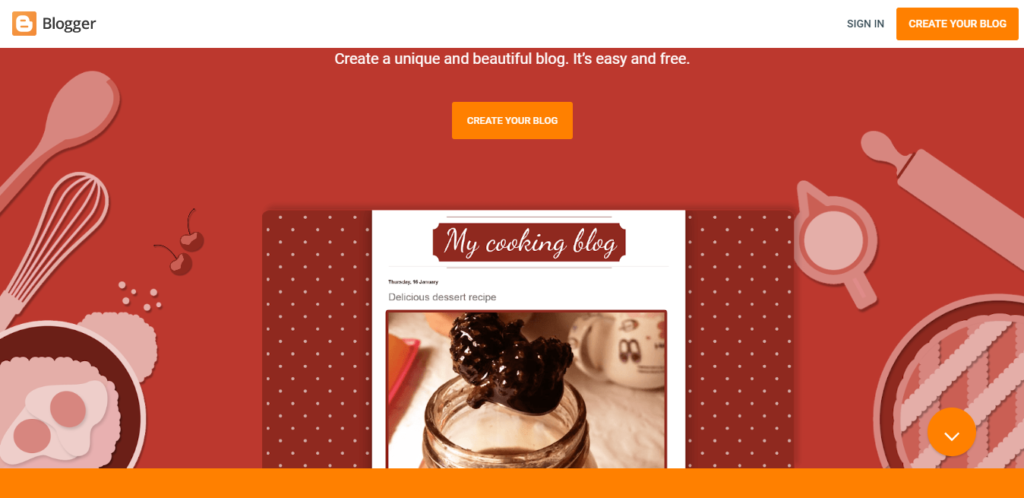 Blogger has been around since the beginning, and being one of the oldest blogging platforms it's also one of the simplest.
Because of its lack plugins and themes, bloggers often switch to other flexible platforms like WordPress once they feel like they need to grow their blog.
(You can read about how to switch from Blogger to WordPress without losing your traffic in WPBeginner's guide.)
Blogger lets you monetize your blogs with their built-in Google Adsense service. Its activation is easy through their dashboard.
Pros
Easy to sign up with your Google account
Hosted by Google
Cons
Limited customization options unless you have some knowledge of HTML and CSS
It does not have any plugins to add more features to your blog
You can't add an online store
No upgrade options
Who Should Use Blogger?
Blogger can be a decent choice for first time bloggers who have no idea where to start. Blogger is tied with your Google account, which makes it very easy to set up. If you're familiar with Google products, you won't have any trouble figuring out what's what in the dashboard.
Blogger is great for testing the waters, but if you want to scale your blog you will have to move to a better blogging platform that offers scalability.
How Much Does Blogger Cost?
Blogger 100% free. As soon as you set up your blog you will be given a subdomain, for example yourname.blogspot.com. If you want to get a custom domain for Blogger, then you will have to get it through a domain registrar like HostGator or Godaddy.
Back to Top
8. Tumblr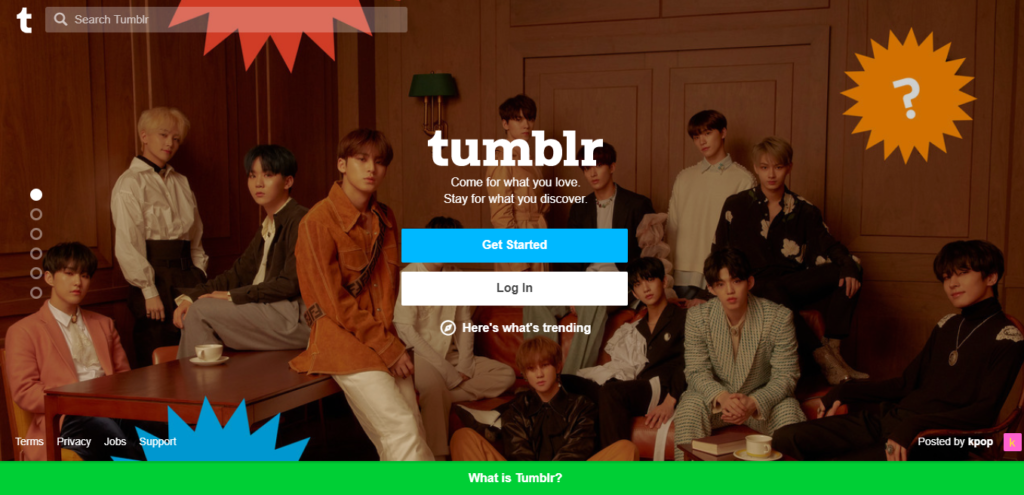 Tumblr is a non-traditional micro blogging platform. By non-traditional we mean that it doesn't work like a typical blogging platform where you publish your blog post on your own site and then any reader comments are added at the bottom.
Instead, when people read your Tumblr posts they can "reblogged" those posts to their own page, and add their own content to it. In effect, that means that you don't completely own the content you publish on Tumblr. If it gets popular, it will be republished on tons of different blogs instead of just your own.
Tumblr's popularity went downhill ever since Yahoo purchased it and made it go through various restructurings. Many users have since abandoned Tumblr and moved on to other platforms like WordPress and Weebly.
Pros
It's free
Tumblr is easy to set up
You can build a solid community and meet other bloggers online
You can easily post, videos, images, GIFs, and audio formats
Cons
You can't monetize
Customization is limited
It doesn't look professional
You have no control over where your content is published
Moving your content to another blogging platform can be very difficult
Who Should Use Tumblr?
If you are targeting a younger audience that is a part of a fandom or if you want to write about pop culture, then Tumblr might be a good place to build your audience.
Traditional bloggers may want to steer clear from this platform because they can't completely own their content due to Tumbr's reblogging feature.
How Much Does Tumblr Cost?
Tumblr is 100% free, all you need to do is signup and you will be provided with a subdomain like: username.tumblr.com. You can also get a separate domain from Tumblr but you will have to purchase it, but in our opinion its not worth it.
If you want to spend money on your blog, then spend it on a blogging platform that lets you own your content and offers more options.
Back to Top
9. Squarespace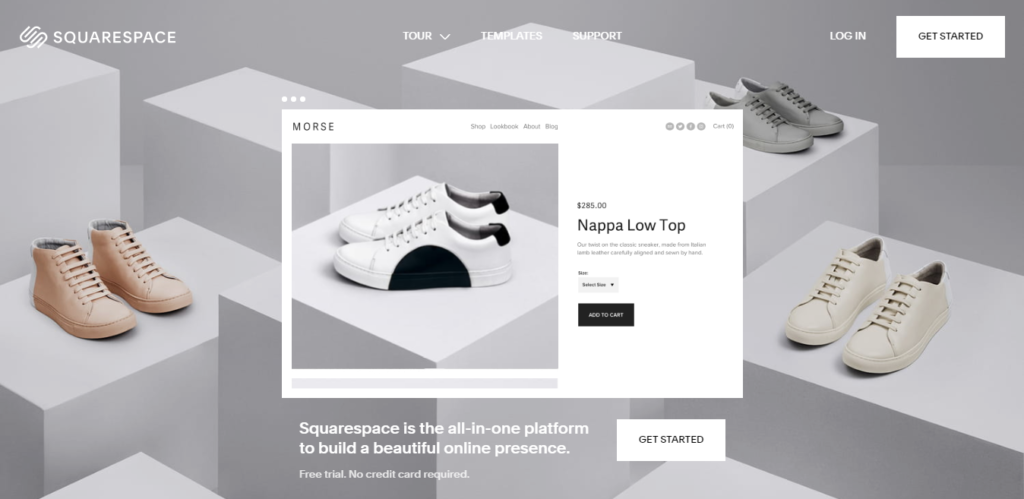 Squarespace is a website building service that was started in 2003, and since then it's gone on to power millions of websites around the world.
If you are looking to create a simple but visually stunning website with little effort, then Squarespace is one option.
With Squarespace, you can not only create websites but also online stores and podcasts. Squarespace has beautiful templates that are ready to use. You can customize some aspects of your site, but if you want to take full control you'll find them limiting.
Pros
Easy to launch and set up without any knowledge of designing and developing.
There are many ready-to-use templates available.
You won't have to worry about hosting as its hosted by Squarespace themselves.
Cons
Doesn't have a free plan
Tied to their platform
Doesn't offer a lot of customization which may feel restrictive.
You can't get any third party add-ons.
Who Should Use Squarespace?
Squarespace is best for people who aren't tech savvy and prefer the hands-off approach, and are willing to pay for someone else to take care of the details. Its best for bloggers who don't want to spend their time managing the website while writing or selling stuff online.
How Much Does Squarespace Cost?
Squarespace doesn't have a free plan like most of our picks in this article. There are two different types of plans for websites and online stores.
The personal website plans starts at $21 per month and the business plan starts at $32 per month. You get a significant discount if choose to bill it annually.
The online stores plans starts at $36 per month and goes up to $66 per month.
Back to Top
10. Ghost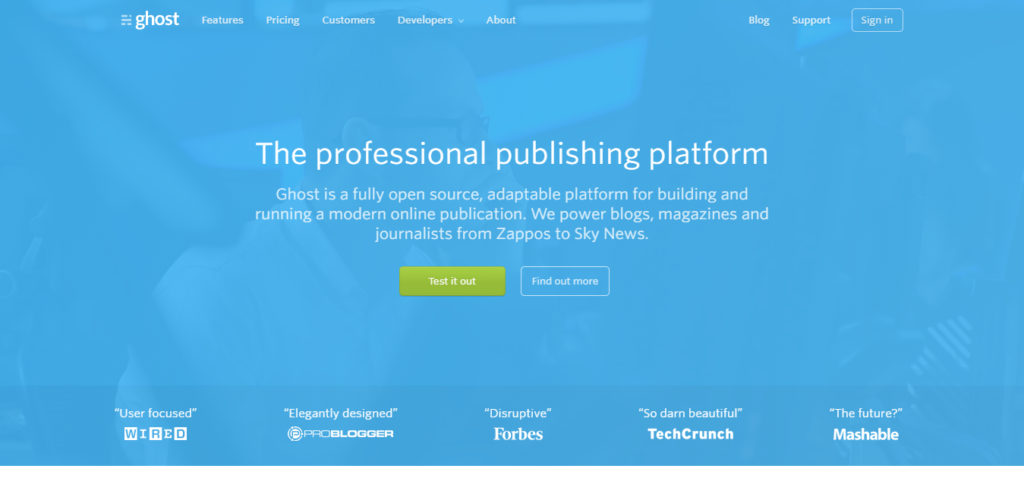 Ghost was founded by a former WordPress developer and is the first blogging platform to run on JavaScript. Ghost started out as a self-hosted blogging platform, but now they also offer a commercially hosted version.
Ghost takes pride in being the fastest blogging platform because it runs on JavaScript, but it doesn't offer a lot of customizations. When compared with WordPress, Ghost doesn't have many themes and plugins available for you to choose from.
Pros
Ghost is an open source platform
It's faster than most blogging platforms
Cons
Complicated set up if you decide to do everything yourself
Customization with apps is very difficult
Not enough themes available
Who Should Use Ghost?
Ghost might be a good choice for bloggers who love to tinker around with their websites, and are looking for a slick publishing experience along with a good user interface. If you are starting a new blog for the first time, then Ghost is probably not right for you.
How Much Does Ghost Cost?
Ghost is free to download and use. You can get the download link on GitHub to their free version. You won't be able to find this link anywhere on their website.
Setting up the free version can be very difficult, if you want to save yourself some time then go for the paid plans instead. The paid starts from $9 per month.
Back to Top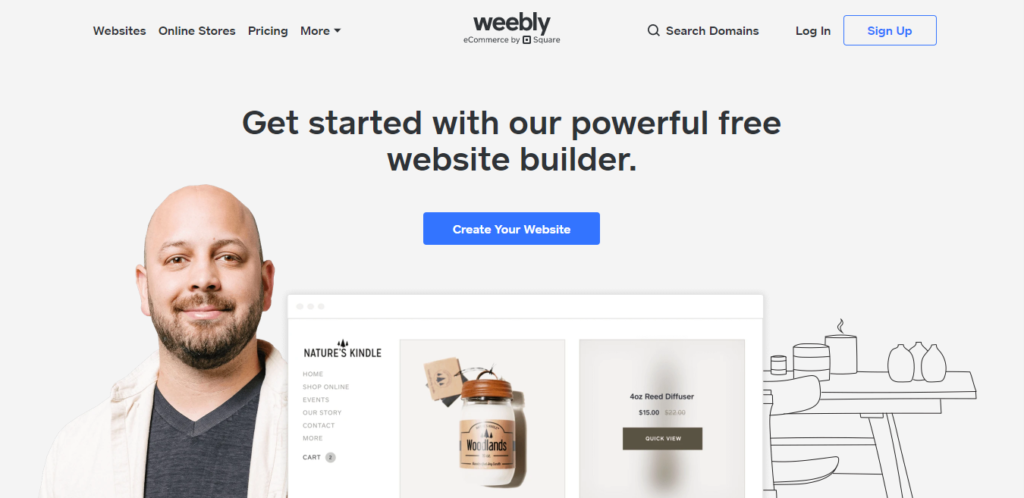 Weebly is a hosted blogging platform that can build awesome websites and ecommerce stores. Weebly has many responsive templates and themes that gives your blog a professional look and they fit on all devices. Weebly also has integrated SEO features which makes search engine optimization easy.
If you are looking for a blogging platform that helps you blog and sell stuff online, then Weebly is a good choice.
Pros
Its free but with limited blogging tools
Its quick and easy to set up
The drag and drop website builder is very easy to use
Lots of themes and templates to choose from
Cons
Moving from Weebly to another platform is fairly difficult
Customization is limited outside the plugins available
The free plan has limited blogging tools
Who Should Use Weebly?
People who don't have a lot of experience with designing will find Weebly to be a perfect fit. Bloggers can blog and sell online at the same time and its integration with Square makes this a whole lot easier. Square is a platform that helps in making receiving payments easy and it also helps you manage your inventory.
How Much Does Weebly Cost?
Weebly has free plan which you can use to try out some of their features. The free plan doesn't really offer much. If you really want to use Weebly to its fullest, then you'll need to go for the paid plan.
The paid plan starts with $5 a month and goes on to $25 a month. The basic plan doesn't have a lot of features, which is a huge let down. If you want to try out all of their features, you will have to pay them more.
Weebly is the most expensive blogging platform in our list and we'd highly recommend that you go with WordPress.org.
For online stores, Weebly has different pricing plans which starts from $12 per month and goes on to $38 per month.
Get Started with Weebly
Back to Top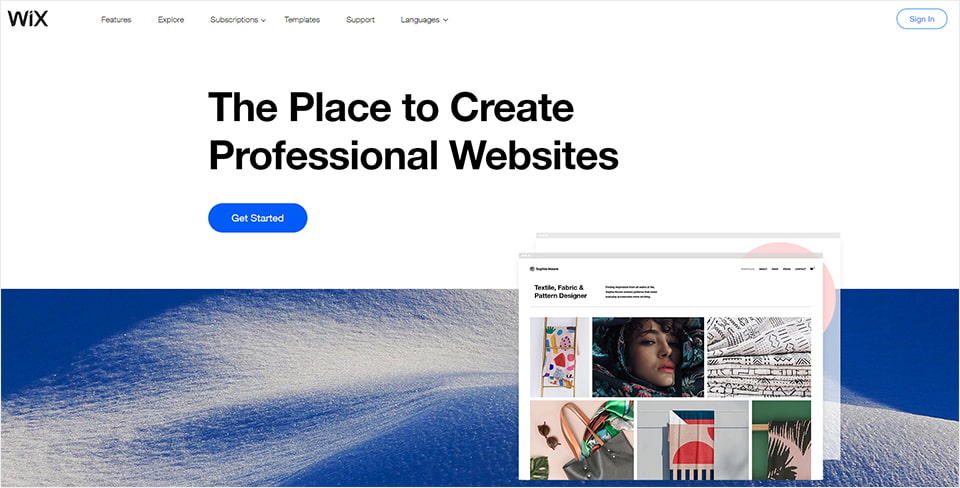 Wix is one of the best platforms for blogging and it boasts over 110 million users. Wix is a website builder, which lets you build your website with the help of its drag and drop tools.
You can even launch your blog with their blog app for free. But you will have to get their premium package if you want to connect your custom domain.
Wix is a hosted blogging platform, which means that you don't have to manage the server side of things. It's good for those who don't want to spend their time on anything else other than blogging.
Wix has a simple interface which makes it easy to create a simple website in a matter of minutes.
Pros
It's easy to set up; no coding required
Well designed themes to change your site's look
You can start an online store but the features are limited.
Cons
Not SEO friendly like other blogging platforms
Limited features with the free plan
Free plan shows a lot of ads
There aren't many third party apps available
You can't change the theme once you have selected it
Who Should Use Wix as a Blogging Platform?
Wix is a platform best suited for people who want to get a very simple site ready as quickly as possible, and don't care about customizing the design much. Wix's blogging platform isn't as good as WordPress, but because of its low learning curve it may appeal to bloggers who can't code.
How Much Does Wix Cost?
Wix is free and once you register you will get a sub-domain url like this: www.yourdomain.wix.com.
A subdomain URL doesn't look professional. If you intend to scale your blog, you will need to get your own domain name. The free plan also shows a lot of intrusive ads which can be very distracting for the readers. Our recommendation would be to spend a few extra bucks to get rid of these ads and make your reader's experience worth while.
Wix's paid plan starts from $16 per month and goes on to $159 per month. You will also have to pay an extra $4.50 per month for the custom domain.
Back to the top
Which is the Best Blogging Platform? – Our Verdict
We spent 85 hours testing these 11 blogging platforms from different angles, and to no one's surprise WordPress.org came out on top!
WordPress is dominating the market for a reason, its affordable, easy to use, powerful and flexible. Site owners love the freedom WordPress has to offer. You can create just about any kind of website or a blog with WordPress. It has a huge library of plugins and WordPress themes for you to choose from. You can use these to customize your blog any way you like. This is something that no other blogging site offers.
If you need help with installing WordPress on Bluehost then read our guide on "How to Start a Blog in 10 Steps". It will definitely make your life easier with the installation.
We hope that our guide helped you in choosing the best blogging platform. If you have any questions, then do let us know in the comments below.

Back to Top