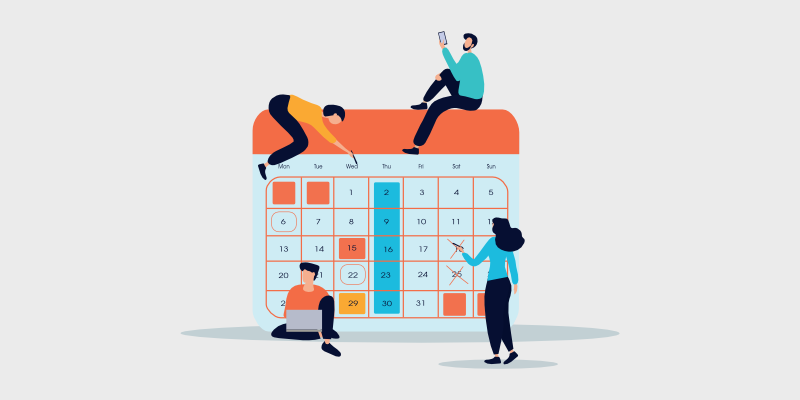 D o you want to create an editorial calendar to keep track of your online content? In this tutorial, we'll teach you how so you can take your blog to the next level.
If you run a blog, it's important to know how to create a content calendar.
Also known as an editorial calendar, it lists the schedule of your blog content so you can keep up with each article and its process. You can also schedule social media and email content to maximize your blog promotion and visibility.
In this tutorial, we'll share how to create an editorial calendar that helps you manage your blog content with ease. Let's get to it!
Before we dive into the tutorial, it's important to understand what an editorial calendar is and the benefits of using one for blogging.
What is an Editorial Calendar?
An editorial calendar is a visual planning document that helps you schedule your blog posts on a daily, weekly, or monthly basis.
At a glance, you'll be able to see the upcoming blog posts that you need to write and publish.
It will also help you keep track of content types, authors, promotional channels, and other details.
Why Use an Editorial Calendar?
There are many reasons why it's helpful to use an editorial calendar for your blog.
Let's take a look at a few of them:
Organize Your Content. Content calendars make it easier to stay on top of your content schedule. At a short glance, you can see what stage your content is in, what priority it holds, when it'll be published, and more.
Publish Consistently. An editorial calendar ensures that you have enough content in your schedule to post consistently. This is important to do if you want to boost visibility and drive more traffic to your blog.
Boost Productivity. By following the schedule of your editorial calendar, you can improve your productivity. You'll be able to write faster and stay on task when you have a content calendar to keep you accountable.
Meet Deadlines and Goals. It's easier to meet your deadlines, achieve your goals, and make money when you have a calendar to follow. This makes your blog more efficient and consistent so you can grow your audience and build your business.
Now that we know the benefits of using a content calendar, let's look at a few examples…
Editorial Calendar Examples
There are a few different strategies for creating an editorial calendar for blogging. The type of content calendar you make really depends on your specific blog and needs.
So, let's look at some examples of content calendars to give you a clearer idea of how each type of calendar works.
Spreadsheet
In this example, HubSpot uses a simple spreadsheet as its content calendar. It lists necessary information including the publish date, due date, author, blog title, target keywords, and more.
It also has a section to add details about the offer or call to action that will be included in each content piece. This is an important section to add if you want to improve your blogging strategy and turn your visitors into subscribers or customers.

A spreadsheet is a great option for those who want a simple solution without the extra frills. If you don't need advanced features or extended functionality for your calendar, then creating a simple spreadsheet might be the best option for you.
Traditional Calendar
Whether you use pen and paper or a calendar app, a traditional calendar setup can also be a great way to manage your blog content.
This option is great for bloggers that want a simple solution but would prefer to see their content visually in a daily, weekly, or monthly view, rather than in a list view like in a spreadsheet.
In this example, a blog called Hey Now Media uses a calendar to organize their content.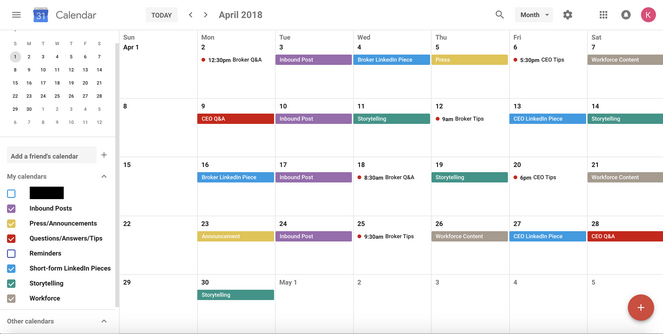 Calendar apps can also be shared with others who have authorized access for an easy way to collaborate. So, it's perfect for a small team of bloggers.
Project Management Tools
Project management tools and content calendar apps are also excellent methods for creating editorial calendars.
These tools come with extra features that help you further organize and manage your content.
Unlike the first two types of editorial calendars, with these tools you can:
Generate ideas in one place
Approve or deny workflows
Monitor progress
Manage deadlines
Share tasks, notes, attachments, etc.
Here's an example of a content calendar created with Trello, a well-known project management app: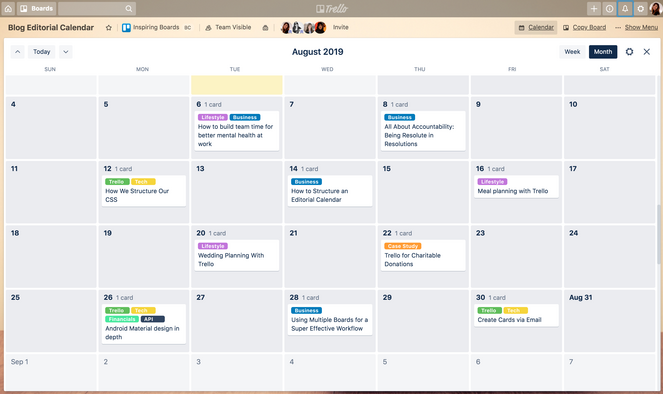 Tools like these are especially useful for larger blogging teams because it makes it easier to manage more projects and writers.
Now that we have an idea of the different types of editorial calendars and how each one functions, let's dive into the tutorial.
How to Create an Editorial Calendar For Your Blog
It's finally time to learn how to create an editorial calendar for your blog.
So, let's get started.
1. Choose the Right Tools
It's important that the tool you choose to create your content calendar is the right fit for your needs. Depending on your goals and how you want to utilize your calendar, you'll find that some tools work better for you than others.
When deciding on the type of editorial calendar you should use for your blog, ask yourself:
Do I want a simple solution? Or am I looking for extra bells and whistles?
What features are a must?
Am I managing a team of other writers?
Can I use this type of calendar long-term even as my blog grows?
What's my budget?
The answers to these questions will help you decide which tool is best for creating your editorial calendar.
And if you're not sure which tool to use, let's take a look at a few options you can use to create an editorial calendar that works for you.
Google Sheets
Google Sheets is a simple, straightforward tool you can use to create a content calendar spreadsheet. Simply type in the details you want, like when a post will be published, the author, keywords, etc., to organize and manage your content strategy at a glance.
If creating an editorial calendar seems daunting to you, it's easiest to start with a simple spreadsheet. You can always move to a more advanced solution later if you decide to, but it's a great way for beginner bloggers to get started managing their content.
There are also lots of free content calendar spreadsheet templates online if you don't want to start from scratch.
Price: Google Sheets is free for personal use.
Google Calendar
Google Calendar makes it easy to add and remove tasks and events with the click of a button. It's a simple solution that lets you see your content at a glance and quickly make changes.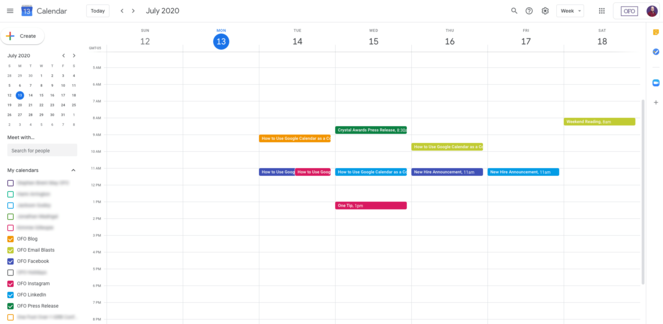 You can create separate calendars for different purposes, so you can create a blog content calendar and a social media content calendar, for example. You can color coordinate different events or tasks, invite specific users to tasks, add notes, set specific times, and much more.
Price: Google Calendar is free for personal use.
PublishPress
PublishPress is the best editorial calendar for WordPress. With this plugin, you can manage and schedule your blog content right from the WordPress dashboard.
You can add your upcoming content directly to the calendar in WordPress and drag and drop tasks to new publication dates if needed.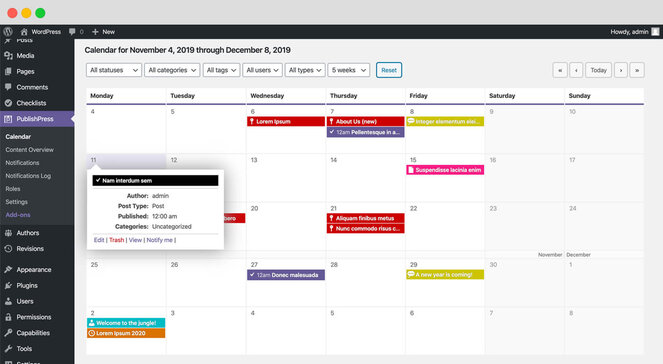 You can also set up notifications, create custom post statuses, add editorial comments for writers, and more.
This is a great solution if you're running a multi-author WordPress blog.
Price: There's a free version of the plugin available. To get more powerful features, you can upgrade to the pro version starting at $69 per year.
Asana
Asana is a popular project management tool designed to help content marketers and their teams track, organize, and manage their content. It makes it easy to stay on top of each stage of the creation and publishing process so everything goes live on time.
Asana is also great for collaborating with other team members to successfully brainstorm, write, and edit posts. It creates a streamlined process where you can assign tasks, due dates, add notes, group by category, assign priority, and much more.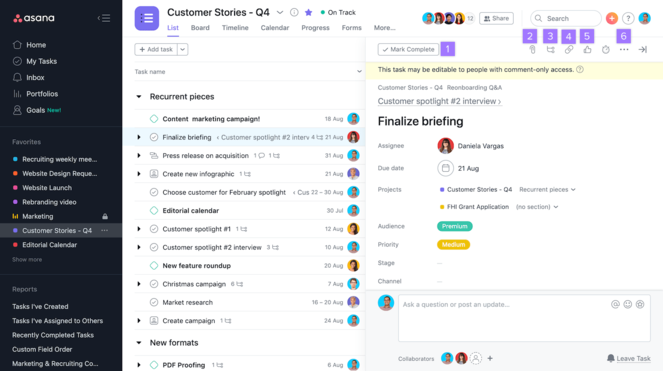 If you want extended functionality of your calendar, especially when working with a team, then Asana is a solid option.
Price: Asana has a free plan that's great for managing personal tasks and to-dos. If you want features to help you manage a team of writers, paid plans start at $10.99 per month.
Once you've chosen the tool you like, it's time to move on to the next step…
2. Develop a Blogging Schedule
Before you start filling out your editorial calendar, you need it decide how often you're going to post and how far in advance you're going to plan content.
If you've been blogging for a long time, you likely already have a consistent schedule and lots of content ideas, so you should be good to go.
But, if you're just starting out, you need to come up with a blogging schedule first.
As a beginner, it's best if you stick to posting one blog post per week. This makes it easy to manage and you won't get overwhelmed. Then, as you get more experience, you can increase your publishing frequency.
We also recommend that you plan your content at least a month in advance. That way, it's easier to prepare content for upcoming holidays and promotions.
For example, if you have a food blog, you can plan festive recipe ideas leading up to the holiday season.
Plus, by planning farther in advance, if something comes up, you can make neccesary changes to your content calendar and still get your posts published on time.
3. Plan Your Blog Content
Once you know how many posts per week you'll be publishing and how far in advance you're planning content, you need to come up with blog post topics to add to your editorial calendar.
Here are some tips that will help you plan effective content:
1. Determine Your Goals
Before creating a blog post, you need to decide what you want to acheive with it. What do you want readers to get from the post? And what do you want them to do after reading your post? For example, a fashion blog might create a post on the top looks for spring. The goal is to help the audience learn the newest fashion trends for the season and encourage them to buy the items. Setting specific goals for your content will help you achieve the results you're looking for.
2. Define Your Target Audience
Without knowing who your blog is aimed towards, you can't create relevant blog posts tailored to your audience's needs and interests. It's important to understand your ideal reader, what they like, and what problems they need to solve so you can provide that information to them.
3. Use Keyword Research
For your blog to gain visibility with your audience, you need to perform keyword research. Popular keywords tell you what users are searching in Google and other search engines so you can create relevant blog content that caters to their needs. Keyword research is important for SEO so you can improve your ranking and drive more traffic to your blog.
With this tips in mind, it's time to start brainstorming.
After you have your list of topic ideas, it's time to add them to your editorial calendar.
3. Organize and Schedule Your Blog Content
Now you need to add all of the details about your upcoming topics to your editorial calendar.
You might be tempted to just add your blog post titles and publication dates and call it a day.
But, if you really want to create an effective editorial calendar that will help you improve your blogging strategy, then you need to include more information.
Every blog's editorial calendar will be a bit different, but here are some details you should consider including:
Blog title
Due date
Publish date
Content details or notes
Keyword(s)
Channel (blog, social media, email, ect.)
Offers/call-to-action
Including all of these details will help you see your entire content marketing strategy at a glance.
And if you're on a team or are managing freelance writers, there are other sections you might need in your editorial calendar like:
Special instructions
Writing requirements (word count, format, etc.)
Article status
Assigned author
Priority
Play around with your editorial calendar and see which details are most important for your workflow.
While you're adding your upcoming blog posts to your calendar, you should also take the time to mark down important events that you want to create content around in the future like holidays, webinars you're holding, contests and giveaways, etc.
And don't forget, you can also use your content calendar to plan and schedule your blog promotion strategies like email newsletters and social media posts, so you can add those to your calendar too.
---
And that's the end of the line!
You now know how to create an editorial calendar for your blog. Going forward, you can stay on top of your blog content which is crucial to driving traffic to your site, providing value to your audience, boosting engagement, and so much more.
We hope you enjoyed this post. For more tips, check out our post on 101 blogging tips for beginners. It's packed with tips and tools to help you create a successful blog.
Before you go, don't forget to sign up for our email newsletter for more helpful blogging tips sent straight to your inbox!