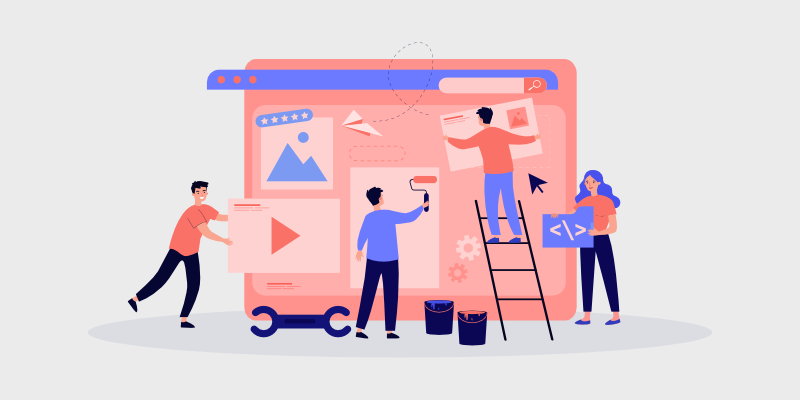 A re you looking for blog design examples? Seeing examples of amazing blog designs can help inspire you to create a masterpiece of your own. Today, we'll help you out with this list of the best blog designs.
When you start a blog, it can be difficult to stand out from the crowd and convince people to read your content.
So, it's important that you make a good first impression.
And one way to make a good first impression is with an eye-catching blog design.
In this article, we'll share 21 amazing blog design examples to spark your creativity.
What Makes a Good Blog Layout?
Before we get started, let's go over some basic principles of blog design.
You might think that an amazing blog design needs to include a bunch of flashy animations, elaborate typography, and all kinds of cool widgets, but that's not the case.
If your blog design has too much going on, it can actually be a distraction for visitors, which defeats the most important element of a good blog design: Readability.
Visitors need to be able to easily read your content, otherwise they won't return.
So, here are some traits of a great blog layout and design that keeps readability in mind:
White Space: White space isn't necessarily white, but it's an empty space between and around elements on the page. Be sure to use white space in your blog design to draw the readers' eye to specific areas, like your content.
Navigation: Your blog should have some sort of navigation menu so that visitors can easily find their way around and get to the pages or posts they're interested in.
Blog Header: The header section at the top of the page is often the first thing that visitors see when they arrive at your blog. It sets the tone for your blog and draws readers in. It should typically include a high-quality image, your logo, and a brief description of what your blog is about.
Blog Cards: Displaying your blog posts in cards or thumbnails will let you show a lot of content to your visitors in an organized way. Blog thumbnails typically include a featured image, title, date, author name, blog excerpt, category, and a "Read More" button.
Social Sharing: Incorporating social sharing into your blog makes it easy for readers to share your content across the web. An easy way to add social sharing buttons to your blog is with a plugin like Shared Counts.
These are just a few of the best practices to keep in mind, but it should be enough to get you started.
21 Best Blog Designs
Now that you know what makes a good blog layout, let's take a look at some real-life examples.
Hopefully, these blog designs will inspire you to beautify your own blog. Plus, we'll share some tips along the way that will help you recreate some of the features you'll see.
Nearly all of these blogs are made with WordPress. Check out our list of the best blogging platforms to find out why WordPress.org is the #1 choice for creating a custom blog.
Ready? Let's dive in.
1. Sincerely Jules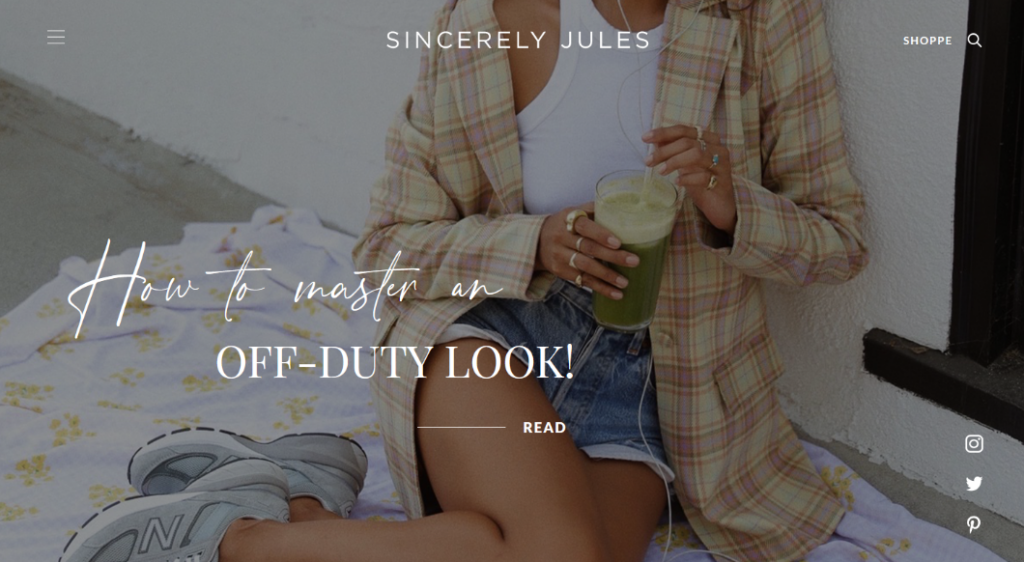 Sincerely Jules is a popular fashion and lifestyle blog with a gorgeous design. The homepage of her blog begins by displaying a full-width header image of the latest blog post and a link to read the article.
There's also a navigation menu in the top-left corner and links to her social media platforms are displayed vertically on the right-side.
As you scroll down the page, more of her latest blog posts are presented with large, eye-catching thumbnails.
At the bottom of the page, Jules has embedded her Instagram feed.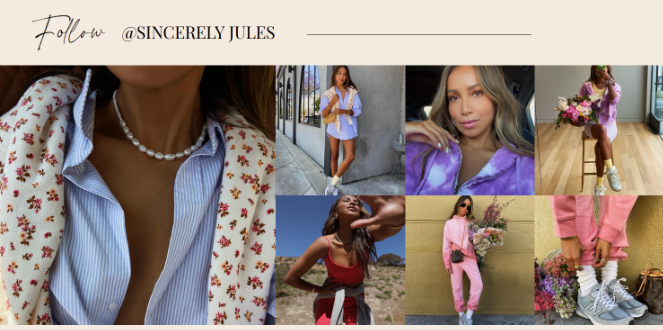 Doing this can help you:
Keep your blog automatically updated with fresh content
Boost engagement
Get more social media followers
---
2. Cookie + Kate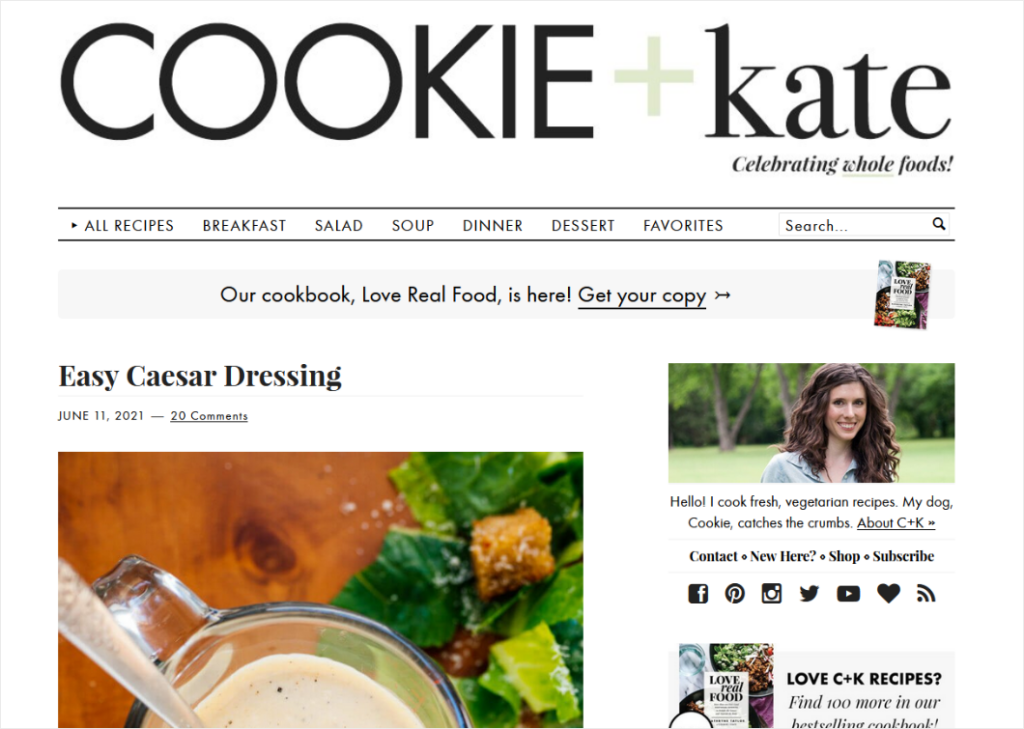 Cookie + Kate is a food blog with a minimal and modern design. The navigation bar at the top of the page lets visitors easily find the type of recipe they're looking for.
And as you scroll down the page, you can see all of the newest recipes that have been published.
The blog's sidebar is smartly designed as well. It includes many widgets that help boost engagement and keep visitors on the site longer, including:
A photo of the author and link to the about page
Social media icons
An email newsletter optin form
Links to buy her cookbook
Popular blog posts
---
3. A Cup of Jo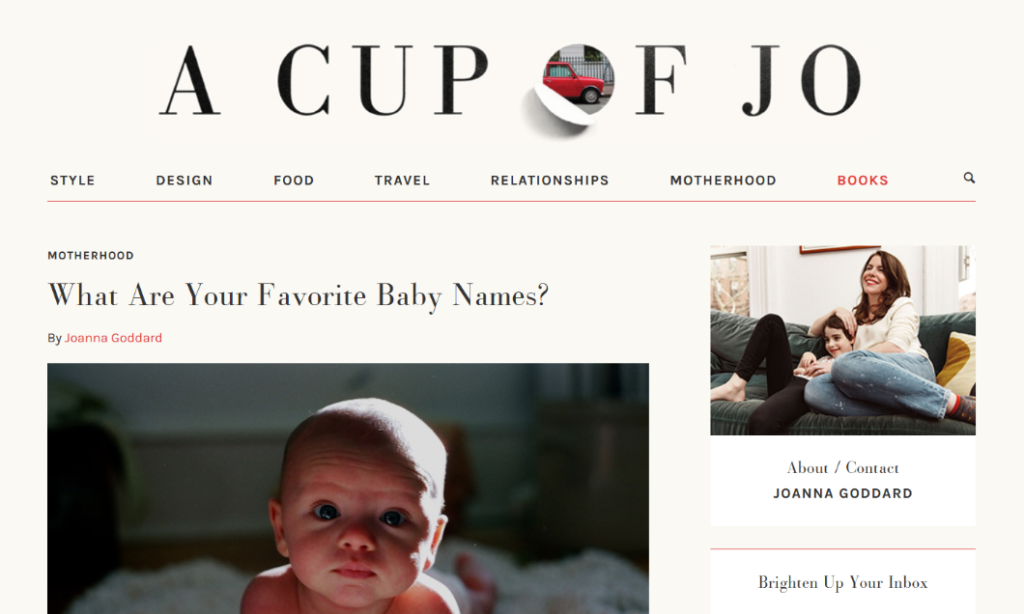 A Cup of Jo is another simple blog design that puts all of the focus on the content, which covers topics like food, design, travel, motherhood, and more.
Like the previous example, the navigation bar at the top of the page organizes the content into easy-to-find categories and the latest posts are listed as you scroll down the page.
This blog design also includes:
An email optin form
Social media icons
Popular blog posts
Related posts
---
4. TED Blog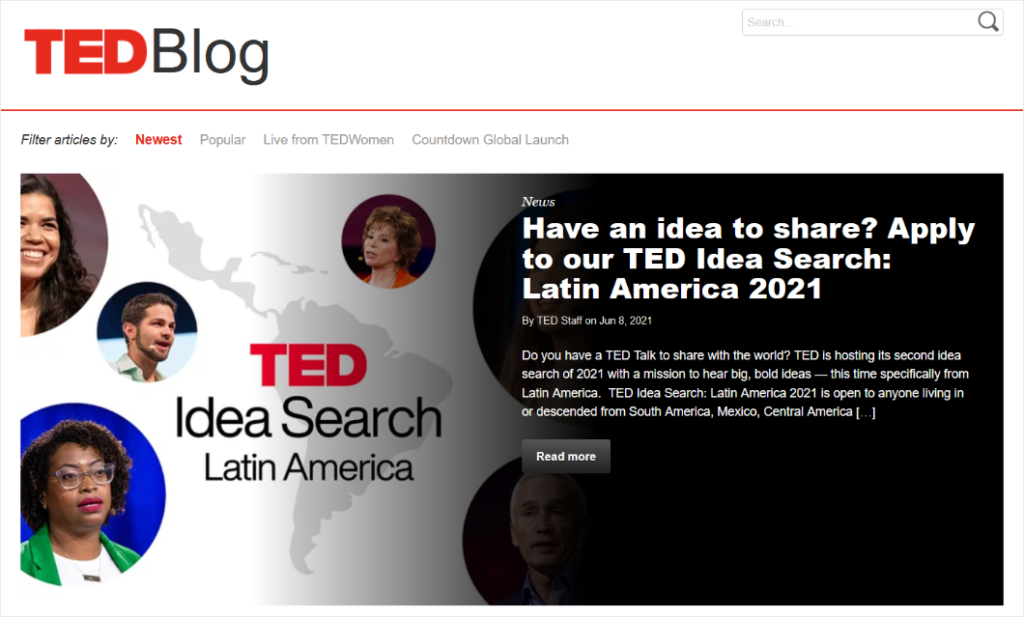 The TED Blog has a professional design and layout that's perfect for news blogs and websites.
The full-width header image at the top of the page promotes the latest article. Under the blog title and description, there's a call-to-action button to encourage visitors to read the post.
Underneath that section, visitors can scroll through all of the latest articles on the blog: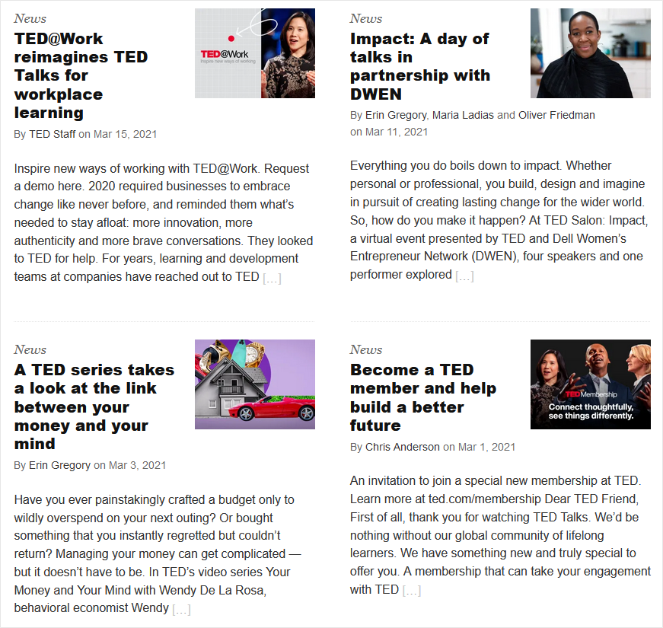 Visitors can also filter the articles that are displayed by newest, popular, or by other specific TED categories.
---
5. The Sartorialist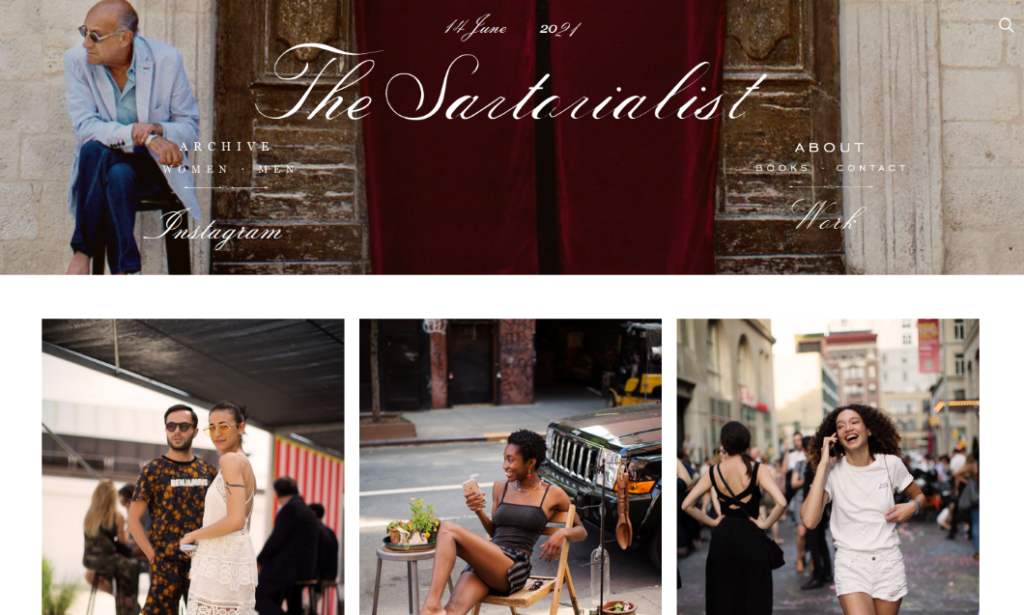 The Sartorialist is a well-known fashion and photography blog. As you can see, the blog design is focused mainly on showcasing the photographer's beautiful work.
And instead of having to click a traditional "Next Page" button to see more photos, infinite scrolling is used to improve the user experience.
Visitors can also navigate the blog using the links in the website header. There are links to the:
Photograph archives
About page
Contact page
Instagram profile
And more
---
6. Dan Flying Solo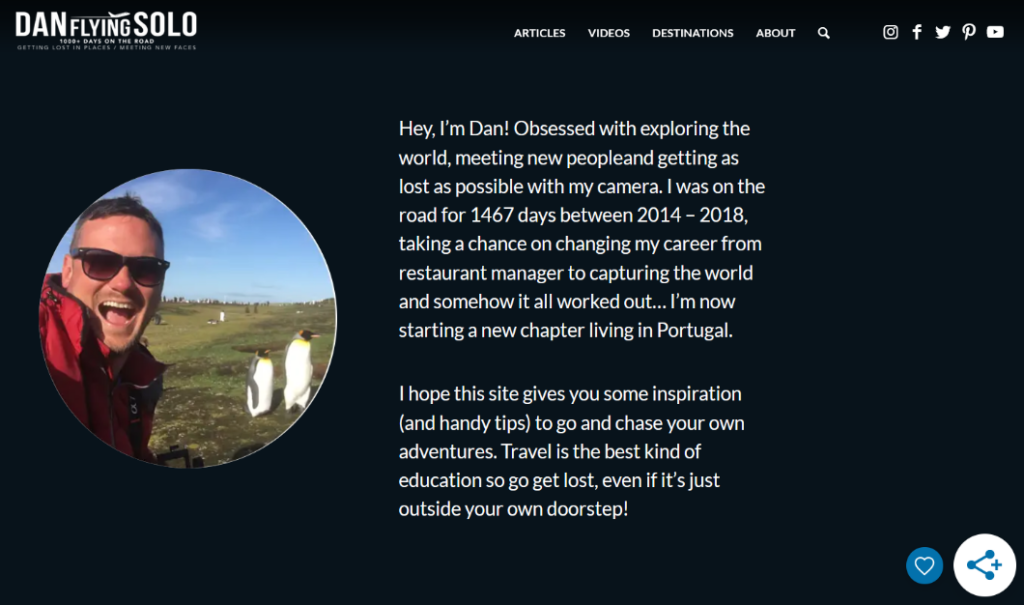 This travel blog design from Dan Flying Solo is simple but it gets the job done.
The website header shows an about section where readers can learn more about who Dan is.
As you scroll down the page, you can see the latest posts from the blog.
Dan also embeds his travel videos from YouTube on the page. This is a great way to engage visitors and grow his YouTube channel.

---
7. Copyblogger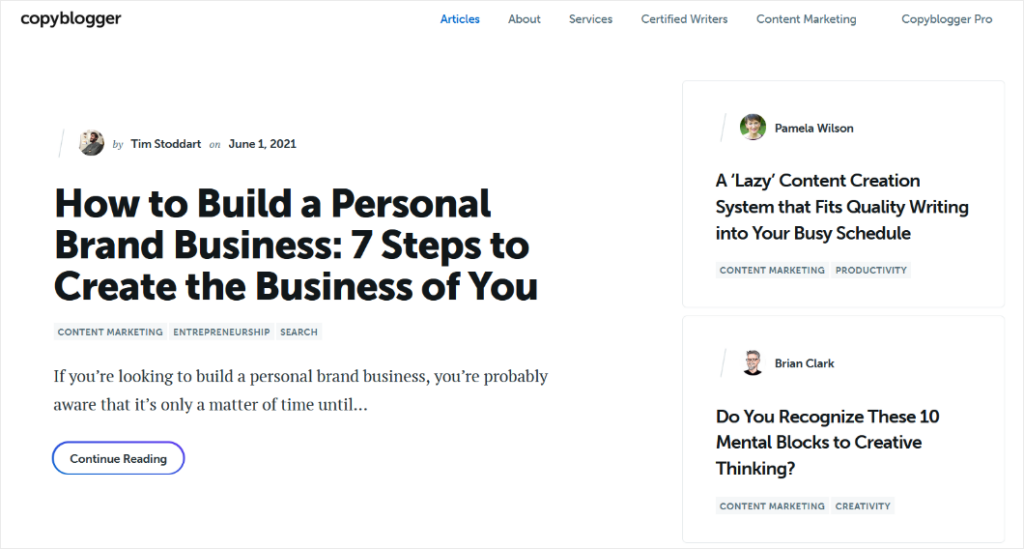 The Copyblogger blog has a minimal design that uses a lot of white space. This blog design shows that you don't have to cram a lot of elements onto the page to make it effective or interesting. Instead, you can let your amazing content speak for itself.
The page displays thumbnails of the latest articles. Visitors can simply click on the thumbnail to read the full post.
At the bottom of the page, Copyblogger offers a lead magnet to encourage visitors to sign up for their email marketing list: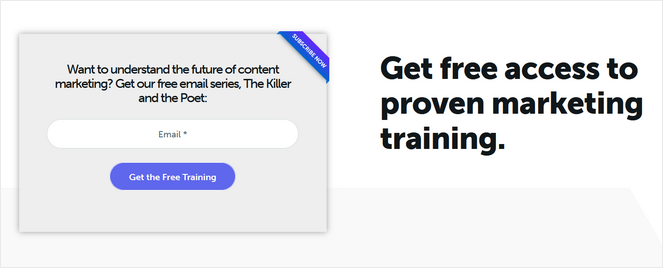 ---
8. Tiny Buddha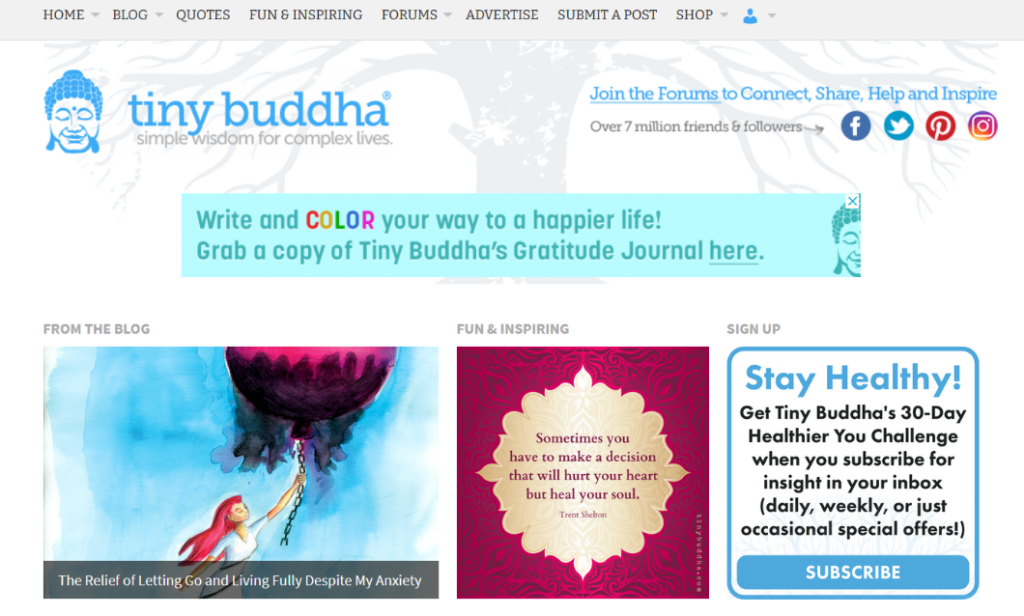 The Tiny Buddha blog design uses a lot of soft colors to match their brand and create a calm feeling for their readers.
On the homepage, visitors can view the latest blog posts and they can navigate to the posts they most want to read using the category links.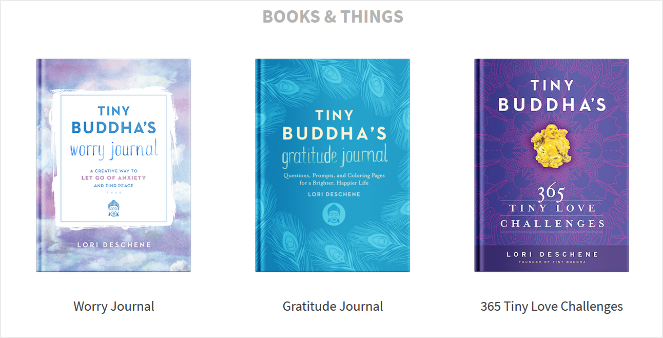 Tiny Buddha also uses the homepage to promote their members-only forum, books and journals, branded t-shirts, and more.
---
9. The Recipe Critic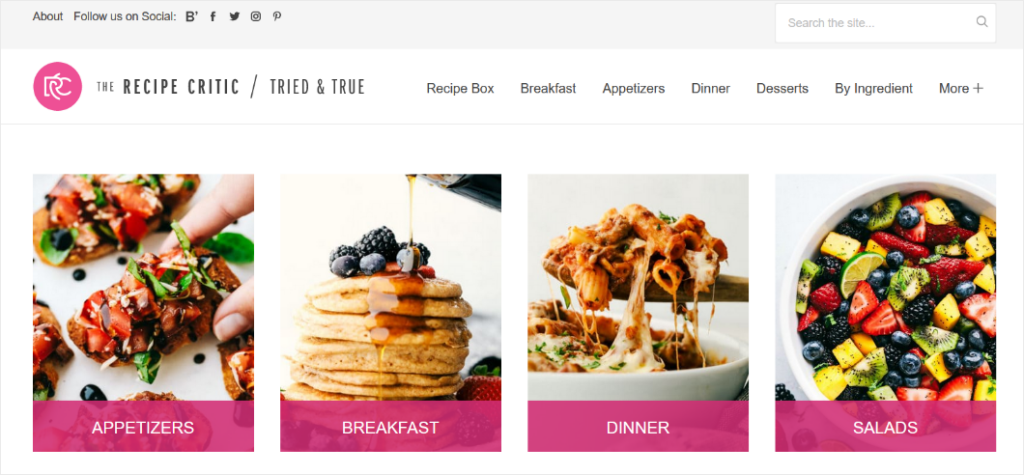 The Recipe Critic is another beautifully designed food blog. The homepage is organized into sections like appetizers, breakfast, dinner, salads, 30-minute meals, slow cooker meals, and more. Readers can easily find the exact recipe they need with this design.
The blog design also includes elements like:
---
10. SPI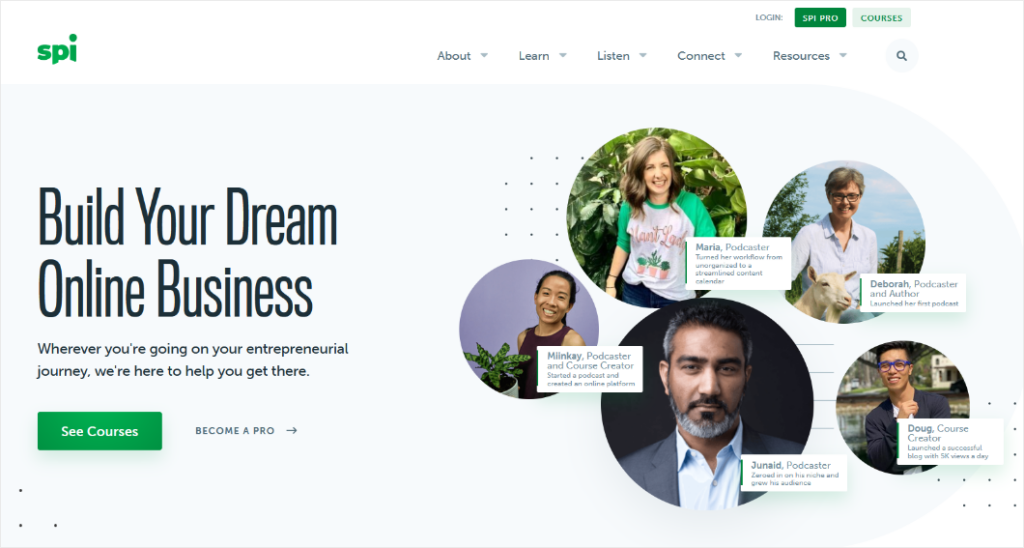 SPI, which stands for Smart Passive Income, has a super sleek and professional blog design.
They use the website header to promote their online courses. In the header image, they use photos of real people and testimonials to build social proof and encourage more course signups.
Further down the page, they display their latest blog posts. Visitors can filter which posts they want to read by category.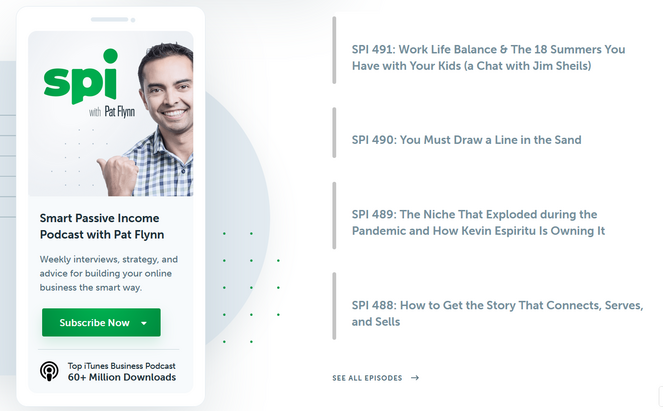 You can even listen to episodes of the SPI podcast right from the blog.
---
11. Writing Revolt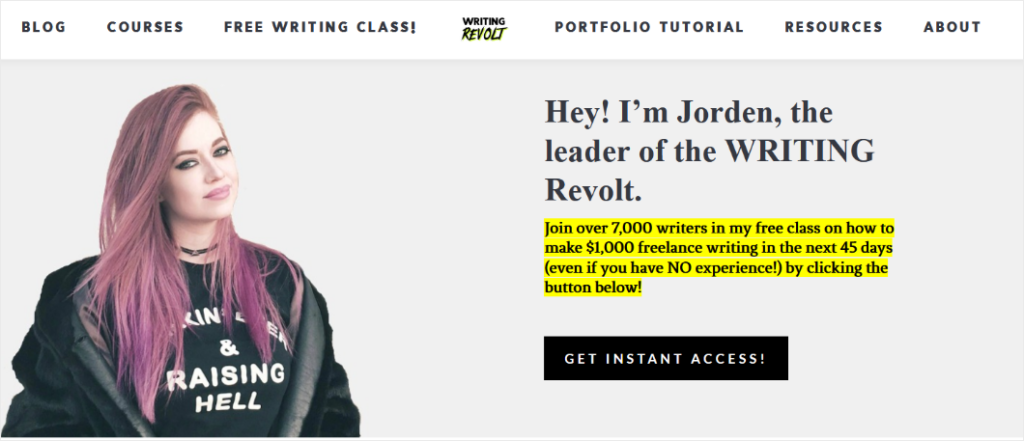 Writing Revolt is a blog that helps aspiring freelance writers create their portfolio, master SEO, and land clients.
At the top of the page is a photo of the blog owner, Jorden, introducing herself and her free freelance writing course. Visitors can provide their email address in exchange for access to the course, which helps Jorden grow her email list and sell paid courses later on.
There's also a section of student testimonials: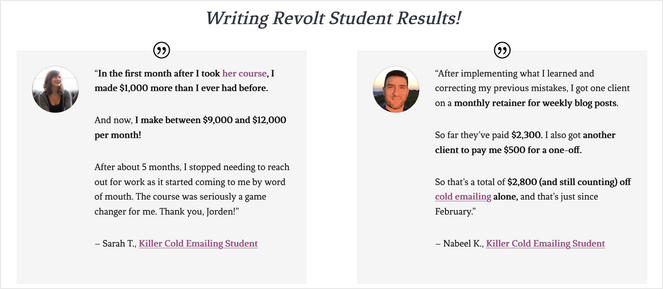 Displaying testimonials is a powerful way to convince people to sign up for your email list or buy the product or service that you're offering.
---
12. He Spoke Style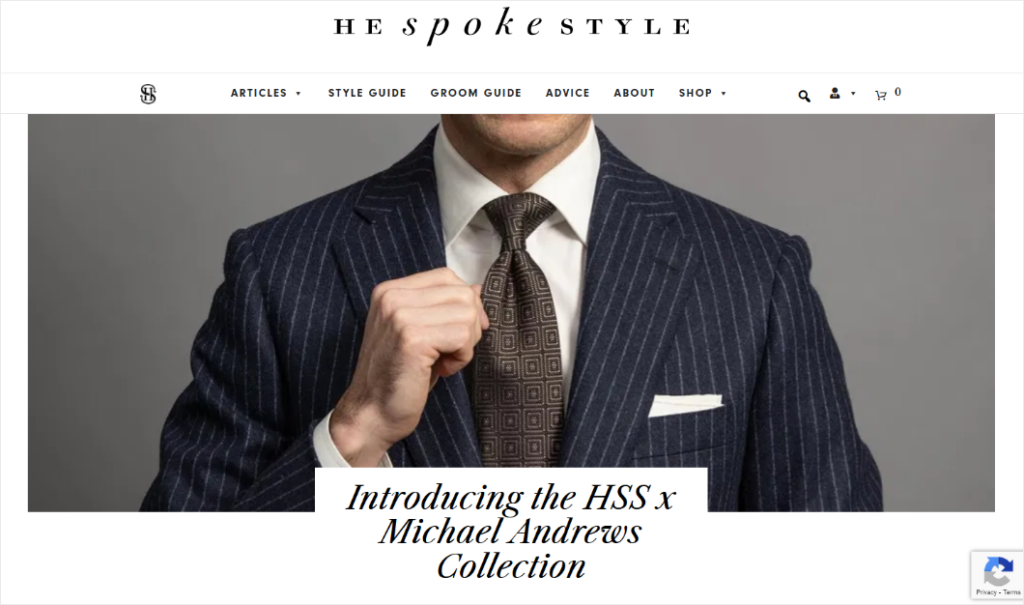 This popular men's fashion blog uses a classic layout where the website header displays a featured blog post, and underneath, is a list of the newest articles on the site.
Visitors can also use the navigation bar to find articles about specific topics like grooming, watches, drinks, and more.
And take note of how the simple white background makes the images pop.
He Spoke Style also has an online store where visitors can buy custom menswear like suits, shirts, scarfs, and more.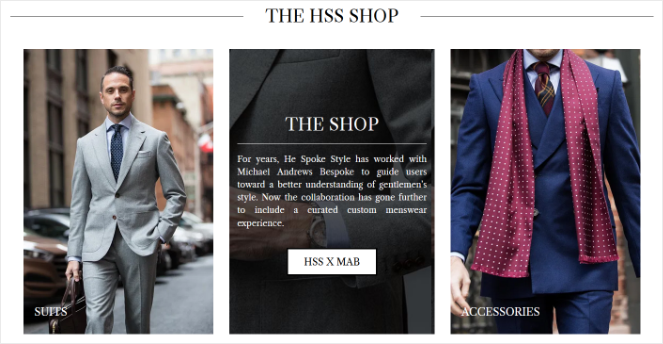 ---
13. TechCrunch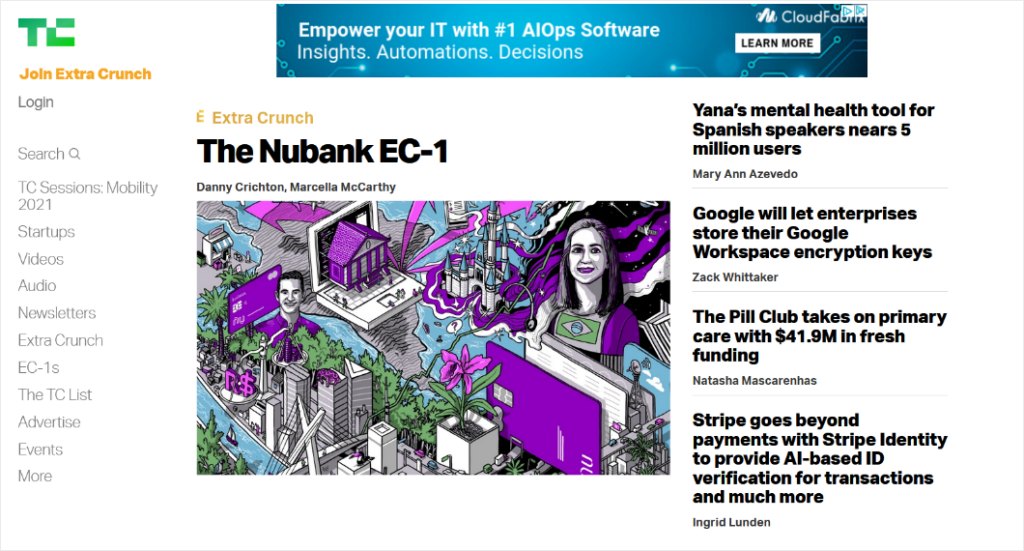 TechCrunch's simple blog design is perfect for readers that want to dive right into the latest tech news.
There are featured blog posts displayed at the top of the page. Then, the newest posts are shown in a vertical list.
There's also a navigation panel and search bar on the left-side to help visitors easily find what they need.
---
14. The New Yorker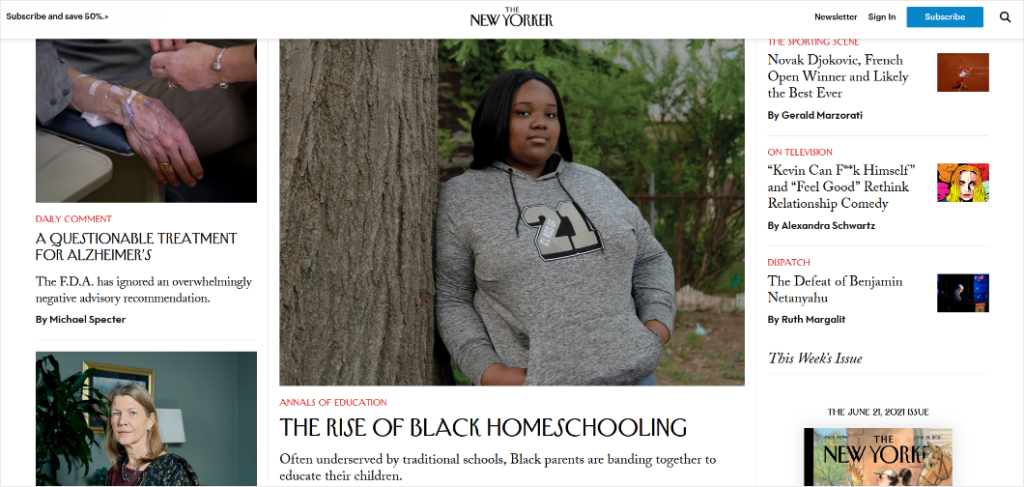 The New Yorker is another blog design example that works well for news websites. The page is packed full of their latest blog posts, separated into categories like spotlight, humor, fiction and poetry, videos, and more.
There's also a section to display notable contributors and guest writers.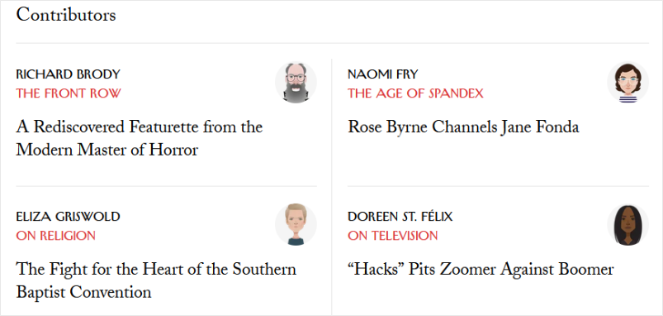 If you're publishing tons of content on a regular basis or running a multi-author blog, a design like this might work best for you.
---
15. Afford Anything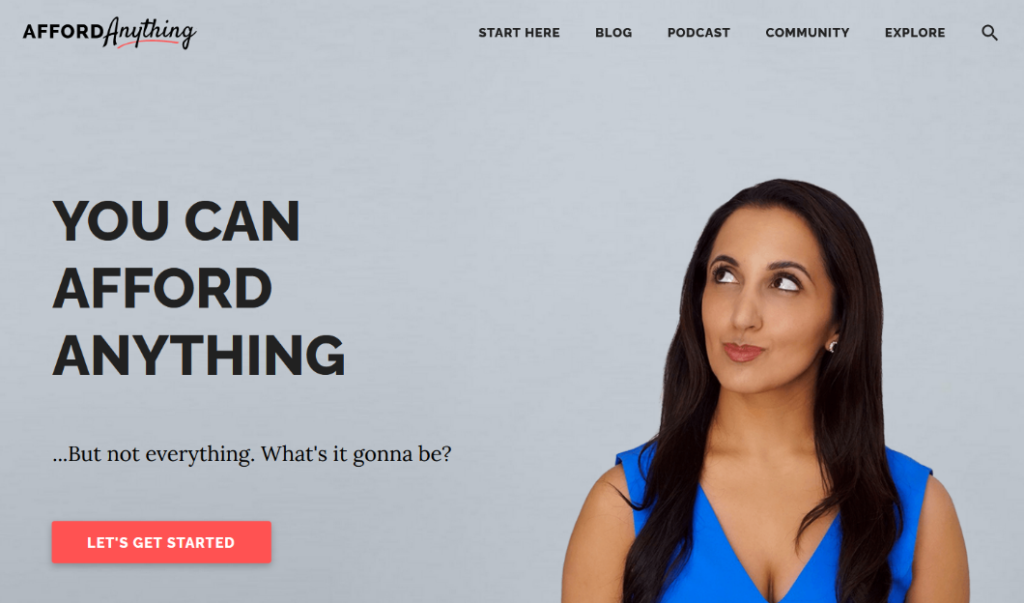 Afford Anything is a blog all about finance, psychology, and investing. It follows all of the blog design best practices like adding social sharing buttons, displaying popular blog posts, and using eye-catching images.
Plus, at the top of the page there's a strong headline and a call-to-action button. When visitors click on the Let's Get Started button, a popup appears offering a free ebook in exchange for their email address.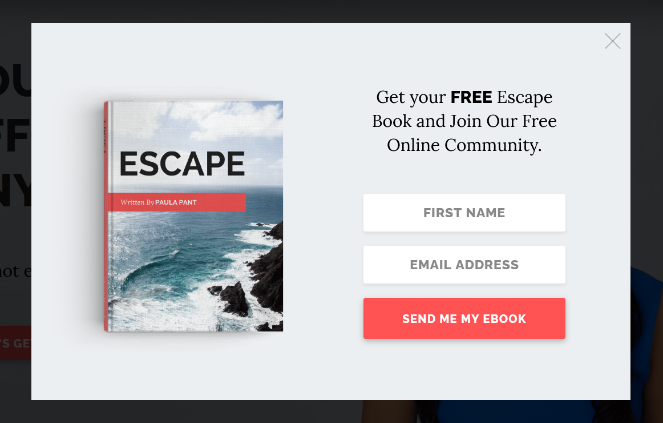 And check out our post on email popup examples for more inspiration.
---
16. A Forest Life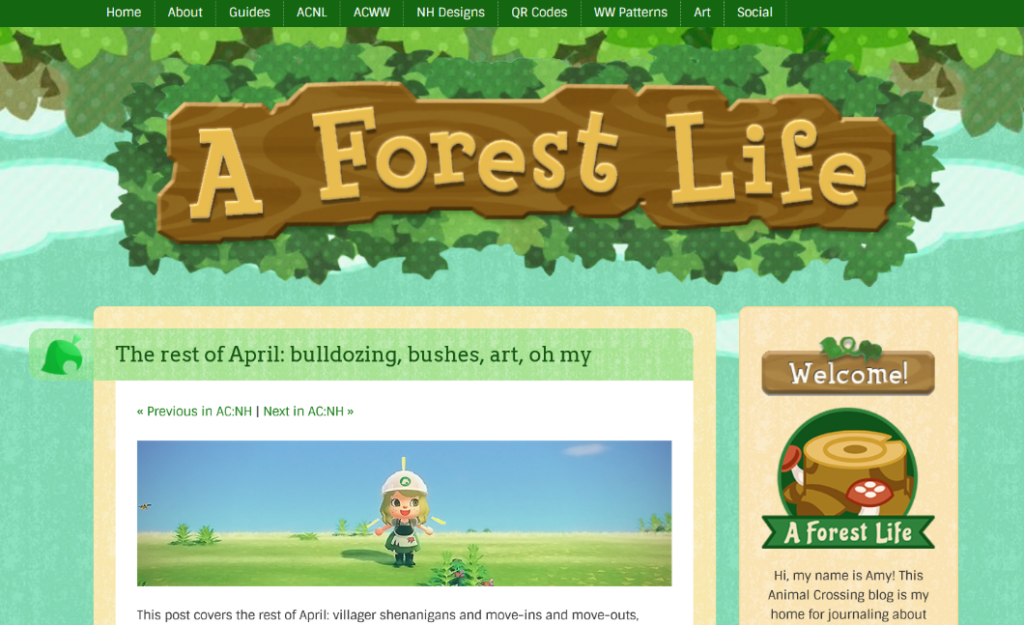 A Forest Life is a blog all about the massively popular video game series called Animal Crossing. And the fun and creative design perfectly matches the theme of the blog.
This blog design includes elements like:
A navigation bar to direct visitors to different categories and resources
Links to social media platforms like YouTube and Twitch
A bulletin board with recent blog comments
---
17. Girlboss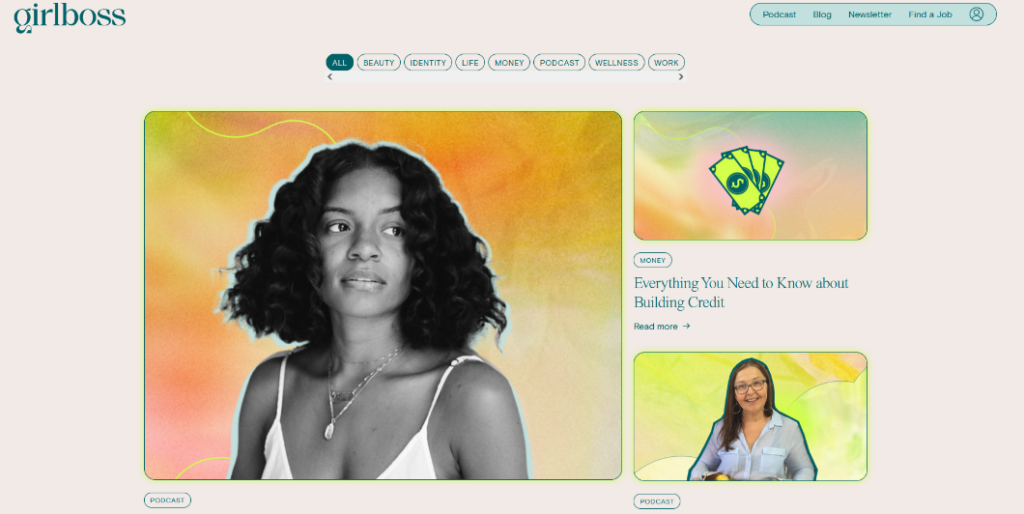 The well-known blog, Girlboss, is a great example of a colorful and modern blog design.
The blog layout is pretty simple. As you scroll down the page, you can see the latest articles and you can filter them by category.
There's also an email optin form, a job board, and episodes of the Girlboss podcast.
---
18. The QMan (The Quintessential Man)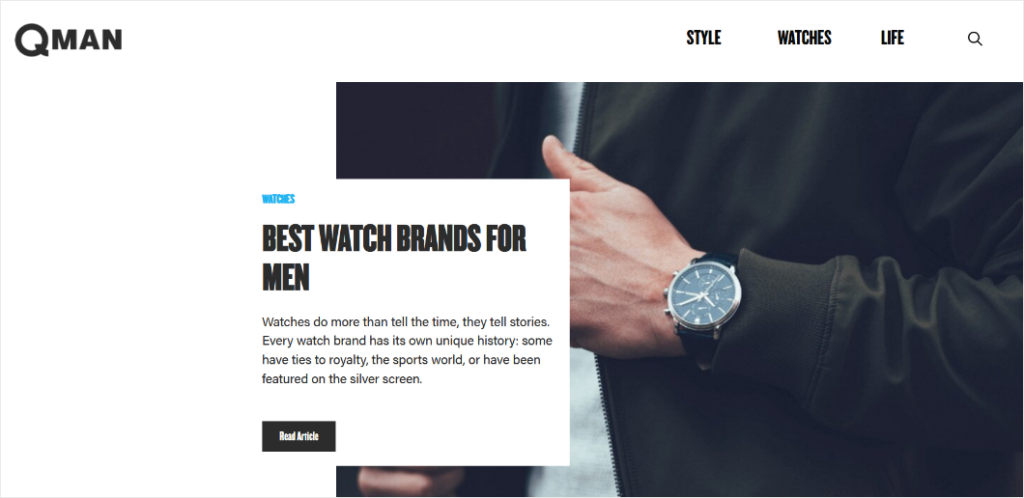 The QMan is a men's lifestyle blog that has a simple, yet bold design. The eye-catching images and bold typography stand out against the clean, white background.
It has a similar layout to many of the blogs on this list; one article is featured prominently in the website header and as you scroll down, other recent blog posts are displayed.
The QMan also has a "Top Reads" section on the blog that features their most popular posts.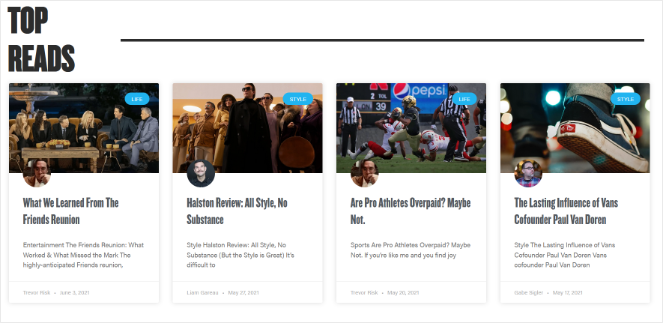 This is an effective way to get more eyes on your best-performing articles.
---
19. My Wife Quit Her Job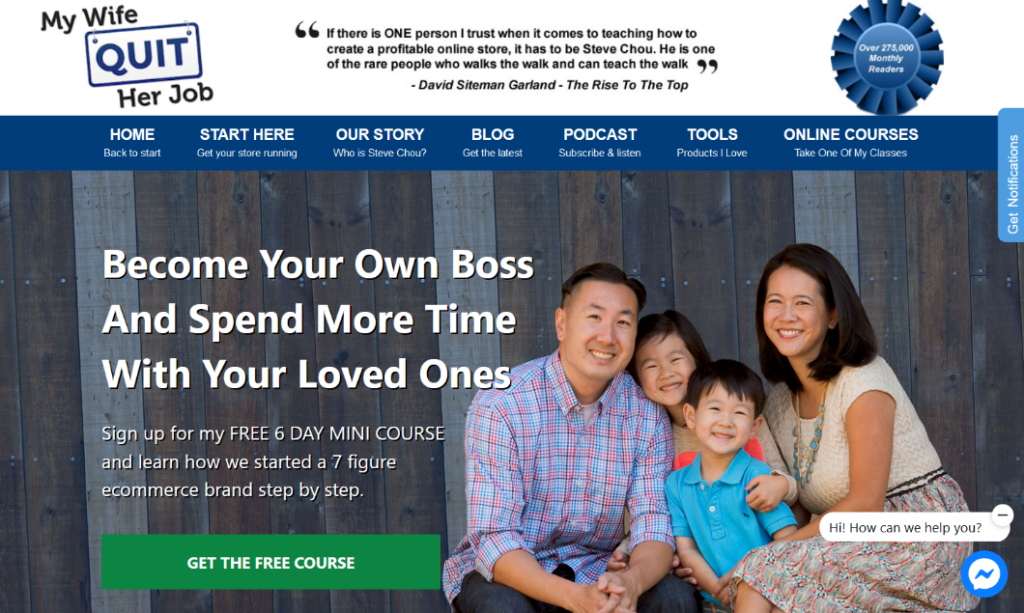 This blog design example shows that you can have a lot of elements on the page, while still maintaining an organized layout that's not too distracting for readers.
On the homepage alone, My Wife Quit Her Job promotes 4 different mini-courses, a podcast, their most popular blog posts, and affiliate products.
They even have Facebook Live Chat on their blog so that they can talk to their audience in real-time.
---
20. Jess Ann Kirby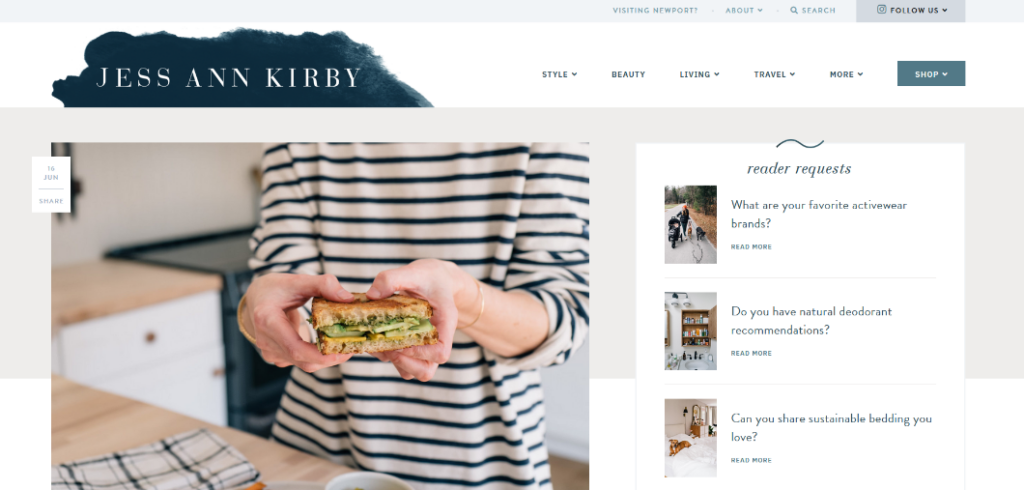 Jess Ann Kirby is the owner of this lifestyle, fashion, and travel blog with a beautiful, clean design.
But, what really stands out is how Jess promotes her affiliate products.
The "Reader Requests" section at the top of the page features questions her readers have asked her like: Do you have any natural deodorant recommendations?
Clicking on that question brings you to a post where she promotes relevant products with referral links.
She also showcases affiliate products in a carousel under a "Reader Favorites" section.

Both of these design strategies will help to boost affiliate marketing revenue.
---
21. The Crafty Needle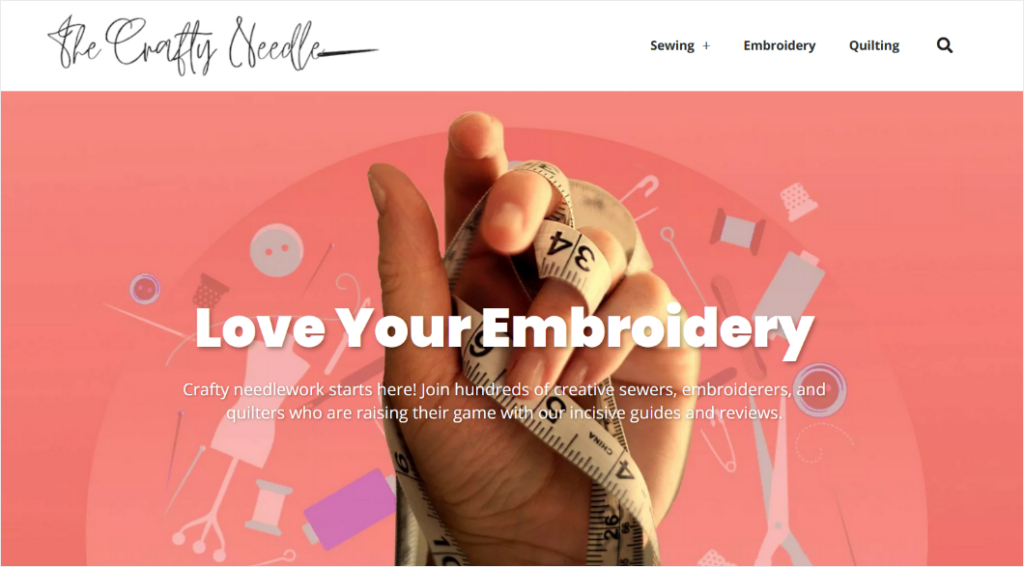 The Crafty Needle has a pretty straightforward blog layout. But, they use lots of color and eye-catching images to make it more fun.
The full-width website header image lets visitors know what the blog is all about.
And as you scroll down, blog posts are displayed under 3 different categories: Sewing, Embroidery, and Quilting.
They also have a "Start Here" section where complete beginners can find the content that suits them best:

---
After seeing all of these blog design examples, you might be wondering:
How can I improve my blog design?
Well, we've got you covered.
In the next section, we'll go over how you can revamp your blog design easily.
How to Create a Great Blog Design
If you want to create an amazing blog design like the examples in this post, don't worry, it's not as hard as you might think it is.
First, there are many WordPress themes that will give your blog a professional look in an instant.
You can check out our list of the best WordPress themes for blogs to find something you like.
You can also use a page builder plugin to create a beautiful and custom blog design.
We recommend using SeedProd, it's the best drag and drop page builder for WordPress.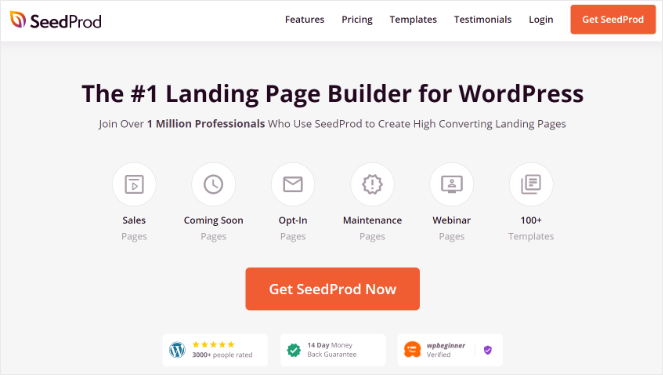 SeedProd is super easy to use and it comes with tons of professionally designed templates so you can get started quickly.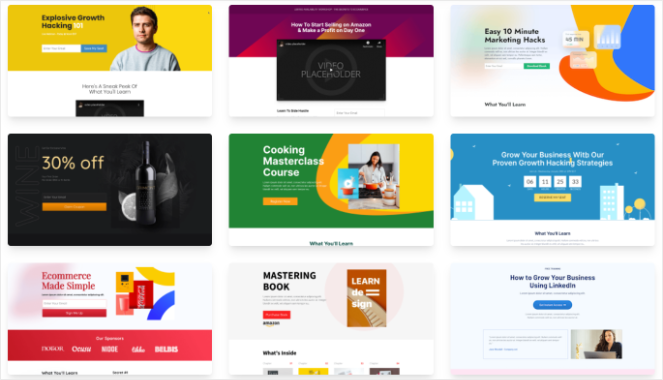 You can create many different pages for your blog including a coming soon page, sales pages, webinar pages, login pages, email optin pages, and much more.
Plus, SeedProd has ready-made landing page blocks that will not only make your blog look great, but will help you generate leads and boost conversions too.
You can choose from landing page blocks like:
Animated headlines
Contact form
Countdown timers
Social profiles
Image carousel
Testimonials
Video background and slideshows
Giveaway widgets
And much more
All you have to do is drag the blocks you want and drop them onto your page.
SeedProd is fully-responsive, SEO-friendly, and works with any WordPress theme.
Check out our detailed SeedProd review for more information.
---
That's a wrap!
We hope you enjoyed this list of amazing blog design examples. Now that you're full of ideas and have some tools to help you out, designing a beautiful blog layout should be a breeze!
If you like this post and want some more inspiration, check out our list of the best contact pages on the web.
And don't forget to sign up for our email newsletter for more helpful blogging tips!