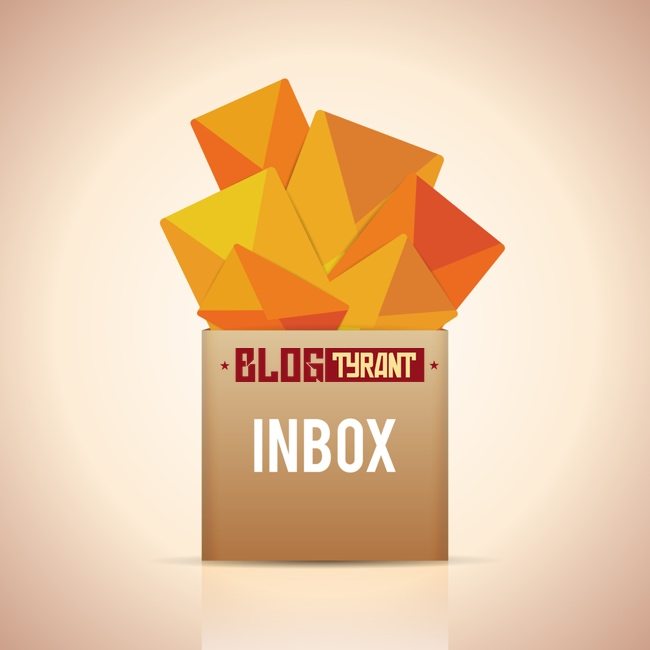 When you're starting a blog you'll inevitably spend a lot of time thinking about the name.
And rightly so – the name of your blog will play a huge role in how successful it becomes.
It's the name that people see first, and it really affects what people think and feel about your blog.
Let's take a look at all of this today in the latest instalment of Blog Tyrant's Inbox thing where I answer your email questions here on the blog.
That needs a new name!
A question about blog names from Sharon
Today I received an email from Sharon who is subscribed to Blog Tyrant and had a quick question to ask about the best way to go about choosing a name for her new blog.

This is a really good question and I thought it was worth sharing here (with permission!) because I know a lot of people think about this.
I also know that a lot of people get it wrong.
And it's often a bit of a shame because sometimes you'll see a blog with really amazing content and ideas that doesn't quite get the traction it deserves because (or so I suspect…) the name is a bit weird and the brand doesn't work.
How to choose a name for your blog
Here is a quick guide that you can use the next time you're starting a blog and want to come up with a name.
When it comes to choosing a name for your blog there are a few options to consider. Each one has its own distinct advantages and disadvantages.
Let's take a look.
1. A domain name with an exact match keyword set
One strategy that many internet entrepreneurs used to use was one where you bought a domain name that exactly matched the key phrase that you were targeting in Google.
For example, if you wanted to rank on Google for "shop online" it used to be a really good idea to have the domain name www.shoponline.com – Google gave a heavy weighting to exact match domains. Things have changed somewhat now and this is less important which is good because it's nearly impossible to get an exact match domain name anymore.
Take a look at this Flippa listing where the domain name HTML.com didn't sell despite getting bids of $85,000!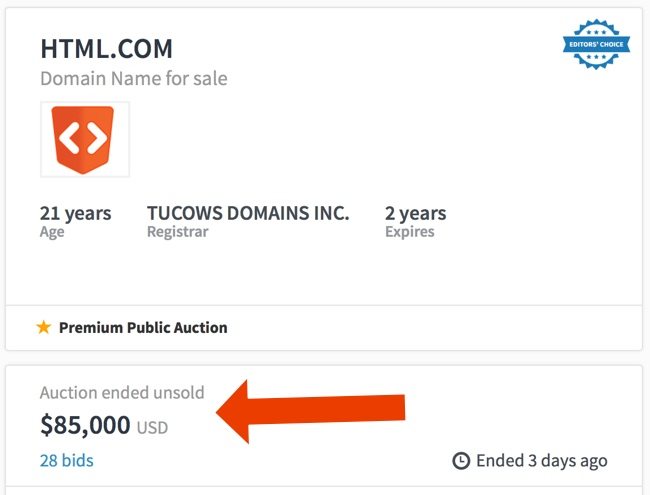 Now that is one of the best domain names you'll ever see and clearly the owner knows that it is worth a lot more – even though the website attached isn't developed.
If you can get a good exact match domain name for a simple key phrase then I recommend buying it even if you don't end up using it. Sometimes they can come in handy for future projects, but also they still do have a lot of power, especially for local markets.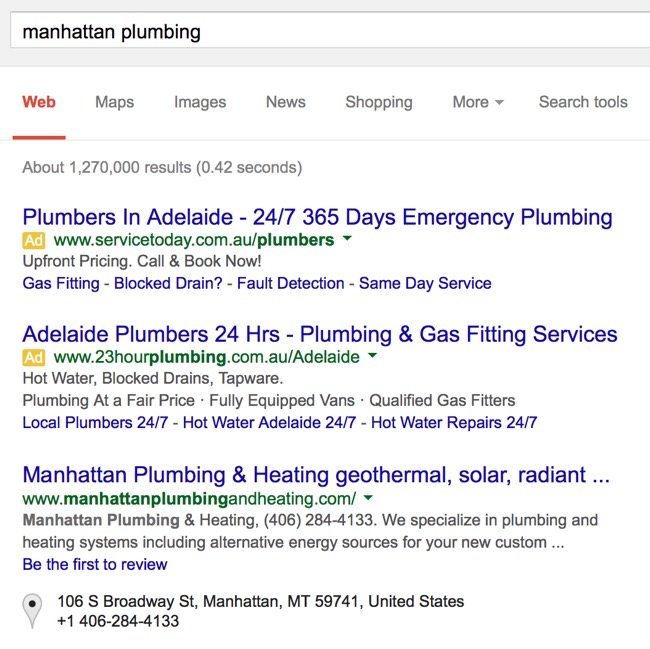 As you can see above, I typed in "Manhattan plumbing" and the first result is a website that has that exact phrase in the domain name. This is an example of a local listing doing well from this technique where a more general website with a worldwide audience might not.
2. A domain name with a keyword + unique element
The next option is the one that I went with here on Blog Tyrant.
The idea is that you combine a keyword from your niche (for me it was "blog") with a unique element that serves to explain your brand. I thought "tyrant" was kind of ironic, but it was also something that people would remember while kind of understanding what the site was about.
If you choose this option you want to make sure that:
It makes sense
There are some sites who do nonsensical domain names but for the most part you want your branding word to enhance your chosen keyword. Make it meaningful.
It is distinctive
This is one of the main points made in the book How Brands Grow. You need to stand out from the crowd by find a way to be distinctive from the other competitors in your niche.
It fits with your strategy
Make sure the combination of words that you choose fits with your blogging strategy for the future. You want to create a feeling and a perception of your whole blog with this name where possible.
People have been doing this for cafes, books, businesses and music albums for years. Does Illmatic count?
A few big examples of sites that do this really well are Nerd Fitness, ProBlogger, Zen Habits and Lifehacker. These blogs instantly tell you what they're about while making themselves memorable and clear.
3. Use your real name
One option that not many people consider is using your real, full name.
This can often be a good idea if you are trying to build a personal brand perhaps as a means to grow your own company or a bunch of different services that you plan to offer.
A few years Pat Flynn build a personal website because he had so many different projects (books, podcasts, websites, etc.) and wanted a place to put them all in one place for people to see.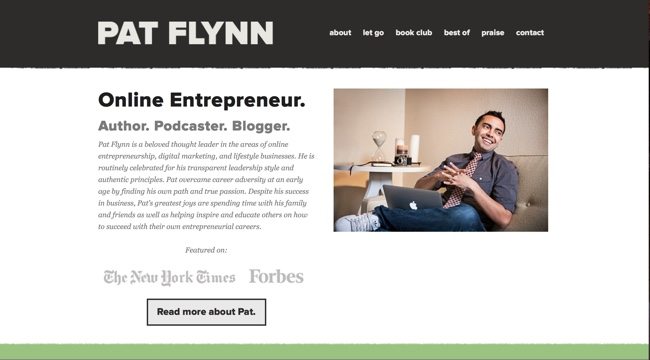 A few really famous blogs have gone this route (like Steve Pavlina) and it's worked really well for them. Of course there are issues you need to weigh up about giving that much exposure to your personal name, and the fact that you could probably never sell or transfer the website to someone else without issues occurring.
4. A completely random (or seemingly random…) name
The last option that you really have is to go with a word or combination of words that are mostly used for the sake of being memorable and don't have any overt links.
One example of this is actually one of the largest companies in the world – Apple.
One the face of it, Apple products have nothing to do with Apples. If you dig into the history you'll learn about how Steve Jobs thought of the name while on a fruit bender and visiting an Apple farm. He thought it sounded un-intimidating.
It's a risky option but it can pay off really well if you gain some notoriety because it is inherently distinctive. Again, you need to think carefully about how it fits into your brand and overall strategy.
So now what do I do?
Now that you've got some ideas about the "broad strokes" of domain name selection you might still be wondering, "Well, how do I actually go about choosing one…?"
Here's a few suggestions:
Competition analysis
Make a big list of all the websites in your niche and see if they give you any ideas. You don't want to copy anyone's brand (like there are a few Blog + Head of State blogs out there these days…) but you might get some inspiration about what's missing.
Sit down with friends
Sometimes people who aren't in the industry have different insights into how it all works and come up with really alternative names. Invite them out for coffee and put a piece of paper on the table and just write everything down. I've had a few cool ideas like this.
Use a generator
I'm not a big fan of these but they can give you some interesting ideas to work with. For example, Panabee allows you to put in two words and then goes off and returns a bunch of ideas, related words and other options.
Sometimes I feel like once you hear the name in your head you'll know if it's right. You've got to work with this blog for a long period of time so don't rush into the selection too much. Obviously don't take weeks and weeks to decide, but there's nothing wrong with being sure.
How did you choose your name?
Almost every single one of the Tyrant Troops would have a blog name. I'd really love to know how you came up with your name and whether you have any tips for people who might read this article in the future. Please leave a comment below and let us know!