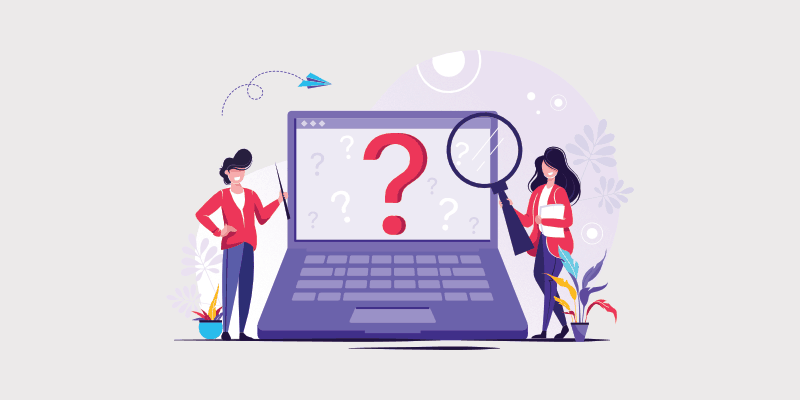 A re you struggling to come up with catchy blog names?
When you start a new blog, coming up with a good blog name can be really hard.
Blog names play a huge role in how successful they become. It's the blog name that people see first, and it sets the tone for what people think and feel about your blog as a whole.
In this guide, we'll show you how to come up with a blog name that will help you grow and succeed, plus share plenty of blog name examples for popular blog niches to inspire you.
Ready? Let's start!
How to Come Up With a Blog Name: 4 Questions to Ask
Before we get into how to come up with a good blog name, here are a few questions you need to ask yourself.
1. What is Your Blog Going to be About?
Before you start a blog and think of its name, you have to decide what topic your blog is going to be about.
For example, say you come up with Yarn Dying Pro and then decide to blog about cameras. That's not going to work.
Better to choose a blog niche first, and then think of a name that fits.
2. Who Is Your Target Audience?
Knowing your target audience also influences the name you choose for your blog.
Compare these 2 different photography blogs:
Outdoor Photography Blog covers equipment, tips, and tricks specifically for photographers taking outdoor photos: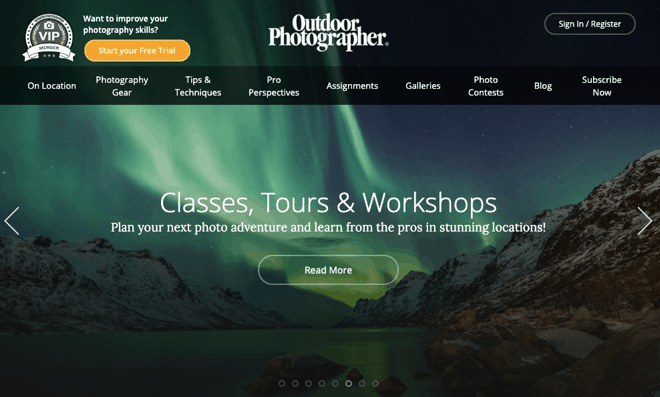 iPhone Photography School covers tips and tutorials specifically for iPhone users so they can take better photos: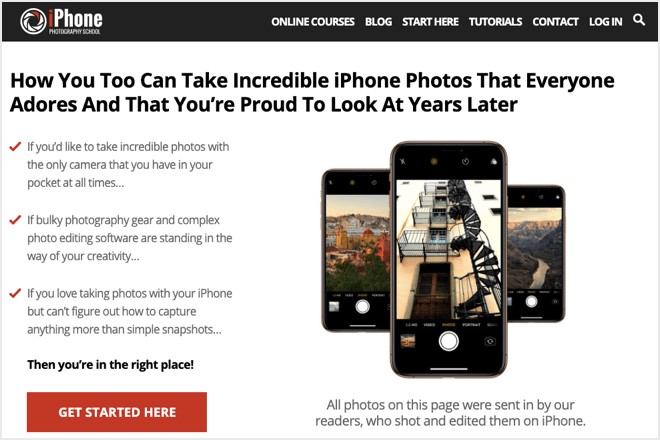 Both sites make it clear in their name who their target audience is.
3. What Is Your Writing Style Like?
Closely related to your target audience is the tone and voice you're going to use.
For example, compare these 2 news sites:
The New York Times is one of America's oldest news publications, which prides itself on delivering accurate, up-to-date news in a serious, reliable tone: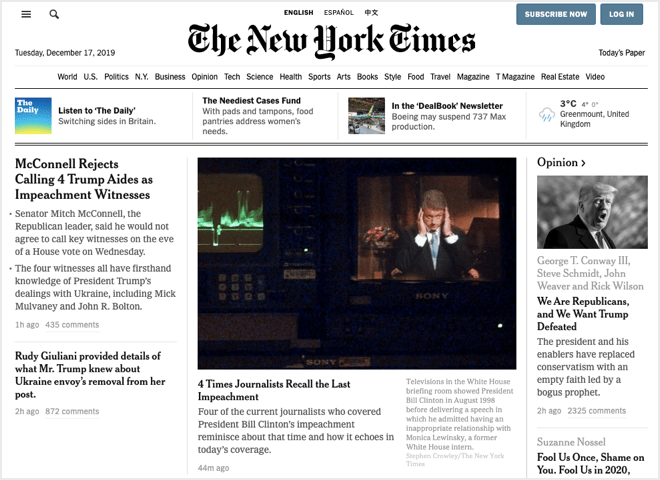 Whereas The Onion is an American satirical publication, which pokes fun at all the latest news, stories, photos, videos, and more: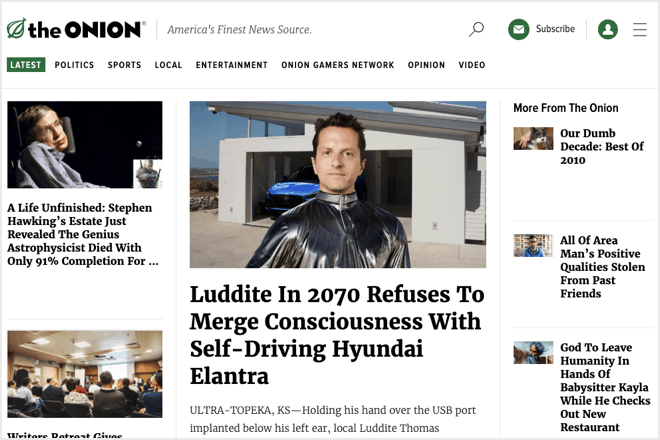 4. What Happens If You Blog on Other Topics?
This might be hard to answer because it's impossible to know the future!
Still, it's smart to leave yourself some room to change and grow.
For example, don't use the blog name Mad About Hippos if you think you might want to blog about flamingos or zebras, too. Instead, you can choose a name with a little more flexibility, like Zany Zoo Animals. Silly examples, but you get the idea!
Back to the top
11 Ways to Come Up With a Blog Name
After answering those questions, it's time to come up with a catchy blog name. Here are some tried-and-tested ways to name your blog.
1. Use Your Own Name
Let's start with your own name. Is it a good idea to use your own name or not?
The answer really depends on what your blog is going to be about.
If you have a personal blog that's going to be about you, your life, or your services, then using your own name can work very well. That way, people can easily find it if they're searching for information about you.
For example, Syed Balkhi uses his own name as he shares personal experiences in his entrepreneurial journey: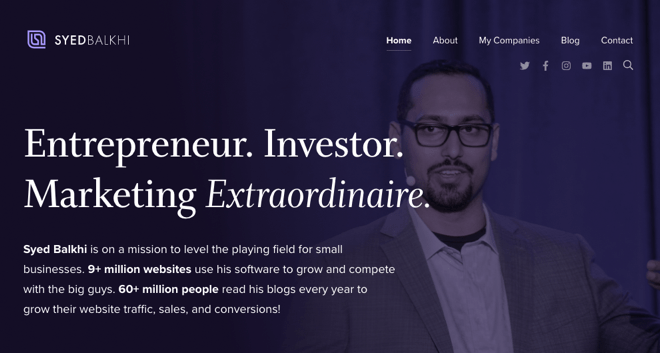 On the other hand, using your own name may not work if your blog is going to focus on a product or a niche, instead of your own personal brand. For example, Brian Dean uses the name Backlinko to position his blog about SEO rather than using his name.
2. Choose a Completely Random Name
It's possible to choose a blog name that doesn't have any obvious links to your blog topic, but is still memorable.
One example of this method is a popular travel blog called Melting Butter.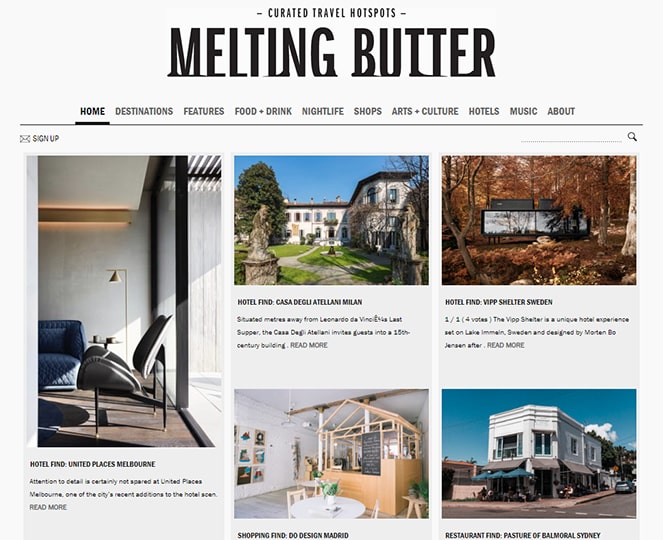 Choosing a completely random name might be a risky option, especially for your first blog when you're relatively unknown. But it can work well when you gain some notoriety because your blog name will be distinctive.
3. Check Your Competitors' Blog Names
Checking your competitor's blog names can give you some ideas of what will work for your blog. Consider what their names mean, their first impression, how they sound, and how long they are.
For example, consider these 3 blog names from the beard grooming niche:
Beardbrand
Beardoholic
Balding Beards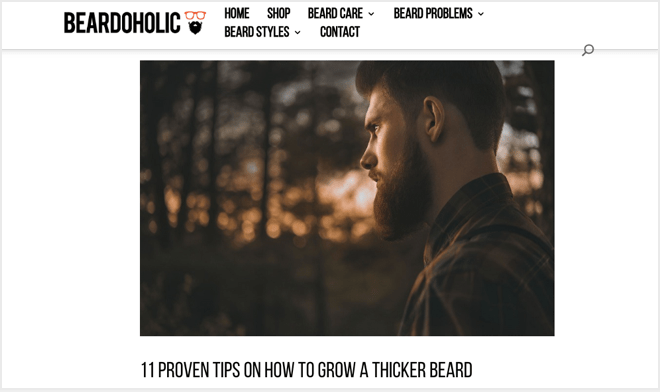 They all use the word "beard" plus another related word to make it clear what niche they're in, plus they keep their name short. They might have used a business name generator tool to come up with different ideas, you can too.
4. Revert to Pen and Paper
Sometimes it's a good idea to take a step back from your computer and revert to the good old-fashioned pen and paper. It's easy to get sidetracked while you're online. But if you take yourself somewhere quiet without any distractions, you can often come up with plenty of ideas.
Writing things down stimulates your creativity, and soon you'll have a page full of ideas you can explore further.
Why not take it one stage further and invite a couple of friends to join you for a coffee, put your thinking caps on, and pool your blog name ideas!
5. Use a Blog Name Generator
One of the tools we have on Blog Tyrant is our Free Domain Name Generator.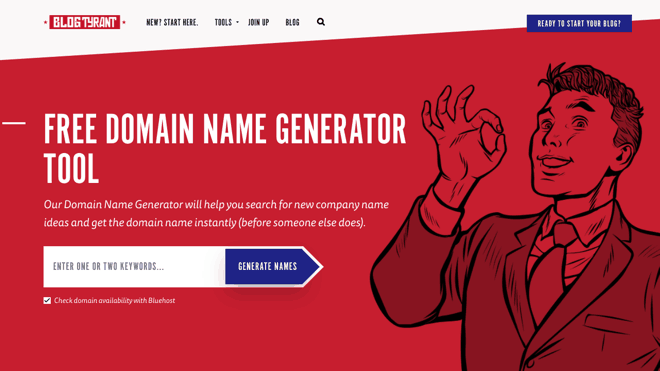 It'll help you come up with plenty of brilliant blog names, and get the domain name for free with Bluehost.
To get started, all you have to do is enter a couple of keywords and let the tool find some unique combinations. Here's a snapshot of names it found from the words "yarn dying":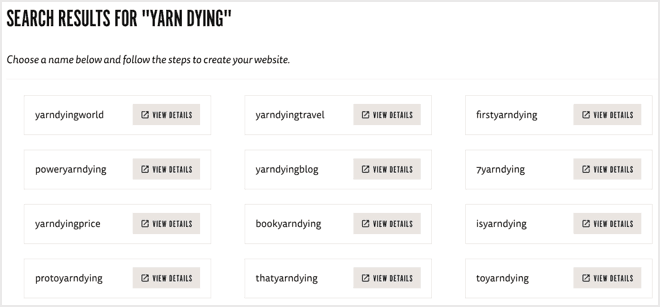 6. Reach for the Thesaurus
A thesaurus is a handy writing tool that you can dip into for inspiration when you're writing a blog post.
But you can also use it to choose a blog name.
Enter a word into Thesaurus, and it finds synonyms (related words). For example, when you enter the word yarn, the thesaurus suggests alternatives such as fleece, wool, twist, and thread: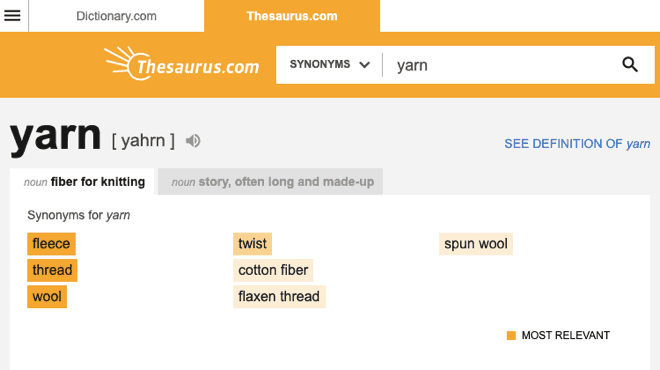 Here are 4 more tools to help you find the right words.
Related Words helps you find words that are related to a specific word or phrase: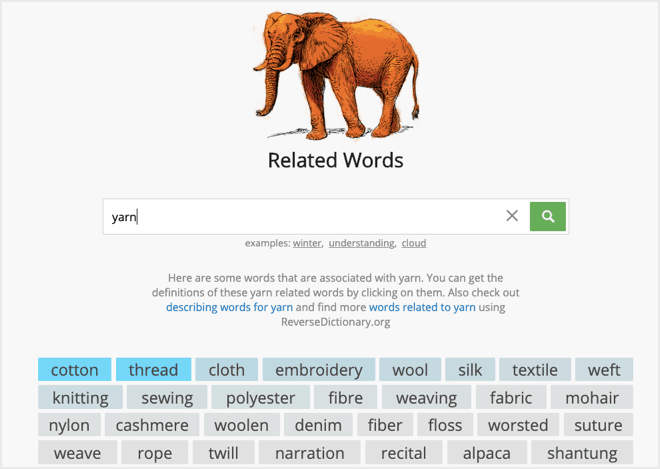 Reverse Dictionary allows you to search for words by their definition. For example, when you enter "inhabitant of earth", it suggests several words including earthling: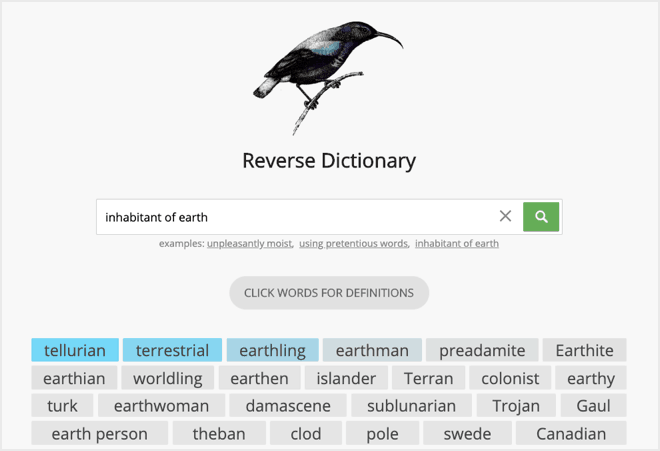 Word Hippo includes a selection of creative tools, including synonyms (what's another word for), antonyms (what's the opposite of), and rhymes (words that rhyme with). For example, here's what rhymes with yarn: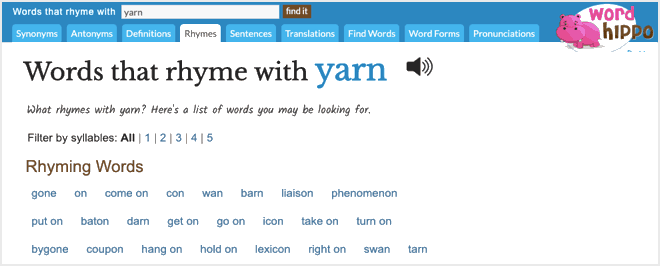 OneLook helps you find related words, but you can also include some other search parameters. For example:
blue* finds words and phrases that start with blue
*bird finds words and phrases that end with bird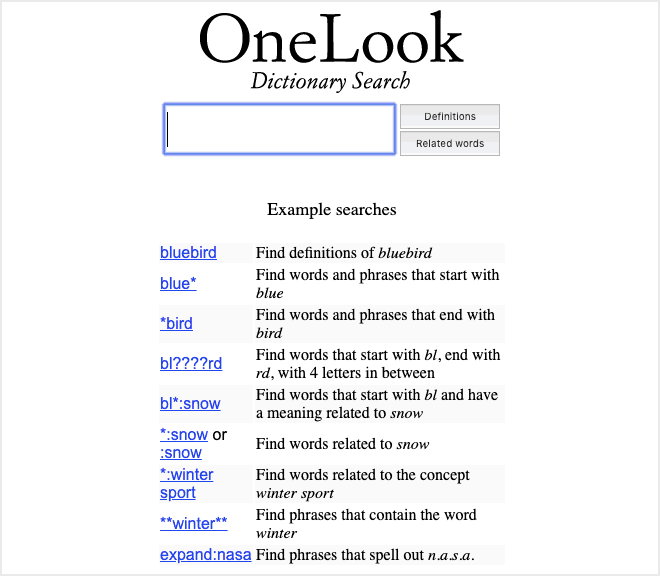 7. Try Alliteration or Assonance
Alliteration is when you have the same letter or sound at the beginning of adjacent or closely connected words. Using a combination of words can create a real rhythm and sound quite catchy. For example, Well-deserved Win, Blazing Blogs, Cute Cats, Spooky Spoon, and Financial Freedom:

Assonance is similar, but it's when the vowel sounds are repeated. For example, in the travel blog name Backpacking Matt, all the "a" vowels sound the same.
8. Use Abbreviations or Acronyms
Sometimes you think of a great name, but then realize it's going to be too long. That's where abbreviations come in.
Abbreviations are easier to remember and avoid any typos when people enter the name in their browser.
For example, WP is the abbreviation for WordPress used in many blog names, including WPBeginner: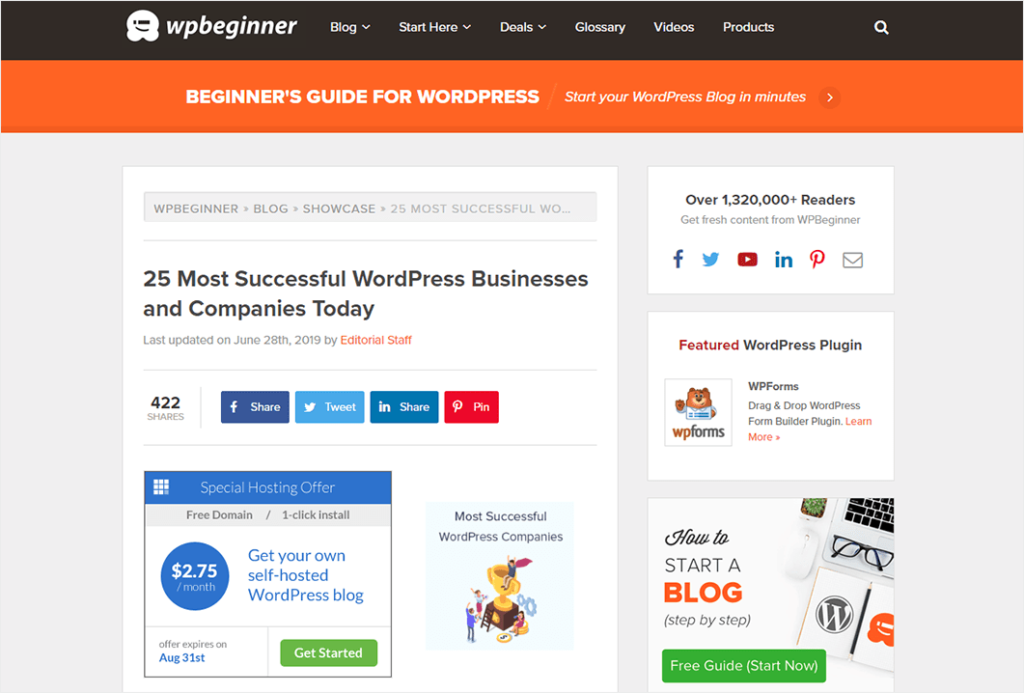 9. Consider Another Language
If you want to stand out from the crowd, you could try using another language for your blog name.
Sometimes you come across words in different languages that have a pleasing sound to them. Their meaning could be either random or related to your niche, but they stand out.
For example, the travel blog Meraviglia Paper combines the Italian word for marvel or wonder, Mereviglia, with the English word Paper: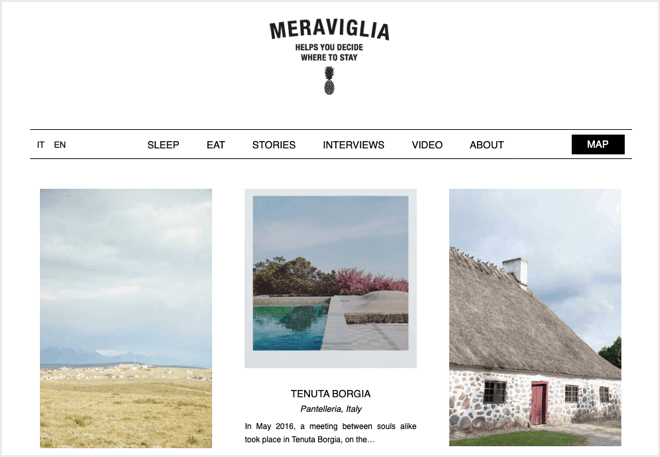 Try using Google Translate to search for words in another language.
10. Create a Portmanteau
A portmanteau is a word that comes from blending or merging two words together. For example, the Labradoodle dog breed comes from merging Labrador Retriever and Poodle.
Here are some blogging related portmanteaus from this extensive wiki list:
Blog – from web and log
Blogosphere – from blog and atmosphere
Podcast – from iPod and broadcast
Try the Name Combiner tool to combine up to 4 words into one unique word: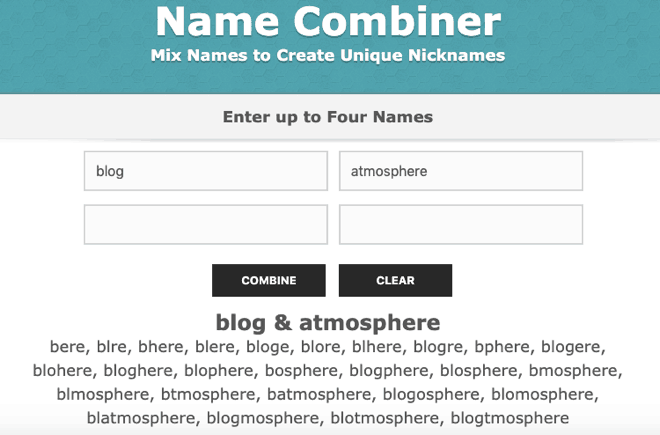 11. Make a Common Saying Your Own
Another popular way to come up with a name for your blog is to modify an idiom or turn of phrase.
For example, the makeup blog She's in the Glow is a play on words, based on the phrase "in the know".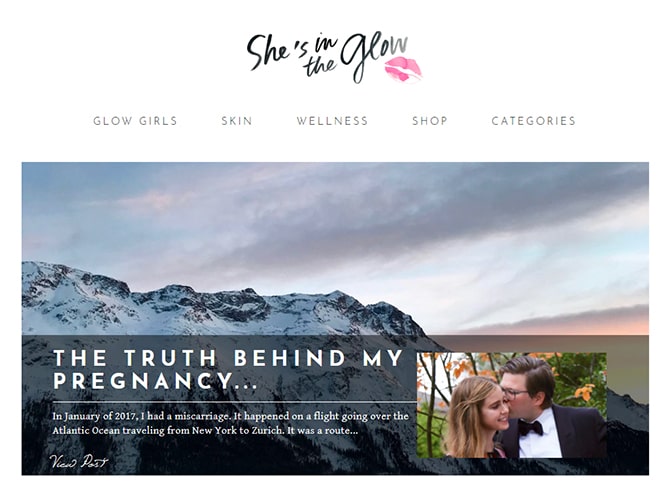 You can use a site like The Idioms to find phrases you can make your own.
Back to the top
3 Crucial Checks Before You Decide on Your Blog Name
By now, you'll have a few ideas on what to name your blog. But before you make the final decision, there are 3 things you need to check:
1. Does the Blog Name Read Okay When It's in a Domain URL Format?
Wondering how to choose a URL for your blog? You'll want to make sure your URL matches your blog name.
That means you'll need to be careful that your blog name looks good not only in title form ("My Blog"), but as a domain name, too ("myblog.com").
Some domain names can end up sounding or looking inappropriate when two or more words are written in one string, like americanscrapmetal.com: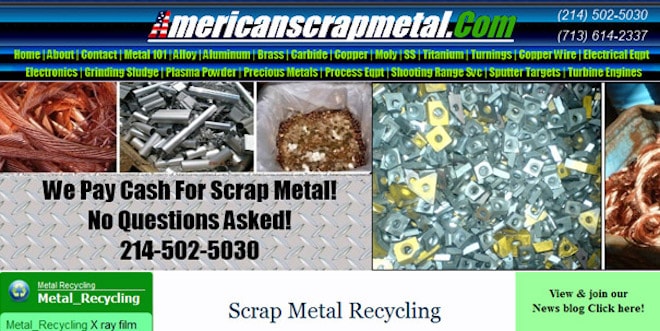 2. Is Your Blog Name Easy to Say or Spell?
Sometimes when you say a name out loud, it becomes ambiguous. A great example of this is the photo storage site Flickr. While it was cool to come up with a unique spelling of the name, people often entered the correct spelling of Flicker rather than Flickr.
In the end, the photo business bought both domain names, Flickr.com and Flicker.com, and set up a redirect from Flicker.com to Flickr.com, so they didn't lose any customers.
Also, you want to make sure the blog name isn't too long. The longer the name, the harder it becomes for users to type in their browser bar, and it can also look cumbersome. Two-word combos often work best, for example, SeedProd and MonsterInsights.
3. Are the Social Media Names Also Available?
Finally, it's worth checking if your blog name is also available on all the social media networks. It makes sense to have one brand name you can use everywhere so that it's easy for people to find you. Plus, you don't want to risk losing your audience to another site.
Back to the top
50+ Creative Blog Name Examples for Your Inspiration
Looking for a list of blog names examples to get you started? Here are some of the most popular blogs in a few different niches to inspire you.
Lifestyle Blog Names List
Wellness Mama
JillFit
Zen Habits
Daily Burn
She's in the Glow
Temptalia
Belly Over Mind
The Wandering Lens
In A Far Away Land
Sasstrology
Blog Names for Writers
Live Write Thrive
The Write Practice
Write to Done
The Write Life
Now Novel
Well-Storied
The Bookshelf Muse
Courage to Create
WordPlay
The Sartorialist
Ropes of Holland
Ask a French Girl
Modest Mira
Slip Into Style
Work Work Work
Man Repeller
Over the Rainbow
Popular Poetry Blog Names
Write Out Loud
Eat This Poem
The Poetry Project
The Practicing Poet
Poetry Breakfast
Best Food Blog Names
Serious Eats
Minimalist Baker
Kitchn
Smitten Kitchen
Budget Bytes
Gimme Some Oven
Pinch of Yum
Oh My Veggies
Clever Travel Blog Names
Adventurous Kate
Backpacking Matt
The Blonde Abroad
Bucket List Journey
Dan Flying Solo
David's Been Here
Expert Vagabond
Girl Gone Travel
Hand Luggage Only
A Little Adrift
Migrationology
Nerd Nomads
Back to the top
Now you know how to come up with a blog name that creates an excellent first impression and will last forever. Make sure you follow all the steps above so that you feel comfortable with your decision.
Then follow our complete step-by-step guide to start your blog today!
Did we miss anything? Let us know in the comments below how you came up with your blog name.