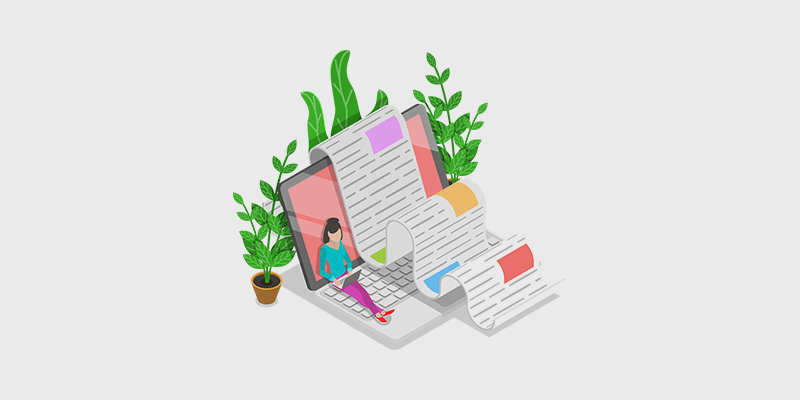 W hat is a blog, and how does it work? What is blog writing, exactly?
If you're wondering, don't worry – you're not alone!
And we're here to help.
In this article, we'll cover everything you need to know about what is blogging, explain what makes a successful blog, and how you can start your own blog today!
Ready? Let's go.
What Is a Blog?
A blog is a type of website that publishes new articles (called "blog posts") on an ongoing basis. The word "blog" is actually short for "web log", and they originally started as a kind of online diary.
On the homepage of a blog, you'll typically see the most recent blog posts first, in what's called reverse chronological order.
You'll find all kinds of blogs on the web, on every topic imaginable. The writing style is often more conversational and informal than other types of websites – but not always!
A lot of the details depend on the goal of a blog. There are a lot of personal blogs out there, similar to online journals. But nowadays, there are also a lot of blogs run by businesses hoping to attract new customers with their blog posts.
Want to understand more about what is blogging, and what to know before starting a blog?
Let's take a quick look at how it all started.
A Quick History of the Blog
Blogs evolved from online diaries in the mid-1990s, where people were running personal web pages. Because the Internet was still so new, there wasn't much content out there, so people published regular updates about their personal lives, topics they were interested in, and more.
By the late 1990s, blogging platforms popped up to help people publish their blogs, so you don't have to worry about figuring out code anymore. Open Diary appeared in 1998, then later, sites like Blogger, LiveJournal, and Tumblr.
By 2003, WordPress was created. Today, WordPress powers over 30% of the web.
Today, blogging is more popular than ever. More than 2 billion blog posts were published worldwide in the past year. That's 5,760,000 blog posts per day, and 4,000 blog posts per minute!
Now let's take a closer look at how blogging works.
What Is a Blog Post, and How Does It Work?
Blog content is published as an "entry" or "post," and they're often published in reverse chronological order. That means that newer content appears first.
Blogs are typically run by individuals or a small team, but they run the gamut from lone writers blogging as a hobby, to corporate blogs with teams that produce informational and marketing content.
What's the Difference Between a Blog and a Website?
One of the key differences between a blog and a website is that on a blog, content is published regularly and frequently. The site may have a few static pages, like an about me and contact page, but the main focus is the blog.
The site you're on right now, Blog Tyrant, is a perfect example of a blog!
On the other hand, a website is usually more static and doesn't change the content as often. A regular website is composed of pages, such as the homepage, about us page, services page, and more. It can even be a single page if that's all that's needed. Once a website is built and published, it remains there, mostly untouched for long periods of time. This is why businesses often use websites, because they don't have to worry about changing or updating them unless their products or business focus changes.
It's also possible to have both: a regular, static website that has a separate blog section.
A great example is a site like OptinMonster. The main page is a website dedicated to the OptinMonster lead generation software, and it doesn't change very often. Then there's also a separate OptinMonster blog that's updated more often with new blog posts.
Now that we've gone over all the blog basics, you might be wondering, "What should I know before starting a blog?"
Let's take a look at some of the benefits first!
Why Start a Blog?
Every blogger has their own motivation for blogging. Perhaps you're taking care of a chronically ill parent with stories to share and advice on how others can help theirs. Or maybe you're a seasoned home cook looking to earn some extra money from all the great recipes you come up with every week.
Some people are looking to network for personal or professional reasons, others want to provide themselves a creative outlet, and some want to create and grow a business.
The Benefits of Blogging
There are many benefits to blogging, whether you're starting a personal one or adding one to a business website.
At a basic level, blogs give your website a better chance of attracting more visitors and readers. More visitors means more potential customers and revenue.
Your blog can:
Showcase your skills and talents through an online portfolio to help you build a brand or find a new job
Help brands and businesses become a thought-leader or authority on a topic or in an industry
Generate money through a side hustle
Raise awareness for a non-profit cause or mission you believe in and help influence public opinion on the topic
Popular Blog Examples
Here are a few popular personal blogs that demonstrate what you can do with your blog.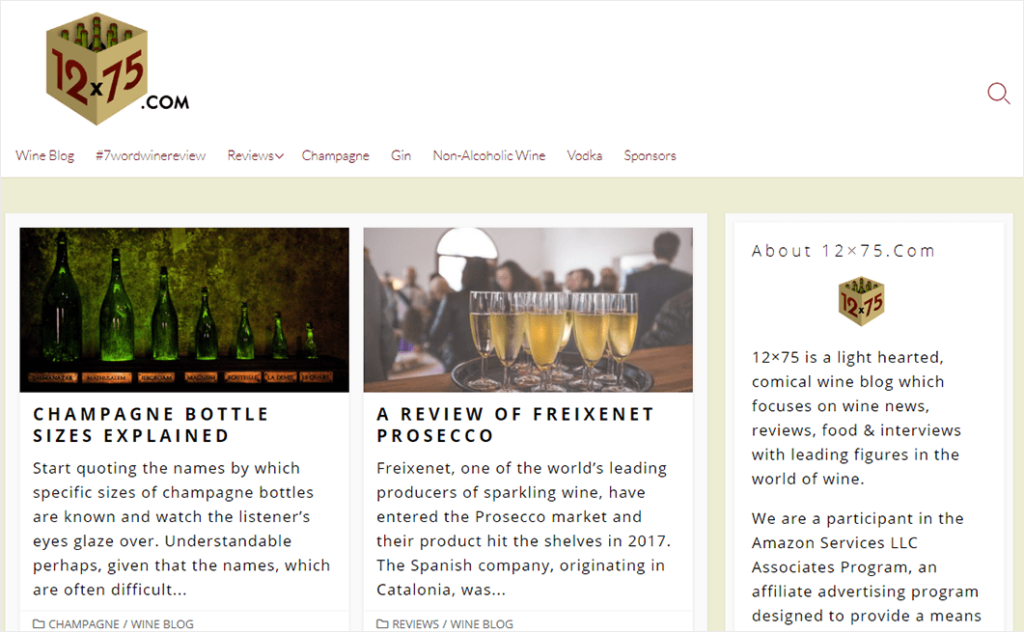 Vim started the 12×75 Wine Blog in 2011 because he found the market a bit stuffy and wanted to write about wine with more humor. Today the blog has expanded to include a few more editors and writers. It makes money with affiliate marketing.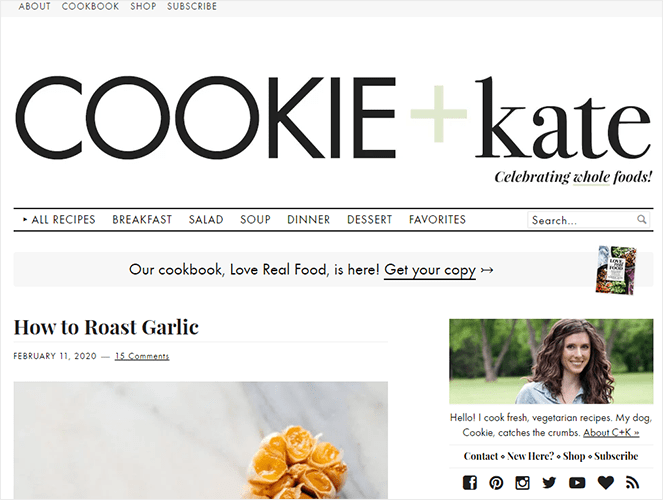 Cookie + Kate is a food blog that was started by a self-taught photographer and cook in 2010. She now works full-time on her blog. The blog makes money via ads, sponsors, and other monetization methods.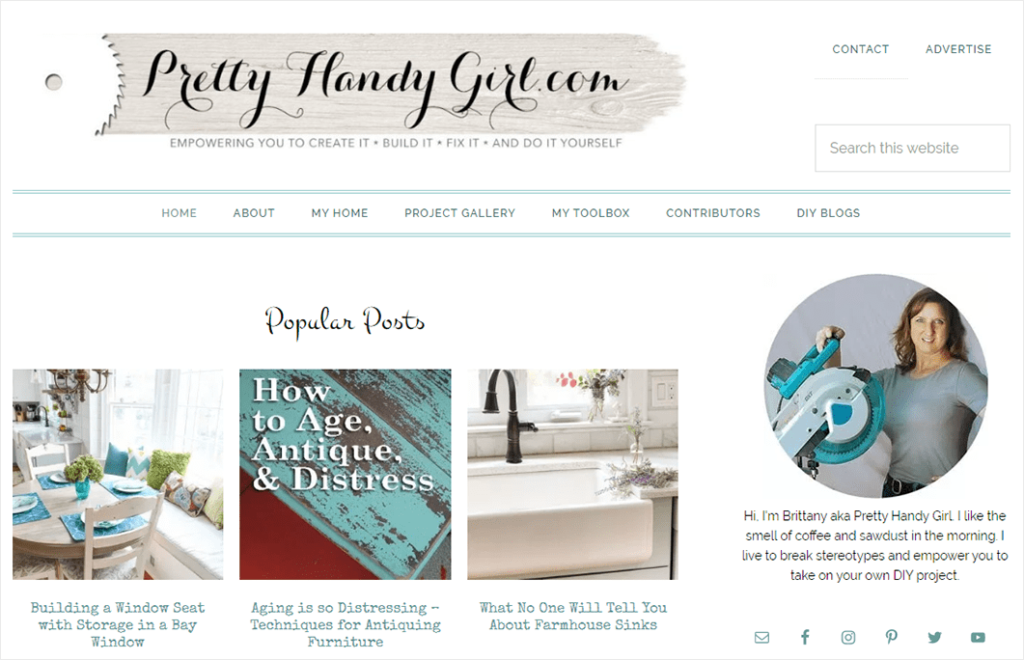 Pretty Handy Girl is a DIY blog by a licensed general contractor and artist, Brittany. She also monetizes her blog with ads and sponsored posts.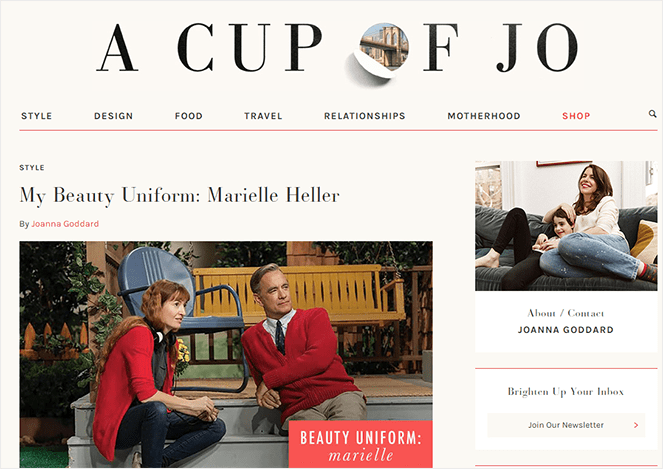 A Cup of Jo was started as a hobby blog but turned into a full-time career for its founder, Joanna Goddard. Now it's a publication that's staffed by a whole team of writers.
What Makes a Successful Blog?
While many people think of bloggers as hobbyists who are just dabbling in writing online, some are seriously successful. They might have started their blog as a side hustle, but they were able to grow it to the point they could quit their day jobs and build a successful business.
The key thing here is to think of what "success" means to you. How do you define blogging success? Is it earning six figures from your blog? Or is it connecting with other like-minded people and creating a community? Is it creating an audience for your artistic creations? Or is it something else entirely?
Making Money with a Blog
There are a variety of ways blogs work to make money. The most common is through affiliate marketing. You recommend products and services to your readers and earn a commission when readers buy them through your link.
You can also make money by displaying ads; however, if your blog is new or has low traffic numbers, it'll be hard to earn much money this way. For example, you could place some Google AdSense ads on your blog through text, images, videos, or other interactive ads. The ads are targeted to your readers based on your blog content and audience traffic. You'll earn money through these cost-per-click (CPC) ads every time a reader clicks an ad on your blog. AdSense calculates how much to charge the advertiser for the click and then passes along a part of that money to you. The amount you receive per click varies based on several factors like traffic rates and keywords.
For more ways you can monetize your blog, check out our post here.
Personal Blogging for Beginners
Now that you know a bit more about blogging, you might be interested in what you should know before starting a blog.
Blogging takes a lot of effort. You'll need to put time and energy into research, blog writing, editing, rewriting, sourcing images, and promoting your posts. People who consider themselves writers will have an easier time, but there's still a lot of work to do before and after they write.
Optimize your blog. Your blog must have a search engine optimization (SEO) strategy to be successful (no matter what your end goal is). An SEO strategy will bring you more traffic because search engines love new content.
Be committed to the reason you're blogging. Many people make money off their blogs, but it usually takes them years to get to that point. Reaching that point could take years of work and patience, so make sure you're committed to it.
Discover your inner geek. You'll need to have a little technical knowledge to get your blog up and running. We recommend using WordPress for your blog and to host it yourself through a webhost like BlueHost. (Even the people at WordPress officially recommend BlueHost!) This will give your blog more storage and bandwidth, site security, and great tech support. You'll also have the most flexibility when it comes to customizing your site with themes and more.
Stick to a schedule. Not only will this help you get into the habit of writing fresh content for your blog (which search engines love), it'll also train your audience to expect the content from you. They'll know when to come back to your blog to read the latest post.
Choose one social media channel to distribute your content. Social media is an essential tool for any blogger. It'll help you build your traffic and expand your audience. But with so many channels out there (Twitter, Pinterest, Facebook, Instagram, TikTok) and more being added every few months, you might think you need to be on all of them. Not so. You need to be on the one your audience is on. For example, if you've got a visual blog on something like design or photography, you should choose a visual channel like Pinterest or Instagram. The key is choosing your platform and then sticking with it to build your loyal audience.
Engage with your audience. It's one thing to produce high-quality content on your blog and get lots of traffic. You've also got to engage with your readers. Answer their blog comments and interact with them on social media. By doing this, you'll not only show your audience that there's a real person behind the blog and that you care about what they have to say, but you'll also find out more about your audience. It'll help you craft even better posts in the future, which will resonate even more deeply with your audience. All of which will keep them coming back for more.
Be authentic. When your blog posts are honest and authentic, it lends authenticity to your blog. That resonates with readers. Put yourself into your posts and share stories, events, and emotions that come from deep within you.
For more help, get our free checklist on what to do before launching a blog.
Back to the top
There's never been a better time to get your new blog started. You might think you don't have the skills or know-how to do it, but after reading this article, you're already on your way.
For more detailed help, check out our guide on how to start a blog. We've got everything you need to know.
If you have any specific questions that aren't answered there, let us know in the comments! And be sure to subscribe to our email newsletter for more guides like this one.