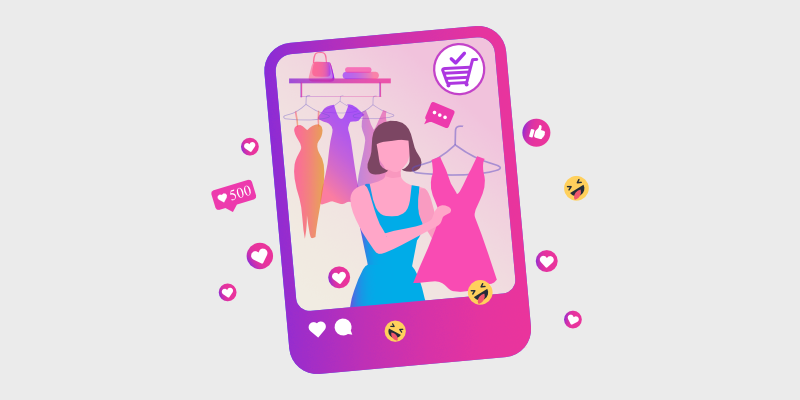 A re you wondering how to make money on Instagram? Lots of bloggers use Instagram to grow their businesses and boost their income. So, we'll share proven strategies that work in this guide.
When starting a blog, you'll want to create an Instagram account to build up your online presence and promote your content.
But, promotion isn't the only benefit of Instagram. You can also use Instagram to make money!
If you're wondering how, keep reading. In this article, we'll share multiple ways you can make money on Instagram.
Can You Make Money on Instagram?
The answer is yes! You can make money on Instagram as an individual creator or a business.
Instagram is one of the most popular apps in the world with 1.22 billion people using the platform each month. Because of the large audience you can reach, there's a ton of money-making potential. 
For example, you can create sponsored posts to promote a company's product to your followers, you can sell your own products or services on the platform, and more.
Instagram even has built-in monetization features to help you make money from your content without having to sell anything.
How Much Money Can You Make on Instagram?
How much money you can make on Instagram largely depends on the number of followers you have, especially if you're relying on making money with sponsored posts.
Celebrities like Kylie Jenner, Dwayne "The Rock" Johnson, and Cristiano Ronaldo, who all have over 200 million followers, can get over $1 million for a single sponsored post, according to HopperHQ.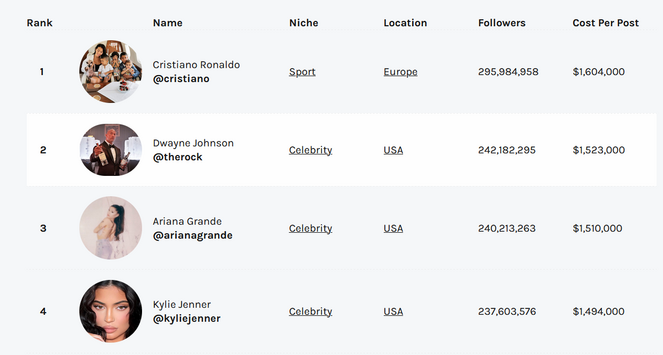 While you likely won't be earning millions of dollars, you can still make a decent amount of money on Instagram as a smaller influencer.
Lickd has a social income calculator tool that you can use to get an estimate. Simply enter your desired salary and the tool will tell you how many followers and sponsored posts you need to earn it.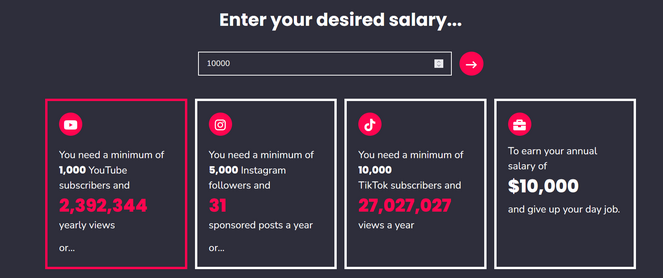 In the example above, the tool indicates that to make $10,000 per year on Instagram, you'd need a minimum of 5000 followers and 31 sponsored posts. This means that you would be earning around $350 per sponsored post.
And as you get more followers, the amount you can earn will increase.
But, even if you have 1000 followers or less, you can still make money from Instagram.
For instance, let's say you're a blogger with 500 Instagram followers that love your content. You can create an ebook, promote it on Instagram, and your loyal followers will buy it from you.
Plus, there are other tactics you can use to make money that don't require you to have a ton of followers.
We'll take a look at a few in this list…
7 Ways to Make Money on Instagram
If you want to make money on Instagram, you need to set up your profile, post some engaging content, and build an audience. You can read our ultimate guide to Instagram for detailed tips.
1. Link to Your Blog
First and foremost, as a blogger, you'll want to use Instagram to drive traffic to your website.
Because with more people visiting your blog, you'll have more opportunities to increase your revenue.
For example, driving Instagram traffic to your blog can help you:
Increase clicks on affiliate links
Improve Google Adsense click-through rate
Get more PayPal donations
Boost sales of your product or service
Increase signups for your webinar or online course
Boost signups for your memberships
Get more email subscribers that you can sell to later
And more
It can be tricky to promote your blog on Instagram because the platform only allows you to place one link in your bio.
That's why we recommend creating a link in bio landing page. A link in bio page is a single page with multiple links that users can click on and visit.
So, from one link, you can promote your best blog posts, your email newsletter signup page, your product page, and more.
Here's an example of a link in bio page used by WPBeginner: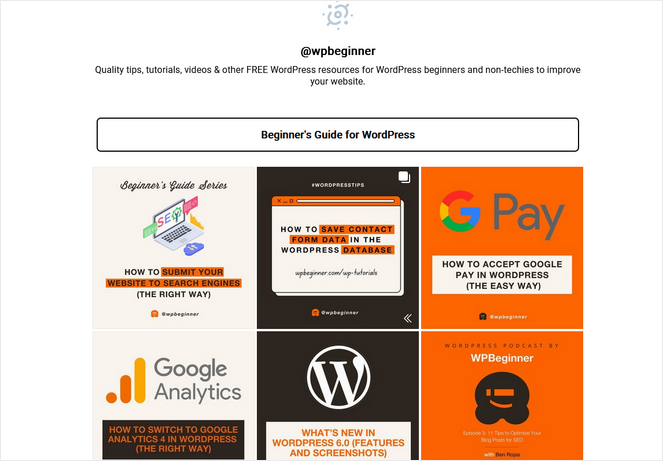 You can follow our tutorial on how to create a link in bio page in WordPress for step-by-step instructions.
2. Monetize Your Instagram Account
Now, if you're wondering how to make money on Instagram without selling anything, this is the tip for you.
Instagram has monetization features that allow you to make money directly from your Instagram content.
For example, during a live Instagram video, your followers can purchase Live Badges, which cost between $0.99 and $4.99, and give them to you to show their support.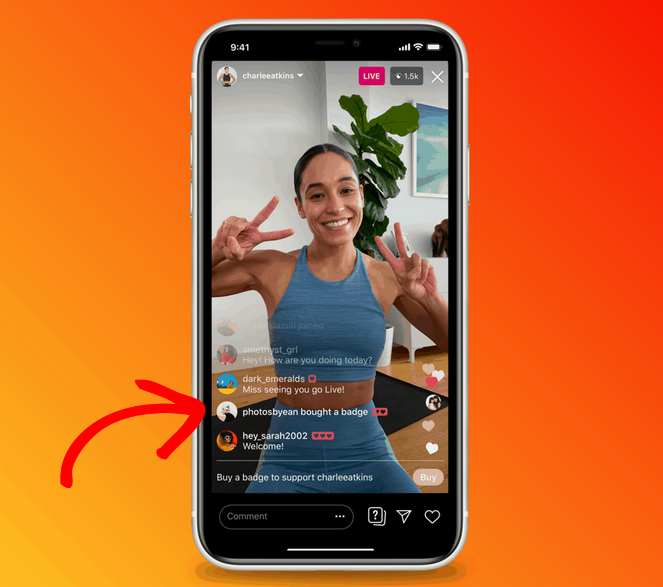 To enable Live Badges, go to your Instagram profile and click on 'Professional Dashboard.' If you're eligible for monetization, you'll see a button labeled 'Set Up Badges.' If you don't see that option, you can apply for monetization by clicking the 'Apply for monetization' button to get access.
Next, you can make money on Instagram Reels with the Bonuses feature. The Reels Play bonus, for example, pays you for the number of plays on your reels. According to Instagram, some influencers have earned up to $35,000 in a single month!
There's also the Instagram Subscriptions feature, where subscribers pay a monthly fee to see exclusive content from you. They also get a subscriber badge next to their username so they stand out in comments and direct messages. But, for now, Instagram Subscriptions is operating on an invite-only basis.
3. Do Sponsored Posts
One of the most popular ways to make money on Instagram is by partnering with brands. Both large and small companies work with content creators and influencers in order to promote their products/services to new audiences.
For example, a makeup company could pay you to make an Instagram post that features its product. Below is a paid sponsorship post from influencer Kathleen Lights for the company Sol de Janeiro.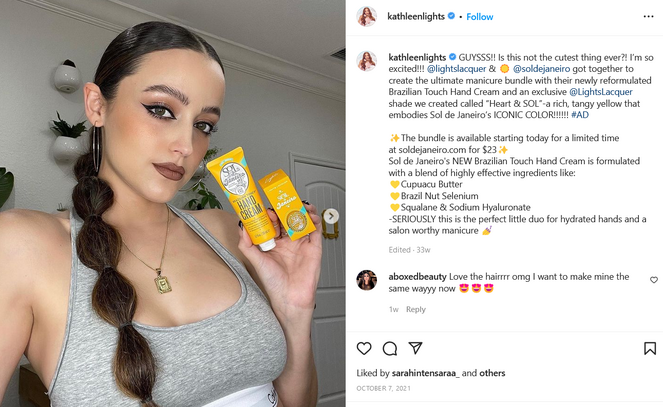 It's best to partner with brands that fit your particular niche. For instance, if you're a landscape photographer, it makes more sense to partner with companies that sell cameras and photography equipment rather than beauty products.
Your followers will be more engaged when your sponsored posts relate to the content they originally followed you for.
In addition, remember to include a hashtag or caption that indicates that the post is sponsored. This is an important part of Instagram's branded content guidelines. Not following these guidelines can get your posts removed.
It's also important for building trust with your followers. They won't like it if you're dishonest about getting paid to promote a product. 
4. Join Affiliate Marketing Programs
This Instagram earning trick is similar to sponsored posts. With affiliate marketing, you can sign up to promote a company's product or service. When you're approved as an affiliate, you'll get a special link or a discount code.
Then, whenever someone buys the product using your affiliate link or discount code, you'll get a commission!
Here's an example of an affiliate post from Manis by Kayla: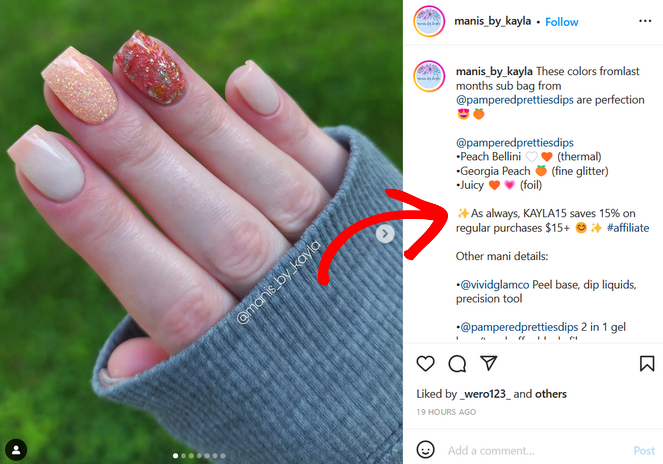 You can find a variety of products to promote on affiliate networks like Amazon Associates, ShareASale, and CJ Affiliate. 
If there are particular products you already use and love, you can also sign up to become an affiliate directly on the company's website.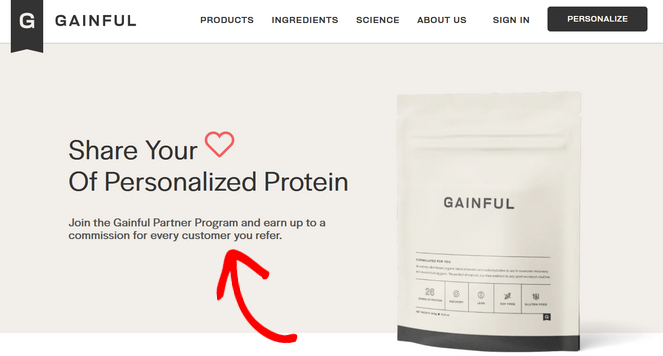 You'll typically find an "Affiliates" page, like the one above from Gainful, a protein powder company, linked in the footer area of the website.
Like with sponsored posts, remember to promote affiliate products that are relevant to your niche and audience.
5. Offer Paid Courses or Classes
If you have expertise in a particular subject, you can also make money by selling courses or classes using Instagram.
Waqas Qazi is a professional film colorist who shares Instagram posts with free, helpful tips for his followers. This helps him attract an audience of people that are interested in working in the film industry.
Then, in the captions of his posts, he often tells his followers to check out the link in his bio to join his paid masterclasses.

This link leads users directly to Waqas' website where they can pay $697 for in-depth lessons.

Don't worry, you don't need to be a professional with years of experience in an industry in order to sell courses. You just need to be knowledgeable about something.
For example, if you love to knit, you can sell knitting classes. Or, you can sell a poetry writing course if you like to write. 
6. Sell Virtual Services
Offering freelance services is a popular way to make money online. But, instead of using a platform like Fiverr, you can use Instagram.
This is a great money-making option for people that don't want to become an Instagram influencer themselves. Rather, you can sell services to influencers or other businesses and stay behind the scenes.
So, what kind of services can you sell on Instagram?
One option is to become a virtual assistant to an influencer. Many Instagram influencers need help with tasks like managing DMs, scheduling posts, editing photos, replying to comments, and more. 
As a virtual Instagram assistant, you can handle these tasks for busy influencers in exchange for a fee.
As a blogger, you might be wondering how to make money on Instagram by writing. Well, you can write Instagram captions for businesses.
Instagram captions need to be written effectively in order to prompt engagement and make sales. And not all businesses have a writer on their team that has those skills.
That's where you come in! You can charge businesses $300-$600 for 10 captions, depending on your skills and experience.
To get clients, you can use your Instagram profile to advertise yourself and display some examples from your portfolio.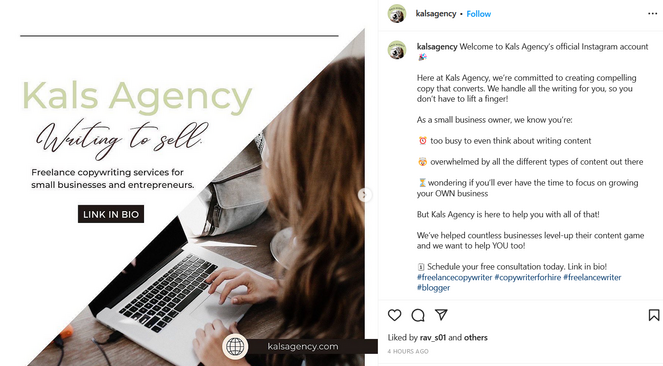 Create posts to promote your services, use relevant hashtags, and link to your website in the bio, like freelancer writer Kals Agency does in the example above.
7. Sell Your Products
If you have an online store, you can also make money on Instagram by promoting your own products.
Nearly every eCommerce business uses Instagram to promote its products to potential customers. That's because, according to Instagram, 44% of people use Instagram to shop weekly.
A great way to boost your revenue is to promote your products on Instagram anytime you're having a sale. A sale or special offer will not only encourage new customers to buy for the first time, but it can increase social shares and introduce your products to even more people.
You can also announce any new products on Instagram to boost sales on launch day.
Here's how the food blog, Sprouted Kitchen, does it: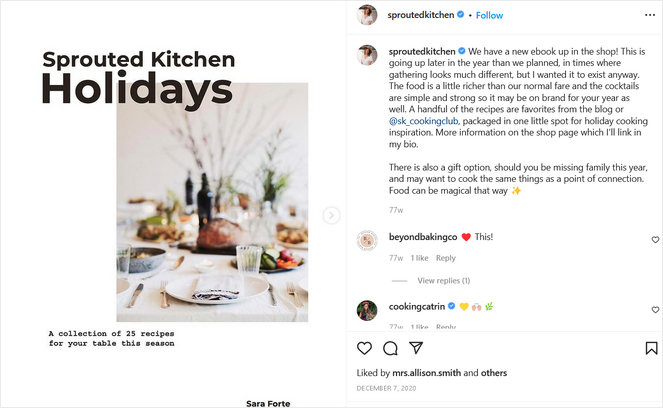 The blog owner, Sara, posts an eye-catching image of her new ebook and in the caption, tells her followers that they can buy it by clicking the link in her bio.
---
FAQs About Making Money on Instagram
How many followers do you need to make money on Instagram?
You don't have to be an influencer with millions of followers to make money on Instagram. Many of the Instagram earning tricks that we shared in this article can be effective with 1000 followers or less, as long as you have an engaged audience.
But, if you have 10K followers or 100K followers, you'll be able to earn a higher income than Instagram accounts with fewer followers.
How can I increase my followers on Instagram?
There are many ways you can increase your Instagram followers. First, we recommend displaying your Instagram feed on your blog. This will help you promote your Instagram content to your website visitors and encourage them to follow.
You can easily add an Instagram feed to your website using a plugin like Smash Balloon.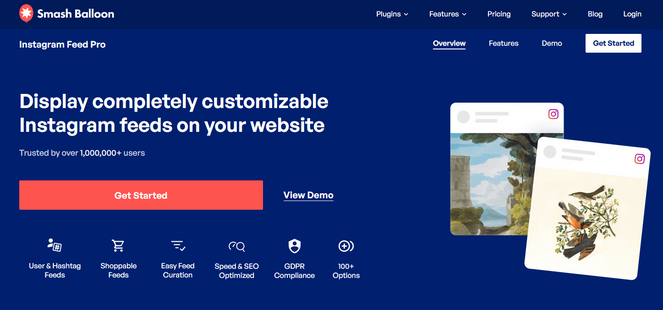 With Smash Balloon's Instagram Feed Pro, you can embed a customizable Instagram feed anywhere on your site in minutes. 

You can learn more in our detailed Smash Balloon review.
Other tips to increase your Instagram followers include running a giveaway, optimizing your Instagram profile, and using popular industry hashtags.
For more information, check out this post on how to increase Instagram followers. 
How to make money on Instagram without followers?
For most Instagram money-making strategies, you'll need to start out with at least 500-1000 followers in order to see any real profit.
If you have very few or no followers at all, you can still make money on Instagram by selling services like freelance blogging, for example. Potential clients will typically be more interested in your skills and experience than how many followers you have.
Does Instagram pay money for posts?
Instagram itself does not pay you for Instagram posts. If you want to get paid for creating Instagram posts, you need to work with brands to create sponsored posts, which we went over earlier in this article.
---
That's a wrap! We hope this guide helped you learn how to make money on Instagram as a blogger. Now, you can reach a new audience and diversify your income.
If you liked this post, check out our guide to social media marketing for small businesses.
And don't forget to sign up for our email newsletter so you can get useful content like this sent right to your inbox!