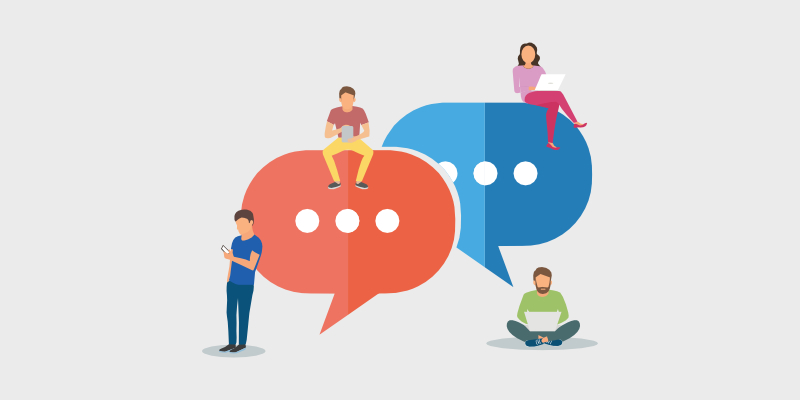 A re you wondering how to get more comments on your blog? Then look no further! This guide will share some easy tips on how you can get more comments on your blog posts.
Comments help build meaningful relationships with your readers and help you get valuable feedback to improve your blog.
Plus, getting comments on your blog shows that all the hard work that you put into starting your own blog has paid off.
But getting readers to comment can be a challenge, and in this guide, we will share some of our best tips to make it easy for you to get more blog comments.
Let's begin.
Why are Blog Comments Important?
A big reason why blog comments are important is that it makes you feel good as a blogger. It feels great to know that people are not just reading your posts, but they enjoy them enough to leave a comment.
All technicalities aside, getting people to comment on your blog shows that you're truly reaching out to your audience. And it gives you the opportunity to connect with them and help out with their needs.
As for more measurable reasons, getting more comments can help you:
Increase your engagement: With the help of comments, your readers can interact with you and your blog. They can share their opinions and have a healthy discussion with you. This can result in a lot of engagement that can also help you increase your search engine rankings.
Make your article more reliable: The more people interact with your blog, the more popular and reliable it looks. Having the comment count display hundreds of comments is an excellent way to display social proof and gain your readers' trust.
Gather more information about your readers: You'd be surprised how much you can learn about your readers from the comments section. You can learn about their likes, dislikes, problems, and roadblocks. You can try to help them out by replying to their questions in the comments. Or, use this information to develop new blog posts, products, and services to better meet their needs.
Get valuable feedback: Comments can help you understand if your content is fulfilling its purpose. Comments are an excellent way to gather feedback to see if your readers find your blog helpful. You can also use that feedback to improve your blog.
How to Encourage Comments on Your Blog
Before we get into the tips for getting more blog comments, let's start with the basics.
The easiest way you can get your readers to comment on your blog is by making your content interesting.
You can't expect people to comment on your blog if your content isn't compelling.
Make sure your content grabs attention from the get-go. Pick a title that grabs your reader's attention, something that entices the readers, or something controversial that would make your readers want to comment.
For picking out an attention-grabbing title, check out our guide on how to write blog post titles.
And if you need some ideas for interesting blog posts, then take a look at our huge list of blog post ideas that will never fail you.
Now that we have that out of the way, let's dive right into how to get more blog comments.
1. Ask Your Readers to Add to Your List Articles
List articles, like posts that list 10 ways to do something or list the best products, tend to get more attention and generate lots of engagement.
Plus, these numbered list articles are easy to read and they can also help you get tons of traffic to your blog.
So, how exactly do list articles help you get more comments?
You can ask your readers to add to the list by commenting their own suggestions. This gives your readers a chance to contribute and it also helps improve your article.
Take a look at the example below, at the end of our post about the 10 best contact pages on the web, we asked our readers to share their favorite contact us pages in the comment section.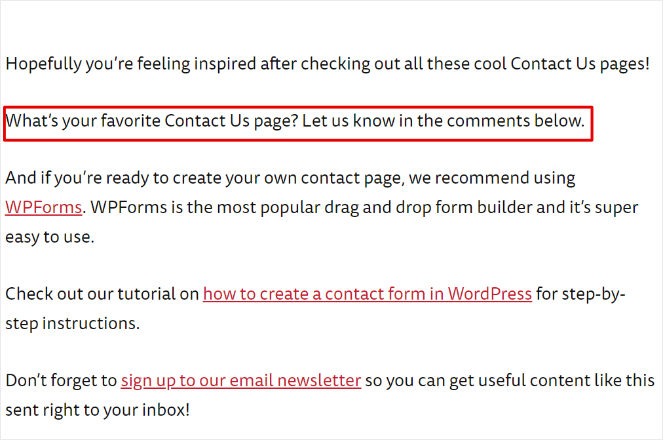 You could do the same tactic to increase your comment count and improve your blog post.
2. Always Respond to Comments on Your Blog
When you do get comments on your blog, always reply to them to keep the conversation going.
Replying to comments enhances the conversation and gives you more opportunities to get valuable feedback and suggestions from your audience. This also shows your audience that you care about their opinions.
Plus, when other visitors see that you're talking with readers in the comment section, it encourages them to join the conversation—resulting in even more comments!
At Blog Tyrant, we've made a habit of replying to comments even if it's just to say thank you.
You can also try recommending other relevant blog posts to people that have left a comment or question, like in the comment example below: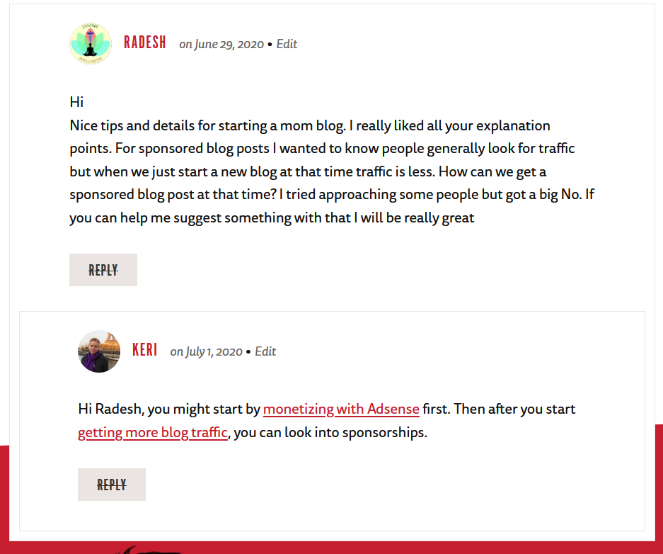 This will encourage people to read even more of your posts and maybe they'll leave a comment on those too.
And besides, it's rude to leave your readers' comments unanswered especially since they took the time out to read your blog and leave a comment on it.
3. End Your Blog Post with a Question
Another good way to get comments is to ask questions at the end of the post. Ask for your readers' opinions, feedback, or anything that would make them respond.
You could ask something as simple as, "What's your opinion on this? Comment your thoughts down below."
This shows them that you care about their opinion and that gives them the confidence to share their feedback with you.
Be sure to make your questions visible to your readers so that they don't scroll past them.
You could play around with your blog's design or simply make the font bold.
Here's how Neil Patel does it: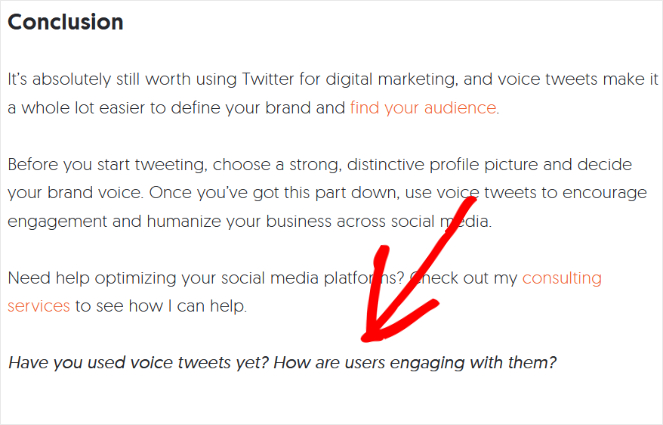 4. Add Videos for More Engagement
Most people love watching videos, just look at the popularity of YouTube. That's why many successful bloggers add video to their content; it's a great way to make your posts more engaging.
And if your posts are more engaging, people will be more likely to comment.
So, try embedding a relevant video in your blog post to bring in more comments.
Take a look at the example from WPBeginner, they added a video tutorial to their post on how to install Google Analytics: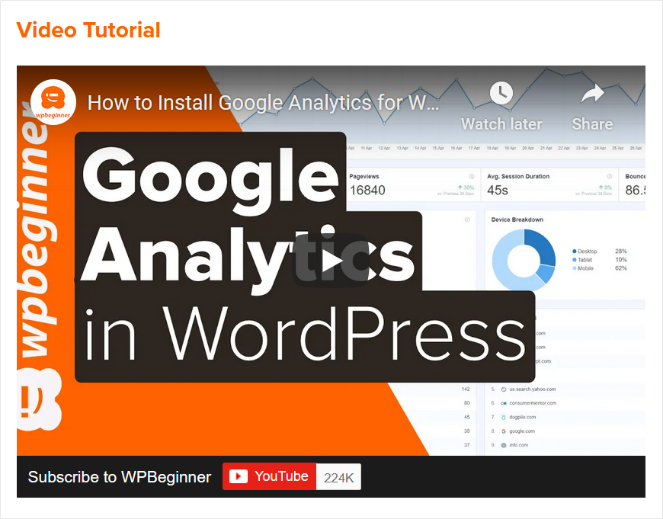 They were able to generate almost 800 comments because of using a relevant video in their blog!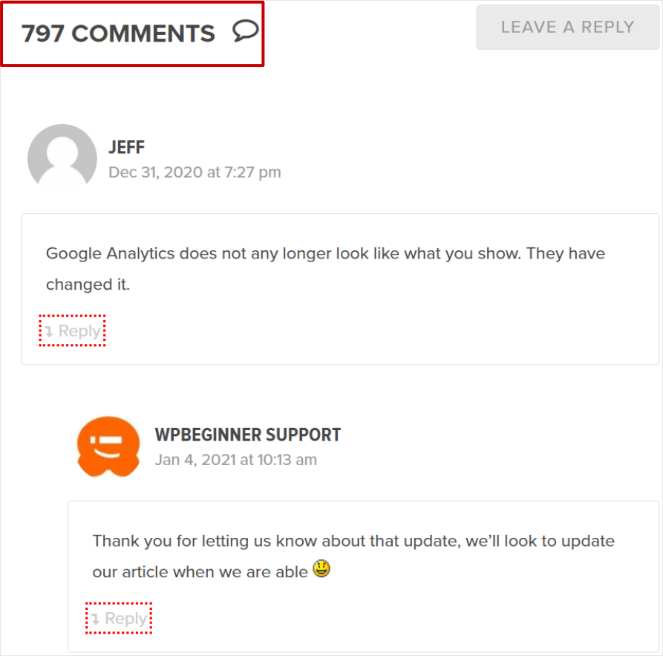 Adding videos to your blog also improves your chances of appearing at the top of search results. Google likes to display video content in the featured snippets.
If you manage to rank at the top, you could drive tons of traffic. Adding video is also good for your blog SEO because of all the engagement it brings.
5. Leave Comments on Other Blogs
A good way for you to increase your blog's online presence and visibility is to comment on other blogs.
If you leave comments on other blogs, many times, people will check out your blog and leave a comment of their own to return the favor.
But keep in mind that you need only be active on blogs that are relevant to your niche.
There is no point in commenting on a blog discussing fitness when you write about blogging tips. People simply won't bother checking your blog out.
Remember, don't just comment for the sake of trying to get a comment back. Instead, leave a meaningful comment. This will make it more likely that other blog owners and their readers will check you out and comment back.
You could also try to guest post on relevant blogs. This helps with the marketing of your blog and brings a lot of visibility, which in turn, can bring in more comments.
6. Make it Easy for Your Readers to Comment
If you are serious about getting comments then you need to make it as easy as possible for your readers to leave a comment.
If leaving a comment requires your readers to go through a bunch of different steps, chances are that they aren't going to go through with it.
To make commenting easier, you could start by easing up on the spam-prevention techniques, if they take too long or are annoying.
For example, if you have a type of CAPTCHA that asks your users to solve a puzzle or enter a code before they are allowed to comment, remove it.
Having these CAPTCHAs up may sometimes block spam, but more often than not, spammers find a way to go through these restrictions. So, you're really just missing out on a ton of comments from users.
Instead, you could use a tool called Akismet to combat spam. Akismet is a free WordPress plugin that automatically filters out spam comments from your blog.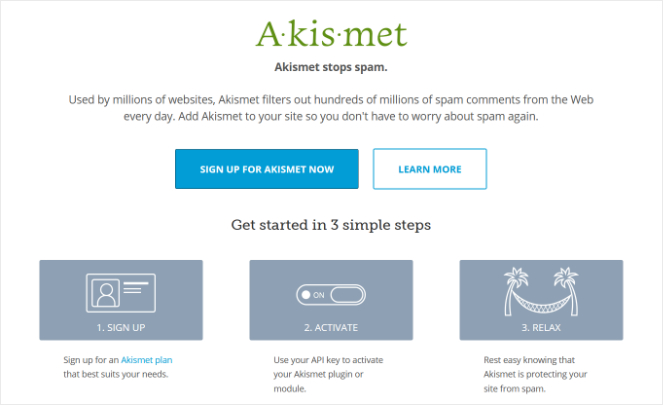 Or, you could opt for a more advanced form of CAPTCHA called Google reCAPTCHA, which only requires a simple tick on the box to prove that the user isn't a bot.
7. Run a Viral Giveaway
Running a giveaway is one of the easiest ways to get more comments on your blog and improve blog engagement.
There are other advantages to running a giveaway as well. It helps you increase your brand awareness, grow your email list, increase your social media followers, and more.
To get comments, all you need to do is make a requirement for users to leave a comment on your blog in order to enter the giveaway.
Take a look at this example where WPBeginner ran a giveaway in which they asked their readers to comment in order to be entered in the giveaway. This resulted in hundreds of comments on their articles.
You can easily run a giveaway like this with the help of RafflePress. RafflePress is the best viral giveaway plugin for WordPress.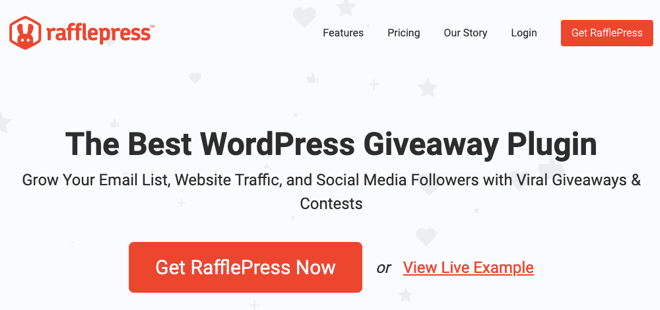 It has a drag and drop builder, which makes it very easy to build giveaways.
You can also choose from one of its many pre-built giveaway templates. Each template is built to achieve specific goals, you can choose the one that best fits your needs.
Plus, RafflePress has a Leave a Comment entry action, which rewards participants with extra giveaway entries for commenting on your blog.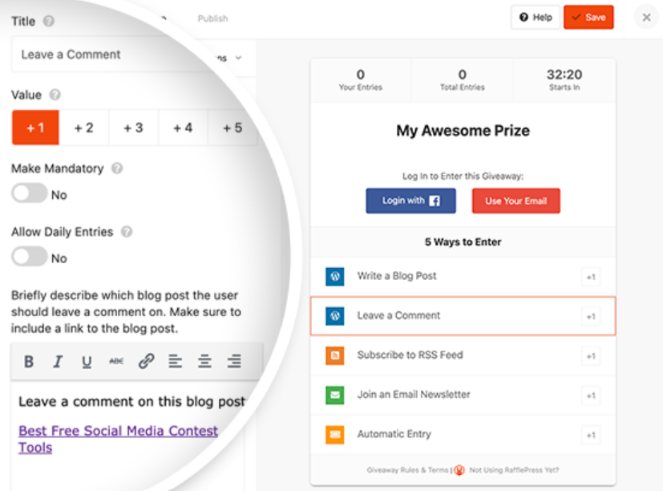 Simply click on the action to add it to your giveaway and start getting more comments!
You can also connect RafflePress with social channels to increase your followers, this can boost your overall engagement.
You can do all this without having to write a single line of code or hiring a developer.
8. Allow Readers to Subscribe to Comments
Readers who leave a comment on your blog should be notified if they get a reply. This helps them stay engaged with your blog and be a part of the conversation even when they have left your website.
You can easily achieve this by allowing your readers to subscribe to your comments.
Then, they'll be able to get notified when there is a new comment on your blog or when they get a reply to their comment.
Here's an example of how it works: When a user goes to the comment section, they'll see an option for subscribing to the comments. They can either subscribe to "All" comments or just "Replies."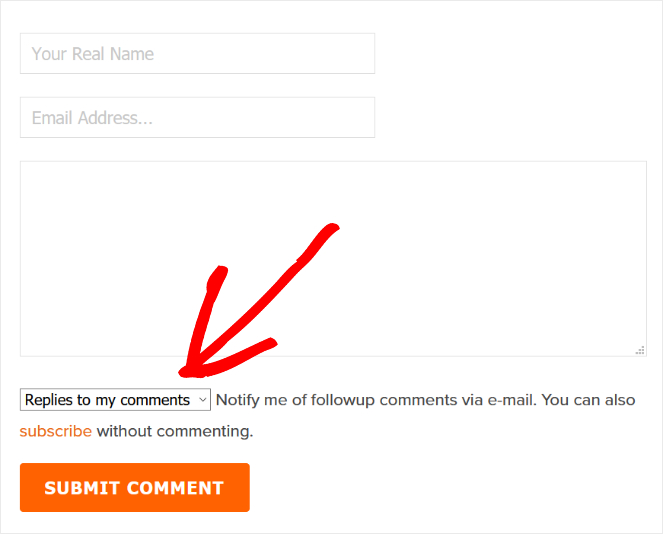 Allowing users to subscribe to comments can give you a big boost in comments, engagement, and pageviews.
You can follow this guide to learn how to allow users to subscribe to comments.
9. Write a Post Based on Your Comments
You'd be surprised how comments can generate interesting conversations. Sometimes they can even give you inspiration for a new blog post.
Keep an eye out for interesting, insightful comments. You might be able to use it in a new blog post.
The blog Ask a Manager uses this tactic for all of their posts: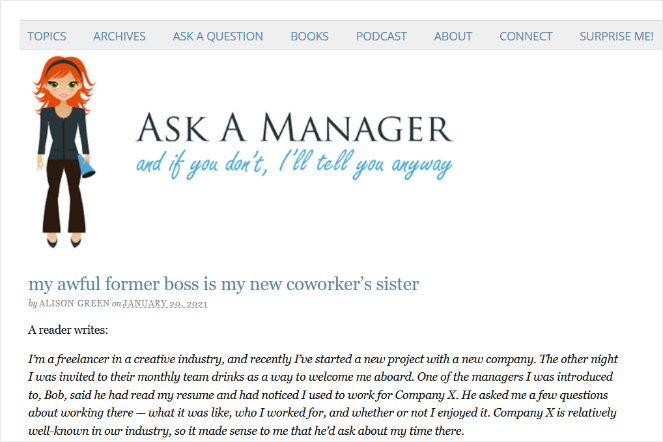 You can do this in a similar way on your own blog; add a screenshot of the comment near the beginning of the article and then write your thoughts about it.
Then, you can send the post to the original commenter, telling them that they helped inspire this blog post.
When you start recognizing your readers for their contribution, they're more likely to share your post and comment on your blog. That means more traffic and comments for you.
10. Ask Your Email Subscribers to Comment
Asking your email subscribers to leave a comment on your blog is another good way to get more comments on your blog.
Email subscribers are more likely to share your blog with their followers and are also more likely to leave a comment on your blog when you ask them to.
So, if you have been working on building your email list, you can now take advantage of all your hard work by asking your subscribers to comment on your blog.
All you have to do is add a call to action (CTA) at the end of your newsletter, asking them to share their thoughts on your blog.
Make sure that you use enticing subject lines so that you can increase your open rates. You can use a free tool like the IsItWP email subject analyzer to come up with the perfect subject line.
A good open rate will ensure that you get more visitors to your blog and increase the comment count.
11. Ask Your Social Followers To Join the Conversation
It's no secret that social media is an excellent medium for driving traffic to your blog, but many people don't know that it's also a good way to get comments.
You can share your articles on your social media platforms and ask people to leave their feedback and opinions on your blog.
This strategy is very similar to the one we discussed in the "running a giveaway" section. But instead of giving something in return, you are simply asking your readers to comment on your blog.
Many of your loyal readers will be happy to leave you a comment if you simply ask them.
This shows that you value your reader's opinion, and you truly care about what they have to say. This recognition encourages your readers to leave a comment on your blog posts.
12. Allow New Users to Comment on Your Old Posts
Many bloggers turn off comments for their old blog posts to reduce spam. But of course, this also prevents new readers who just discovered your blog from commenting on your old blog posts.
You should consider turning them back on if you want to increase your comment count.
You can easily turn on your comments by going to your WordPress dashboard and clicking on Settings » Discussion.
Once there, look for Other comment settings and then uncheck Automatically close comments on posts older than 14 days.

13. Show Recent Comments on Your Sidebar
WordPress gives you the ability to show recent comments on every page of your blog including the homepage.
Displaying your recent comments on all pages makes the conversation more visible and improves the chances of people commenting on your blog.
To show recent comments in your sidebar, head to the WordPress dashboard. Then, go to Appearance » Widgets and then drag the Recent Comments widget to your sidebar area on the right side.
Now your recent comments will be displayed in the sidebar of your website. It will look something like this: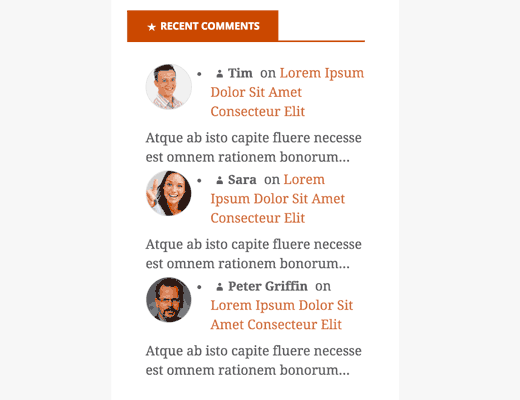 And we're done!
We hope that this guide helped you learn how to get more comments on your blog. Using these tips, your comment section will soon be bustling with conversations.
If you have any other tips to share, please let us know in the comments below.
If you found this guide useful, then also check out our guide on the best SEO tools to boost your blog's traffic.
And don't forget to subscribe to our email newsletter for more blogging tips and tricks right in your inbox.