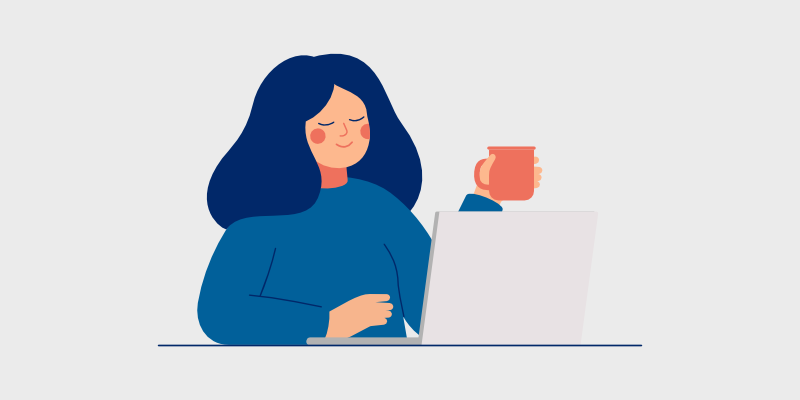 W ant to start freelance blogging and make money online? Then you've come to the right place! We'll show you how to become a freelance blogger, step-by-step.
Freelance blogging is one of the best ways to make money online.
All you really need to get started is a laptop and an internet connection. That means you can get paid to write from the comfort of your own home.
In this article, we'll show you exactly how to start a freelance blogging career. We'll go over how to build a website, how to create writing samples, how to get clients, and more.
Let's dive in!
Before we get started with the tutorial, let's go over what freelance blogging is.
What is Freelance Blogging?
Freelance blogging is when you get paid to write blog posts for clients.
For example, a client can hire a freelance blogger to write a blog post like: How to Make Money with Email Marketing.
As a freelance blogger, you would research the subject, write the blog post, submit it to the client for review, and then get paid.
Aside from blog writing, freelance bloggers can offer additional services like keyword research, designing featured images for posts, uploading the blog post directly to the client's website, and more.
You don't have to offer these additional services, and instead, just stick to writing posts.
But, you can increase your freelance blogging rate by charging extra for these services. Plus, these services are attractive to potential clients because you'll take care of everything, meaning the client doesn't have to worry about a thing.
Now that you have a better understanding of what freelance blogging is, let's go over how to become a freelance blogger.
Step 1: Pick a Niche
The first step to becoming a freelance blogger is to pick what topic you're going to write about for clients. This is known as a niche.
Choosing a niche will help you present yourself as an expert in your field and it will attract clients that will want to work with you.
Imagine a software company is looking for a freelance blogger to hire. They come across a freelancer that says they write blog posts for food, lifestyle, fashion, and tech. That's a lot of different subjects.
Then, they come across a freelancer like Karl Hughes of Draft.Dev.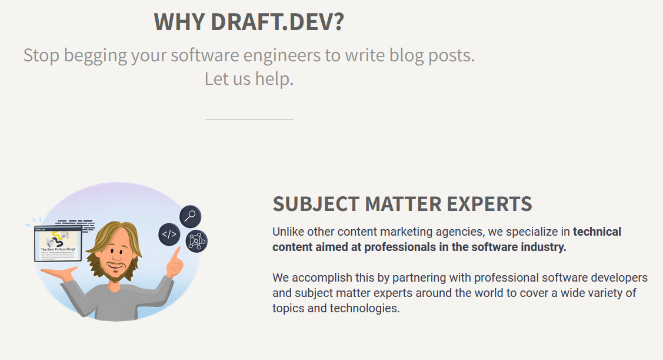 His website says that he specializes in writing technical content for professionals in the software industry.
The software company is going to hire Karl over the other freelancer because he specializes in their specific niche.
Choosing 1 niche and sticking with it will help you stand out from the crowd and attract higher-paying clients.
There are many niches to choose from like finance, travel, digital marketing, education, health and wellness, and more.
To find the best freelance writing niche for you, ask yourself:
What am I passionate about/interested in?
What am I knowledgeable about?
Is this niche profitable? Are businesses willing to pay for this?
Once you've decided on a niche, it's time to move on to the next step…
Step 2: Start a Blog
Now, you need to start your own blog. If you're new to freelance writing, you probably don't have a portfolio of writing samples to show off to potential clients. So, why would they hire you over someone else?
But, if you have your own blog, it proves to clients that you have the skills you need to do the job.
Plus, having a blog makes it easier for potential clients to find you online.
Now, you might be wondering: How do I start a freelance blog?
For a step-by-step tutorial, check out our guide on how to start a blog.
But, here are some of the most important steps to keep in mind.
1. Choose the Right Blogging Platform
The first step to starting a blog is to choose the right blogging platform.
You might be tempted to choose a free blogging platform like WordPress.com, Wix, or Weebly to save money.
But, we don't recommend choosing a free blogging platform because:
You don't get a custom domain name like AllisonWrites.com. Instead, you have to use a domain name like AllisonWrites.WordPress.com, which isn't as professional.
You have less control over your blog and have to abide by the company's Terms of Service. If you violate the Terms of Service, they can delete your blog at any time.
There are limited customization options for your blog and you can't use WordPress plugins.
You can't monetize your blog and bring in extra revenue with ads or affiliate marketing.
That's why we recommend using WordPress.org.

With WordPress.org, you can easily create your own self-hosted blog. This means that you own your site and your blog content. You can build, grow, and monetize your blog any way you want, with no restrictions.
Plus, WordPress.org is free to use. All you need to pay for is a domain name and hosting, which we'll go over in the next couple of steps.
2. Pick a Good Domain Name
If you want to start a successful freelance blogging career, then you need to carefully pick a domain name that represents your business.
Many freelance bloggers use their own name as a domain name like JoeSmith.com. This is a simple and professional way to go.
But, you can also get a bit more creative with your domain name if you want.
For example, freelance writer Elna Cain wanted a company name instead of using her own name. So, she chose the domain name Innovative Ink.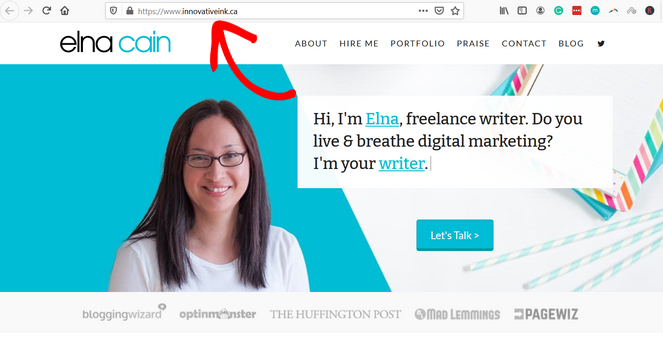 You can come up with a unique domain name like this by combining different words related to writing like pen, quill, copy, etc.
To make it easier, you can use Blog Tyrant's free domain name generator tool.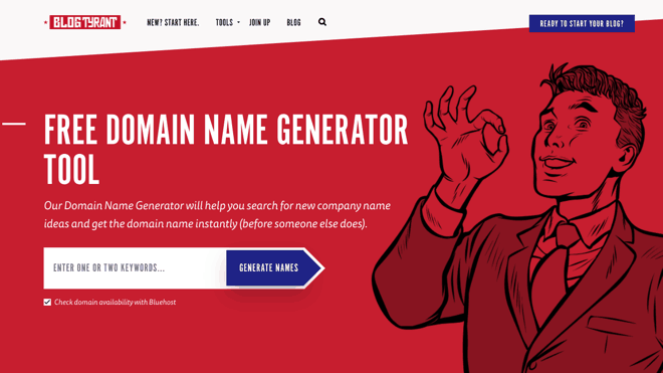 Just enter a few keywords and the tool will instantly suggest domain name ideas you can use.
3. Choose the Best Blog Hosting
Like we mentioned before, when you create a self-hosted blog with WordPress.org, all you need to pay for is a domain name and blog hosting.
Blog hosting is where all of your website files are stored online and it's needed in order to make your website live on the internet.
There are many blog hosting services to choose from, but we recommend Bluehost.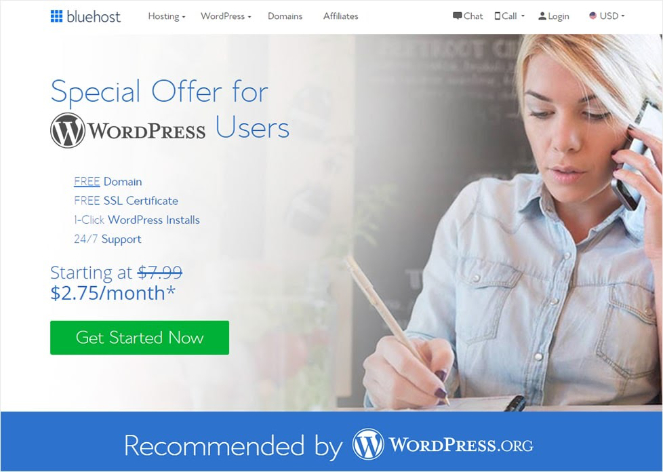 Bluehost is officially recommended by WordPress.org and it hosts over 2 million websites worldwide. It's also super-fast, reliable, easy-to-use, and it comes pre-installed with WordPress.
Plus, Blog Tyrant readers get a special discount of 60% off with Bluehost, which comes with a free domain name, free SSL certificate, and more!
With Bluehost, you can start your own blog for freelancing quickly and easily, without having to spend a ton of money.
Set up Your Freelancer Website with Bluehost
To get started, click on the exclusive offer link above. Then, click on the Get Started Now button as shown in the screenshot below: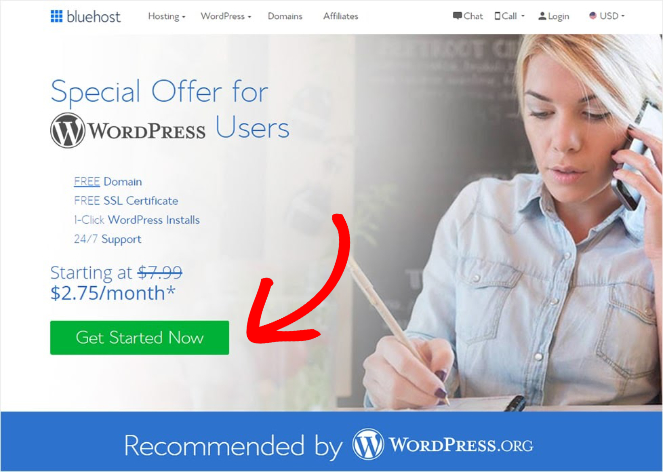 On the next page, choose the pricing plan that fits your needs.
Next, type in the domain name that you've chosen. Or, you can click on "I'll create a domain name later" if you haven't decided on one yet.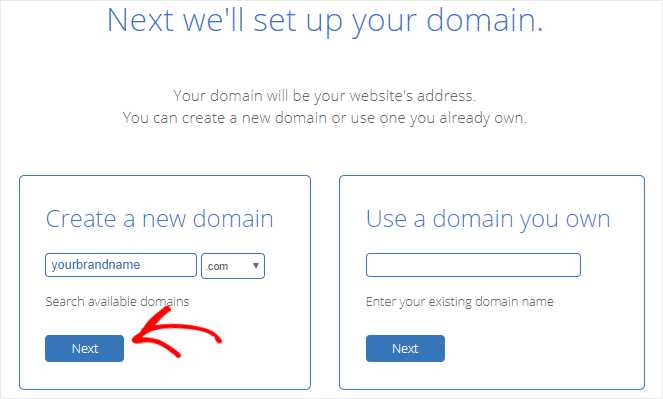 In the next step, you need to set up your package information and choose how long you want the pricing plan to go for.

You also have the option of getting extra addons if you want. But, you can skip those for now if you're just starting out.
Then, add in your payment information to complete the process.
Once you're done, you'll get an email confirmation with your login information. Log in to your Bluehost account and click on the My Sites tab and then hit Log into WordPress.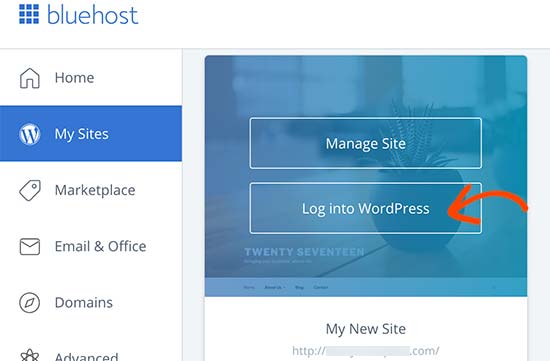 Once you've logged in, click on the Create Site button.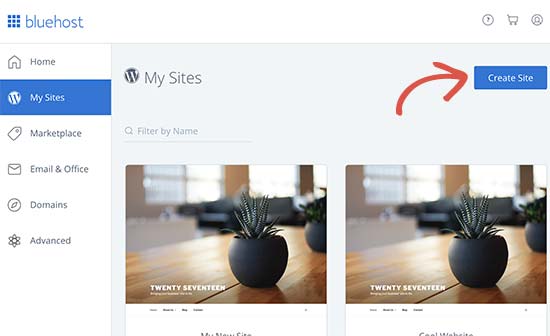 This will launch the WordPress installation wizard. All you need to do is follow the simple steps to set up your site.
For more detailed instructions, check out our guide on how to install WordPress.
4. Install a Theme and Essential WordPress Plugins
After your site is set up, you'll want to install a WordPress theme to give your blog a professional look in an instant.
There are many WordPress themes you can choose from, both free and paid. You can check out our list of the best WordPress themes for blogs to find one that suits your needs.
One of our favorites is Astra.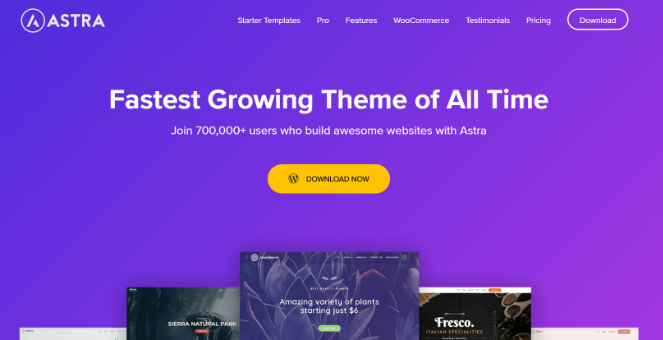 Astra is one of the fastest-growing themes of all time. It comes with over 150 starter templates so you can create a beautiful site in no time. They even have templates specifically designed for freelancers.

You should also take the time to install important WordPress plugins to customize and improve your blog, like:
If you need help installing plugins, take a look at our guide on how to install a WordPress plugin.
5. Create Core Site Pages
Next, don't forget to create important website pages like the about page and contact page.
The about page will be one of the most visited pages on your blog. That's because if a client is looking to hire someone, they'll want to know exactly who they'll be working with.
Your about page should tell visitors who you are, list your experience and expertise, and describe why people should hire you.
If you have some, you can even add testimonials to build trust and social proof.
Here's a great example of a freelancer about page from Rachel Foster of Fresh Perspective Copywriting: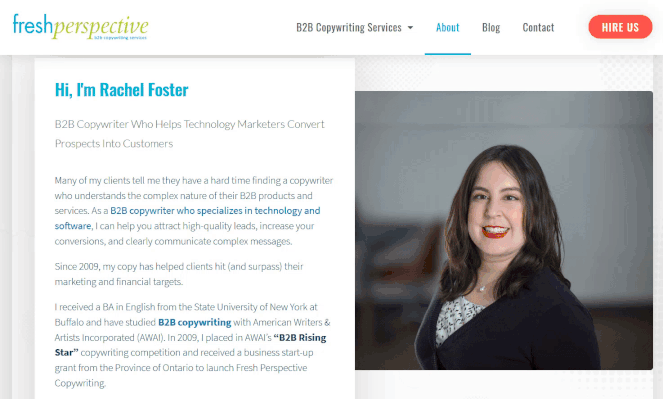 The contact page is also very important for freelance bloggers and writers.
With a contact page, clients can message you directly if they're interested in hiring you for blog writing.
Like we mentioned earlier, you can use WPForms Lite to add a simple contact form to your contact page for free.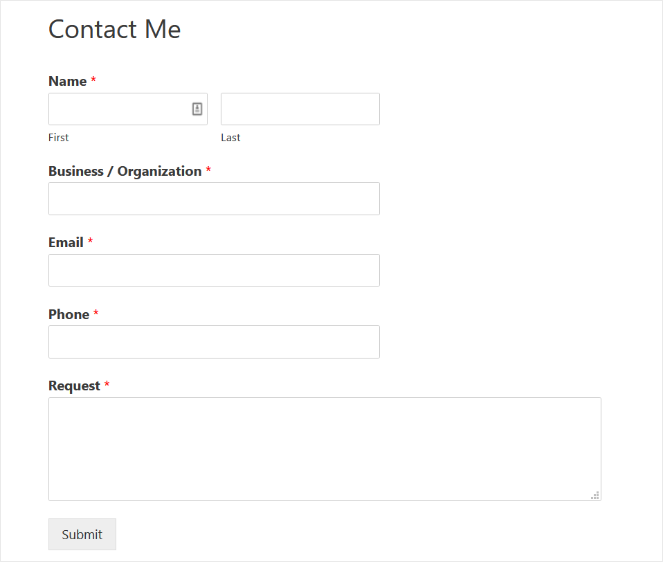 Here's a tutorial on how to create a contact form.
You can also upgrade to the pro version of WPForms to create more powerful forms.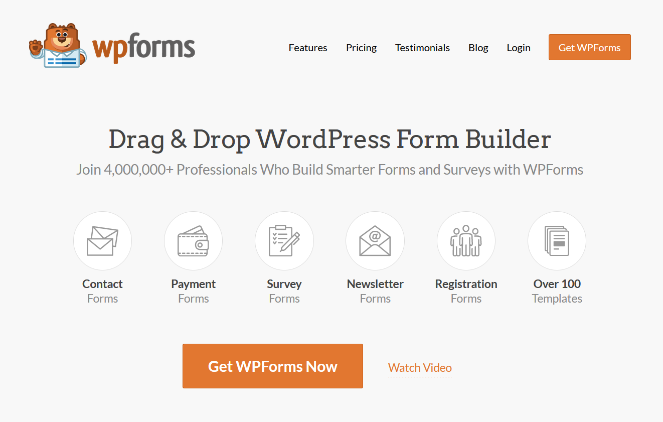 For example, you can connect with payment integrations like PayPal, Stripe, and Authorize.net. That means you can collect client payments right from the form on your website.
There's also a file upload feature that lets users upload files with their form submission and a signature addon to allow users to sign forms or contracts online.
For more inspiration on creating a contact page, check out our post on the best contact pages.
Step 3: Create Writing Samples
Next, it's time to get down to business and start writing. Like we mentioned before, if you're just starting out you probably don't have any writing samples in your portfolio to show to potential clients.
And clients will want to see examples of your writing to prove you can do the job.
Luckily, you can use your own blog to create writing samples!
Simply start writing blog posts and publishing them on your site.
But, make sure that you write posts in the freelance niche you've chosen. For example, if you've chosen the finance niche, make sure the blog posts you write are about finance.
Megan Nye is a personal finance writer and on her blog, she writes about finance topics to showcase her knowledge and expertise: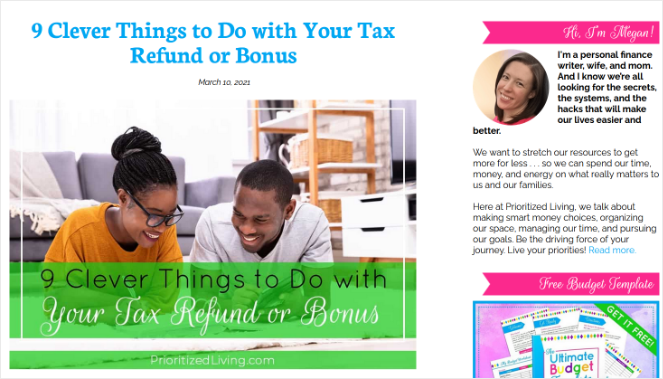 If you need help writing blog posts, check out our guide on how to write a good blog post.
Step 4: Promote Your Freelance Blogging Site
Now it's time to get the word out about your freelance blogging services. Because people aren't going to know that you're a freelance blogger unless you promote yourself.
The easiest way to promote your freelance blogging site is with social media. Business owners are on social media platforms like Twitter and LinkedIn. So, you'll want to edit your social media bios to tell them you're a freelance blogger for hire.
Here's how Elna Cain does it on Twitter: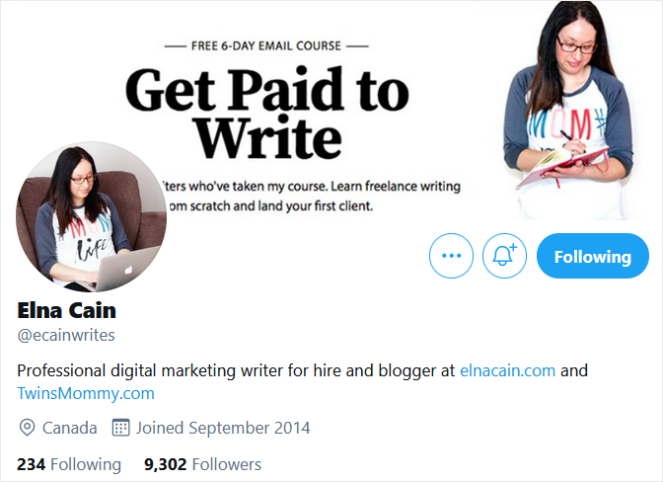 In her bio, she lists that she's a digital marketing writer for hire and adds a link to her website.
Aside from editing your social media bios, you can also:
Share your blog posts on social media
Join social media groups for freelancers
Follow and engage with businesses you want to work with
With a few good promotion strategies, you can start attracting more clients to your website.
Step 5: Search for Clients
At the beginning of your freelance blogging career, clients probably won't come to you. Instead, you'll need to search for potential clients and offer them your services.
One of the best ways to do this as a beginner is to go on some job boards and pitch to job ads.
There are great job boards out there specifically for freelancers like:
Search through job boards like these and look for ads that suit your skills.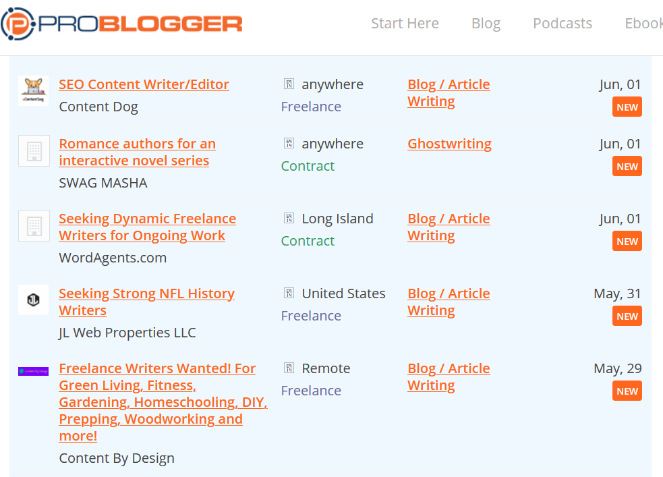 When you find something that looks like a good fit, you can apply.
Most job ads will ask you to describe your experience and provide links to examples of your best work.
You can also directly email businesses you want to work with and pitch them your services.
As a new freelancer with little experience, it can be difficult to land your first writing gig. But, stick with it.
Eventually, you'll land your first freelance gig and that experience will open up new doors for you in the future.
FAQs About Freelance Blogging
How can I become a freelancer with no experience?
You can become a freelancer with no experience by starting your own blog and posting on it.
Publishing blog posts on your own website will show potential clients that you have the skills needed to do the job. 
Who hires bloggers?
A lot of different companies hire bloggers. Both small and large companies need content for their blogs because it helps them boost their online presence, attract visitors to their site, and turn visitors into customers.
For example, a small landscaping company can hire a blogger to write content about lawn care and maintenance. Or, a big software company can hire a blogger to write tutorials on how to use their product.
How much do freelance bloggers make?
How much money you make as a freelance blogger typically depends on how much experience you have.
Many beginners charge $25 – $50 per blog post. But, an experienced freelance blogger can charge as much as $500 per post or more.
How much should I charge for a 1000 word article?
Again, it depends on how long you've been writing and what you offer. It also depends on the project. According to The Freelance Creative Rates Database, writers can get paid anywhere from $150 to $400 or more for a 1000 word article.
Most beginners charge a smaller fee when they're first starting out and increase their rates as they get more experience.
How do freelance bloggers get paid?
There are a number of ways to get paid as a freelancer. You can use PayPal, Venmo, direct transfer, or you can accept credit cards via Stripe on your website. You can also use a service like Freshbooks to send invoices and accept credit card payments.
That's a wrap!
We hope you enjoyed this guide on how to get started with freelance blogging. Now get out there and land some clients!
If you liked this post, you might also want to check out our guide on how to get sponsored posts.
And don't forget to sign up for our email newsletter for more helpful blogging tips!