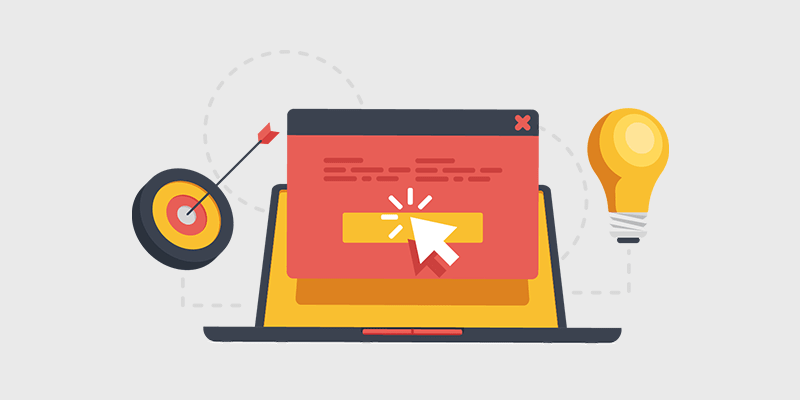 L ooking for email pop up examples to borrow some inspiration from? You're in the right place!
Email is still one of the best ways to reach people, which makes growing an email list an essential part of starting a blog. Bloggers might debate the best way to gather email addresses, but the proof is in the numbers!
Email pop ups, also called optins, are the best way to grab your visitors' attention and quickly grow your email list:
Want in on the action?
In this article, we'll take a look at some real-life email pop up examples that are proven to convert – and tell you how you can create your own!
Ready? Let's take a look…
Inspiring Email Pop Up Examples
When it comes to email pop ups, design is everything. So we've gathered a few of the best email pop ups to inspire you.
1. Simple Email Pop Up + Lead Magnet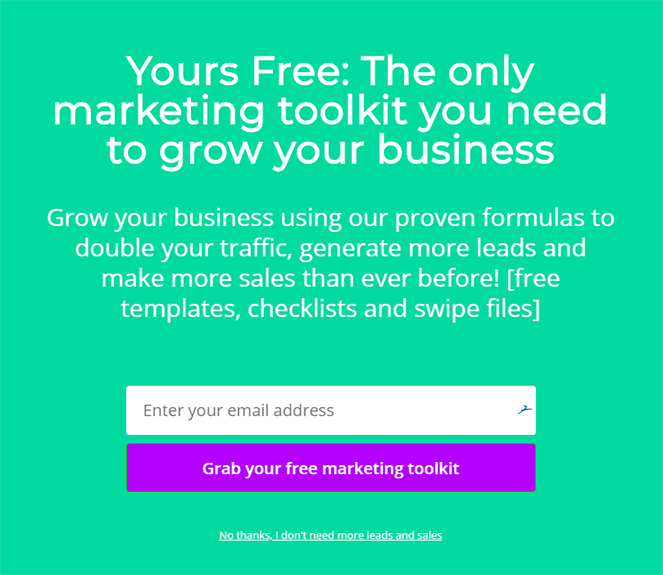 In this email subscription pop up for blogger and entrepreneur Lilach Bullock uses a pop up in a welcome mat format when visitors first arrive on her site. It's a simple and clear email pop up that uses her brand's contrasting colors and style.
She also offers visitors a lead magnet in exchange for their email in her email subscription pop up, which makes people more likely to subscribe. She clearly explains the value the toolkit will deliver, further enticing visitors to subscribe.
This pop up has a conversion rate of 5.09%, meaning that 5.09% of her site visitors subscribed to her email list right away. She uses a slightly different website pop up when visitors leave her site, still offering the cheatsheet, and converts 8.09% of people with it.
2. Coupon Pop Up Offer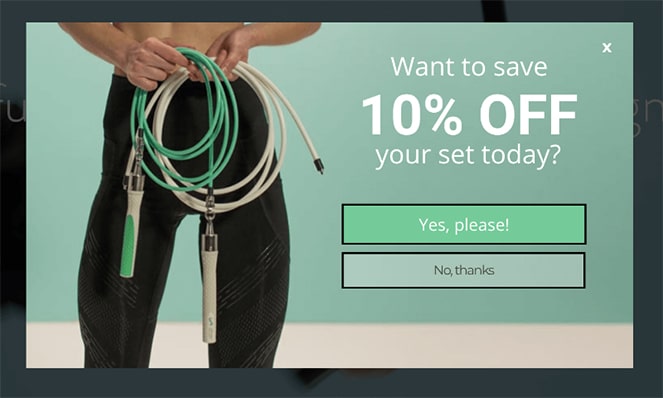 If your blog sells products or uses affiliate links to make you money, a coupon pop up will work well for you. With it, you offer to give people a discount or coupon code in exchange for their email address. You add them to your list, and they get a discount on something they were thinking of buying.
Here, Crossrope uses a well-branded window pop up that appears just as people start navigating away from the site (also known as an exit intent pop up).
The CTA (call-to-action) asks a simple question, "Want to save 10% off your set today?", with the option to get the discount or not. This particular pop up displays everywhere on their site (except their blog) and converts 7.65% of people.
People love getting discounts, so this type of offer is great for increasing email subscribers!
Want to create a coupon pop up that converts like crazy? Follow this step-by-step tutorial to get started now.
Get Started Now
Also, a coupon email pop up works perfectly to reduce cart abandonment if you run an eCommerce business.
If you're struggling to get shoppers to make their first purchase, offering a discount is an effective way to get them to the checkout.
You can even add a countdown timer to your coupon pop up to increase urgency. New visitors will rush to sign up for your email list and buy what's in their carts before the discount expires.
3. Email Pop Up Example With a Challenge
To see if they could have success with another type of pop up, Crossrope added this eye-catching email capture pop up to their blog, in addition to the one above: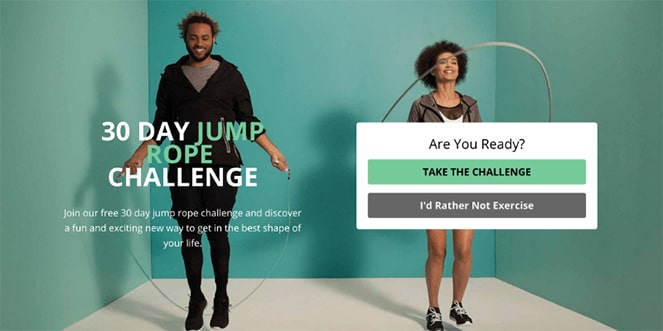 Again, it's an exit intent pop up that displays after people read the blog and start to navigate away from it. It's a full-screen pop up (as opposed to the pop up window they use elsewhere) and invites people to participate in a product challenge.
What's smart about this pop up is that the content is about a relevant topic to the site and blog (getting fit), but doesn't sell them anything. It simply asks if they want to sign up for a challenge. For those thinking of getting healthier and working out, this is an enticing question to ask. And it's working for Crossrope, as it converts 13.71% of all visitors.
Between these two email pop up examples, Crossrope is adding 1,800 people to its list every month. That's an additional 1,800 people who are potentially interested in their products and will enjoy hearing from them in their email newsletter.
If you are looking to learn how to build your own newsletter then read our beginner-friendly guide on how to create an email newsletter.
4. Invitation Pop Up Example
One reason people join an email list is to be "on the inside." They want to hear about all the deals, advice, and other information bloggers send to their community.
Neil Strauss, an award-winning journalist, and bestselling author, uses this principle to get people to join his community, which he calls The Society.
The previous version of his pop up was pretty dry and bland. Sure, it explained what people would get if they joined The Society, but it wasn't hitting the mark for his audience. It only converted 4% of his visitors.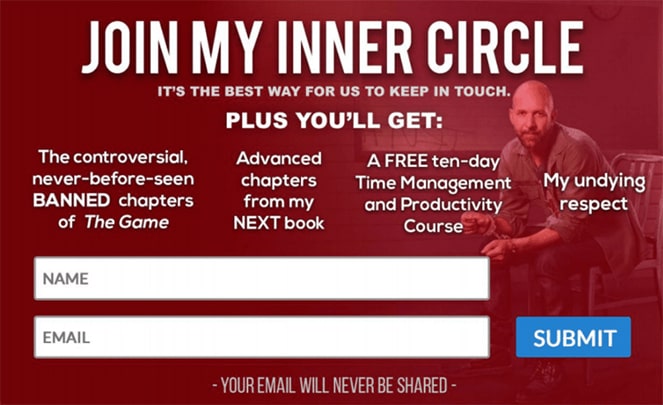 But when he changed the format and copy to focus on the benefits of The Society and made the pop up design more personable with a fun picture of him with his son, he noticed a dramatic improvement.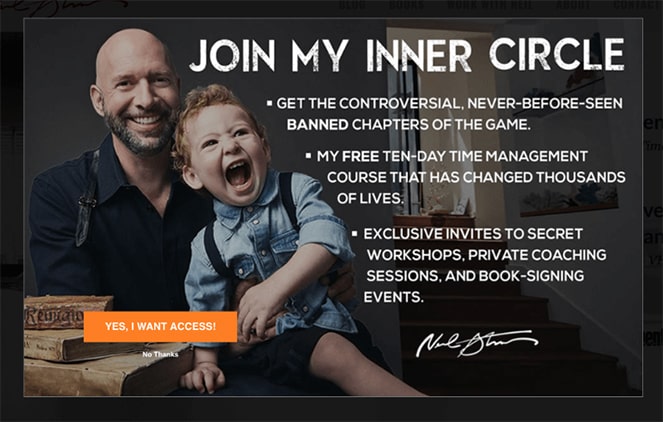 Neil increased his email conversions by 125% and grew his list by 8%!
Neil is proof that you can turn ineffective pop ups into the best email pop ups with just a few small tweaks!
5. Simple Email Pop Up With a Photo
Writer, author, and entrepreneur Ryan Robinson also noticed a dramatic improvement in his email list growth when he started with a basic pop up form on his website.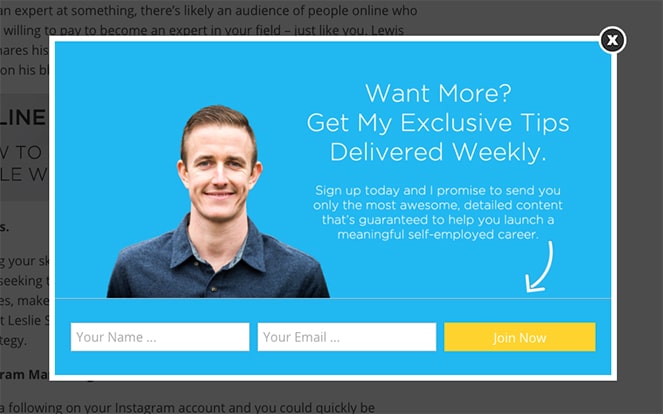 Ryan enjoyed a 6% increase in conversions with this email pop up. The copy explains the value of subscribing to his email list and is simple for people to use. It's uncluttered and branded to the rest of his site.
He uses a content giveaway to convert even more site visitors and readers, to the tune of 100 new subscribers to his list every month.
6. Using Video Pop Ups to Grow Your Email List
A new way to capture emails in a pop up is by using video in your pop up window. It helps you target your highly engaged readers who may be more likely to take action after watching the video.
Scott Wyden Kivowitz is a photographer, educator, blogger, and author, who uses a targeted video-based pop up to capture email addresses for his list.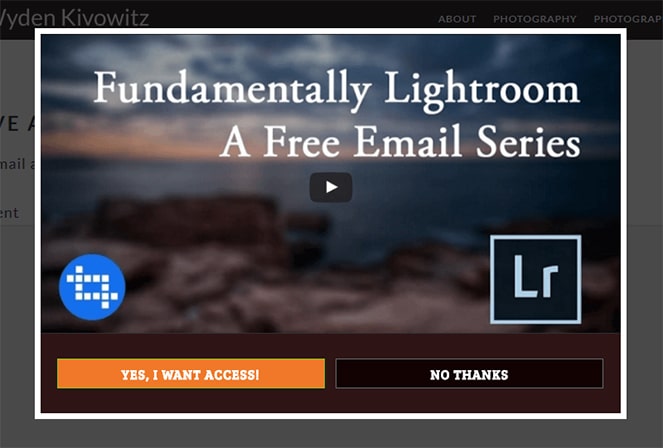 Scott converts 3.3% of his site visitors, adding dozens of new people to his email list every month, and growing it 328% overall. He offers this course for free to visitors and then uses his email list to convert them towards his more in-depth, paid course.
7. Yes / No Email Opt-in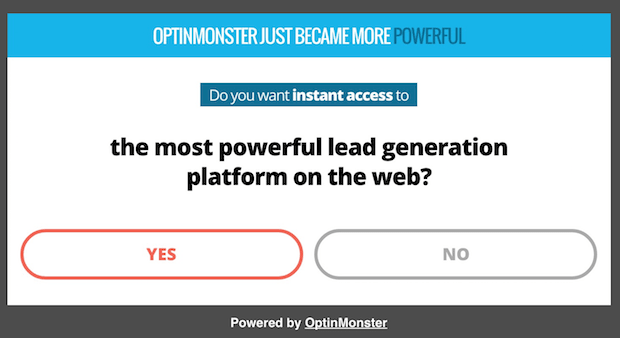 One of the best pop up examples is a Yes/No pop up. A Yes/No newsletter pop up can be a powerful way to increase your email list using a simple psychological effect: When people start a process, they're more likely to finish it (mainly because they want to achieve closure, which gives them a certain sense of satisfaction).
Because you've already started the opt-in process by clicking Yes or No in the website pop up message, you're more likely to enter your email address at the next stage.
8. Exit Intent Pop Up Example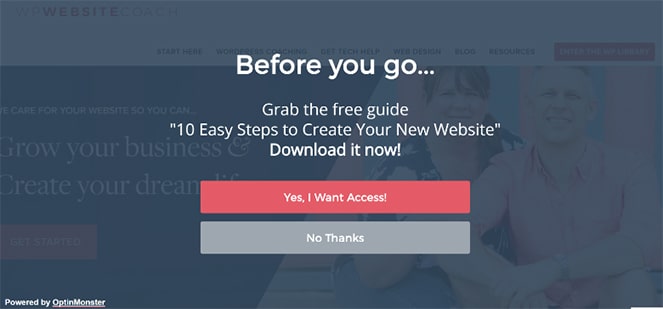 This minimalist website pop up message asks a simple question for a site visitor. It's branded for the site and uses copy that invites a click.
Exit-Intent® triggers a pop up to appear right at the moment a visitor is about to leave your site, giving you one last chance to grab their attention before they leave for good.
This pop up works so well because most users don't want to miss out on this special offer, so they subscribe before leaving.
9. Yes / No Pop Up With Clear Consequences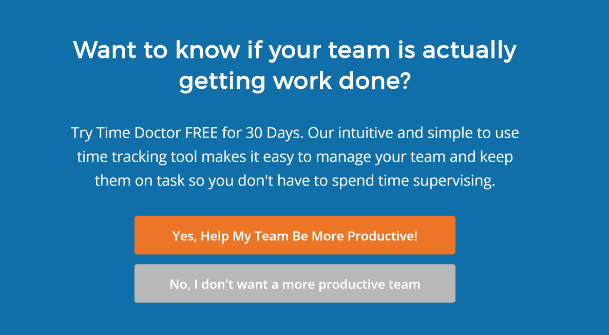 Here's another one that's simple, clear, and offers more value to visitors.
This is a great example of a Yes/No pop up, because it makes the benefits and consequences of each click very clear.
Click yes, and you'll help your team be more productive!
Click no, and it means you're missing out.
Using this type of call to action on your email pop ups can be very powerful!
Types of Email Pop Ups
Now that you've seen a few different kinds of email pop up examples, you might be wondering just how many types of pop ups there are. Good question!
If you're using dedicated lead generation software like OptinMonster, you'll have a lot more flexibility in terms of templates and functionality.
You can choose from email pop up types like lightbox popups, exit-intent popups, full screen welcome mats, slide-in scroll boxes, floating bars, mobile popups, countdown timers, coupon wheel optins, and much more.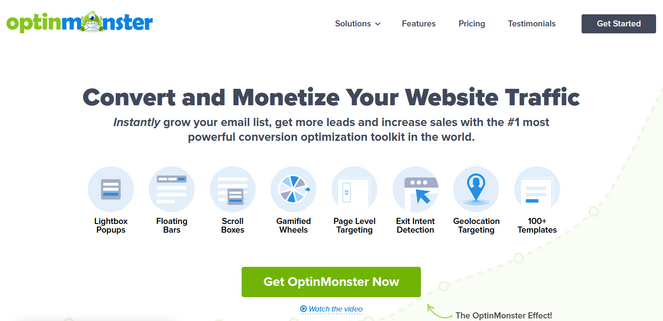 You'll also be able to do things like geo-location targeting, A/B testing, advanced segmentation, referrer detection, and page-level retargeting to create highly personalized offers that your website visitors will love.
On the other hand, if you're creating pop ups with an email marketing service like Constant Contact or Brevo (formerly Sendinblue), you'll have access to more basic options.
Email capture form: You've already demonstrated the value you're giving people through your blog posts and other site content, and people are happy to hand over their email addresses.
Exit intent: This form pops up when someone is about to leave your site. An exit intent pop up gives you one last chance to deliver some value to them so they will hand over their email address. For example, you could ask for their feedback or offer a discount code.
Two-step opt-in: These are also called Yes / No optins because they give the user a choice of whether or not to opt in. This is a psychological trick that's been proven to boost conversions.
Lead magnet: This classic type of form is used by both newbies and professional bloggers alike. They offer a downloadable piece of content in exchange for a visitor's email address. You can offer a short eBook, checklist, infographic, or even a sample of your product and send it to their email address automatically. You may have to try a few different options to see what content works best with your audience.
Discount or coupon codes: Perfect for ecommerce sites and those selling products, you can offer a coupon code to visitors in exchange for their email address. This is a great way to convert people who were thinking about buying from you but need a final push to do it.
Contest or giveaway: Try running a contest where you give away one of your products or an exclusive content piece.
Back to the top
Boost Subscribers with the Best Email Pop ups
We hope you enjoyed our list of the best pop up examples!
Now that you've seen some of the best email pop ups, it's time to start thinking about adding an email pop up to your blog to grow your email list.
Use these pop up examples to inspire your own pop ups, take a look at the templates your provider offers you, and be creative! By creating effective email pop ups, you'll be able to turn a ton of website visitors into new subscribers before you know it.