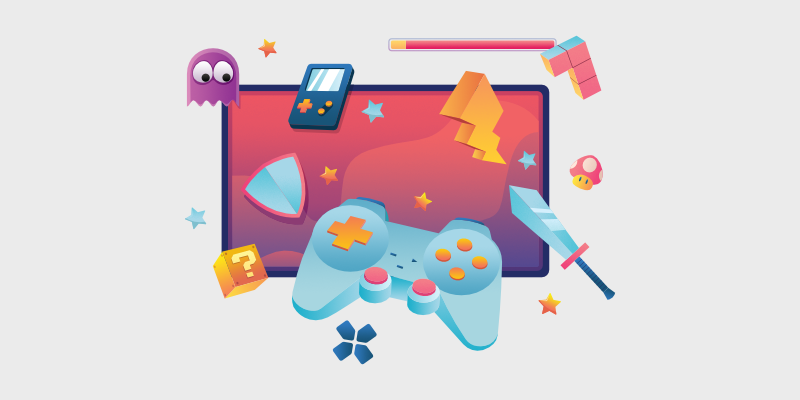 W ondering how to start a video game blog but don't know where to start? In this beginner-friendly tutorial, we'll break it down for you step-by-step.
If you love video games, you might have thought about starting a blog to share your knowledge and experience with other gamers.
But as a beginner, you may also feel intimidated when it comes to creating a website, building an audience, crafting valuable content, and making a profit from your blog. It's a lot of work to create a personal gaming blog.
Don't worry though.
In this tutorial, we'll show you how to create a video game blog from scratch.
Let's get started!
Step 1: Choose a Video Game Blog Niche and Name
For the first step, you need to decide on a niche and name for your blog.
Let's go over both…
Choose a Niche
A blog niche is the topic or subject that you'll be writing about on your blog.
While gaming is a blogging niche, it's also a broad topic. So, you might want to narrow down the general topic of video games into something more specific.
If your content is too general, it'll be harder to build a targeted, specific audience. The more you can narrow down your niche, the easier it will be to stand out from the competition and attract readers that are interested in what you have to share.
To figure out what your gaming niche will be, you can ask yourself questions like:
What type of video games do you like playing?
Are you only going to focus on certain gaming consoles, like Xbox for example?
Are you targeting experienced players or beginners?
Is there a certain age group or demographic you're after?
What value do you want to provide to your readers? Do you want to write video game reviews, create walkthroughs, share game development news, or something else?
Once you narrow down the type of content you'll create, it's time to pick a name.
Choose a Domain Name
Your blog name is probably the first thing people will see when they discover your blog online. So, it needs to be good in order to make them want to check out your content.
Your blog name should also easily express what your blog is about so users don't have to guess whether or not your website is for them.
Check out these gaming blog names for inspiration:
Game Informer
The Game Fanatics
Playstation Lifestyle
Pure Nintento
PC Invasion
When choosing a domain name for your blog, remember to:
Keep it short and simple. If your name is too compliated, it will be hard for people to remember and spell. Make it easy to understand so your audeince knows what your content is all about at first glance.
Use a .com extension. A .com extenstion is more official and gives your blog the credibility it needs, especially at the beginning. Other extenstions like .blog, .net, and .io don't hold the same significance.
Don't be afraid to get creative. Don't shy away from a fun, unique domain name. You can use your name, uncommon words, etc., just as long as it make senses for your niche and readers can understand it.
If you need help coming up with a unique name for your gaming blog, you can use a blog name generator to make it easier. One of our favorites is Nameboy.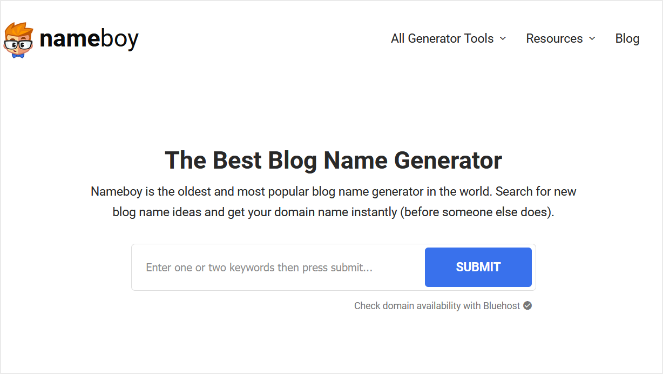 Nameboy is a domain name generator that takes the keywords you submit and uses them to create potential names for your blog. Instead of racking your brain for available domain names, using a generator like this can save you time and give you the creative edge your blog needs.
What's great about Nameboy is that it automatically tells you if your domain name is available through Bluehost. That way, you know upfront whether or not it's possible to get that name for your blog.
But we'll talk more about that in the next step…
Step 2: Set Up Your Video Game Blog
Once you've figured out your niche and domain name, it's time to set up your blog.
It might sound intimidating, but it's actually a fairly simple process.
And using the tools we suggest will allow you to quickly set up your blog without touching any code or needing to hire a developer.
Choose a Blogging Platform
The first step to setting up your gaming blog is to choose a blogging platform. The blogging platform that you choose should be beginner-friendly and come with customization options that let you build a blog the way that you want.
We've got a list of the best blogging platforms so it's easy to make the best choice for you.
At the top of our list is WordPress.org. WordPress.org is the most popular blogging platform in the world, powering over 43% of all sites across the web.

It gives you flexibility and endless customization options as it's compatible with tons of free WordPress themes and plugins to take your blog functionality further.
Because of WordPress' popularity, there are also a ton of tutorials and WordPress communities to help you if you get stuck. So, it's pretty easy for beginners to build a blog.
And you can monetize your blog any way that you want which isn't possible with a lot of other blogging platforms.
Now that you've chosen WordPress.org as your blog platform, let's move on to the next step…
Choose a Web Host
Next, you need to decide on web hosting. This is the service that will host your website and store your images, files, videos, and other content. Without it, visitors won't be able to reach your website on the internet.
For web hosting, we recommend choosing Bluehost. It's perfect for beginners and takes away the hassle and difficulty of creating a website. Not to mention it's also officially recommended by WordPress.org.
When compared with other web host providers, Bluehost proves to be a safe, reliable, beginner-friendly option.
Plus, Blog Tyrant readers get a special deal:
To get started with Bluehost, click on the link above and hit Get Started Now: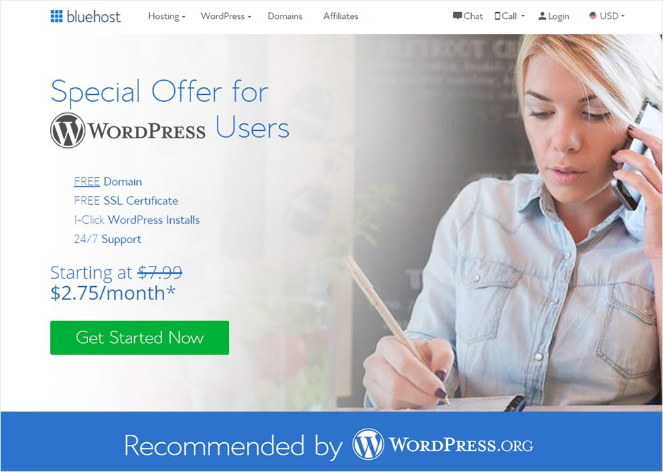 Once you've clicked, you'll be on a new page where you can pick a pricing plan. Select the one that suits you best.
Next, you need to type in the domain name you've chosen, or you can click on "I'll create my domain later" if you haven't decided yet.

Then, you will be asked to add in your information, starting with self-explanatory account information.
You'll then be asked to add your package information. This is where you choose how long you want the pricing plan to go for. The best value is the 36-month price.

You can also purchase extra addons if you want to, but that's entirely up to you. Because you're a new blogger, addons aren't necessary, so you don't have to purchase them right away. As you gain experience and better understand your strategies, you can add the elements you need.
Next, you'll have to add in your payment information to complete the signup process.
After you're done, you'll get an email with your login details to your web hosting control panel. Once you log into your Bluehost account, you can find your WordPress site under the My Sites tab.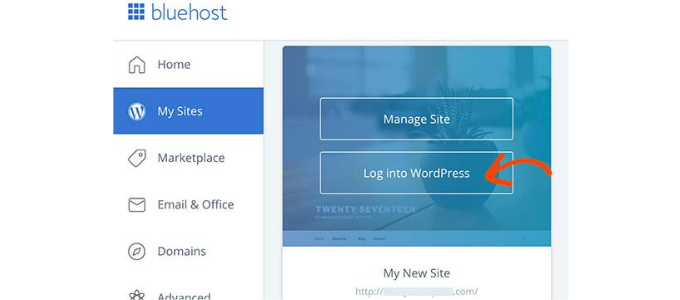 Click on Log into WordPress and enter your credentials.
Once you've logged in, click on Create Site.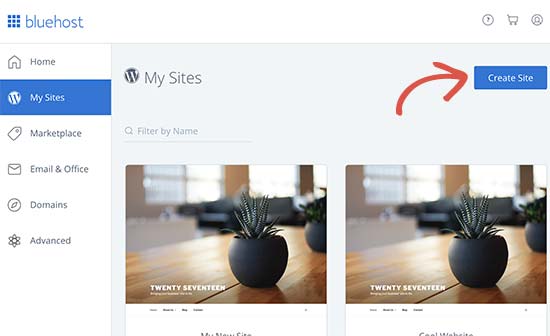 This will launch Bluehost's WordPress installation wizard, where you'll be asked to enter your blog name and an optional tagline.
Then, simply follow the steps to set up your blog.
If you need more help, check out our guide on how to install WordPress.
Next, let's give your new video game blog a cool design…
Choose a WordPress Theme
A crucial element of your blog is its design.
Luckily, WordPress allows you to fully customize your blog however you'd like so it matches your aesthetic and appeals to your audience.
Using the right WordPress theme can take your blog to the next level and make it stand out among its competitors.
When it comes to your WordPress theme, you have a few different options:
Free theme. If you're on a budget, choosing a free theme is still a great way to make a beautiful website that attracts your audience. WordPress provides thousands of free themes for every niche so you're guaranteed to find an option that works for you.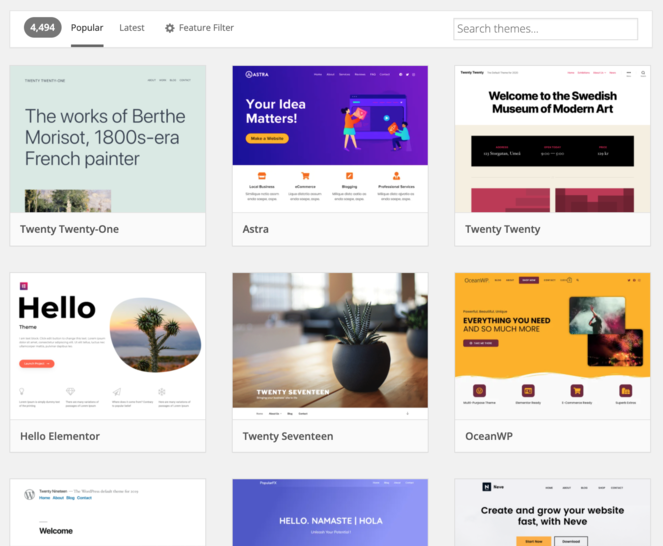 Premium theme. Paying for a premium theme ensures that you have added features, functionality, and support. These themes are created by experts and are usually more appealing compared to free themes. If you aren't sure where to start, we recommend checking out themes like Divi or Astra. They come with plenty of customization options to give your blog the right aesthetic.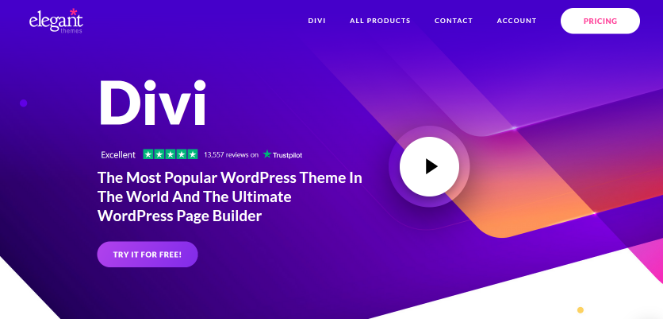 Create your own theme. With a plugin like SeedProd, you can easily create a custom WordPress theme, no coding required. It comes with 300+ pre-made themes and page templates that you can customize using a drag and drop builder.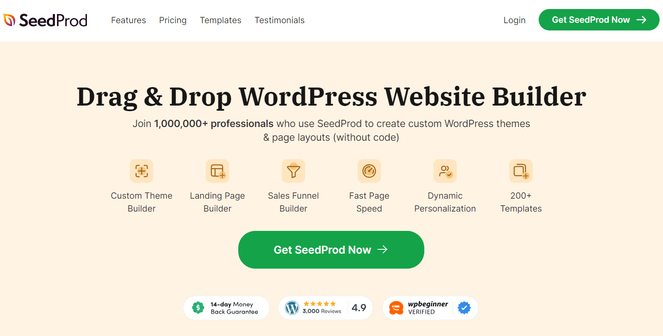 For more help, check out our list of the best themes for WordPress blogs.
Install the Right Plugins
To run your video game blog to its fullest potential, you'll also need to install some WordPress plugins.
WordPress provides 60,000+ plugins in their depository so it's easy to search for and find what you need.
With plugins, you can do things like:
Embed a contact form
Display content from social media
Create optimized landing pages
Track your blog analytics
Secure visitor data
And much more
It's important to install the right plugins to ensure that readers have a wonderful experience on your blog. Plus, certain plugins can also help you drive more traffic to your blog, boost engagement, and increase conversions.
We recommend the following plugins to successfully start a new video game blog: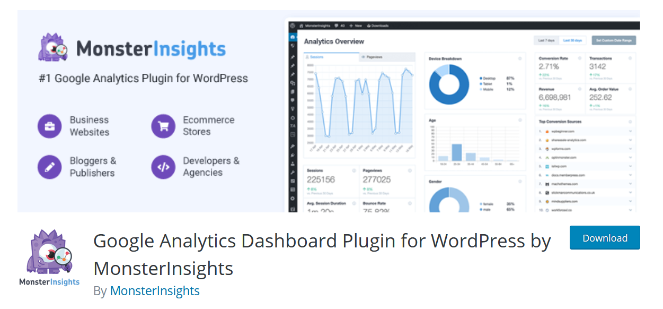 MonsterInsights is the best Google Analytics plugin for WordPress. With MonsterInsights, you can view your blog analytics right from your WordPress dashboard. Keeping track of who visits your blog and how they use your website will tell you how to improve your strategy for better results.
It's also easier to learn more about your readers by analyzing their behavior on your site. You can see where they came from, what pages they visited, how long they spent, and much more.
Many beginners find their site analytics intimidating and don't understand what it all means. But MonsterInsights breaks the information down so it's easy to understand.
The free version of MonsterInsights gives you the basic features you need to view your analytics, but you get more by upgrading to a premium plan.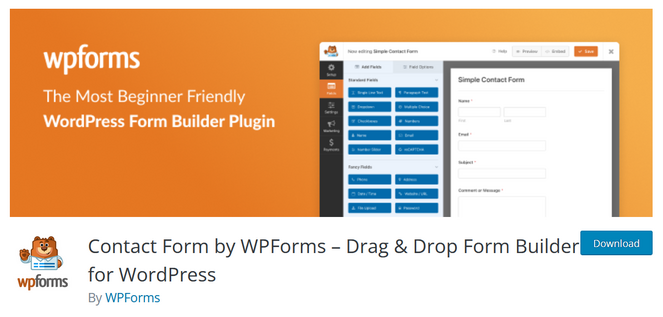 Every blog needs a contact form and WPForms is the best contact form builder for WordPress. It's used by 6,000,000+ website owners to create optimized contact forms without any hassle.
WPForms only takes a few minutes to set up. Creating forms is also easy as it comes with pre-built templates and a simple drag-and-drop builder. Choose from registration forms, newsletter signup forms, feedback forms, subscription forms, payment forms, and many more.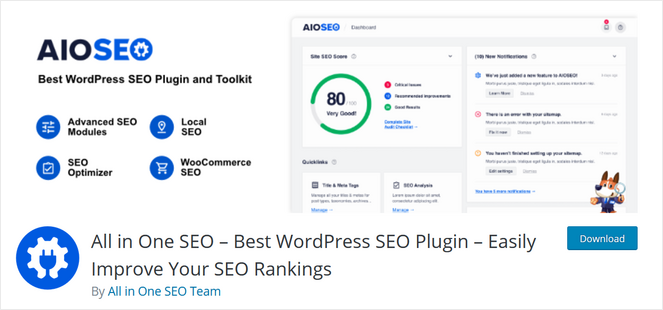 All In One SEO (AIOSEO) is the best SEO plugin for WordPress. It allows you to optimize your website for search engines so it has a better chance of ranking high.
For many beginner bloggers, SEO is intimidating and confusing. But AIOSEO makes it easy to understand SEO and apply the latest practices so you can improve your ranking.
This SEO tool comes with an SEO audit checklist that will score your site, detect errors, and provide actionable recommendations for improvement.
AIOSEO Lite has the basic features you need to optimize your website. To take advantage of their other features, you can upgrade to premium.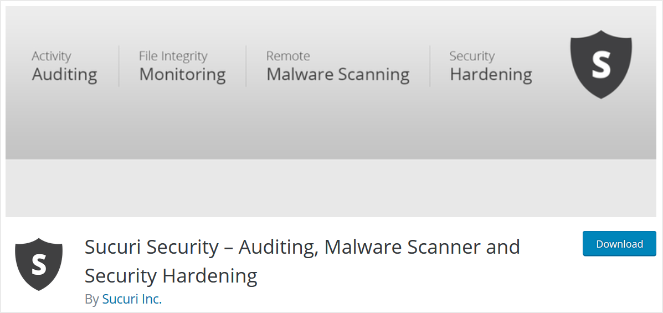 Sucuri is a popular, free WordPress plugin that secures your site from potential threats and hacks.
It's important to keep your site safe to ensure your data isn't breached and your user information doesn't land in the wrong hands. Sucuri comes with a robust malware scanner that regularly scans your site and detects vulnerabilities.
Sucuri also comes with a powerful cloud-based firewall that prevents hacks and attacks from affecting your blog. You can also increase your site speed, stop future hacks, and create a disaster recovery plan.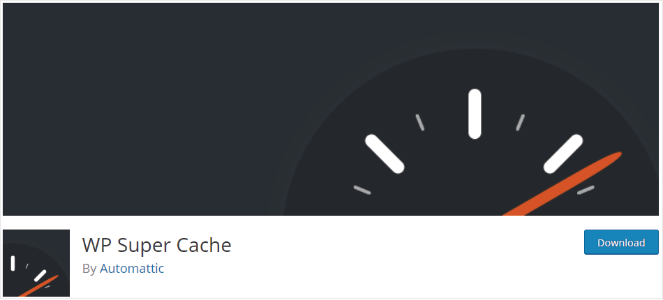 WP Super Cache improves your site's performance by increasing its speed and loading times.
A huge part of your blog's success comes from the user experience it gives visitors. If it's difficult to navigate through your content without experiencing lags, it'll convince visitors to go elsewhere. No one wants to deal with a slow website that takes forever to load.
WP Super Cache does the leg work for you so all you have to do is install it to reap the benefits. It cleans up cache files that are out of date, preloads as many posts as you'd like, and more.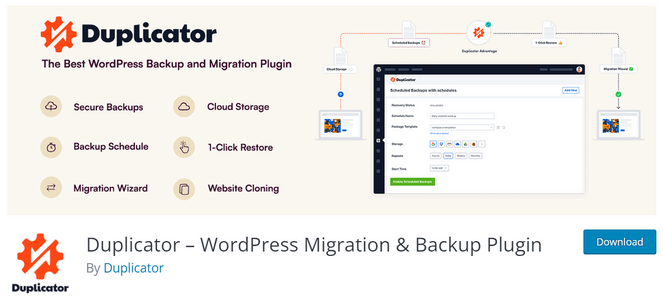 Duplicator is one of the highest-ranking and most popular backup plugins for WordPress with over 1,000,000+ active installations. 
When you run a blog, it's crucial to protect and backup your content because that's where your value lies. The last thing you want is to lose your data without a backup plan. Duplicator will ensure that you never have to worry about losing your data.
With the free version of Duplicator, you can manually create backups of your WordPress site. For automatic backups, cloud storage, and more, you can upgrade to Duplicator Pro.
Step 3: Create the Content and Start Blogging
Okay, your blog is now set up, you've got a great design from a WordPress theme, and downloaded the essential plugins to get you started.
What's next?
Now, it's time to create content for your video game blog!
To be successful, your blog content needs to:
Provide value to your target readers
Solve a problem
Be relevant
Engage and inform your audience
If you fail to create interesting content, it'll be challenging to promote your blog and attract the right audience. Plus, high-quality posts rank higher in search engines as they continue to drive traffic and boost user engagement.
As a beginner blogger, you might find it difficult at first to come up with blog topics about video gaming. You can use blog topic generators and question and answer forums to formulate ideas and gain inspiration.
AnswerthePublic allows you to see what other people search for in search engines like Google. When you type in a few keywords, a word cloud appears with the most popular questions related to that search.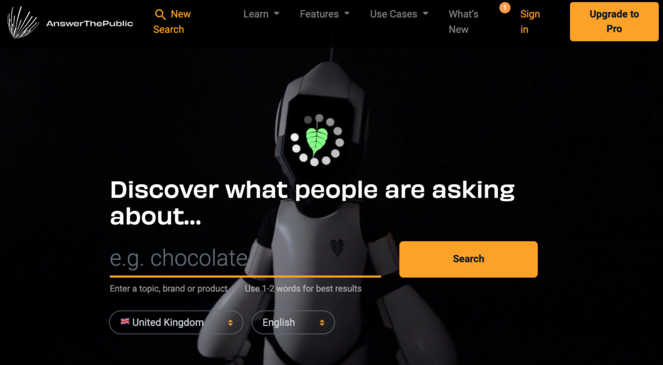 For example, if you enter popular video game keywords like "Stardew Valley," the tool will tell you what questions people are asking about that video game. This simple visualization of data can help you create relevant blog topics that your readers will be interested in.
It's also a good idea to study your competitors and pay attention to their best-performing content. This will tell you what your target market is also after and what type of blog content would likely do well.
For more help creating content, check out these articles for excellent tips:
Once you've got some content, it's time to move on to the next step…
Step 4: Promote Your Blog and Grow Your Audience
You could have the best quality content in the world, but if you fail to promote it, it won't be successful.
Once you've created at least 3-5 optimized blog posts, it's time to spread the word about your new website.
There are various methods you can use to grow your blog:
Email marketing
Search engine optimization
Viral giveaways
Let's take a closer look into each strategy so you can learn more about how to promote your video game blog.
Email Marketing
Email newsletters are a great way to stay connected with your readers on a regular basis and keep them updated about your blog. Every time you have a new blog post, you can send a personalized email to your subscribers asking them to check it out and share it with their friends.
Email is also a great way to promote new products and events. For example, this video game newsletter from Chess.com is promoting an online event: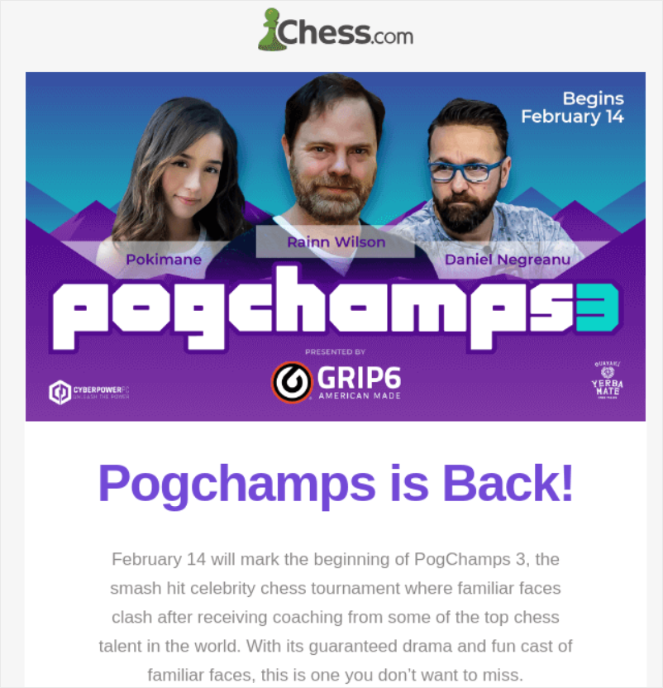 Because email is personal and your messages get sent straight to the inboxes of your readers, they'll be more likely to check out what you have to say.
To successfully grow your email list, we recommend using OptinMonster.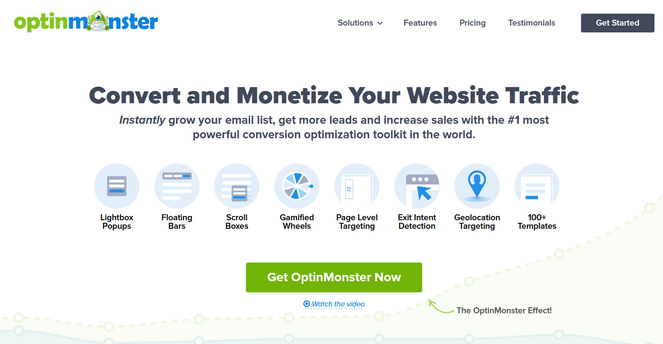 OptinMonster is the best lead generation tool for WordPress. It allows you to create stunning optin campaigns that grab your readers' attention and turn them into email subscribers.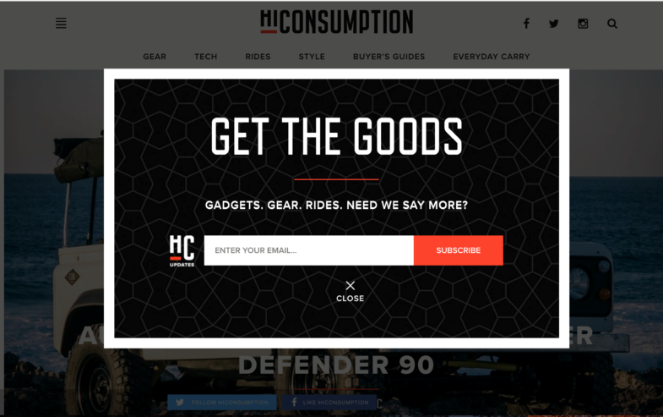 You can create various types of campaigns including lightbox popups, floating bars, scroll boxes, and much more. It's beginner-friendly and doesn't require you to touch any code or hire an expensive developer.
With OptinMonster, you can also:
Highlight relevant products and blog content
Gather feedback from site visitors and readers
Reduce cart abandonment with well-timed offers and discounts
Encourage visitors to explore your site further and boost engagement
Check out our OptinMonster review for more information.
Social Media Marketing
Nowadays, social media is much more than just a tool to connect with friends, family, and colleagues. It's also become a way to successfully build and promote a brand.
And when you run a video game blog, you need to leverage social platforms to spread the word about your content and share the latest about the industry. That's where you'll find new readers who will be interested in your content.
Instagram is a great platform you can use to post aesthetic pictures, videos, and reels about your gaming experience. Adding relevant hashtags ensures that the gaming community sees your content so they can follow and engage.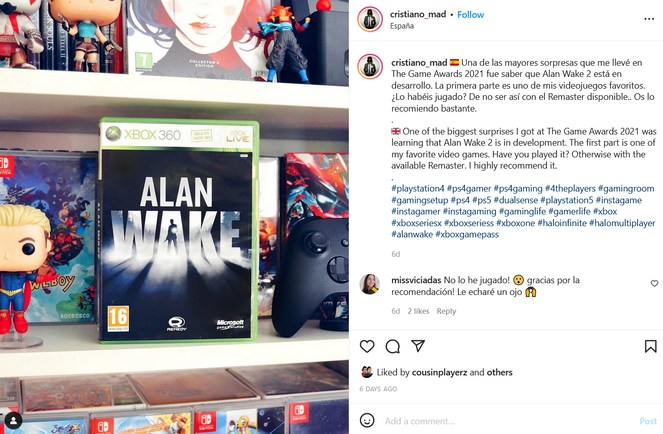 To grow your Instagram following faster, you can introduce your website visitors to your profile by displaying an Instagram feed on your website.
You can do this with a tool like Smash Balloon's Instagram Feed Pro.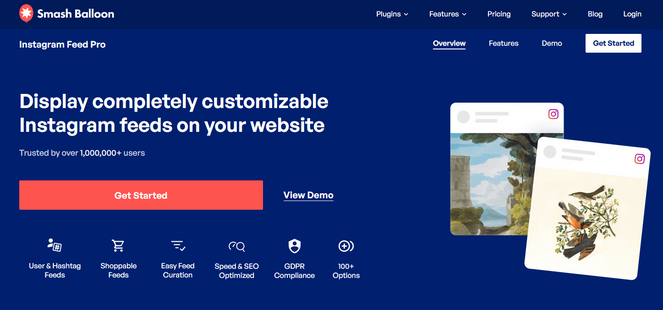 Instagram Feed Pro is a WordPress plugin that allows you to display fully customizable Instagram feeds on your blog. This is a great way to drive traffic to your social media profiles and build a bigger online audience for your brand.
Plus, adding an image gallery to your blog will make it more interesting and help you boost engagement.
With Smash Balloon, you can show user feeds, hashtag feeds, tagged feeds, Instagram Stories, Instagram TV (IGTV) videos, and more. You can also display a mixed feed of various feed types.

Check out our Smash Balloon review to learn more information about the tool and how it can help you grow your blog.
And if you're on a budget, feel free to try the free version to see if it's a good fit for you.
Search Engine Optimization
As previously stated in this article, search engine optimization (SEO) is crucial for your blog's success. With your blog optimized for SEO, your blog posts have a higher chance of ranking well in Google and being seen by your audience. That means more traffic for you.
But, search engine optimization can be complicated for beginners.
The reason we recommend the All in One SEO plugin so highly is because it's a beginner-focused solution that breaks down even the most complicated information and helps you optimize your site step-by-step.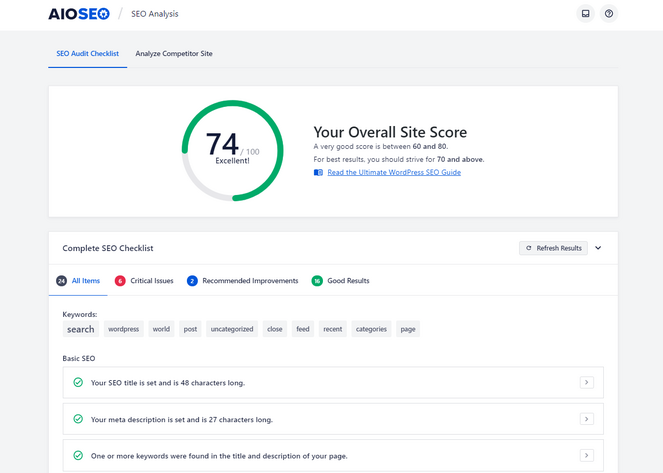 The free version of AIOSEO comes with an SEO Audit Checklist that will score your site and detect any critical issues that could be hurting your chances of ranking. It also gives you easy recommendations for improvement and shows you how to fix errors.
Plus, the SEO Content Analysis tool will help you quickly optimize every blog post for your SEO keywords.
And if you want extra SEO features like unlimited keywords, advanced SEO modules, premium support, and more, you can always upgrade to premium.
For more information about optimizing your blog content for SEO, check out some of our articles:
Viral Giveaways
People love winning free stuff, so running an online giveaway or contest is the perfect way to ramp up excitement for your new blog and build an organic following.
To run an online giveaway successfully, we recommend using RafflePress.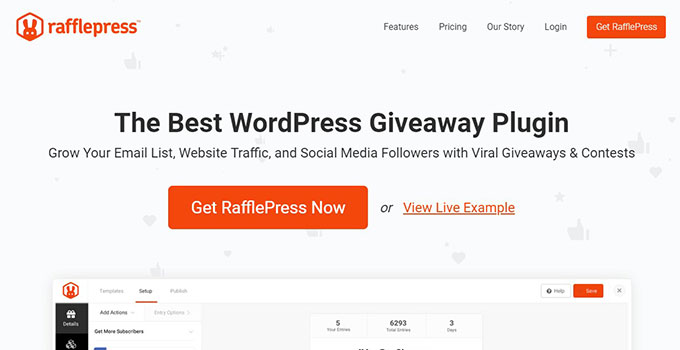 RafflePress is the best viral giveaway plugin for WordPress. In just minutes, you can create an optimized, engaging giveaway that drives traffic to your blog, increases social media engagement, and boosts email subscribers.
RafflePress comes with a drag-and-drop builder so you can easily design and customize your giveaways exactly how you'd like. Plus, you can add bonus entry actions so you can grow your blog using your campaign.
For example, let's say your main goal is to increase your social media followers. With RafflePress, you can add an entry action that rewards extra giveaway entries to people for following you on social media.
You can also use RafflePress to grow your following on Twitch, which is a popular platform that focuses on video game live streaming.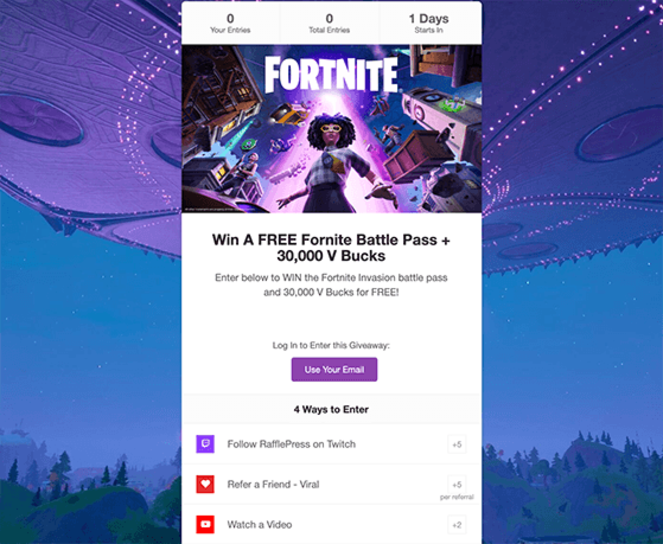 In the example above, you can add the Follow on Twitch entry action to your giveaway campaign. Because people will want a better chance of winning the prize, they'll be more than happy to follow you on Twitch.
Some prize ideas you can award to giveaway winners are:
Game currency or keys
Gaming consoles, accessories, and other products
Gaming equipment (headphones, consoles, computers, chairs, etc.)
Branded merchandise
Twitch or Discord roles
Step 5: Monetize Your Video Game Blog
After putting all this hard work and effort into your new video game blog, it's time to finally make a profit. Once your blog launches and people visit your website, you can start making money from it.
Though it likely won't happen overnight, you can take the steps to monetize your blog and set yourself up for income in the future.
So, how do you monetize a gaming blog? We'll share some of our favorite methods with you:
1. Affiliate Marketing
Affiliate marketing is perhaps one of the most popular ways to make money from blogging. You agree to promote another business's products and for every purchase made through your promotions, you earn a commission.
Both parties benefit from affiliate marketing which makes it a successful method to monetize your blog. But to make sales, you need to already have an engaged audience.
To get started with finding products to promote, you can join an affiliate marketing program. Affiliates provide you with a special link you must use if you want to make money from it. This link also allows the businesses you promote to track your sales and monitor the campaign's progress so they know how it's performing.
It's important to promote products relevant to your niche. Otherwise, your audience won't find them useful, won't click your links, and you won't get paid.
For example, a video game blog might promote a discount on a video game or gaming system. It makes sense to link to these products because your audience is likelier to click them and engage.
2. Google AdSense
You can also display ads on your blog to make a bit of money.
To do this, you can use Google Adsense. Google Adsense is an ad network run by Google that displays advertisements on websites. Every time a visitor clicks an ad on your site, you make money.
The ads shown on your website will be relevant to your niche. Because you're running a video game blog, the ads on your website would be related to video games and the industry.
It might sound complicated, but adding Google Adsense to your blog is easier than it sounds. As soon as you set it up, you can start making money through clicks.
3. Memberships
Many video game blogs include private forums and memberships where paying customers can join a community, get access to premium content and products, receive exclusive offers, and more.
People like joining memberships because it gives them access they otherwise wouldn't have. When you start to build loyal followers, these users are likely to sign up for your membership because they already love your content.
You can let users pay month by month, which is a great way to earn recurring income, or let them submit a one-time fee to access your content and online gaming community.
To create a membership site, you'll need a membership plugin. Our personal favorite is MemberPress.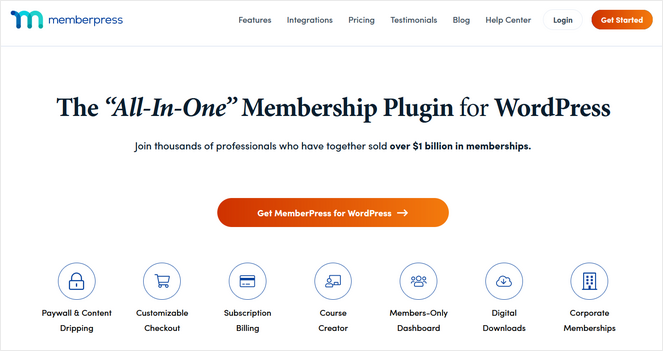 MemberPress is the best membership plugin for WordPress. It's beginner-friendly and makes it easy to turn your blog into a membership website.
It comes with powerful access rules, customization options, unlimited coupons, stunning pricing pages, and much more.
If you need help setting it up, check out our guide on how to create a profitable membership site. It goes through each step so it's easy to follow and get your membership site started.
4. Sponsored Content
Similar to affiliate marketing, you can also make money with sponsored content.
Sponsored content is any type of content that you are paid to create and publish on behalf of another business that wants to get its product or service in front of a targeted audience. If you have a decent following on your blog, Instagram, Twitter, YouTube, or another platform, you can earn lots of money through sponsored content.
In this example of sponsored content, video game YouTuber Jake Randall shares a promo code in his video description to give users a discount on a NordVPN subscription:

As a gaming blogger, NordVPN is relevant to the industry as it establishes a secure connection to the internet. So promoting this software makes sense and increases this YouTuber's chance of converting his subscribers into paying customers.
With sponsored content, you're typically paid a flat fee for creating the content and promoting the product, but sometimes you can earn a commission for every sale as well.
For more ideas on how to monetize a video game blog, check out our list of the most proven and profitable ways to earn money on your blog.
---
And that wraps up the tutorial on how to create a video game blog!
We hope you found it informative so you can take the steps to create the blog of your dreams.
Now that you know how to start a video game blog, feel free to check out our article on how to get traffic to your blog next.
And don't forget to sign up for our email newsletter for more helpful blogging tutorials like this one!