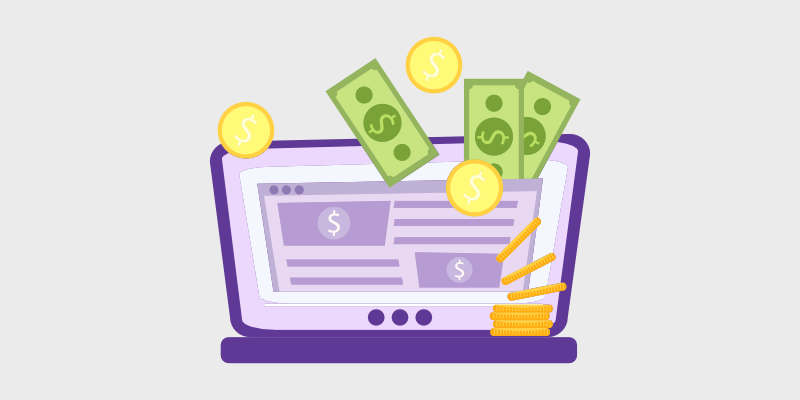 W ant to know the most popular types of blogs that make money?
While starting a blog is a great way to make money online, most beginners don't know what type of blog to create. Many of you have probably wondered, what are the most popular types of blogs?
If this is you, then you're in the right place! We've listed the 10 types of blogs that make the most money. And we've added examples to each type of blog.
Sound good? Great!
Let's get to it.
10 Top Money Making Blogs
Below you'll find the 10 most popular types of blogs. Each of these types of blogs can be monetized. So hopefully, this list will inspire you to create your own money-making blogging strategy.
1. Finance Blog
Are you a pro at handling money? Then a finance blog might be a great choice for you. 
Finance blogs give actionable advice to any online user. Whether it's a college student, young adult, or parent, everyone could gain more knowledge about their finances.
Let's take a look at a popular finance blog, Get Rich Slowly.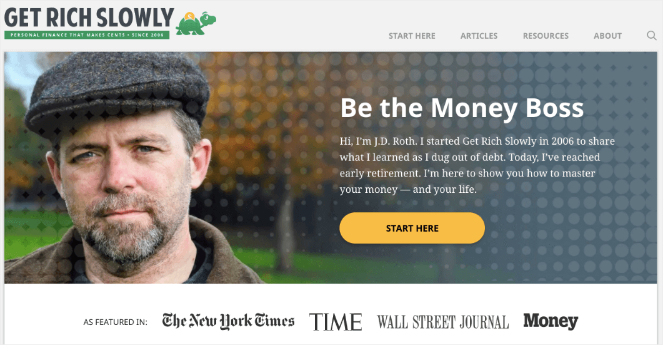 Get Rich Slowly helps their readers pay off their debt and grow their money. They also cover other finance topics, like investing and your money mindset.
As we mentioned before, finance reaches out to all different types of people, so there's an infinite amount of finance topics to cover. This means you won't get stuck on thinking of new blog posts in the long-run.
Plus, there's a ton of different finance blog niches to choose from. Some of these blog niches include:
Frugal spending
Early-retirement
Passive-income
Side-hustles
Investing
This is why finance is one of the best types of blogs that make money. It's useful for everyone, and you have an infinite amount of topics to cover.
2. Fashion Blog
Have you ever dreamed of starting your own clothing line? Start a fashion blog!
A fashion blog is a great way to express your unique sense of style through photos, clothing, and beauty products.
But wait… fashion blogs make money?
Of course! There are many ways to monetize a fashion blog. You can sell products, add affiliate links, and become an influencer on Instagram.
One of the most popular fashion blogs out there is We Wore What.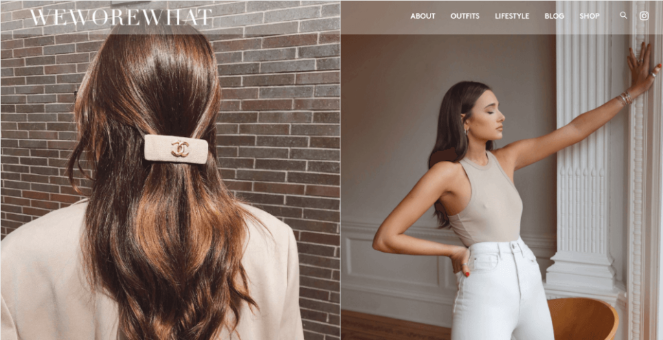 Danielle Bernstein started We Wore What to photograph her outfits across New York City. Now she sells her own swimwear and overalls. Plus, she has over 2 million followers on Instagram.
With that said, we suggest using Instagram along with your fashion blog. It's another way to showcase your photos to your audience. You might want to check out our guide on using Instagram as a blogger.
Some fashion blog niches you can write about are:
DIY fashion
Affordable fashion
Fashion reviews
Fashion for a particular event (ie. Weddings)
Eco-friendly fashion
If you're ready to get started, then check out our complete guide on how to start a fashion blog.
3. Travel Blog
When most people think about traveling, they imagine the Eiffel Tower, Patagonia, or Cancun. But what about the logistics, like planning and budgeting? Wouldn't it be nice if someone could plan it all for you?
With a travel blog, there is! Travel blogs are an invaluable resource to help anyone plan the trip of their dreams. They teach readers how to plan a trip, what destinations to visit, and how to budget wisely.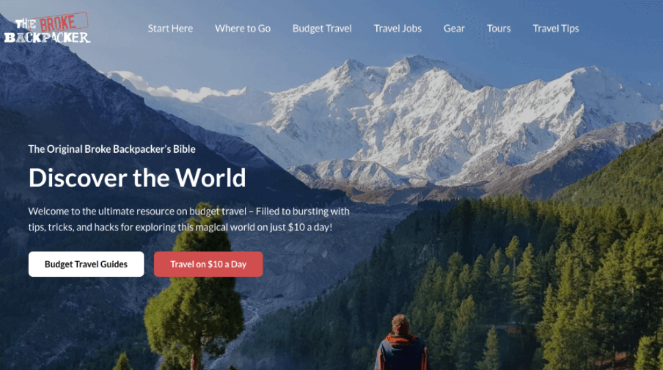 Will Hatton, the owner of The Broke Backpacker, helps his reader's travel on a tight budget. And by a tight budget, we mean less than 10 dollars a day!
So how do travel blogs make money?
Affiliate links are a popular way to monetize a travel blog. The Broke Backpacker, for example, uses affiliate links to promote travel gear.
You could also sell your own services, like Will. Along with his travel guides, he helps his readers work as they travel.
And even if you don't travel internationally, you can still start a travel blog! Some other travel blog niches you can write about are:
Traveling in your country
Road trips
Camping
Traveling on a budget
How to travel and work at the same time
4. Marketing Blog
One of the best types of blogs that make money is a marketing blog.
A marketing blog helps readers learn and monetize online marketing skills to start a business. A lot of marketing blogs cover blogging, email marketing, eCommerce marketing, and SEO.
We consider Blog Tyrant as a marketing blog! Our website is full of marketing resources for bloggers and small businesses.
Another example of a marketing blog is WPBeginner.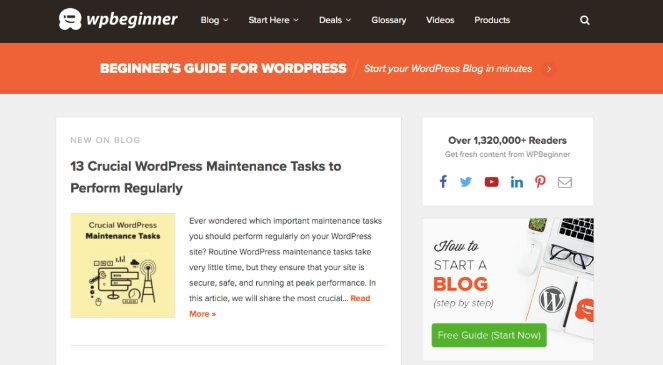 WPBeginner is the most popular blog for anything WordPress-related. They help their readers build and monetize their WordPress site for blogging and eCommerce shops.
Marketing blogs are useful for anyone who wants to make money online. And it's a great way to become an authoritative source.
With that said, there are so many marketing strategies out there. So we suggest narrowing down a specific niche. This is the best way to get more traffic and gain authority.
Look at WPBeginner. They narrowed their niche to WordPress, and now they're the most popular resource for WordPress.
Other marketing blog niches you can write about are:
Small business marketing
Marketing yourself as a [insert profession here]
Business news and trends
How to build an online business in [insert profession here]
Digital marketing strategies (SEO, email marketing, website analytics)
5. Health and Fitness Blog
Are you into living a healthy lifestyle? Then a health and fitness blog might be for you.
A health and fitness blog is great because everyone can relate to it. Whether it's nutrition, exercise, or mental health, there's something for everyone in this blog topic.
Let's take a look at Born Fitness.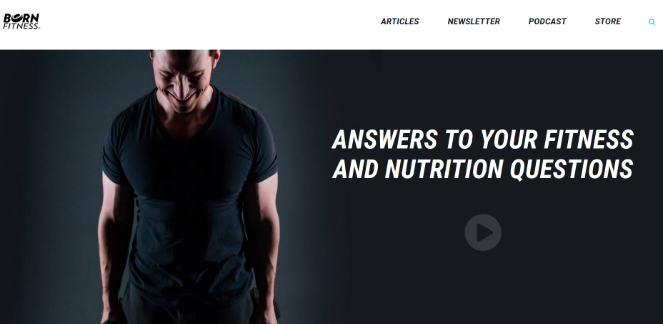 Born Fitness debunks myths and answers questions about nutrition and exercise. And they monetize their blog with health coaching.
You can also make health and fitness blogs profitable with an online course, affiliate links, and selling your own products.
But as health impacts our daily lives, make sure to build trust with your readers. The last thing a person wants is inaccurate information about a health concern.
With that, offer educational content, like videos, podcasts, and email newsletters to connect with your audience.
Some other health and fitness blog niches are:
Body empowerment
Eating healthy on a budget
Nutrition and exercise for children
Niche workout blog (Yoga, running, weight lifting)
Mindfulness
6. Mom Blog
Also known as a parenting blog, a mom blog is all about raising your children and other family life topics.
So how did mom blogs become popular?
First, there are so many parents out there who share have the same questions about raising children. So it's a great way to share your own stories and advice.
And second, these parents realized that they can make money blogging AND stay at home with their kiddos.
In fact, mom blogs are so popular that there are now mom blogs that help other moms create their own mom blog!
We'll check out Lucie's List as our mom blog example.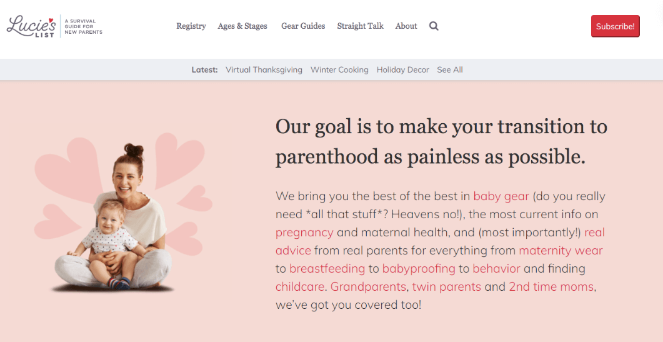 Lucie's List helps women transition into motherhood. They monetize their blog with affiliate links for baby and children's products.
But mom blogs don't stop at how to raise children. With so many family dynamics in the world, there's a ton of blog niches you can write about parenting. Some examples are:
Working and parenting
Traveling with children
Homeschooling children
Affordable parenting
Raising teenagers
7. Food Blog
Are you a foodie? Then a food blog is right up your alley.
Food blogs are like recipe books—you get to teach readers how to make tasty dishes. And you get to take nice photos.
A Sassy Spoon is a great example of a food blog.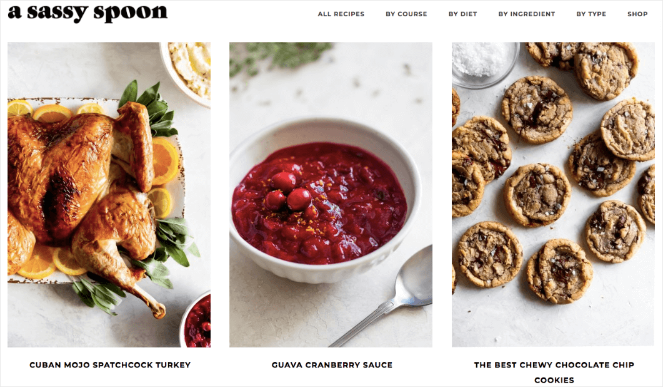 A Sassy Spoon organizes their blog by recipe, diet, time-limits, and meal. So her site is easy to navigate for any type of reader.
So now you might be wondering how much money a food blog makes.
Jamie, the founder of Sassy Spoon, made over 100k from her food blog in 2019! This was all thanks to ads, affiliate marketing, and business coaching. We'll talk about how to monetize your blog a little more later in the post.
Some other types of food blogs you can create are:
Restaurant reviews
Homemade recipes
Eating and traveling
Affordable eating
DIY drinks
Make sure to check out our guide on how to start a food blog for step-by-step instructions. 
8. Lifestyle Blog
So far, the types of blogs that make money have been about one specific topic. But a lifestyle blog is a little different. 
Lifestyle bloggers write about a bunch of topics, like personal experience, culture, and relationships.
A lifestyle blog attracts readers who want to read something similar to a magazine. They like stories, advice columns, and product recommendations.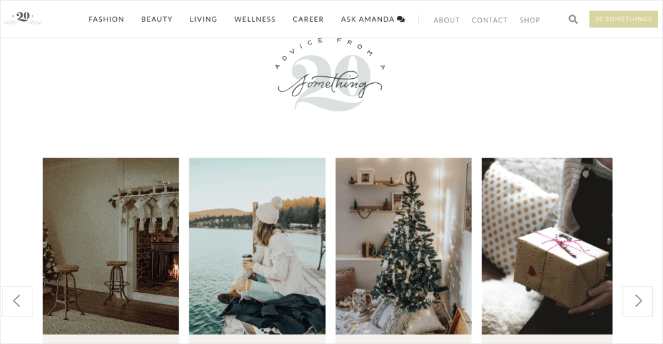 Advice From a Twenty Something is a lifestyle blog for the average 20-year-old. They write about anything a 20-year-old wants to know about. Dating, fashion, and fitness are a few examples.
This blog makes money from affiliate links. They also get traffic from allowing other users to submit blog posts to their site. This is also known as guest posting.
If you have a bunch of blogging ideas, then a lifestyle blog might be a good place to start. As you blog, you'll learn more about what you like to write about and who your ideal reader is.
Some topics people lifestyle blog about are:
Dating and relationships
Self-improvement
Productivity
Learning a [insert hobby here]
Music
Don't feel like you have to write about the above blog niches. The beauty of a lifestyle blog is that you can write about anything you want!
Just make sure other people are interested in your blog content. In other words, make your lifestyle blog relatable.
9. DIY Blog
Do you have a knack for crafts? Then why not create a DIY blog!
DIY stands for "Do it yourself." So a DIY blog shows readers how to make crafts, clothing, home decor…the possibilities are quite endless.
P.S I Made This, is one of the most popular DIY blogs out there.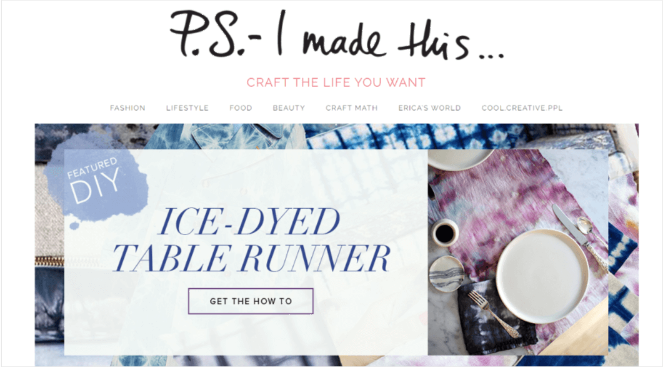 P.S I Made This shows their readers how to craft all types of things. Some examples are clothing, beauty products, and home decor.
Many DIY blogs use social media, like Pinterest and Instagram to showcase their products. You could even use YouTube and post videos of how you create your crafts!
Some other DIY blog ideas you can use are:
Arts and crafts
Home renovations
Gifts
Beauty products
DIY for teachers
10. Pet Blog
Let's face it—we're obsessed with our pets. We love to play with them, cuddle with them, and write about them!
A pets blog is great for anyone looking for DIY pet treats, training tips, and activities.
So if you own a bunch of animals or know a lot about a specific breed, then a pet blog might be for you.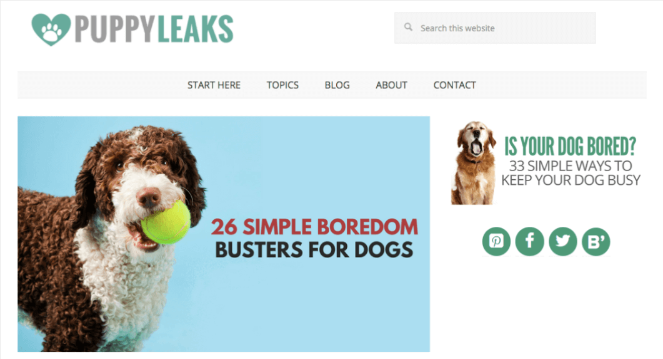 PuppyLeaks is a pet blog for dog owners. They have articles on puppy training, treats, and games.
So are pet blogs profitable?
Yes! The best way to monetize a pet blog is to add affiliate links to your favorite pet toys and pet care products.
It's also easy to think of a pet blog niche. For example, if you own a Labrador Retriever, then you can create a blog all about this dog breed.
But if you get stuck, you always write about:
Your pet breed
Pet adoption
Farm animals
Reptiles
Exotic animals
How Do Beginner Blogs Make Money?
Now that you know the types of blogs that make money, you might be wondering how they become popular. What blogging strategies should you implement for success?
The most popular blogs have the following 5 strategies in common with one another.
1. Valuable Content
Any blog that makes money knows how to bring value to the reader. Valuable content has the following 3 characteristics.
Focused on the reader
Don't write content just because it's about your niche. Instead, you should write content for your reader. What do they want to learn more about? How will you help them take action?
You can use tools like keyword research to see if your blog post topics are searched by your audience. You should also look up your blog topics on Google to see what type of blog posts are written about them.
Easy to read
Think back to the last time you read an article that looked like this:

It was probably difficult to read, right?
Blog posts are much more user-friendly than textbooks. You should avoid large paragraphs or complicated vocabulary. This might scare your reader to another blog.
Instead, write short paragraphs, use easy vocab, and add helpful images to your content. You can check out our guide, how to write a good blog post for more tips.
Optimized for search
Your blog posts might be full of good info, but if it doesn't rank on search then nobody will see it. This is bad news if you want to monetize your blog. But luckily it isn't hard to optimize for search.
To get started, you'll want good keywords, a fast website, and optimized images. Our SEO guide for beginners will help you get started.
2. A Unique Selling Proposition
Optinmonster found that the number of bloggers was expected to grow to 31.7 million this year. So if you want to create a profitable blog then you need to stand out from everyone else.
You can do this with a unique selling proposition (USP). A USP is something that makes your blog different from everyone else—why should someone read your blog over another?
A good example of a USP is the travel blog we mentioned earlier, The Broke Backpacker. Their USP is teaching readers to travel on less than $10 a day.
Most travel blogs don't talk about traveling with this tight of a budget, so The Broke Backpacker stands out from the rest. And they target anyone who wants to travel on a low budget.
So how do you find your own USP?
Niche down your blog topic to something specific. So instead of creating a fitness blog for all ages, you could create a daily workout blog for college students. This topic is specific, yet reaches out to a large group of people.
We thought of 89 blog niche ideas for you in case you get stuck.
3. Google Adsense
The easiest way to make a profitable blog is with Google Adsense. When you sign up for Google Adsense, your blog will display ads like below:

So anytime someone clicks on the ad, Google will charge the advertiser. And you'll get 68% of the profit.
It's also easy to sign up for! All you have to do is get approved by Google and then add the code to your blog.
So if Google Adsense is so easy to manage, then why doesn't every beginner blogger promote their ads?
If your blog has a ton of ads, then you might scare off new readers. This doesn't mean you shouldn't use Google Adsense. But instead, wait until you have consistent blog traffic.
We talk about this more in our Google Adsense guide.
4. Affiliate Marketing
Think back to the last time you read a blog post about a product. Maybe you ended up clicking on the product link and purchasing it.
This is called affiliate marketing. Most types of blogs that make money use this strategy. But how does it work?
When you become an affiliate partner with an online store, you'll promote and add a link to their products in your blog post. And if a reader clicks on that link and purchases the product, you'll earn a commission.
What's great about affiliate marketing is that any blog can do it, especially if you chose one of the blog topics we mentioned earlier.
You might want to check out our complete guide on getting started with affiliate marketing to learn more.
5. Online Store
Have any products or services to sell? You can always start an online store!
The best part about running an online store is that all purchases go straight to your bank account. And you have the freedom to create a product of your own.
You can also use organic marketing strategies like starting an email list or social media to promote your products to your readers.
Oh, and another thing—it's easier than ever to build an online store with WordPress! All you have to do is follow our guide on how to start an online store.
And that's it!
Now you know 10 types of blogs that make money and how to get started. Try out these blog strategies and see what works for you.
And remember, creating a profitable blog doesn't happen overnight. But if you put in the hard work and determination, you'll see results.
Plus, you can always refer back to our site for the best blogging tips. If you liked this post, you might want to check out our guide on proven ways to make money online.
And don't forget to sign up for our email newsletter for more helpful blogging tips!