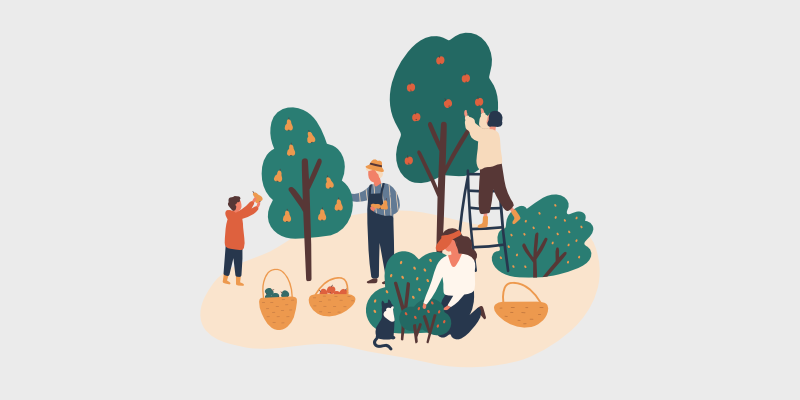 D o you want to learn how to start a gardening blog? You're in the right place! We'll show you how to create a gardening blog, step-by-step.
If you're wondering how to make a business out of gardening, look no further than blogging.
Starting a blog is a great way to share your passion for gardening and make money online! But, if you want your gardening blog to be profitable, you need to set it up properly.
In this article, we'll show you how to start a gardening blog from the ground up. We'll go over each step from setting up your website to monetizing your content.
Let's get started.
Successful Gardening Blog Examples
Before we dive into the tutorial, let's take a look at some gardening blogs for inspiration.
The Horticult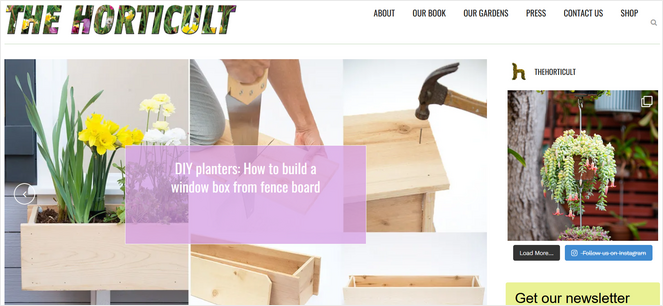 The Horticult is a well-known gardening blog created by husband-and-wife team, Ryan and Chantal. Their blog has been featured in publications like The New York Times, Better Homes and Gardens, Buzzfeed, Apartment Therapy, and more.
On the blog, they publish a variety of articles related to garden and patio design. Aside from the blog, they've also published their own gardening books, host regular gardening workshops, and have created their own product, SkyPots.
Simplify Gardening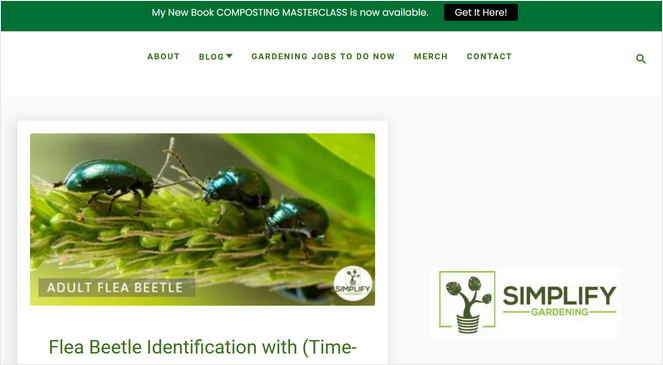 Simplify Gardening is a popular gardening blog created by Tony O'Neill. The blog covers a wide range of gardening topics including vegetable gardening, flower gardening, pests and diseases, organic fertilizer, and much more.
Tony makes money from his blog by selling ebooks and promoting affiliate products. He also has a successful YouTube channel with over 300,000 subscribers.
A Modern Homestead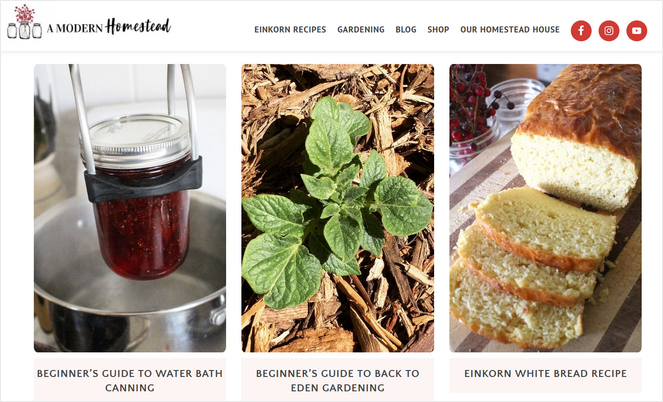 A Modern Homestead is a gardening and food blog created by Victoria, who describes herself as a work at home mom, homesteader, and full-time blogger.
Victoria writes blog posts about organic gardening and covers topics like:
How to protect your garden from animals
How to harvest and store sweet potatoes
When and how to plant fruit trees
And more
According to her gardening blog income report, she made over $150,000 from her blog in 2021. She earned this income by displaying ads on her site, promoting affiliate products, and selling her own products like ebooks, online courses, and more. 
Now that you've got some inspiration, let's go step-by-step through the process of creating your own gardening blog.
Step 1: Pick a Gardening Blog Niche
Before you start creating your gardening blog, you first need to decide on a blog niche.
A blog niche is simply the topic of your blog. Choosing a blog niche will help you keep your content focused on a particular subject and make it easier to attract your target audience.
While you can choose to create a general gardening blog that covers a wide range of gardening topics, it's sometimes better to choose a more specific niche to stand out from the competition.
Here are some examples of different gardening niches you can choose from:
Indoor plants
Outdoor plants
Flowers
Vegetable garden
Herb gardening
Landscaping
Container gardening
DIY planters
Garden art
Garden lighting
Square foot gardening
Succulent gardening
To decide on your blog niche, think about what type of gardening you're most passionate and knowledgeable about.
This will make it easier to create content that's helpful and interesting to your readers. 
Step 2: Choose a Name for Your Gardening Blog
The next important decision you need to make is choosing a name for your gardening blog. 
Choosing a good name for your gardening blog is important because it's often the first thing that people see when they discover you. So, your blog name needs to set the tone for what people think and feel about your blog.
For example, if you name your gardening blog something like Allison Writes, people won't think that your blog is about gardening at all. But a name like The Urban Gardener immediately lets people know that your blog is about how to garden in the city.
Here are some examples of great gardening blog names that you can use for inspiration:
California Gardening
Floret Flowers
Gardening Gone Wild
Small Town Gardener
Succulents and Sunshine
Savvy Gardening
You Grow Girl
Garden Therapy
Root Simple
Patient Gardener
Geek Gardener
If you're still having trouble picking a blog name, you can use Nameboy's free blog name generator.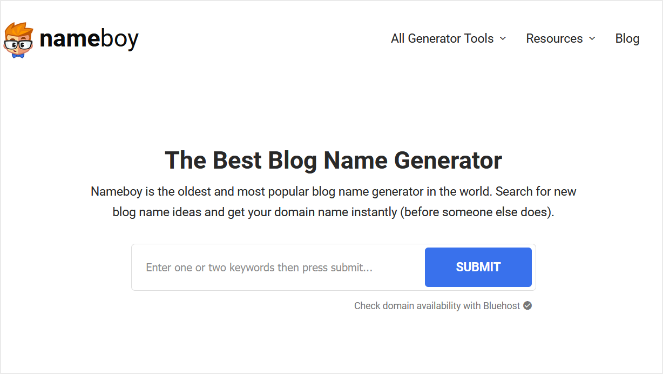 Simply enter one or two keywords into the generator and it will automatically display tons of blog name ideas that you can use.
Step 3: Pick the Best Blogging Platform
Next, you have to choose the blogging platform that you want to use. There are a few different factors you should consider when making this decision:
Ease of Use – If you're a newbie, you'll want to choose a blogging platform that is easy to use and doesn't require any coding skills.
Monetization Options – Certain blogging platforms don't allow you to make any money from your blog. So, you need to choose a platform that offers monetization options.
Scalability – If you want to add new features and functionalities to your blog as it grows, you'll want to choose a platform that gives you the flexibility to do so.
Price – When you're just starting out, you'll want to keep costs low. But, you also have to remember that free blogging platforms won't provide you with the monetization and scalability features that you'll need.
Because of all of these factors, we recommend using WordPress.org. It's #1 on our list of the best blogging platforms.

WordPress.org is a self-hosted, open source blogging platform and content management system that powers 39.5% of all websites.
WordPress is so popular because it's easy to use, highly customizable and scalable, and it gives you the freedom to monetize your blog in any way that you want.
Plus, WordPress is 100% free to use! All you need to pay for is blog hosting and a domain name, which we'll go over in the next section. 
Step 4: Create a WordPress Blog
As we just mentioned, you can use WordPress.org to start your gardening blog for free.
The only things that you need to pay for are:
Blog Hosting – A blog hosting service is where all of your website files are stored online. You need blog hosting in order to make your website live on the internet.
Domain Name – A domain name is the web address of your blog that users will type in their browsers to visit your site. For example, our domain name is www.BlogTyrant.com.
This might seem expensive, but you can get blog hosting and a domain name at a very affordable price with Bluehost.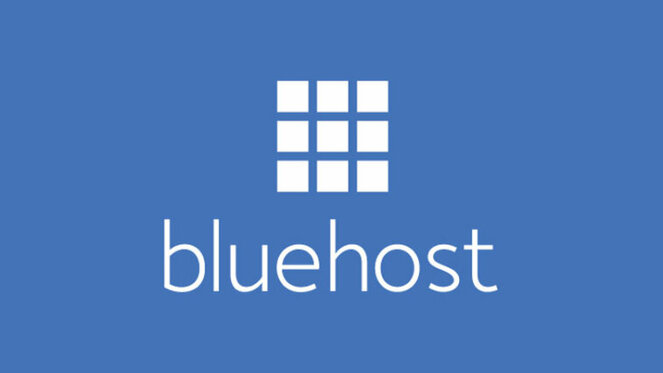 Bluehost offers the best blog hosting service on the market. In fact, it's officially recommended by the people at WordPress.org. It's reliable, offers 24/7 support, and comes with 1-click WordPress installation.
Plus, Blog Tyrant readers get a special discount of 60% off with Bluehost, which comes with a free domain name, free SSL certificate, and more!
With Bluehost, you get everything you need to start a gardening blog for as little as $2.75 per month.
How to Set up Your Gardening Blog with Bluehost
To get started with Bluehost, click on the exclusive Bluehost offer link above. Once you're on the website, click the Get Started button, as shown in the screenshot below: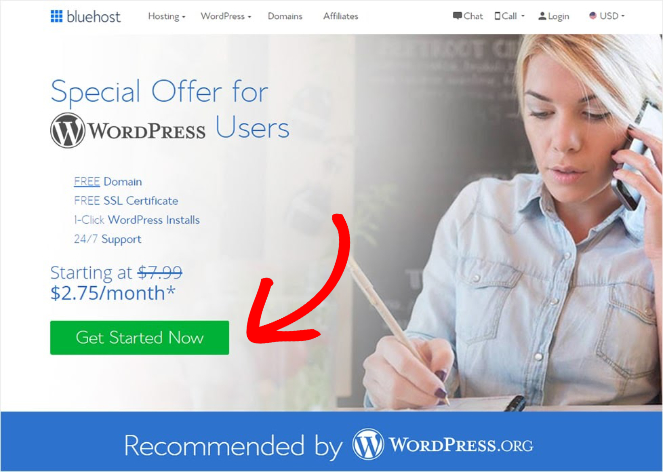 On the next page, you'll be asked to choose a pricing plan. Pick the best pricing plan for your needs and continue.
In the next step, type in the blog name you chose in step #2 under the Create a new domain option. Then, click Next to continue.

If you've already purchased a domain name, choose the Use a domain you own option instead.
Next, enter your account information and pick your account plan. The 36-month account plan will give you the best value.

Then, enter your payment information to complete the purchase. When you're done, you'll get an email with your login details.
After logging into your Bluehost account, go to the My Sites tab. Click Log into WordPress and enter your login information.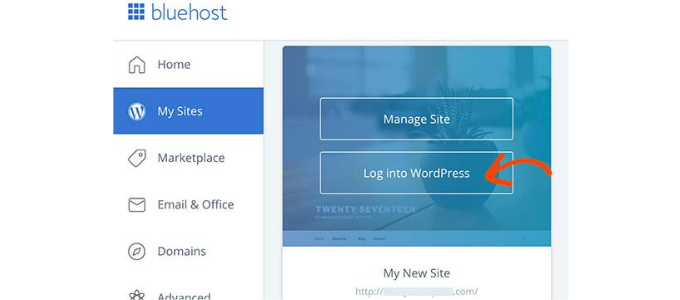 Once you're logged in, click on the Create Site button.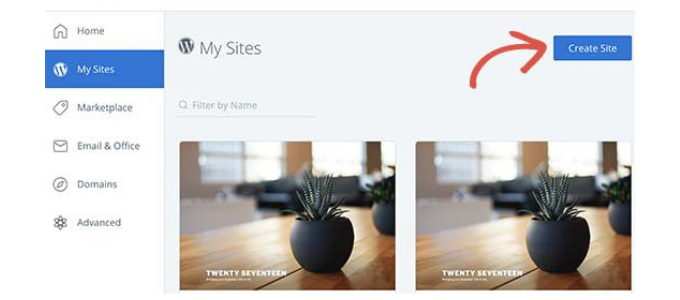 This will launch Bluehost's WordPress installation wizard. Simply follow the easy steps in the wizard to set up your site. 
Step 5: Design Your Gardening Blog
Now that the basic blog setup is complete, it's time to get creative and start designing your gardening blog.
And don't worry, you don't need to be a professional designer to create a beautiful blog.
There are thousands of WordPress themes, both free and premium, that you can use to give your blog a professional look in an instant.
Here are a few of our favorites: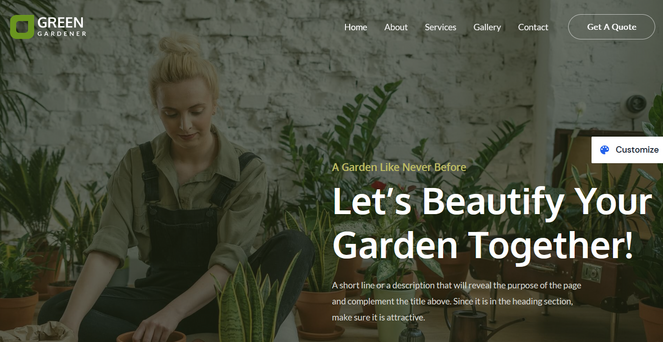 Astra is one of the most popular, free WordPress themes of all time. It's fast, lightweight, and highly customizable. Astra also comes with 180+ website templates that you can import in 1-click. The templates come with powerful design options that let you manage your layout, choose colors and fonts, and more.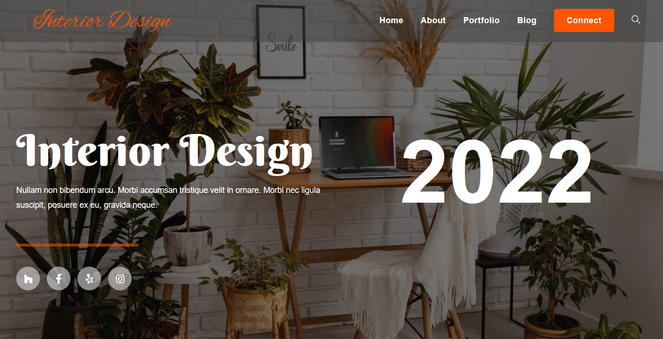 OceanWP is another free WordPress theme that's been downloaded over 5,000,000 times. It offers 220+ premade WordPress themes you can use to quickly give your site a professional design. It's also highly customizable and it works with popular page builders like Elementor.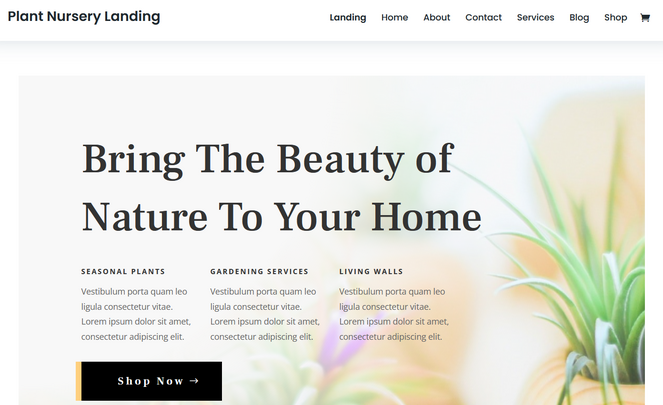 Divi by Elegant Themes is a premium WordPress theme and visual page builder. It comes with over 800+ pre-made website layouts that you can customize by pointing and clicking. With Divi, you'll also get access to royalty-free photos, icons, and illustrations you can use to design your blog.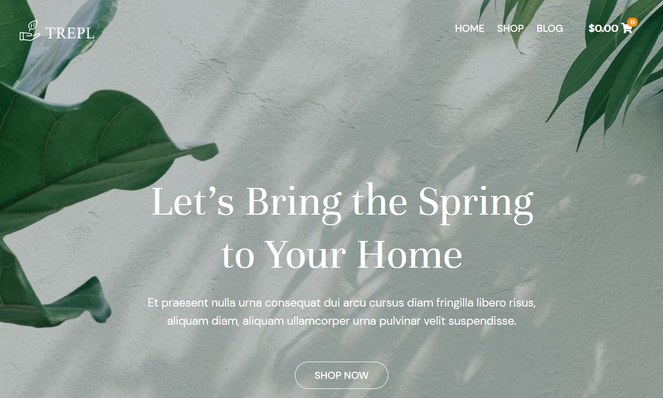 SeedProd is the best website builder on the market. Using the drag and drop theme builder, you can easily create a custom WordPress theme that doesn't look like anyone else's. 
SeedProd is easy to use and highly customizable. It comes with 28+ pre-made themes or you can start your design from scratch. There's also ready-made blocks you can add to your site in an instant like image carousels, email optin forms, testimonials, star ratings, contact forms, and much more.
Learn more in our detailed SeedProd review.
Next, let's go over WordPress plugins…
Step 6: Install Important WordPress Plugins
WordPress plugins allow you to add extra features and functionality to your gardening blog.
Just like WordPress themes, there are thousands of free and premium WordPress plugins to choose from.
Here are the most important WordPress plugins you need when starting out: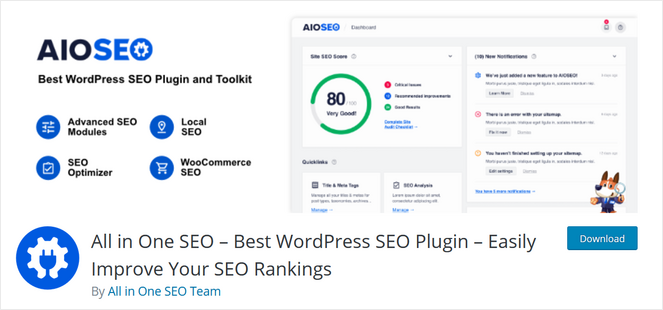 All in One SEO (AIOSEO) is one of the best SEO plugins for WordPress. This plugin will help you easily optimize your blog posts, and your entire website, for better search rankings. 
It comes with powerful features like:
TruSEO On-Page Analysis – Easily add title tags, meta description, and keywords for proper on-page optimization.
Smart XML Sitemaps – Automatically generate an XML sitemap and notify search engines of any updates.
Rich Snippets Schema – Support for schema markup so that you can get more clicks and traffic with rich snippets.
Social Media Integration – Control how your content and thumbnails look on platforms like Facebook and Twitter.
Link Assistant – Automatically find internal linking opportunities to help users and search engines discover your content.
And Much More
Find out more about this plugin in our AIOSEO review.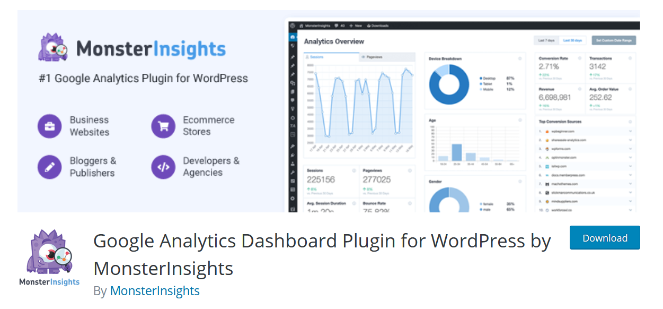 MonsterInsights is the best Google Analytics plugin for WordPress with over 3 million downloads. With this plugin, you can easily see important Google Analytics metrics for your blog right from your WordPress dashboard. 
You can discover how much traffic you're getting, new vs. returning visitors, popular posts and pages, how visitors found your site, and much more. With these insights, you can track the success of your blog and improve your blogging strategy.
Follow this tutorial to install Google Analytics on your WordPress blog with MonsterInsights.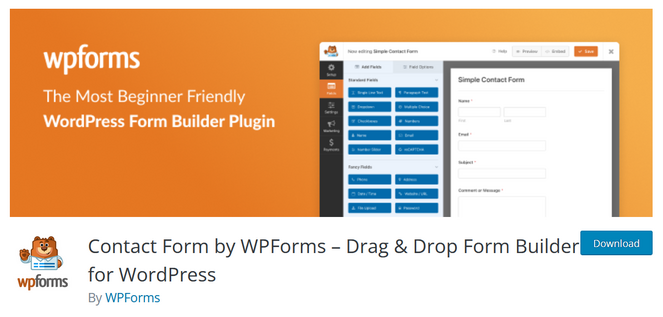 WPForms is the best form builder plugin for WordPress. It's used by over 5 million professionals to easily build smart forms and surveys. We recommend using WPForms to create a contact form for your blog so that your audience can easily get in touch with you. 
WPForms comes with an easy drag and drop form builder, tons of pre-made form templates, smart conditional logic, instant form notifications, spam protection, and much more.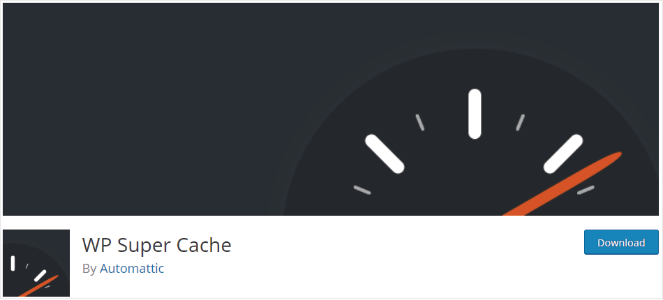 WP Super Cache is a free WordPress plugin that will help your website load faster for a better user experience. Most people aren't going to wait around for your site to slowly load. So, this plugin is important for speeding up your blog and preventing your visitors from leaving.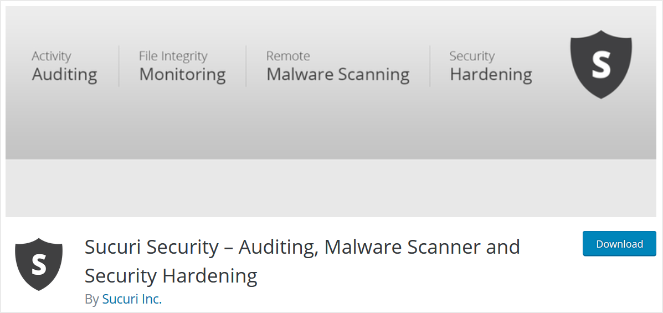 Sucuri is a popular security plugin for WordPress. This plugin will regularly scan your website to protect it from vulnerabilities like malware and hackers. It comes with WordPress security features like file integrity monitoring, blocklist monitoring, post-hack security actions, security notifications, and more. 
Step 7: Write Content for Your Gardening Blog
Now you're ready to start writing blog posts for your gardening blog!
We recommend writing at least 3-5 posts before you launch your blog so that people who find your site have something to read right away.
If you're not sure what to write about, do some research and see what other blogs are writing about gardening.
For example, you can look at a gardening blog like Garden Betty to get ideas for good topics. It has trending articles on topics like hot-weather watering tips, tips for harvesting garlic, identifying bees in your garden, and more.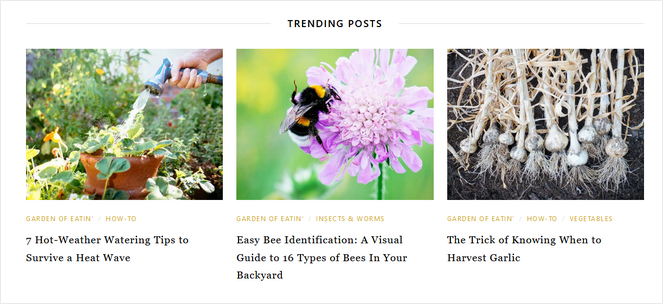 Here are some more gardening blog post ideas for inspiration:
How to grow tomatoes in pots
How to take care of indoor plants
The best types of lettuce to grow in the summer
How to make homemade insecticides
The no-dig garden method
The best flowers to grow for bees
You can also use blog topic research tools to find article ideas that your target audience would be interested in.
Once you have a list of topics you want to write about, it's time to start outlining and drafting your posts.
If you're new to blogging, you can read our guide on how to write a good blog post for tips.
Step 8: Promote Your Gardening Blog
Alright, now that your blog is live and you've got some posts published, it's time to promote it.
As a new blog, you'll want to promote yourself as much as possible to attract new readers and drive traffic to your blog.
Promoting your blog might sound expensive. But don't worry, you don't have to spend a bunch of money on advertising.
There are lots of free and affordable ways to promote your blog. Let's take a look at a few different strategies:
Post on Social Media
Almost everyone uses a social media platform like Facebook, Twitter, or Instagram. So, posting on social media is a great way to promote your blog and connect with new readers.
Here's how gardening blogger Empress of Dirt uses social media: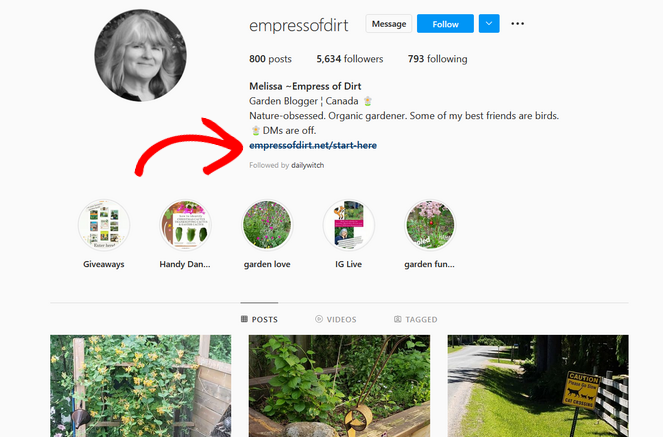 On her Instagram account, she regularly posts beautiful photos of her garden with relevant hashtags like #BackYardGarden, #FallGarden, and #SummerGardenTasks to attract people who are interested in gardening to her page. In her Instagram bio, she adds a link to her blog to drive traffic to it.
She also runs giveaways on social media, which are known to generate a lot of shares and interactions. You can follow this tutorial on how to run a successful giveaway for step-by-step instructions.
Join Gardening Forums
Aside from social media platforms, you can also search the internet for gardening forums to join. A simple Google search for "gardening forums" will bring up multiple results.
Gardening forums are online discussion boards where people can ask questions and share their gardening tips with others.
Depending on the forum rules, you can sometimes add a link to your blog when you give helpful advice in relevant conversation threads. 
Write Guest Blogs
Guest posting is when you write a blog post on someone else's blog. Typically, your guest post will include an author bio with information about you and a link back to your website.
If you guest post on a blog that already has lots of loyal readers, they'll be likely to read your article and check out what else you have to offer on your blog.
It's one of the best ways to introduce your blog to new audiences.
Read our guide on guest posting for more tips.
Lastly, we'll go over how to monetize a gardening blog…
Step 9: Monetize Your Gardening Blog
A lot of new bloggers struggle to make money from their blogs.
But, that's usually because they haven't properly set up any monetization strategies.
Making money online also won't happen overnight. However, with time and effort, you can start to generate an income from your gardening blog.
With that, here are a few ways you can monetize your gardening blog:
Display Ads
Displaying ads on your blog with Google Adsense is one of the easiest ways to get started with monetization.
Simply sign up for a free Google Adsense account. Then, Google will display show ads on your site that are targeted to your audience and content. Whenever someone clicks an ad on your blog, you earn money.
For more details, see our guide on how to properly add Google Adsense to your WordPress blog.
Start Affiliate Marketing
Affiliate marketing is another popular monetization strategy for bloggers. It involves promoting or reviewing another company's products or services on your blog. You'll get a unique link to use and each time someone clicks on your affiliate link to buy the product, you'll earn a commission.
Here's an example of affiliate marketing on the blog Garden Therapy: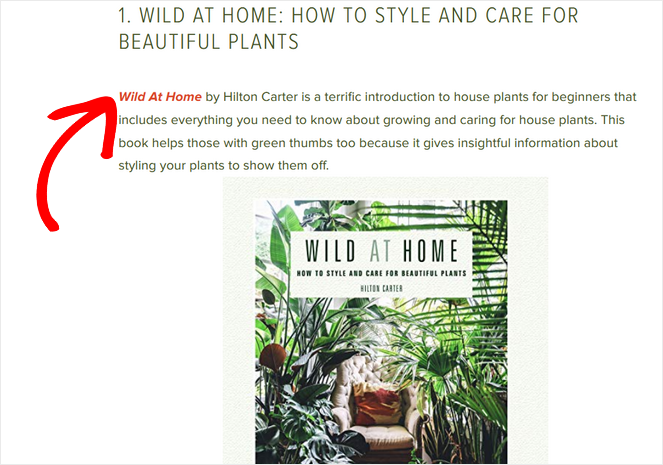 This is an affiliate link for a book that the blog author promotes in an article about the best indoor gardening books.
Getting started with affiliate marketing is easy. You can simply sign up for an affiliate network and search for relevant products to promote. Affiliate networks like ShareASale have tons of home and garden merchants you can choose from. 
You can learn more in our guide to affiliate marketing.
Sell eBooks
A lot of gardening bloggers write and sell their own eBooks to make money.
This is a great way to generate passive income because you can create an ebook once and sell it over and over again. Plus, you don't have to worry about inventory or shipping.
The best way to sell eBooks on your blog is with a plugin called Easy Digital Downloads.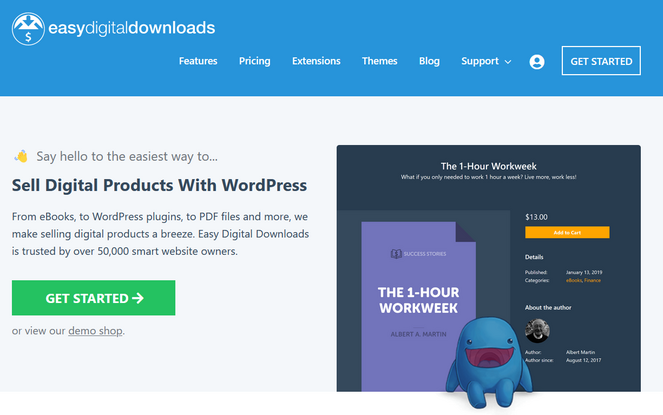 Easy Digital Downloads is the best WordPress plugin for selling digital products like eBooks, PDFs, videos, and more. It comes with a full shopping cart that lets customers purchase multiple downloads at once. 
It's also easy to set up. In minutes, you can start accepting credit card payments as well as Apple Pay, Google Pay, and PayPal.
You can get started with the free version or upgrade to the premium plugin for advanced features. 
Wondering how to write a gardening book? See these tips in our guide to writing an ebook.
Create Online Courses
If you've got lots of expert gardening advice to share, you can also create and sell online gardening courses.
Succulents and Sunshine sells an online course on its blog. The course costs $99 and includes 12 video tutorials and downloadable PDFs on caring for succulent plants.

The best way to sell courses on your WordPress blog is with MemberPress.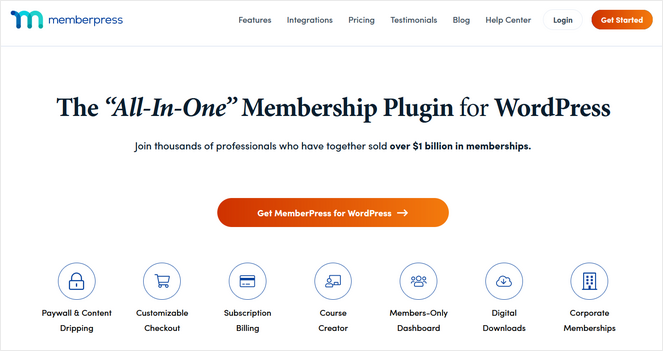 MemberPress is the best membership WordPress plugin that comes with a built-in visual course builder. 
You can easily drag and drop lessons, topics, categories, videos, images, and more, to build your course curriculum.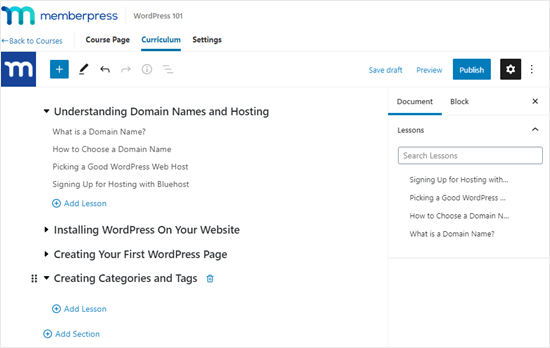 With MemberPress, you can create multiple courses with different subscription options, accept one-time or recurring payments, and more.
For step-by-step instructions, follow along with our tutorial on how to create an online course in WordPress.
---
That's a wrap!
We hope this post helped you learn how to start a gardening blog. Now you can turn your favorite hobby into an online business!
If you enjoyed this post, be sure to check out our post on 101 blogging tips for beginners. It's the perfect post to bookmark and refer back to during the early stages of your blogging journey. 
And don't forget to sign up for our email newsletter for more helpful blogging tips!