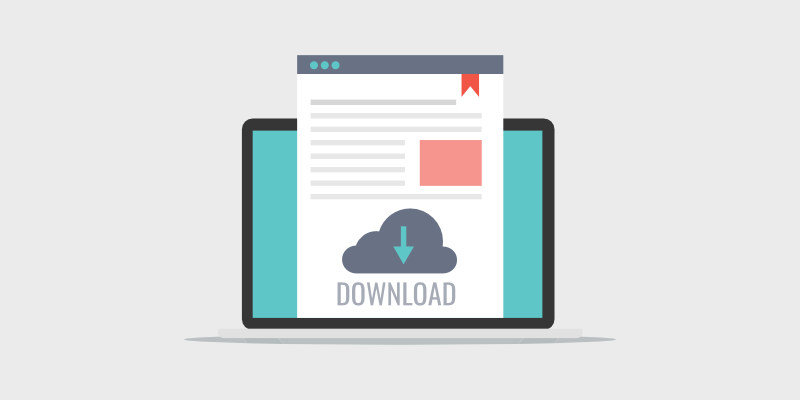 W ant to learn how to create a lead magnet? A lead magnet is one of the most effective ways to grow your email list. Plus, creating a lead magnet is easy, we'll show you how, just keep reading. 
When you first start a blog, getting people to sign up for your email list can be a challenge. But, if you offer a lead magnet in exchange for your visitors' email addresses, you can quickly get more subscribers. 
But, how do you make one? 
Don't worry, you don't have to be a professional designer to create a successful lead magnet. 
In this article, we'll go over what a lead magnet is, share some awesome lead magnet ideas, and show you how to create a lead magnet yourself. 
Let's get started!
What is a Lead Magnet?
Before we show you how to create a lead magnet, let's discuss what a lead magnet is. 
A lead magnet is a marketing term for an item that's given away for free in order to collect contact information like email addresses. 
Here's an example of a lead magnet. At Blog Tyrant, we offer our visitors a free ebook if they sign up for our newsletter.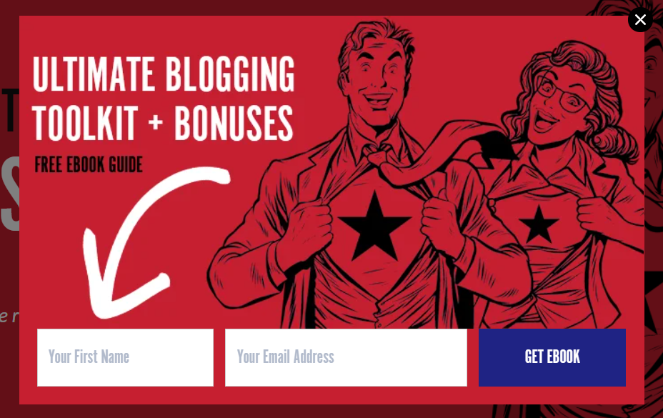 That's what a lead magnet is, but do they actually work?
Do Lead Magnets Work?
Email is a very personal thing. Most people aren't going to give you their email address just because you ask them, even if they like your blog or brand. 
Instead, there needs to be something in it for them if they're going to sign up for your email marketing list. 
And what you offer them needs to be valuable. 
For instance, let's say you ask people to join your email list to receive weekly "updates" in their inbox. 
Well, what kind of updates are they going to get? How will it help them?
This offer doesn't immediately appear valuable to visitors. 
Now, imagine if you offer visitors a free PDF guide that has 25 tips to help them make money online in exchange for becoming an email subscriber.  
A lead magnet offer like this gives visitors much more incentive to sign up because they'll get a free item that is super helpful or interesting to them instantly. 
Want some more proof that lead magnets will improve your lead generation? 
Check out this case study…
Before creating a lead magnet, the American Bird Conservancy collected fewer than 100 leads per month on their website.
But, after offering a lead magnet to its visitors, American Bird Conservancy doubled the size of its email list.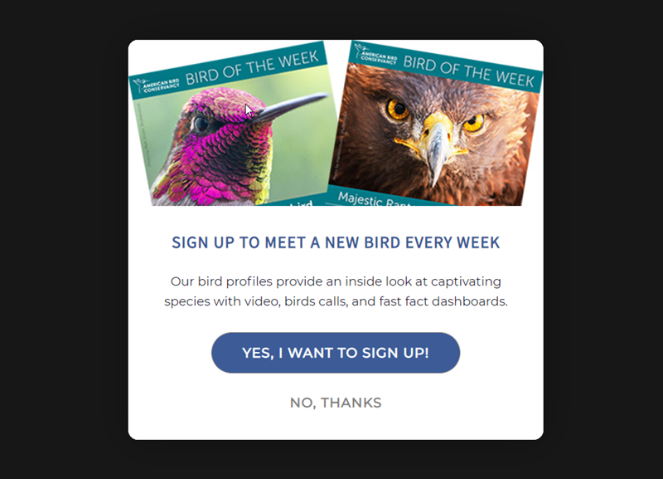 With a relevant, valuable lead magnet, American Bird Conservancy went from collecting less than 100 leads per month to 1,500–2,000 leads collected per month!
Those are amazing results. 
So, are you ready to learn how to create a lead magnet and skyrocket your email list?
Okay, let's go!
How to Create a Lead Magnet
In this section, we'll go over how to create your own lead magnet, step-by-step. 
Simply follow these steps to easily craft a lead magnet that your visitors will love.
1. Generate Lead Magnet Ideas
Before you begin crafting your lead magnet, you need to decide what type you're going to create.
We've briefly gone over a couple lead magnet examples already, but there are a ton of different types of lead magnets you can create.  
Here are some lead magnet ideas to help you out:
Checklist
A checklist is one of the easiest lead magnets to create. All you have to do is summarize one of your popular blog posts into an actionable PDF checklist. 
Here's an example of an On-Page SEO checklist lead magnet: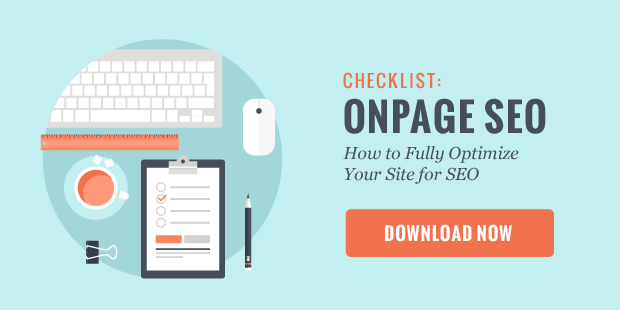 These are super easy for users to consume as well. Instead of reading a long guide or ebook, users can print out the checklist and follow the easy steps each time they optimize a page for SEO.
Cheatsheet
A cheatsheet is very similar to a checklist. Cheatsheets give users a list of guidelines or an outline of a process that they can easily follow to achieve a specific goal. 
For example, this cheatsheet from Simply Delicious, a food blog, shows users how to take professional-looking food photos: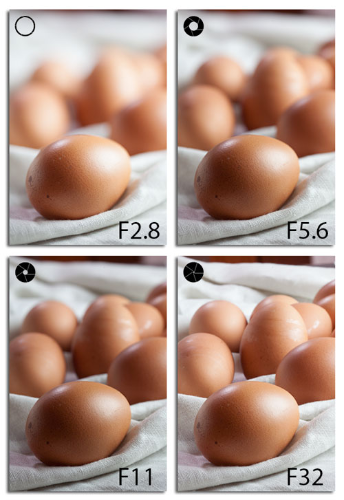 Instead of having to think about it, users can refer to your cheatsheet over and over again to complete the task.
Template
A template can be anything that outlines a process for users. You provide users a starting point, then all they have to do is fill in the blanks to complete it and personalize it to them. 
So, you could create a blog post template and instruct users where to fill in their own information. 
Here are some blog post template examples offered by HubSpot: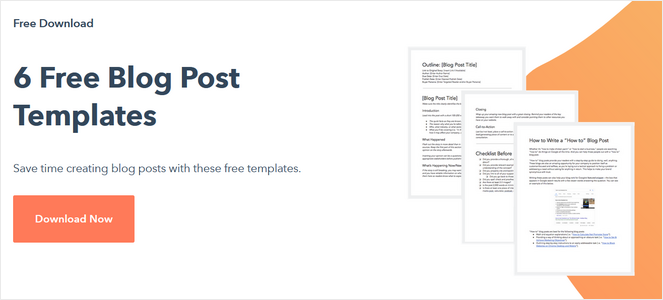 PDF Guide/Ebook
Another popular type of lead magnet is the PDF guide or ebook. These take a bit more time to create because they're lengthier than a checklist or template. 
But, you can provide a lot of valuable information in a guide or ebook, so many visitors will be interested in them. 
Inbound Marketing Agency offered this ebook filled with lead generation tips to visitors in exchange for their email addresses: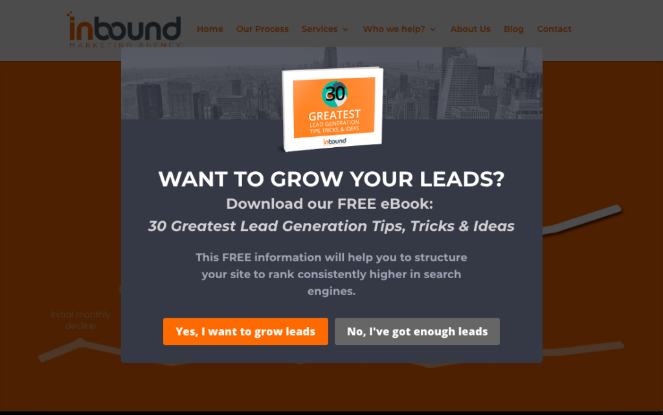 This particular offer was able to recover 3.59% of abandoning visitors. So, instead of leaving the site and never returning, those visitors opted to download the lead magnet and subscribe to the email list. 
These are just a few popular lead magnet examples. 
Some other lead magnets you can offer are: 
Planners, calendars, and other printables
Resource lists
Worksheets/workbooks
Inspiration files
Infographics
Webinars and video tutorials
Email courses
And much more
To help you decide what type of lead magnet to create, think about what your strengths are. 
Are you an amazing writer? Then, an ebook might be the best choice for you. 
Do you have experience with creating YouTube videos? Offer a video tutorial as a lead magnet. 
And if you're new to blogging, a checklist is something you can easily start out with. 
Aside from thinking about what type of lead magnet you want to create, you also need to consider what your audience wants. 
That brings us to the next tip…
2. Choose the Right Lead Magnet for Your Audience
You don't want to spend time creating a lead magnet, only for nobody to be interested in it. That's why choosing the right lead magnet for your audience is important. 
To create a lead magnet that's ultra-specific to the people you want to attract to it, it helps to fill out a customer avatar worksheet. 
A customer avatar is a fictional representation of your ideal blog reader or customer. 
Digital Marketer offers a free one you can fill out: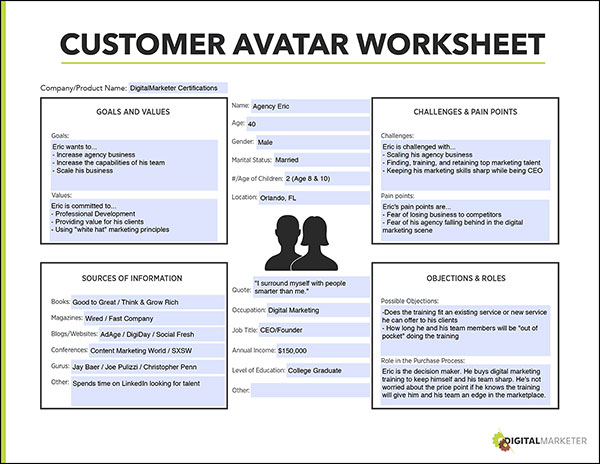 This exercise will help you drill down the exact type of person you want to attract to your lead magnet. You can write down what their goals and values are, what they struggle with, their favorite blogs and websites to get information from, and more. 
By learning more about your target audience, you'll be better able to craft content that helps them reach their goal or solve their problem. 
You can also use your existing content to find out what your audience is most interested in. 
For example, you can use MonsterInsights to find out what the most popular posts on your blog are.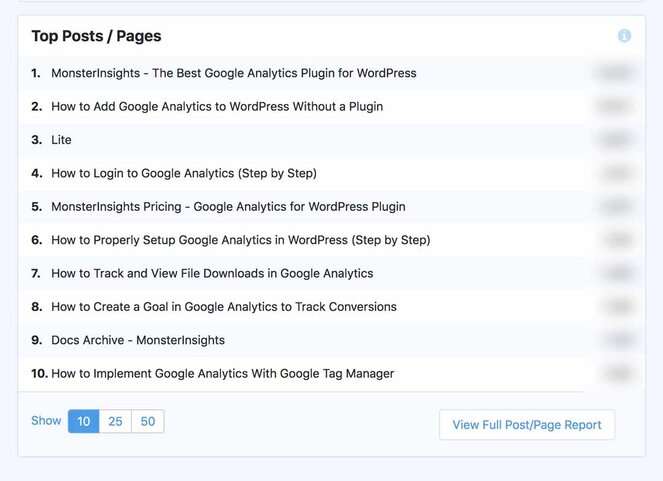 Let's say your most popular post is about social media marketing. 
Creating a lead magnet about social media marketing would be smart because you already know a lot of your readers are interested in that topic. 
You could even create a survey to ask visitors what content they're craving. 
Overall, craft a lead magnet that: 
Solves a real problem for your customer avatar
Or, is something that your customer avatar is super interested in
3. Give Your Lead Magnet a Name
Once you've figured out the type of lead magnet you want to make, you need to give it a compelling name. 
When you're presenting your lead magnet offer, the name of your lead magnet is often the first thing visitors will see. So, it needs to convince them to take action. 
The name of your lead magnet should promise a quick win for users. 
For example, instead of naming your lead magnet "How to Do Affiliate Marketing," it should describe the benefit to users.
A name like, "10 Affiliate Marketing Tips To Help You Make More Money" is much more convincing.  
For more tips, check out this post on how to write compelling titles.
4. Craft Your Lead Magnet
Now it's time to start putting your lead magnet together. 
If you're looking for a free and easy lead magnet creator, you can start with Google Workspace, formerly known as G Suite.
With Google Docs, you can design a pretty nice checklist, guide, or ebook, and simply save it as a PDF. 
It even provides templates to get you started. 

We have a complete tutorial on how to create an ebook with Google Docs, check it out for step-by-step instructions. 
Another awesome tool to create lead magnets is Canva. It's free to use and Canva offers a ton of professionally-designed lead magnet templates including:
Calendars
Worksheets
Infographics
Slide Presentations
Reports
And More
You can easily customize the templates as well. You can add your own photos or stock photos and edit the text in a few clicks.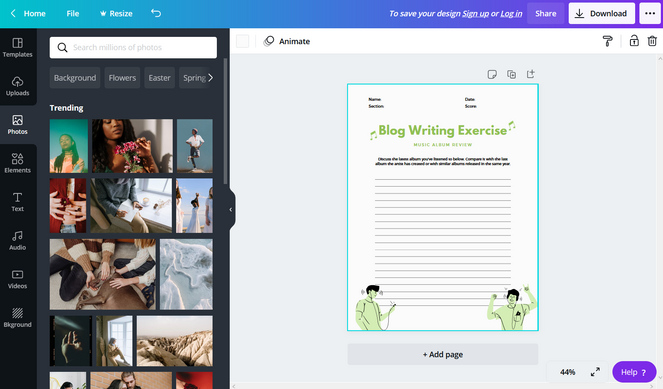 Canva also offers many pre-made elements that make it easy to create a beautiful lead magnet design quickly.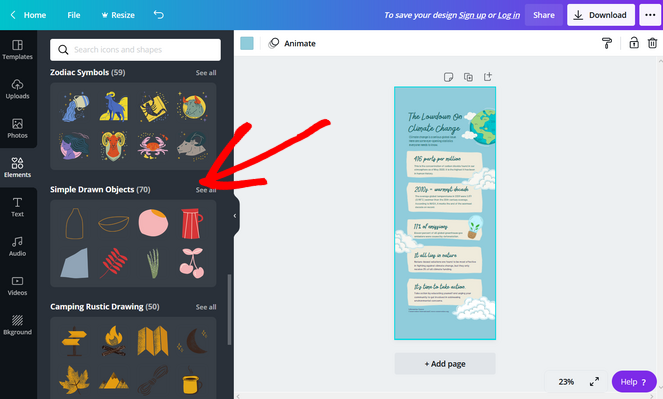 When you're finished creating a lead magnet with Canva, you can download it as a PDF. 
Once you're finished creating your lead magnet, it's time to give it away…
How to Create a Lead Magnet Optin Form
Now you need to set up a system where you can deliver the lead magnet for free when people enter their email address into your newsletter optin form. 
We recommend using OptinMonster to make this process super simple.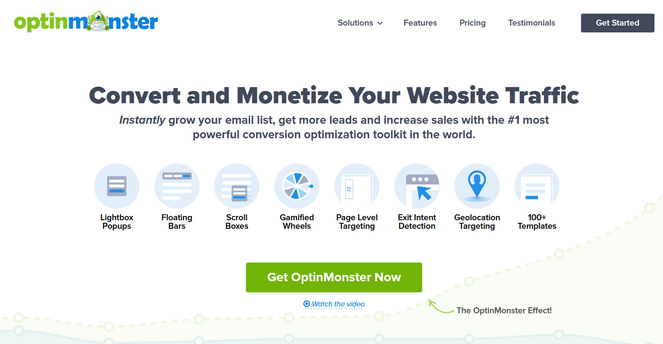 Using OptinMonster, you can easily create an eye-catching popup optin form to promote your lead magnet, convince visitors to sign up for your email list, and deliver the lead magnet once they opt-in.
Here's how to do it:
Step 1: Upload Your Lead Magnet
First, you need to upload your lead magnet file to a server location where subscribers can download it. 
In WordPress, you can do this by uploading the lead magnet file to your media library.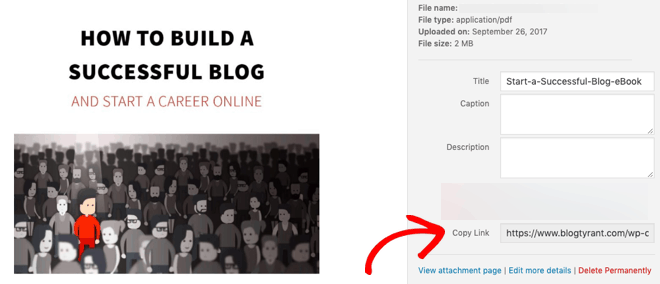 Be sure to copy the link, shown in the screenshot above, and save it somewhere because you'll need it later. 
If you don't want to upload the lead magnet to your WordPress media library, you can also upload it to a cloud storage service like Google Drive or Dropbox.
Step 2: Create a High-Converting Optin Form
To promote your lead magnet to visitors and capture their email addresses, next you'll need to create an optin form. 
With OptinMonster, you can choose from a number of different campaign types to grab the attention of users on your site. 

Choose from:
Lightbox Popup – Appears in the center of the page after a specified time or action.
Fullscreen Welcome Mat – Covers the entire screen.
Slide-in Scroll Box – Slides in from the corner of the screen.
Inline Form – Embeds within blog posts or pages.
Sidebar Form – Displays in the sidebar areas of your site.
Floating Bar – Sticks to the top or bottom of the screen.
OptinMonster also offers over 97 eye-catching optin form templates to choose from.
All of these templates are professionally designed so you can ensure they're optimized for conversions. 
For example, the Magnet template is created specifically for offering lead magnets. You can display an image of your lead magnet on the right side of the popup to entice visitors.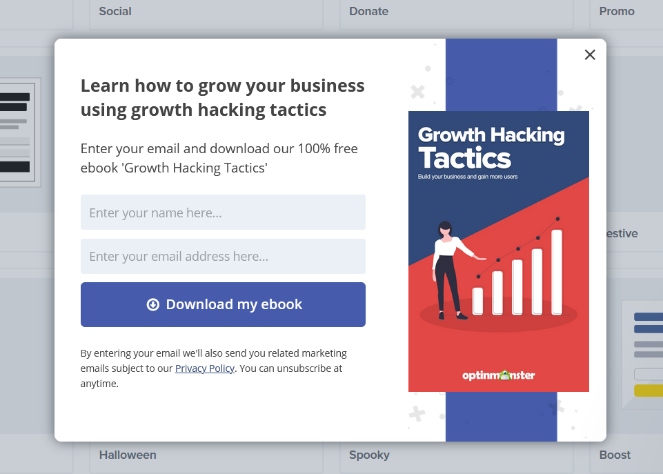 Choose a campaign type and template and use the drag and drop builder to personalize it for your offer.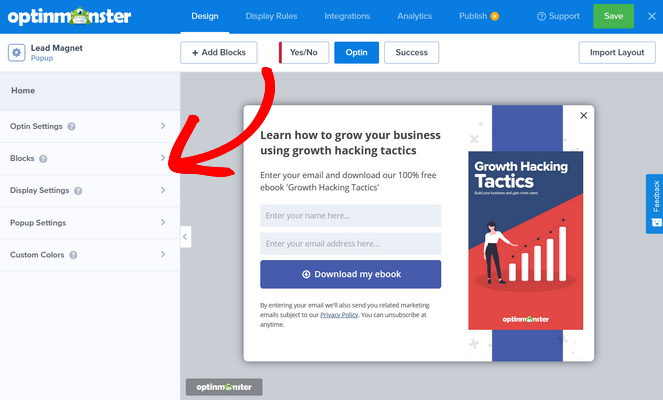 You can click on any existing field to edit it. For example, you can click on the button text to change it from "Download my ebook" to "Download my checklist."
Or, click on the example ebook image to replace it with an image of your own lead magnet. 
You can also change the colors, add new element blocks like icons, images, and videos, set the display settings, and more. 
For more tips, check out this post on how to create a lightbox popup.
Step 3: Deliver Your Lead Magnet Automatically
Once you've uploaded your lead magnet to a server and created an optin form, you need to set up the delivery of your lead magnet. 
The quickest and easiest way to deliver your lead magnet to subscribers is with OptinMonster's Success Messages. 
After a user opts-in by providing their email address through the form, a success message will display thanking them for subscribing and show them a download button they can click to get your lead magnet instantly. 
To set up a success message on your optin form, click on the Success button from the Design tab of the OptinMonster campaign builder.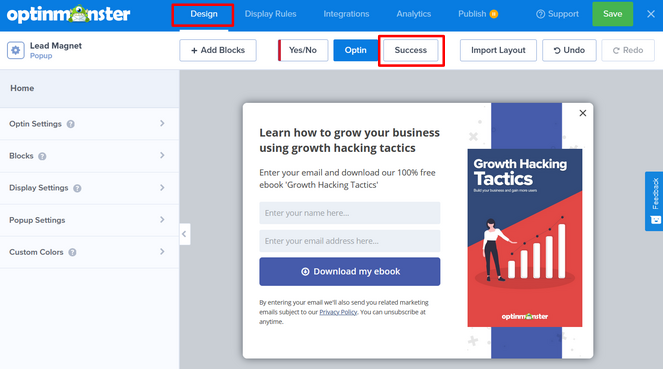 Now you'll be able to see the success message that comes with this particular theme: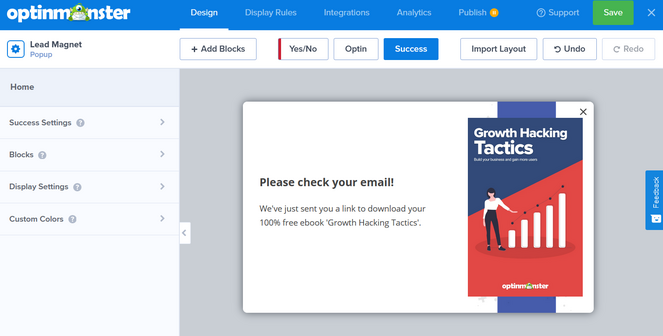 The success message for this theme tells users a link will be sent to their email to download the lead magnet. But, you can easily change this so that users can click on a "Download Now" button to get your lead magnet right away. 
Click on the + Add Blocks button near the top of the page, find the Button element, and drag it onto the template.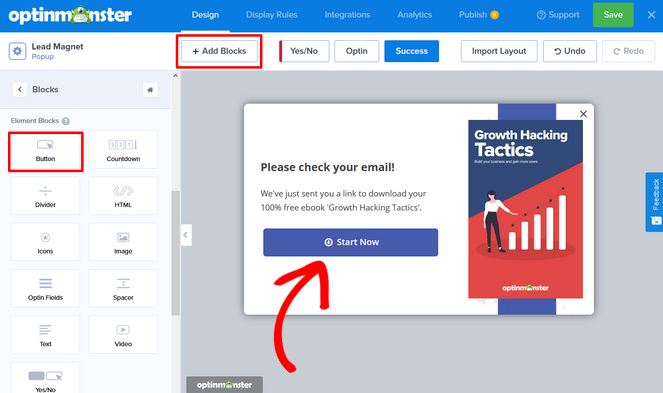 Click on the button you just added to change the text. It currently reads "Start Now" but we changed it to "Download Now."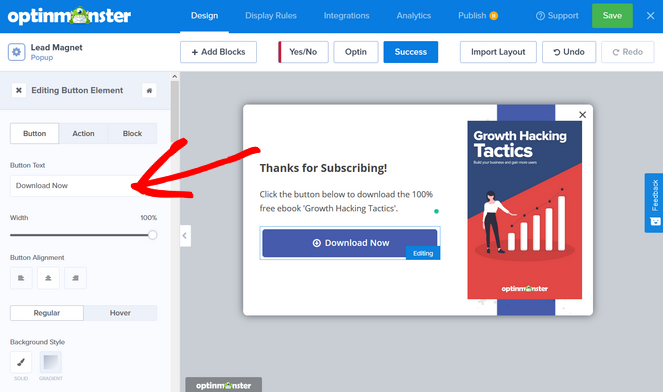 You can also change the color, font, alignment, and more, if you want to. 
Lastly, click on the Action tab in the Button Editor. Under Button Click Action, select Redirect to a URL, and then paste the lead magnet URL you copied earlier.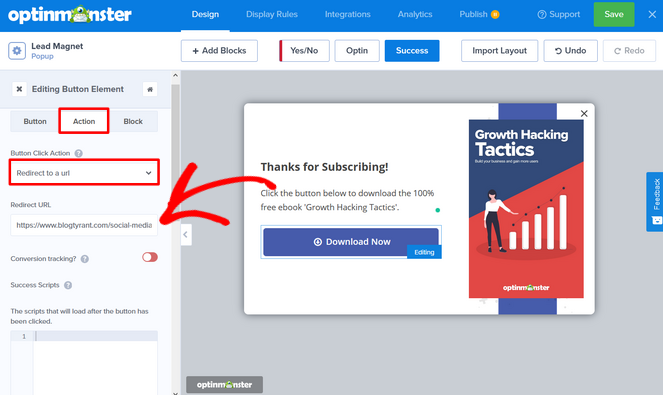 That's it!
After you save your campaign and publish it on your site, when visitors subscribe to your email list, they can download the lead magnet immediately. 
You can also deliver a lead magnet via a thank you page or email with OptinMonster. 
Check out this post on how to automatically send an ebook to subscribers for more details.
Promoting Your Lead Magnet
Aside from creating an optin form on your blog, there are other ways you can promote your lead magnet. 
After all, the more you promote your lead magnet, the more subscribers you can get. 
Check out these ideas for promoting your lead magnet:
Create a Landing Page
A landing page is a standalone page on your website that's designed to encourage users to take 1 specific action. So, you can create a landing page that puts all of the focus on your lead magnet offer.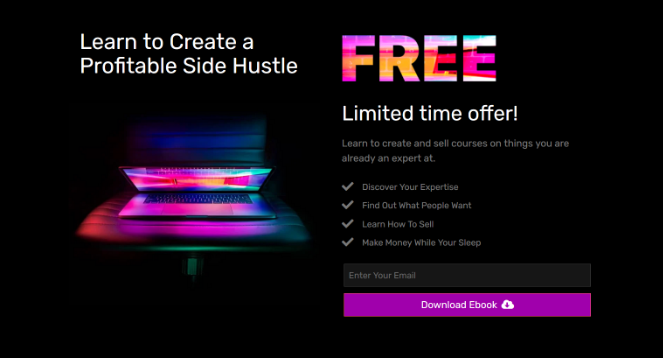 With nothing else on the page to distract visitors, they'll be more likely to sign up for your email list. 
You can easily create a landing page like the one above with SeedProd.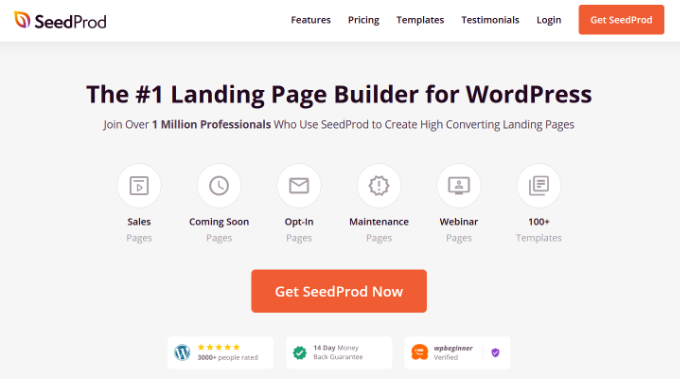 SeedProd is the best landing page builder for WordPress. It comes with tons of landing page templates and you can easily customize them with pre-made landing page blocks and the visual drag and drop builder. 
Share Links on Social Media
This next tip shows how useful creating a landing page can be. 
To get more email subscribers, you can share links to your lead magnet landing page on social media. 
For example, Allee Creative uses attention-grabbing copy to describe the benefits of the lead magnet, adds a relevant hashtag and image, and links to the lead magnet landing page in this tweet: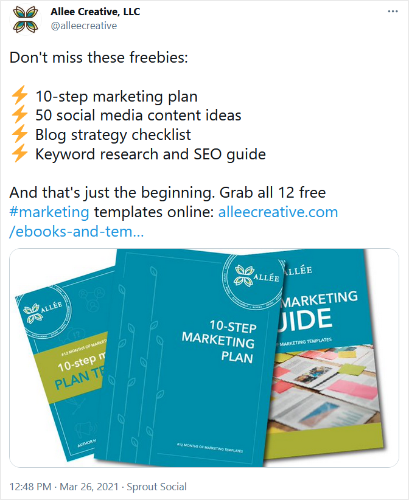 There are so many people on social media, you can widen your reach dramatically by sharing the link to your lead magnet on platforms like Facebook, Instagram, Twitter, YouTube, and LinkedIn. 
You can even add the link to your social media bios so new visitors to your profile will always see it. 
Here's how Molly Marshall Marketing does it on Instagram: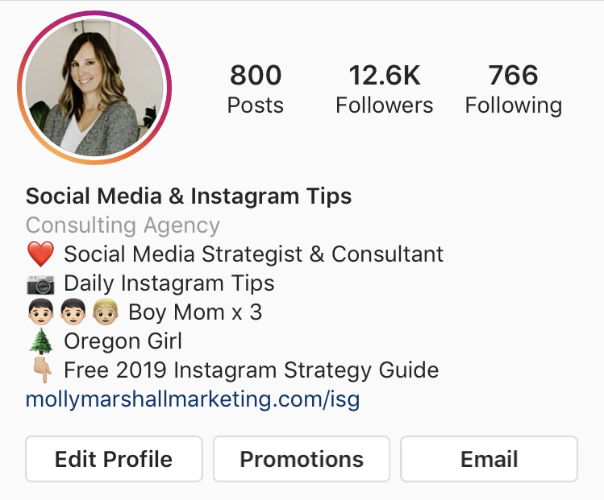 Do Guest Blog Posts
Guest blogging is another great way to introduce your lead magnet to a whole new audience. 
When you do a guest post on someone else's blog, you'll be able to add a link in your author bio/byline. 
Instead of linking to the homepage of your blog, you can link directly to your lead magnet landing page, like Beth Hayden does in the example below. 

After reading your guest post, this new audience can easily sign up for your email list and become fans of you too. 
To get started, check out our complete guide on guest blogging. 
That's a wrap!
Now that you know how to create a lead magnet, you can grow your email list FAST. 
If you enjoyed this post, check out our list of easy hacks to get more email subscribers.
And don't forget to sign up to our email newsletter so you can get useful content like this sent right to your inbox!