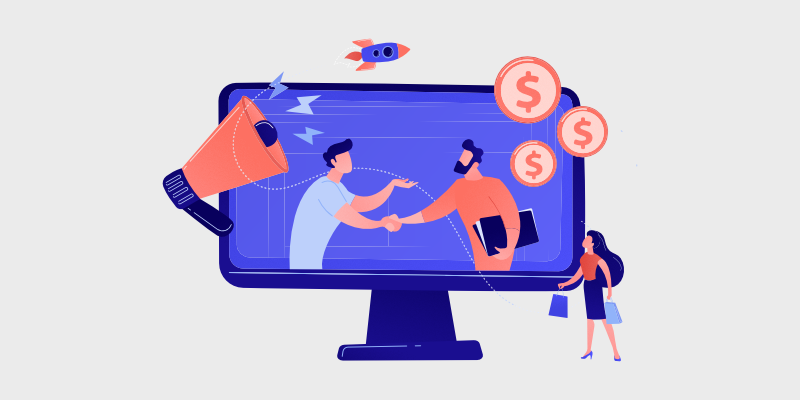 A re you looking to find the best affiliate marketing programs and networks but don't know where to start? Don't worry, we've got you covered.
Affiliate marketing is an excellent way to earn money from your new blog. But, if you don't know which affiliate programs or networks to join, you'll waste a lot of time, and it might take you a while before you find the right ones.
In this guide, we'll help you find the best affiliate networks and programs so that you can start earning passive income FAST.
Let's dive in.
What are Affiliate Programs and Why Do You Need One?
Affiliate marketing is an excellent way to make money online and it's also one of the easiest ways to get started with blog monetization. All you have to do is promote a product that you love on your blog. When readers click on your affiliate link and buy the product you recommend, you get paid a commission.
But, you can't get started with affiliate marketing without joining an affiliate program first.
An affiliate program is an official arrangement where a business pays an affiliate, or another business, a commission for sending traffic or sales their way.
The affiliate gets a unique link from the business, which they can use to track the sales or traffic they send. The affiliate needs to use the unique link while promoting the product in their blog post or social media in order to get paid.
Apart from affiliate programs, you can also sign up for affiliate networks. With an affiliate network, you get access to thousands of products/companies that you can promote.
Affiliate networks act as an intermediary between merchants that sell products and the affiliate that promotes them.
Before you start promoting a product from the affiliate network, make sure you negotiate the terms of the commission. You can go for a recurring commission, or you can opt for a CPA (cost per action).
Opting for a recurring commission means that you will get paid every time your referral renews their subscription. CPAs, however, are a one-time payment for every sale you make. These are often 100-200% more than the subscription plan.
Now that we have that out of the way, let's jump right into the best affiliate programs and networks.
---
Best Affiliate Marketing Networks
In this section, we will list the best affiliate networks that can help you get started. When picking an affiliate network, make sure that:
They are 100% free. You should never have to pay to join.
It has products related to your niche, or else you'll just be wasting your time.
They offer good customer support.
It has high-paying merchants so that you get high commissions for your sales.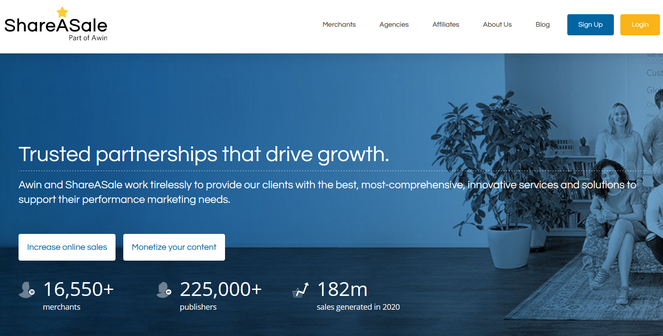 ShareASale is a massive affiliate network with over 3,900 merchants and over 1 million affiliates. They've been around for over 19 years and are considered the leaders of the industry. You can choose from 39 different verticals to promote various products ranging from fashion, home and garden, food and drink, B2B, and many more.
Apart from having a massive list of products to promote, they also offer affiliate marketing courses, training webinars, top product recommendations, and marketing tools.
If you're looking to get into the affiliate marketing game, then this is where you start.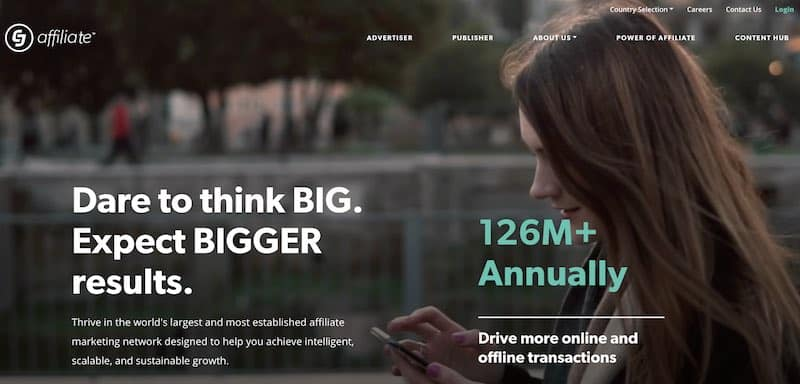 CJ Affiliate, formerly known as Commission Junction, is an affiliate network that has been operating for over 20 years!
They have a payout of over $1.8 billion dollars in commissions to their affiliate partners, and they process a whopping $15 billion dollars of sales through their platform.
CJ Affiliate has famous brands like Overstock, Office Depot, GoPro, and more, that you can partner up with.
The only drawback is that it can be difficult for new affiliates to get approved to work with popular merchants.
You'll really have to get creative with your email outreach strategy in order to have a chance to work with them.
Once you've joined in, you'll find that they have an easy-to-use platform, real-time reporting, and reliable payment methods.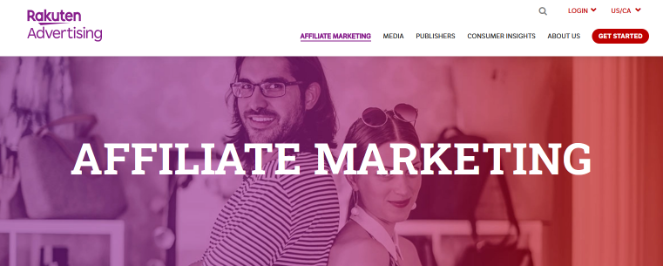 Rakuten Advertising, is another great affiliate marketing network that's been in business since 1997.
Even though they have been working in the industry for a long time, they still aren't as big as other affiliate networks like CJ Affiliate.
But, they still boast 1000 merchants, including top brands like Ray-Ban, Sephora, Pac Sun, and New Balance.
Rakuten has an excellent user interface, and it's easy to get started with. You can easily create your own banners and place them on your blog.
They also have a good tracking tool and an easy-to-use reporting system. And you can take advantage of their tutorial videos to learn more about affiliate marketing.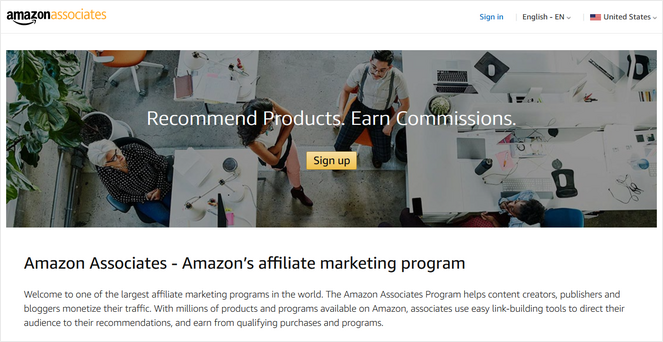 Amazon Associates may not exactly be an affiliate network, but it's worth mentioning because of its size. They have millions of big and small merchants. You can easily find any product related to your niche and start promoting it on your blog.
Amazon Associates offers commission from 1-10% based on the product category. The most valuable items you can promote are clothes and beauty products. Promoting these products on your fashion or lifestyle blog can get you a 10% cut on the price.
Amazon is a trusted name, and if your blog redirects your visitors to Amazon, they will already have that trust built.
The only downside is that Amazon has a very low commission rate when compared to other affiliate networks and programs.
In our opinion, Amazon Associates is a good place for newbie affiliate bloggers to get their feet wet, and once they get the hang of it, they can move onto other bigger networks.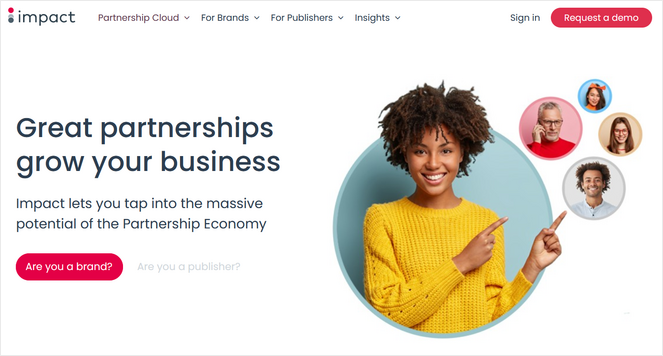 Impact is relatively new in the affiliate industry, but it's making a lot of waves because of its seamless way of connecting affiliates with merchants. They have big brands on board like Airbnb, Adidas, Allstate, and more.
Impact works the same way as ShareASale. You can sign up for the program and start promoting related products straight away.
Affiliates have a dedicated account manager that guides them on how to maximize their revenue. And Impact also offers custom contracts through which you can negotiate your affiliate commission.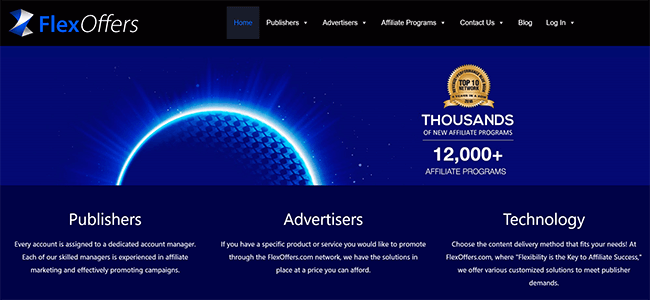 FlexOffers is a popular affiliate network that has access to 12,000+ merchants and advertisers.
They have an easy-to-use affiliate dashboard, and they add 50 new merchants every day. This makes it easy for you to find new products to promote.
FlexOffers assigns a dedicated account manager to every single account. These account managers help you find the best products to promote related to your blog's niche.
Plus, you can use the custom reports to view how well your affiliate links are performing.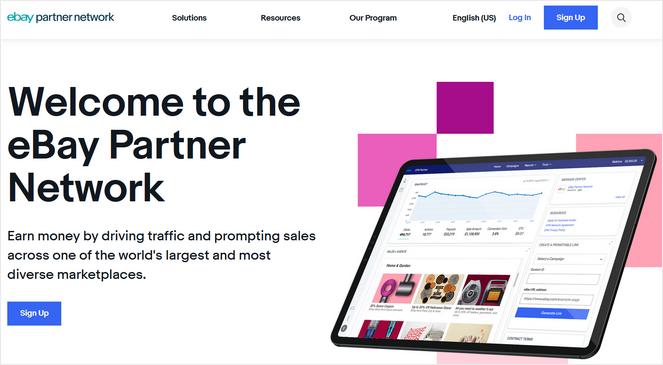 The eBay Partner Network has over one billion listings from a wide range of products. The eBay affiliate program has the same advantages as Amazon Associates. It's well known, has high conversion rates, and has a massive list of products.
eBay has a different way to payout its partners. Instead of getting a regular affiliate commission, you get a 50-70% share of the auction fee based on the product category.
You can also use the user-friendly portal to build ads and campaigns and monitor your performance.
These were some of the best affiliate marketing websites you can join to start your journey as an affiliate marketer.
Now, let's take a look at some of the best affiliate programs.
---
Best Affiliate Marketing Programs
As we mentioned earlier, with affiliate networks, you can connect to a ton of different merchants at once. But, if there's a particular product you love, you can join that company's affiliate program directly.
In this section, we'll be listing some of the best high-ticket affiliate programs. If you're already using any of these tools on your website, you'll want to sign up right away so you can start earning.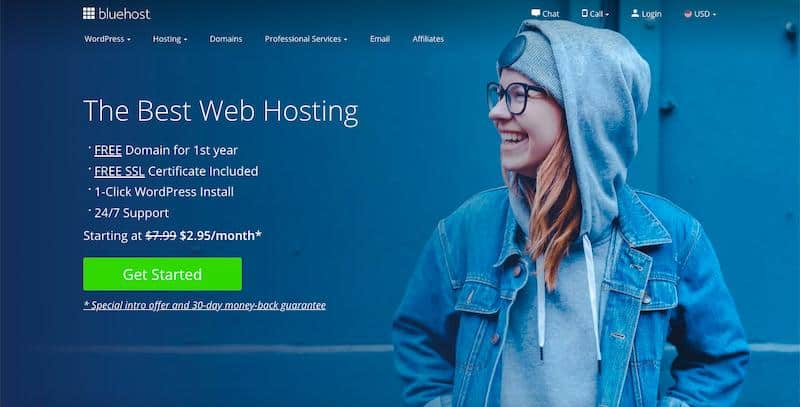 Bluehost is one of the best web hosting services on the market and it powers over 2 million websites. They also offer one of the highest-paying affiliate programs.
If you decide to promote Bluehost, you can earn an affiliate commission of $65 to $130 per sale generated from your blog.
And the best part is that the affiliate program is free to join. You don't need any prerequisites to join their affiliate program, except, of course, a blog.
Bluehost offers reliable tracking. You can rest easy knowing that your sales will be credited to your account. They also have dedicated affiliate managers that help you with anything you need.
Sign up for Bluehost's affiliate program today!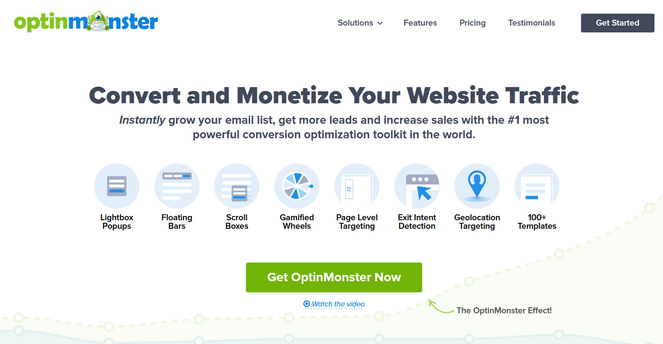 OptinMonster is a popular lead generation tool that will help you convert visitors into subscribers and customers. With this tool, you can easily build eye-catching email optin forms, cart abandonment popups, and more.
So, it's the perfect tool to recommend to readers that are trying to grow their email lists.
You can sign up for OptinMonster's affiliate program and start earning an affiliate commission of 20% with every sale you make.
For more information on their commissions, check out the details below:
The basic plan sells for $108 – you earn up to $21.60
Plus plan sells for $228 – you earn up to $45.60
Pro plan sells for $348 – you earn up to $69.60
Growth plan sells for $588 – you earn up to $117.60
OptinMonster's affiliate program is managed by ShareASale, which means that you will get all the features of that platform, including their sales tracking dashboard.
Sign up for OptinMonster's affiliate program today!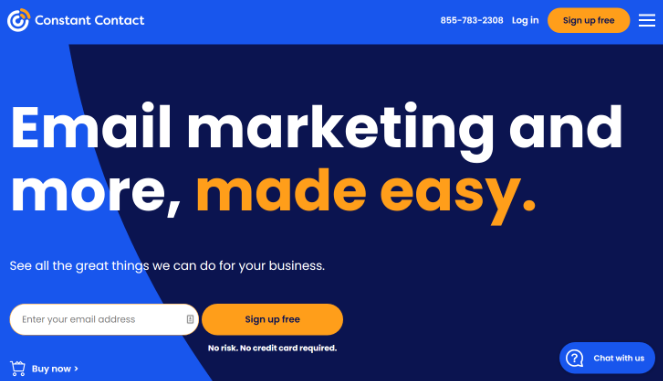 Constant Contact is an easy and powerful email marketing service for small businesses.
If you're already familiar with the product, then you'd know just how good it is. Recommending it to your fellow bloggers and readers can earn you a good amount of money.
If you sign up for their affiliate program, you will get $5 for every qualified lead and $105 when the referral becomes a customer of Constant Contact.
After signing up, you will also get promotional material, personalized support, and an easy-to-use tracking dashboard.
Sign up for Constant Contact's affiliate program today!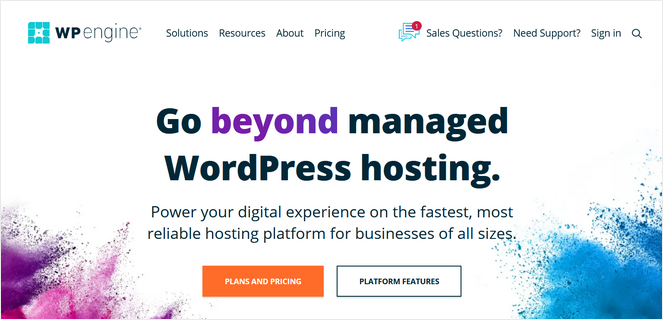 WP Engine, a popular managed hosting platform for WordPress, is another one of the top paying affiliate programs. You can get $200 for every sale you make.
Their programs also offer high incentives for high sales. For example, if you reach 5 sales in a month, you get an extra $100, and for 10 purchases, you get an extra $250.
Another good thing about WP Engine is that it has a 180-day cookie period. If a reader clicks on your link, visits the WP Engine site, and makes a purchase anytime before 180 days, you will be credited with the sale.
The downside is that WP Engine has a low conversion rate because it's very expensive, and not everyone can afford it.
But it's a good product to promote if you have relevant traffic. Who knows, you might start making a sale or two every now and then.
Sign up for WP Engine's affiliate program today!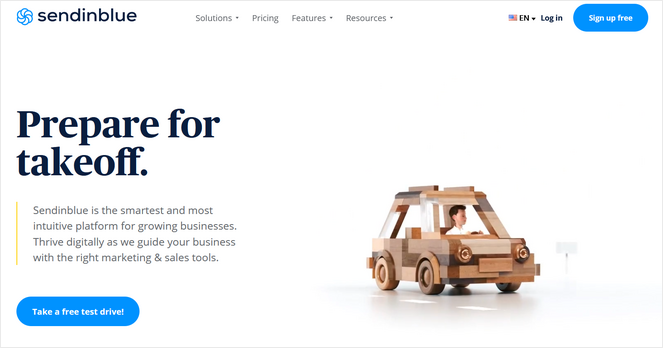 Sendinblue is a another well-known email marketing software, landing page builder, and email automation tool.
Their affiliate program pays you for leads and sales that you recommend. If you refer a user to Sendinblue, you get €5, and for every sale, you receive €100. They are quick and reliable to make payments on time. You can get them via PayPal or bank transfer.
They also have a 90-day cookie period and they use Tapfiliate to track their affiliate sales.
Sign up for Sendinblue's affiliate program today!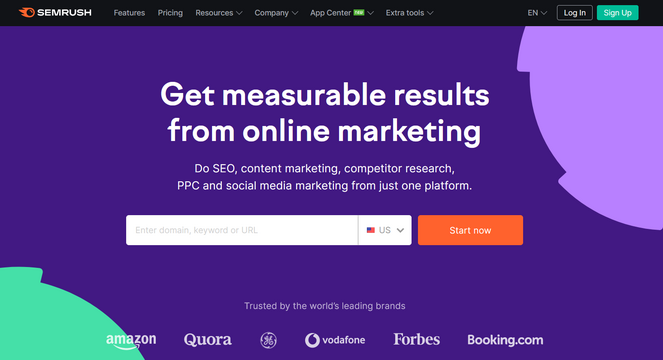 SEMRush is an awesome SEO tool that lets you discover and track keywords, conduct audits, analyze competitors, and more.
Their affiliate program is managed by Impact and they offer a $200 commission for every sale you make. You also earn $10 for every new trial and $0.01 for the new signup. They also offer a generous cookie life of 120 days.
SEMRush also has a lot of promotional material that you can use to promote them on your blog. Plus, the signup process is very simple. You can get started in a few minutes.
Sign up for SEMRush's affiliate program today!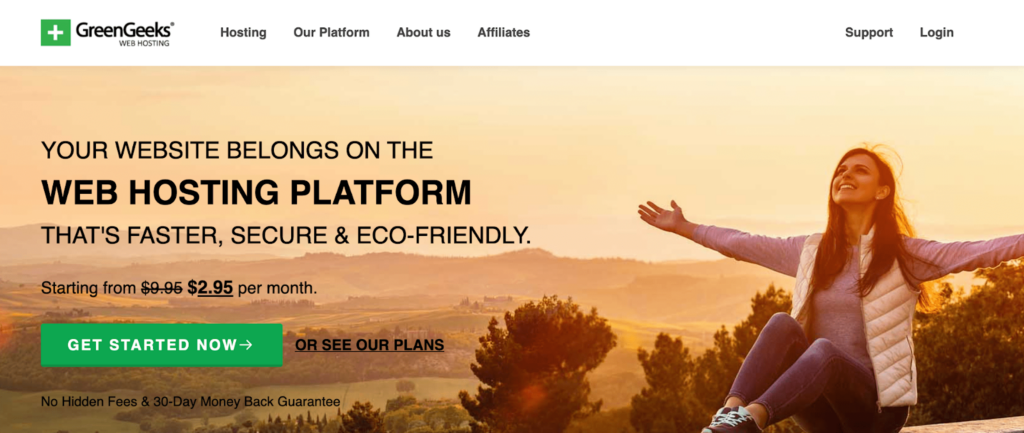 GreenGeeks is an eco-friendly web hosting service and their affiliate program has a tiered commission system that pays very generously. For example, you earn $50 if you get 1 sale per month, 3 sales per month will earn you $70 per sale, and 6+ sales each month will earn you $100 per sale.
You also get access to creatives, content, targeting landing pages, banners, and more to effectively promote the product on your blog.
Sign up for GreenGeek's affiliate program today!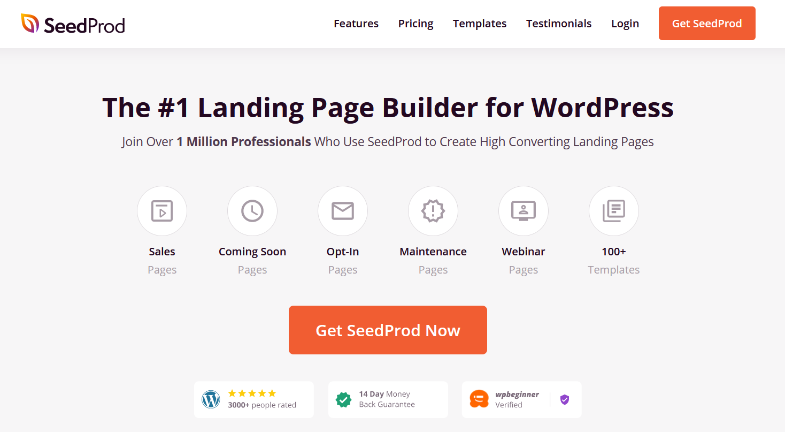 SeedProd is an easy-to-use drag and drop page builder for WordPress. Bloggers can use this plugin to easily create beautiful sales pages, webinar landing pages, squeeze pages, coming soon pages, custom login pages, and more.
SeedProd offers a 30% affiliate commission on all sales. Plus, once you sign up for SeedProd, you also become an affiliate of RafflePress. With RafflePress, you can host giveaways on your blog and social media, and you get a 20% commission on sales of the plugin.
The SeedProd affiliate program is run by ShareASale. So, it offers great support to affiliates and you can go to your affiliate manager with any questions you might have.
The signup process is fairly simple. It takes 24 hours for SeedProd to approve your application. Once it's done, you can start promoting it on your blog.
Sign up for SeedProd's affiliate program today!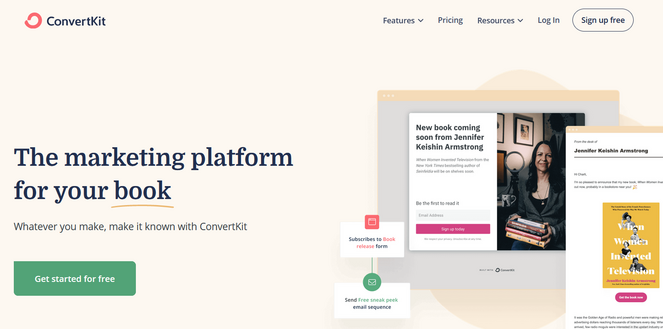 ConvertKit is a platform that offers email marketing automation along with other marketing tools you can use to promote your business.
If you write for an audience that you think can benefit from ConvertKit's email marketing products, you should consider becoming an affiliate.
Their affiliate program offers a 30% commission for every subscription. And ConvertKit's pricing starts from $29 and goes all the way up to $2000. As you can imagine, your income potential can skyrocket if your referral purchases one of the more expensive plans.
Sign up for ConvertKit's affiliate program today!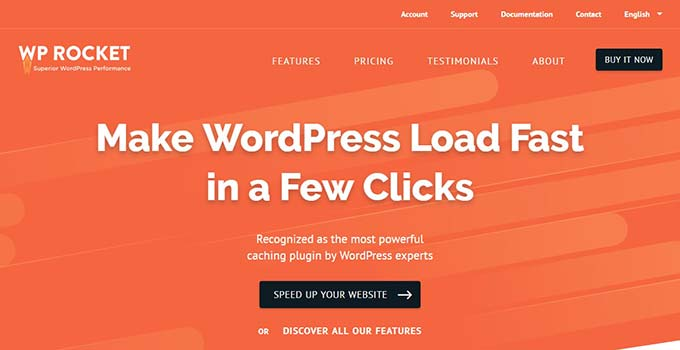 WP Rocket is a popular caching plugin for WordPress. It speeds up your blog by 40% and, in turn, also improves your blog SEO and conversions.
By joining their affiliate program, you can earn a 20% commission for every sale you make. Just like OptinMonster, WP Rocket uses ShareASale to help you track your affiliate sales and traffic.
It also has a 30-day cookie period. So, if a reader clicks on your affiliate link and buys the product anytime within 30 days, you'll get paid.
It takes 48 hours for WP Rocket to review your application to their affiliate program. Once that's done, you can start promoting WP Rocket on your blog.
Sign up for WP Rocket's affiliate program today!
BigCommerce is a well-known online store builder tool that powers thousands of stores across 150 countries.
From the affiliate perspective, BigCommerce offers a commission of 200% of the customer's first monthly payment. You can also opt to promote their enterprise package and get a commission of $1,500. But the conversion rate of the enterprise plan is a lot less than their regular plans.
BigCommerce offers a generous 90-day cookie period. You can get paid anytime within that 90-day window if your referral makes a purchase.
Sign up for BigCommerce's affiliate program today!
---
How Do You Know if a Product Has an Affiliate Program?
A lot of times, you like a product so much that you just want to recommend it to everyone. And there is no harm in making a few bucks along the way.
So, if you didn't see a product you use and love on this list, don't worry. It probably has an affiliate program, you just have to look for it.
To find out if a product has an affiliate program, simply check out the footer section at the bottom of the company's website.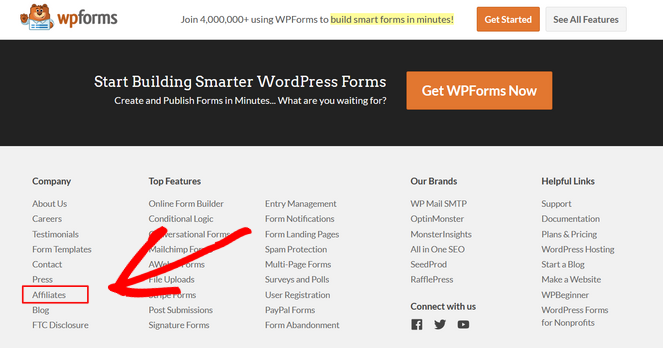 You'll usually find the affiliate program listed under "Affiliates" or "Affiliate Program."
---
Bonus: Affiliate Marketing Tools
After you sign up for some affiliate marketing networks and programs, it's time to start promoting those products on your blog.
But, earning money from affiliate marketing doesn't magically happen overnight.
So, before you go, we want to recommend some amazing affiliate marketing tools that can help you improve your affiliate marketing sales.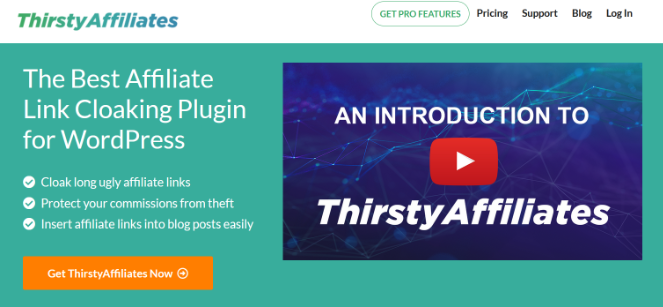 ThirstyAffiliates is the best affiliate link cloaking plugin on the market. With this plugin, you can hide the long, ugly affiliate link and replace them with a more attractive ThirstyAffiliate link.
ThirstyAffiliates also auto links to keywords in your content. For example, you can set up ThirstyAffiliates to automatically link the keyword "OptinMonster" with its affiliate link. This way, you won't have to link them manually, and you'll save time.
It also gives you stats and reports in the dashboard. From there, you can see which of your affiliates is getting the most traffic. You can use this data to optimize your affiliate marketing efforts.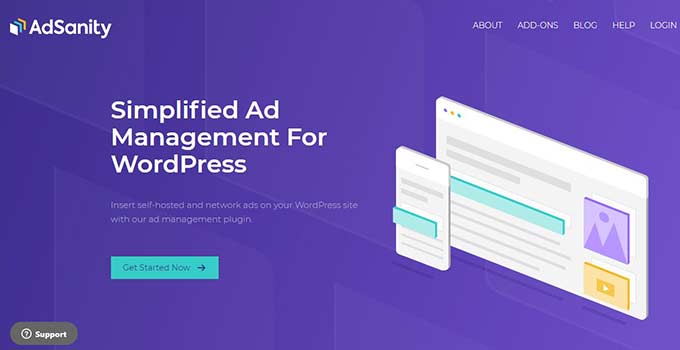 AdSanity is the best WordPress ad management plugin. You can use it to show ads on your blog and make them look professional.
It's a great plugin to have if you're an affiliate marketer because it allows you to add affiliate links to your ads. You can also insert affiliate banners into widgets, sidebars, posts, and more. Plus, you can see graphical stats for each ad from the dashboard and use that information to improve your ads and get more clicks.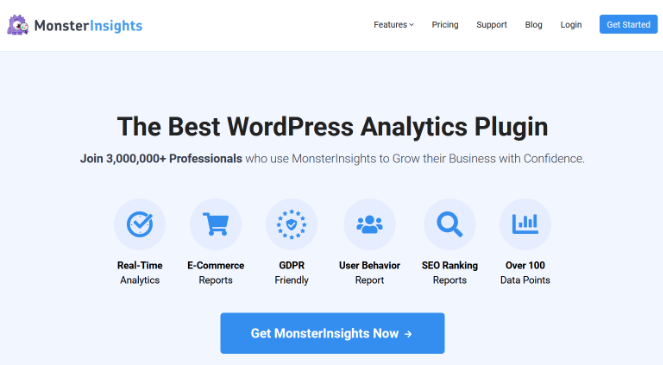 MonsterInsights is the best analytics plugin for WordPress. With this plugin, you can monitor your blog traffic and other important Google Analytics stats right from your WordPress dashboard.
But from an affiliate marketing standpoint, MonsterInsights has an affiliate tracking feature that can tell you how many visits you are sending to your affiliate partners. You can also see how well your affiliate campaigns are performing, analyze the data, and make changes based on your findings.
---
There you have it, folks!
We hope that you found our guide on the best affiliate marketing programs and websites useful. If you have any questions or if we missed out on your favorite affiliate program, then let us know in the comments below.
If you liked this guide, then also check out our guide on how to get traffic to your blog.
And don't forget to sign up for our email newsletter so you can get useful content like this sent right to your inbox!