The sidebar is an often misunderstood part of a blog or website.
99% of the time you will see it clogged up with social media icons, affiliate ads, email subscription boxes… the list is endless.
But is your sidebar really working for you? Is it working as smart as it could be?
In this post I am going to show you five ways to make your blog's sidebar work a lot smarter.
NOTE: You might want to take a look at a post I did on Problogger a few months ago about the web's best sidebars. It might give you some ideas.
1. Change your sidebar regularly for SEO
It is really important that you regularly change your sidebar so that Google's spiders find new content on pages that otherwise might not be refreshed ever again.
I first learnt this tip from Neil Patel who suggests adding a Top Commenters plugin or some automatic feature that shows new content.
As you can see I like to have random posts cycling through in my sidebar. This keeps the area fresh for blogging SEO purposes but it also relates strongly to the next point.
2. Re-work the layout to prevent blindness
Have you heard of ad blindness before? Its where people see an advert or a style of advert so much that they just stop noticing it.
Google Adsense suffers from that phenomena because it is seen on hundreds of thousands of websites and blogs every single day (Here's a video I did on increasing Adsense CTR).
I spent a lot of my career working out how to get more ad clicks in order to sell my blog, but I never really (til recently) thought about tweaking the elements in my sidebar to prevent people from going blind. Some of the things you might try include:
Re-designing your opt in form
You should be constantly tweaking and designing your opt in form for better conversions. Try new graphics, colors or no graphics and colors. Measure the results with Aweber.
Rotating the structure
If you have had everything in the same position for years you might want to change things around and see if people start to notice it more.
Split test
Set up split tests so that sometimes people see one thing, other times they see another. This is also a really good way to measure your results.
Don't fall into the trap of doing this stuff at the expense of writing good content. But try it when you can.
3. Promote your content over other people's
One of the worst things you can do in your sidebar is promote your in less important positions than your own.
The biggest offender here is affiliate ads. We all know that little 125×125 squares that promote various affiliate products. Nowadays bloggers will prioritize them over their own stuff.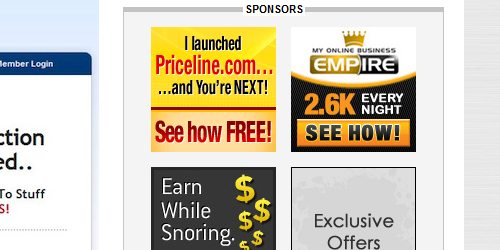 An ad filled sidebar
Here's why this is a bad idea: the more weight you give to sending people away from your site, the less chance you will have to convert them in to a long term reader. Sure, you might make $50 on an affiliate commission but that could represent hundreds of lost dollars if that person was to become a loyal reader who bought your own products down the track.
Make sure your content goes above the fold and features more prominently than other stuff.
4. Remove as much as possible
If you've been reading Blog Tyrant for a while you will know that I used to have a lot in my sidebar – links Facebook, Twitter, Youtube, iTunes. Popular posts and top commenters. Email subscription areas and more.
Now I have only two things: my email opt in form and some popular posts for people to read.
I know I am not really following the conventional wisdom that says you should promote your social media accounts, etc. But here's the thing – my Facebook Page is getting just as many likes, my Twitter account is getting just as many follows and I am getting more subscribers to my email list.
I am still really unsure as to whether people actually interact with those things in the sidebar. I think it comes from other places.
Try removing everything from your sidebar except for the essentials. See what results you get and them come back here and let me know in the comments. Thanks!
5. Research your niche
Something that a lot of new bloggers don't realize is that all niches behave differently. Sometimes something that works in the fitness niche won't get results in the marketing niche.
Let me give you an example.
I once ran a successful blog that was aimed at older women's issues. This blog had the exact same layout as another of my sites that was aimed at younger people (men and women). Both ran the same sidebar Adsense ads with the same colors and placement.
The result?
The site aimed at older women had a much higher click through rate. They just weren't as experienced and web-savvy as the younger crowd and as such didn't know that they were clicking ads.
The lesson here is that a lot of niches behave differently and you need to find out what works for yours. Visit the big blogs and websites in your topic and find out what they are doing in their sidebar. See if there are any takeaways that you can learn.
Want to get your sidebar fixed?
I'd like to hear from you if you have changed something in your sidebar and got really interesting results. I'd REALLY like to hear from you if there is something in your sidebar that is not getting any results at all. Maybe the amazing Blog Tyrant community can help turn things around?