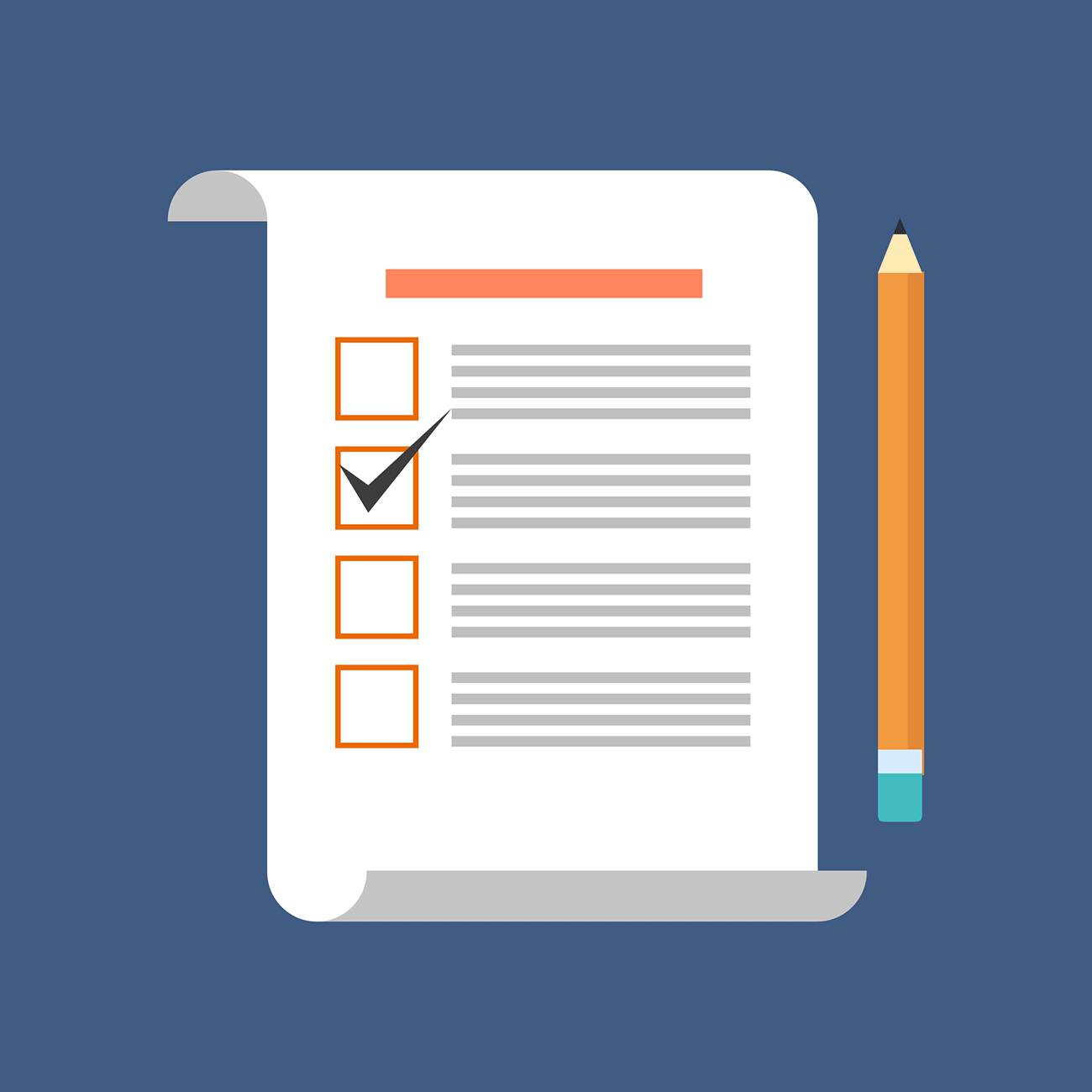 Last Update: June 19th, 2017.
Feedback is one of the most important things you can get from a reader. And one of the best ways to get that feedback is to create an awesome survey that your blog readers actually enjoy filling in.
In this article I'm going to show you:
why surveys are so important for your blog's growth
what WordPress plugins you can use to do a basic survey
strategies for making sure you get the right answers
how you can develop a more in depth and free survey for your mailing list
how to use the information properly
extra resources to master survey question writing
As always, if you have ever conducted a survey and have some insights to pass on please leave a comment and let us know.
Let's get started!
Why are surveys are so important?
At some point you really need to stop guessing. When I take a good look at myself I am often really surprised at how much guess work I do around my blog.
Sure, I have a fair idea about what my readers might like based on two years of getting to know them, but the best way to do things is to occasionally ask.
Surveys let you find out things like:
who is actually reading your blog (age, sex, location, interests, etc.)
what content people would like to see more of
what products they might be interested in purchasing down the track
what problems they have with your blog
any ideas they have for improving your delivery, design or approach
All of this information can help you expand and grow in areas that you might not have even known were problematic or underdeveloped.
How to create a survey for your blog readers
There are a few ways to do this thing so I am going to show you the quick and easy methods first and then get in to something a little more professional and polished.
1. Use your comments area
The first and most basic way to survey your readers is to just ask them in the comments area. This has several advantages:
It is familiar
Readers don't have to learn anything new so will be often more likely to answer.
It is free and easy
No cost to you and you don't have to master and new software.
Readers can feed off others ideas
Comments aren't anonymous so readers will see the other comments and get involved in discussions. This can give birth to new ideas.
However, there is also a few disadvantages to using the comments area like:
You can't limit responses
With a survey you can limit responses so that you get the correct information out of people. In the comments area people are just free to talk.
Public forum might stifle the truth
What was a plus above might be a negative as well. Some people might not want to express their full opinions in public.
Here is an example of a semi-survey that I did recently where I asked my readers whether they would prefer new comments to appear first or last. It resulted in some really cool ideas and discussion (as always!).
2. Use a simple WordPress polling plugin
Now, some of you might disagree with this but a simple poll that you embed in your sidebar or blog post is also a type of survey.
This can be particularly useful if you do several different polls over a period of months because people will get used the interaction on your blog and look forward to having their say and checking back to see if their is a new poll. Darren used to do this over on ProBlogger quite a lot and I really liked it.
The plugin WP-Polls lets you create single or multiple-answer polls that you can easily whack in your sidebar or post and gather information.
NOTE: Remember, if you want to install a plugin nowadays you just login to your dashboard and go PLUGINS > ADD NEW > SEARCH and locate the one you want. No need to download to your computer anymore.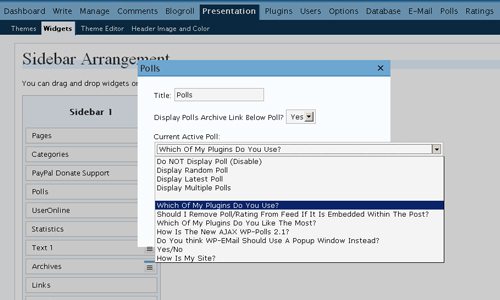 The above screenshot shows you how you can use the widget to select different polls that you have created. All of the setting up and monitoring of results is done within your WordPress Dashboard.
Here we can see an example of a simple multiple-answer poll that you can have present on your site permanently or for a set period of time.
3. Create a professional and powerful survey with Survey Monkey
If you want to get a bit more serious with your polls I highly recommend Survey Monkey which is free for up to 100 responses.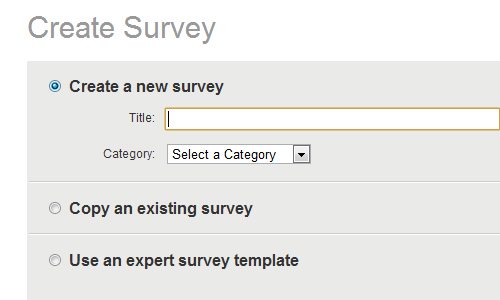 To get started with Survey Monkey just visit their site, sign up for a free account and then click "Create a Survey". This will take you to a beautiful survey creator area which is extremely simple to follow.
They even give you little tips along they way to make sure you've thought of everything!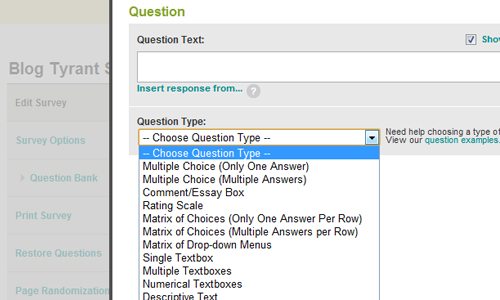 The first really cool thing which you'll see from the screenshot above is that there are a whole bunch of survey types that you can choose from. These range from simple blank boxes where people can write essays to complicated multiple choice answers that go through a variety of stages.
Generally it is a good idea to keep things simple and separate your questions by topic or the nature of the answer. Never ask more than one question at a time.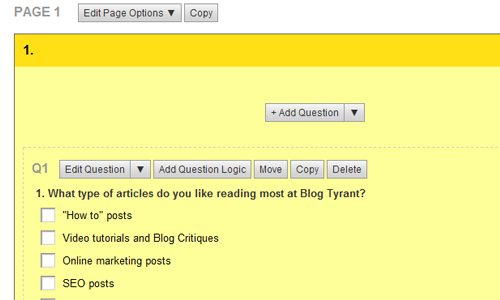 As you can see, you then get a really cool area where you can edit your questions and look at a preview of how your readers will see the survey. This is a very important step.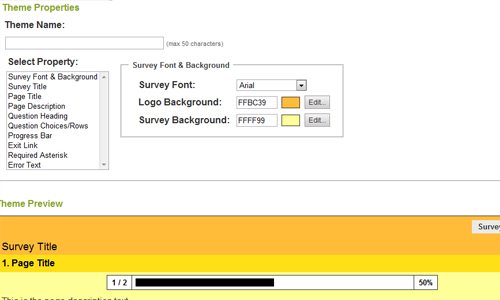 Another really cool feature of Survey Monkey's is their template creator where you can custom design and build a template that is branded to your own logo and colors. This can often have a positive effect on your survey participation rate because people feel like they are doing something that is a part of your website, not someone elses.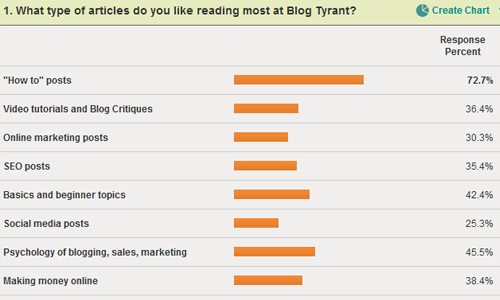 Once you have finished with your survey you get access to some really beautiful stats that show you visually how the different aspects of your survey performed. You can turn these in to charts and even download the results into Excel to create spreadsheets for further analysis.
Some of the main advantages of Survey Monkey include:
Great support
If you aren't sure about something you can just jump on support and get some expert help.
A database of questions
Asking the right questions is extremely hard. Survey Monkey have a huge database of questions written by experts that you can tap into in order to reduce bias, etc.
Live results
There is something really cool about watching the answers come in live. You can read them as you go.
Easy interface
I love it when a complex task like creating surveys is made super easy. Their step-by-step editor is one of the best I have used and beginners and experts will really enjoy it.
Email, Facebook and Blog delivery
These surveys can be sent out to your email list, posted on Facebook or linked on your blog. Once you have that final survey URL you can add it anywhere you like.
This really is a much more powerful and robust way to get information.
How to ask the right questions and get the most from your survey
Over the years I have done quite a few surveys on my different blogs. While I am no where near an expert in the field I can hopefully offer you a few pointers.
1. Define your survey goals
The first step is to come up with some goals for your survey. If you don't think of these at the beginning your survey might come across as directionless and end up confusing people due to the lack of focus.
It is very important that your readers know what type of information you are after.
Some goals might include:
getting feedback on a recent event
finding out demographics about your readers
discovering levels of interest around an upcoming future event or product
etc.
Make sure you have one goal per survey.
2. Keep it short
People get bored really easily and their levels of generosity will drop off quickly. Make sure your survey is really short and takes no more than a minute to fill out.
It is my belief that if you're survey takes much longer than this you are either asking the wrong questions or need to offer a bigger participation reward. This leads me to my next point.
3. Consider offering a reward
Some bigger events send out surveys and put you in the draw to win a big prize if you fill out the survey. This shows your readers that you are serious and also helps them understand that the data you are collecting is valuable. An Amazon.com Gift Card or some prize related to your blog should be enough.
Do not make the prize too big, however, or you run the risk of getting surveys filled out by people who aren't really interested in helping – they just want to go in to the draw.
4. Limit response options
There is a marketing rule that says that the more choices you give people the less likely they are to make one. I have found that this applies to surveys quite well. [Tweet this quote]
Limit people's response options and you will find that the answers are often more accurate and you get more of them. For example, instead of having an option where people can write their own answer give them three pre-defined choices.
This isn't always possible, of course. Sometimes you need to hear people's own thoughts.
5. Know your research participants
It might seem simple but it is really important to know who you are asking these questions to.
For example, in my niche I need to know whether I am talking to beginners or experts. I need to have some idea about their level of education and how well they understand the terms that we are talking about.
Try to become familiar with your audience before you send out the survey.
6. Take time crafting your email and subject line
If you are sending out your survey by email to your list you want to spend a good amount of time making sure your email gets attention and helps set up the survey.
For example, if you have a list of 1000 people you might be able to get an open rate of 400 people with a bad title and 600 people with a good title. That makes a big difference to the amount of surveys that you might get back.
The body of the email itself should set up the survey – tell people why you are doing it and let them know how valuable their input is.
And, as always, make sure you say please and thank you.
7. Use simple language with minimal jargon
Closely related to the previous point, you want to make sure you are using language that is easy to understand when just glanced at.
We all know that people don't spend much time trying to understand or read things deeply on the internet. They skim. And your survey is no different.
Keep the language simple and to the point.
More excellent resources for your surveys
Here are a few more really cool articles, plugins, tutorials and what not that I found when writing this article.
If you know of any others feel free to leave a link in the comments.
What's your survey experience?
I'm sure not all of you have created a survey but I bet everyone has participated in one. What was your experience? What worked and what didn't? Please leave a comment and let me know.
Top photo: © Sibgat