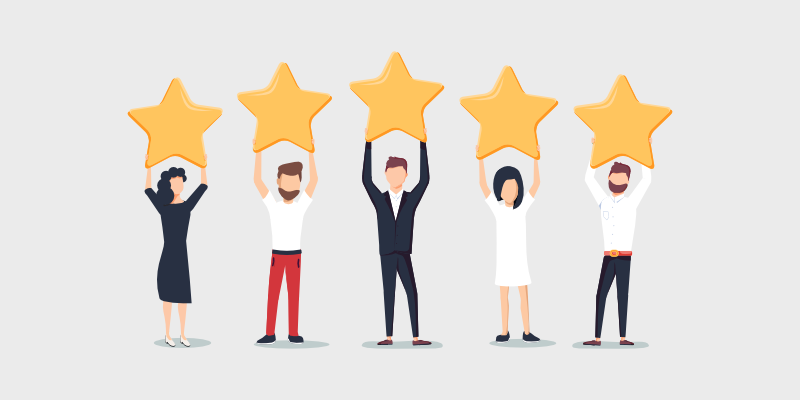 A re you looking for social proof examples for bloggers? In this article, we'll share powerful social proof examples you can use to build trust and boost conversions. 
When you start a new blog, it can be difficult to get visitors to trust you. And they need to trust your blog if you want them to become loyal readers, email subscribers, or customers. 
So, how do you increase trust? 
By using social proof on your blog!
Adding just a few forms of social proof to your blog will help you build trust with new visitors and improve your conversions. 
Let's look at some of the best social proof examples you can use on your blog. 
But first, let's go over what social proof actually is.
What is Social Proof?
Social proof is a psychological and social phenomenon where people look to the actions of others to decide what to do in a particular situation. 
For example, if a restaurant has a ton of great reviews, you're more likely to order from that restaurant; you already know that a bunch of other people enjoyed the food from there, so you'll probably enjoy it too. 
That's social proof in action. 
There are 6 types of social proof:
Customers – Social proof from your existing customers or readers.
Experts – Social proof from credible experts in your industry. 
Celebrities – Social proof from celebrities or social media influencers.
Crowds – Large numbers of people that enjoy your blog or product.
Friends – Social proof from friends of your website visitors. 
Certifications – A certificate or badge from a credible 3rd party entity. 
A lot of companies use these social proof marketing techniques to encourage people to do business with them. 
And you can use the same social proof strategies to turn visitors into loyal readers, get more email subscribers, and generate more sales.
19 Social Proof Examples
Now that you know what social proof is and why it's so powerful…how do you show social proof on your blog?
Let's dive into social proof examples you can use.
1. Blog Post Comments
Blog comments are a great way to show social proof. With blog comments, visitors to your site can see that other people are enjoying your content and finding it helpful.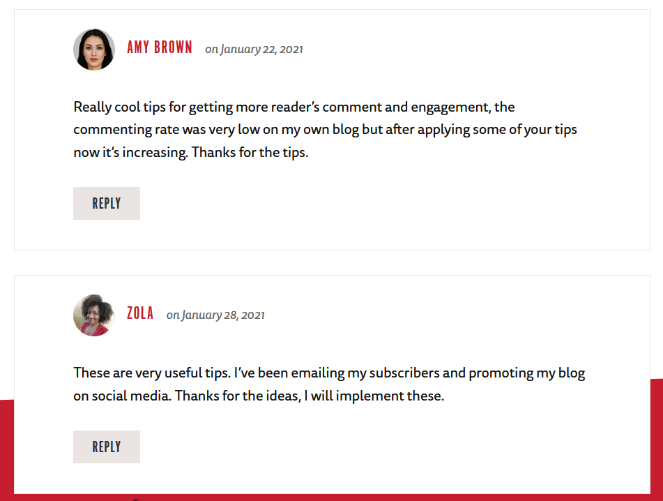 Comments like these show that your blog is a great resource to learn from and it will encourage new visitors to read more of your posts. 
Plus, it will also encourage visitors to leave a comment themselves, which helps boost engagement. 
If you don't have a lot of comments on your blog, check out our guide on how to get more blog comments.
2. Number of Email Subscribers
Another form of social proof you can show on your blog is the number of email subscribers you have. 
You can display this on your blog similar to how WPBeginner does it in the example below:

This works best if you have a lot of subscribers to show off; a big number will encourage visitors to sign up for your newsletter too. 
Don't have enough email subscribers to show off yet? 
You can grow your email list fast by using a tool like OptinMonster. With OptinMonster, you can easily create eye-catching email popups.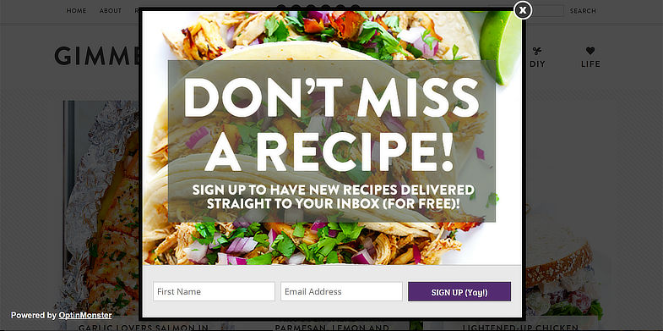 There are many different campaign types and triggers so you can send exactly the right message at exactly the right time to convince people to join your email list. 
For more tips, check out our guide on how to get more email subscribers.
3. Written Testimonials
Testimonials are a highly-effective way to show social proof on your site. Testimonials are written by happy customers that have benefited from your product or service. So, they're perfect for convincing potential customers to buy. 
In this example, Melyssa Griffin created a testimonials page to encourage visitors to sign up for her online courses: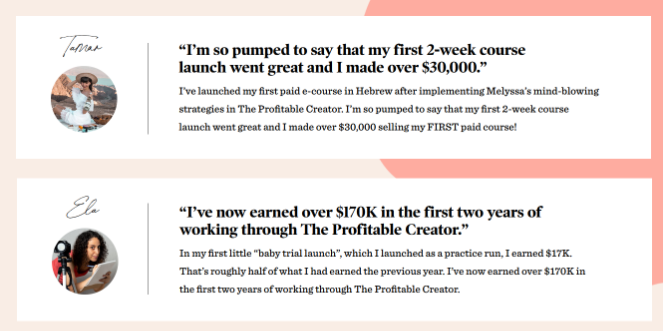 She even included customer photos to make the testimonials more authentic and engaging. 
You can easily create your own landing page with SeedProd to showcase testimonials on your site.
Using SeedProd's drag and drop builder, you can add elements like headlines, images, star ratings, videos, and more, to create a testimonial landing page.  
And if you don't have any testimonials yet, check out our guide on how to get testimonials.
4. Video Testimonials
Aside from written testimonials, you can also use video testimonials on your website to show social proof. 
Skincare company BioClarity uses a combination of written and video testimonials: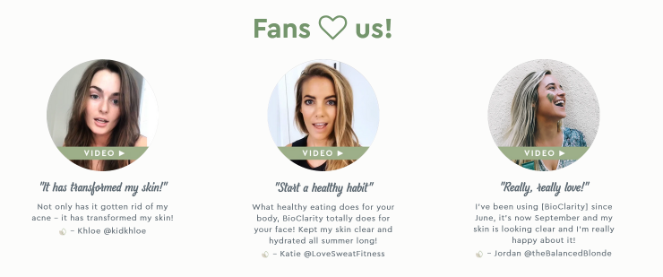 People tend to prefer watching videos over reading about a product, so using video testimonials can be very successful. 
In fact, according to statistics, 84% of people say they've been convinced to buy a product or service by watching a brand's video.
5. Case Studies
Case studies are similar to written testimonials, but they go into even more detail about the success customers have with your product or service. 
A case study is longer, similar to the length of a typical blog post, and tells the story of one of your real customers. Just like a real story, it has a beginning, middle, and end; the problems your customer faced before using your product, how they used your product to solve their problem, and the results they achieved. 
Potential customers can read these stories of people they can relate to and feel more confident about choosing your product. 
Check out this guide on how to write an epic case study. 
6. Popular Posts/Products
Displaying your most popular posts or products on your blog shows that other people are interested in them. 
For example, OptinMonster displays its most popular posts in a prominent place on the site: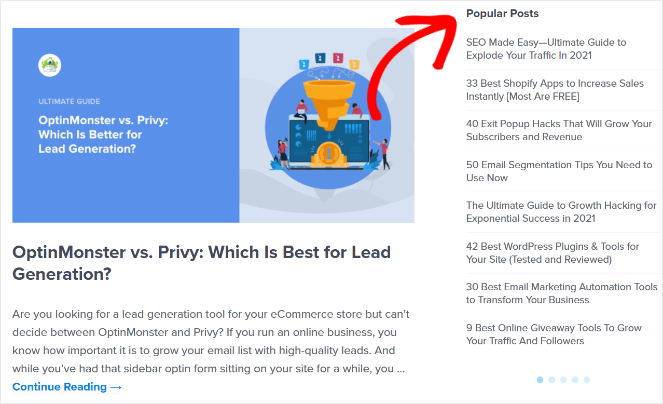 This can help you increase pageviews, boost engagement, and keep visitors on your site longer. 
You can easily display your most popular posts or products on your blog using MonsterInsights. 
With MonsterInsights' Popular Posts and Products feature, you can customize the Popular Posts widget to match your site's theme, choose which posts to display, and more.
7. Social Media Shares
If your blog posts have a lot of social media shares, that shows your blog visitors that your content is worth reading. 
When your content is so good that readers are sharing it with their friends on social media platforms, it encourages others to read it and share too. 
You can use a plugin like Shared Counts to easily add social media sharing buttons to your blog and display the social share count.
8. Social Media Followers
The number of social media followers you have can also encourage people to read your blog and join your online community. 
So, try displaying your social media followers on your blog with a plugin like Smash Balloon. 
WPBeginner used Smash Balloon's Custom Facebook Feed Pro to embed their Facebook feed on the blog. Using the plugin, you can choose to show how many followers you have at the top of your feed: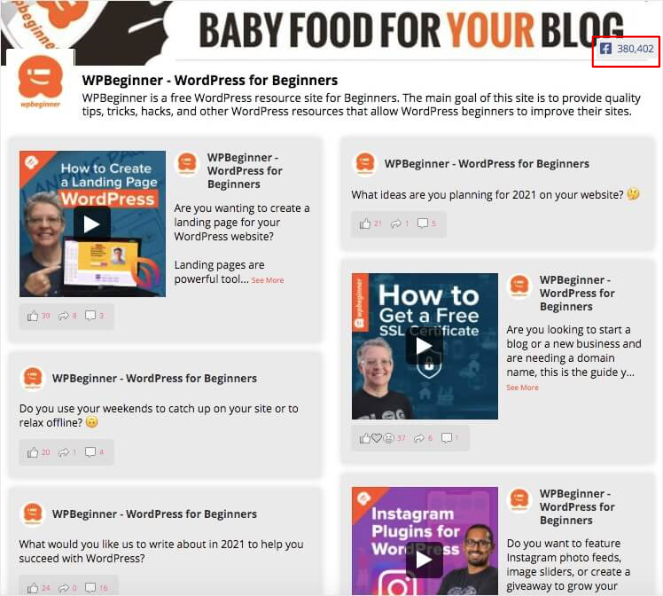 Not only does this help you build social proof on your blog, but it also provides more engaging content for your readers and it can help you grow your social media following.
9. Social Media Shoutouts
You can also embed a social media feed of shoutouts and testimonials to show social proof on your blog.
Here's an example: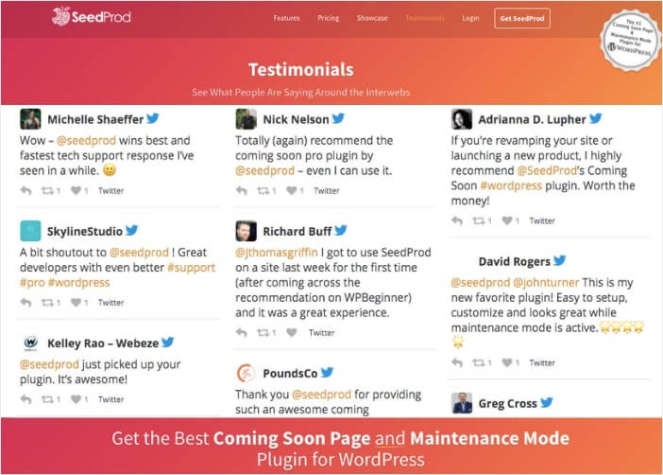 Using Smash Balloon's Custom Twitter Feeds Pro, you can search for tweets with your blog or company name in them, and display them all on your website. 
10. Guest Posts from Experts
Here's another social proof example: consider accepting guest posts on your blog from influencers or experts in your industry. 
Having guest posts by well-known experts on your site will boost your credibility by association. Your readers will attribute the expert's authority to you because the post is on your site. 
Plus, the expert's fans will check you out and be more likely to trust you because their favorite influencer is featured on your site. 
11. Publications You've Been Featured In
On the flip side, if you've been guest posting on quality websites, you can also display the publications you've been featured in on your own site. 
Here's how Syed Balkhi does it:

Showcasing the big-name publications you've been featured in can help you build authority in your niche. 
12. Certifications
Another social proof example you can use to build trust is certifications. Simply display the certificates you've earned from courses you've taken related to your industry.
Here's how freelance writer Kristi Hines displays her certifications: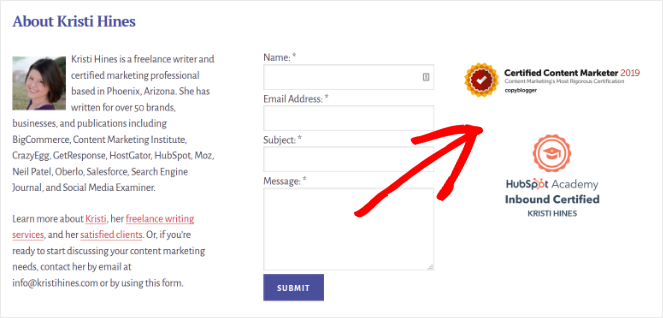 Most certifying and accrediting organizations, like CopyBlogger and HubSpot, offer badges that you can display on your site.
Aside from course certifications, you can also showcase contests you've won or awards you've received for your work.
13. YouTube Channel Stats
YouTube is a super popular video platform and you can use it to market your blog or business. 
If you've got a YouTube channel with lots of subscribers and views, why not show off your YouTube channel stats to build social proof?
By showing off your YouTube stats, you can encourage other people to check you out too. 
You can use Smash Balloon's Feeds for YouTube Pro to embed a YouTube feed on your blog.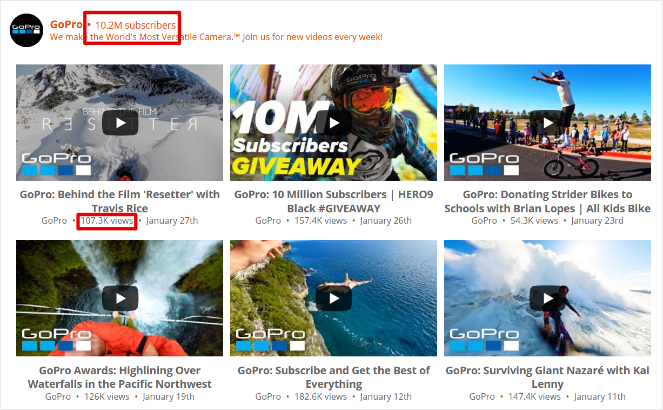 As you can see in the example above, your blog readers will be able to see all of the awesome video content you create, as well as how many subscribers and views your channel has. 
14. Viral Contest Entries
By running a giveaway, you can increase brand awareness, boost social media following, grow your email list, and even make sales.
We recommend using RafflePress to run your giveaways. Creating a giveaway is easy with RafflePress and on the entry form, you can display the total number of entries: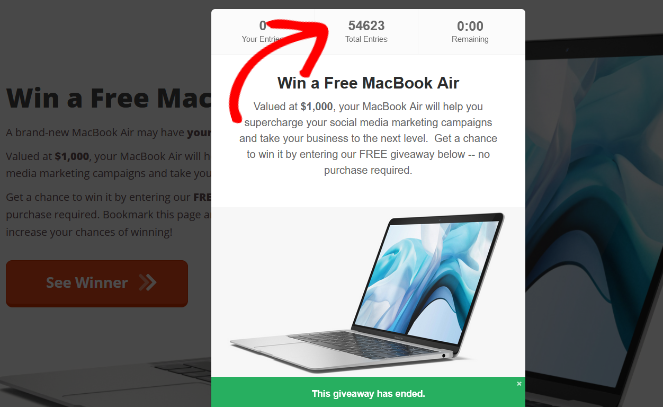 A viral giveaway is an awesome way to show social proof on your blog.
15. Product Ratings
If you have an online store, then you can add product ratings to show social proof. 
The more positive ratings your products have, the more likely people are to buy them. 
Just think about when you shop on Amazon. When browsing similar products, do you usually pick the one with great ratings or one without any ratings at all? 
Most people choose the product with lots of ratings because it shows the product has been purchased and enjoyed by others. 
With WooCommerce, you can easily add reviews and ratings to your product pages.
16. Customer Photos
Photos created and submitted by your customers are a form of user-generated content. User-generated content is a powerful form of social proof because the content is created by real customers, instead of by the company. 
So, when visitors see photos from real customers using your product, it influences them to become a customer too.
Many companies post these photos on their social media accounts but also add user-generated content feeds to their website as well. 
Here's an example from Lunar Beauty:

You can easily create a customer showcase like this by embedding an Instagram hashtag feed on your blog using Smash Balloon's Instagram Feed Pro.  
For step-by-step instructions, take a look at our tutorial on how to display an Instagram hashtag feed on WordPress.
17. Trust Seals
Another easy way to add social proof on your website is with trust seals. If visitors to your site are worried about their security, trust seals, or trust badges, will make them feel safer doing business with you.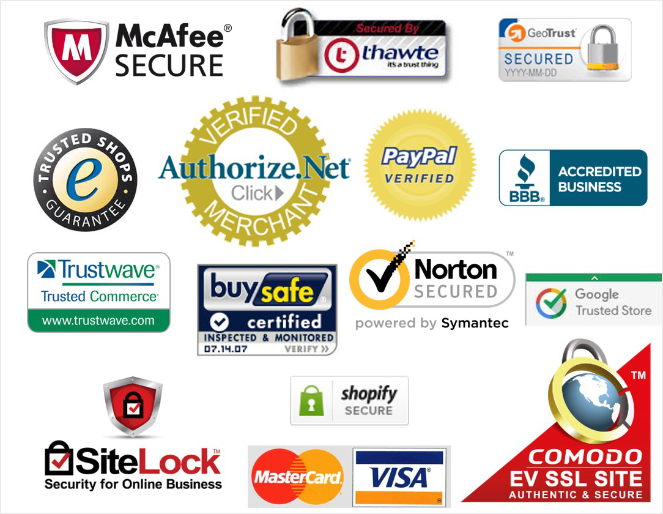 CXL Institute did a study and found that familiar brands like Visa, Mastercard, PayPal, Norton, and Google were some of the most trusted seals when paying online. 
18. Bestseller Banners
You can also add "bestseller banners" on your site to show social proof. 
This social proof example shows visitors which items in an online store are the most popular. If they can't decide what to buy, a bestseller banner can encourage them to make a decision faster. 
This tactic is commonly used by booksellers like Barnes and Noble, but many different eCommerce websites use bestseller banners to increase conversions as well.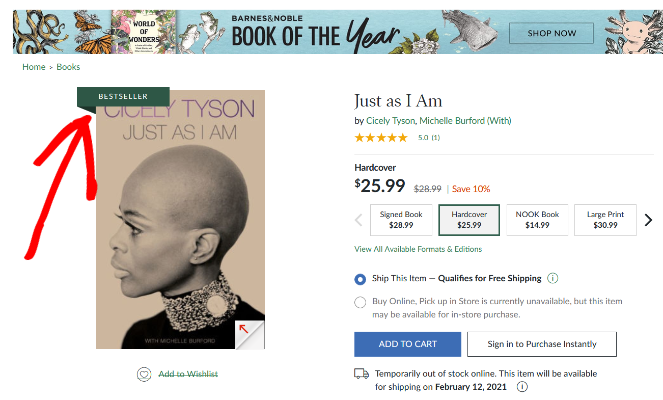 19. Social Proof Notifications
Lastly, one of the best types of social proof you can use on your blog is social proof notifications. 
With social proof notifications, you can display messages in real-time whenever someone takes an action on your site, like signing up for your email newsletter or purchasing a product.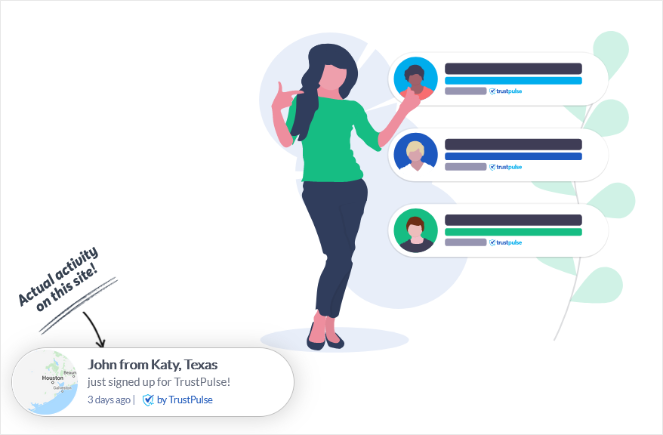 It's easy to get people to take action when they see other real people doing the same thing.
To add social proof notifications on your site, we recommend TrustPulse. TrustPulse is one of the best social proof tools on the market.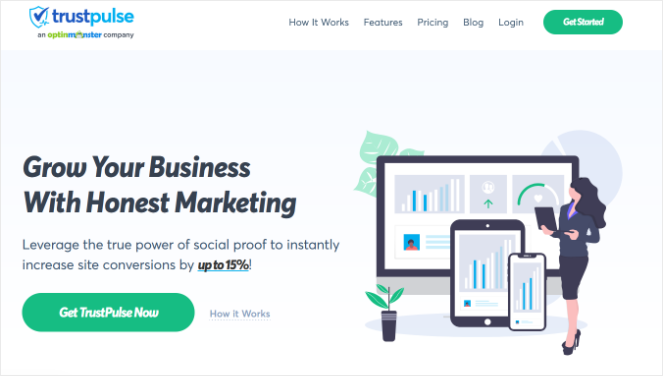 TrustPulse is super easy to set up and it includes powerful features like real-time event tracking, smart targeting, "on-fire" notifications, and much more. 
That's a wrap! We hope you enjoyed this list of the best social proof examples for your blog. 
Try adding a few types of social proof to your website today and watch your conversions rise!
If you liked this article, you might want to check out our guide on easy ways to boost conversions. 
Also, don't forget to subscribe to our newsletter for more blogging tips.