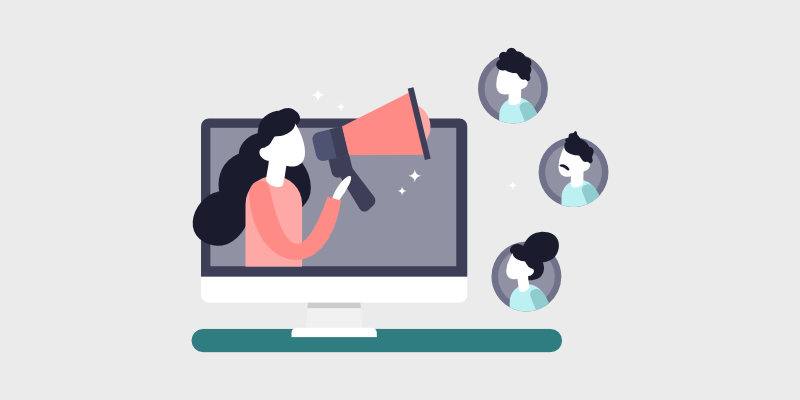 A re you looking to increase your blog engagement? Then you've come to the right place! In this article, we'll share 14 actionable tips to show you how to increase your blog engagement.
Bloggers put so much effort into writing great content and generating traffic for their new blog, but it still doesn't get the engagement it deserves.
Website engagement is an important metric for any website's success. Even if you attract a considerable amount of traffic, this won't mean much unless you're able to engage visitors.
Because engaged readers are more likely to:
Stay on your website longer
Interact with your blog by commenting or sharing your posts
Sign up for your email newsletter
And return to your blog again and again
Now that you know the importance of getting good engagement on your blog, let's discuss how you can improve it.
Ready? Let's go!
1. Reduce Page Load Time
Running a website with a slow loading time can hurt your efforts to engage with your audience.
Imagine that you stumble upon a website that takes forever to load. You probably won't stick around because it's frustrating to wait and wait. The same can be said for your readers; they won't stick around either if your blog takes forever to load.
Various studies show that a 1 second delay in page load time can lead to a 7% loss in conversions, 11% fewer page views, and a 16% decrease in customer satisfaction.
As you can see, having a fast-loading site is important if you want your visitors to stick around and interact with your blog.
If you want to check your website's page speed, you can use Blog Tyrant's Free Website Speed Test Tool.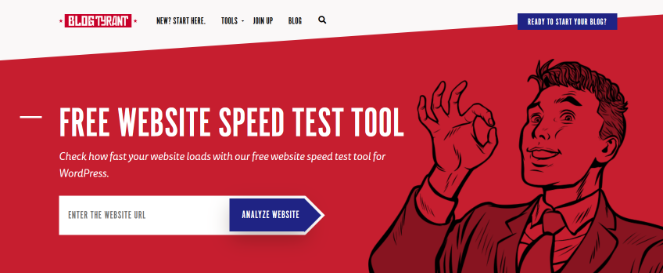 All you have to do is enter the URL of the website and our tool will analyze the website for you.
Once it's done analyzing, it will show you your speed test overview and give suggestions to improve your website speed.
You can also check out our guide on how to speed up your website for more details.
2. Use a Responsive Design
52% of the global population use their mobile devices to access the internet and this figure is expected to rise by the end of 2021. This means that bloggers must build a website that works well for both mobile and desktop users.
If not, you'll be losing 52% of your potential readers and engagement, and as a blogger, you wouldn't want that to happen if you want to be successful.
Ensure that navigating your blog on a mobile phone is just as smooth as navigating it on a desktop.
You can easily make your WordPress blog mobile-friendly by installing a responsive WordPress theme.
Responsive themes automatically adjust based on the user's screen size—this means that your blog will look great on any device.
Hestia is a beautiful responsive theme with lots of powerful features and customization options: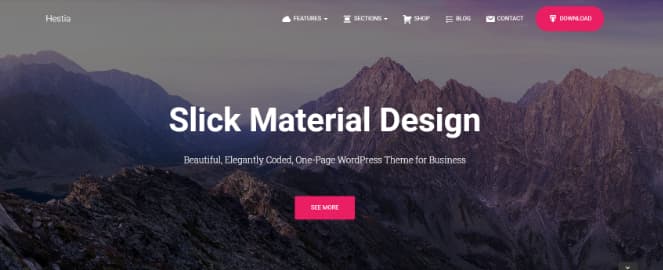 For more responsive themes, here's a list of the best responsive WordPress themes for you to choose from.
Using a responsive design has many advantages. Not only will it help you improve your blog's engagement, but it can also help you rank high on search engines and drive more traffic to your site.
If you're new to WordPress, you can read this guide on how to install WordPress themes.
3. Create Engaging Content
Creating interesting content is essential for generating user engagement on your website. If your readers find your content valuable, they will return for more and also share it with their peers. This will bring in more traffic and more engagement.
So, how do you create engaging content?
Here are a few tips:
Write Awesome Blog Posts
There are a lot of factors that contribute to making your blog post awesome. You need to use the right words, do proper formatting, make it visually appealing, and most importantly, you need to answer the reader's questions.
We have covered this in great detail in our post on how to write the perfect blog post. Check it out!
Make Your Blog Titles Captivating
You can hook your readers and increase engagement with captivating titles. Since the title of your blog post is often the first thing that readers see, an exciting title can encourage them to click and keep reading.
But how do you create interesting blog titles?
You can use the IsItWP headline analyzer tool to make your titles captivating. All you have to do is enter the title and click Analyze.

Once it's done analyzing it will give you an overall score and some recommendations on how to improve your title, as shown in the image below.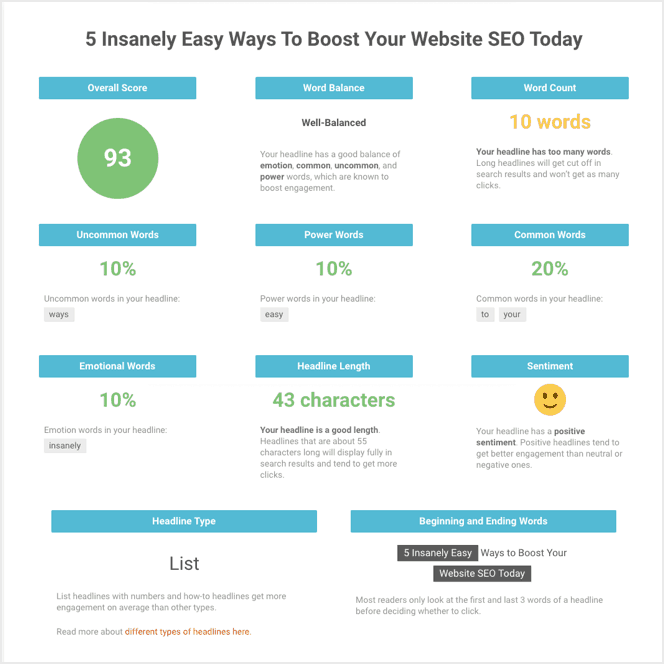 Check out these other tips for creating eye-catching blog titles:
Add Numbers
It is a well-known fact that numbers stand out.
For example, "Ecommerce Email Conversion" sounds bland. But if you add numbers to it like "14 Tips to Increase Your Ecommerce Email Conversions" it's much more engaging—readers know exactly how many tips they're getting from your post.
Ask a Question
You can also use questions to grab your reader's attention. Asking questions is a great way to address your reader's pain points directly.
For example, "Do You Want to Learn How to Build an Email List? Follow these 7 Tips".
Use Power Words
Having power words in your title is another good way to engage your readers. Power words can trigger a psychological or emotional response. These words have the power to persuade people by influencing them through emotions.
OptinMonster has a great list of 700+ power words to boost your engagement and conversions; it's a must-read.
Now it's time to spice up your written text with visual content!
Add Visual Content
For a lot of people, whenever someone mentions visual content, images and graphics are the only things that come to mind. But the truth is that visual content is more than just regular images and screenshots.
If you want your content to be truly engaging, you need to add videos and infographics too.
People love watching videos online because it's easy and entertaining—just think about the popularity of YouTube.
So, why not add videos to your blog posts to increase engagement?
It's not as hard as you think. You can easily film an awesome video on your smartphone and embed videos right into your WordPress blog posts.
A lot of food blogs like Tasty do this because it makes it easier for users to follow the recipe.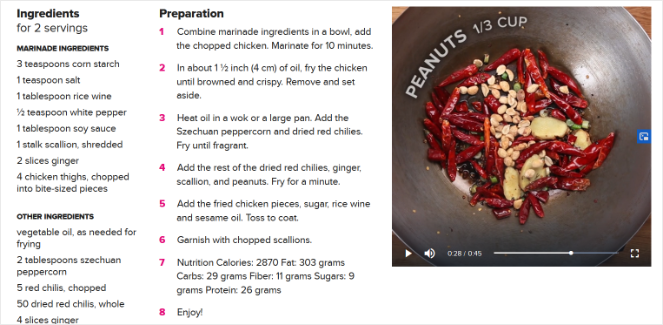 Infographics are another good source of driving more engagement for your blog. They help users retain information better and they have better chances of going viral.
You can use a tool like Canva to easily create cool infographics for your blog.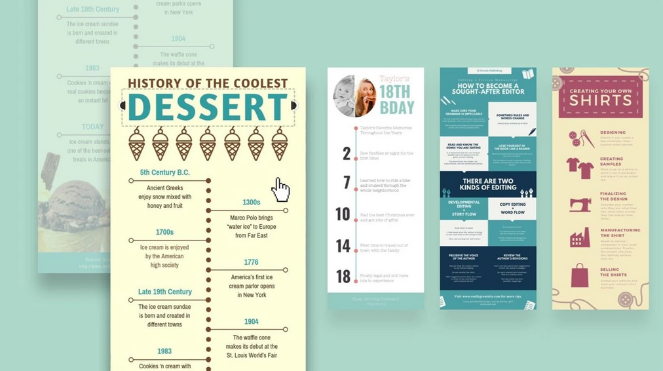 4. Improve Your Internal Linking Practice
Internal links can not only help you improve your user engagement, but they can also help you rank higher on Google.
Internal linking is when you link to other pages or posts of your website in a blog post. For example, we linked our guide to improving website rankings using the anchor text "rank higher on Google" in the paragraph above. Readers can click on that link and it will take them to more of our content for them to check out.
Since internal linking encourages your visitors to stay and read more on your website, it has a good impact on your page views.
Just remember to use relevant anchor text to link out to other related content on your website.
For example, if you're writing a blog post on blogging basics and you mention WordPress plugins, you can add a link to another post you wrote on WordPress plugins. The text you're linking to matches what the post is about.
When internal linking, keep in mind the following tips:
Use descriptive anchor texts.
Keep your anchor text relevant.
Make sure that the links work and don't give out the 404 error (page not found).
Don't use internal links excessively in a single post.
To make internal linking easier, you can use a plugin like All in One SEO. It comes with a powerful Link Assistant feature that will automatically generate a links report for your site and give you relevant linking suggestions that you can add in 1-click.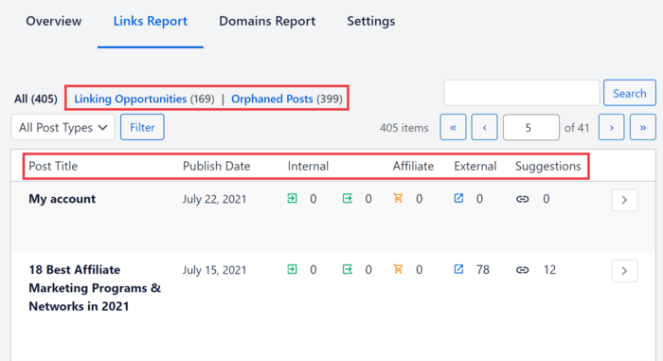 It will also display internal link suggestions while you're writing or editing a post in the WordPress editor. This will save you a lot of time because you won't have to manually search for relevant posts to link to.
5. Display Related Content
This is a very simple trick to improve your blog user engagement, and it's similar to the internal linking tip we discussed above.
To engage readers on your blog, display relevant posts at the end of each blog post. This will help your readers easily find related posts if they want to read more.
Here's an example of how we do this on Blog Tyrant: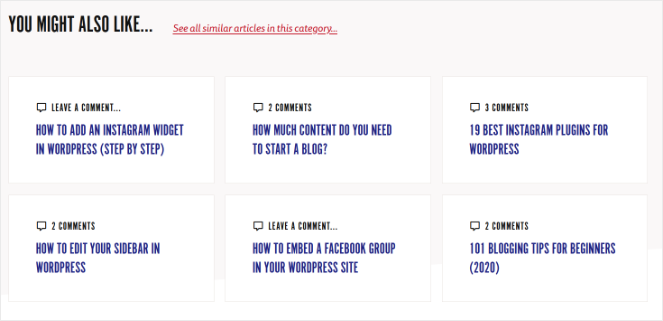 You can add these articles manually, but this will take a lot of time. Instead, you can use plugins to speed things up.
WordPress plugins like Jetpack can automatically place related article snippets at the end of your content. It also lets you display these snippets with a thumbnail or a text link. You can tweak it however you like to match with your site's design.
Or, you could use a plugin like MonsterInsights. MonsterInsights lets you display your most popular posts anywhere on your site. The plugin offers multiple layout options for displaying your popular posts.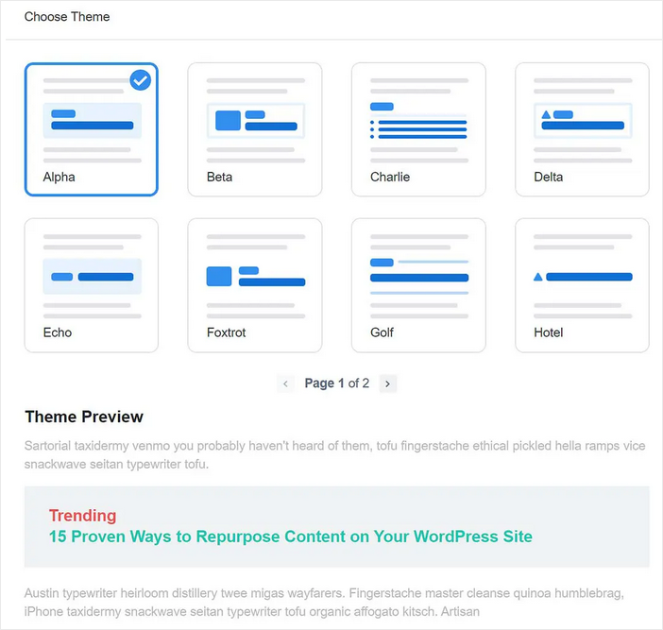 You can choose whether or not to display a teaser image for your post and you can fine-tune the appearance by tweaking the color, font, etc.
6. Add a Search Box
This blog engagement tip is quite obvious. If you have a search bar, your readers will be able to easily find what they are looking for.
If your users are confused about how to find what they are looking for, they will leave your website. But, a search bar helps users find content that they are specifically interested in and encourages them to read more of your posts.
It's best to keep the search bar's design simple and easy to find on your blog. Usually, on most blogs, the search bar is located at the top right. You can also place it in the same spot so that it's easy to find.
Here is an example of a prominent search bar:

You can also add more features to your search bar. Features like dropdown menus or autosuggestions can help you boost your blog engagement too.
If you want to add a search bar to your website, you can easily do it with the help of the Ivory Search plugin.
And you can read WPBeginner's guide on how to add a search bar to the WordPress menu for more details.
7. Respond to Comments
If you want to build a strong and meaningful connection with your audience, responding to comments is essential. It can help you get to know your audience better and help you increase your blog's engagement.
Plus, you can also get valuable feedback from the comments that can help you improve your blog.
Depending on the number of comments you get, you may not be able to respond to all of the comments. But it's worth trying to respond to as many as possible if you want to keep your visitors engaged.
When visitors to your blog see that you regularly engage in conversations with readers in the comment section, they'll be encouraged to leave a comment too.
Not getting many comments? Read our guide on how to get more blog comments.
8. Build an Email List
Blog engagement isn't just about engaging with your new visitors only once on your website. It's also important to drive visitors back to your blog. The best way to do this is by collecting email addresses and building an email list.
You can then use these email addresses to keep your readers engaged through email. Through email marketing, you can reach out directly to your readers anytime you want. You could share the new blog post that you just published, promote your new product or a sale, and more.
Having an email list is very beneficial, but how do you grow your email list?
You can start by having popups on your blog. For example, an exit-intent popup can grab the attention of the users that are about to leave. This is an excellent way to stop them from leaving and encourage them to sign up for your newsletter.
To create popups that convert, we recommend OptinMonster.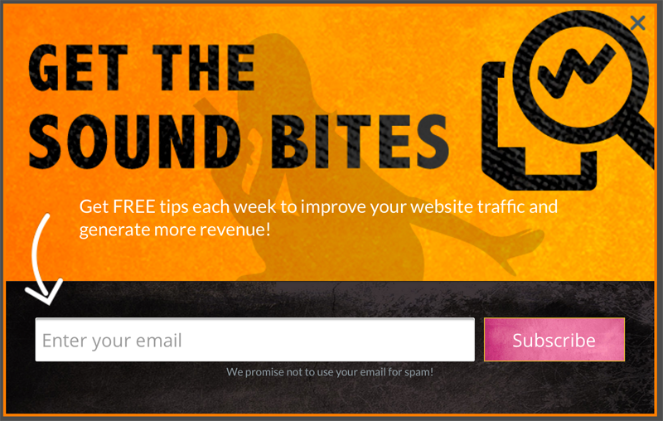 OptinMonster's popup templates are well designed and are built for maximizing your email signups.
You can easily create popups using OptinMonster's drag-and-drop tool, turn visitors into subscribers, and boost your blog engagement.
9. Run a Giveaway
Holding a giveaway is one of the best ways to improve your blog engagement. This can help increase your blog's page visits, conversions, subscriptions, and overall user engagement.
Creating giveaways or contests might sound overwhelming, but you can run them easily with RafflePress.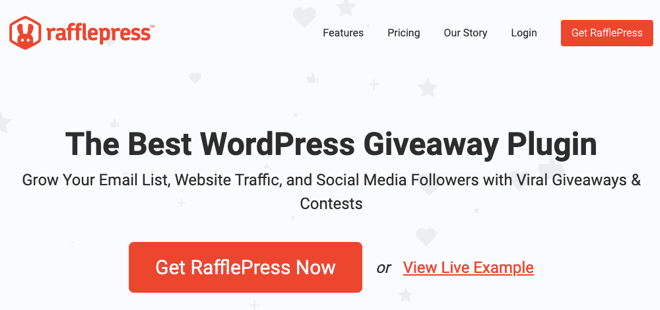 RafflePress is a mobile-friendly drag-and-drop giveaway builder that lets you run giveaways and contests using their easy-to-use, awesome templates.
With RafflePress, you can reward your users for taking certain actions like sharing your blog on their social media, referring a friend, signing up for your email newsletter, and more. All of these actions are great for improving engagement.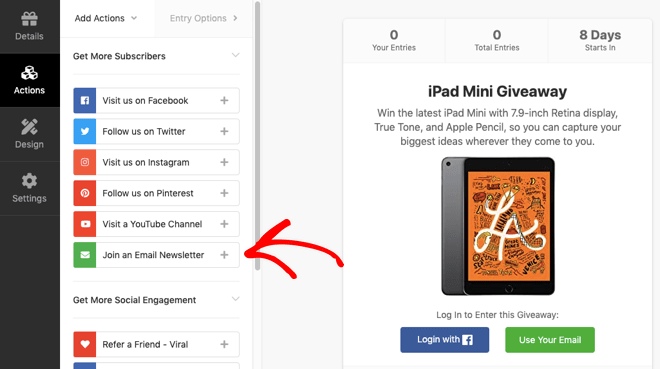 10. Add Interactive Content
Having interactive content on your website can make your visitors stay longer, which significantly reduces your website's bounce rate. These elements not only increase the engagement, but it also gives a reason for your visitors to share your content and return for more.
So, what is interactive content?
Interactive content consists of polls, quizzes, surveys, chatbot interactions, and more. Simply put, interactive content is a type of content that your readers can actively interact with, instead of just passively reading it.
As for how to create interactive content, you don't have to look any further than WPForms. It has a drag-and-drop form builder that easily lets you create polls and surveys for your blog.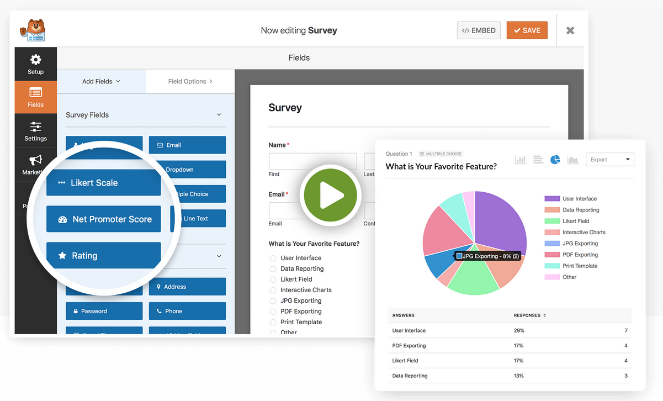 You can create polls and surveys for your blog audience and allow them to share their opinions directly. You can also ask them what they like and what they expect from you; this will help you better understand how to keep them engaged on your blog.
11. Make Your Forms More Interactive
You can also boost engagement by making your regular website forms more interactive. A long, boring form will only cause readers to leave the page. But, an interactive one will keep them on your website longer and boost your form submissions.
You can easily make your forms more interactive with Conversational Forms by WPForms. Here's an example of what it looks like: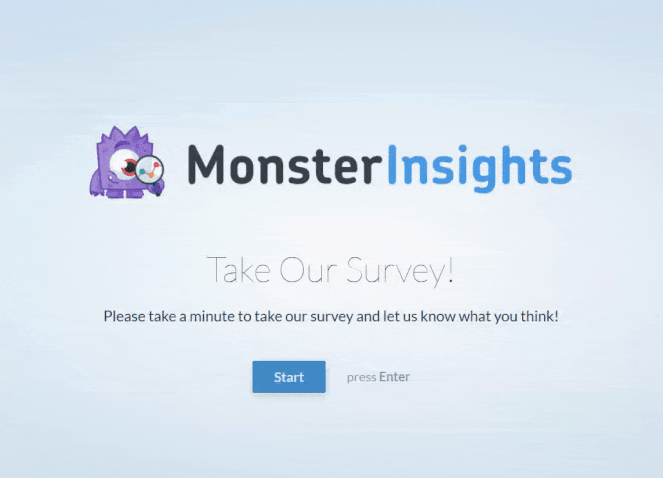 Instead of seeing a long list of fields they have to fill out, users will see one question at a time. This makes the experience more like a face-to-face conversation.
And because it's more personal and less overwhelming, visitors will be more likely to engage and complete the form.
12. Display Social Feeds
It's no secret that you can't have a successful blog without a positive social media presence. Social media plays an important role in engaging and connecting with your visitors in a personal and meaningful way.
Websites like WPBeginner take building a strong personal connection with the audience very seriously. They have invested a lot of time in building a strong community. Take WPBeginner's Facebook group as an example; it has 57,466 members and a very high engagement rate. They knew the importance of engaging with their audience on and off their website.
Your social media presence on social media platforms means nothing if your new visitors don't know that your social presence exists.
So, how do you make that presence felt?
An easy and effective way to let your new visitors know is by embedding social media feeds directly into your website.
When it comes to embedding social feeds on your blog, there is no better option than Smash Balloon.
Smash Balloon is a WordPress plugin that helps you embed all of your social media feeds (Facebook, Instagram, Twitter, YouTube) on your website with ease.
Here's an example of an embedded Instagram feed: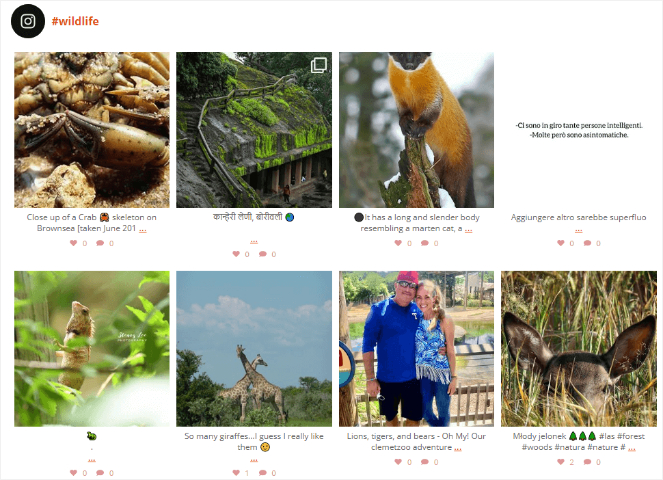 Smash Balloon already has 1.3 million professionals using their plugin to grow their social media presence and increase their engagement.
You can boost your blog engagement today by getting started with the free version of their Instagram feed plugin. For more powerful features and customization options, you need to upgrade to the pro version.
13. Use Web Push Notifications
Did you know that you can send notifications to your visitors' web browsers or mobile phones even when they're not currently on your website?
You can with web push notifications!
Sending web push notifications is a great way to engage and retain visitors even after they've left your site.
Using a plugin like PushEngage, you can easily set up web push notifications for your blog.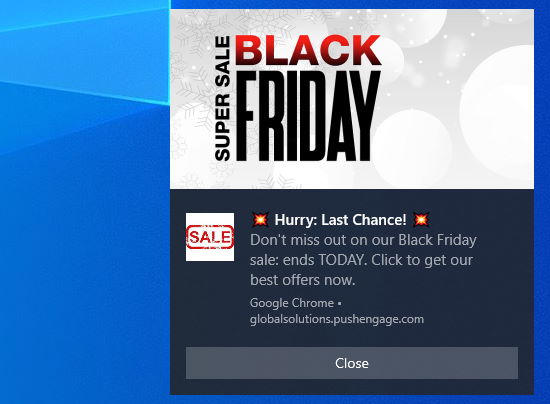 With PushEngage, you can automatically send out new blog post notifications, abandoned cart reminders, notifications about sales or promotions, and more.
So, no matter where your blog readers are on the web, you can drive them back to your website, increase engagement, and boost sales with personalized web push notifications.
14. Study Your Audience
How do you engage an audience if you don't know much about them?
There are a few ways through which you can gain more information about your audience.
One of the best ways is by using MonsterInsights. MonsterInsights is a Google Analytics plugin that will let you know valuable insights about your audience and your website.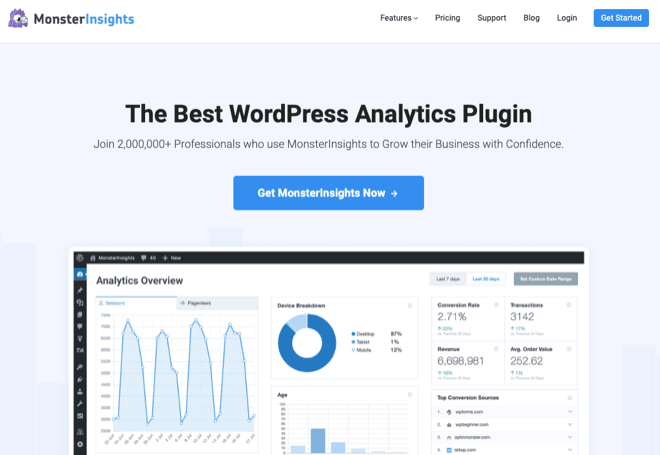 You can learn about the demographics of your audience, the technology they are using, how they interact with your blog, which of your blog posts or pages are more popular, and many other data sets.
With this data, you can easily take actionable steps on how to keep your users engaged.
And that's it!
Now that we've walked you through our 14 actionable tips to help you improve your blog engagement, it's now your turn to pick one from the list and see how things go.
You may not see an increase in engagement from the start, but like with everything else, it's all about having a long-term strategy and a whole lot of patience.
Now that you know how to engage readers on your blog, you might want to learn more about converting readings into subscribers or customers. If so, check out this post on how to write blog posts that convert.
And don't forget to sign up for our email newsletter for more helpful blogging tips!