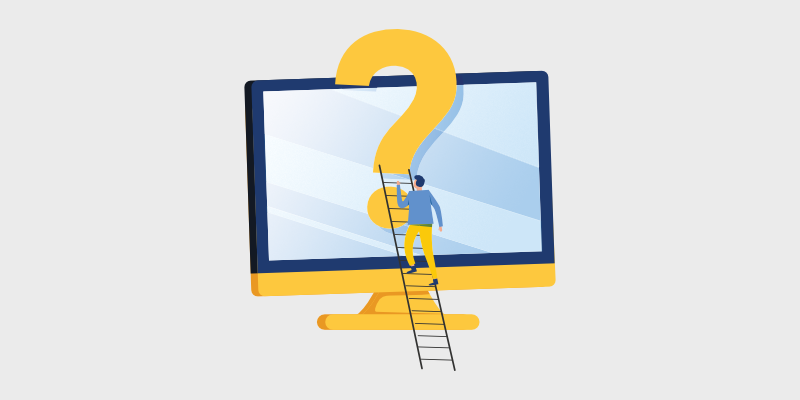 C hoosing the right WordPress theme can be very overwhelming for beginners. But don't worry, in this article, we'll show you how to choose a WordPress theme for your blog.
Choosing the right theme is essential when you're first starting your blog.
But how do you choose the perfect theme for your blog? There are thousands of free and paid options, and screening all of them is impossible.
In this article, we'll share some tips that will help you choose the best WordPress theme for your blog.
Let's get started!
What is a WordPress Theme?
First, if you're new to WordPress, you might be wondering: What are themes in WordPress?
A WordPress theme is a collection of templates and stylesheets that are used to design the appearance of a WordPress website. So, you can apply a theme to your website and it will have a professional look in an instant—no need to be a designer or to touch any code.
WordPress.org has thousands of WordPress themes, both free and paid, in their official Themes directory.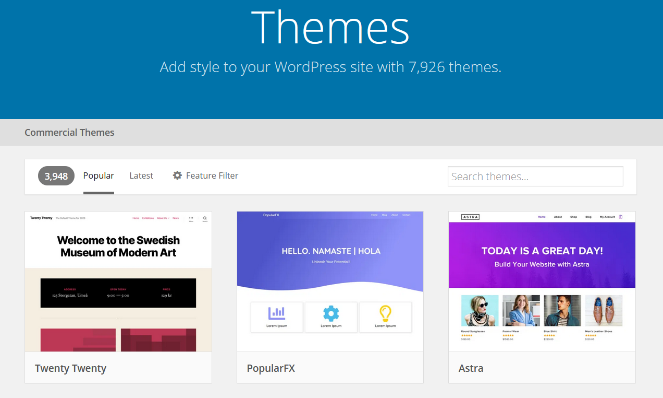 Each WordPress theme has a different design, layout, and features. You can choose whatever theme you want, depending on what your blog is about.
For example, if you have a food blog, you can search for WordPress themes for food blogs. You will get thousands of recommendations that will match what you want your website to look like.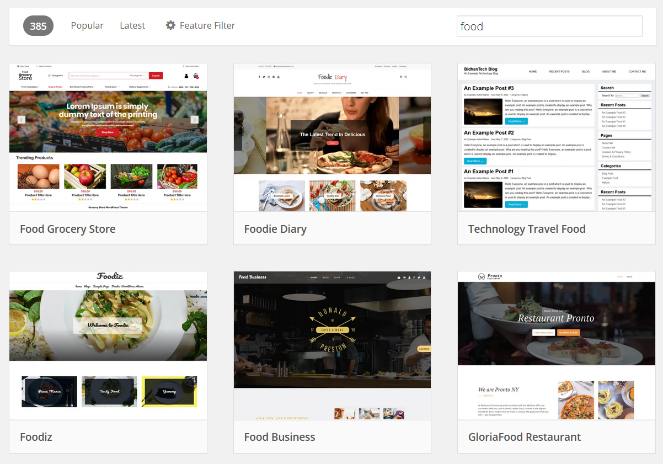 Now that you know what a WordPress theme is, let's dive into some tips to help you choose the right one for your blog.
Should I Use a Free or Paid WordPress Theme?
One of the fantastic things about WordPress is the thousands of different, free themes you can choose from.
What's more exciting is that there are paid/premium themes made by web designers or web design companies. These themes typically have the best features and functions, and they're regularly updated.
Some of these themes even use their own frameworks, which take the basic WordPress functionality and add their own custom dashboard. This allows you to build your design and blog posts any way you want.
For those that are just starting out and need to stick to a tight budget, choosing a free WordPress theme might be the best option. You can always upgrade to a premium theme later on.
If you're considering choosing a premium theme, here's a quick comparison table to show you the difference between the free and paid themes:
Free WordPress Themes
Free to install
Easily available on WordPress.org
Support is hard to find
Updates are dependent on the creator but they often lag behind
Code quality may not be good
A single free WordPress theme is used over 10,000 times on different blogs
Free themes might contain malicious codes
Paid WordPress Themes
Price range varies from $10 to $100+
Easy to install from the WordPress dashboard
You can have a unique theme that not everyone has
1-year support and regular updates are available
Code quality is more professional
More customization options
Does not contain any malicious code
You can clearly see that paid themes have more advantages than free WordPress themes. But remember, there are great theme options in both categories!
Next, we'll show you how to pick the right WordPress theme for your blog.
Whether you're wondering how to choose a free theme or how to find the best premium theme, these tips will help you out.
How to Choose a WordPress Theme (12 Tips)
There are a lot of benefits to choosing a good WordPress theme. A good theme can help you improve the readability of your blog, lets you customize your blog any way you want, and you don't have to touch a single line of code.
Check out these tips that will help you choose the right WordPress theme for your blog.
1. Decide on Your Blog's Objective
The very first thing you need to do is think about what exactly your blog is trying to achieve. What is its objective? Because this will have a huge impact when you're choosing your WordPress theme.
For example, if you want to start a traditional blog, you'll want to choose a theme that lets you display your blog posts front and center, like the theme for Wit & Delight below.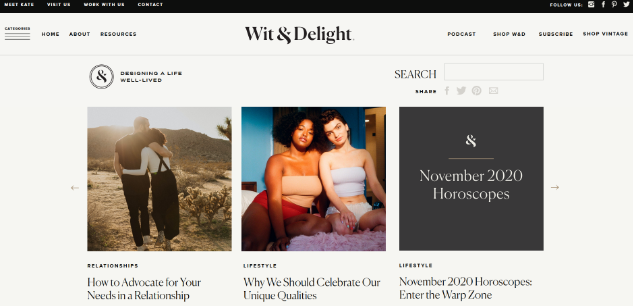 On the other hand, if you want to start an online store, you'll want to choose a theme suited to that. Here's a great example from Lugz: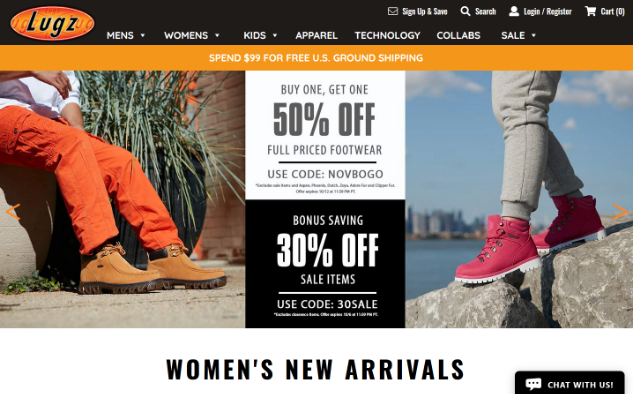 Finding a theme that has the built-in features you need is ideal.
As we talked about in this post on making your blog beautiful, it's essential to balance the design and the performance of your blog.
A beautiful blog that doesn't convert is a waste, and a theme that focuses on function only will usually negatively impact its look.
Some things to consider include:
What type of blog is it?
Is your blog mostly going to be text-based or will there be a podcast and all sorts of other mediums involved?
What niche is it?
Some niches are used to seeing blogs that look a certain way, while others require a totally different look.
What is the goal?
Is your blog trying to make money through affiliate programs or is it raising awareness for a charity? Depending on your answer, your theme will need different things.
After you decide what your blog's objective and goal is, you can take a look at other blog examples that are similar to see what type of themes they're using. This will give you a good idea of what type of theme you need.
2. Make a List of Functions You Need
The next thing you need to do is make a list of functions you need for your blog. You don't need to consider everything, but it's good to have some sort of idea.
For example, if you're looking at the Allure blog as inspiration, you might decide that you need a WordPress theme that focuses on blog content but that also lets you create user registrations and star ratings for product reviews.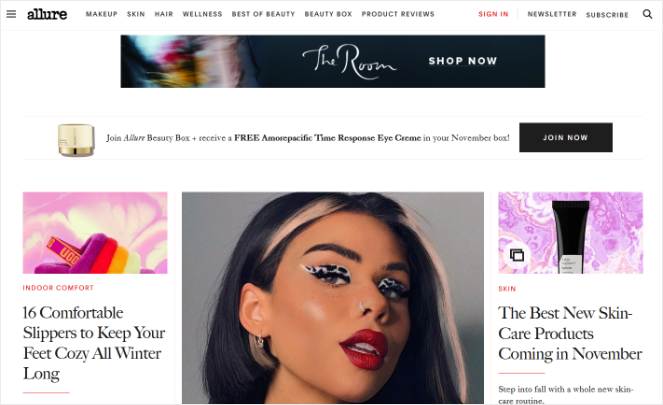 Writing down a wishlist of WordPress theme features will help you narrow down your search and make finding the right theme easier.
Some other basic features you might want to consider finding in a WordPress theme include:
Multiple layout options
eCommerce compatibility
Social media icons
Custom colors and fonts
Comment section or forum
Remember, many of the features that you might need down the road can be added with WordPress plugins.
For example, if you want to create online courses, you don't need a WordPress theme that has that capability built-in. Instead, you can simply use a plugin like MemberPress to add courses to your blog.
3. Go for Simplicity
Many WordPress themes come with tons of colors, features, layouts, and even flashy animations. You may think you might need all of these, but in reality, you don't.
Always remember that you're designing your website for your readers. Your theme should make it simple for them to navigate through your website.
If a theme is too busy, it can confuse your readers and they'll leave your website without checking out what you have to offer.
The purpose of the web design is to help your readers to find information on your website. This will ultimately help you achieve your goal as a website owner.
It doesn't matter how good a theme looks. If it isn't helping you get new business and email subscribers, it's not a good theme.
Read our guide on how to improve a blog's design for more tips.
4. Make Sure a WordPress Theme is Responsive
A responsive theme adjusts its layout and design across different screens and devices. Having a responsive theme is very important because you don't want your mobile readers to have a bad experience.
Another reason to have a responsive theme is that Google prefers websites that are responsive and mobile-friendly. Google has made it mandatory for websites to be 100% mobile responsive if they want to rank higher on Google.
Year-by-year, traffic generated from mobile devices has been increasing. As of this year, more than 60% of the traffic generated is through mobile devices. If you don't have a theme that is mobile responsive, you will be losing a lot of traffic and business.
Luckily, most WordPress themes are mobile responsive by default, but many free themes are still using fixed-width layouts that are not mobile-friendly.
When you are picking your theme, make sure that it's responsive.
You can quickly test if the theme is mobile-ready by going to Google's mobile-friendly test tool.

Enter the URL of your blog in the bar and click on Test URL. It will then tell you if the theme you're using is mobile-friendly or not.
5. Check the Theme Speed
Now, when you're looking for a WordPress theme, one of the essential things is to make sure it doesn't slow down your blog due to the way it's coded.
Some WordPress themes are coded in a way that allows them to load smoothly and with minimal requests and delays. Unfortunately, others use image-heavy designs and all kinds of code and script requests that slow your blog down.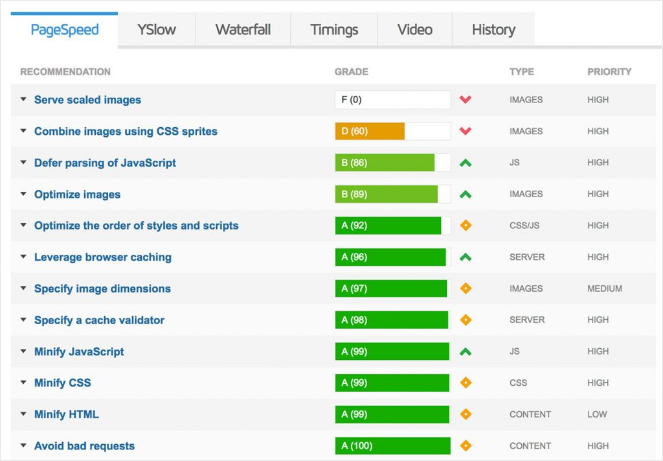 One thing you can do is run a test of the WordPress theme's demo (almost all themes have these) on a site like IsItWP. When you get the results, you can go through all the details and see how many bad requests, poor codes, etc., you can find.
Sometimes these things are fixable if you find a really good theme that you love, but sometimes it's too annoying, and it's better to find a well-coded theme from the outset.
6. Check for Browser Compatibility
Your readers use different browsers.
A theme may work perfectly fine with your browser, but that doesn't mean that it works with your readers' browser.
You need to check for browser compatibility before you decide on which theme you choose.
Most WordPress theme developers test browser compatibility using different tools, but many don't.
Suppose they haven't mentioned browser compatibility on their website. In that case, you can do a basic test yourself by trying out the theme on different browsers like Chrome, Firefox, Safari, Internet Explorer, etc.
If the theme you choose works fine with all the browsers, then you've found yourself a winner.
7. Consider Supported Plugins
Make sure that the WordPress theme you choose supports popular WordPress plugins. WordPress plugins allow you to do anything to your WordPress blog. You can customize your design, add a feature, improve your blog's performance, and more.
If you choose a theme that doesn't support popular plugins like WPForms, OptinMonster, AIOSEO, Yoast SEO, or W3Cache, you might want to consider another option.
If you're unsure if your theme supports a specific plugin you want to use, ask the theme developer about it.
You can also check if the theme you want comes pre-installed with the popular plugins you want to use. For example, StudioPress Revolution Pro comes pre-installed with WPForms.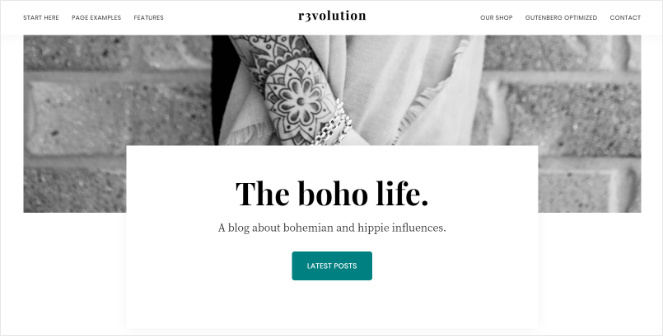 8. Compatibility with Page Builders
Page builders are one of our favorite tools for WordPress. Sometimes it can be difficult to customize a WordPress theme. But, with page builders, you can easily design website pages by dragging and dropping elements.
There are a lot of WordPress themes that are bundled with page builders. Some of them are used by that theme developer only.
Using these lesser-known page builders can produce a lot of unwanted code, which can slow your blog down. It's best to choose a WordPress theme for your website that's compatible with popular page builders that won't mess up your code.
We recommend using a page builder like SeedProd separately with the WordPress theme you chose.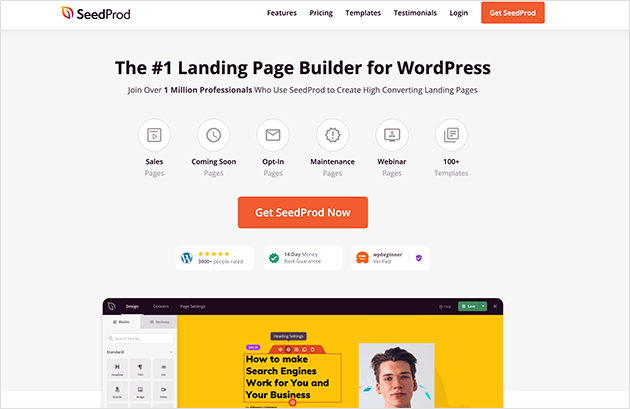 SeedProd is fast and super easy to use. You can quickly build pages by dragging and dropping elements like email optin forms, countdown timers, social buttons, and more. And you can preview the changes you make in real-time. It's the best way to create better website page layouts.
Plus, SeedProd works with all popular WordPress themes and plugins.
So, before you decide on a WordPress theme, make sure it's compatible with the page builder of your choice. This will make customizing your website a breeze!
9. Consider Customer Support
While some free WordPress themes have good support, many free themes don't. This can cause a lot of problems if you mess up your blog.
Since there are no supporting documents, you will have to figure it out on your own or hire a third party developer to fix it for you.
So, make sure that you choose a WordPress theme that has good documentation and support.
Many premium themes have detailed documentation and up to 1 year of email support.
10. Think About SEO
A poorly coded theme can wreak havoc on your blog's performance. It could slow your blog down and ruin the user experience.
For a beginner or anyone who doesn't know how to code, it can be difficult to analyze a theme's code. You will have to hire a developer to do this task for you.
Or, you could get yourself a premium theme that is optimized for SEO from the start.
Check out the description and the features of a WordPress theme to make sure it's optimized for SEO. For example, here's a list of features for the WordPress theme Didi by Anariel Design: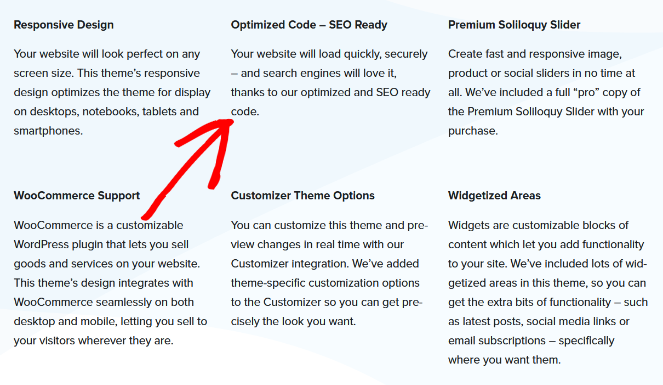 11. Check the Ratings and Reviews
As with almost anything you buy or download on the Internet, it's a good idea to spend some time looking at reviews and ratings before you dive in.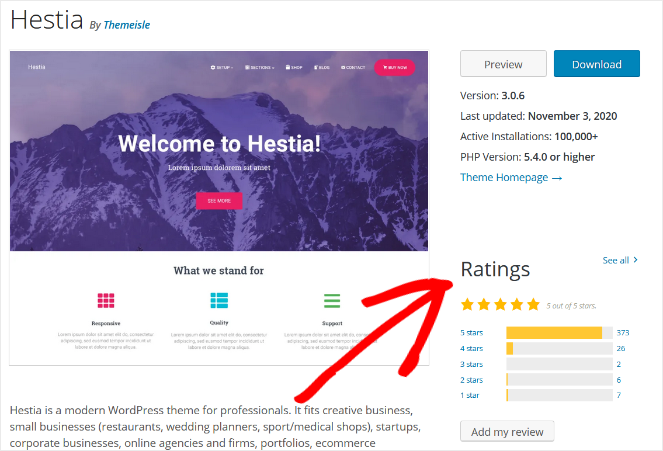 This is especially true for your blog because you don't just want to install any old, outdated theme and give it access to your server.
The main issue here is that out-of date-themes and plugins can cause security vulnerabilities that provide access to people who might want to get inside your site.
If you see a theme that hasn't been updated for more than 6 or 7 months, then it's likely not up-to date-with the latest security patches and protocols that people are using. It's best to steer clear of such themes.
12. Get Feedback
This last point is something that many of us overlook. What does your blog look like to someone who doesn't have a lot of experience with the web?
When you set up your WordPress theme, there is the danger that you get familiar with it thinking, "Yep, that box goes there, and that button should be there," but that might be totally illogical to a new user.
Remember, most of the traffic that comes to your blog will be from beginners or at least from new people to your site. That means you have to make sure first impressions are good to avoid a high bounce rate, which is the number of visitors abandoning your blog.
It can be beneficial to ask your parents, friends, and colleagues to sit down with you and go through your site. Let them drive, and just watch how they interact with it, whether they get stuck in certain places or try to click on things that don't do anything.
Our WordPress Theme Recommendations
There are literally thousands of WordPress themes to choose from, and new ones are being released every single day. It's impossible to list all of them, but you can look at our showcase in which we have listed the best WordPress themes for bloggers.
Here are some of our top picks from the list:
Now that you know how to choose a theme for your blog, let's take a look at how to install it.
How to Install a WordPress Theme
Installing a WordPress theme is very simple.
Login to your WordPress admin area and go to Appearance » Themes. Then, click on Add New.
Here you can browse themes in the WordPress themes directory. If you want to use a free theme, simply click Install.

Then go back to Appearance » Themes and click Activate.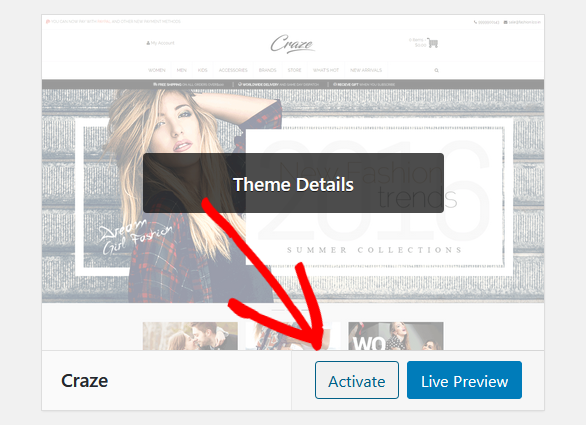 If you have already downloaded or purchased the theme you want to use, click on Upload Theme.

Click on Browse, find the zip file of the theme you downloaded, and then click on Install.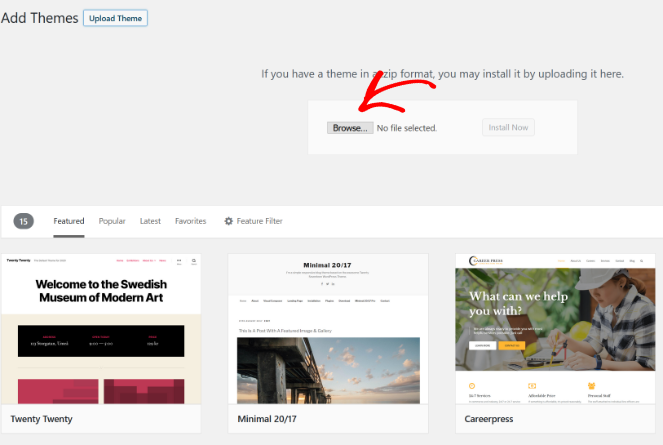 WordPress will now install the theme. Once it's done, it will give you a success message. You can then click on Activate to start using the theme, or you can click on Live Preview to take it out for a test run.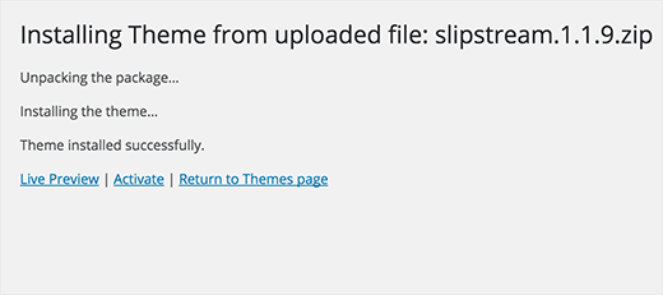 Still have more questions? Keep reading!
Frequently Asked Questions
What is the most popular WordPress theme?
There are many popular WordPress themes available in the market. But if we had to pick one, we would say Astra. But then again, it all depends on what you need.
Maybe the most popular WordPress theme doesn't have the features that you are looking for. So, when you are trying to figure out how to pick the right WordPress theme, think about what you want and start from there.
Can I change my WordPress theme?
Yes! If you already have a WordPress theme but you want a new one, you can change it easily.
Here's a guide that will show you how to change a WordPress theme properly.
Will changing a WordPress theme affect content?
No, changing the theme does not affect the content at all. It just changes the way your blog looks. Depending on the theme you install, you might see some features added or removed but your content will remain unchanged.
Well, there you have it!
We hope that this article helped you in picking out the best WordPress theme for your blog.
If you liked this article, check out our guide on the best page builder tools for WordPress.
And don't forget to subscribe to our newsletter for more blogging tips and updates.