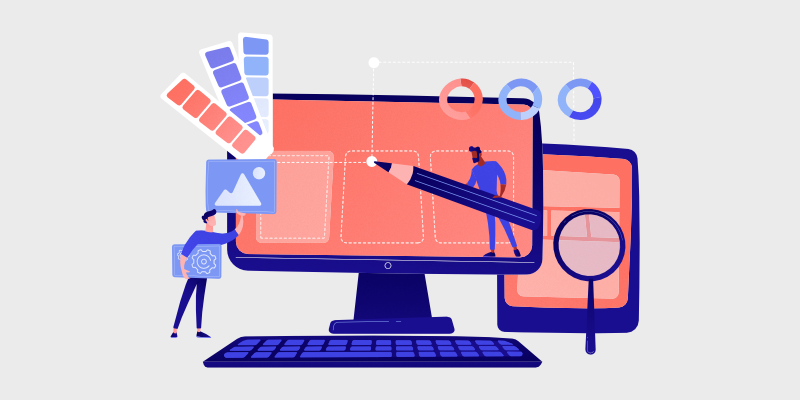 A re you wondering how to make a blog look good? The design of your blog is often the first thing visitors notice when they land on your website. If it doesn't look attractive, they won't stick around to check out your content.
The problem is that when you start a blog and you're not a designer, it can be challenging to make your blog look beautiful and professional.
Luckily, there are some easy tricks and tools you can use to beautify your blog, attract readers, and keep them on your site.
In this article, we'll show you how to make your blog look good. We'll share tips to improve your layout, theme, visuals, and more.
Let's begin!
1. Use a Professional Domain Name
First things first: A professional-looking blog starts with a professional domain name.
Your domain name is super important, it isn't just your address on the world wide web.
It helps you develop a brand that looks professional in the eyes of your readers as well as businesses that you may want to work with in the future.
Many new bloggers are tempted to sign up for a free blogging platform like Wix, WordPress.com, or Blogger, in order to save money.
But, the problem with free platforms is that you don't get a professional domain name. You'll be stuck with a domain name like www.Wix.com/MyBlog, instead of a branded domain name like www.MyBlog.com.
That's why, at Blog Tyrant, we always recommend creating a self-hosted blog with your own domain name.
You can register your domain name for free when you create a self-hosted blog with Bluehost.
We'll explain more about self-hosting in the next section…
2. Choose a Self-Hosted WordPress Blog
When you create a self-hosted WordPress.org blog, it's much easier to create a beautiful blog layout.
Most free blogging platforms are very limited when it comes to design and customization options.
But, with WordPress.org, you'll get access to thousands of free themes and plugins to make WordPress look better. This gives you complete freedom to add new design elements, features, and functionalities to your blog as it grows.
Plus, WordPress.org is completely free to use. You only need to pay for blog hosting and your domain name.
Like we mentioned above, we recommend hosting your WordPress.org blog with Bluehost.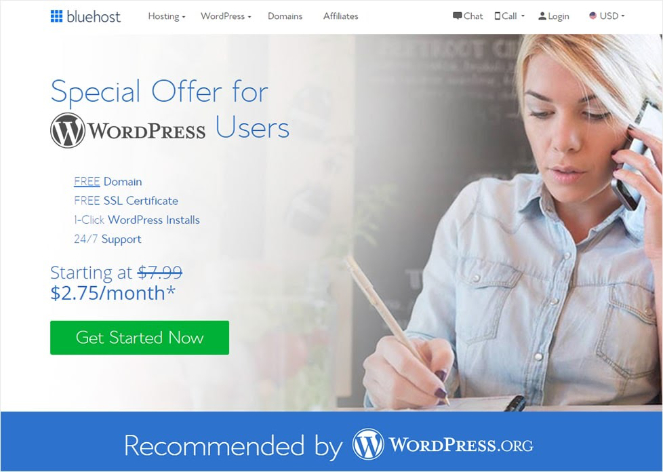 Bluehost is one of the best blog hosting services on the market and it's officially recommended by WordPress.org themselves. It's affordable, reliable, comes with 1-click WordPress installation, and offers expert 24/7 customer support.
Plus, Blog Tyrant readers get a special discount of 60% off with Bluehost, which comes with a free domain name, free SSL certificate, and more!
With Bluehost, you can set yourself up to build a professional-looking blog from the start.
Now that we've got the technical stuff like hosting and domain names out of the way, we'll share more tips on how to make your WordPress blog look more attractive…
3. Create a Beautiful Blog Logo
All successful businesses have a logo to represent their brand, so you should have one for your blog too.
A beautiful logo will help you make a strong first impression, stand out from the competition, and build brand loyalty. It's also an important piece in marketing your blog because you can use it on your business cards, social media profiles, advertisements, products, and more.
You can also add your logo to your website as an easy way to improve your blog design and make it look more professional.
Check out this gorgeous logo on Minimalist Baker, a popular food blog: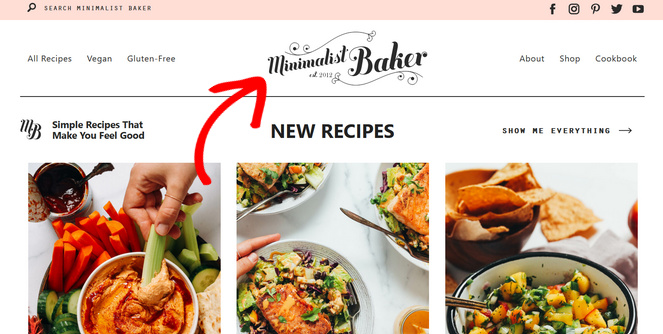 It's prominently placed in the center of the blog and its classic yet rustic design fits perfectly with the blog's niche of simple, homemade recipes.
Wondering how to create a logo without design experience?
You can easily create a beautiful blog logo with a free tool like Canva.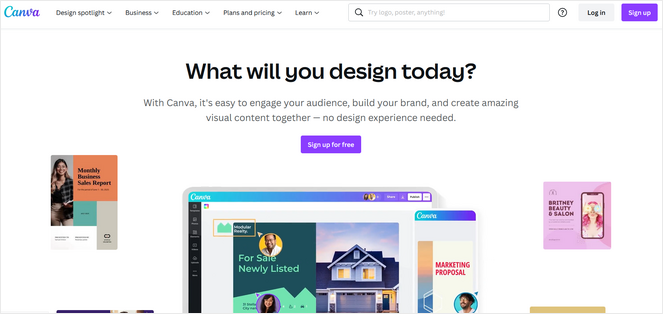 Canva is a popular browser-based design tool that comes with a ton of pre-made templates. You can use the drag and drop builder to easily add free graphics, shapes, text, and more, to create your logo.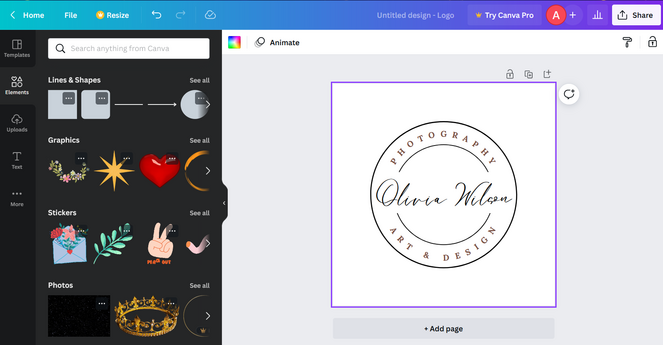 Want to compare Canva to other design tools? Check out our comparison of Canva vs. Adobe Creative Cloud Express.
4. Pick a Color Palette for Your Brand
A color palette is a set of carefully chosen colors that represent your brand personality. You will use it on your website, social media channels, and in all of your marketing materials.
Choosing a color palette makes it easy to create a cohesive blog design. Plus, by using color psychology, you can evoke particular emotions in your audience to make your blog design even more impactful.
For example, according to color psychology, blue is often associated with trust, loyalty, and reliability. Green is often associated with growth and freshness. And orange brings feelings of rejuvenation and positivity.
So, take a moment to think about what colors represent your brand and how they could affect the emotions of your readers.
To create a custom color palette for your blog, you can use a free tool like Coolors.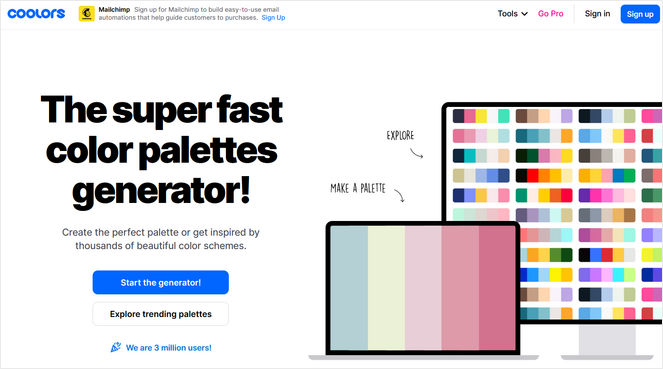 Coolors will automatically generate a color scheme for you. You can then lock in certain colors you like, and run the generator again to get a new palette. You repeat the process until you find the perfect color scheme for your blog.
5. Use a Professionally-Designed Blog Theme
The easiest way to make a WordPress blog look good is by installing a WordPress theme.
A WordPress theme is a group of files that provides all of the styling for the front end of your WordPress site, including the layouts, colors, font, and so on. All you have to do is install the theme, and you'll get a professional look for your blog instantly.
There are tons of free and premium WordPress themes to choose from. So, if you need help, see our guide on how to choose a WordPress theme for your blog.
If you're looking for recommendations, here are a few of the best WordPress themes on the market: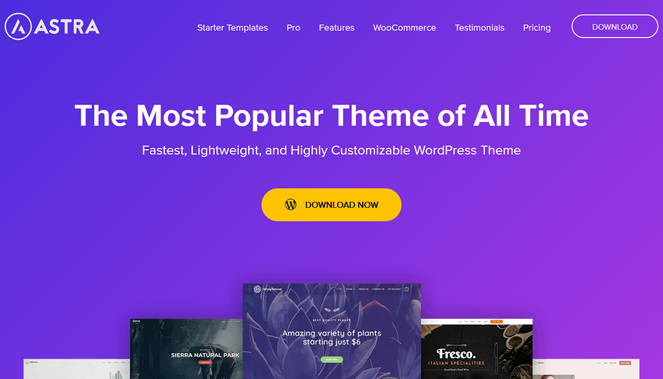 Astra is one of the most popular, free WordPress themes of all time, used by over 1.6 million websites. It's fast, lightweight, and highly customizable.
Astra comes with a large, built-in library of pre-made website templates. There are templates for travel blogs, food blogs, business magazines, online health coaches, sports websites, and more. So, you can easily find a website design that fits your blog niche.
It's also compatible with popular page builders, offers drag and drop editing with live previews, and you can easily control the design of your blog posts and archives with the customizer.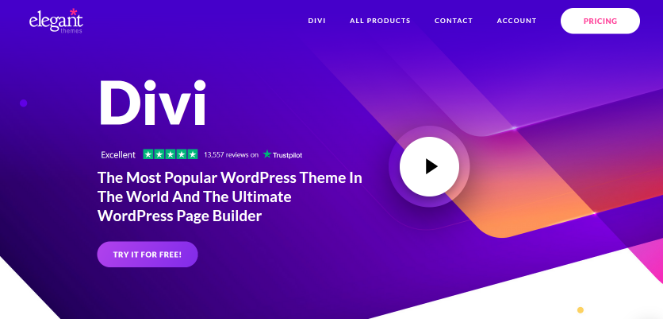 Divi is a premium WordPress theme and WordPress page builder by Elegant Themes. It replaces the standard WordPress post editor with a powerful visual editor that makes it easy to create beautiful designs.
It comes with 200+ pre-made website layouts you can use to design your website quickly. New layouts are added every week along with royalty free photos, icons, and illustrations. There are also 40+ modules for blogs, sliders, testimonials, forms, galleries, and more.
There are tons of customization options so that you can control every part of your design. For example, you can create stunning hover effects, apply background images or videos, and add animations to any element.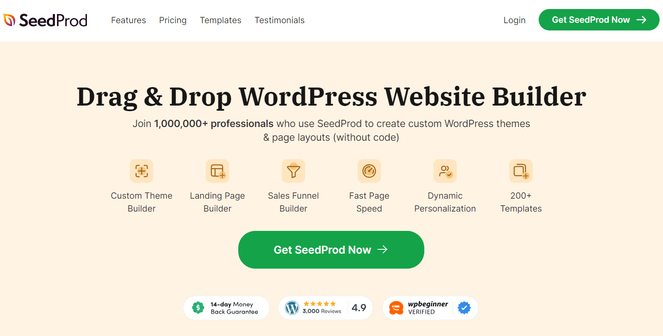 SeedProd is the best website builder for WordPress. Over 1 million people use SeedProd to create custom WordPress themes and blog layouts easily.
It comes with a library of 120+ professionally designed website kits that you can install in 1-click. These website kits come with every page you need including the homepage, blog page, header, footer, about page, contact page, and more. Or, you can create your blog design from scratch using the drag and drop builder.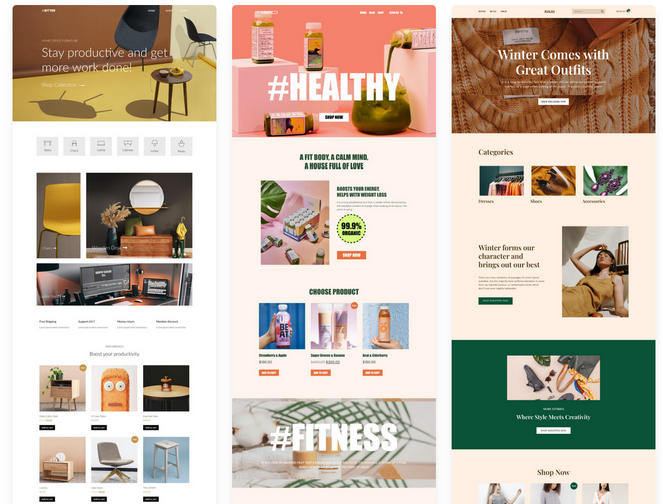 SeedProd also comes with 180+ responsive landing page templates and 90+ ready-made blocks to customize your site pages. Choose from blocks like image carousels, email optin forms, social profiles, pricing tables, countdown timers, and much more.  
Plus, SeedProd also offers built-in color schemes, unlimited font combinations, coming soon and maintenance modes, email marketing integrations, and more.
For step-by-step instructions, check out our tutorial on how to create a custom WordPress theme for your blog.
6. Install the Best WordPress Plugins for Bloggers
Aside from themes, you can also use plugins to make WordPress look better.
WordPress plugins are software add-ons that allow you to add extra features to your WordPress site.
There are tons of free WordPress plugins that you can download from the official WordPress plugin repository, as well as premium plugins that can be purchased online.
Here are a few WordPress plugins that will help make your blog more beautiful: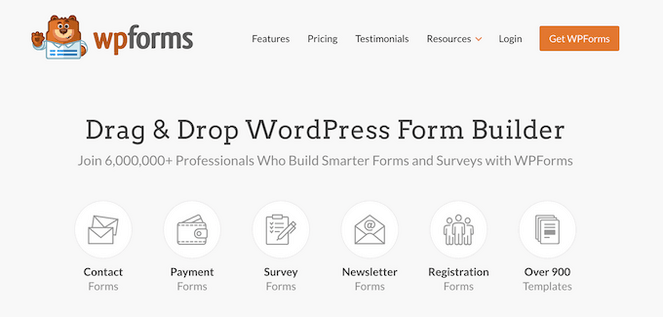 WPForms is the best drag and drop form builder for WordPress, used by over 6 million professionals. You can use it to create stunning forms for your blog including contact forms, newsletter signup forms, payment forms, surveys, polls, and more. 
WPForms comes with a built-in library of form templates and features like smart conditional logic, instant notifications, easy form entry management, and spam protection.
There's also a Conversational Forms add-on that allows you to create gorgeous, interactive form layouts that are guaranteed to boost form completion and improve conversions.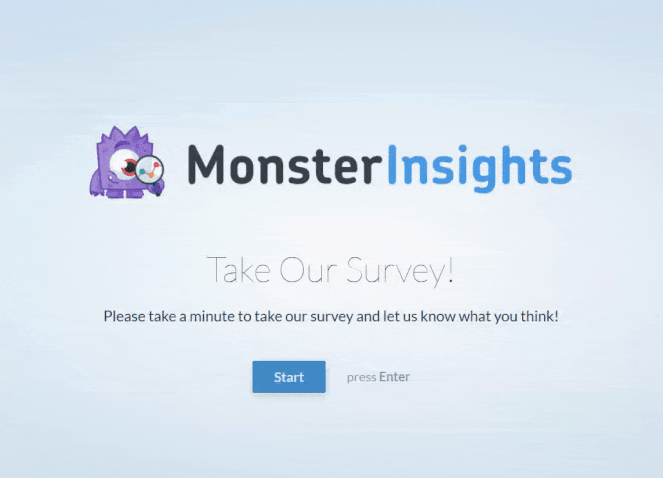 You can get started for free with WPForms Lite. For more advanced features, you can upgrade to the premium version starting at $39.60 per year.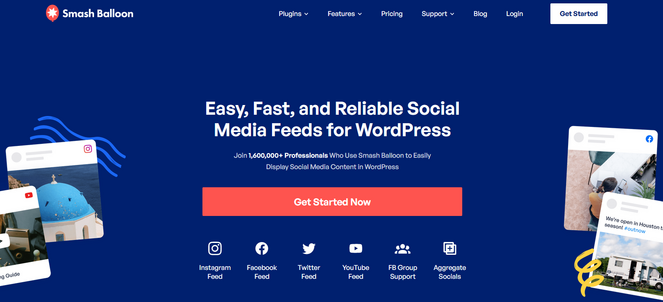 Smash Balloon offers a suite of plugins that allow you to display stunning social media feeds anywhere on your WordPress blog. You can embed feeds from Instagram, Facebook, YouTube, and Twitter, or create a 'Social Wall' that combines feeds from those platforms.
The feeds can be customized to look exactly the way you want. You can design the feed to match your brand, pick from multiple feed layouts, decide which posts to hide or display, choose to display likes and comments, and more.

The feeds are also responsive and mobile-friendly so you can ensure they look great on any device.
There are free versions of the Smash Balloon plugins to get you started. Paid plans start at $49 per year and come with additional features. 
To learn more, check out our detailed Smash Balloon review.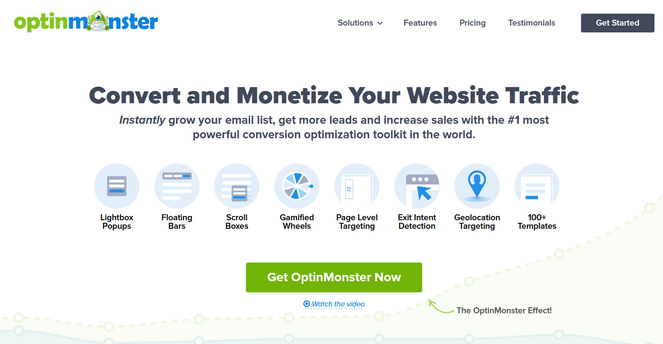 OptinMonster is the #1 lead generation tool that allows you to create eye-catching optin popups to build your email list.
With its powerful exit-intent technology, you can detect when a user is about to leave your site, and show them a gorgeous popup offer at exactly the right time to get them to convert.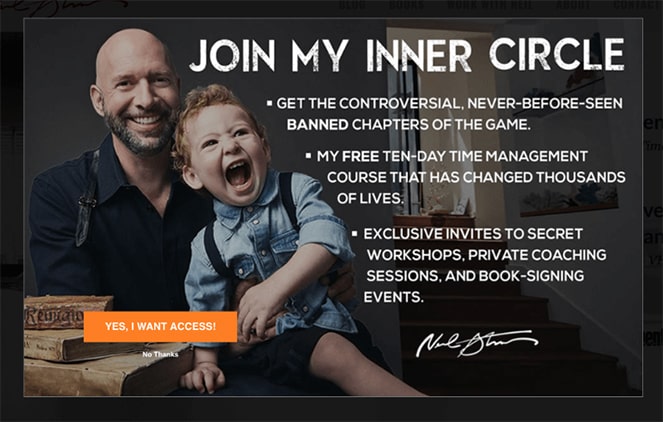 Aside from exit-intent popups, you can also create floating bars, scroll boxes, gamified wheels, countdown timers, full screen welcome mats, and more.
OptinMonster comes with an easy drag and drop builder, tons of professionally designed templates, campaign scheduling, A/B testing, conversion analytics, and much more. 
Check out our OptinMonster review to learn more.
7. Add High-Quality Images
A text-only blog is not very visually appealing, that's why it's important to add high-quality images throughout your website.
Take a look at The Blonde Abroad, which is solo female travel blog. It's filled with stunning photos that the blog owner, Kiki, has taken during her trips around the world.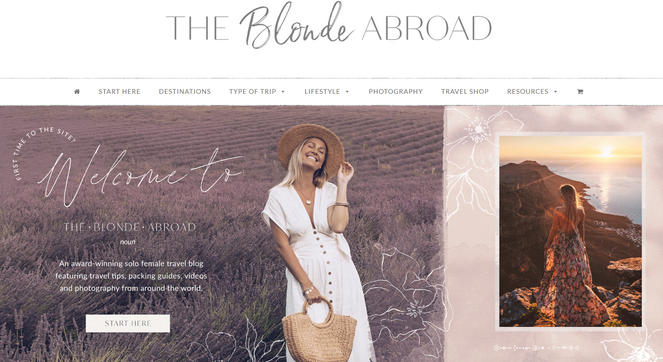 If you're not an experienced photographer, capturing images like this can be difficult.
Luckily, there are tons of sites that offer free, high quality stock photos to help you decorate your WordPress blog, like:
You can read our guide on how to find free images for your blog to get more stock photo site recommendations, learn how to choose the best photos for your brand, and find tips on resizing, editing, and optimizing your blog images.
8. Stick with a Consistent Blog Post Layout
Other than the overall design of your website, you need to consider how your blog posts look as well.
Visitors will spend the majority of their time on your site reading your content. So, it's important that your blog post layout is consistent and looks great.
You might be wondering, how do I style a WordPress blog post?
Simply follow these steps to create an appealing blog post layout:
Introduction – Each blog post should start with an introduction that explains what your post is about. Keep it short and compelling to encourage people to keep reading.
Body – The body, or the middle section of your post, should go in-depth about the topic of the article. You can break this section down into steps or create a list to make it easy to follow.
Conclusion – The conclusion at the end of your blog post should include a summary of the topic as well as a call-to-action to let readers know what to do next. You can tell readers to follow you on social media, subscribe to your email list, or read related posts.
Table of Contents – Adding a clickable table of contents to the beginning of your posts will allow readers to see what your article contains and help them jump to the section they're most interested in.
Headings – You should add headings and subheadings throughout your post to guide readers through your article. Use H2 headings for your main points and H3 or H4 headings for your subpoints.
Images – Add a few images throughout your article, especially in longer posts, to illustrate your points and make it more visually appealing for your readers.
White Space – Use short paragraphs to create white space, or negative space. This makes your blog appear more clean and uncluttered.
You can see our guide on how to structure the perfect blog post and how to write a good blog post for more detailed tips.
9. Remember: Less is More
As you're designing your blog, you might be tempted to add every beautiful detail you can think of. But, remember, less is more.
A blog that's cluttered with too many images, illustrations, animations, and other features will only distract your readers from what's most important: your content.
If your blog has any visual clutter, remove a few elements to create a more enjoyable experience for your website visitors.
---
That's a wrap! We hope that these tips will help you make your WordPress blog more beautiful.
Now, your visitors will be impressed with not only your writing, but your design as well!
If you liked this article, you might want to check out our post on easy ways to make your blog more interactive.
And don't forget to subscribe to our email newsletter to get more blogging tips and tricks delivered right to your inbox.