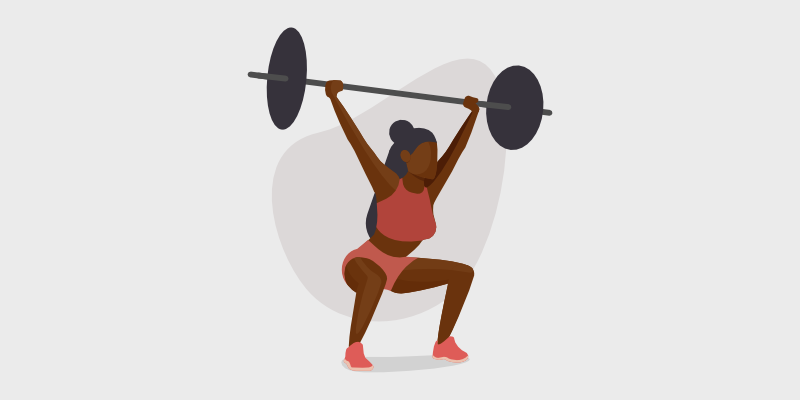 W ondering how to start a fitness blog and make it profitable? In this tutorial, we'll break it down for you in simple steps.
Let's face it: it takes a lot of work to start a blog. And in the fitness industry, there's a whole lot of competition.
Not only do you have to come up with relevant content and market to your audience, but you also have to provide value and gain your readers' trust. It's not easy to create a successful fitness blog, but it is possible if you have a plan.
In this article, we'll break down how to start a fitness blog and get the results you're looking for.
Let's get started!
Step 1: Choose a Fitness Blog Niche and Name
To start, you need to choose a niche and domain name for your blog.
Let's look at how to do that now…
Decide on a Fitness Niche
With so many fitness blogs out there, you have a better chance of building an audience by narrowing down your niche.
So, instead of creating a general blog that covers all aspects of fitness, you can choose a more specific topic like:
Weight loss
Healthy eating
Personal training and coaching
At-home workouts
Yoga
Bodybuilding
Fitness for seniors
Choosing a niche within fitness is important for a lot of reasons. By targeting a smaller audience, you can reduce your competition and increase your chances of success within that smaller group. You can build a loyal readership for your blog by focusing on specific areas that need more attention.
Niching down also helps you become a leader in your industry that people look to for credible resources and information.
While it might not be easy at first, once you start brainstorming ideas, you're likely to find a niche you're interested in.
Pick a Domain Name
After you figure out your niche, it's time to pick a domain name. Your domain name is the name of your website and should be the same name as your brand.
To attract the right audience, it's important to choose a name that accurately represents your brand and tells potential readers what your blog is about. If the name doesn't relate to your fitness niche, it'll confuse users and turn them away.
To create a domain for your blog, remember to:
Use relevant keywords. Your blog has a higher chance of showing up in search by choosing a name with relevant keywords. They tell search engines what your blog is about so the right people can find your website.
Be unique. It's important to think outside the box and create a name that encourages visitors to click on your content. If they see a blog name they like that relates to fitness, they're likely to engage with your site.
Use .com. Although there are many different URL extensions to choose from, we recommend sticking to .com domains. For businesses and blogs alike, they come across as more professional and will increase the trust that visitors put in your website.
If you need help coming up with a unique name for your fitness blog, you can use a blog name generator to make it easier. Our top recommendation is Nameboy.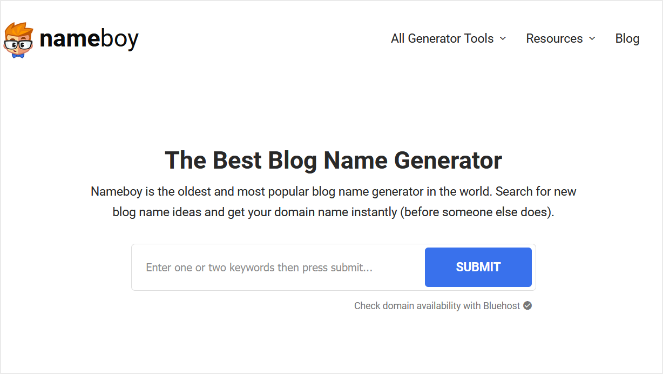 Nameboy is a domain name generator that takes the keywords you submit and uses them to create potential names for your blog. Instead of struggling to find an available domain name, you can use a generator to save you time and give you inspiration for your fitness blog.
What's great about Nameboy is that it automatically tells you if your domain name is available through Bluehost. That way, you know upfront whether or not you'll be able to obtain that name for your blog…more on that later.
If you'd like more help, check out our guide on how to choose the best domain name.
Step 2: Set Up Your Fitness Blog
After you choose a domain name and niche, you need to set up your website.
If you're a beginner, setting up your blog can seem confusing or difficult, but with the right tools, it doesn't have to be.
We'll show you how…
Pick a Blogging Platform
To set up your blog, you first need to choose a blogging platform. This is where you'll write, edit, and publish content on your website.
A good blogging platform makes it easy to manage your content and customize your website exactly how you want it. It should also be easy to use and beginner-friendly so anyone can take advantage of its features.
If you're looking for a recommendation, however, we highly suggest WordPress.org. It's by far the most popular blogging platform in the world as it powers more than 43% of all sites across the web.

WordPress offers tons of flexibility and customization in its plugins and themes, thousands of which are free to the public. There's also a ton of support, community forums, and online tutorials to answer any questions you might have.
After choosing WordPress, you'll now move onto the next step.
Pick a Web Host
Your web hosting is the service that will host your website and store your images, files, videos, and other content. Visitors cannot see or engage with your content unless it's hosted on a web hosting platform.
When it comes to a web host, we recommend Bluehost. It's totally beginner-friendly and takes away the hassle of setting up and running your website. It's also officially recommended by WordPress.org.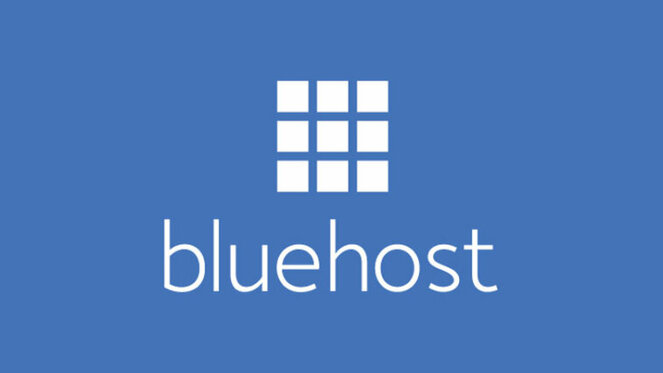 Bluehost comes with a lot of powerful features including:
User-friendly dashboard
Fully customizable websites
Full suite of tools
Built-in security
24/7 expert support
Plus, Blog Tyrant readers get a special deal:
To get started with Bluehost, click on the link above and hit Get Started Now: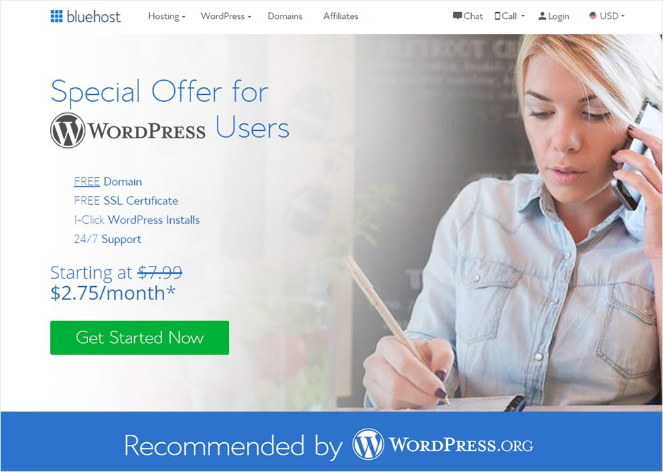 Once you've clicked, you'll be on a new page where you can pick a pricing plan. Select the one that suits you best.
Next, you need to type in the domain name you've chosen, or you can click on "I'll create my domain later" if you haven't decided yet.

Then, you will be asked to add in your information, starting with self-explanatory account information.
Next, you'll be asked to add your package information. This is where you choose how long you want the pricing plan to go for. The best value is the 36-month price.

You can also purchase extra addons if you want to, but that's entirely up to you. Because you're a new blogger, addons aren't necessary, so you don't have to purchase them right away. As you gain experience and better understand your strategies, you can add the elements you need.
Next, you'll have to add in your payment information to complete the signup process.
After you're done, you'll get an email with your login details to your web hosting control panel. Once you log into your Bluehost account, you can find your WordPress site under the My Sites tab.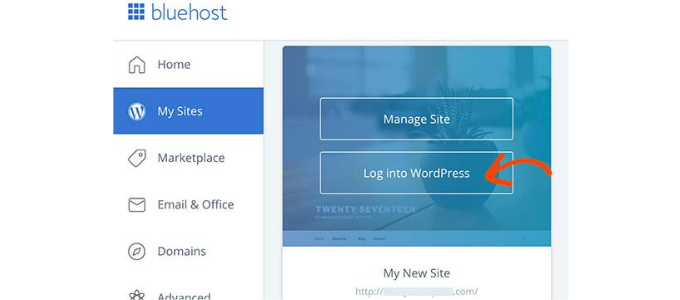 Click on Log into WordPress and enter your credentials.
Once you've logged in, click on Create Site.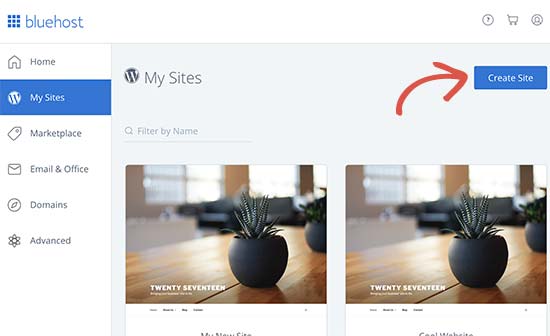 This will launch Bluehost's WordPress installation wizard, where you'll be asked to enter your blog name and an optional tagline.
Then, simply follow the steps to set up your blog.
Now it's time to move on to the next step and give your blog some style.
Choose a WordPress Theme
A suitable design for your website can be the difference between a growing blog and a stagnant one. It's important for your website to visually appeal to visitors as well as create a positive user experience.
Luckily, you can use a WordPress theme to give your fitness blog a professional look in an instant, no need for a designer.
WordPress.org offers 9000+ free themes for you to choose from in the official WordPress theme directory. You can filter your theme search by colors, headers, menus, website type, column type, and more.
By typing "fitness" into the search bar, more than 200 free options pop up that include sub-niches like yoga, coaching, and fitness clubs: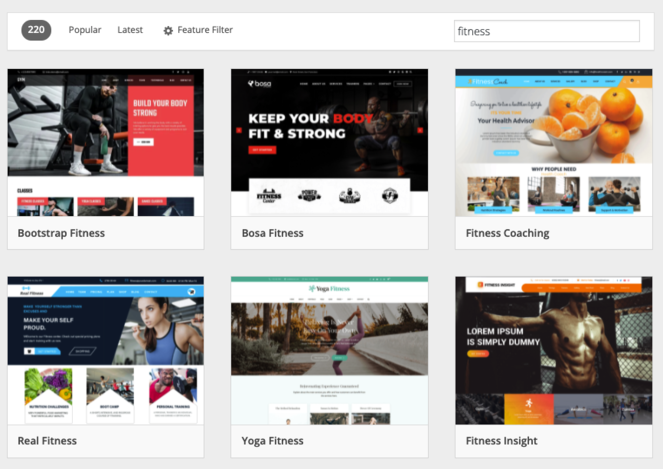 While free themes are great, you can get more features and flexibility by upgrading to a premium theme. A paid theme generally comes with better support, coding, and customization so you have a higher chance of appealing to your audience.
Paid themes are created by professional developers so they're easier to trust and won't be affected by malicious code. They're easy to install and give your website a unique look that few other websites have.
One premium theme we recommend is Divi. It comes with a ton of beautiful templates and layouts specifically for health and fitness websites.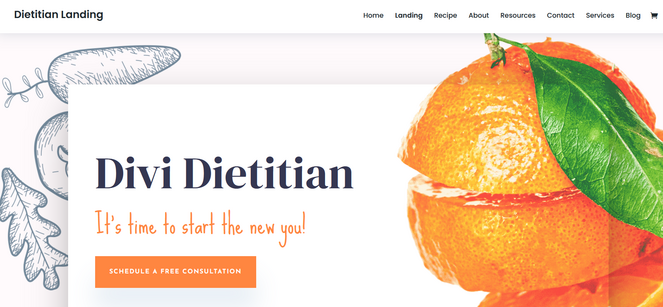 Divi also offers a powerful WordPress page builder that lets you easily design your website how you want with drag and drop functionality.
Use the Right Tools
Without the proper tools, you can't take your website to its fullest potential. But when you take advantage of the many WordPress plugins that are available, you can easily add the extra features and functionalities your fitness blog needs.
WordPress offers 60,000+ plugins in their depository so all you need to do is search for what you want and download the plugins you need.
We're going to share a few of the plugins we recommend to take your blog to the next level.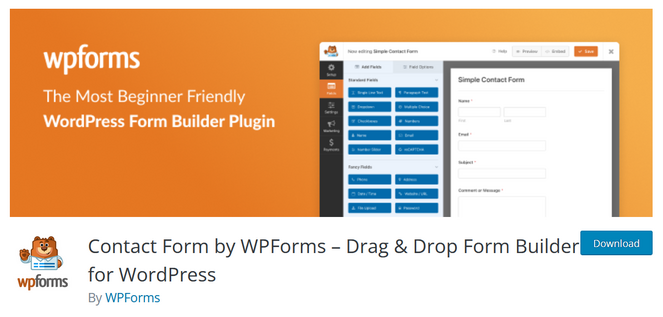 WPForms Lite allows you to add forms of any kind to your website. It's trusted by more than 5 million bloggers and marketers to embed optimized forms easily and quickly.
WPForms Lite is super beginner-friendly so you can create a form within minutes. It comes with pre-built templates so you never have to start from scratch. It also comes with a drag and drop builder so it's easy to build your form exactly how you want it.
You can create contact forms, newsletter forms, registration forms, feedback forms, subscription forms, payment forms, and so many others.
Whether you want to an easy way for readers to contact you or you want to create a survey to learn more about the fitness needs of your audience, you can do it all with WPForms.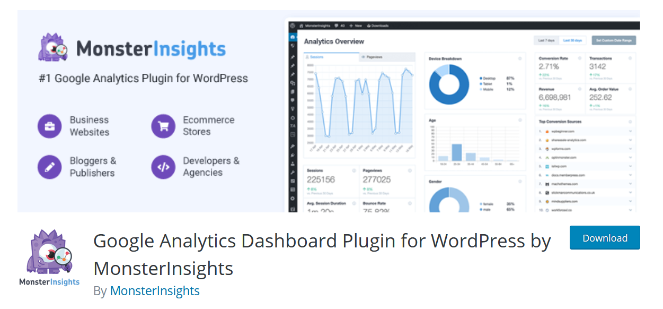 MonsterInsights is the best Google Analytics plugin for WordPress. With MonsterInsights, you can easily track how much traffic you're getting, see what country your visitors are from and what they're interested in, discover how people found your site, and much more.
And you can see all of these important blogging metrics right from your WordPress dashboard. MonsterInsights is easy to set up and the reports are easy to read, so it's perfect for beginners that find Google Analytics too confusing.
For more details, take a look at this tutorial on how to install Google Analytics in WordPress.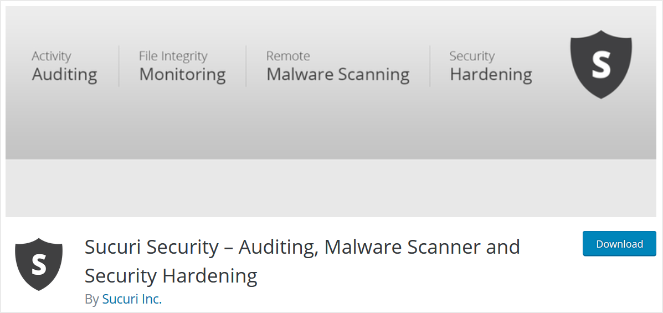 When you work hard on your blog, you want to make sure to protect it from hackers and other security threats. Sucuri is a popular, free security plugin that will help you do just that.
Sucuri offers a set of security features to protect your site including remote malware scanning, blocklist monitoring, security notifications, file integrity monitoring, and more.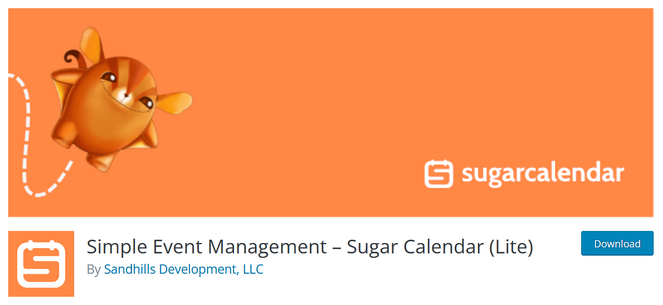 Sugar Calendar is the best event management and calendar plugin for WordPress. If you run fitness classes, either in-person or online, you can use Sugar Calendar to display a beautiful calendar of upcoming events on your blog to boost attendance.
It's super easy to use and lightweight so it won't slow down your site. Plus, the calendars are highly customizable and translation ready.
With the Pro version of Sugar Calendar, you get access to advanced features like recurring/repeating events, Google Maps integration, and you can even sell event tickets right from your WordPress site.
Step 3: Create Content and Start Blogging
After you've gone through setting up your website, customizing its design, and installing the right plugins, it's time to start creating your fitness content and publishing it to your website.
For your content to perform well, it needs to provide value and offer solutions to your audience's problems. If you can't answer their questions, they'll go elsewhere, so it's important to prove that you can help them.
Creating valuable content is also essential because it allows your website to rank higher in search engines and boost brand visibility.
You want to come up with blog post ideas that are engaging, relevant, and insightful to your readers. But you might find it difficult to create optimized blog topics that are likelier to convert.
To come up with potential topics for your fitness blog, you can use a tool like AnswerthePublic. When you type in a keyword or keywords, it'll show you the most popular questions related to that search.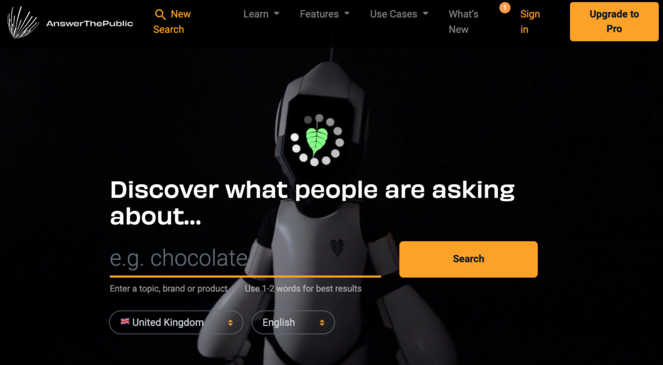 For example, if you type in the keyword phrase "beginners yoga," this is what will pop up: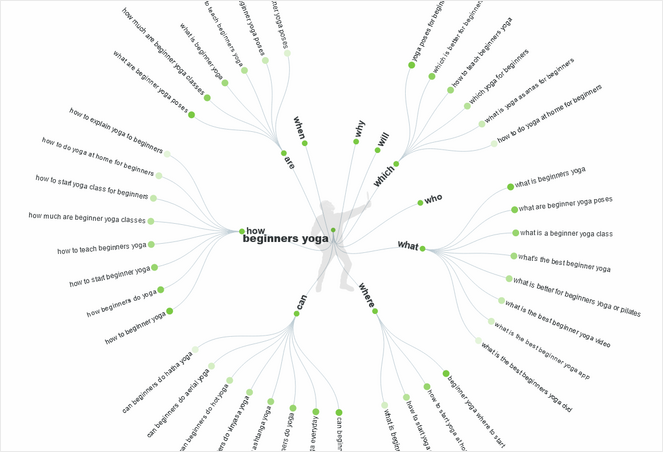 Some of the most popular questions asked by users searching those keywords include:
how to do yoga at home for beginners
what is the best beginner yoga app
can beginners do aerial yoga
From these keyword terms alone, you can brainstorm relevant and helpful topics that will answer these questions and go in-depth about them too.
If you wanted to use those keyword phrases to create headlines, you might come up with titles like:
X Easy Ways to Start Yoga at Home (For Beginners)
Here are the X Best Yoga Apps for Beginners
How Beginners Can Practice Aerial Yoga (X Tips)
From a simple keyword search, you now have a few potential topics you can add to your content calendar.
To ensure that your headlines are SEO-friendly, we recommend using IsItWP's Headline Analyzer.

When you enter your headline, it'll create a score based on how well it'll perform in search engines as well as tell you what to improve: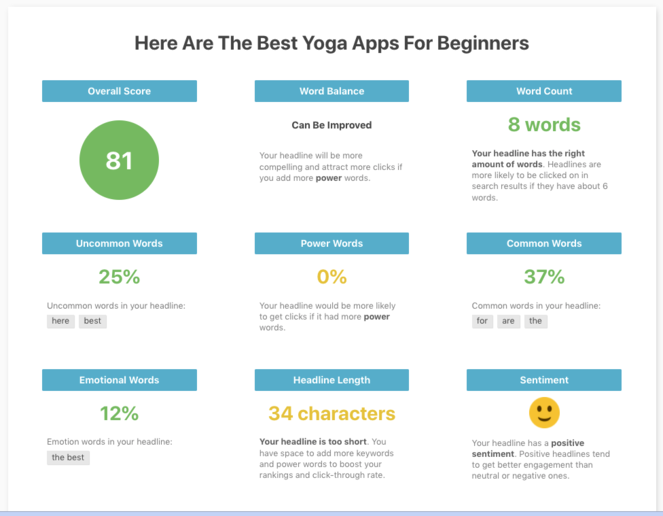 From here, you can outline, draft, add images, and edit your post until it's ready to be published.
For more help creating content, check out these articles for excellent tips:
Once you've written some content, it's time to move on to the next step.
Step 4: Promote Your Blog and Grow Your Audience
You can have the best content and website, but if you don't work to promote it, it won't be successful.
So, now it's time to promote your blog content and show it to the world. And you don't have to spend an arm and a leg either!
With a new blog, using the proper promotion methods will help your blog gain traction from interested readers who otherwise wouldn't have known it existed.
We'll go over a few affordable strategies for promoting your blog and growing your readership.
Let's take a look…
Email Marketing
Email marketing is one of the most vital tools for promoting your content to your existing audience. It's important to build an email list full of loyal subscribers who enjoy and repeatedly engage with your content.
Plus, your email subscribers are your biggest fans, so they're likely to share your content with their family and friends.
You can send your subscribers regular email newsletters that feature updates about your blog, your latest posts, new products available—whatever you want.
In the newsletter example below, Tough Mudder offers a discount to subscribers to encourage them to attend their first Tough Mudder event: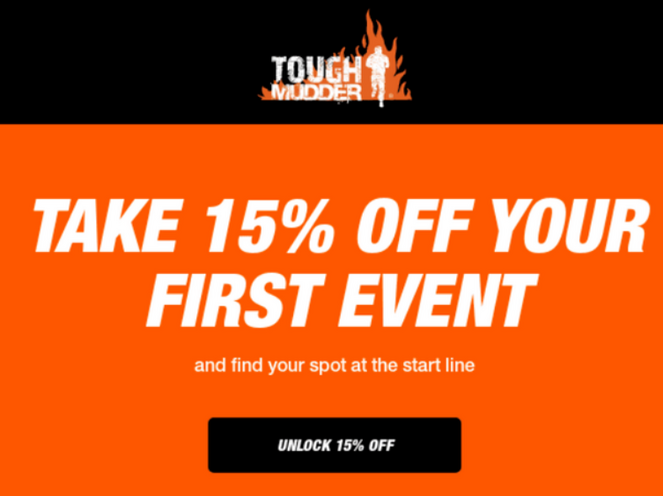 Most email marketing services allow you to personalize your messages and target different groups within your audience. So, you could segment your email list by:
Location
Language
Device
Interests
Pain points
Behavior and activity
Segmenting your email list allows you to send the right content to the right people in your target audience. Just because they're all interested in fitness doesn't mean they all want to receive the same email. Your blog needs to cater to their vast interests and needs so they continue to engage.
That's why you should stay away from a one-size-fits-all solution. Most people have tons of content flooding their inbox, so providing value is crucial to grab their attention and stay subscribed.
To successfully grow your email list, we recommend using OptinMonster.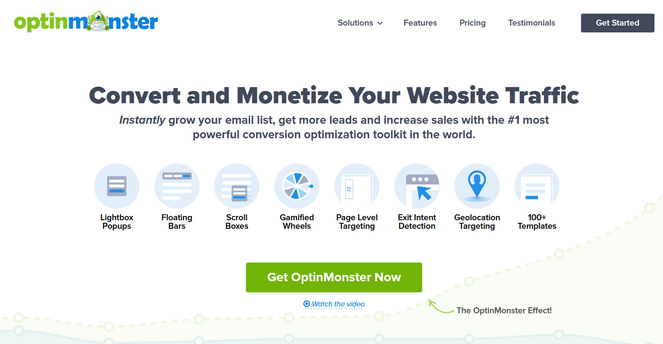 OptinMonster is the best lead generation plugin for WordPress. It allows you to create optimized popup campaigns for your blog to collect leads and grow your email list.
OptinMonster is totally beginner-friendly and doesn't require any coding on your part thanks to the ready-made templates and drag and drop builder. You can create many different types of campaigns including floating bars, lightbox popups, scroll boxes, sidebar widgets, and more.
With OptinMonster, you can easily create stunning optin forms just like this one to encourage your website visitors to become subscribers: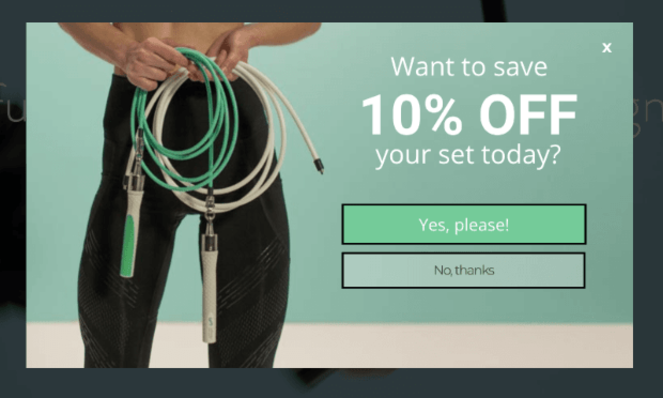 Check out our OptinMonster review for more details on this awesome product.
Social Media Marketing
Social media is a crucial tool that will boost your blog visibility and drive more traffic to your website. Your site won't magically appear to your target audience, so you need to go where they are and promote your content where they spend time.
Promoting content on social media platforms like Instagram, Facebook, Twitter, and Pinterest is a great way to reach your audience and introduce them to your blog even when it's brand new.
And social media is so versatile that there are several ways to use it to promote your content, such as:
Creating posts that link back to your blog
Adding relevant images and videos to social posts
Replying to comments
Running an online contest or giveaway
Hosting a live Q&A in real-time
Here are a couple of awesome WordPress plugins that will help you with your social media marketing:
Many fitness brands like to run social media contests or giveaways to build hype around their brand and drive traffic to their website. With RafflePress, you can do just that.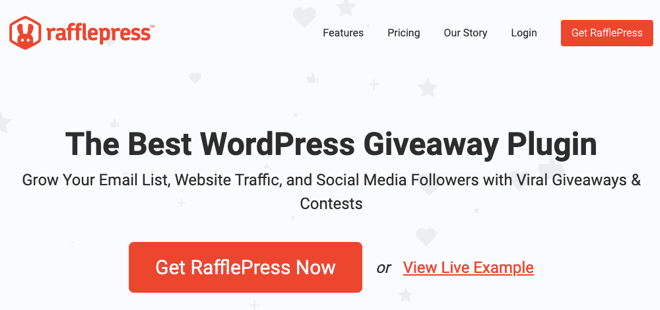 RafflePress is a giveaway and contest plugin that easily lets you build and set up a viral giveaway campaign. It comes with a drag and drop builder, pre-made giveaway templates, one-click entry, tracking and retargeting, and much more.
The best part about RafflePress is that you can get participants to perform specific tasks like referring a friend, following you on Pinterest, or visiting your YouTube channel to receive extra giveaway entries.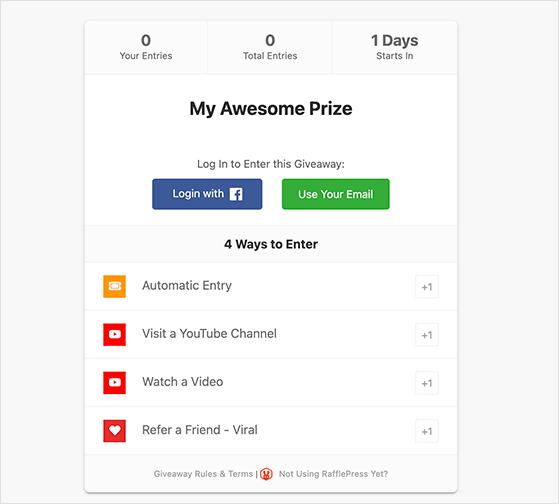 This makes it an effective and fun strategy to boost your social media following.
Smash Balloon is the best social media feed plugin for WordPress. With Smash Balloon, you can easily embed social media feeds for Facebook, Instagram, Twitter, and YouTube right on your WordPress blog.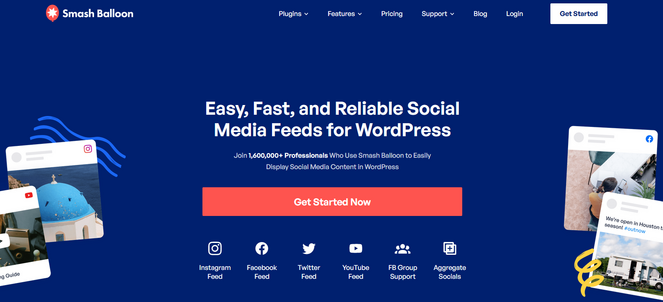 Smash Balloon is 100% responsive so your content is guaranteed to display beautifully on your website and keep readers engaged. The feeds are also highly customizable so you can design them to match your brand, show or hide comments, choose from different feed layouts, and more.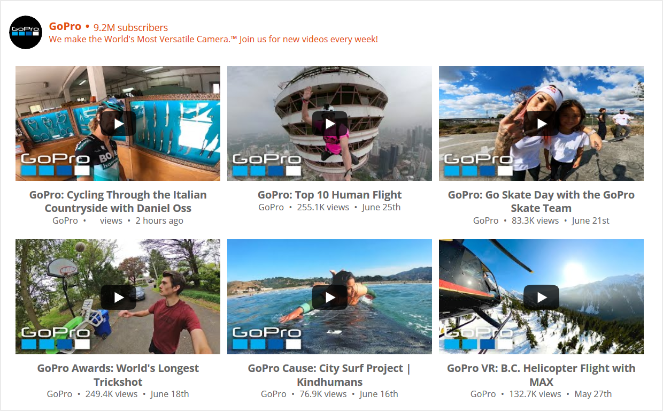 Adding social content to your blog will drive traffic to your social profiles and help you build a following on different platforms. This will help to grow your brand and its visibility.
Let's move on to the next method.
Search Engine Optimization
For your blog to gain traction, it's crucial that your website is optimized for SEO.
Search engine optimization makes it easier for Google and other search engines to crawl and index your webpages. The more optimized they are, the higher they'll rank in search engine results and the more traffic, clicks, and engagement you'll receive.
For a beginner-friendly option to optimize your blog, we recommend All in One SEO (AIOSEO).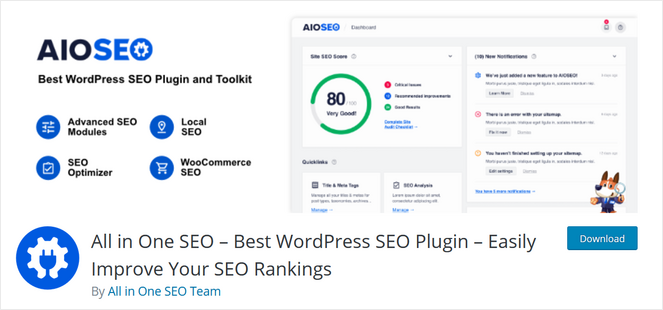 All in One SEO is the best SEO plugin on the market. Search engine optimization can be intimidating for new bloggers, but this free tool makes it easy and hassle-free.
In less than 10 minutes, you can optimize your entire site for SEO. Its powerful features include the smart SEO setup wizard, XML sitemaps, meta titles, meta descriptions, and much more. Plus, its SEO Content Analysis tool lets you easily optimize every blog post for your target keywords so your content has the best chance of ranking.
And if you're looking for more advanced features like unlimited keywords, schema markup for rich snippets, advanced SEO modules, and premium support, you can always upgrade to premium.
For more information about optimizing your blog for SEO, check out some of our articles:
Step 5: Monetize Your Fitness Blog
Once you get a following going, you can start to monetize your blog and earn an income from your website.
There are many ways for you to make money from your blog. Let's take a look at a few different strategies…
Display Ads
You can add Google AdSense to your blog to display ads on your site that will earn you money whenever a visitor clicks through. The more relevant the ads are to your audience, the likelier you'll make money from them because more people will engage.
While displaying ads is an easy way to get started with blog monetization, you need high amounts of traffic to earn a substantial income from this method.
Affiliate Marketing
Affiliate marketing is when you choose a product you like, promote it online with a referral link, and earn a commission each time someone purchases it through your link.
The great thing about affiliate marketing is that you can add these links to your website from day one since it's natural to add relevant links. And you don't need a huge following to start making money from affiliate marketing, all you need is a few loyal readers.
Remember, make sure to only promote products relevant to fitness. If you promote something random, it'll confuse your readers and they're less likely to return. You'll also miss out on commissions by failing to promote the type of content they're interested in.
To find products that you can promote on your blog, you can join an affiliate marketing program. Affiliates provide you with the referral link you'll use so you can earn money from your audience. This link also allows the businesses you promote to track your sales and monitor activity so they know how it's performing.
Sell Courses, Memberships, eBooks, and Other Content
One of the most popular ways fitness blogs make money is by selling content like fitness programs, memberships, eBooks, and more.
In the example below, Strong Fitness Magazine is promoting its STRONG Transformation Challenge. Users can pay a fee to access training materials, nutrition plans, entry to a private Facebook group, and more.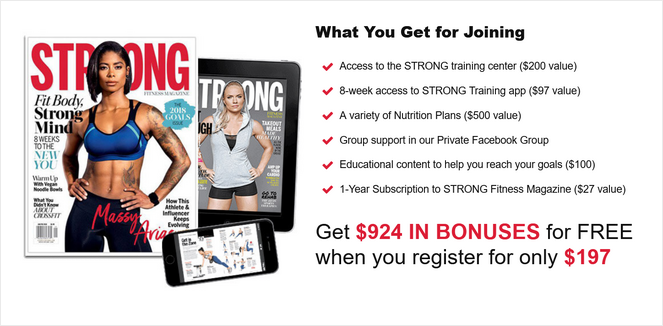 To create something like this for your fitness blog, you can use a plugin like MemberPress.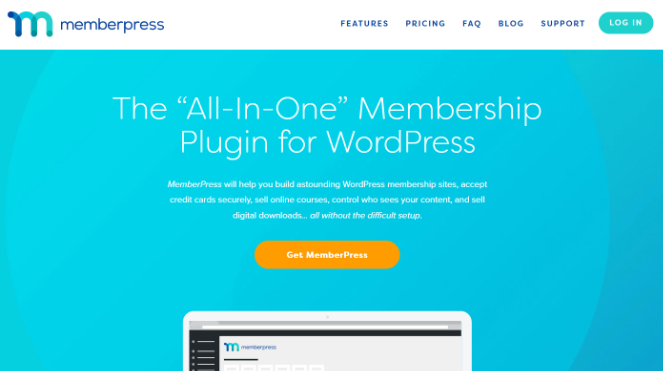 With MemberPress, the best WordPress membership plugin, you can easily turn your blog into a membership site. That way, only subscribers or paying customers have access to your fitness content or courses.
MemberPress is simple to set up and only takes a few steps to complete. It comes with powerful access rules, granular content restrictions, an online course builder, and bbPress compatibility to create private forums. You can also generate coupon codes, create and track membership subscriptions, manage user permissions, and much more.
MemberPress gives you complete control over who has access to your content so that you can monetize your fitness content easily.
If you want to sell digital products on your blog, you can also use a plugin like Easy Digital Downloads.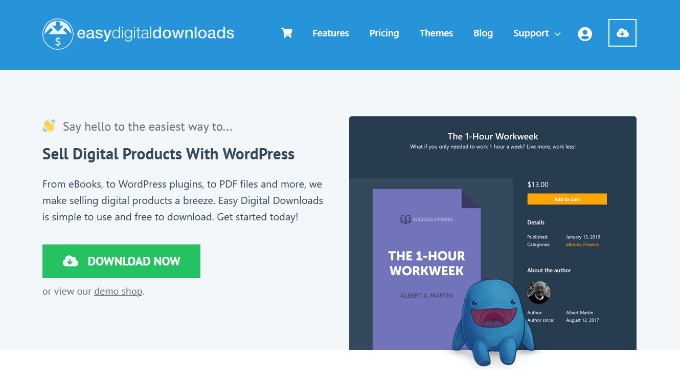 Easy Digital Downloads is the easiest way to sell digital downloads like eBooks, PDF files, audio files, and more, right from your WordPress blog.
The best part about selling digital downloads is that you only have to create the product one time and then you can sell it over and over again.
Easy Digital Downloads comes with all the features you need to start selling including flexible payment options, a full shopping cart system, discount codes, download activity tracking, and much more.
---
And that wraps up the tutorial on how to create a fitness blog!
We hope you found it informative so you can take the steps to create the blog of your dreams and turn your passion for fitness into online income.
If you enjoyed this post, then you might want to check out our massive post of blogging tips for beginners. It includes a ton of other tips that will help you build a successful blog.
And don't forget to sign up for our email newsletter for more helpful blogging tutorials like this one!