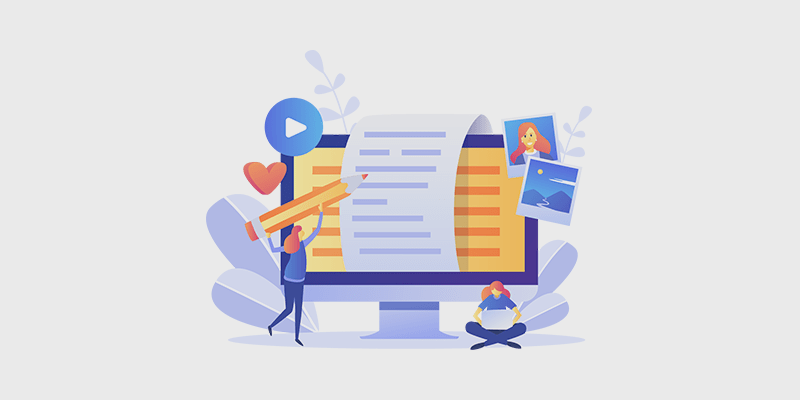 B ored of creating the same types of blog posts over and over again? Bad news – your readers can probably tell! When something becomes monotonous, it shows in your writing.
But don't worry. Today I'll tell you about different types of blog posts that'll work for any niche. These ideas are fun to create and will keep things interesting for you and your readers.
Let's take a look!
Unique Blog Posts Ideas for All Niche
1. Write a Step-by-Step Tutorial
Tutorials are one of the best types of blog posts for any niche or industry.
"How to" headlines tend to get more traffic and shares. That's because they solve a specific problem the reader is having right now.
To come up with a tutorial topic, just think of the biggest problems your audience is dealing with. Then teach them how to solve it, step-by-step! The easier your tutorial is to follow, the better.
Tutorials also lend themselves really well to multimedia like screenshots and videos.
2. Create a Checklist or Cheat Sheet
Everyone love cheat sheets and checklists because they make things easy!
You can create cheat sheets and checklists as handy references for any kind of task.
Think about what tasks are common in your niche or industry. What does most of your audience do on a regular basis? Could they do it better if they had a handy checklist, or a cheat sheet to reference?
This type of blog post is also great for getting more email subscribers because you can offer a downloadable PDF version of your cheat sheet if the reader signs up to your email list.
Here's a great example of a checklist with a downloadable option from OptinMonster: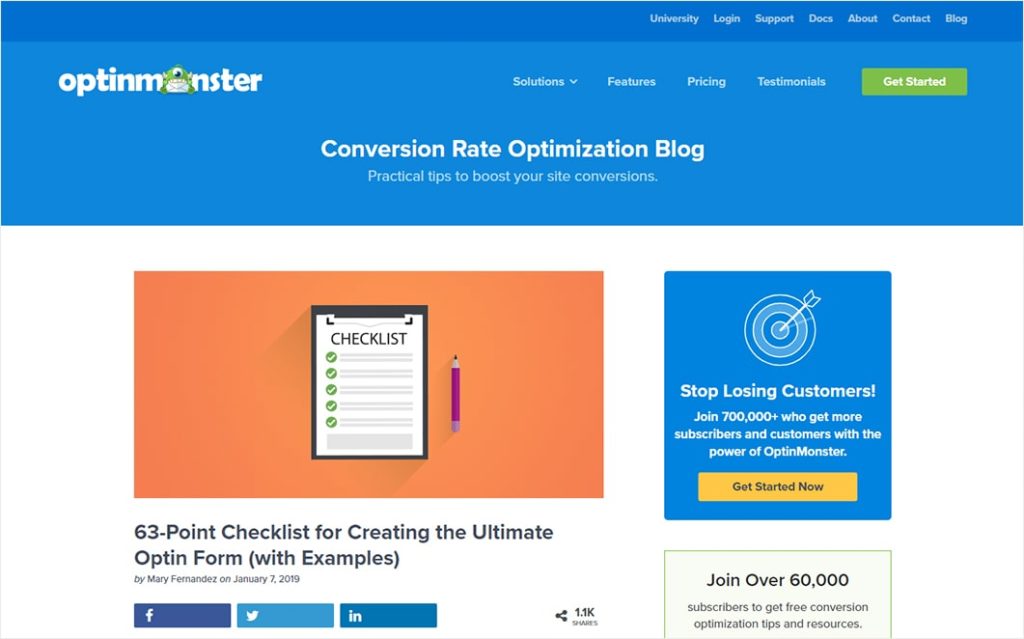 3. Share a Free Giveaway or Contest
Looking for a blog post that will get you tons of traffic and shares?
Then you need to run a giveaway on your blog!
This type of blog post can quickly go viral and help you grow your traffic, shares, and email list fast.
Free giveaways don't always have to be physical products. You can also offer digital downloads like an e-book, an infographic or anything around your niche of work. Check out this list of contest prize ideas for inspiration.
To run your giveaway, you should check out RafflePress if your site runs on WordPress.
You can use RafflePress Lite for free if you're on a budget, but if you get spring for the pro version I highly recommend it. It has all the advanced features you need to run a successful giveaway, but it's still super-easy to use.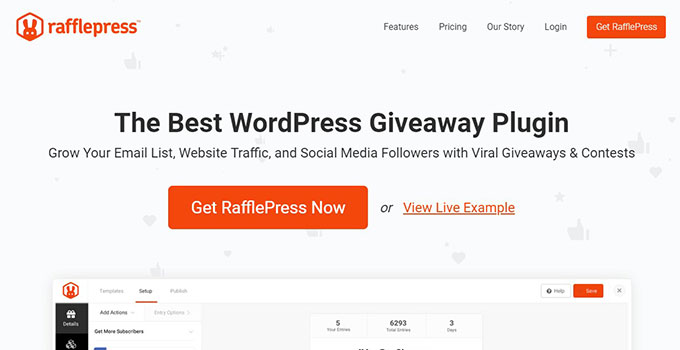 4. Compare Myths Versus Facts
People love reading "myth buster" types of blog posts. They're engaging and enticing to read because people have a need to find out whether they're right in their beliefs, or about to be proven wrong!
No matter what your blog is about, you can write one of these types of posts. There are myths about every topic under the sun.
First, make a list of common but false beliefs in your niche. Tell your readers about how they can mislead or fool people to do the opposite of what they should actually do. You can also talk about the real facts side-by-side.
Just make sure you do your research and are confident about the facts! You don't want to get a reputation for giving out the wrong information.
5. Write a Case Study of a Success Story
Stories are powerful! That's what makes case studies a great choice to write for your next blog post.
Storytelling is scientifically proven to have a powerful impact on the reader's brain.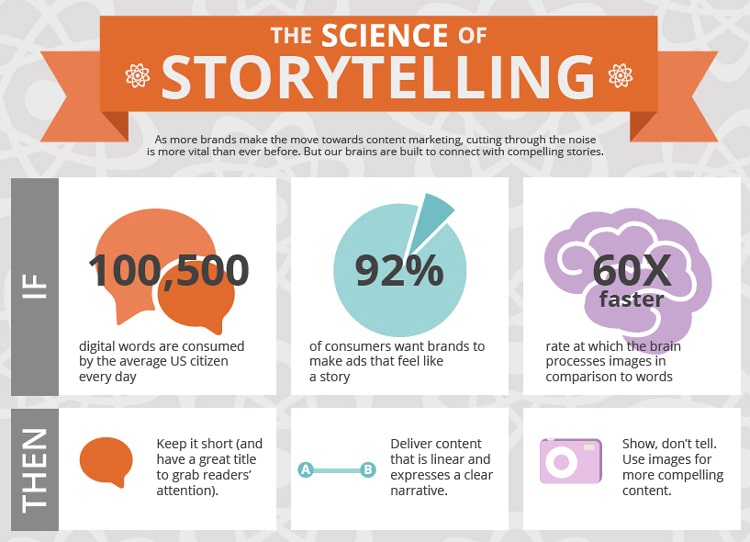 And success stories are some of the most popular stories to share.
You can write a case study about yourself or someone else. Think about the biggest successes in your blog or business, and share how you achieved them. Be specific and give numbers whenever possible.
6. Talk About a Mistake + Lessons Learned
Your blog posts don't always have to be about success and all the good things you've accomplished. Bloggers are human, too! So it's natural to make mistakes and have failures.
In fact, mistakes are the best way to learn and grow.
That's why they're so compelling to share. You can write a blog post that talk about your struggles in general, or about a big mistake that you learned some lessons from.
Check out this example from Syed Balkhi's blog: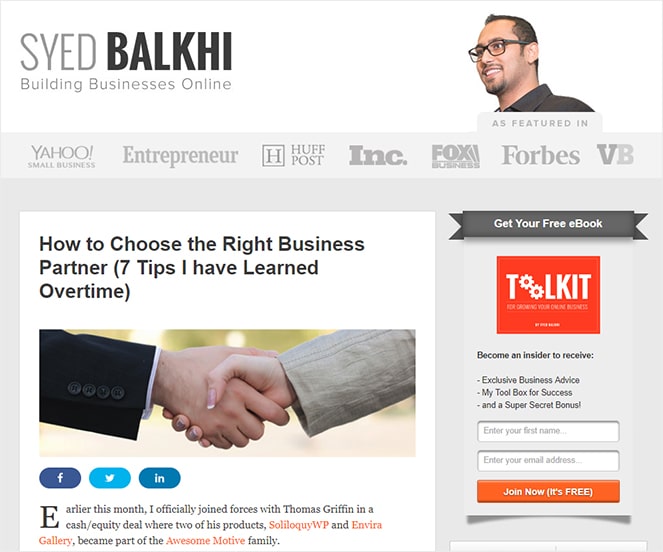 7. Recount Your Blog History on Your Anniversary
When you first started a blog, you might have published an introductory post the first day announcing your plans for your new blog.
Have you thought about how much you've accomplished since then?
Why not recount all your achievements in an anniversary post?
This can have a two-way benefit. You can relive those times again while getting to know how much the blog has grown. And your audience gets to know you and your history a bit better.
You can compare the blog's performance back then and how it's doing now. You can also go through your failures and successes, and what you've learned from them.
That way, your audience will also know the dos and don'ts when it comes to blogging.
Here's a great example of an anniversary post for WPForms, a contact form plugin for WordPress: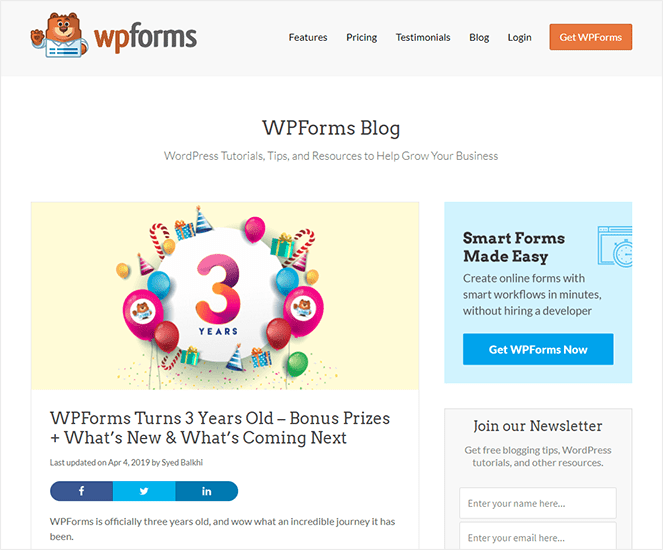 8. Share Your Plans for the Future
The next idea is to do a "wishes and goals" type of post where you talk about your future plans and dreams. These types of blog posts are easy and fun to create.
It can be at a professional or personal level. You may also want to combine both of them together.
For a personal blog, you could just make a list of wishes that you have, or share your "bucket list" in life. Talk about your plans and the challenges. Tell your audience why achieving it is important for you.
If this is for a business blog, you can talk about your upcoming roadmap or even give a sneak peek of products or releases that are coming soon.
Here's a good example from MonsterInsights: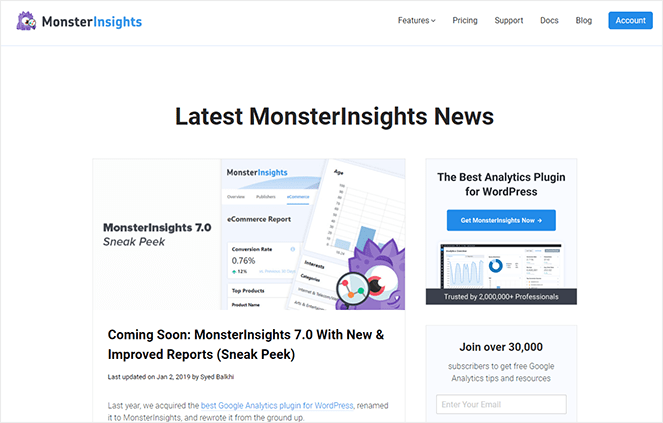 9. Put Together an Expert Roundup
Every niche and industry has its influencers.
These are popular, influential people who are thought leaders in their specialty. They often have huge social media followings and everyone shares their blog posts.
To inspire your followers, you can share a list of the best influencers to follow, or the best blogs in your niche. You can also add a link to their Twitter, Instagram, and Facebook handle. If they have a website leave a link to that too.
This "expert roundup" type of blog post has a lot of benefits! It can…
Establish you as an industry expert
Serve as outreach to connect with powerful influencers
Attract a lot of shares and backlinks to your blog
It's a win-win-win for you, your readers, and all the influencers you include.
In the end, don't forget to send a quick email letting the influencer know about your post, or just tag them on social media when you're sharing your post.
You can get pretty creative with this type of blog post. Here's an example roundup of successful WordPress businesses from WPBeginner: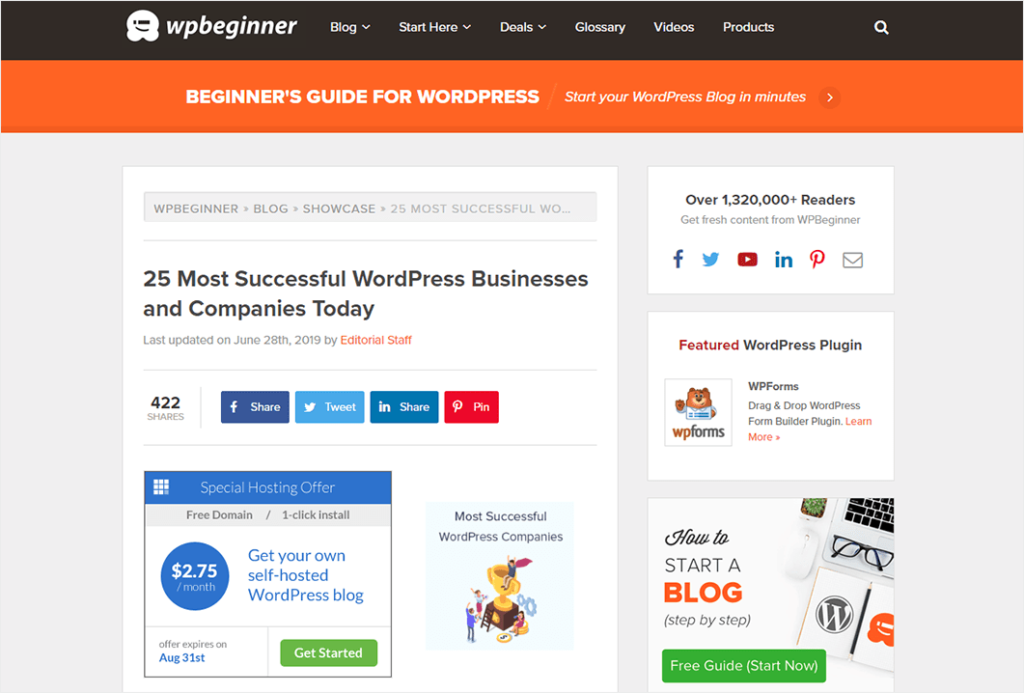 You can also quickly create a roundup post of your top articles using a plugin like Tasty Roundups.
10. Go on a Rant
Yes, even an angry rant can be a blog post too!
If you are frustrated about something, rant about it. There's a lot of people who would want to lend an ear.
A unique rants can go viral very easily. But keep in mind, a rant also has the potential to start controversy. Not everyone will agree with you! So be careful what you rant about.
11. Share Your Views on a Current Event
Depending on your blog, current events can be a great topic to write about.
Twitter can be a good resource for this. If a new hashtag is doing the rounds, research a little about it. When you have the details, be active on Twitter and follow the hashtag activities for a day or two.
This will give you have a better idea about what's going on. Once you're familiar with the concept embed some popular tweets on your post and comment on them with your own views.
This can be a good way to get traffic since people often search for a summary on current events like this. Adding your own views can help establish you as a thought leader in your industry.
12. Answer All Your Frequently Asked Questions
Compiling answers to frequently asked questions in your niche is a great type of blog post.
Where should you get the questions from? If you've already built up an audience, you probably get questions via your blog comments, social media, or emails from your readers.
If your blog is still new, don't worry. You can easily find frequently asked questions online.
Here are a few places to look:
Try a few Google searches related to your niche and look for a "People Also Ask" box with related questions.
Look for forums or subreddits related to your niche and look for popular or repeat questions.
Use AnswerThePublic.com to look up questions and other keywords.
Try BuzzSumo's Question Analyzer tool. All you have to do is enter a keyword to find questions people are posting online.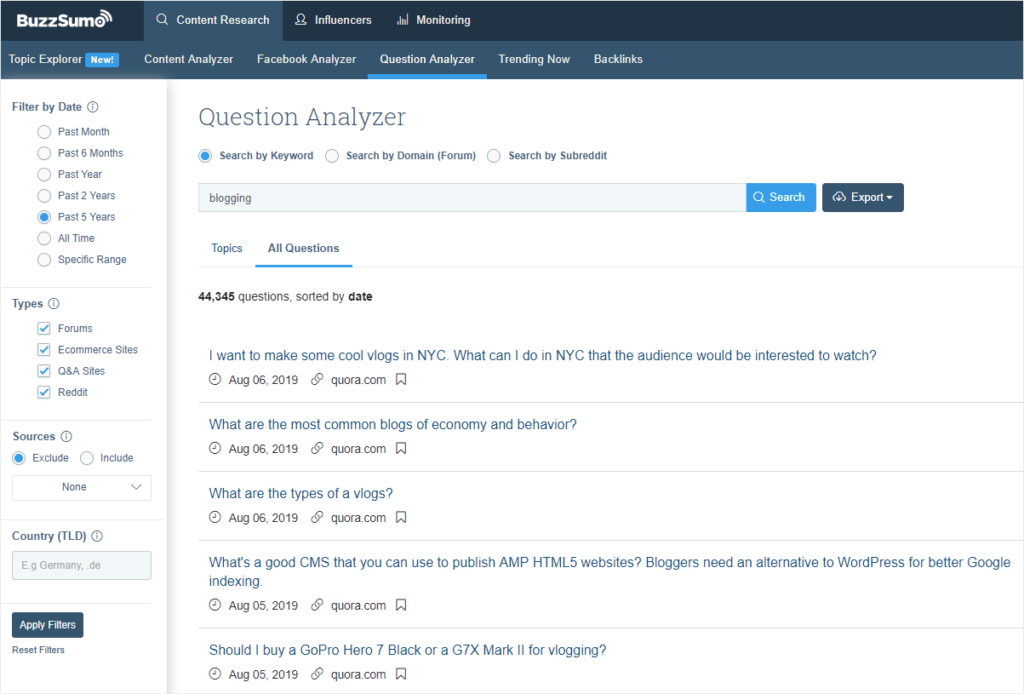 Once you've compiled a list of questions, get to work answering them! You could even do a series on different subtopics.
13. Compile a List of Hacks
Everyone loves a shortcut!
A blog post with some great hacks can never fail. These ideas help people find a quick solution to their problems. And people are constantly looking for such posts.
Usually a long list of quick and easy hacks works well for this type of blog post.
14. Share What Others Are Saying
You can also come up with a post that covers what people are saying. The subject can widely vary. It can be about a movie, a newly launched product, a video that just went viral or a social campaign.
Choose a topic that your audience can relate to. There is no point talking picking a beauty product launch if you are anything other than a beauty or fashion blogger.
15. Show Behind the Curtain
People are always curious to know what's happening behind the scenes. Getting an insider look at your processes can really help your audience feel closer to you, and increase their loyalty to your blog.
Beaver Builder is really great at writing this type of blog post.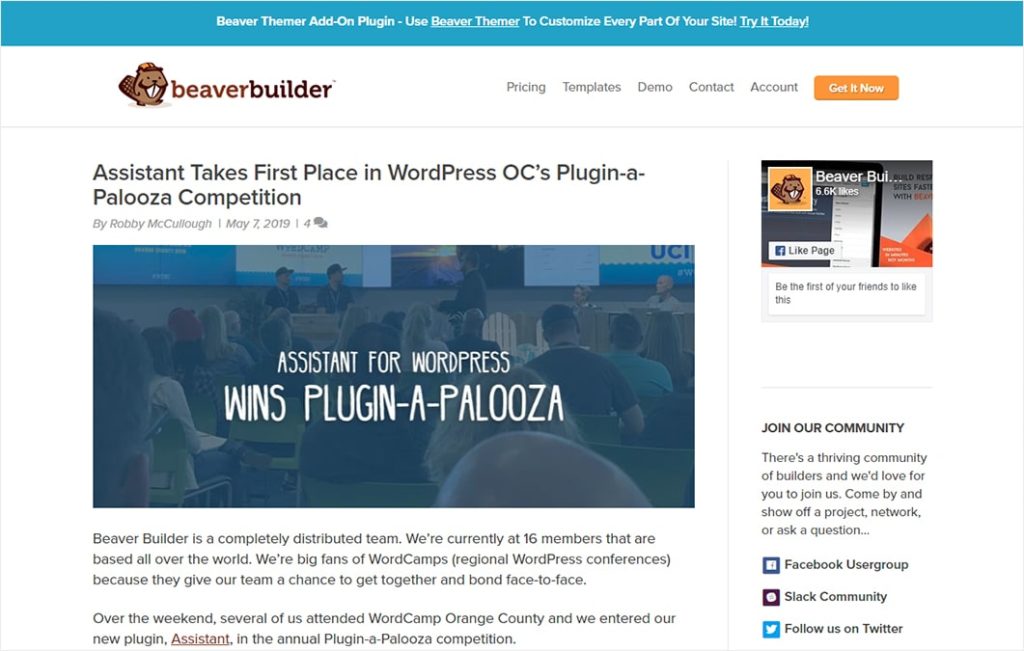 16. Write a Review
Review posts can be very popular if you choose the right product. All you have to do is take a product related to your niche and review it for your audience.
It's also a great way to make money online if you get into affiliate marketing.
In your review, talk about the product's features, price, and pros and cons. Be honest about your own thoughts on it. Tell your audience why you like or dislike the product and why they should or shouldn't use it.
For inspiration, you can take a look at our detailed review of the Smash Balloon plugin.
17. Create a Comparison Post
Just like the review post, you can do a comparison post too. Reviews generally cover a single item whereas in comparison posts you can have two or more products at the same time.
Comparison posts are really popular because it can be tough to make a final decision, especially on a more expensive product.
IsItWP.com has a lot of great comparison posts. Check out this one on Envira Gallery vs. FooGallery: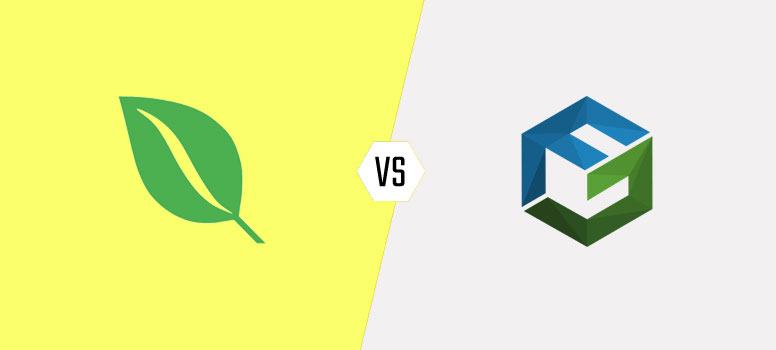 18. Conduct an Expert Interview
Interview blog posts are another great way to get more traffic to your blog, since your interview subject will share the post with their followers are well.
To write an interview post, there's just a few steps:
Identify experts in your niche that you'd like to interview
Decide on the questions you'd like to send them
Send outreach emails inviting them to interview
Send them your questions, or arrange a call
Write your post using their answers
That's it!
19. Accept Guest Posts
There's another option for a type of blog post that you don't even have to write yourself: opening up your blog to guest posts.
By accepting guest posts, you can have ready-made content.
However, you should always carefully review the posts you receive from your followers. This will let you ensure that the content is high quality.
And that's a wrap! Now you know a few different types of blog posts to use for your next blog post.
Still stuck? Here's a guide on how to get more traffic without creating any new content 😉