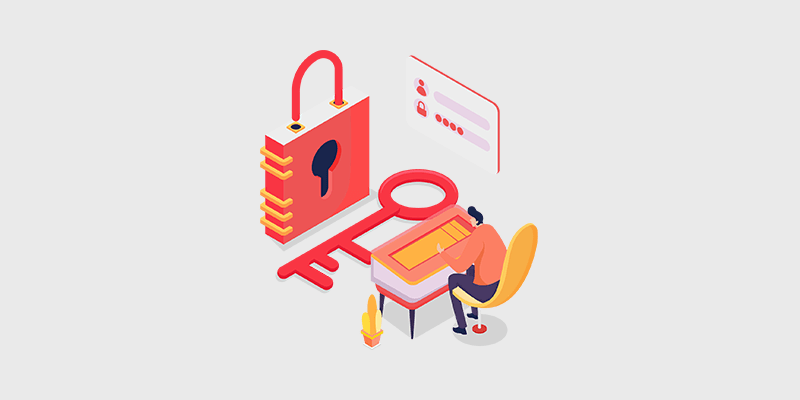 A re you looking for the best membership plugins for WordPress? If you want to allow user registrations and manage your membership site, then you'll need a WordPress membership plugin.
Membership plugins allow you to:
monetize your site with paid memberships
restrict premium content to registered users only
create courses with video lectures
add forums for members to interact
and more
…all without touching a line of code!
Below you'll find some of the best membership plugins for WordPress that you can use to create your membership website right away.
One of the biggest pros of using MemberPress is its easy setup and secure environment. Let's take a closer look at what that looks like in the image below: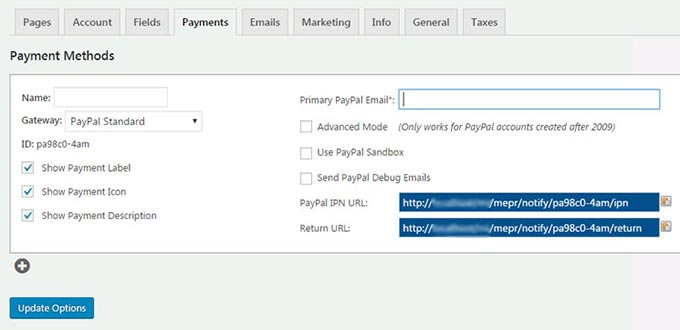 When you install the MemberPress plugin, all you have to do is add your payment gateway details and set up some products to get started.
MemberPress also lets you easily create, manage, and sell online courses. Plus, they offer a special Classroom Mode setting so you don't have to design the course yourself. MemberPress handles it for you and makes sure your course looks professional.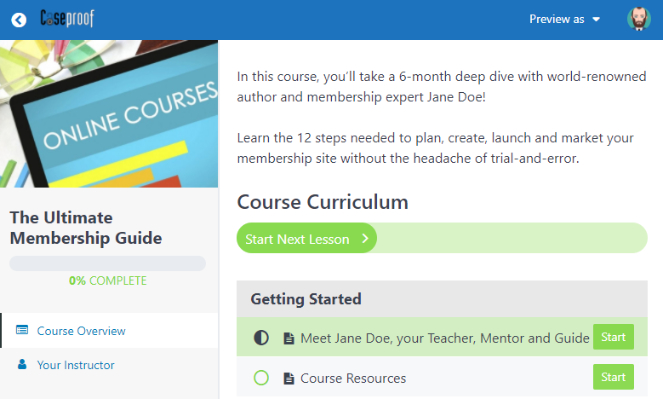 That's a big reason why MemberPress is at the top of this list – you don't have to worry about the technical details, and can just focus on growing your membership site.
While Teachable does not offer a WordPress plugin, it's still a great option to add a membership site to your WordPress site with links or a subdomain. We've included it on this list because it's one of the best options for easily creating a membership site, if you want to sell courses without worrying about the technical details.
Teachable comes with a simple page builder with live preview to launch new online courses without editing any code. They make it incredibly easy to create a course.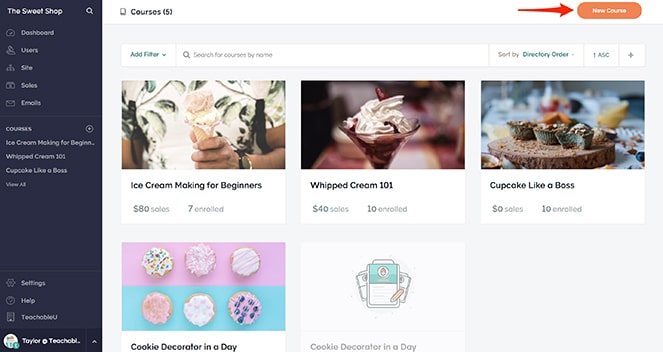 With Teachable, you get plenty of options to create and sell courses online. It's a great platform to make money with paid memberships.
LearnDash makes it easy to create courses with its drag and drop course builder. You can use it to create lessons, topics, and quizzes and then arrange them together in a complete course.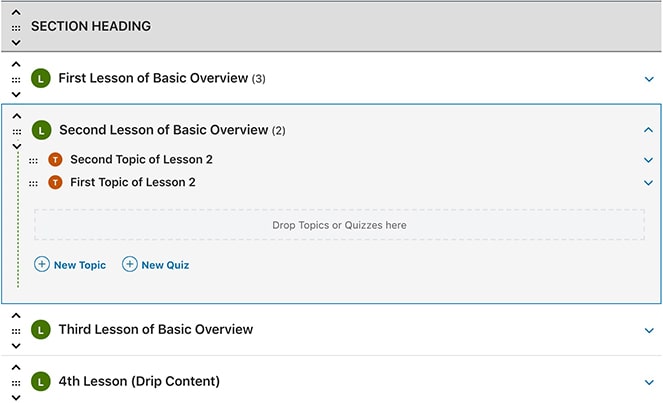 You can set up LearnDash with any WordPress theme without editing code. It also supports the WordPress multisite network.
Among other features, the clear communication process with members is a key feature to grow your membership site using LearnDash.
The best part of WooCommerce Memberships plugin is to add and sell membership plans with your products. See this image below to understand how you can connect a product with a plan: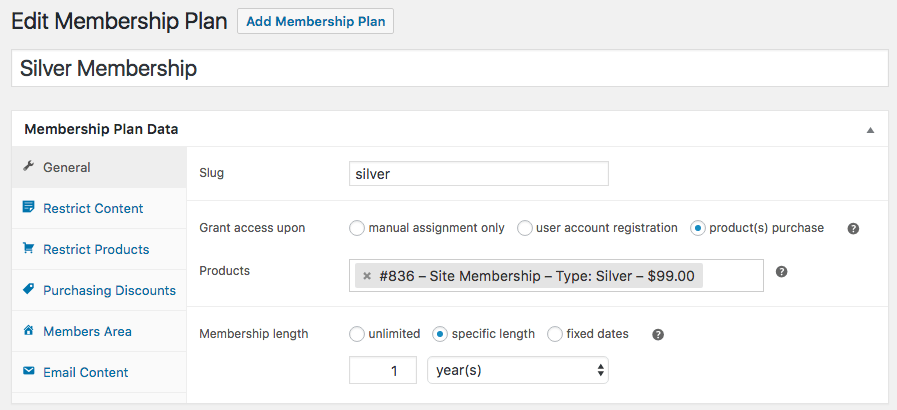 Since WooCommerce Memberships is an extension of the WooCommerce plugin, you can take benefit of all the features that comes with WooCommerce and WordPress.
With all these resources, you can easily take your membership site to the next level.
The unique part of Restricted Content Pro is that it allows you to set up restrictions by WordPress categories. You can select the access level, subscription level, and to whom you want to show posts related to a category. Take a look at this example image below: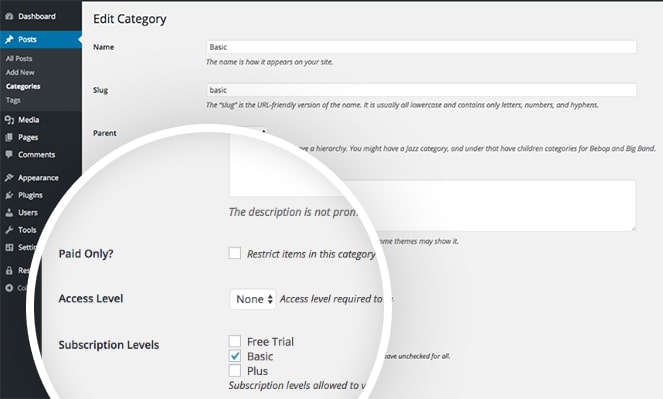 Once installed, you can visit the category section in your WordPress admin area to manage the restriction levels for members.
The Restricted Content Pro plugin has simple settings and makes it easier for you to run a membership site in WordPress.
If you're looking for a free version of a membership plugin, then Simple Membership is a good choice. But, since it's a free plugin, it has limited features comparing to other solutions in this list. You can create a membership site using Simple Membership, but it lacks the core features to manage and grow your membership site.
S2Member is another free membership plugin you can try out. While the base plugin is free and a good place to start out, it does lack many of the features offered in the pro version.
When you upgrade to the pro version, you get access to more powerful features like content dripping, multiple payment gateways, and more.
Overall though, this plugin is not the most user-friendly.
Conclusion:
Now that you know the best membership plugins for WordPress, it'll be so much easier for you to choose the best plugin to create your membership website!
If you're looking for a one-stop solution with all the features and functionalities, then we recommend using MemberPress. It includes almost all the options offered by other plugins.
Check out our tutorial on how to create a profitable membership site with MemberPress.
Bonus Tips:
Wait! We aren't leaving you here.
What should you do after creating the membership site? The next step is to grow your website with the right tools and plugins, so you can make the most of it.
Here are the top 3 WordPress plugins to grow your membership site and take it to the next level.
TrustPulse is the best WordPress plugin for social proof notifications. It's a useful plugin to track and display your members' activity in real-time. This plugin shows new sign-ups on your website to encourage visitors to become a member.
Why Do You Need This?
It's the best social proof app to get more new members. TrustPulse develops a trust in new visitors to take action and register on your website, using the psychology principle called "FOMO" or fear of missing out. When your visitors see that other people are signing up right now, they'll be more likely to join in.
You can fully customize it to match your website colors and fonts without writing any code.
OptinMonster is the best lead generation and conversion optimization software. You can use this plugin to convert your abandoning visitors into subscribers and members. It allows you to increase the member count effectively. See how Expats.com grows its community by 30,000 members every month using OptinMonster.
Why You Need This?
It's very common that you notice the bounce rate on your site which means visitors are leaving without taking any action. OptinMonster enforces users to sign up with attractive popup campaigns. It has the best exit-intent® technology to grow your members exponentially.
MonsterInsights is the best Google Analytics plugin for WordPress. It allows you to connect, customize, and view all analytics reports within your WordPress dashboard. All features are available in one-click without writing any code.
Why You Need This?
You can track the behavior of your members with MonsterInsights. It shows complete reports on file downloads, registration forms, and more. You can also integrate MonsterInsights with MemberPress plugin to grow your membership site by understanding your members and their needs.
We hope this article helped you find the best WordPress membership plugins for WordPress. Now you can confidently start a successful WordPress membership site.
You may also want to check out our guide on best SEO tools to explode your blog traffic.