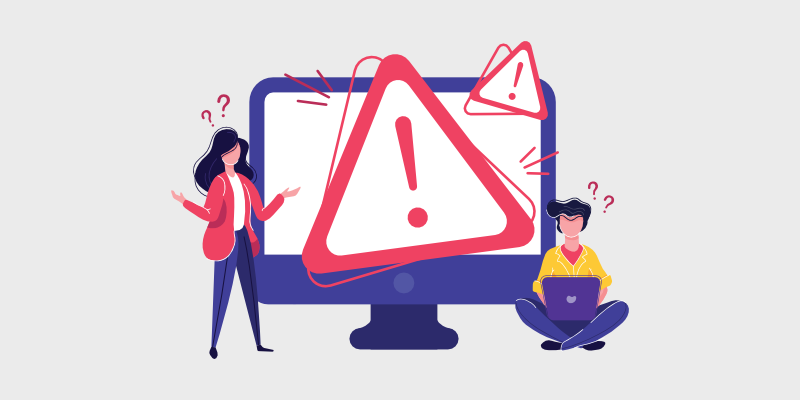 A re you worried about making common blogging mistakes as a beginner? Don't worry, we'll go over blogging mistakes to avoid and show you how to fix them today.
A lot goes into starting a blog. There are many steps you need to take to not only get your blog up and running, but to also make your blog successful.
And it's easy to make mistakes as a beginner.
Every successful blogger will tell you about mistakes they've made early on. But, the important thing is that you learn from those mistakes and fix them so you can take your blog to the next level.
So, let's go over 19 blogging mistakes to avoid and how to fix them.
Why Do Most Bloggers Fail?
If you've just started a blog, it can be discouraging when you're not getting as much traffic or making as much money as you thought you would.
It can be so discouraging that many new bloggers will simply quit because they think blogging isn't worth it.
The lifestyle and mom blog, Erica's Walk, writes about how she almost quit blogging because she wasn't seeing the progress she wanted.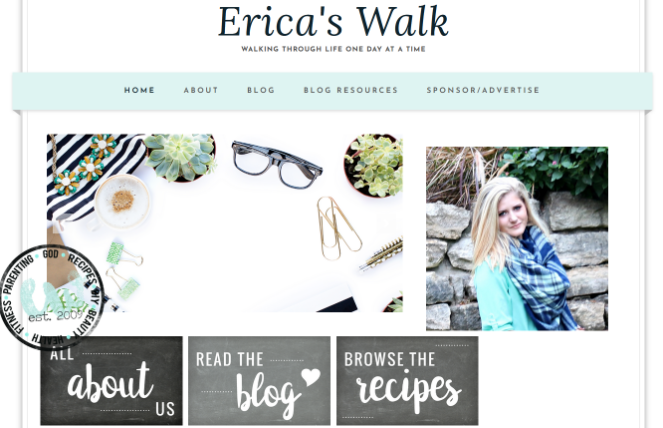 But, she turned it all around by marketing her blog on Pinterest and using Tailwind to grow her traffic; she found what wasn't working and fixed it.
The moral of the story is that your job isn't done once your blog is live. You need to take the proper steps afterward to grow your blog.
And that can take some trial and error.
So, what are the right steps to take? And what mistakes should you avoid along the way?
Let's dive right into blogging mistakes you should avoid in order to make your blog a success.
Blog Launch Mistakes
First, let's start with some mistakes to avoid while setting up your blog.
Setting up your blog the right way from the start is important because a mistake in the initial launch stage can potentially have long-lasting effects on your success.
If you haven't started a blog yet, you can follow along with our blog launch checklist for more tips.
And if you've already started your blog and find that you've made one of these mistakes, we'll show you how to fix it.
Mistake #1: Choosing the Wrong Blogging Platform
When you're new to blogging, you might think that choosing a free blogging platform is your best bet to get started quickly and save money.
But, the problem with free blogging platforms like WordPress.com, Wix, or Weebly, is that they come with a lot of limitations.
The major drawbacks being:
You aren't able to fully customize your blog because of limited features.
You won't be able to make money from your blog.
You don't have full control over your blog and have to abide by the company's Terms of Service.
The success of your blog relies on choosing a blogging platform that will allow you to grow your blog any way you want.
That's why we recommend creating a self-hosted blog with WordPress.org.

With a self-hosted WordPress.org blog, you own your site and you have no restrictions. That means you can use WordPress plugins to customize your site and you can monetize your blog easily.
Plus, WordPress.org is free to use, all you have to do is pay for hosting and a domain name. More on that later.
Check out this post for more details on why WordPress.org is the best blogging platform.
And if you've already started your blog on another platform, don't worry! Here are some tutorials on how to move your blog to WordPress.org:
Mistake #2: Using a Bad Hosting Company
Web hosting is a service that lets you store all of your website files and make your site available to people on the internet. Without a hosting service, no one will be able to visit your blog.
But you can't just pick any blog hosting service.
A bad hosting service can slow down your website, cause security problems, or even cause your blog to crash.
At Blog Tyrant, we always recommend Bluehost. It's the best blog hosting service on the market and it's officially recommended by WordPress.org.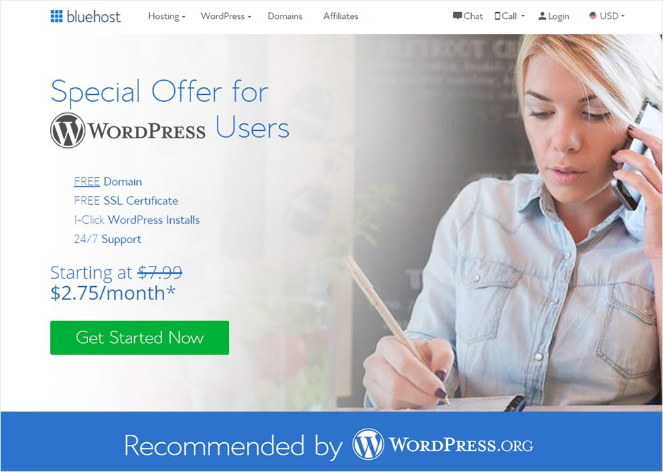 Bluehost is easy to use, reliable, super-fast, and they offer outstanding customer support.
If you want to switch your hosting provider, we've partnered with Bluehost to give our readers an exclusive discount of 60% off with a free domain name and SSL certificate.
Another great thing about Bluehost is they also give you a free website migration if you're switching from another web hosting company.
Don't let bad hosting hold your blog back when it's so easy to switch to a fast and reliable hosting service!
Mistake #3: Picking the Wrong Domain Name
Your domain name isn't just your address on the world wide web, it's what sets you apart from the competition.
So, make sure to choose a domain name that represents your brand and gives a good first impression to visitors.
Take a look at this blog name, it's a food blog called Minimalist Baker: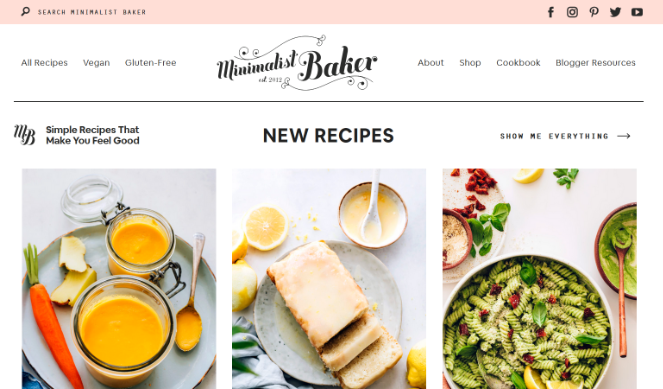 This blog is all about showcasing simple recipes that require 10 ingredients or less. Just by reading the name, visitors can get an idea of what the blog is about and how it's different from other food blogs.
It's also not difficult to read and users won't have a hard time typing it into their navigation bars. Choosing a name that's easy to remember and spell makes it easier for people to discover your blog.
We have a complete guide on how to choose the best domain name for your blog. Check it out for more tips.
Mistake #4: Having a Poor Blog Design
If you're using WordPress.org, you can easily give your blog a professional design in an instant with WordPress themes.
But, not all themes are created equally. There are over 8000 WordPress themes in the official WordPress repository so it's important to choose the right one.
If there are too many distracting elements, it can be difficult for readers to focus on your content. And if there are too many unnecessary design features, it can also slow your site down, causing users to leave.
Mainly, you should be looking for 3 things in a WordPress theme:
Mobile-Friendly Design
Simplicity
Good Reviews
You can take a look at our list of the best WordPress themes for blogs to see our recommendations.
One of our favorites is Astra. It's one of the best free themes and it's being used by over 1,200,000 people.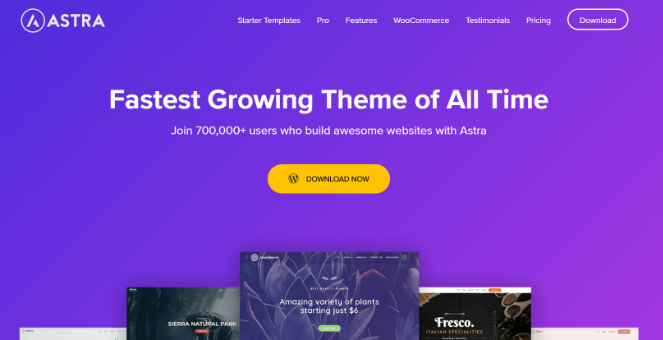 It comes with 100s of ready-made starter templates so you can find one that's perfect for your blog. It's also fast, SEO-friendly, and fully customizable.
Plus, as your blog grows, you can upgrade to the Pro version of Astra to unlock more powerful features.
Mistake #5: Not Creating a Contact Page
When setting up your blog, you'll also want to create core website pages. One of the most important pages is the contact page, so don't forget about it!
A contact page makes it easier for you to get more leads and you can build relationships by allowing readers to get in touch with you.
But don't create a contact page and simply post your email address on it. That'll result in a ton of spam in your inbox.
Instead, add a contact form with a plugin like WPForms. It's totally free to use!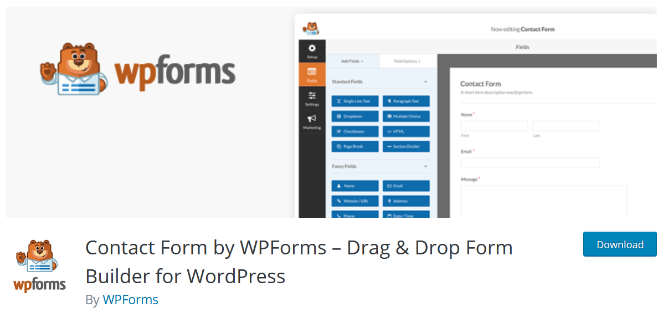 With WPForms, even beginners can create a simple contact form using the drag and drop builder.
You can also upgrade to the Pro version of WPForms to get extra features like:
Multi-page forms
File uploads
Payments through PayPal or Stripe
Email marketing integration
Post submissions
And more
Content and Writing Mistakes
Of course, every blog needs quality content.
Next, let's go over some common blogging mistakes to avoid when it comes to writing.
Mistake #6: Covering Too Many Topics
Even if you have a ton of interests you could write about on your blog, it's best to stick with 1.
Covering too many topics will make it harder to attract an audience of loyal readers to your blog.
For example, if you write about travel, gaming, and cooking, that's 3 different audiences. The people that are interested in travel content, might not be interested in gaming. So, it will be a challenge to attract people that want to read all of your posts.
When you don't pick 1 niche, it also makes it difficult to rank your blog in search engine results since Google won't know what your blog is about.
So, pick a blog niche and stick to it!
Mistake #7: Knowing Little About Your Target Audience
In digital marketing, learning about your target audience is key to creating content that connects with their needs and interests. When your audience connects with your content, they'll be more likely to become customers.
You can use the same strategy to make your blog more successful.
Learning more about your target audience will help you come up with blog post ideas they're actually interested in. It will also be easier to encourage readers to sign up for your email list or buy your online course.
To find out more about your target audience, you can:
Research your competition
Monitor Google Analytics
It's also helpful to create a customer persona. This is a fictional representation of your ideal reader/customer that outlines their goals, values, challenges, and more.
Digital Marketer offers a free customer persona worksheet you can fill out: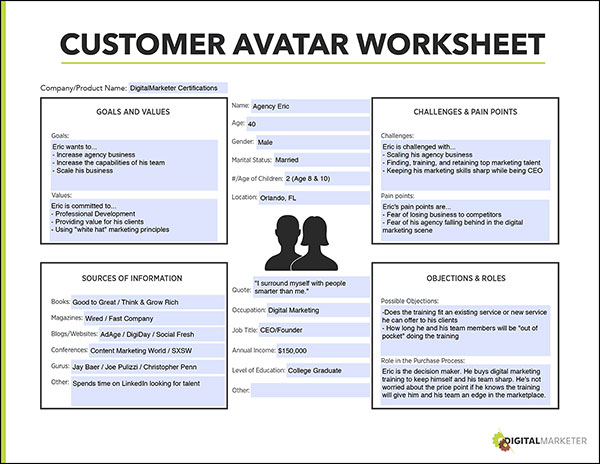 Mistake #8: Focusing on Quantity Instead of Quality
A lot of new bloggers feel like they need to rush to put out new posts every single day in order to be successful.
But you shouldn't sacrifice quality for quantity.
It's much better to publish good blog posts that your readers will enjoy rather than poor-quality posts you've quickly put together.
Check out our guide on how to write a good blog post for expert tips.
And anyways, with practice, you'll be able to write faster while maintaining the quality of your content.
Mistake #9: Publishing Inconsistently
Speaking of how often you should publish blog posts…we do have a post on how often you should blog. But, there's no magic number.
What's more important is consistency.
Whether you post once per day, per week, or per month, remember to stick to your schedule.
Your readers will come to expect posts from you and check in on your blog regularly. If you stop posting on schedule, they'll be disappointed.
Mistake #10: Not Including a Call-to-Action
Every blog post should give a next step to their readers. Whether it's to sign up for your email list, leave a comment, read another blog post, or buy your product.
And to get readers to take the next step, you'll need to include a call-to-action.
Here's how RafflePress does it on their blog posts: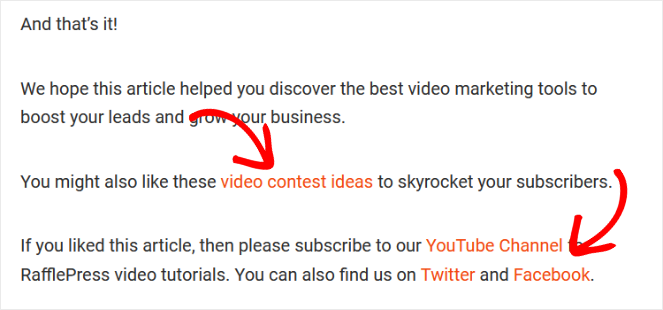 They add a link to another relevant blog post users can read as well as links to their social media profiles.
People that have just read and enjoyed your content are engaged and interested so they'll be willing to follow you on social media or read more posts.
Blog Marketing Mistakes
So, your blog is launched and you've started publishing great blog posts. But, what if you're not getting traffic?
This is one of the most frustrating problems for new bloggers.
But, it's a problem that can be easily fixed by getting the word out about your blog.
Here are some mistakes you might be making when it comes to marketing your blog.
Mistake #11: Not Building an Email List
Every blog needs an email list. Having an email list is important for increasing traffic to your site, promoting your content, and even making sales.
If you don't have an email list you're missing out on all those opportunities as well as the chance to develop a community of your biggest fans.
With an email list, you can message your blog readers any time you want, about anything you want, including:
Announcing your newest blog post
Sending reminders and news
Promoting your paid products or online courses
Offering coupons and discounts
And much more
Email marketing is a great way to connect with your audience because it's direct and personalized.
So how do you build an email list?
One of the easiest ways to build an email list is to add an email popup to your website.
You can add a popup to your site, without knowing a thing about code, using OptinMonster.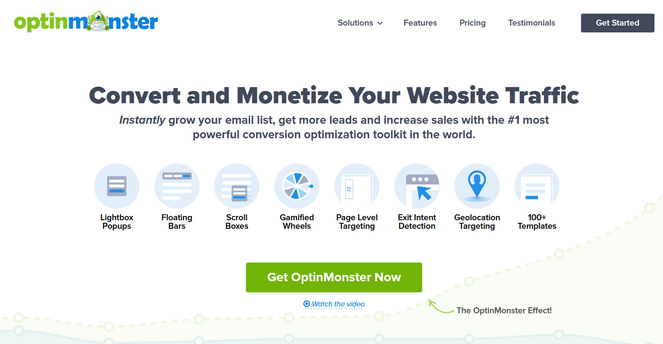 OptinMonster is a user-friendly lead generation software that'll help you build an eye-catching email popup in no time with its drag and drop builder.
We recommend creating a lead magnet and offering it in exchange for visitors' email addresses like in the example below: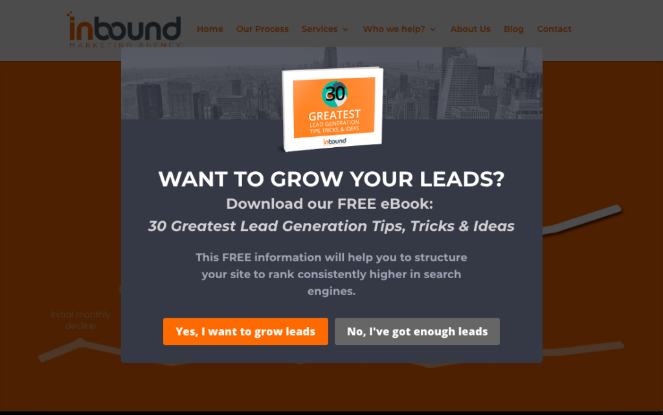 One of the best features of OptinMonster is the Exit-Intent Detection. This feature is able to track when a user is about to leave your site and display a popup at exactly the right time.
Instead of losing visitors, you can turn them into subscribers and keep them coming back again and again.
Mistake #12: Missing SEO Optimization Practices
If users are unable to discover your blog on the web, it's probably because you're not optimizing your blog for search engine optimization (SEO).
SEO is the process of making your site appear higher on the list of results returned by search engines like Google.
For instance, if you have a lifestyle blog, when a user searches Google for "healthy lifestyle tips," you want your blog posts to show up in their search results.
One simple way to improve the SEO of your blog is to download All in One SEO.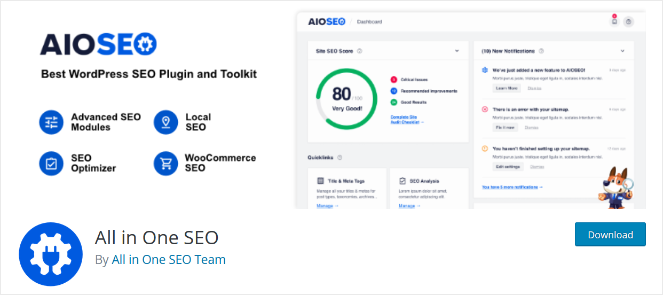 All in One SEO is the perfect plugin for beginners. It will help you optimize your entire website for SEO, step-by-step. It starts by giving your site an SEO score and then it provides you with actionable tips to improve your rankings.
You can also easily add an SEO title, meta description, and focus keyword to every blog post and page.
If you want to learn more about how to optimize your site for SEO, check out our guide on blog SEO.
Mistake #13: Ignoring Social Media
Social media is one of the best ways to promote your blog because it's free and most of your ideal readers are using the platforms.
So, be sure to share your blog posts on social media to drive more traffic to your website.
This is how WPBeginner does it: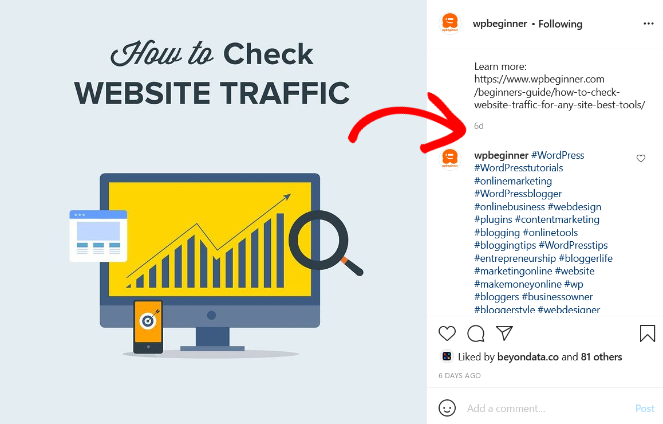 On Instagram, they post an eye-catching image, along with a description of what the post is about, the URL of the blog post, and relevant hashtags to widen their reach.
You should also ask your existing readers to help you grow your social media presence. You can do this by adding social media sharing buttons to your posts using a plugin like Shared Counts.
And to grow your social media following and boost engagement, you can embed a social media feed on your blog with Smash Balloon.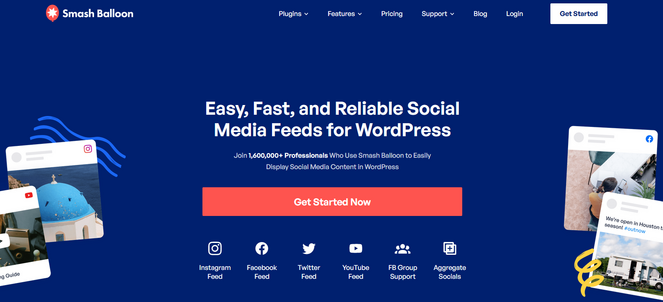 Smash Balloon makes it easy to embed Facebook, YouTube, Instagram, or Twitter feeds anywhere on your site.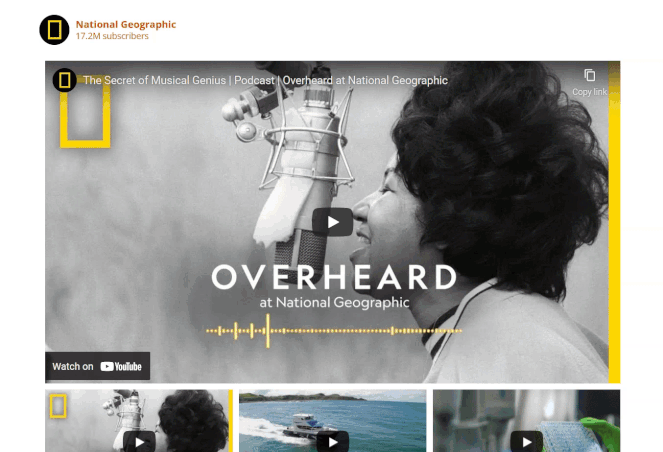 The feeds are super customizable, responsive, and SEO-friendly, and visitors can interact with your social media content right from your blog.
Mistake #14: Not Networking with Other Bloggers
While blogging often feels like a solo journey, it's important that you interact with other bloggers online.
By networking with other bloggers, you can not only learn more about blogging, but you can also get more opportunities to promote your blog.
For example, you can guest post on another person's blog to introduce yourself to their audience.
It can also help you build your brand and establish credibility in your niche.
To make connections with other bloggers, you can:
Comment on other people's blogs
Join blogging groups on social media
Attend events or meetups related to your niche
Mistake #15: Not Tracking Your Progress
After all of the work you put into marketing, you'll want to track your progress. This will help you figure out which of your marketing efforts is bringing the most traffic to your blog.
Then, you can tweak your marketing strategy to get the best results.
To track your progress and website stats, we recommend using MonsterInsights.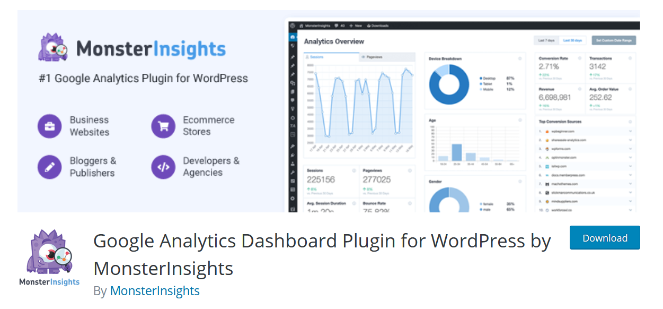 With MonsterInsights, you can monitor your Google Analytics right from your WordPress dashboard.
You can see where your traffic is coming from, learn about the demographics of your website visitors, find out which external links get the most clicks, and more.
If you want to unlock more powerful insights like eCommerce tracking, affiliate link tracking, top landing page reports, and more, you can upgrade to MonsterInsights Pro.
Blog Monetization Mistakes
Next, let's go over some mistakes beginners make when trying to make money blogging.
You might think that you have to have a super popular blog with tons of traffic to make money, but that's not necessarily true.
New bloggers can start making money early on, if they do it the right way.
And here are some blog monetization mistakes to keep in mind…
Mistake #16: Not Thinking About Monetization Early On
Like we said, many bloggers think that you have to have a ton of traffic in order to make money from your blog. So, they don't even think about monetization strategies in the beginning.
But, you can actually start making money as soon as you have any traffic.
That's why it's important to start thinking about how you want to monetize early on.
Go through this post and decide which strategies you want to try and start experimenting with them right away.
Even if you only have a few blog visitors, they might be willing to buy something from you!
Mistake #17: Focusing Only on Traffic Instead of Engagement
But, even if you get a lot of traffic, if people aren't engaged with your brand or your content, they'll be unlikely to buy from you.
So, instead of spending all of your time trying to get more traffic, you need to build relationships and boost engagement with the readers you already have.
An easy way to do this is by responding to comments. When you talk to your readers in the comments section, it will help them form a strong bond with you.
Think of your readers as your friends. Your friends will be more likely to support your business by sharing your latest posts, recommending you to their friends, and buying your products.
Mistake #18: Being Too Salesy
Another huge mistake you can make is being too salesy.
Of course, you want to make money from your blog.
But, if you're writing blog posts JUST to sell something or promote your affiliate products, that's only going to turn readers off.
If readers can tell that you're only trying to make money off of them, they'll abandon your blog in search of another.
To avoid this, make sure you're providing value to your readers.
The main goal of your blog posts should be to help people or teach them something new. You can always sprinkle in affiliate links or promote your products in between your helpful advice.
That brings us to our final blogging mistake…
Mistake #19: Giving Up
The biggest mistake you can make is giving up on your blog before it even has a chance to grow!
The truth is, your blog is probably not going to be an overnight success. But, if you're patient and you put in time and effort, you'll start seeing results.
We hope you enjoyed learning about these common blogging mistakes. Now, instead of letting these mistakes derail your blogging journey, you can correct them and get back on the road to success.
If you liked this post, then also check out our massive post of 101 blogging tips for beginners.
And don't forget to sign up for our email newsletter for more helpful blogging tips!