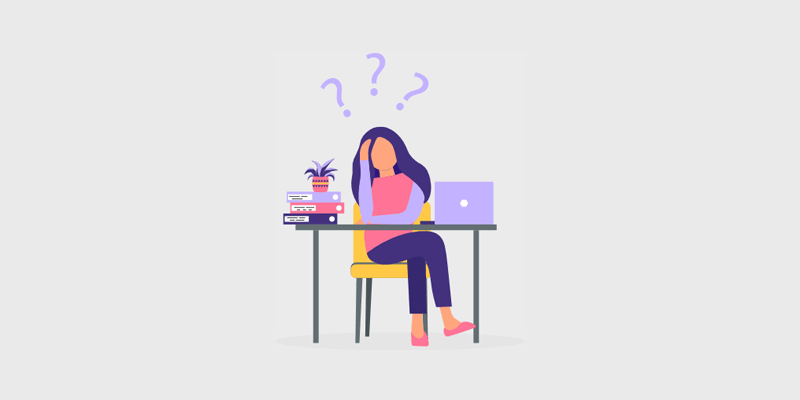 A re you wondering: Why do people blog? Is blogging really worth it? In this article, we'll dive into all the reasons and potential rewards, so you can decide if starting a blog is right for you.
Before you dive in to starting a blog, you probably want to find out if it's worth the effort in the first place. After all, you wouldn't want to invest a ton of time into something that doesn't give you anything in return.
So, is blogging worth it? The short answer is YES…
…IF you do it the right way.
Let's take a closer look at why blogging is worth it – and how you can make sure it pays off.
Why Do People Blog?
The real answer to "is blogging worth it" all depends on your goals.
So first you need to ask yourself: why do you want to start a blog? What are you hoping to accomplish?
The 3 most common reasons for starting a blog are:
To make money online
To promote your business
Just for fun!
Let's take a look at each one.
1. Make Money Online
Blogging is a dream job for many people. You get to be your own boss, you can work from home, and you can generate passive income. That's why so many people start a blog with the goal of making money online.
You've probably heard about a lot of success stories of bloggers that are bringing in big bucks.
For example, Lindsay Ostrom started the blog Pinch of Yum as a casual hobby. Then the former teacher grew her blog into a full time business.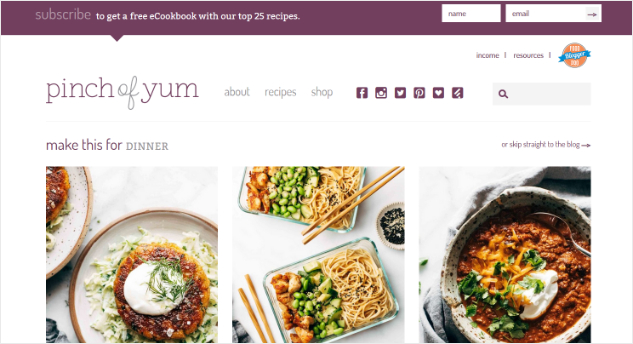 Pinch of Yum generated over $95,000 in income in November 2016 according to their income report!
While bringing in money like this doesn't happen for everyone, you could reach this level of success if you put in a lot of work.
Plus, even if you're not able to make 6 figures and quit your day job, starting a blog is still a great way to bring in extra money on the side.
As long as you monetize your blog, you can make money online. And there are a number of ways to monetize your blog from affiliate marketing and advertising, to selling digital products and services.
Any extra cash you bring in is a win, so starting a blog is definitely worth it if that's your goal.
2. Promote Your Business
If you have an existing business, blogging is a great way to promote it. By publishing regular blog posts, you can get more traffic to your website and introduce your business to more people.
For example, Whale Cove Inn has a blog on their website where they share beautiful travel photos and content about the Oregon Coast.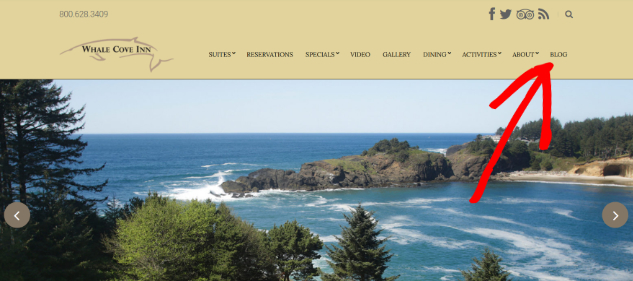 When people search online for places to travel in Oregon, Whale Cove Inn's blog posts and website are likely to come up in Google search engine results. This results in more traffic to their website and more leads that they can turn into customers.
Blogging has big benefits for businesses. Check out these blogging statistics from IsItWP that prove it:
And if you're blogging for business, don't forget to build an email list with a lead generation tool like OptinMonster, as Whale Cove Inn does.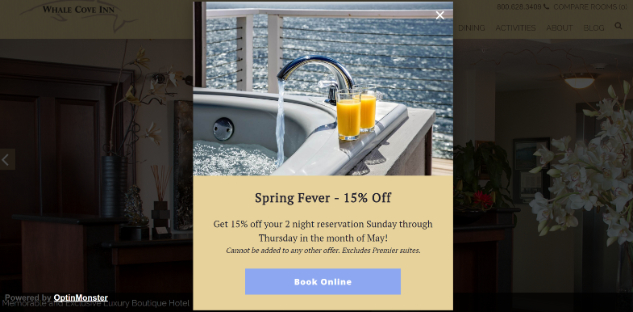 Adding an email optin form on your blog will help you turn website visitors into leads. Then, you can stay connected with them through email marketing and turn them into paying customers.
3. Just For Fun
Guess what? A lot of people also blog just for fun! Blogging is a great hobby and it can be very rewarding—even if you don't make any money at it.
What should you blog about? You can blog about anything you want! Want to share your travels? Start a travel blog. Got a lot of great parenting advice? Blog about that. When you start blogging for fun, you can blog about anything that makes you happy.
Not only is it fun, but it can give you a number of other benefits, including:
As you can see, if you want to start a blog as a hobby and you aren't interested in turning it into a career, that's totally cool! You'll get a ton of other benefits from blogging that can enrich your life.
And the great thing about blogging is that it's not an expensive hobby at all. There are a number of free blogging platforms available and you can start your own professional blog website for less than $5 a month!
Take a look at our list of the best blogging platforms to find the best option for you.
Is Blogging Dead?
Now, if you're starting a blog to make money, you might still have some reservations.
With the popularity of YouTube and online video in general, as well as image-focused social media platforms like Instagram, many people are unsure if internet users are interested in reading blog posts at all anymore.
So, a lot of people wonder: Is blogging dead? Is blogging outdated?
Don't worry, blogging is still alive and well!
The popularity of images and video just means that blogging has to evolve a little bit.
Instead of created blog posts with just plain text on a page, you can easily add eye-catching images and attention-grabbing videos to your blog posts to make your blog more engaging.
Take a look at how Damask Love, a DIY blog, adds YouTube videos within their blog posts: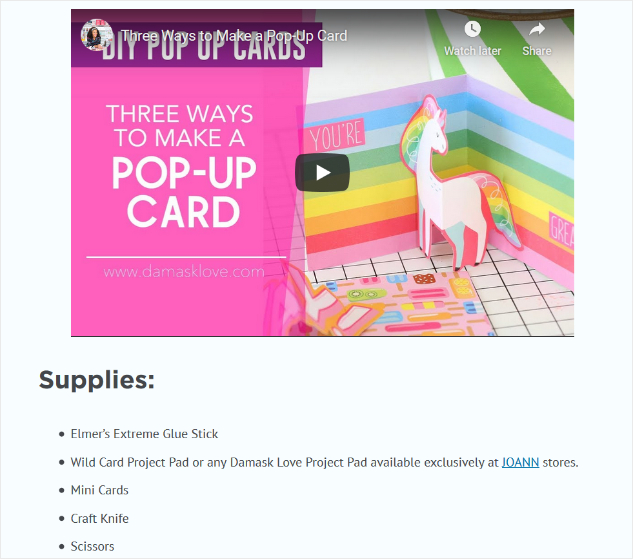 Adding images and videos will help your blog posts get seen by more people online—even by the people that are more interested in watching videos than reading blog posts.
And you don't have to be a professional videographer or photographer to add video and images to your blog.
Adding images is super simple. Check out our post on how to find free images for your blog for step by step instructions.
For videos, remember that you can take a pretty awesome video on your iPhone these days. You can make your video more professional-looking by creating a thumbnail using a free tool like Canva. Canva offers YouTube templates so you can easily create a stunning thumbnail without any design skills.

You can also use a free video editing software like OpenShot to edit your videos, add effects or animations, and more.
Then, upload your video to YouTube or another video hosting site and embed your video into your WordPress blog posts.
Blog posts aren't boring, they can be just as interesting and engaging as online videos.
So, is blogging worth it in 2020?
The answer is still YES!
According to the latest blogging stats, blog posts are among the most shared content online.
Blogging definitely isn't dead and you can still make money from it in 2020. So, if you want to start a blog business this year, keep reading.
How to Start a Blog (and Make Money)
So, you want to start a blog business? Awesome! Blogging is profitable in 2020.
But is blogging easy? Well, it is and it isn't.
Creating a successful blog isn't as easy as putting up a couple of posts online and waiting for the magic to happen.
You need to set up your blog right and promote your blog if you want it to be successful.
Check out these blogging tips on how to start a blog business:
1. Pick a Blog Niche
Picking a niche for your blog is important. When you choose a blog niche, building an audience for your blog will be easier.
If you blog about travel, finance, cooking, and cars—that's 4 different audiences. It will be difficult to attract all of those types of readers to your blog. Plus, when you blog about multiple unrelated topics, your blog will be confusing to readers.
But, if you stick to one niche, it's much easier to find your readers and connect with them.
Look at the blog SpeedHunters for example, which is all about cars: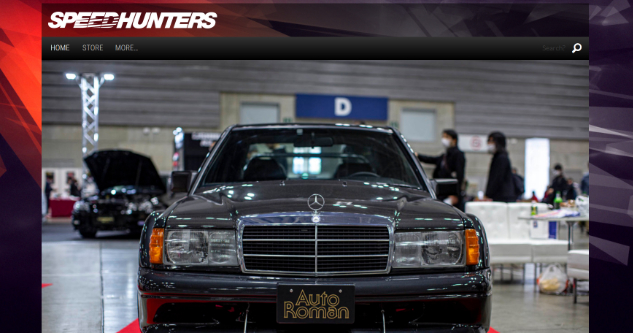 SpeedHunters knows that their audience is car enthusiasts so it's easy to attract those readers to their blog, create content they'll love, and present their blog as a leader in the car community.
Check out our guide on how to choose a blog niche to get started.
2. Choose a Good Blogging Platform and Web Host
With the right blogging platform and web hosting, your blog will be set up to succeed from the beginning.
At first you might be tempted to choose a free blogging platform. But with many free platforms, you aren't able to monetize your blog. You also won't own your blog and it can be taken down at any time.
That's why we suggest using a reliable blogging platform and web host.
At Blog Tyrant, we always recommend WordPress.org and Bluehost.

WordPress.org is the best blogging platform; it's free, easy to use, and highly customizable. That means it's easy to create any type of blog that you want.
Bluehost is one of the top blog hosting services. And it's recommended by WordPress and comes with 1-click WordPress installation, so they're the perfect pair.
Plus, Blog Tyrant readers get a special deal with Bluehost that includes a free domain, free SSL certificate, 24/7 support, and more, for 60% off!
With an easy to use blogging platform and affordable hosting, you'll have fewer problems creating a successful blog that makes money.
3. Customize Your Blog
As we mentioned previously, WordPress is highly customizable.
First, they offer a ton of free and paid WordPress themes that will give your blog a professional-look in an instant. This is important because you need to make a good first impression to your website visitors.
Here's an example of a stunning blog WordPress theme:
To find more beautiful themes, take a look at our post on the best WordPress themes for blogs.
WordPress also offers many plugins (free and paid) that will help you make your blog more powerful.
Here are a few important WordPress plugins you should use for your blog:
Using WordPress plugins you can create a site that has all the features you need to run a successful blog.
4. Monetize Your Blog
Simply writing blog posts and posting them on your site won't make you money. So, if you want to make money from your blog, then you need to monetize it.
There are a number of easy ways to monetize your blog. One popular way to monetize your blog is with affiliate marketing.
Affiliate marketing is when you promote products from other businesses. When one of your readers clicks on your affiliate link for the product and buys it, you get a commission.
You can join an affiliate program like ShareASale to find affiliate products you can promote on your blog.

You can also monetize your blog by:
Check out our list of proven and profitable ways to monetize your blog for more ideas.
5. Promote Your Blog
After your blog is all set up, you need to promote it. If you don't promote your blog, how will anyone know it exists?
The more people that know about your blog, the more traffic your site will get.
And don't worry, you don't have to spend a ton of money on advertising to promote your blog!
An easy and free way to promote your blog is by posting about it on social media.
Every time you publish a new blog post, create a social media post to share it. Here's how blogger Inside That Japanese Book does it on Twitter: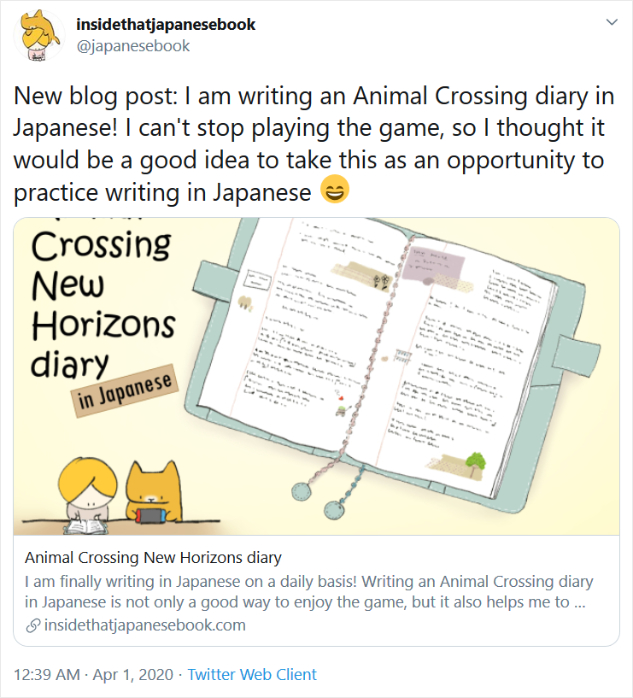 Twitter users that are interested in reading Japanese content, learning how to write in Japanese, and the popular Nintendo Switch game Animal Crossing will be able to discover this blog when they search for those keywords.
Use relevant hashtags to widen your reach on social media even more. You can find relevant hashtags to use by searching social media for similar content.
Here's an example of relevant hashtags you can use if you wanted to attract Animal Crossing fans and gamers to your post: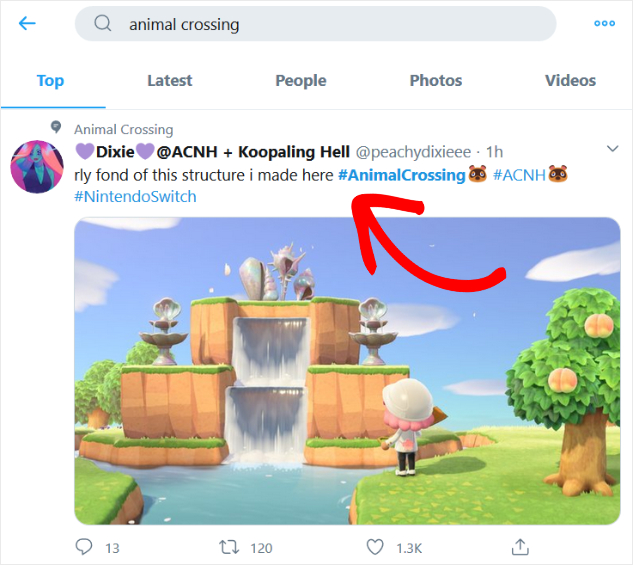 Posting about your blog on Facebook, Twitter, and Instagram will help you attract more of your target audience and turn social media users into fans of your blog.
Also, read our post on how to start a food blog on Instagram.
These are just a few of the things you need to consider when creating a successful blog.
For step by step instructions on how to start a blog business, check out our detailed guide on how to start a blog.
Start a Blog Today
As you can see, blogging is worth it—in more ways than one!
So we hope this post convinced you that blogging is worth it!
If it did, and you're ready to get started today, check out our launching a blog checklist. This checklist will help you make sure you've got everything you need to start a successful blog.
Happy blogging!
Want more blogging tips like these? Make sure to subscribe to our email newsletter so you can get the expert advice you need to grow your blog.