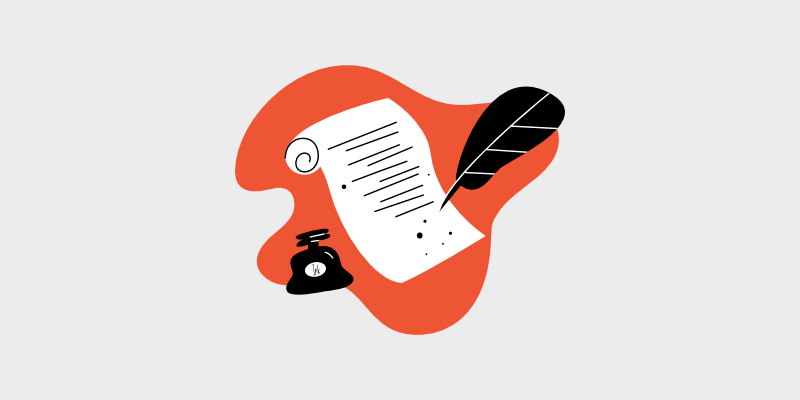 D o you want to learn how to start a poetry blog? You're in the right place! We'll show you how to create a poetry blog, step-by-step and how to make money from it too.
Contrary to popular belief, there's an increasing interest in poetry. If poetry is your forte, there's never been a better time to share your art with the world.
The best way to do that is to start your own blog where you have the freedom to display your poetry in the best light possible. You can use an aesthetic theme and create categories for different types of poetry niches.
You can even unleash a series of poems like an episodic to grab your audience's attention and keep them engaged in your blog.
A blog gives you plenty of opportunities to get creative and let your artistic side flow.
In this tutorial, you'll learn how to set up your own poetry blog, step by step, and how to grow and monetize it.
Before we get started with the tutorial, we suggest defining the direction of your blog. Make sure you have a clear vision of what kind of poetry you want to publish and the audience you want to target.
With that in mind, the first thing you need to do is pick the right name.
Step 1: Choose a Name for Your Poetry Blog
The first step to our blogging journey is picking out the right name. This is more important than most people think.
A name makes the first impression. It's how people will recognize and perceive you.
The blog name needs to match your style and message that you intend on sending out to your readers. You'll want to make sure it meets one or more of these criteria:
Short and easy to spell/pronounce
Memorable
Meaningful to your poet persona
Resonates with your audience
If you want to build your name, then you could even choose your own name as your blog name.
However, keep in mind, that your audience will be more likely to connect to a name like Poetry in Motion or Thought Train. It's easier to identify it as a poetry blog just by the name.
If you're still having trouble picking a blog name, you can use Nameboy's free blog name generator.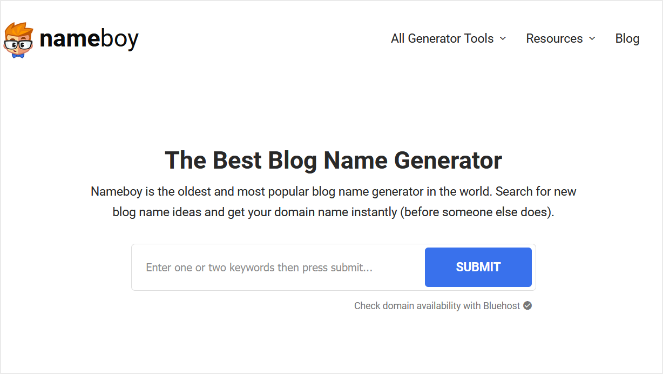 Simply enter one or two keywords into the generator and it will automatically display tons of blog name ideas that you can use.
Step 2: Pick the Best Blogging Platform
It was not long ago when creating a blog meant needing to know how to code. But that's not the case anymore.
There are plenty of platforms that let you sign up and start your blog without ever touching a line of code.
Now there are free and paid platforms, but what you really need to know is that some of them control what you can and cannot do. You want to pick one that gives you the freedom to design, grow, and monetize your blog the way you want.
When you're just starting out, you might hear of WordPress.com, Wix, and Squarespace. And it's tempting to sign up because they make it incredibly easy to get started.
But as you grow, you'll realize you're stuck in a box with limits on customization, features, and functionality. You'll either have to pay a big amount to get more features or you'll need to migrate to another platform.
The best option that gives you complete control (plus it's FREE) is WordPress.org.
Be careful not to confuse WordPress.org with WordPress.com. To learn the differences, check out our post on WordPress.com vs. WordPress.org.
WordPress.org is #1 on our list of the best blogging platforms.
It is a self-hosted, open source blogging platform and content management system that powers 39.5% of all websites.

Here's why we recommend WordPress:
Ease of Use – WordPress comes with a dashboard that's easy to learn. If you're brand new to WordPress, it could take a few minutes to learn how to use it. But the good thing is that you'll find tons of easy video tutorials and blog posts to guide you.
Monetization Options – You own and control your entire blog so you get to choose whether you want to monetize through ads, affiliates, digital products, and so on. It's 100% your choice.
Scalability – If you want to add new features and functionalities to your blog as it grows, WordPress gives you the flexibility to do so. There are thousands of plugins and themes you can use to enhance your blog.
Price – WordPress is 100% free to use. However, you'll need to buy a domain name and hosting plan which you can get for as low as $2.75 per month. Then, you can choose from free or paid plugins and themes according to your site's needs and your budget.
Now that we've picked the right platform, let's set up your poetry blog.
Step 3: Create a WordPress Blog
To set up WordPress, you'll first need a domain name and a web hosting plan.
Web Hosting – Your blog is made up of files and a database. You need to store them on a server so that they can go live on the internet. Now instead of buying an expensive server, you can buy a hosting plan for a small fraction of the cost. These hosting services will give you access to a server for the period you choose such as 1 year or 2 years.
Domain Name – A domain name is the web address of your blog that users will type in their browsers to visit your site. For example, our domain name is www.BlogTyrant.com.
Usually, a domain and hosting plan can cost you around $14.99 per month. But we've worked out a deal for our users to get blog hosting and a domain name at a very affordable price with Bluehost.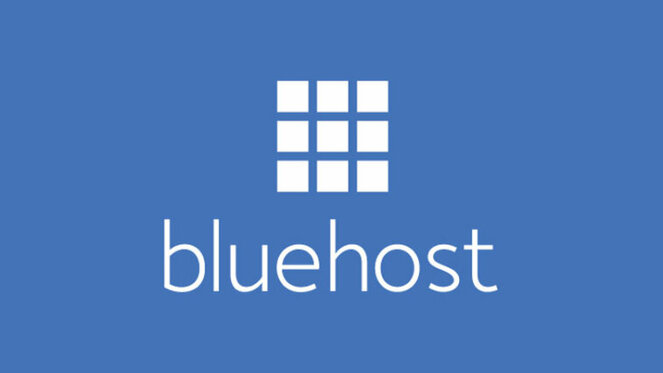 Bluehost makes it easy to start your blog with these features:
Free domain registration for 1 year
1-click WordPress installation
Pre-installed SSL for better security
Free CDN to boost speed and performance
Free professional email accounts
Bluehost has one of the most affordable starting plans. They even have a plan that's tailored to suit WordPress blogs.
Plus, Blog Tyrant readers get a special discount of 60% off with Bluehost, which comes with a free domain name, free SSL certificate, and more!
With Bluehost, you get everything you need to start a poetry blog for as little as $2.75 per month.
If you want to explore more hosting options, see our guide to the Best Blog Hosting Services – Detailed Comparison. Next, we'll show you how to get started with Bluehost.
How to Set up Your Poetry Blog with Bluehost
To get started, visit the Bluehost offer page. You'll see the exclusive deal and its details. Click the Get Started button, as shown in the screenshot below: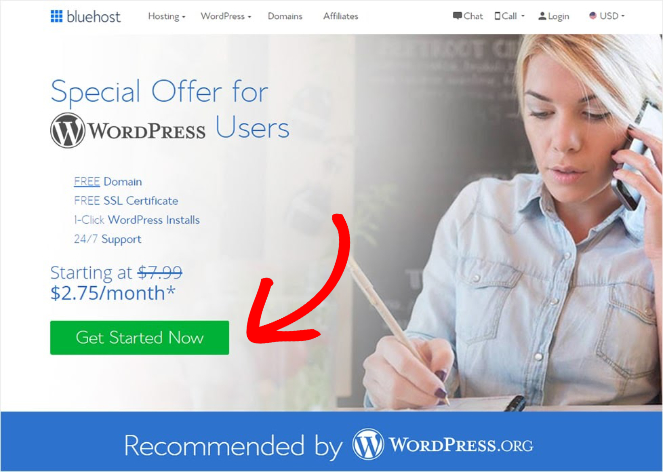 On the next page, you'll be asked to choose a pricing plan. You can get started for as low as $2.75 per month with a basic shared hosting plan.
Next, you can create your domain name. Under the Create a new domain option, simply type in the blog name you want like blogtyrant, and choose your extension like .com or .blog.

If you've already purchased a domain name, choose the Use a domain you own option instead.
Next, enter your account information and review your plan details. The 36-month account plan will give you the best value.

Now all that's left to do is enter your payment information to complete the purchase. When you're done, you'll get an email with your login details.
When you log into your Bluehost account, go to the My Sites tab. Here, you need to Log in to WordPress by entering your login credentials.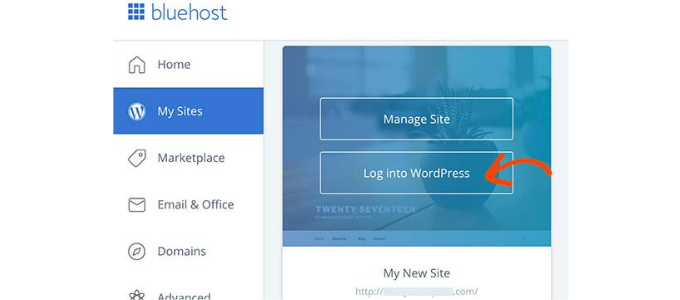 Once you're logged in, you can set up and customize your new poetry blog. To launch the WordPress wizard, click on the Create Site button.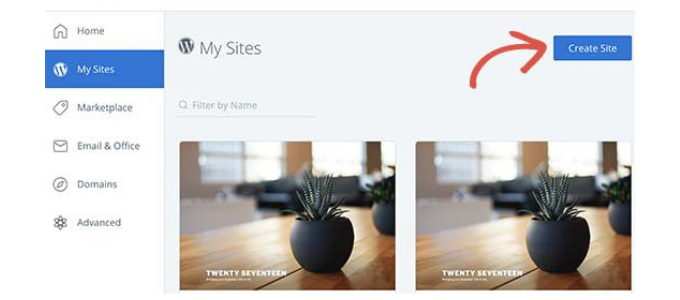 The wizard is really easy to follow so we won't go into detail. Simply follow the onscreen steps to complete setting up your blog with Bluehost.
If you need step-by-step instructions for the WordPress installation wizard, see our tutorial on how to install WordPress in less than 5 minutes.
Step 4: Customize your Poetry Blog
The best part about WordPress.org is that you don't need to be a web designer to make your blog look and feel beautiful.
There are thousands of WordPress themes that you can activate on your site. Then all you need to do is change the text, images, and maybe colors and you're blog will be ready to go live.
The hardest part is choosing the right theme for your poetry blog. You could spend hours browsing before you find the one you want.
To save you time and effort, we've handpicked the best of the best themes that are perfect for poetry blogs: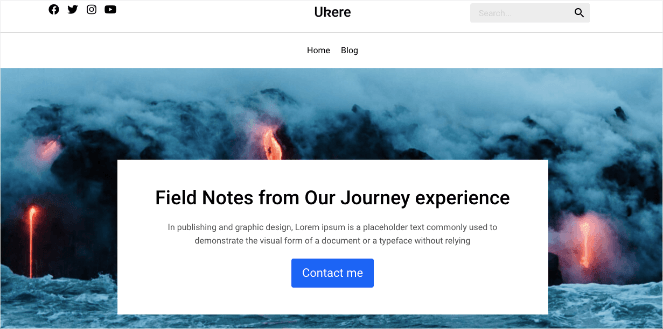 SeedProd is the best website theme builder on the market. If you want to create a 100% custom design for your blog, then SeedProd is perfect for you. You can use 28+ premade templates or start from scratch.
To build your own design, all you have to do is drag and drop blocks to where you want them to be. You can add text, image carousels, email optin forms, testimonials, star ratings, contact forms, and much more.
Learn more in our detailed SeedProd review.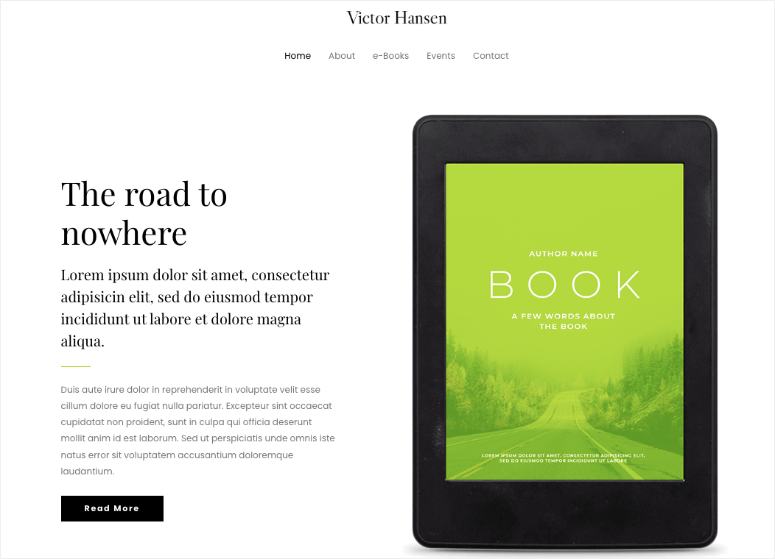 Astra is one of the most popular themes and it's free. You can choose from 230+ website templates that are fast, lightweight, and highly customizable. The templates come with powerful design options that let you manage your layout, choose colors and fonts, and more. Any theme you choose is automatically optimized to look good on any device whether your user is on a desktop, tablet, or smartphone.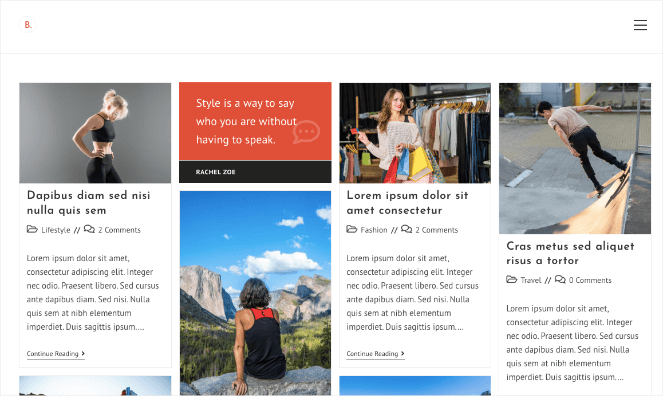 OceanWP is another popular free WordPress theme that comes with 220+ demo sites. This means you can import an entire website and customize it to match your own design. Every theme is completely customizable with popular page builders like Elementor. And you'll get access to millions of photos from Freepik and Flaticon to quickly change your logo and blog images.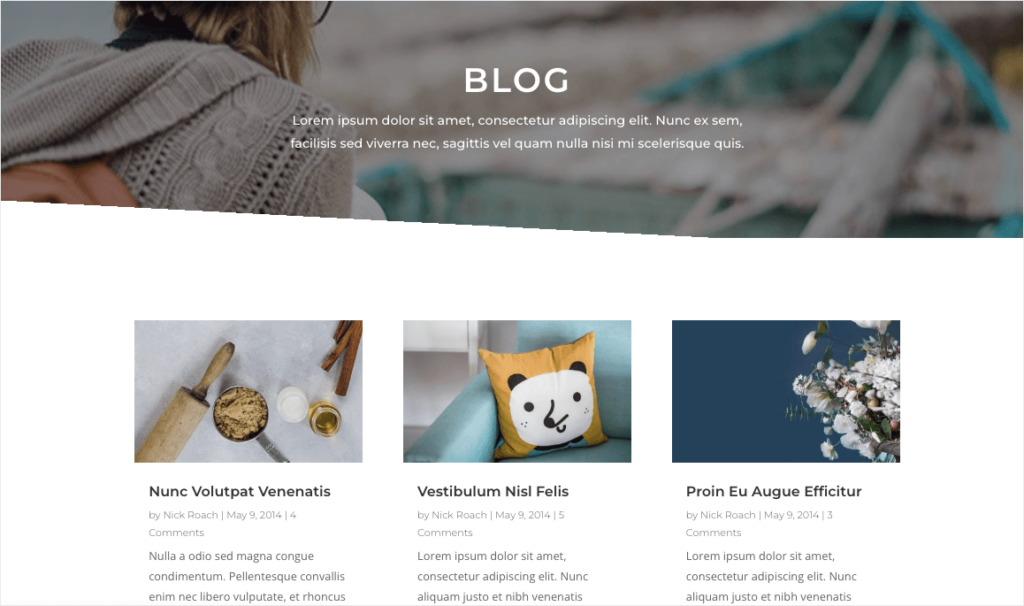 Divi by Elegant Themes is a suite of premium WordPress themes and tools you'll need for your website. You'll get access to 2000+ website layouts and 200+ elements that you can add to your pages. They also offer a visual builder to easily customize your blog by pointing and clicking. With Divi, you'll also get access to royalty-free photos, icons, and illustrations you can use to design your blog.
Step 5: Configure WordPress Settings
Once you install your blog's theme, there are a few important settings you'll want to change in WordPress:
Permalinks
These are your blog's URLs like poetryblog.com/poem/sunset-tomorrow. WordPress offers a number of permalink options but not all of them are good for your blog. In your WordPress dashboard, go to Settings » Permalinks tab.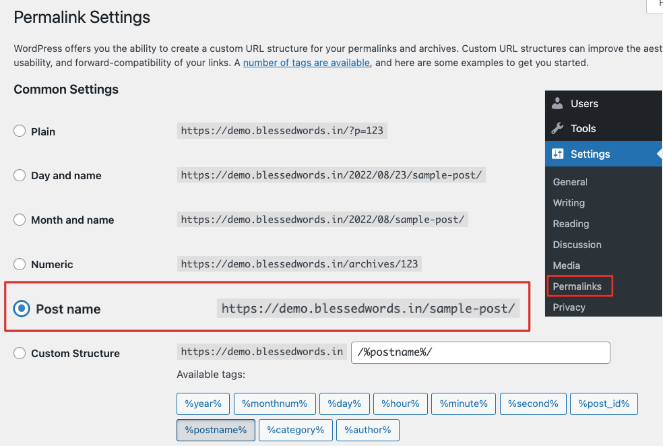 Under Common Settings, select the 'Post name' option. This one looks neat and it's descriptive so it's good for SEO too.
Blog Page
If you want to create a page that displays all your poems in one place, you need to create an empty page and name it 'Blog'. All you have to do is head over to Page » Add New in your WordPress menu. Add the title with 'Blog' and publish the page. That's all.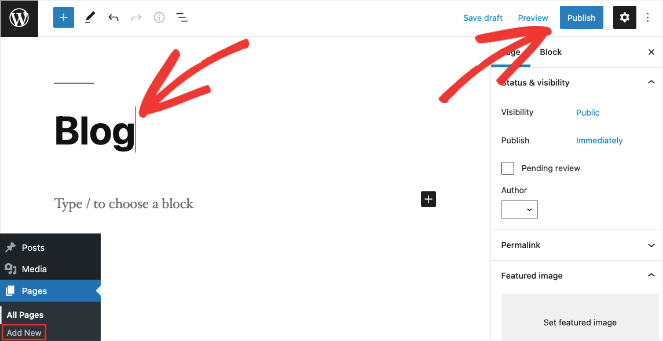 Now go to the Settings » Reading page in your WordPress admin dashboard.
In the Your Homepage displays option, WordPress displays your latest posts by default. If you want to show a custom page, you'll need to choose 'A static page' and select the page you want to display as your front page from the dropdown menu.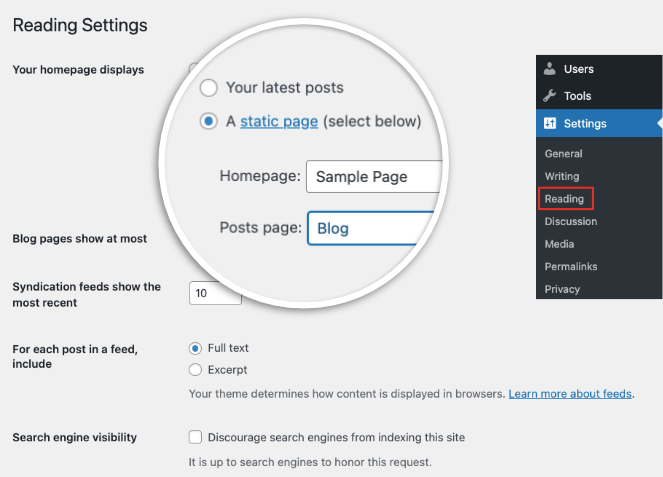 Then under Posts page, choose 'Blog'. Once you're done, click the Save Changes button.
Blog Comments
You can allow users to comment on posts. This increases engagement on your website, boosts the time users spend on the page, and encourages them to visit your website again. To configure the comments, go to Settings » Discussion.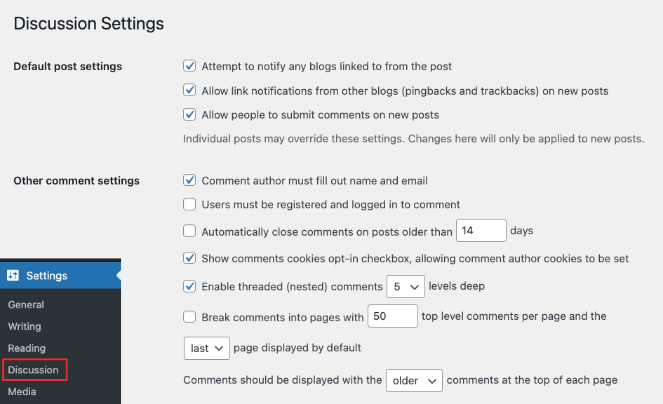 Here you can choose whether you want to allow people to comment on new articles.
Now you're ready to create new blog posts and pages.
Step 6: Write Content for Your Poetry Blog
If you want your blog to gain momentum and get more followers, you need to be consistent with publishing poems regularly.
With WordPress, you can create blog posts with images and custom formatting. Then you can schedule them ahead of time. That way, you'll have a constant stream of fresh content on your blog.
We recommend writing at least 3-5 posts before you launch your blog so that people who find your site have something to read right away.
You can even publish your poems as separate pages and then use your blog to write about topics related to your poetry.
You could use blog topic research tools to find article ideas that your target audience would be interested in. Here are some more poetry blog post ideas for inspiration.
Once you have a list of topics you want to write about, it's time to start outlining and drafting your posts.
In WordPress, you need to head over to Posts » Add New page. This will open the WordPress default Block Editor. You can add a title and content. In the right menu, you'll be able to add categories, tags, and a feature image.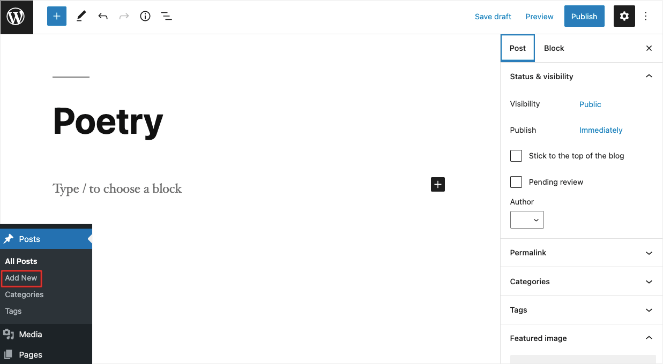 When you're ready, hit the Publish button.
In the same way, you can create pages under the Page » Add New tab.
If you're new to blogging, you can read our guide on how to write a good blog post for tips.
Next, you can start adding tools to add more features and grow your blog.
Step 7: Install Important WordPress Plugins
WordPress is home to thousands of plugins. This means if you just think of a feature you want your blog to have, chances are you'll find a plugin that lets you add it with just a few clicks.
You'll find plugins to add newsletter signup popups, enhance SEO, sell digital products, and so much more.
Here are the most important WordPress plugins you need when starting out: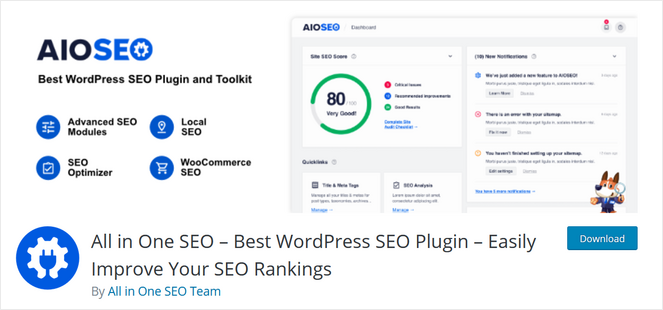 All in One SEO (AIOSEO) is one of the best SEO plugins for WordPress. If you want your blog to be noticed, then you need to optimize it for search engines. This plugin will help you easily optimize every poem, blog post, and page you create.
It even audits your website and gives you recommended measures that you can add with just a few clicks. With that, your site will appear on Google search results.
All in One SEO comes with powerful features like:
TruSEO On-Page Analysis – Easily add title tags, meta descriptions, and keywords for proper on-page optimization.
Smart XML Sitemaps – Automatically generate an XML sitemap and notify search engines of any updates.
Rich Snippets Schema – Support for schema markup so that you can get more clicks and traffic with rich snippets.
Social Media Integration – Control how your content and thumbnails look on platforms like Facebook and Twitter.
Link Assistant – Automatically find internal linking opportunities to help users and search engines discover your content.
And Much More
Find out more about this plugin in our AIOSEO review.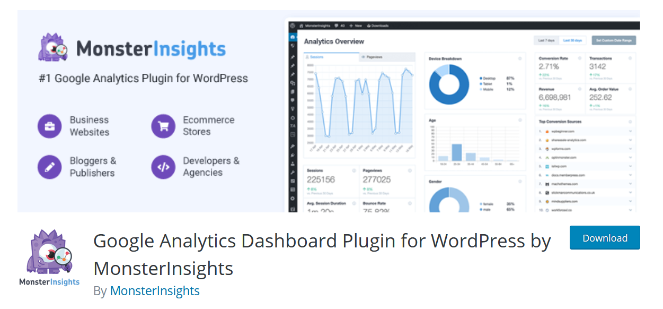 MonsterInsights is the best Google Analytics plugin for WordPress.
Google Analytics will let you track statistics about your blog like how many visitors view your blog, how much time they spend reading, and where in the world they come from. Now connecting your site to Analytics is quite technical.
MonsterInsights simplifies that and makes it as easy as clicking a button. Then you can see important Google Analytics metrics for your blog right inside your WordPress dashboard.
You can discover how much traffic you're getting, new vs. returning visitors, popular posts and pages, how visitors found your site, and much more. With these insights, you can track the success of your blog and improve your blogging strategy.
Follow this tutorial to install Google Analytics on your WordPress blog with MonsterInsights.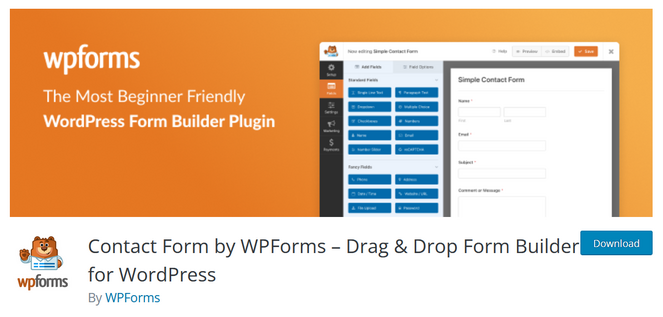 WPForms is the best form builder plugin for WordPress. You can create forms to let users get in touch with you, submit poems of their own, or register for events. You can even run surveys and polls to get opinions from your readers.
Want to sell a chapbook? There's an option to add downloadable products, such as an eBook or PDF, along with images and pricing. Then you can set up automated email confirmations to deliver the digital product to your customer.
WPForms comes with premade templates and a visual builder that lets you create any form you need. See how easy it is to create a contact form for your blog.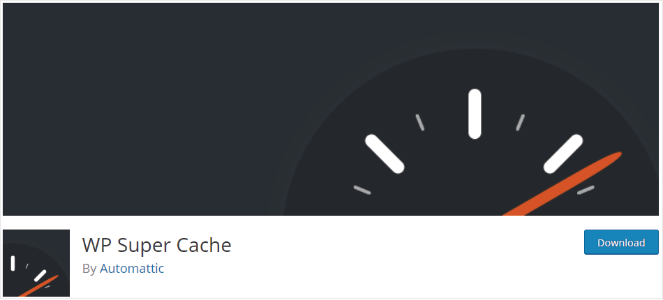 WP Super Cache is a free WordPress plugin that will help optimize your site's speed and performance. This will help you deliver a better user experience and prevent users from leaving your site. A faster site is also good for SEO as Google favors sites that load faster.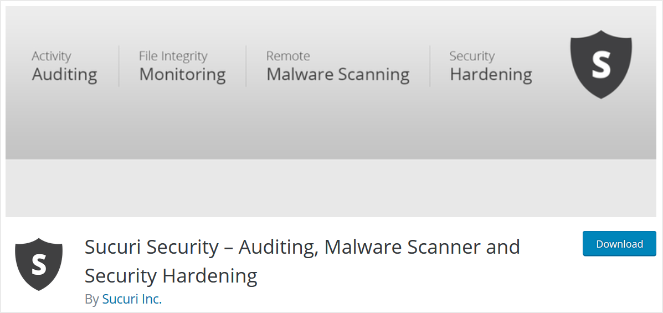 Sucuri is a popular security plugin for WordPress. When you run a WordPress site, you're responsible for your site's security. So this is a must-have plugin to protect your site from hackers. It will regularly scan your website to check for malware and vulnerabilities. It comes with WordPress security features like file integrity monitoring, blocklist monitoring, post-hack security actions, security notifications, and more.
Step 8: Promote Your Poetry Blog
Once you set up your blog and start publishing poems, you need to let the world know. You'll want to promote yourself as much as possible to attract new readers and drive traffic to your blog.
When we mention 'promote', most people think of paid ads which can be expensive. We'll show you lots of free and affordable ways to promote your blog. Let's take a look at a few different strategies:
Email Newsletters
If you want to build a loyal fan base of people that keep coming back to your blog, newsletters are the way to go. When someone visits your blog, you can prompt them to sign up for your newsletter.
Then you can send weekly newsletters with updates of the new poems on your blog, published books, upcoming events, and so on. This will get their attention and keep your poetry brand alive in their minds.
Push Notifications
Push notifications allow you to automatically notify your readers when you publish a new poem or blog post. You can also send custom notifications as you need.
These notifications will be delivered to your reader's browser when they're most likely online in their local timezone.
The best tool for this is PushEngage. You can get started for free and then upgrade as your blog grows.
Post on Social Media
In this day and age, you need to have social media profiles to gain a fan base and connect with readers. You can create accounts on platforms like Facebook, Twitter, or Instagram. There are tools to sync these platforms so you just have to post to one platform, say Instagram, and it will automatically be posted to all your social media accounts on other platforms.
Join Poetry Forums
If you want to build a name for yourself and your poetry blog, you need to network with other poets and readers. A poetry forum is a great way to do that. A simple Google search for "poetry forums" will bring up multiple results.
These forums function like online discussion boards where people can ask questions and share their poetry tips with others.
Depending on the forum rules, you can sometimes add a link to your blog when you give helpful advice in relevant conversation threads. This will help you drive interested traffic to your blog.
Lastly, we'll go over how to monetize a poetry blog.
Step 9: Monetize Your Poetry Blog
You may want to post your poems on a blog just to share them with the world. You may also want to monetize your site so that you can earn through your art.
Monetizing your blog can be a mountain to climb if you don't know what you're doing. But the truth is it's easier than it seems.
Here are a few ways you can monetize your poetry blog:
Create and sell eBooks
Ever wanted to publish your own book of poems?
A chapbook is a great way to put your poems together into something that can be monetized. All you have to do is paste all your poems together in a PDF document. You could use software like Canva to come up with a nice book cover and images for the content inside.
Then you can offer this book for sale on your site. The best part is that you only need to create the book and set up the product delivery system once.
After that, it will run on its own generating passive income for you.
The best way to sell eBooks on your blog is with a plugin called Easy Digital Downloads.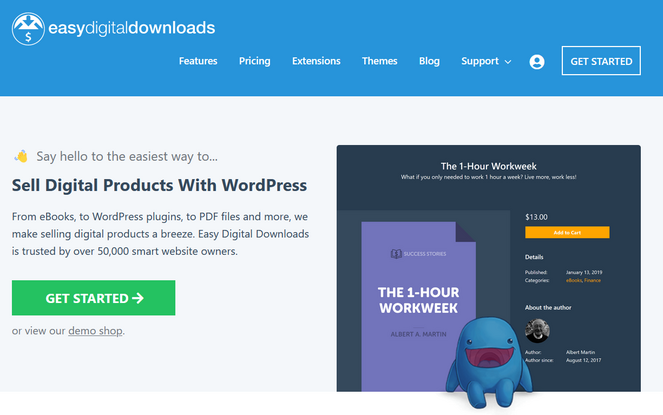 Easy Digital Downloads is the best WordPress plugin for selling digital products like eBooks, PDFs, videos, and more.
It's also easy to set up. Customers can choose one or multiple products to add to their cart and checkout. You can accept payments through credit card, PayPal, online wallets like Apple Pay and Google Pay, and more.
Then once the payment is confirmed, the plugin will automatically deliver the digital product to them.
You can get started with the free version or upgrade to the premium plugin for advanced features.
Wondering how to write a chapbook? See these tips in our guide to writing an ebook.
Display Ads
Many website owners, especially artistic ones, tend to stay away from ads because it can ruin the aesthetics of their website. It may look out of place and take away from the essence of your art.
But this doesn't have to be. You can sign up with ad networks that give you full control over what kind of ads are displayed and where they appear on your site.
You can make sure that the ads are relevant to your content and aren't tacky. And by using targetted ads, you can increase your chances of getting ad clicks as your user will be more likely to be interested in them
One way to get started is to simply sign up for a free Google Adsense account. Then, Google will show ads on your site that are targeted to your audience and content. Whenever someone clicks an ad on your blog, you earn money.
For more details, see our guide on how to properly add Google Adsense to your WordPress blog.
Start Affiliate Marketing
Affiliate marketing lets you promote products and services of others through your content. You could find a brand or company that is relevant to your field. So for instance, if your poetry tends to be about nature, you could find products that are eco-friendly, or nature tours & travels. If they run an affiliate program, all you have to do is sign up with them and they'll give you a unique link.
Then, on your website, you can use this link inside your blog content, pages, banners, sidebar, and more. Each time someone clicks on your affiliate link to buy the product, you'll earn a commission.
You can learn more in our guide to affiliate marketing.
Create Online Courses
If you've got lots of expert poetry advice to share, you can also create and sell online poetry courses. You could teach others how to get started, the different kinds of poetry, tips to improve, and so on.
The best way to sell courses on your WordPress blog is with MemberPress.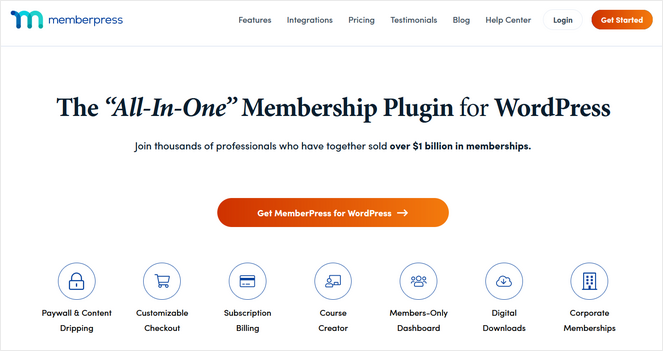 MemberPress is the best membership WordPress plugin that comes with a built-in visual course builder.
You don't need any experience to get started. If you can point and click, you can create full-fledged courses. It's easy to drag and drop lessons, topics, categories, videos, images, and more, to build your course curriculum.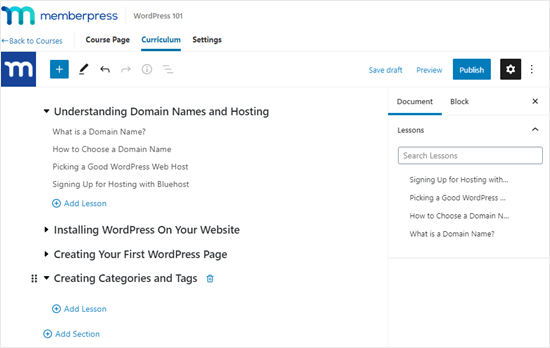 With MemberPress, you can create multiple courses with different subscription options, accept one-time or recurring payments, and more.
To help you get started, here's a step-by-step tutorial on how to create an online course in WordPress.
---
We hope this tutorial helped you start a poetry blog. Now you can turn your passion into an online business!
If you enjoyed this post, be sure to check out our post on 101 blogging tips for beginners. It's the perfect post during the early stages of your blogging journey. Bookmark it so that you can come back to it as and when you need.
And don't forget to sign up for our email newsletter for more helpful blogging tips!