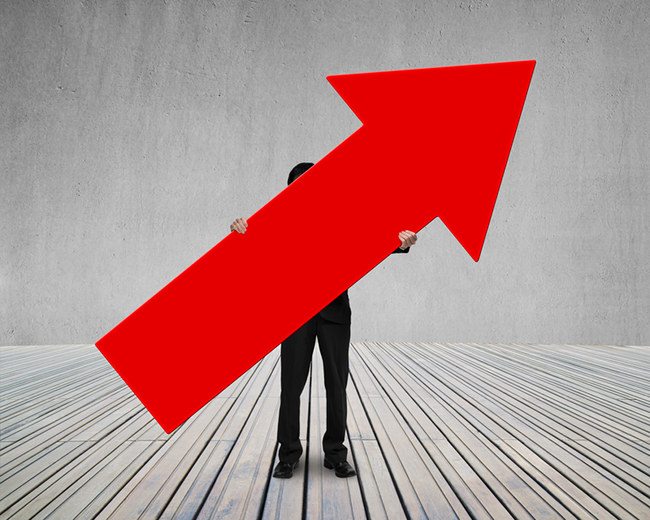 When I re-designed Blog Tyrant one of the main additions was a homepage sign-up form that uses a big image as part of a sign up offering.
So far it has been performing pretty well and is converting much higher than the old option.
In today's post I want to show you a few other blogs and websites that use really sexy email sign-up form designs to capture more email subscribers.
Hope it helps!
Why your sign-up form is so important
I wanted to start this post by just talking a little bit about why your email submit form is so important – especially if you're a blogger.
The reason is simple: email subscribers are your blog's lifeblood.
It's your email subscribers that allow you to build a successful, sustainable and Google-protected blog that makes money for years to come.
And as I've said before, you can get all the traffic in the world but unless you are converting those visitors into long term subscribers you are missing out on a lot of future opportunities for promotion, earnings and feedback.
So let's get these forms right!
NOTE: This is yet another reason why I recommend bloggers get their own domain name and hosting set up. You simply don't have the design and plugin control that you need to do these types of successful sign-up form experiments on free hosts.
The best sign-up form designs
Okay, so here are a few opt-in form designs that I really like.
I've approached a few of these people to find out conversion numbers and will share that info along the way.
As always, I wanted to give you a starting point where you can get some ideas for your own mailing lists. Some of the below examples will include lessons that I think are really useful to learn.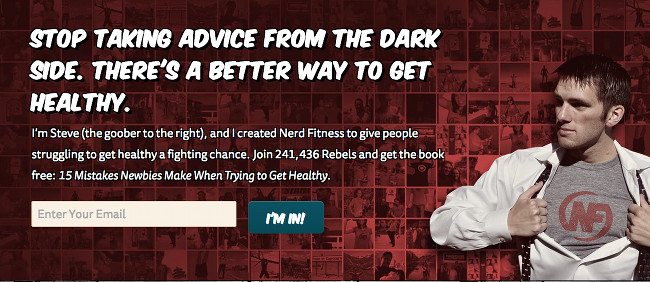 Steve Kamb is an online buddy of mine and I know for a fact that this form is converting extremely well. It was an interesting case study to watch because this form was added after a blog design overhaul which wasn't loved by all of his existing readers. But the new site is converting so well that it seems he made the right decision.
Lessons from this sign up form:
Perfect branding to stay in line with the "nerd" theme.
Informal language that creates intrigue.
Social proof showing others who have joined.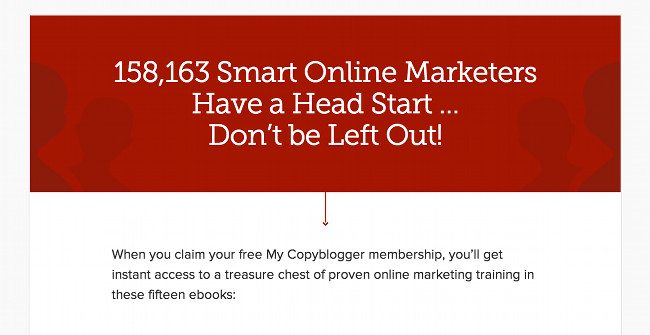 As you know, Copyblogger always gets things right. It's actually pretty annoying. But it also provides a lot of inspiration to "borrow" ideas from.
This simple landing page expresses benefits while drawing the eye down towards the sign up form itself.
Lessons from this sign up form:
List of features/benefits alongside the sign up area.
Scarcity and "fear" used to encourage quick action.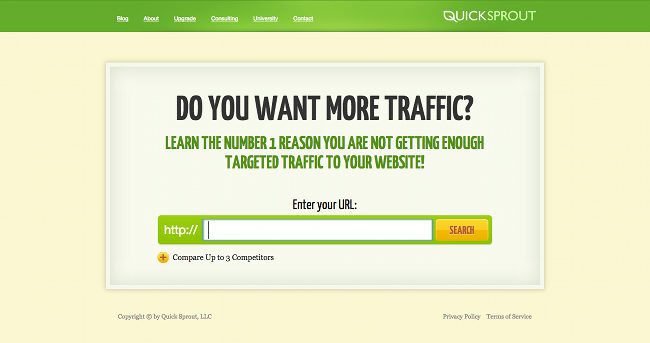 Another person to keep an eye on for all the crafty fun stuff they do is Neil Patel. He's super smart and you know he's always testing his stuff. He's even founded conversion-based companies called KISSmetrics and CrazyEgg.
Neil's homepage isn't a sign up form – it's a URL entry – but he told me that in the last week it has had 31.7% of visitors enter their website. That is a fantastic number of people that are being put in front of Neil's funnel, which you see after you have your website analysed.
Lessons from this form:
Opens with a universal question/need.
Minimal design with little to distract.
Valuable free giveaway.
This massive website is Darren Rowse's (from Problogger) big earner. He successfully uses a pop up sign up form on this website, but I really wanted to mention the homepage sign up form that is integrated with the main photo and featured content.
This is a really interesting approach as your eye is always drawn to the featured content – even if you are used to seeing this header sign up form designs.
Lessons from this sign up form:
Sign up form appears on top of most eye-catching content.
Directly in line of sight for where readers look/click.
Almost seems as if you need to enter your email to read the content.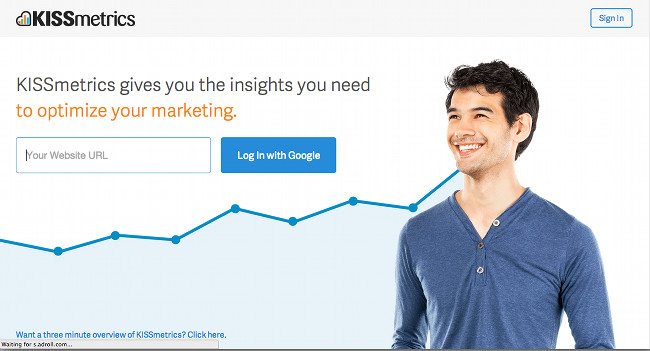 Again, this one isn't an email sign up form but it still classifies (to me anyway) as a sign up form because it gets you moving down a funnel. It's actually one of my favorite landing pages on the net – extremely simple and with brilliant blogging tactics like having the person's eyes directed at the sign up area.
Lessons from this sign up form:
Human eye looking directly at action area.
Only a few options for people to take.
Subtle graphics indicating success and growth.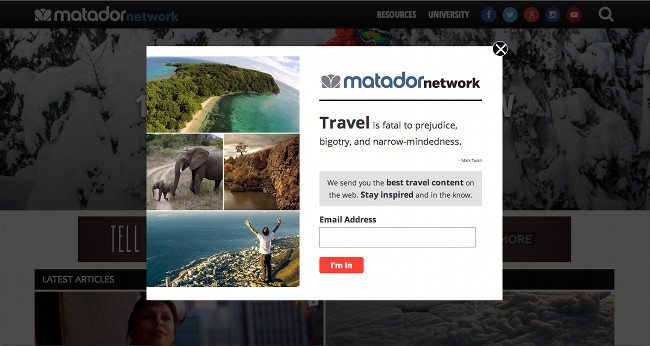 Matador Network is a really cool travel-ish kind of website that has a lot of inspiring content. I know not all of you love pop ups but I really wanted to include this one in this list for its amazing mix of photography, motivation and simplicity. It is hard not to enter your email address.
Lessons from this sign up form:
Authority quote to create trust.
Photos that install excitement in brand.
Uses a pop up lightbox that blocks out regular content.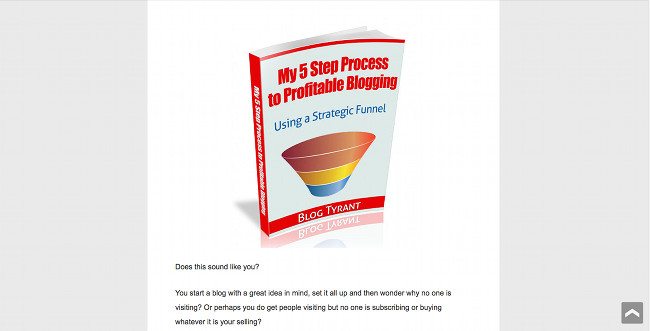 It seems a bit weird to include myself on this list but I decided to because this strategy is just working so well for me. This particular form is converting at around 70%. Yes, 70%. It's a simple, one-column landing page with short copy and a graphic. That's it. People only see this page if they click on the slide out form that appears in the sidebar if you're new to the site.
Lessons from this sign up form:
Pre-sell the landing page/sign up form before people see it.
Keep the copy on-message as if the whole page is on opt-in form.
Build trust with an authority statement.
How is your sign up form going?
If you have a sign up form that is performing really well then please let me know in the comments below. Or, if you'd like some quick advice about how you might be able to improve your own sign up form let us know and me and the Troops will take a look. If I find any really good ones I'll add it to the post!
Top Photo: © Bswei | Dreamstime.com – Man Holding Red Arrow Up Sign Photo