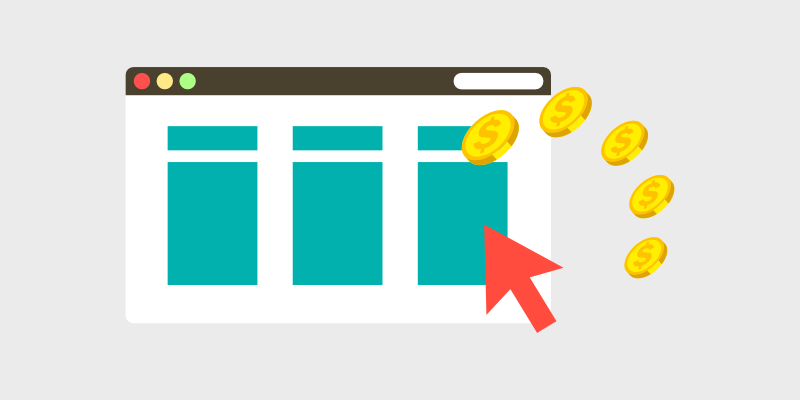 D o you want to increase your Google Adsense earnings? Here are some easy Google Adsense tricks and tips to boost your revenue.
Advertising with Google AdSense is one of the easiest ways to start making money from your new WordPress blog.
But, if your AdSense earnings are low, you might be wondering if there's anything you can do to fix it.
Luckily, with a few minor adjustments, you can easily increase your Google AdSense click-through rate and boost your earnings.
In this article, we'll show you how to increase Google AdSense earnings on your blog using easy tips.
Let's dive in!
If you haven't gotten started with Google AdSense yet, see our tutorial on how to add Google AdSense to your WordPress blog for step by step instructions.
1. Create High-Quality Content
The first step to growing your Google AdSense revenue is to increase your blog traffic. Because the more traffic your blog gets, the more opportunities you have to get clicks.
There are a number of tactics that you can try to get more traffic to your blog, but none of them will pay off if your blog isn't filled with valuable, high-quality content.
High-quality content is what will attract visitors to your blog. Plus, it will keep visitors on your site for longer. This helps to decrease your bounce rate, improve your blog SEO, and increase your search engine rankings, which will also help get you more visitors overall.
If you're new to blogging and need help creating high-quality content, check out these Blog Tyrant resources:
On the other hand, if you've been blogging for awhile, you can look at the blog posts that are currently driving traffic to your site to get new content ideas.
Using the MonsterInsights plugin, you can head to the Publishers report to find out what the top landing pages on your site are.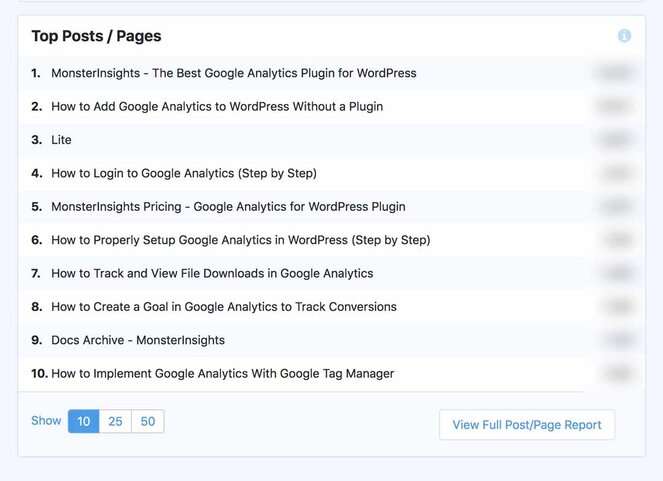 The idea here is, since these top posts and pages are already driving traffic to your website, you can come up with similar topics, create new content around them, and bring even more traffic to your site!
2. Use the Right Keywords
In order for people to discover your blog via Google or other search engines, they need to type search terms, or keywords, into the search bar.
So, if your content ranks for keywords that people are already typing into search engines, you'll be able to get a boost in traffic easily. Which in turn, can help you boost your Google AdSense earnings.
How do you find out what keywords people use to look up your website?
It's easy with MonsterInsights. Simply go to the Search Console report to see your blog's top Google search terms. For each search term, you can see data on the number of clicks, impressions, click-through rate (CTR), and average position.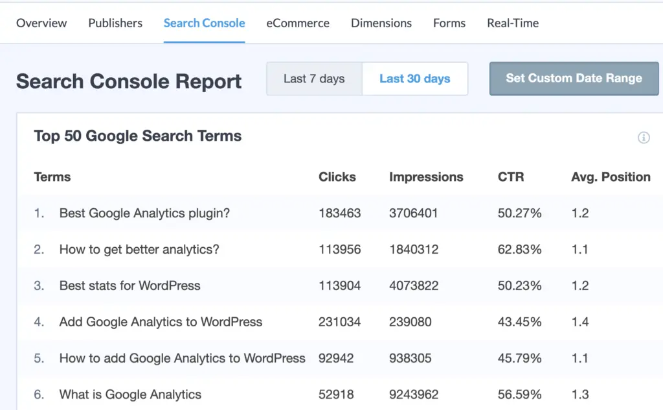 You can use these valuable insights to optimize your blog for similar keywords and discover new keywords that you can create content around.
This also helps you easily figure out which transactional keywords drive the most traffic to your site.
Transactional keywords are search terms where the user is showing signs that they are ready to buy. An example of a transactional keyword would be something like 'buy blog hosting.'
By targeting transactional keywords like this, not only can you increase traffic, but you can attract exactly the type of audience that wants to buy what you're advertising.
3. Give Your Blog a User-Friendly Design
As we mentioned previously, when you can get visitors to stay on your blog longer, it helps improve your search engine rankings and drives more traffic to your site.
Plus, the longer visitors stay on your blog, the more trust they develop with you, which makes them more likely to click on your ads.
That's why it's so important that your blog has a user-friendly design.
First, if your WordPress theme isn't responsive, your blog won't look good or function properly on mobile devices. This will cause visitors to leave your blog in search of a competitor website that's more mobile-friendly.
And according to internet usage statistics, over 90% of the global internet population uses a mobile device to go online. So, that's a lot of clicks you could be missing out on.
You can check out our recommendations of the best WordPress blog themes to find a visually-appealing, responsive design for your site.
Another option is to use a website builder plugin like SeedProd to create custom WordPress theme for your blog, no coding required.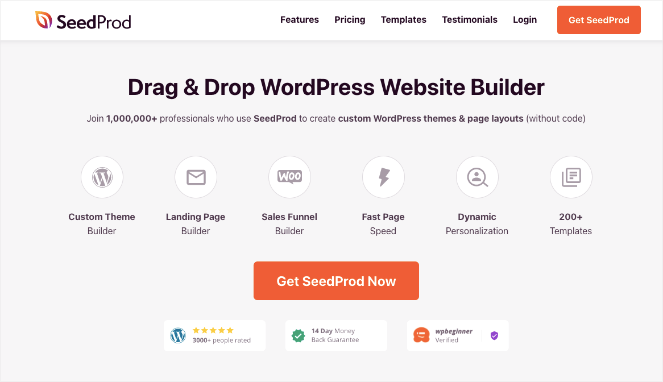 SeedProd comes with 74+ pre-made, responsive theme templates that you customize with the drag and drop editor. Plus, it has ready-made blocks you can add to your design to keep visitors on your site longer and increase your Google Adsense earnings, such as:
Nav Menu – Add custom navigation menus to help users get to important pages on your site easier.
Search Form – Easily add search forms anywhere on your site to help users find the content they're looking for.
Optin Form – Turn visitors into email subscribers to keep them returning to your site again and again.
Testimonials and Star Ratings – Build trust with visitors by displaying star ratings and testimonials on your blog.
And more…
4. Choose the Right Ad Style and Placement
Google AdSense offers multiple different ad styles in order to attract the attention of users, because different users will be drawn to different ad types.
That's why it's important to experiment with different ad styles to find which ones work best for your audience.
You should also follow ad placement best practices. You'll want to place your ads in areas of your site that very visible so that you can decrease ad blindness.
According to Google, some of the best-performing ad styles and placements are:
Leaderboard (728×90) – This ad style is typically placed on the top of a web page, so visitors will see it as soon as the page loads. It also covers a good part of the screen without intruding on your other content.
Wide Skyscraper (160×600) – This ad style is much taller than it is wide and can be placed on the sides of pages. Since its displayed on the sides of pages, it's less intrusive, but it's still very visible.
Large Rectangle (336×280) – This ad style is be placed at the end of a blog post or within the body of a blog post. It's popular with advertisers because of its size and it works with both text and image.
Large Mobile Banner (320x100) – This ad style is designed specifically for mobile users. It works best when displayed at the top of the page, underneath the site header.
When trying to decide which ad styles and placements to use on your own blog, think about your audience. What is a user trying to accomplish when visiting your website? What do they do when they visit a specific page? How can I insert ads in this area without getting in users' way?
By thinking about it from your audience's perspective, you can choose the best ad style and placement for getting clicks.
5. Track Scroll Depth with MonsterInsights
Like we mentioned earlier, you should place your ads in a highly visible area of your website. That way, visitors are sure to notice the ad and click on it.
The problem is, how do you know for sure which areas of your site visitors pay attention to?
You can easily find out with the MonsterInsights Scroll Tracking feature. Scroll depth tracking allows you to see how far people are scrolling on your blog posts or landing pages.
All you have to do is enable the option in MonsterInsights and it will automatically set up scroll tracking on your WordPress blog. Then, you can view the results in the Scroll section of the Publishers report right from your WordPress dashboard.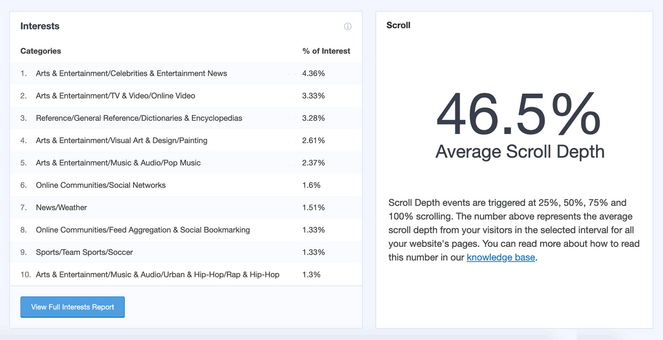 If we use the example above, you can see that the average scroll depth for your website is 46.5%.
In this case, you would want to place your ads before this scroll depth to maximize your Google AdSense earnings.
If you place your ads after this point, where visitors aren't scrolling, you won't get as many clicks and you'll miss out on revenue.
6. A/B Test Your Ad Placements
Instead of blindly trying out different ad placements, you can find out exactly which placement gets you the most clicks by running A/B testing.
A/B testing, also called split testing, allows you to compare two different versions of the same web page. For example, in version A of your blog page, you can test placing an ad unit at the top of the post, and version B, you can place the ad unit at the end of your post.
Then, based on the results of the test, you can determine which ad placement will help you increase your AdSense earnings.
The easiest way to run A/B testing is with the MonsterInsights Google Optimize addon. It lets you set up A/B testing on your WordPress blog in a few simple steps. For step by step instructions, see this tutorial on how to set up Google Optimize in WordPress.
Disclaimer: Google announced that they will sunset Google Optimize on September 30, 2023. After this date, the tool will no longer be available. See this post on the best Google Optimize alternatives.
7. Manage Your Ads with AdSanity
Networks like Google AdSense don't give you a ton of control over your ads.
Luckily, you can use a WordPress plugin like AdSanity to extend the functionality and increase your earnings.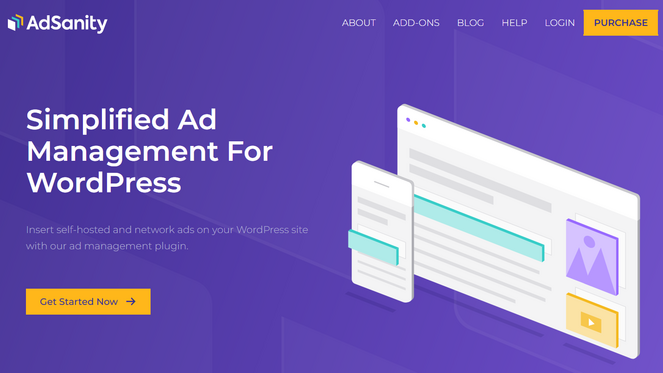 AdSanity is the best ad management plugin for WordPress. It allows you to insert your ads into the right location quickly and easily. You can insert single ads or create ad groups that can be inserted into sidebars and specific WordPress posts.
It also comes with powerful features like ad scheduling, ad rotation, and ad analytics. Plus, you can easily manage all of your ads in one central place using the familiar WordPress interface.
---
That's it! We hope these tips will help you increase your Google AdSense earnings.
If you enjoyed this article, you may want to check out our guide on how to monetize your blog. It includes additional strategies, besides Google AdSense, for making money online.
Also, don't forget to subscribe to our newsletter for more blogging tips.