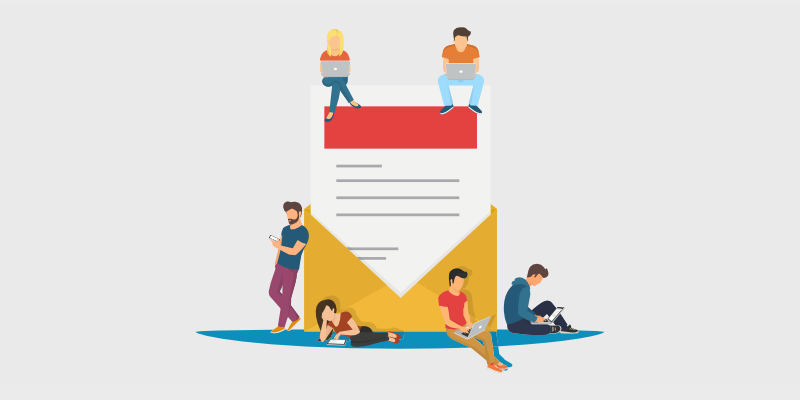 A re you having trouble crafting an engaging email newsletter? There's no doubt that email newsletters are the best way to drive traffic, engagement, and conversions. It's an easy and cost-effective way to stay in touch with your readers and customers.
If you're someone who has just started a blog and wants to learn how to write a newsletter, then you've come to the right place.
In this article, we'll share some excellent tips on how to write a newsletter that gets results.
Let's get started!
What is an Email Newsletter?
Email newsletters are a type of email used to send information or updates about your website or product.
Email newsletters are effective in:
Promoting new blog posts
Driving traffic to your blog
Announcing new products
Bringing in sales
And more
An email newsletter is an important part of email marketing.
If done right, email newsletters can be an effective way to send traffic to your blog and strengthen your bond with your readers.
Bloggers can make use of email marketing in many different ways. For example, a blogger who wants to promote their ebook can use an email newsletter to get the word out. They can get a lot of downloads just by using email to tell readers about the book.
OptinMonster states that for every $1 you spend on email marketing brings you $44 in return. Email marketing outperforms every other medium when it comes to content distribution. It's the fastest way to get your content out there if you have a mailing list.
It's no surprise that big companies and brands use email newsletters as a part of their strategy. If you are serious about growing your blog, then you should too.
Before You Get Started
Before we get to the part where we explain how to write a newsletter, let's talk about the essentials.
To properly execute your email newsletter campaign, you need two things:
OptinMonster – A tool to help you grow your email list
Constant Contact – An email marketing service that enables you to automate the process
Why You Need OptinMonster
No matter how good you are at writing a newsletter, it won't matter if you don't have a list of people to send it to.
The first thing you need to do before you start sending newsletters is to build an email list. And the best way to do that is by using OptinMonster.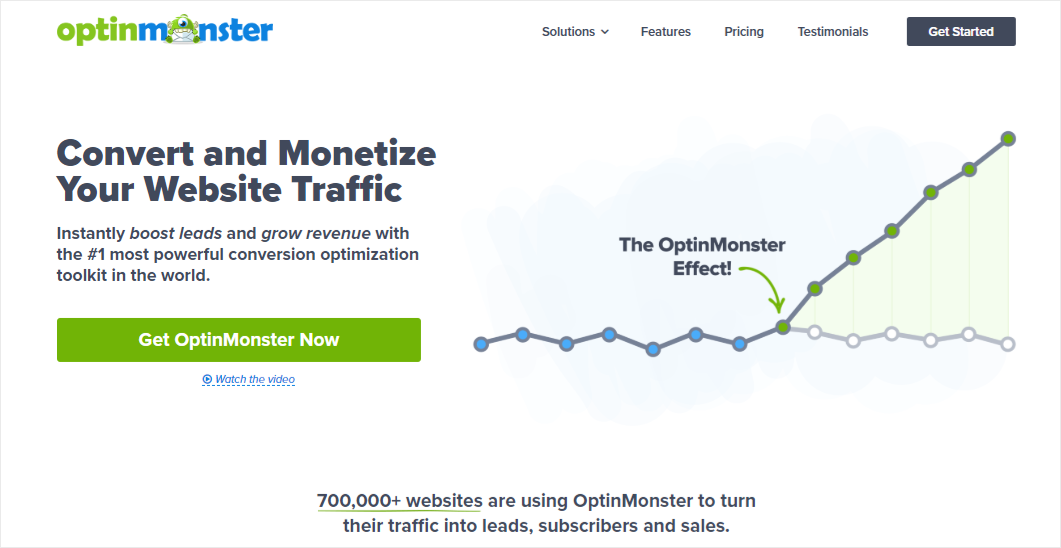 OptinMonster helps convert your traffic into subscribers. With their drag and drop builder, you can easily create excellent email optin campaigns. These email optins pop up on the screen when users are visiting your blog and encourage them to sign up for your email list.
To make your email optin campaigns even more effective, offer a lead magnet.
A lead magnet is something that you give away for free in exchange for an email address. Lead magnets won't cost you anything to create; they mostly consist of an online PDF, audio files, or videos. They can be anything you want as long as they add value to your users for free.
Here are some examples of lead magnets:
Videos
Ebooks
A guide or a tutorial
Webinar
Early access or beta testing of a product
Coupons
Quizzes
Free trials
Offering a lead magnet is the best way to get visitors to subscribe to your email newsletter because you're giving them an offer they can't refuse. (Godfather movie reference, in case you're wondering). You can't convince your visitors only by saying, "subscribe to our newsletter." You have to be a little more creative than that—lead magnets will help you do that.
You can also create all kinds of optin forms with OptinMonster such as lightbox popups, floating bars, slide-ins, sidebar forms, and much more.
But what makes OptinMonster really stand out from other lead generation tools is its Exit-Intent technology.
Every time a visitor is about to exit your website, OptinMonster will show a popup. If you combine your lead magnet with OptinMonster's Exit-Intent technology, you can increase your conversions by a lot!
Here is an example of how WPBeginner increased his subscriber count by 600% using the Exit-Intent popups.
OptinMonster will help you get more subscribers in no time. For more tips, check out our post with easy hacks to get more email subscribers.
Why You Need Constant Contact
Okay, so now that you know why you need an email list and how to build one, let's move onto the next matter at hand.
How do you automate the process? You can't press the send button every single time for each of your subscribers. That would take forever!
This is where an email marketing service comes in.
Our favorite tool is Constant Contact because it makes automation so easy. It is the fastest growing and one of the most popular email marketing services for small businesses.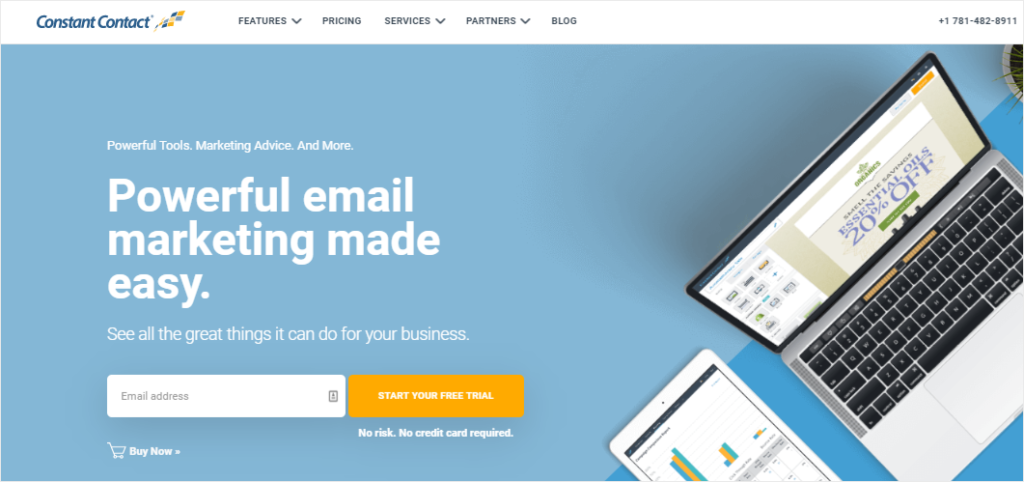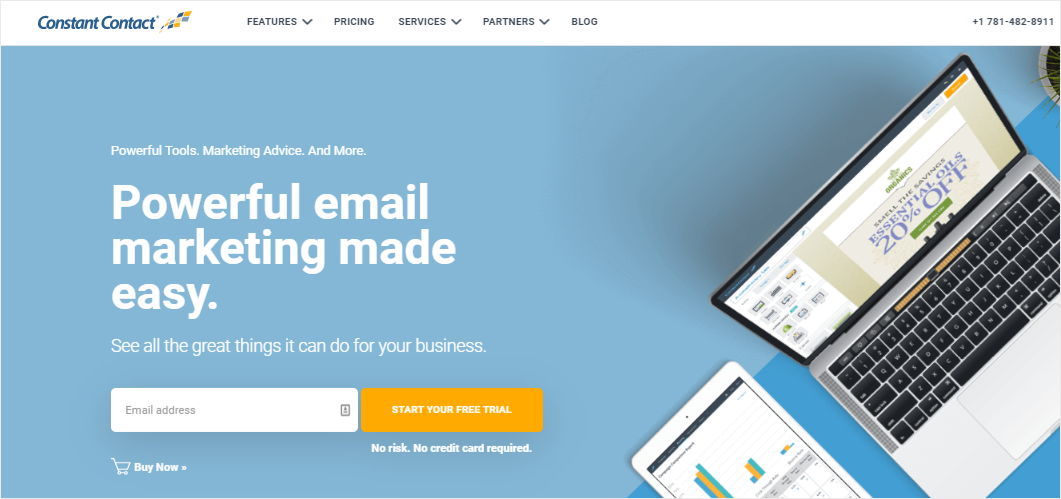 You can easily manage your subscribers and create professional emails with their drag and drop email templates.
Here is an example of how the Constant Contact dashboard looks: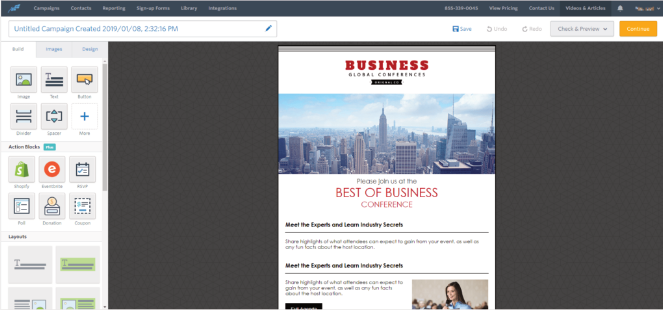 Constant Contact lets you automate mundane tasks like sending welcome emails, segmenting subscribers, triggering emails, or sending follow-up emails to contacts that didn't open your emails.
You can test Constant Contact for 60 days. After that, you will have to pay $20/month.
Now that you know the tools you need to make your email newsletter a hit, let's talk about writing a newsletter.
How to Write a Newsletter
This section will discuss some of the best tips to help you write newsletters. But not just any newsletter, one that will make your subscribers glued to their screen.
Let's go!
1. Choose a Goal for Your Newsletter
Before you start working on your newsletter campaign, you need to ask yourself, why are you sending this newsletter? What is the goal?
Are you looking to promote your new blog post? Get more social media followers? Or perhaps you want to sell something?
Having clarity on what you want to accomplish helps keep your newsletter intentional and purposeful.
It's best to stick to 1 goal to keep the readers engaged. Plus, by focusing on 1 goal, your readers will be more likely to take action.
Having 2 or 3 goals in your newsletter will distract your readers and cause choice paralysis. This might make your readers close the email without clicking on any of your call-to-action buttons.
So, choose 1 goal for your email newsletter before you start drafting it.
2. Write an Irresistible Subject Line
Before we talk about the content and the newsletter's design, let's dive into the most crucial part of a newsletter, subject lines.
You can spend hours crafting the perfect copy for your newsletter, but if your subject line isn't good enough, it won't get your readers' attention. They won't open your email, and all your hard work will lie there in their inbox.
Spend 80% of your time writing your newsletter's body and 20% time writing the subject line.
When crafting your subject line, keep it short and straightforward. The average word count of a good subject line is 6, don't go beyond that number.
Once you have a subject line ready, test it out using IsItWP's email subject line analyzer tool. It will give you an overall score and provide actionable tips on how to improve it.
Here's what the email subject line analyzer tool looks like in action: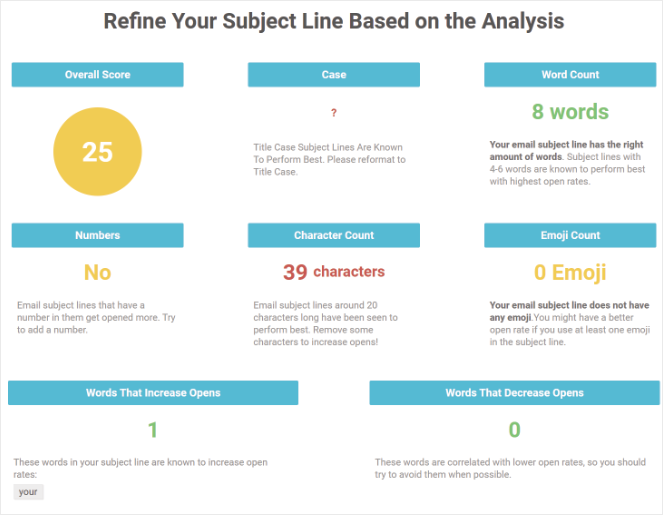 3. Write a Killer Opening Line
Writing a killer opening line is crucial because it shows up in the preview text of the email client like Gmail and Outlook.
The preview text gives a pretty good idea of what the email is all about. The length of the preview text ranges from 35-50 characters depending on the email client.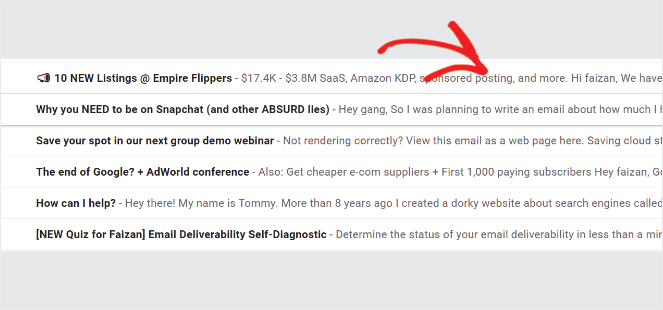 When you are writing your email's content, keep the preview text in mind and think about how it would look in your reader's inbox.
If your preview text has un-clickable social media links or instructions on how to read this email online, then you are wasting an opportunity to grab your reader's attention.
4. Create Visually-Appealing Newsletters
If you want to write a newsletter that your visitors will read, you need to understand that design is everything.
It's simple, people like things that look nice. It makes sense to spend more time on designing a visually-appealing newsletter.
If you are using Constant Contact then you should have no trouble crafting an email that looks great and is easy-to-read.
They have hundreds of pre-designed email templates you can use. You can pick the template you want, make some tweaks to it, and you're done!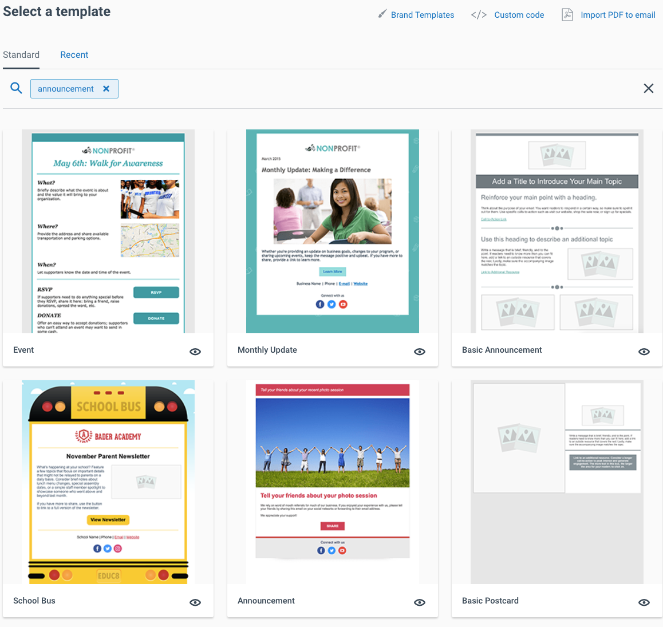 Here are some tips that can help you design a good newsletter:
Use high-quality images. You can easily find free images for your blog and newsletter using FreeImages or Unsplash.
Use readable fonts. Fonts like Open Sans, Roboto, Helvetica, Georgia, and Lato are easier to read.
Use white space.
Add videos to your newsletter to make it more engaging.
Use light shades in the background. It's easy on the eye and helps the reader focus on the newsletter's primary copy.
Create a simple email template that your readers won't get tired of receiving every week.
5. Use Proper Formatting When Crafting Your Emails
When writing for your email newsletter, it is important to keep a format that makes it easy for the readers to scan your email.
It's important that you:
Avoid large chunks of text. Break them into smaller paragraphs. This makes it easier for your reader to consume information.
Bold, italicize, or underline important information that you want to bring to your viewer's attention.
Use bullet points or numbered lists wherever possible. They are more scannable and help emphasize your main points.
Take a look at this example of a well-designed email newsletter from Teacup: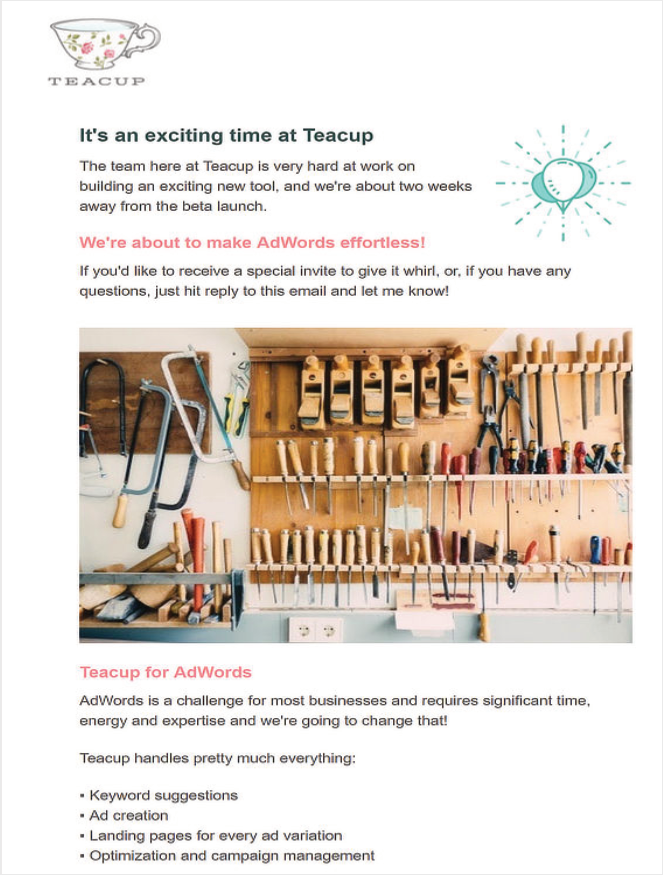 6. Draft the Email Body
Each line you write in your newsletter should achieve its goal.
For example, the goal of the subject line is to make the reader open the email and the goal of the first line is to make the reader read the second line.
This goes on until the reader reaches your call-to-action at the end and takes action—that is your ultimate goal.
When you are drafting your email you should focus on the flow of words. The first line should hook the readers in and make them want to read more.
Here is an example of how an email should be drafted: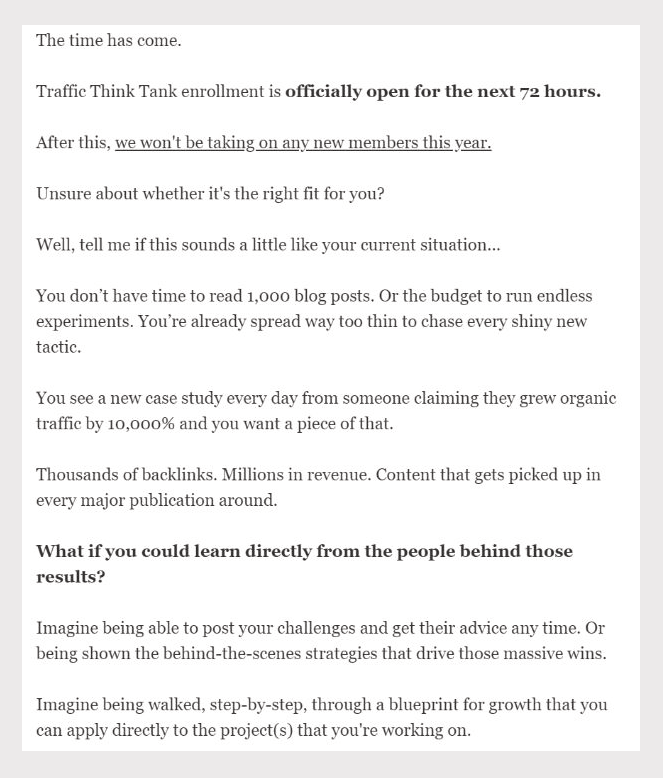 Notice how they use short sentences that effortlessly lead to the next. Being concise helps the readers grasp all of the information.
Don't discuss too many subjects at once as this can make it difficult to read and hard to take action on.
Once you are done drafting your email don't forget to proofread your text. Read it out loud and fix any mistakes you find. You can also ask your friends or colleagues to proofread it for you.
Sending an email with errors can be a huge letdown. Readers won't take your email seriously and unsubscribe from your list.
So, make sure that you double-check your email draft before you send them.
7. Nail The Closing with a Call-to-Action
Adding a call-to-action (CTA) is one of the most important parts of an email newsletter.
Adding a CTA is important because you can't leave your readers hanging. You need to tell them what to do next. Whether you want them to visit your website, download a resource, or buy something, you need a CTA to tell them so.
Some examples of calls-to-action are:
Read my latest blog post
Follow me on social media
Get your free ebook
Register now for the free webinar
Buy it now
Get the exclusive discount
In the example below, the CTA urges readers to "learn more" about the topic, when readers click on the link, it sends them to a website page with more information.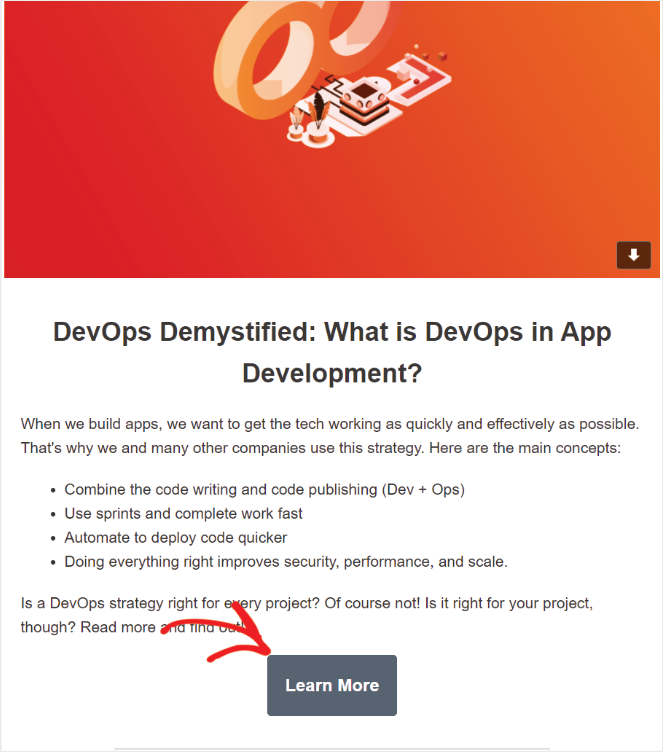 Choose your CTA based on the goal you have for your newsletter.
Your CTA is the reason why you are sending the newsletter. So, make it strong and absolutely clear.
8. Include Social Sharing
The more subscribers you have, the more chances are that your newsletter will be shared. If you get enough shares, your newsletter might even go viral.
But for that to work, you need to add social sharing buttons to your emails.
Doing this on your own can be difficult. But, if you're using Constant Contact, you can add a social sharing option through their platform. You don't have to worry about messing around in the code to get it done.
Here is an example from Constant Contact of how to use social sharing buttons in your newsletter: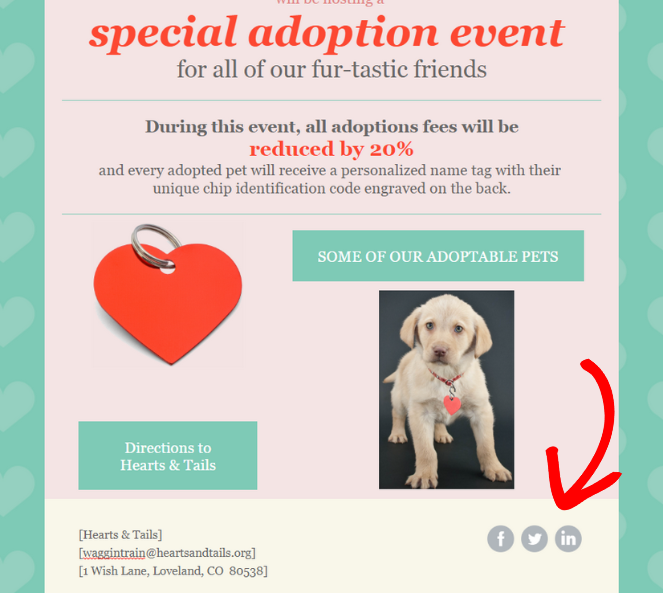 Adding social sharing buttons to your newsletter can introduce even more people to your blog so don't forget to take advantage of them.
9. Don't Spam
You wouldn't want to spend time crafting your email newsletter, only for it to end up in your readers' spam folders. So, it's important not to spam your subscribers.
Here are some tips to help you avoid ending up in the spam folder:
Don't Use Misleading Subject Lines
First, avoid using misleading subject lines. You must have received an email with the subject line "FW:" or "RE:" even though you had no prior contact with that person.
You might think that this would make the reader open your email, but they only open them so that they can mark it as spam.
Too many spam reports would make you lose your credibility and your email account, and it's also against the law!
Don't "Shout"
Also avoid shouting in the body of your email. By shouting, we mean don't use all caps and multiple exclamation marks.
This is a classic spammy email marketing technique, and people get annoyed and mark them as spam when marketers use this tactic.
Include an Opt-Out
And always remember to include an opt-out option. This reduces the chances of getting your emails marked as spam.
If someone finds the content of your emails irrelevant they can easily opt-out of your email list.
Remember to clearly mention at the bottom how to opt-out and honor opting out requests promptly. Luckily, most email marketing services will help you with this automatically.
Here are some reasons why users mark as spam or unsubscribe from your email list.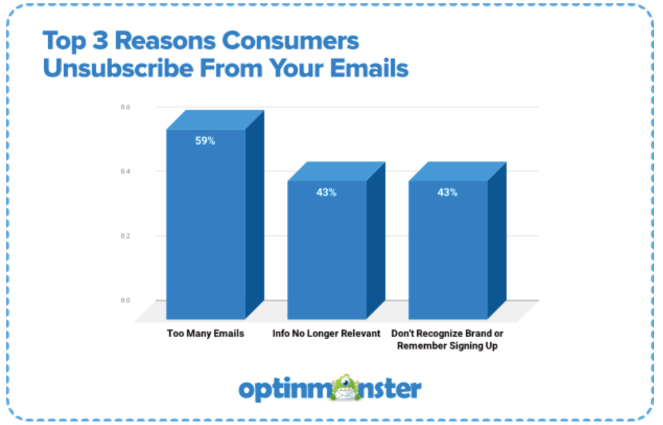 As you can see, the number 2 reason people unsubscribe is "info no longer relevant." So, let's take a look at that in the next section.
10. Be Relevant
Your readers will unsubscribe from your email list if they find irrelevant content. You must stick to your blog niche and your topic at all times.
If you've started a food blog, it wouldn't make any sense to share anything else but food recipes. If you deviate from your niche and start writing about finance, you will lose subscribers as your audience is only interested in food recipes.
So, remember to keep your newsletter content relevant to your blog.
11. Be Human
You can't expect your readers to read your email if it sounds like it's been written by a robot.
Avoid jargon and write like a real person would write. Keep a conversational tone, as if you are talking to a friend.
Here are some ways you can be more human in your email newsletters:
Tell a personal story
Share a joke
Give them exclusive/inside news about you or your company
Ask your readers a question
In the email below, Charity Water shares its personal story of how their organization started: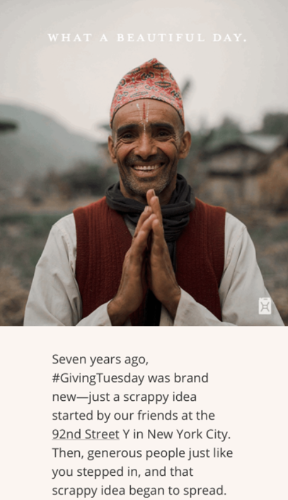 If your audience can relate to you, you will build a stronger relationship with them.
12. Be Consistent
When your readers subscribe to your newsletter, they expect to get emails from you regularly. If you promised them a weekly newsletter, they would expect you to send them 4 emails in a month.
If you don't keep your promise of sending out newsletters, you will damage your brand's reputation.
But don't just send newsletters for the sake of sending newsletters. Make sure that each of your emails adds value.
Your subscribers won't be happy if they get emails every day when they signed up for a "weekly" newsletter. This can be very annoying and might force them to unsubscribe or worse, mark your emails as spam.
So, make sure that you are consistent without annoying your subscribers.
13. Inform, Don't Advertise
Even when your newsletter's goal is to drive sales, you shouldn't advertise too heavily in your email copy.
Your readers subscribed to your newsletter to learn something from you and to learn more about you.
If you want to drive sales through your newsletter, start with why they need your product or service, its benefits, and how the product helps the reader.
If you make it about the reader rather than make it about yourself, you will have a much better chance of conversions.
14. Influence Your Readers Through Psychology
Using psychology can help you create more successful and highly converting email copies.
A real-life example of this would be whenever there is a sale that says "offer ending soon," people line up to get this offer because they're afraid of missing out. Creating a sense of urgency will encourage your readers to act fast.
Here's how to use psychology to inspire readers to take action:
Use FOMO (fear of missing out), because it's human nature. We don't want to lose anything. This is why limited-time offers work well. Create urgency in your email so that more people click.
Use colors in your CTA. Different colors have different reactions. Try to use this to your advantage. For example, yellow represents optimism, orange represents friendliness, and red represents excitement.
Add social proof like reviews. This shows your readers that many people like your brand and it makes them more inclined to read your emails.
Personalize your emails based on what your readers like.
Speaking of personalization, let's talk about segmenting your emails in the next section.
15. Focus on Segmentation
We've talked about how being relevant can help you increase your open rate and conversions.
Segmentation can help your newsletters be more relevant and personalized too. You can use OptinMonster's page level targeting to segment your subscribers.
For example, you can show a specific popup based on your visitors' interaction on your website. If they visit a page about traveling abroad and subscribe using the popup that shows on that page, they will be automatically segmented based on this interest.
Now you can send those subscribers more relevant emails that will improve your open rate and overall email engagement.
With the help of page-level targeting, you'll be able to tell exactly which content to pitch to a specific segment.
You can also use your email marketing service to segment subscribers by gender, location, age, and more.
16. Get Inspiration From Other Sources
Subscribe to your competitor's newsletter or any other newsletter that you like. See if they are doing anything different that you want and try to adapt it in the next newsletter you send.
You can also go to high engagement platforms like Quora and Reddit and see what they are talking about.
You can also use Buzzsumo to find content that has the most social shares. This will give you a good idea of the topics people like to read.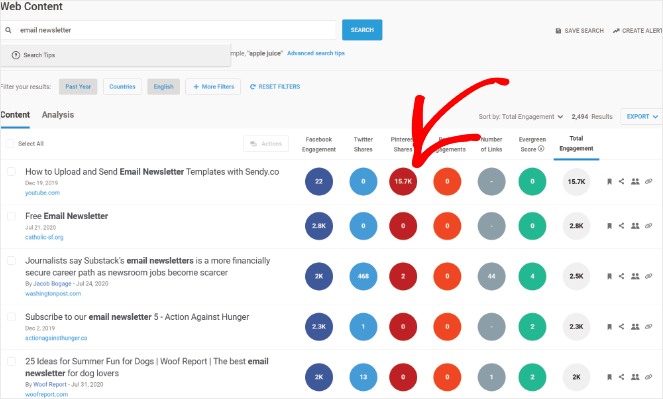 17. Measure Your Results
Your job isn't done after you send the email. You won't know if your newsletter is converting unless you measure it.
Constant Contact lets you measure the stats of your newsletter from their dashboard. You need to look at the following metrics:
Open rates: The number of people who opened your email
Bounce rates: The number of people who closed your email without interacting with it
Click-through rate: People who clicked on your CTA or other links in your email
Unsubscribes: The number of people who unsubscribed from your email list
Analyze which email newsletters had the highest conversion rate and implement the same strategy on other emails you send.
Similarly, you can also analyze which email templates did not perform and try to fix it using these metrics.
You can also use MonsterInsights to track where your email subscribers are coming from. Once you find out where they are coming from, you can optimize those channels further to increase your email signups.
This is what the report on MonsterInsights dashboard looks like: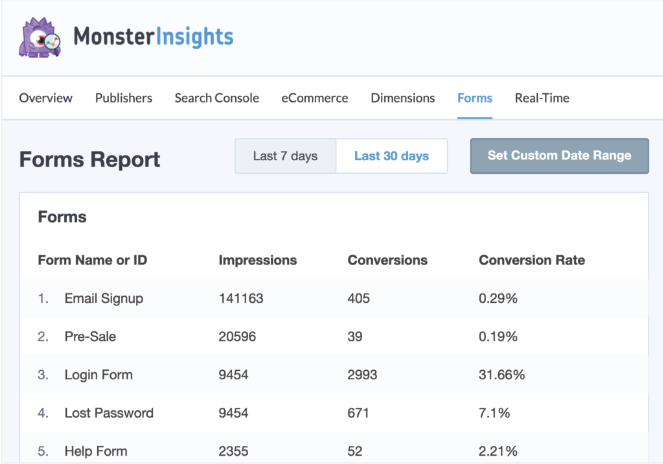 There you have it!
Now that you know some of the best tips on how to write a newsletter that converts. It's time for you to implement them and see how they work for you.
Let us know the impact these tips made on your newsletters in the comments below.
If you liked this article, then also check out our guide on how to make money with email marketing.
And also, don't forget to subscribe to our newsletter for more blogging guides and tips.