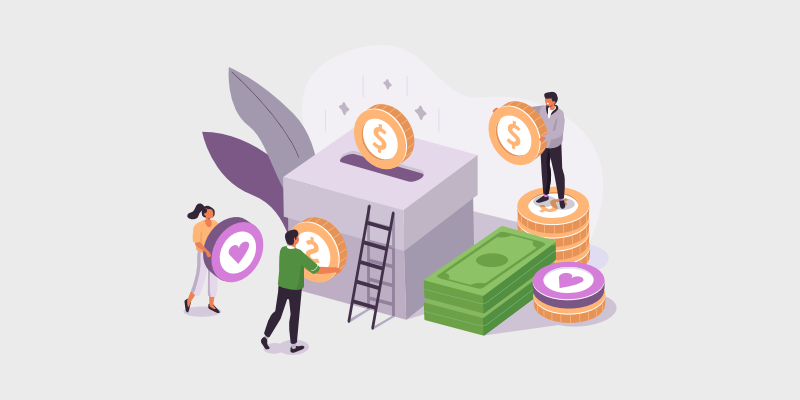 A re you looking for the best Patreon alternatives? You're in the right place! In this article, we'll share some awesome Patreon alternatives to generate recurring income from your audience.
Many content creators, writers, artists, and podcasters use Patreon to create subscriptions, offer memberships, or accept donations from their supporters. It's a great way to supplement your income and get paid for the content you put out.
But, Patreon isn't right for everyone.
For example, if you already have a self-hosted WordPress blog, Patreon is just another platform to keep up with. Instead, you should look for alternatives that let you add subscriptions to your existing site. 
So, let's dive into this list of the best Patreon alternatives. We'll go over the ease of use, features, pricing, and more. 
First, let's go over some of the disadvantages of Patreon…
What is Patreon?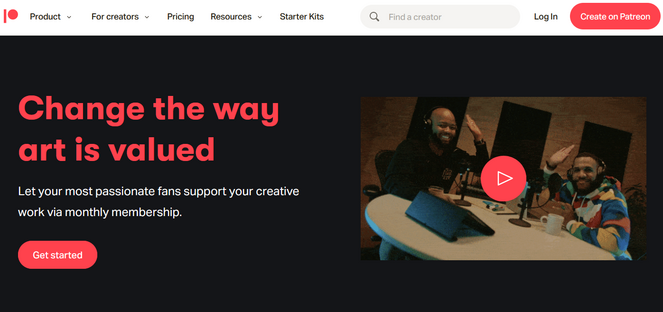 Patreon is a popular membership platform used by over 250,000 creators. It was founded in 2013 and it aims to help creators and artists earn a monthly income.
In exchange for a monthly fee, subscribers get rewards and perks like exclusive content, extra podcast episodes, live chats, etc.
While many creators use Patreon to monetize their audience, there are drawbacks to the platform, including:
Patreon Fees – Patreon is free to start but they take up to 12% of the monthly income you earn, depending on the plan you choose. There's also payment processing fees on top of that.
No Control – When you join the Patreon platform, you have to abide by their rules. If you don't follow community guidelines, your account can be banned.
Difficult to Get Discovered – The discoverability on Patreon is low. You can't rely on the platform to help you find new supporters or fans for your projects.
Because of these reasons, you should look at Patreon alternatives that will give you more control over your content and your earnings.
With that said, let's look at the top Patreon alternatives…
MemberPress is the best, all-in-one membership plugin for WordPress. It's used by thousands of professionals who have collectively sold over $1 billion in memberships.
With MemberPress, you can easily create membership subscriptions where users have to pay to access your exclusive content. You can create multiple membership tiers and accept payments (1-time or recurring) through Stripe and PayPal. 
MemberPress' powerful access rules give you complete control over who sees your content based on the subscription plan they've purchased. You can revoke or grant access to any page, post, category, tag, image, or video, on your WordPress site.
So, for example, you can create a series of premium blog posts that are only available to paying members. This makes MemberPress one of the best Patreon alternatives for writers and bloggers.
You can also use MemberPress to create online courses, sell digital products, and make members-only forums.
Plus, MemberPress is super easy to use. Simply install the plugin and within minutes, you can set up membership subscriptions on your new or existing WordPress site.
Check out this tutorial to learn how to create a profitable membership site with MemberPress.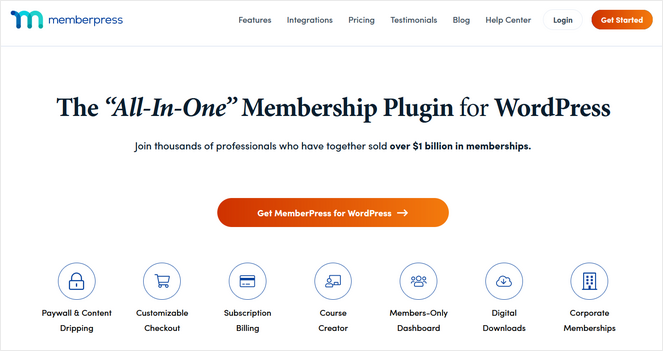 Here are some powerful features of MemberPress:
Easy setup
No transaction fees
Automated subscription billing
Multiple payment gateway integrations
Ready-made coupons and pricing pages
Paywall and content dripping
Members-only dashboard
And much more…
Get MemberPress today!
Pricing: MemberPress starts at $179/year.
Easy Digital Downloads is the top WordPress plugin for selling digital files. It's the perfect solution for creators that want to sell ebooks, PDF files, templates, videos, audio files, and other types of digital downloads. 
Easy Digital Downloads (EDD) is easy to use right out of the box. It comes with a full shopping cart system that allows your audience to purchase multiple downloads at once.
You can also choose how to distribute your files by allowing unlimited file downloads or restricting file downloads by time and/or attempt.
With EDD, you can accept credit card payments using Stripe as well as Apple Pay, Google Pay, and PayPal.
Plus, if you want to accept recurring payments, EDD has an extension for that. The extension lets you easily set up recurring payments on any of your digital products. Choose from daily, weekly, monthly, quarterly, semi-annually, and yearly options.
Learn more about this plugin in our Easy Digital Download review.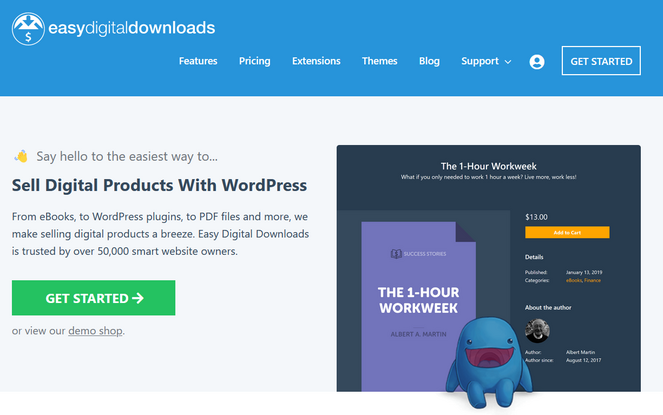 Here are Easy Digital Downloads' important features:
Full shopping cart
Supports registered user or guest checkout
Discount codes for flat or percentage rates
View download activity and reports
Easy customer management
79 available extensions
And more…
Get Easy Digital Downloads today!
Pricing: Easy Digital Downloads starts at $99.50/year. To get the Recurring Payments extension, you can upgrade to the All Access Pass, which costs $499.50/year, or purchase the extension individually for $199.00.
WP Simple Pay is the easiest way to accept one-time payments, recurring payments, or donations on your WordPress site via Stripe. 
WP Simple Pay comes with an easy drag and drop payment form builder and multiple pre-made payment form templates. That means you can quickly start collecting payments on your site, no need to set up a complicated shopping cart system.
For subscription forms, you can create multiple subscription options and let your site visitors pick a plan to subscribe to. You can even include a free trial in the plan to encourage website visitors to subscribe.
For donation forms, you can allow custom payment amounts. This gives your audience the ability to pay you what they want.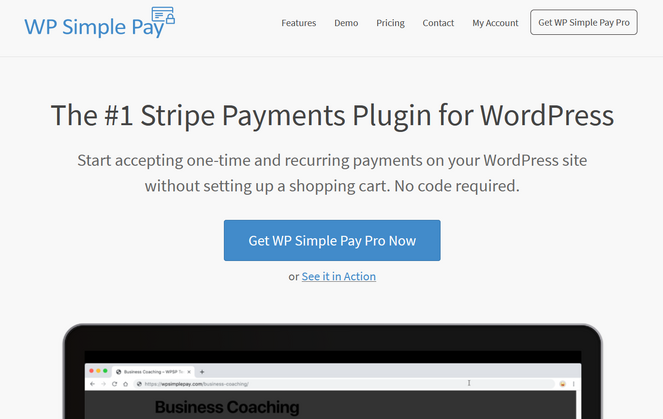 Check out WP Simple Pay's top features:
Simple payment collection
Drag and drop payment form builder
Custom amount payments
Subscription options
Coupon codes
Apple Pay and Google Pay buttons
And more…
Get WP Simple Pay today!
Pricing: WP Simple Pay Pro starts at $49.50/year. There's also a free version of the plugin with limited features.
WooCommerce is the most popular eCommerce plugin, commonly used to create an online store that sells physical products. But, you can also use WooCommerce to sell subscriptions. 
With WooCommerce Subscriptions, you can offer subscription-based products or services on your WordPress site easily. 
WooCommerce Subscriptions integrates with over 25 payment gateways for automatic recurring payments.
You can choose from multiple billing schedules including daily, weekly, monthly, quarterly, or yearly. Your subscribers can manage their own plan, including upgrading or downgrading, without needing help from you.
There's even automatic rebilling for failed subscription payments, so you never have to worry about losing revenue.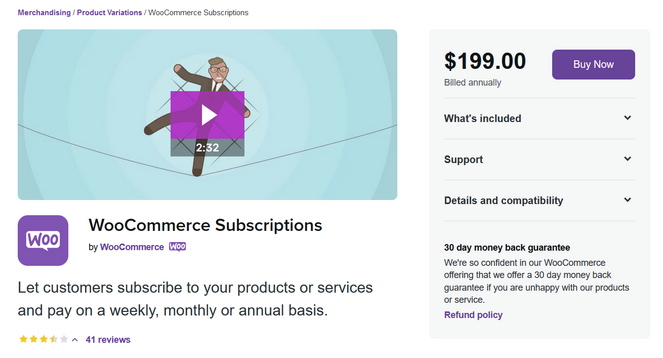 Take a look at these features of WooCommerce Subscriptions:
Automatic recurring payments
Supports manual renewal payments
Built-in renewal notifications and emails
Free trials and sign-up fees
Subscription coupons
Subscriber account management
And more…
Get WooCommerce Subscriptions today!
Pricing: The base WooCommerce plugin is free. To sell subscriptions, you need to purchase the WooCommerce Subscriptions extension which costs $199.00/year.
Ko-fi is a fun Patreon alternative that lets you ask fans to support your work for the price of a cup of coffee.  
Ko-fi is its own platform where you can set up a page to accept donations, offer memberships, accept commissions, or sell products. On your Ko-fi page, you can add a gallery of your work, write posts, set crowdfunding goals, receive messages from your supporters, and much more.
There's also a Ko-fi Button plugin for WordPress. You can use this plugin to ask people for support directly on your blog and direct them to your Ko-fi page. 
This Patreon alternative is free. So, all you need to do is sign up for an account, create your page, link your Stripe or PayPal account, and start accepting payments from your fans.
Ko-fi takes 0% of your donations. But, it does take fees on membership and commission sales.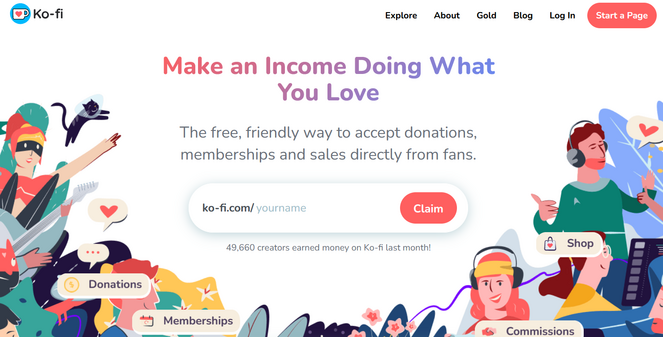 Here are some key features of Ko-fi:
0% platform fees for donations
Create monthly membership tiers
Offer rewards for supporters
Donation stream alerts for Twitch, YouTube, and Facebook
Receive direct messages from fans
And more…
Get Ko-fi today!
Pricing: Ko-fi is free to use, but there are some transaction fees. To remove commission and membership fees, you can upgrade to a Gold plan starting a $4.50/month.
Buy Me a Coffee is a funding platform that's similar to Ko-fi. You can create a free page to start accepting donations from your supporters. 
The platform is easy to use. Fans can send you a donation along with a message in a couple of clicks. They don't even need to have an account.
Aside from accepting donations, you can also create memberships and offer extra services like 1-1 Zoom calls or art commissions in exchange for payment.
This platform accepts all major credit and debit cards, Apple Pay, Google Pay, as well as local payment methods, and you get paid directly to your bank account.
There's also a free WordPress plugin to add 'Buy Me a Coffee' buttons and widgets on your WordPress site. 
But, Buy Me a Coffee charges a 5% transaction fee for every donation.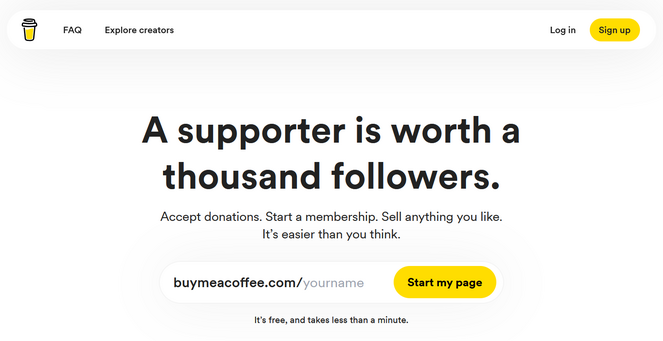 Here are the features of Buy Me a Coffee:
Get paid instantly to your bank account
Ability to create memberships and sell extras
Free WordPress plugin to accept donations directly on your blog
And more…
Get Buy Me a Coffee today!
Pricing: Buy Me a Coffee is free, but there are transaction fees.
Memberful, which was acquired by Patreon in 2018, is another plugin that lets you create a membership program on your WordPress site. 
Memberful offers an easy checkout system. A simple payment form appears at the top of the page so new members can join in a couple of clicks.
You can easily select which subscribers get access to protected areas of your site. You also get a dashboard where you can manage your members and view metrics, charts, and activity feeds.
The biggest downside is that Memberful charges high transaction fees. With the free account, there's a 10% transaction fee. And with the premium plans, you're still charged 4.9% transaction fees.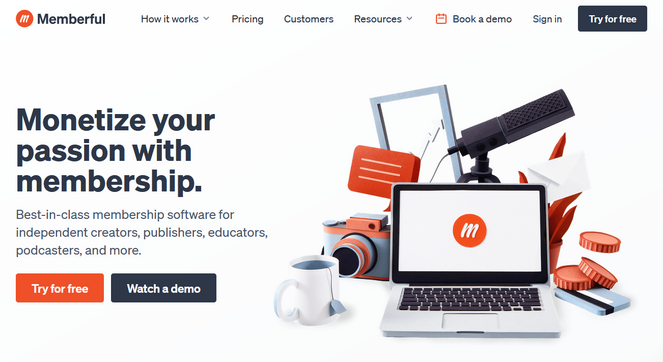 Take a look at Memberful's important features:
Create any type of subscription plan
Optimized checkout
Dashboard analytics
Gift purchases and coupons
Free or paid trials
And more…
Get Memberful today!
Pricing: Memberful offers a free plan with 10% transaction fees. The premium plans start at $25/month with 4.9% transaction fees.
What is the Best Patreon Alternative?
There are many other Patreon alternatives that we could have added to this list. Some other popular platforms include Podia, Kickstarter, Liberapay, and more.
But, we wanted to focus mainly on options that integrate with WordPress so that you can create memberships, subscriptions, or accept donations, right from your own website.
With that in mind, we think that the best Patreon alternative is MemberPress.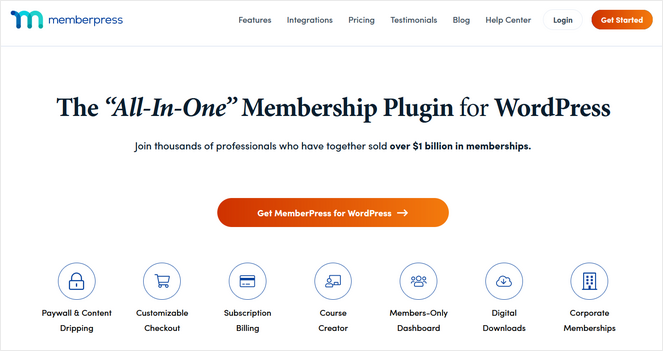 With MemberPress, you can create any type of membership subscription you want. You can offer exclusive blog posts, digital products, online courses, members-only forums, and more, in exchange for a monthly fee. 
Plus, it's easy to set up and it has tons of customization options.
The best part? Because it's a plugin, you can use it to create memberships on your existing WordPress site. That means that you have complete control and you don't have to worry about transaction fees. 
---
That's a wrap, we hope these Patreon alternatives helped you find the best solution for your needs. Now you can get monetary support from your audience so you can continue to provide them with the content they love.
If you enjoyed this post, check out our guide on how to monetize your blog. It goes over additional strategies you can use to make money online.
And don't forget to sign up for our email newsletter for more helpful blogging tips!